Baby monitors have been around for a long time. Go to any garage sale, and there's a good chance you'll find a set of baby monitors from back in the 1980s. You know the ones. They have crackly audio, cut in and out, and you can occasionally hear your baby. But if you haven't looked at a new baby monitor in a while, you might be surprised at what's out there.
Today's baby monitors are far more advanced than their old-school counterparts. A camera is no longer an added luxury, it's all but a necessity. But why settle for a single camera when you can have two? A dual camera baby monitor can film your baby and the room they're in at the same time. Or you can keep an eye on two rooms simultaneously. This means no juggling multiple monitors because you have two kids.
We're about to review four of the best dual camera (split screen) baby monitors that money can buy. Here's a quick look at our four choices:
Of course, those are just the highlights of each monitor system. To truly understand how well they perform, we'll have to take a much deeper look. We'll go over all of their features, and then deliver our final verdict. Let's get started!
Bonoch Dual Camera Baby Monitor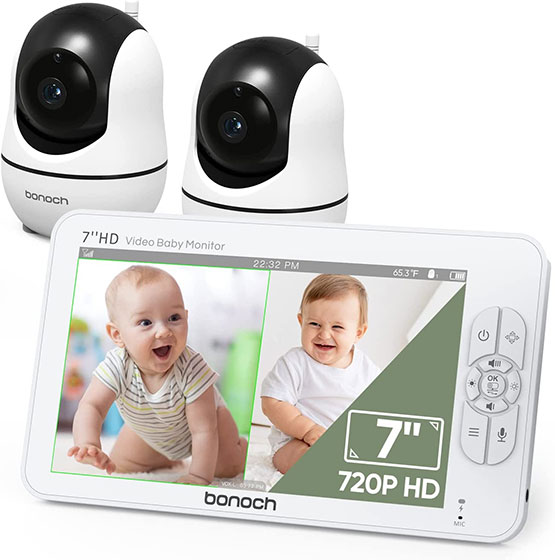 Key features:
7" 720p display.
2.4GHz secure connection.
Up to 22 hours battery life.
The Bonoch Dual Camera Baby Monitor cameras are white pods with round bases. Each camera has a band around the center where the housing is split. The upper portion, has a set of arms that hold the black spherical camera housing. On the bottom is a set of small rubber feet, which support it on a shelf or table. There's also a threaded hole in the bottom, which can attach to a wall mount that's included in the package.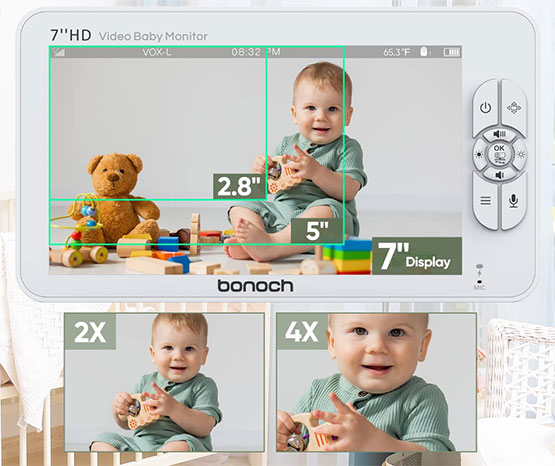 Along with the cameras, you get a monitoring station. This is a tablet-style device with a white finish that matches the cameras. On the back is a little kickstand, which flips out to support the screen at an angle. The display itself is fairly large, at a full seven inches, and has a resolution of 720p.
To the right of the display is a set of controls that can be used to adjust your settings. You can turn the power off, adjust the volume, and change the screen brightness. There's a menu button and navigation controls, and a button to switch between cameras. You can also view both cameras simultaneously in split-screen mode. And if you need to look closer, you can take advantage of a 2x or 4x digital zoom.
This baby monitor doesn't rely on your home's WiFi network for connectivity. Instead, it uses its own 2.4GHz wireless connection. 2.4GHz wireless is far more secure than WiFi, since no one can access your monitor via your WiFi network.
Bonoch provides a 12-month manufacturer's warranty on their monitor. If it fails due to a defect in parts or labor, you'll get a full refund or replacement.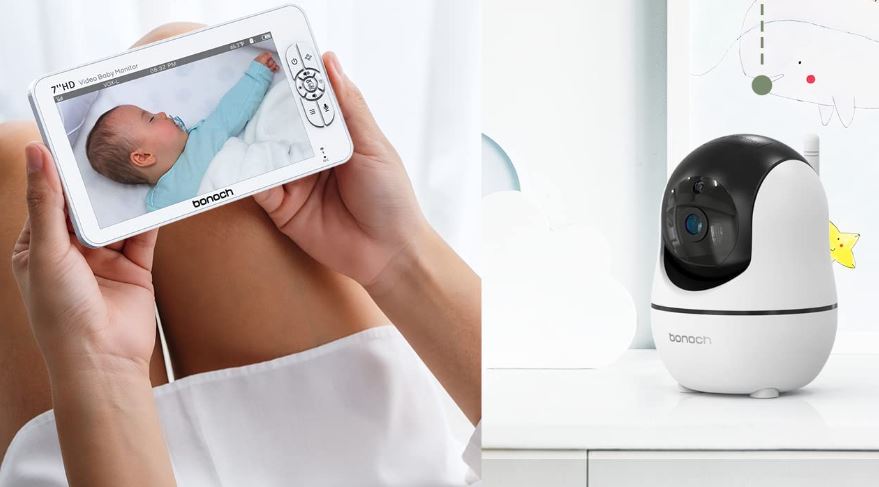 Monitoring Performance
The Bonoch monitor cameras are designed to pan 355 degrees. There's a motor in the lower portion, and the upper portion can swivel feely. In addition, the lens housing can tilt up and down across a 120-degree arc. Using the controls on the monitoring station, you can do this remotely from anywhere in your house. This can come in handy if your toddler has a habit of climbing out of the crib.
The video quality is as bright and crisp as we could ask for. You can see plenty of details, and colors come through clearly. It's not like you're trying to get studio-quality footage with your baby monitor. But you can easily see that your baby is breathing. Performance is also excellent at night, with detailed black and white night vision.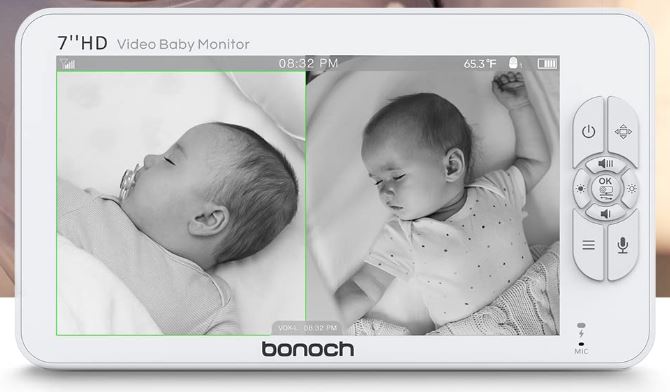 In addition to video monitoring, the cameras provide a live audio feed, just like an old-fashioned monitor. But unlike an old-school monitor, they also support two-way audio. If your baby is fussing, you can talk or sing to them to soothe them. You'll even see the temperature at the camera's location, so you can know when it's getting too cold.
With the Bonoch Dual Camera Baby Monitor, the cameras themselves run on standard wall power, and long power cords are included. There's a similar cord for the monitoring station. However, you can also choose to rely on the 4,000mAh internal battery. This battery provides enough power for 8 hours of continuous monitoring. Or you can switch to VOX mode to get approximately 22 hours of performance. In this mode, the monitor will trigger based on sound.
What we liked:
Crisp video with clear night vision.
Plenty of battery life.
Secure connection doesn't require WiFi.
Large monitor display.
What we didn't like:
Audio quality is only so-so.
Some controls are awkward.
Hubble Connected Dual Vision Baby Monitor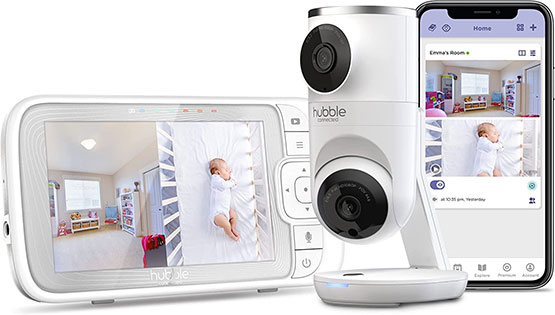 Key features:
5" 1080p display or use smartphone.
WiFi connection.
Simultaneously monitors the crib and the room.
The Hubble Connected Dual Vision Baby Monitor has a truly unique design. The camera is a single unit with two separate lenses. It looks almost like a microscope, with a large cylinder supported by an arm that sticks up from a circular base. The bulk of the housing is white, but the two lens housings are glossy black.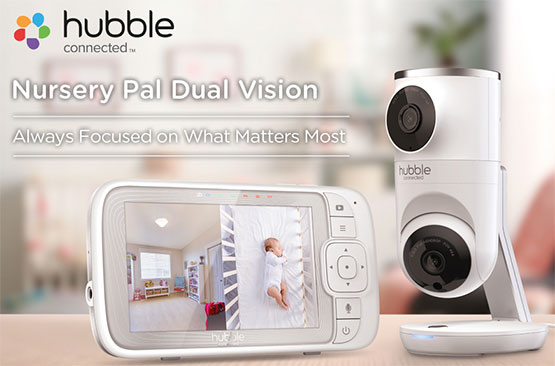 The top camera faces straight forward. The lower camera is spherical, and mounts in a motorized frame. This allows it to pivot up and down. The idea is to position the monitor above and behind your baby's crib. The upper camera will watch the room, while you can keep an eye on your baby with the bottom one. You can set the base on any flat surface, or attach it to your wall with the included mount.
There are two ways of monitoring your video feed. The first is to use the tablet-style parent unit. It sports a five-inch screen, with sharp 1080p video. The control unit has controls to the right of the screen, so you can pan, tilt, and zoom your cameras. You can also switch between full-screen and split-screen mode.
Alternatively, you can watch your videos on your smartphone. Install the Hubble app, and you can connect any time you're on your home's WiFi network.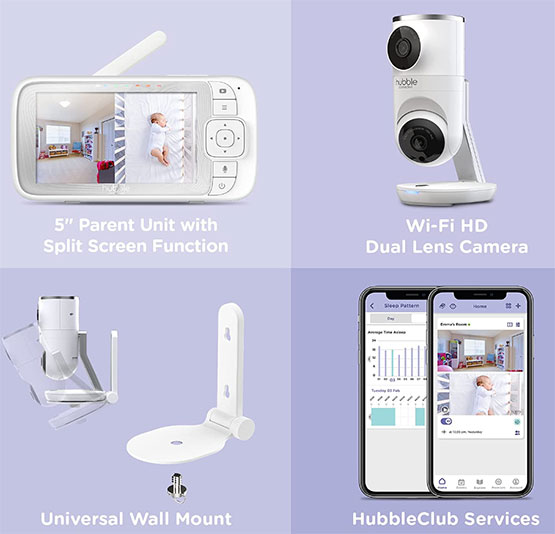 Monitoring Performance
The Hubble monitor boasts AI motion tracking to constantly follow your baby. When you check your monitor, you won't find that your baby has moved out of frame. The app also comes with a host of other features, including a selection of recorded lullabies and soothing nature sounds. There's even a built-in sleep diary and growth tracker.
The video quality itself is excellent, with ultra-sharp images and clear infrared night vision. You can also view the current room temperature and take advantage of two-way voice communication.
What we liked:
Crisp 1080p video.
AI motion tracking.
Monitor via base or smartphone app.
Multiple app features.
What we didn't like:
Moonybaby Split 55 Baby Monitor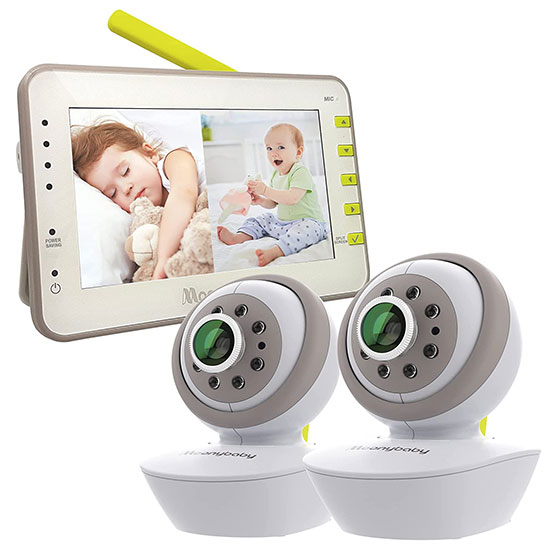 Key features:
4.3" 480p display.
2.4GHz secure connection.
170-degree lens.
The Moonybaby Split 55 Baby Monitor comes with two cameras. Both of them are molded from plastic, with flared white plastic bases and circular lenses up above. The lenses are ringed with tan bands, along with a set of visible infrared bulbs. The cameras are small enough to fit on almost any flat surface, so they're easy to position.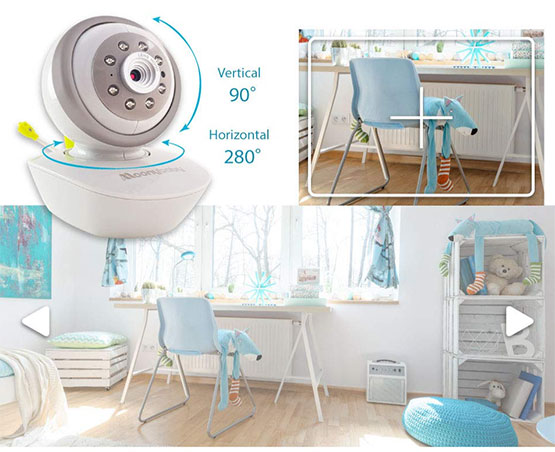 The base unit has a 4.3-inch display, with a kickstand on the back and an adjustable antenna. There's a column of five yellow rubber buttons to the right, to give you full control over your view. You can pan, tilt, and switch between cameras, as well as use split screen mode to view both at once.
Unfortunately, the controls are a bit quirky. Every time you start up the monitor, there's a setup menu. And some functions, like the volume function, are hidden in sub-menus.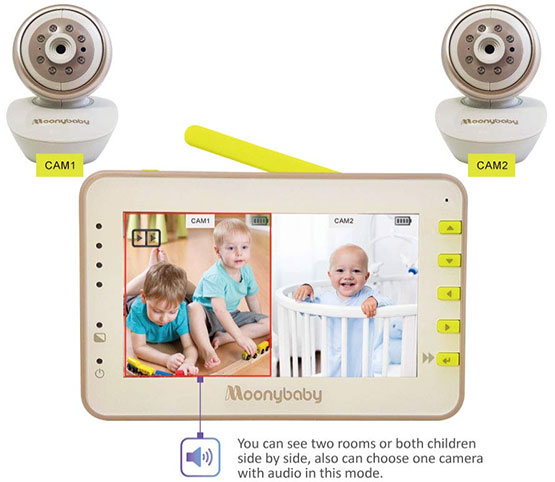 Monitoring Performance
The video is only 480p, but it's very sharp. The IR bulbs provide ultra-clear black and white night vision. Moreover, the 170-degree lens angle gives you a wide enough field of view to see an entire room. If you want to look around, the 280-degree pan function and 90-degree tilt function give you plenty of range.
Besides basic monitoring, the Split 55 comes with five pre-recorded lullabies and two-way audio support. Its battery will last for six to eight hours in constant monitoring mode, or longer with voice activation.
What we liked:
Wide-angle lens can cover an entire room.
Crisp black-and-white night vision.
Wide pan and tilt range.
Secure connection, no WiFi.
What we didn't like:
Low resolution.
Awkward control scheme.
Babysense Split-Screen Dual Baby Monitor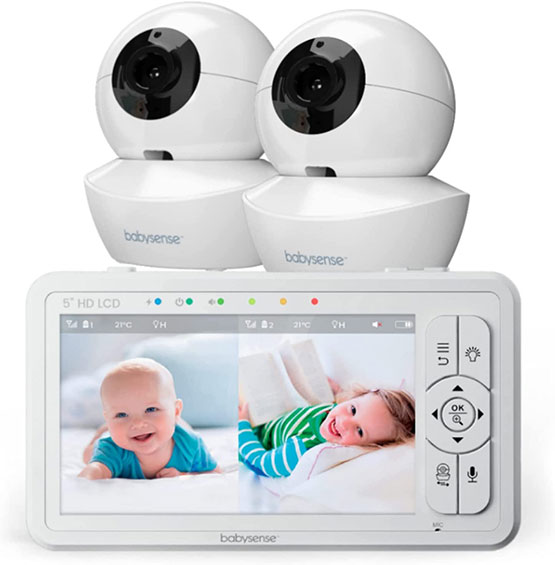 Key features:
5" 720p display.
2.4GHz secure connection.
Built-in night light.
The Babysense Split-Screen Dual Baby Monitor is another kit with two distinct cameras. The camera housing is white and glossy, with round, flared bases, and spherical main housings.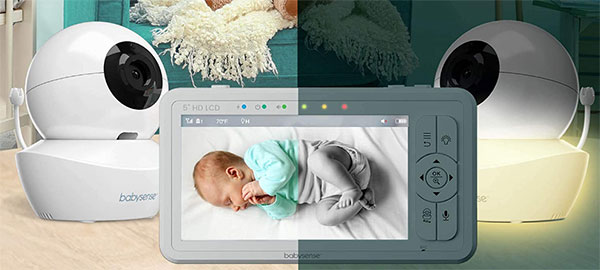 The monitor is designed like a tablet, and constructed from a matte version of the same tough plastic. It sports a five-inch, 720p display, along with a full suite of control buttons. Using the controls, you can pan and tilt the camera, zoom it, and change from single-screen to split screen.
The 2.4GHz wireless connection also supports expanding the kit to four cameras. However, the stated 96-foot range is significantly reduced by any kind of obstructions.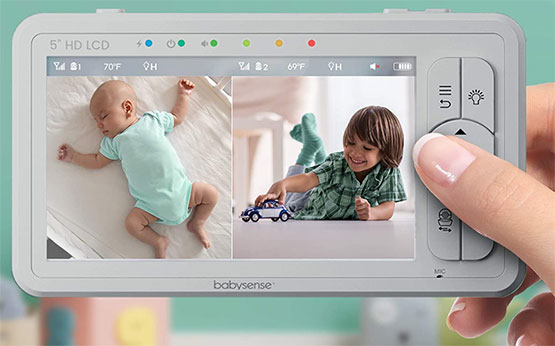 Monitoring Performance
The pan and tilt functions work very well, and you can zoom in up to four times to see more detail. The 720p resolution provides excellent clarity, with clear colors during the daytime. In darkness, the black and white infrared night vision perform admirably. And a built-in temperature sensor lets you know if it's getting too chilly. Our only minor complaint about the performance is that the microphones aren't as sensitive as they could be.
The base station sports a 4,000mAh battery life with a 12-hour battery life. You can extend this to up to 20 hours with voice-activation mode. Meanwhile, each camera has a built-in night-light that you can adjust or turn off via the menu.
What we liked:
Straightforward control scheme.
Long-lasting battery.
Built-in night light.
No WiFi connection required.
What we didn't like:
Signal tends to cut out at range.
Limited volume.
Final Verdict
As you can see, these are all well-designed monitors. But why would you choose one over another? Here's a short summary of what we've learned.
We began by reviewing the Bonoch Dual Camera Baby Monitor. This dual monitor stands out for its robust, seven-inch display that allows you to see plenty of detail. The 720p video is clear by day or night, and the 2.4GHz wireless signal is safe and secure. And with pan, tilt, and zoom capability, you can follow your baby around the room.
After that, we looked at the Hubble Connected Dual Vision Baby Monitor. This is the most advanced of the bunch, with loads of powerful app features. Perhaps the most impressive is the AI motion tracking, which constantly keeps tabs on your baby. If you're willing to pay more for the most powerful features, this is a great choice.
The Moonybaby Split 55 Baby Monitor was third on our list. It doesn't have the highest resolution. But the 170-degree wide angle makes it attractive if you want to cover a large area.
Finally, we evaluated the Babysense Split-Screen Dual Baby Monitor. This system offers the simplest control scheme, and the built-in night light provides added value.