If you love racing games, you know how important it is to have the right control scheme. Yes, you could use a mouse and keyboard. But the nicest thing you can say about using a mouse and keyboard for racing games is that it's clunky. Along the same lines, if you're a console gamer, your games will be designed to work with your controllers. But again, that's not exactly ideal. You fire up your console, and start a realistic racing sim with the latest car and a world-class racetrack. Do you really want to be driving with your thumbs?
Ultimately, it comes down to immersion. Using a controller or a mouse and keyboard might be technically viable, but it just doesn't feel right. You're not driving a racecar – you're just playing a video game. If you want to feel like you're in the cockpit of a Formula 1 car, you need the right controls. At a bare minimum, you're going to want a steering wheel and pedals. But if you want even more immersion, you're going to want more parts. For example, you could use a racing chair, or an oversized, curved monitor. And a handbrake is another solid choice.
Handbrakes are primarily used for drifting. If you quickly pull the brake while you're cornering, you'll be able to take turns you never thought possible. Yes, you could achieve the same effect by pushing a button on your keyboard, but where's the fun in that? Pulling a real, physical handbrake is far more satisfying.
We're about to review three of the best sim racing handbrakes on today's market. To start with, we'll examine the Thrustmaster TSSH. This is an advanced, adjustable handbrake that also doubles as sequential shifter. Next, we'll take a look at the Aikeec Universal Handbrake. This handbrake is more affordable, but it's still durable, and it comes with an optional desk mount. Third up is the Mesome USB SIM Handbrake. This is a solid all-metal brake that ships with a desk mount, designed to be solid and durable. Once we've gone over all three, we'll be able to make a fair comparison. Let's see how they all stack up!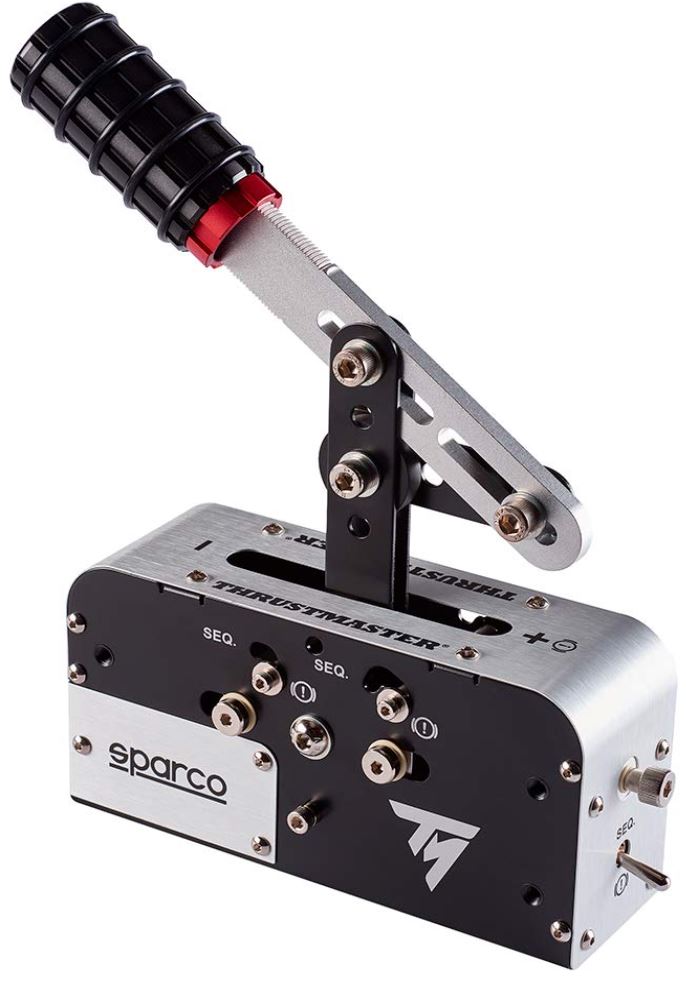 Thrustmaster TSSH
In the world of racing controllers, Thrustmaster is one of the biggest names. They're well-known for their wheels and pedals, as well as flying controls like the TCA Quadrant Airbus Edition. If you're looking for the best anything in this space, you'd be foolish not to look at any Thrustmaster products.
The Thrustmaster TSSH is a sturdy handbrake that's constructed from a mix of steel and aluminum. The base is mostly rectangular, with curved edges at the top so you won't catch your hand on anything sharp. On the sides, there are additional bolts that can be adjusted to change the feel of the handle. This is a great feature, since you can control exactly how the handle moves from the front to the back.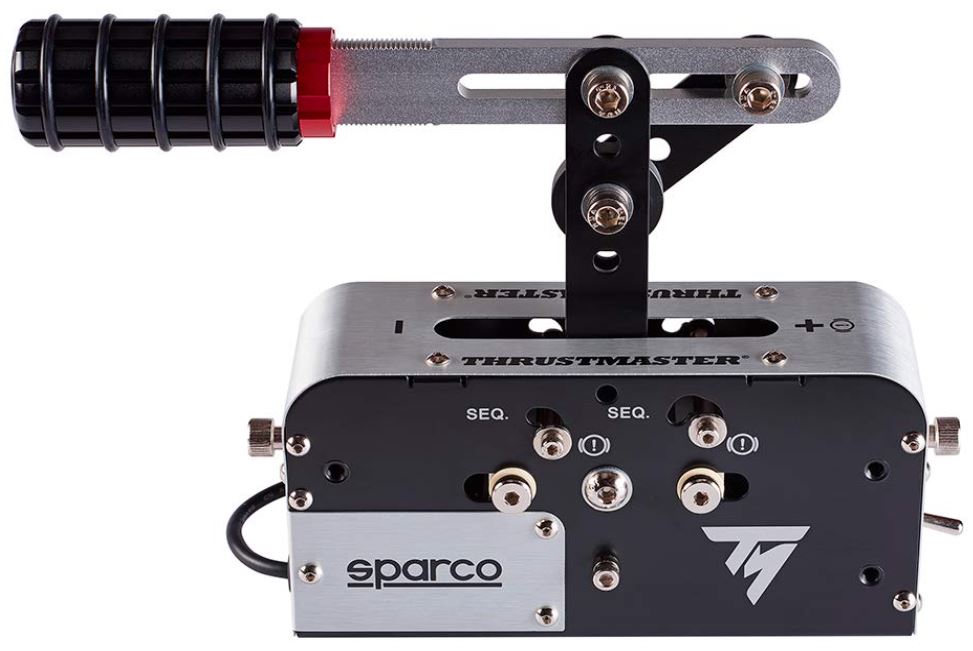 The reason you'd want to do that is that there are two different modes. On the front, there's a steel control switch for changing between sequential and handbrake mode. Handbrake mode is the primary mode we're looking for, but sequential mode is ideal for shifting. So when you adjust the movement of the handle, you're adjusting how it feels when you shift up and down. You can have a wider or narrower range of movement, depending on your preferences. All the adjustment screws are clearly labeled, although you'll want to play around a bit. Good labeling is one thing, but there's still a bit of a learning curve to getting them adjusted.
The handle itself is also highly adjustable. There are three bolts that can be moved around to change the angle and the height. This makes it suitable for just about any seating position or control configuration. You can set it nearly vertical, or nearly horizontal. The main benefit, once again, is versatility. You can use this handbrake however you like, with just about any equipment. Perhaps the most attractive feature is the handle knob at the top. It's a 1:1 replica of the knob on Sparco's rally and drift handbrake knobs. If you're a racing geek, you'll appreciate the appeal of a genuine replica.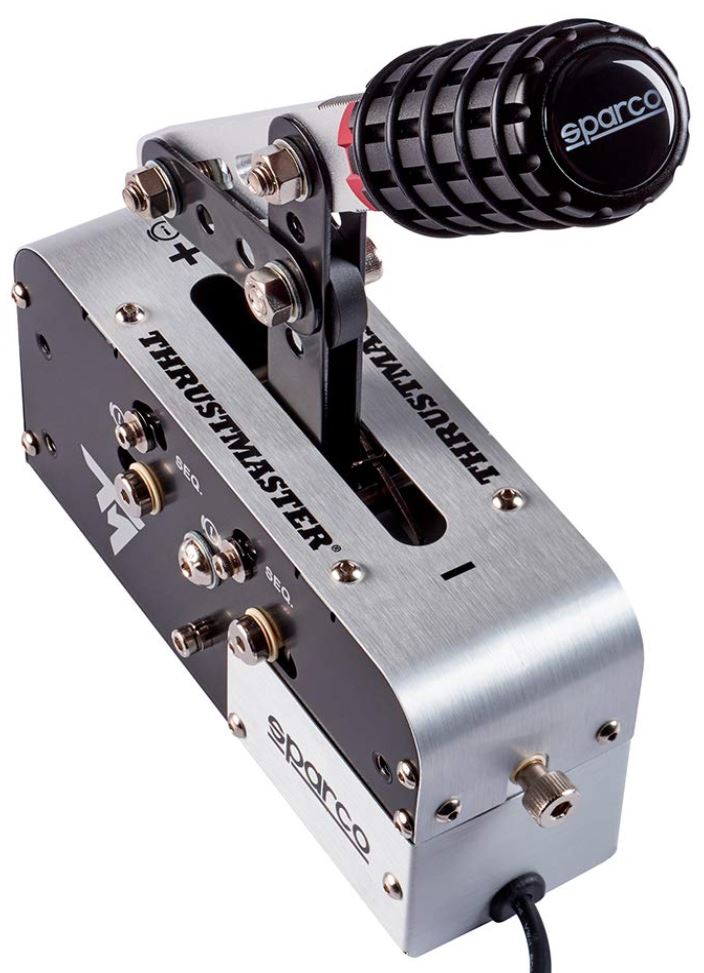 One thing this handbrake offers that the others don't is Thrustmaster's H.E.A.R.T. system. H.E.A.R.T. stands for HallEffect AccuRate Technology. Without making things too complicated, it utilizes contactless magnetic sensors instead of contact magnets. Why is this a big deal? The difference is that contact magnets introduce friction into the mix. This is inevitable when two surfaces are actually brushing against each other.
Contactless magnets, on the other hand, are frictionless. Because there's no actual contact, the handle can move smoothly throughout its entire range of travel. This makes for a more realistic feel, and better precision control over your racecar.
The last thing to talk about is compatibility. As with any respectable racing accessory, the TSSH is compatible with PCs. It connects via USB, and will work with literally any racing wheel in the world. This makes it an easy choice, regardless of what other components you're already using. As long as you're running Windows 7 or later, you're good to go. But in addition to PC, this handbrake also works with the Xbox One and PlayStation 4. If you're a console or cross-platform gamer, it's the only handbrake you'll ever need.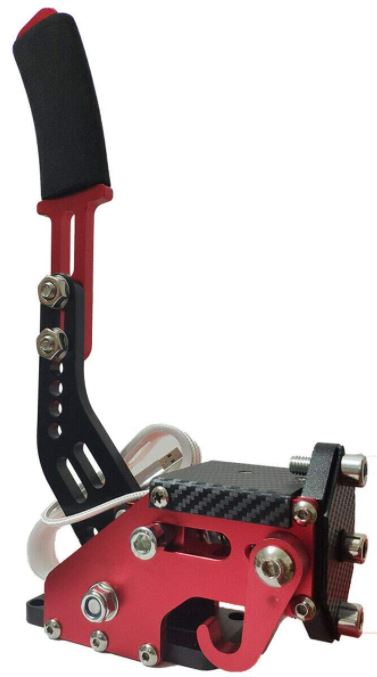 Aikeec Universal Handbrake
The TSSH is impressive, but it's also expensive. What if you want a more affordable handbrake with fewer bells and whistles? In that case, the Aikeec Universal Handbrake is an excellent alternative. This handbrake comes in a number of variants, but it all comes down to color and mounting accessories. There are four colors: red, blue, gold, and black. It can also be shipped with or without a desk mounting bracket. Whether or not you need this will depend on your configuration. If you're using it with a compatible racing wheel or other hardware, you won't need one. Otherwise, you will.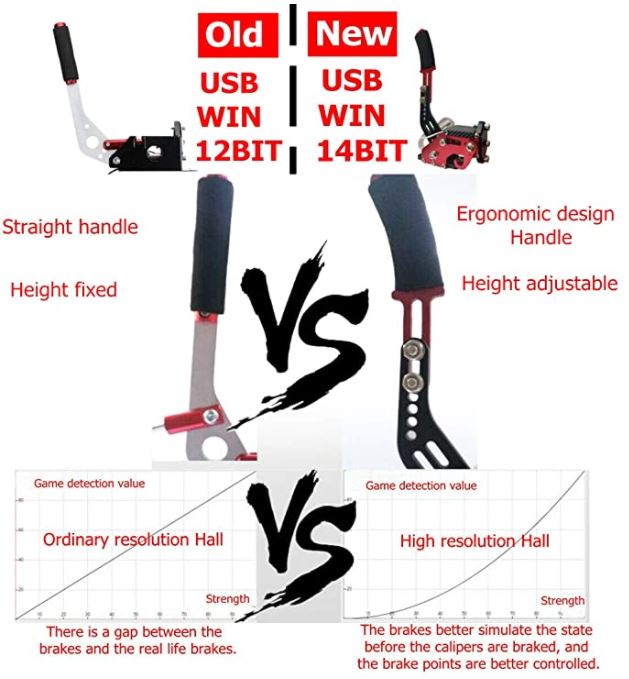 The bulk of the design is built from rugged aluminum, with a lower housing that's mostly black. The handle is made of steel for more durability, and is also black. The end of the handle, as well as the housing highlights, will depend on the color you ordered. That said, there's not as much adjustability as the TSSH. You can only change the handle's angle by changing the angle of the housing. It will always be perpendicular. That said, you can adjust the height by using the adjustment screws. In total, it can sit in five different positions, which gives you a bit of flexibility when it comes to height.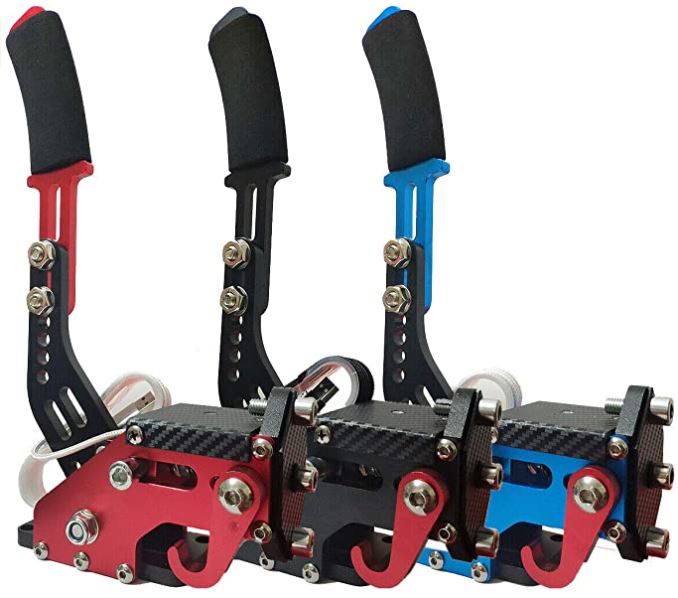 The handle is very well built, and will stand up well to abuse. We weren't concerned that it might get damaged over time. In addition, there's a foam handle, which provides a reasonable amount of comfort. The magnetic sensors have a non-contact design, with a 14-bit sensitivity. Our only complaint is that the brake feels a bit sloppy when you're pulling it. It's not that it doesn't work. It just doesn't feel as "solid" as some other handbrakes.
Like the TSSH, the Aikeec handbrake connects via USB. It's plug and play, so you don't have to install any drivers. On the downside, though, it only works with PCs. It's not compatible with Macs or game consoles. As far as other accessories go, it works great with most Logitech products. Among others, it's ideal for the Logitech G25, G27, and G29 racing wheels.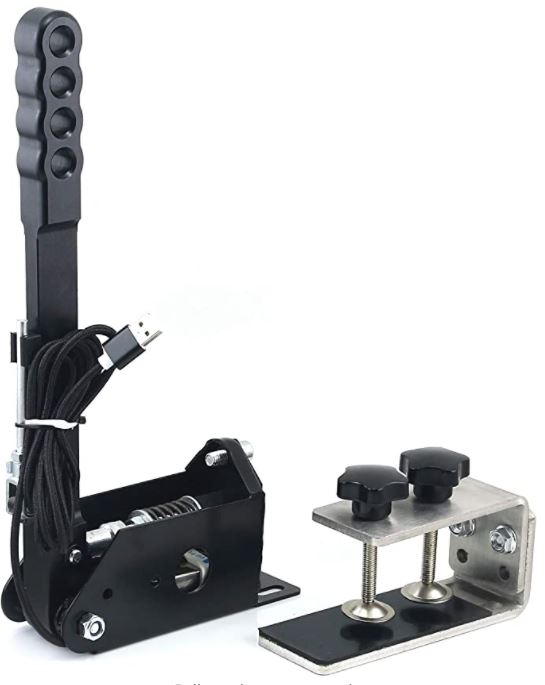 Mesome USB SIM Handbrake
The last handbrake on our list is the Mesome USB SIM Handbrake. This is an all-metal brake that's as beefy and durable as they come. But when we say all-metal, we mean all of it, including the handle. The only concession to comfort is a little bit of ribbing, which is better than nothing. There's no foam or any other type of padding. This alone isn't a huge deal, since it's not like you spend a lot of time with your hand on the brake. More importantly, there's no easy way to adjust the height or angle. You have to adjust whatever it's mounted to instead.
This can be a pain or a good thing depending on how it's mounted. If the handle is clamped to your desk, that's pretty much it. If you've attached it to another accessory, you'll at least have a little bit of flexibility. You'll also have a few options to match your brake with the rest of your gear. It's available in black, red, or blue to fit different setups.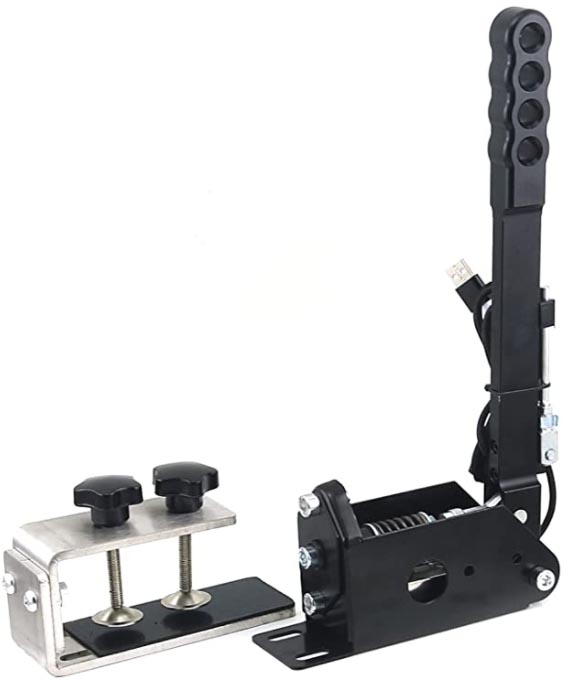 Like the Aikeec, the Mesome handbrake requires no drivers for its plug and play USB connection. Also like the Aikeec, it works only with Microsoft Windows. Sorry, console gamers. One thing we did appreciate was the smooth operation. It moves freely, along its full range of motion, without any hanging or looseness. It's also surprisingly precise, thanks in large part to the 14-bit sensor. In this regard, it's a marked improvement over the Aikeec brake.
Final Verdict
So, which is the best sim racing handbrake on the market? For versatility and reliability, it's tough to beat the Thrustmaster TSSH. This handbrake does just about everything. It can be adjusted to many different angles, and it works with almost any platform. It's tough and durable, and it sports a slick replica handle that racing enthusiasts are sure to live. Not only that, but it doubles as a sequential shifter. This makes it suitable for a wider range of tasks. And when it's being used for shifting, you can make several adjustments to the range of movement. The only downside is the price. The TSSH is a premium product, for people who are willing to invest a lot in their racing rigs.
The Aikeec Universal Handbrake is a good choice if you're on a tighter budget. The movement is ever so slightly sloppy, but it still works very well. More importantly, it's durable, and it's easy to use with any PC. If you want a little bit tighter feel, the Mesome USB SIM Handbrake is a good alternative. It's not as precise or comfortable, however.