With the sheer number of appliances, lights, and electronic devices we all use every day, it's no wonder we burn through tons of electricity, even without intending to. In many cases, American families and households use way more electricity than they actually need simply because they use certain electronic devices or appliances and leave them on by accident. This is not only bad for the environment but also puts an unnecessary drain on your energy bill.
Smart home energy monitors offer a solution without requiring you to redouble your private efforts to remember to turn the lights off. These monitors are relatively easy to attach to your existing electrical panel. Then, they'll monitor your energy usage and can even break down which appliances or devices you use most frequently. In this way, the sensors can then send reports to your phone or computer and let you see in real terms how much money you are wasting or how much you could save.
Note: At no extra cost to you, we may earn a commission for purchases using our links. Learn more.
However, smart home energy monitors can differ dramatically in terms of their applicability to certain electrical panels and their connectivity options. Some can be fully integrated into smart home networks while others are better as solitary devices. Still more can help you schedule when certain things should be turned off or provide alarms to make sure you don't forget to shut off the kitchen light, for example.
In this guide, we'll break down three top tier smart home energy monitors from different manufacturers. Each provides in-depth monitoring services, but their pricing points and connection options make them distinctly different choices that are more or less suitable for different folks. Let's get started.
What is a Smart Home Energy Monitor? Why Do You Need One?
These devices do right what they say in their names: they monitor your energy usage and can send you regular energy consumption reports so you and your family can become more informed and energy-efficient. These products are usually offered as paired packages that include both a sensor or sensor kit and a proprietary app. The first part of the package is plugged into your existing electrical panel, and some kits may require you to call a professional electrician to perform the installation.
The proprietary app (which is normally available for any type of mobile device) that allows you to parse the gathered information or benefit from regularly transmitted energy consumption reports. The app provides charts and other data broken down for easy understanding, so you'll be able to track the electricity you use and even learn the times of day when you consume the most power. In this way, you'll be able to better use your power and, in some cases, balance your energy consumption with the power you make from green devices like solar panels.
Some smart home energy monitors are designed for smaller or larger houses, while others can double as energy monitors for small commercial locations like neighborhood stores. Additionally, you should always check to make sure that a given energy monitor will work for solar panels. Only some monitors come with the required plugs for this feature.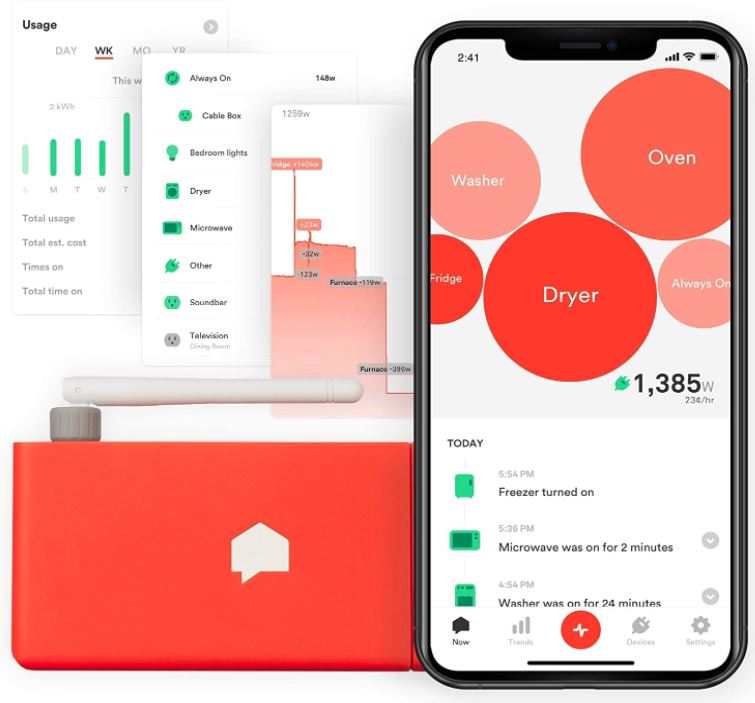 Sense Energy Monitor
The Sense Energy Monitor is a perfect example of the basic concept. It comes in solar-friendly or non-solar variations, with the base unit plugging perfectly into any existing electrical panel. The nice thing about this particular energy monitor is that you can purchase the base unit without the solar attachment if you don't currently have those panels. But if you ever decide to upgrade to solar power for your home, you can pick up the additional solar sensors for just 50 bucks instead of having to buy an entirely new energy monitor.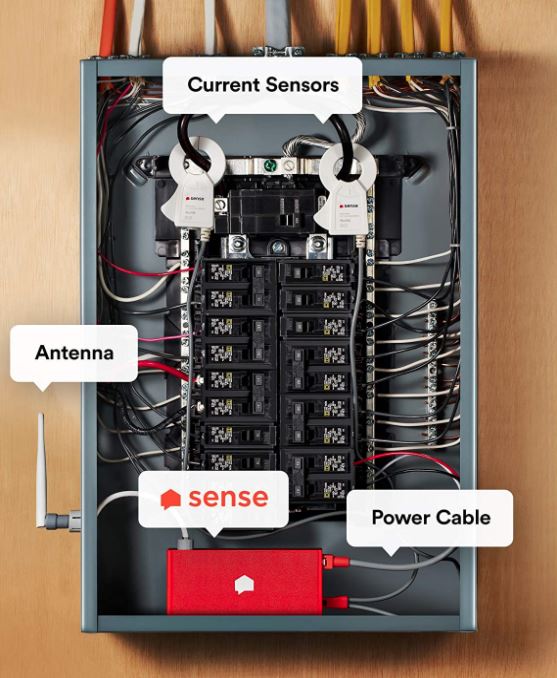 The sensor comes with a small, iPod-sized unit that is easy to plug into existing power cables. You should still likely hire an electrician for installation, though you can do it yourself if you have the requisite know-how. Another pair of sensors are included in the package, plus an antenna to make sure that the Sense monitor can always feed data to the proprietary app. It'll provide you with real-time data through iOS, Android, or web platforms – you don't have to only view the data on your mobile phone and can get even more in-depth analysis by viewing the data on a standard computer screen.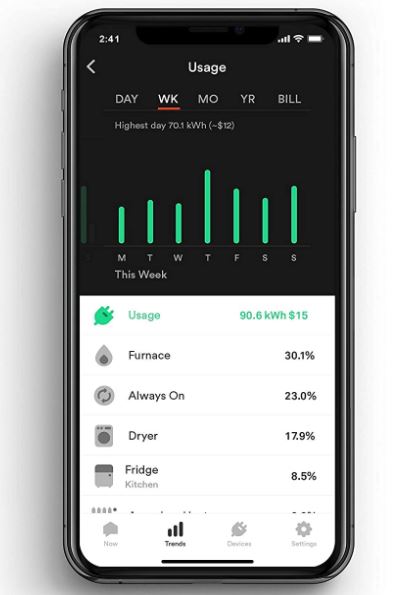 The app will break down everything that your energy bill does not, allowing you to see when and how you use the most power on average. You'll also be able to use the app to set your own goals and set alerts. These can help you and your family maintain smart energy consumption by informing you when you've crossed certain thresholds or burned through a certain amount of power over the course of the day. It even includes home comparison charts so you can see how you rank against other energy-conscious homes in the US.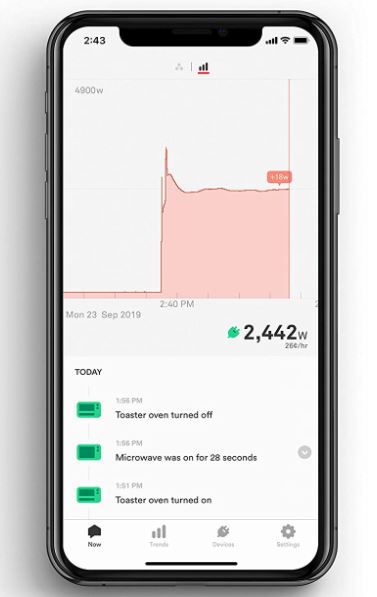 The sensor even includes some machine learning software to help it detect new energy-consuming devices in your home. It integrates easily with smart home hubs and assistants, like Amazon Alexa. This, in turn, aids in device detection and control even further. This means that, over time, the Sense energy monitor becomes more efficient and accurate. We particularly like the alerts that the app provides if certain devices or appliances in your home have been running for a long time. It's a great way to catch whether the basement or attic light has been left on for hours on end, for instance.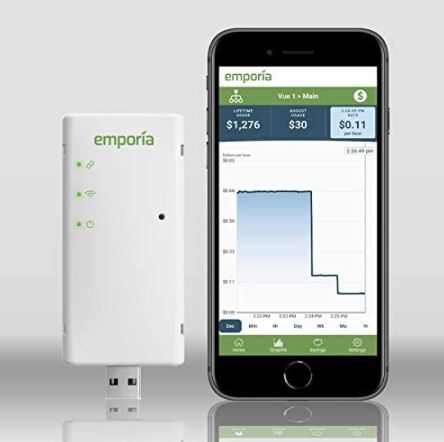 Emporia Vue Smart Home Energy Monitor
The Emporia Vue Monitor is much more budget-friendly compared to the Sense, even if you go with the basic unit instead of the solar version. However, there's a huge trade-off for this lower asking price; the Emporia can only connect to certain smart energy meters located in Illinois, California, Pennsylvania, and Vermont. Furthermore, the smart energy meters that work with this monitor are only provided by certain manufacturers or electric companies. This severely limits the number of people who can benefit from the Emporia's services.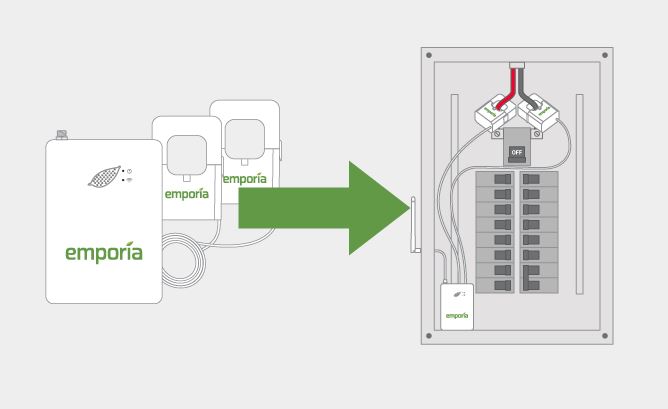 But if you're lucky enough that your home qualifies for this monitor, you might find that you like it a lot. It's extremely easy to install and set up since it only requires that you plug the monitor into an available electrical outlet somewhere near your energy meter. You don't need to set up an appointment with an electrician and everything can be up and running in just minutes. After installing the proprietary app on your iPhone or Android device, you'll immediately get energy progress and consumption reports on your mobile phone.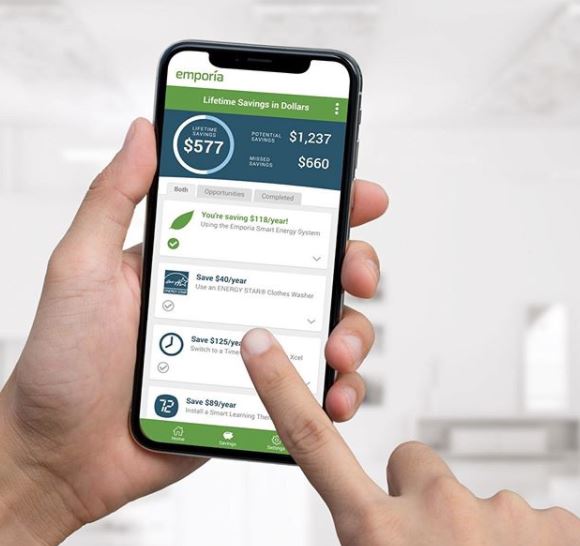 The app breaks down all your energy usage and, since it's designed to be used with certain types of electric companies and smart energy meters, can even directly translate the energy consumption data it collects to money that you either save or waste. In this way, it's easy to combine the Emporia smart energy monitor with your existing energy bill and see where you can save serious money by turning certain lights on or off or minding certain appliances, only keeping them on when you need to use them.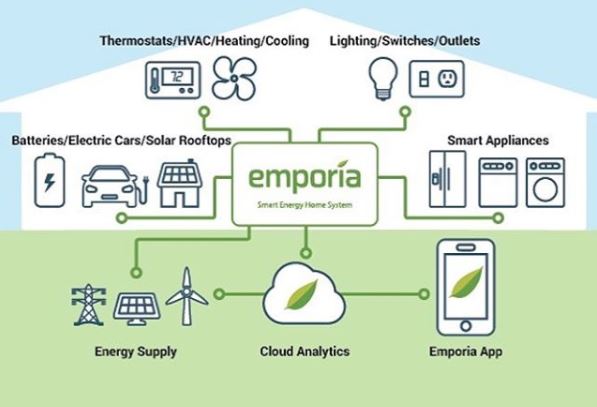 The app can provide alerts, allow you to schedule certain appliances or devices, and otherwise help you maintain a balanced lifestyle. However, it doesn't have any specific connections for solar panels – it can still work with solar panel production if you have solar panels installed on your home from one of the aforementioned companies. But it won't necessarily work if you install new solar panels and want to tie them into the Emporia monitoring network.
All in all, it's clear that this is an energy meter for specific uses rather than a general product suitable for most folks. Its low price and applicability to homes only in a few states make it a niche choice at best.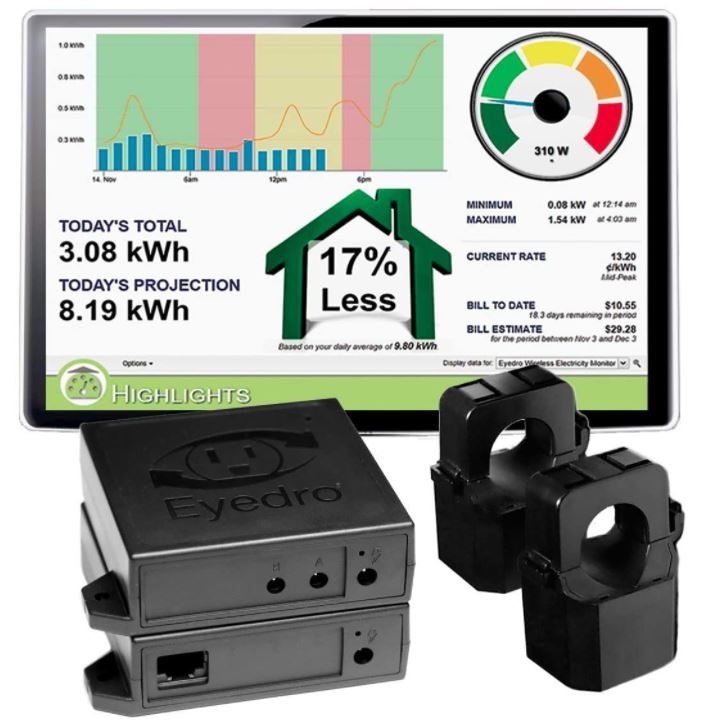 Eyedro Home Energy Monitor
This last smart energy monitor is more expensive than the Emporia but is still cheaper than the initial Sense option. The Eyedro is also particularly easy to install compared to the Sense, as it just requires you to click the included sensors around circuits that you want to be monitored. This lets you tailor your monitoring to particular circuits and does require a little bit of knowledge about your home's energy grid.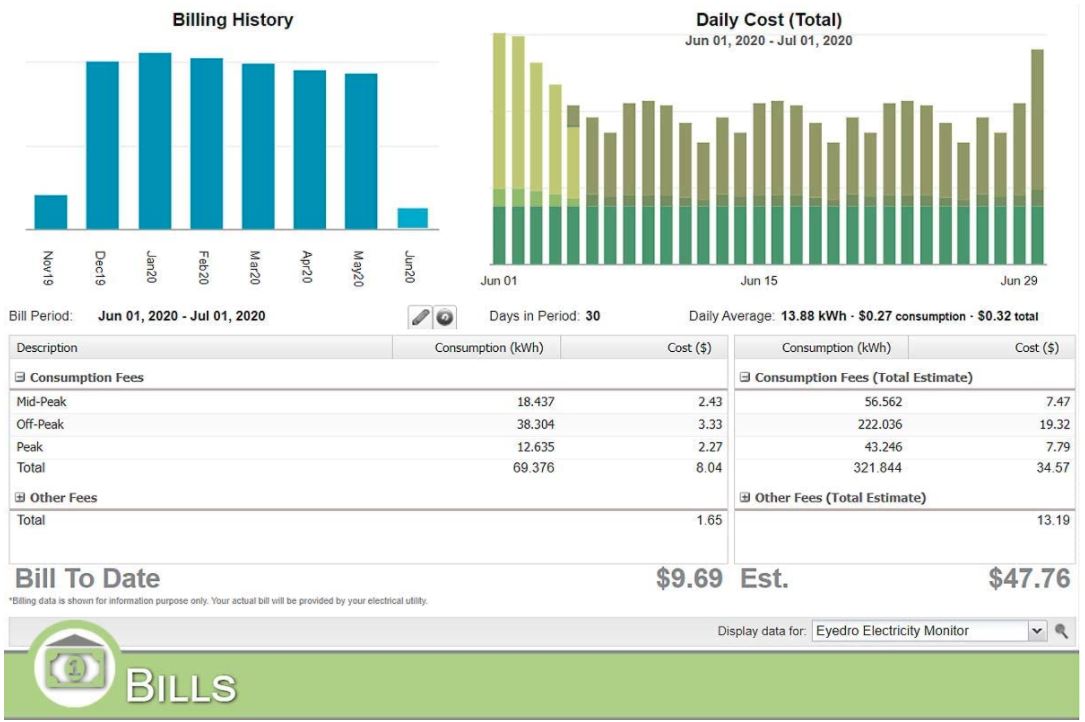 After connecting the sensors to the circuits, you can connect the main hub unit to your Internet using a provided ethernet cable. You'll be able to route the sensors' signals through a wireless mesh as the last step.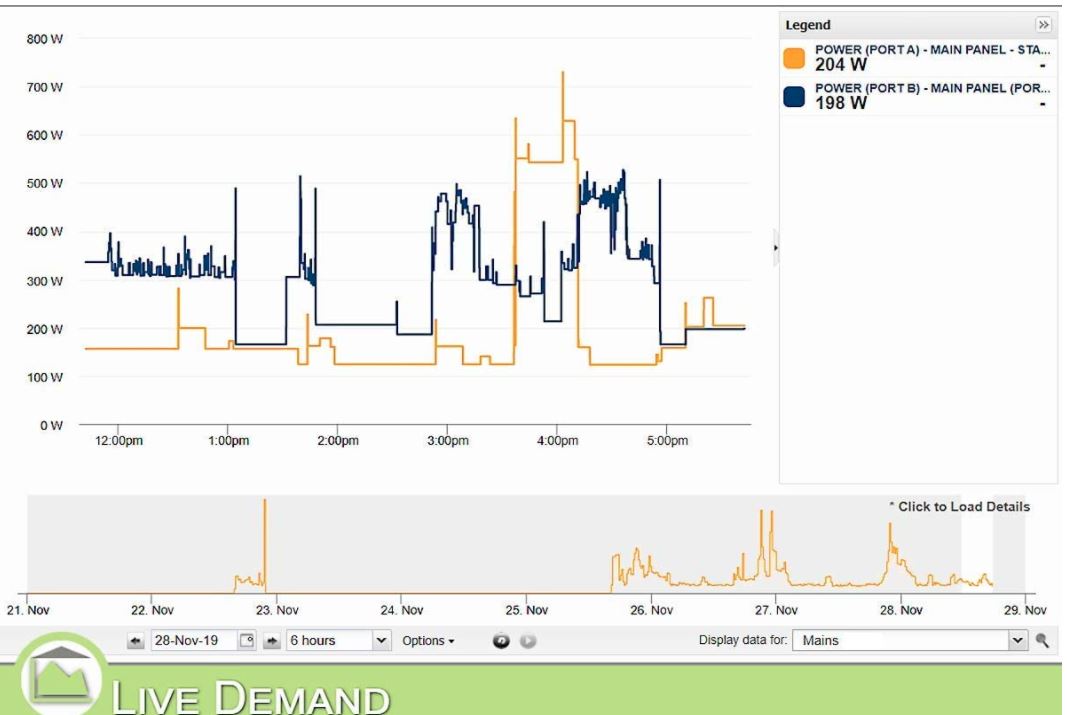 This means it doesn't connect to most smart home suites or networks, which may be a downside if your home already uses one of these networks. But there's a lot else to like about this sensor when you get into the details. For instance, the Eyedro units can be customized to show your energy consumption in several different metrics, including Watts, AMPs, and even dollars to help you figure out how to save money on your energy bill. It will also allow you to configure different alerts so the sensors notify you when you are consuming too much energy when you want to be saving.
It'll provide comprehensive daily, weekly, monthly, or yearly energy monitoring reports and send them to your email, allowing for a detailed analysis of your energy consumption habits. It also uses encryption so that any data sent over the Internet can't be easily hacked, and doesn't include personally identifiable information, preventing a hacker from stealing your identity. You'll be able to access the MyEyedro service on your phone and there's no fee to get all of this information.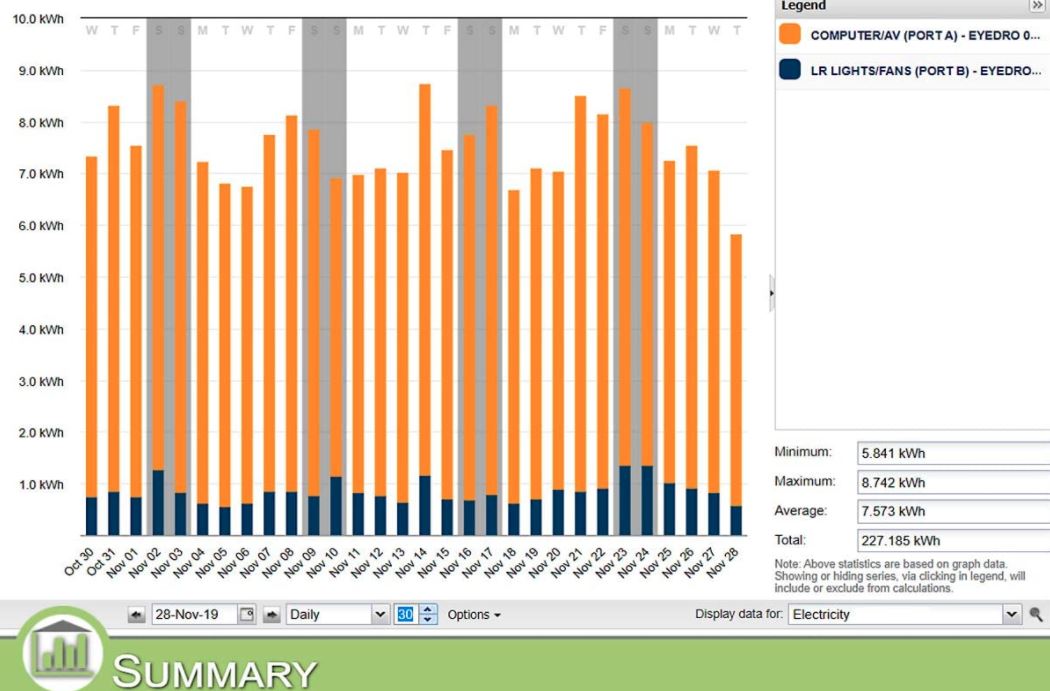 The default unit is a little more affordable than the model described above, though it only connects via wired ethernet cables. Pricier units can connect through Wi-Fi if you desire – these may be a better choice if you want to integrate the sensors into your smart home network. We do like that you can purchase the same basic Eyedro sensors and hub device, but tailor the connection style according to your needs or existing home set up. Note that the base sensor package can't monitor solar power, but some of its cousin units can.
Final Verdict
All in all, the smart home energy monitors described above are fairly similar, but are each ideal for different users because of their connectivity, price, or applicability to different energy networks.
For instance, the Sense Monitor is far and away the most advanced of all three sensors as it's able to connect to existing smart home networks and provides a plethora of actionable information for its users. It's also great for planning out your energy consumption and undertaking household wide energy-saving measures. The alerts, schedules, and the detailed reports it provides are crucial for saving money on your bill and for checking when certain lights or appliances are still on long past when someone last used them. This is, by far, the best option if you have a smart home and want to integrate an energy monitor into it.
The Emporia, in contrast, is much more budget-friendly but is limited in its applicability. Because you can only use it if you live in four states and get your energy meter from a few specific providers, it's really only a good option for a handful of people in comparison to the other two choices. Still, if you do qualify, it's an excellent monitor that works well for those trying to save money on their bill or folks who want some help controlling their appliance or device usage.
The Eyedro is arguably the most customizable smart home energy monitor because you decide which circuits are monitored by the included devices and which type of connectivity the hub relies on. It's also not quite as expensive as the Sense by default, though its wireless versions do get pricy. All in all, the Sense is the best for most users, but the Eyedro is a close second. We'd still recommend the Emporia if you happen to live in one of the states mentioned above.
Note: At no extra cost to you, we may earn a commission for purchases using our links. Learn more.