With the cost of everything going up, most people are looking for smart ways to save money and maximize the power of their resources.
One of the greatest costs for many families comes in the form of their home or apartment. From mortgage, rent, insurance and general upkeep, the expenses can add up quickly.
One area that most people can save money is in their energy bills. That's where home energy monitors come into play.
Rather than simply guessing at what is causing your high energy usage, a smart home energy monitor can loop into your home's power grid and provide real-time insight into what is driving up the bill.
Besides providing data, a smart home energy monitor can provide recommendations and even set up automation to help you better manage your energy usage.
There are lots of options on the market and it's hard to know which are worthwhile.
To help our readers, we've compiled a list of some of the best smart home energy monitors currently on the market.
How We Chose the Best Smart Home Energy Monitor
Our team of home energy experts spent considerable time to find the best smart home energy monitors currently on the market. They based their decision on the following criteria:
Ease-Of-Use: From installation to accessing your energy data, it's important to have a monitoring system that is both powerful and intuitive.
Quality of Materials: When it comes to electrical components in your home, it's important to make sure that your product is held to the highest standards.
Insights, Reports and Recommendations: It's not enough to have a monitor that throws a lot of data at you. We selected monitors that helped users interpret the data and turn them into recommendations that they can take action with.
Technology: A home energy monitor can be an enormous investment. Besides the hardware, it's important to have a system that has the latest technology and keeping their software updated.
Best Overall: Sense Energy Monitor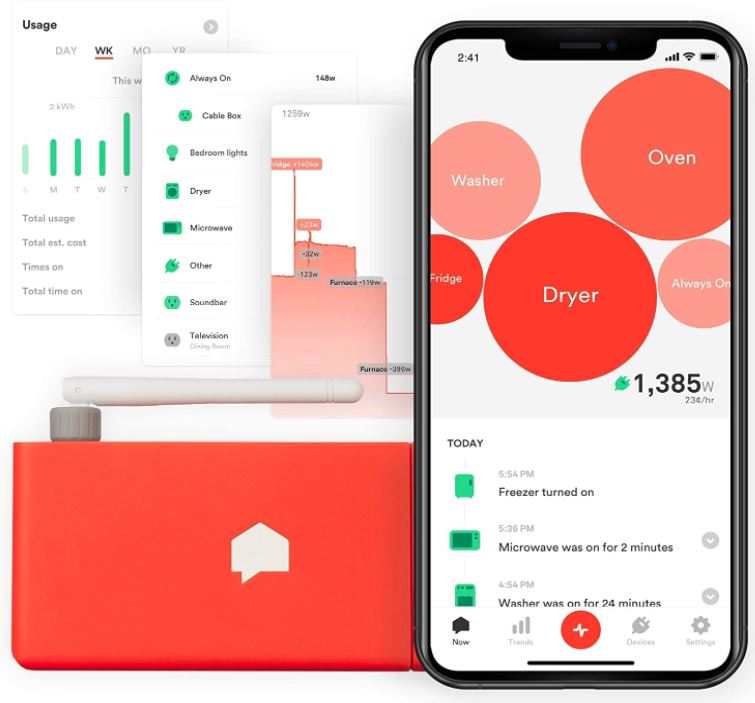 Key Features:
Time of Use Monitoring.
Detailed Electricity Tracking.
Pattern Recognition and Savings Suggestions.
iOS and Android apps.
Critical device failure notifications.
For the best overall option, the Sense Energy Monitor reigns supreme. In terms of track record and reputation, few brands match up to Sense and their longstanding commitment to smart home technology and efficiency. While a good energy monitor is supposed to be easy to use, having a strong customer support team is essential to unlock the full capabilities of your energy monitor.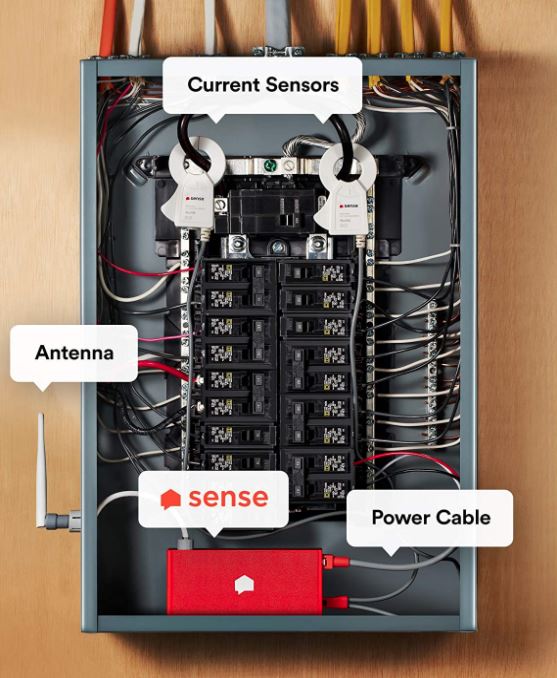 This is especially true for this Sense device as it comes with a range of features that provide deep analytics and insights into how energy is used throughout your home.
Installation is very simple and the included smartphone app and website provide detailed information on how to get your phone set up and ready for monitoring.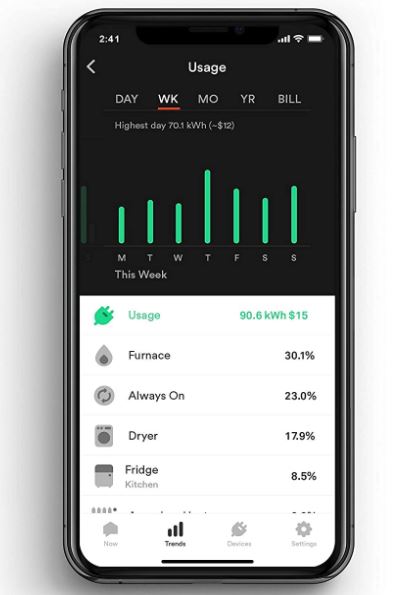 Besides solid hardware and quality components, it's Sense's software and pattern recognition that put it above the rest. After surveying real-world users and their experiences, Sense is great at spotting patterns based on deep data to provide you with powerful recommendations. Instead of just giving you a bunch of information, it provides insights that are actually actionable.
One thing that you must pay attention to with energy monitors is safety. Sense's components and systems are ETL/Intertek certified for installation and operation. This isn't always the case with other, lesser known manufacturers.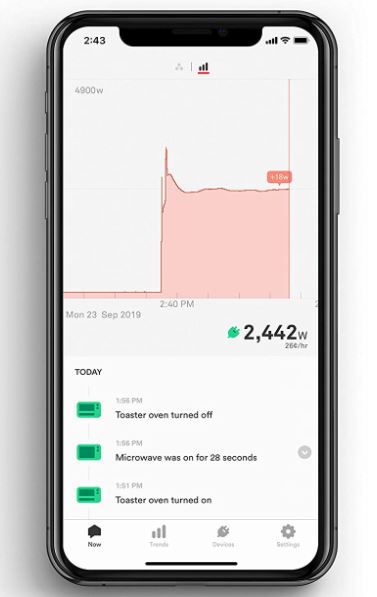 If you enjoy engaging infographics and a slick user interface, then the companion smartphone app is going to be enjoyed. Once you've set up the hardware, everything else is run through the app or web application. The overall experience is a pleasure. It's easy to navigate, even for people that are less tech-savvy.
With its host of innovative features, the Sense Energy Monitor is our top pick.
What We Liked:
Highly accurate readings.
Provides detailed reports and information.
Powerful smartphone app.
Pattern recognition is extremely insightful.
Easy installation.
What We Didn't Like:
Expensive.
May take a month or two to hone in.
Best Runner-Up: Emporia Vue Smart Home Energy Monitor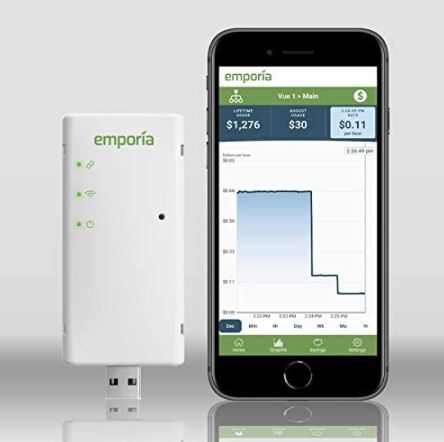 Key Features:
Uses Clamp-On Sensors.
Comes with 16, 50A Sensors.
Appliance Monitoring.
The Emporia Vue is a smart home energy monitor that provides accurate, real-time data extremely efficiently. Since the idea of a smart home energy monitor is to save money, this manufacturer works really hard to make their offering as affordable as possible. At nearly thirty percent less than the cost of our top choice, it's doing a great job.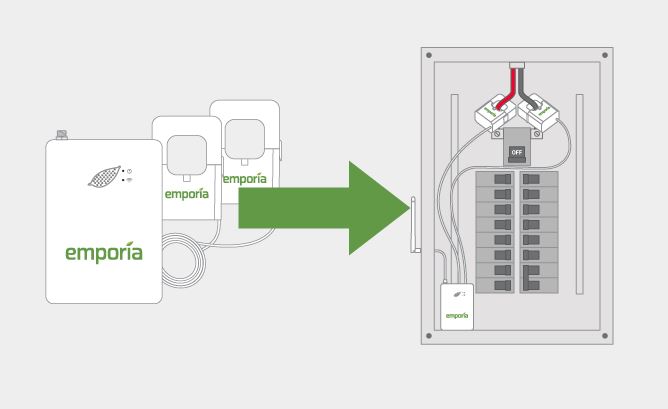 This unit provides many of the best features you'd want from an energy monitor including 24/7 monitoring, real-time data available remotely, individual circuit tracking, and push notifications. Where it really shines is for households that use solar as part of their energy consumption. The Vue lets you measure solar net metering without the need to purchase additional hardware. This is normally only found on monitors at higher price points.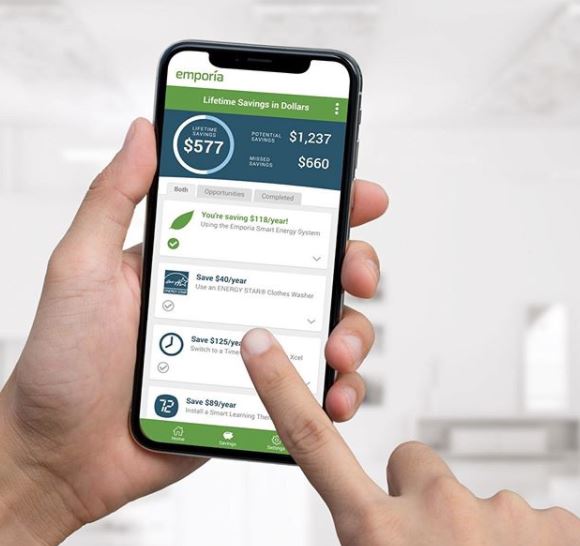 For those that want help with controlling their energy usage, the Emporia is compatible with their line of smart plugs that allows you to set timers, schedules and even control them from anywhere. It's an added feature that can pay dividends within the first year.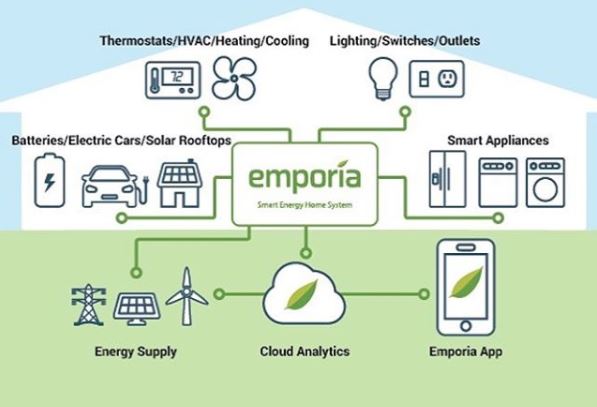 While there are many things we love about the Emporia Vue, the reason it comes in as a runner-up to the Sense Energy Monitor is because of its mobile application. While it is easy to use and functional, it lacks the refinement and sleekness you get with the Sense mobile application. However, the Emporia team is continually rolling out updates and this may not be an issue in the near future.
What We Liked:
Access real-time monitoring from anywhere.
Easy installation.
Compatible with smart switches for added control and savings.
Measuring Solar Net Metering is included.
What We Didn't Like:
Smartphone application could be better.
Best Budget: Eyedro Home Energy Monitor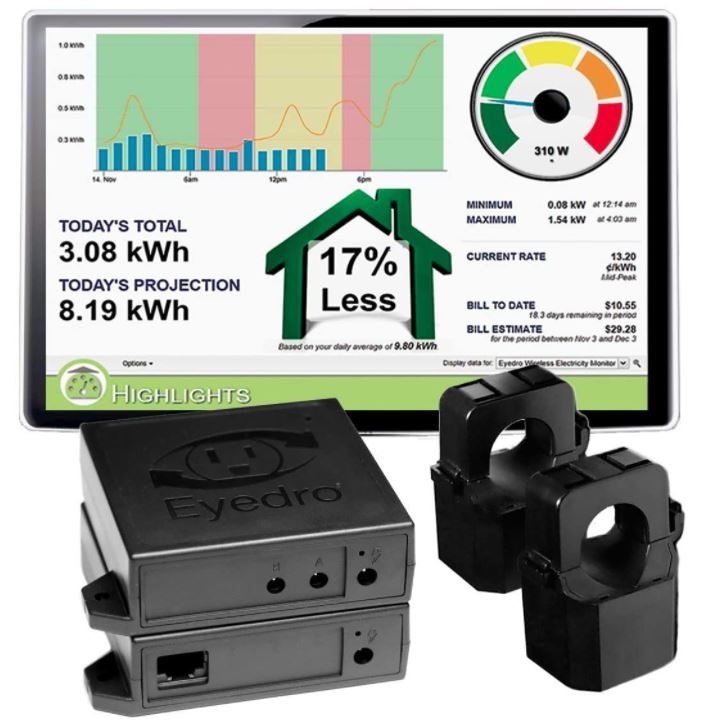 Key Features:
Remote Access from Anywhere With a Mobile Device or Computer.
View Usage Data in Watts, AMPS and $.
Simple Installation Instructions.
Power and Internet Outage Alerts.
Saving money using a smart home energy monitor doesn't have to be an expensive proposition. There are powerful monitors that do a great job at any price point as long as you know where to look. Things can get tricky when it comes to budget options simply because this segment is the most prone to cutting corners and inferior materials. Not only does this affect performance but it can also be dangerous. It's why we took extreme care in researching and testing the best product for our budget choice.
In terms of price, performance and accuracy, the Eyedro Home Energy Monitor is the clear winner. The first thing you will notice is that they do not cut any corners in terms of their materials and built quality. From the moment it is installed, many users remark how easy and effective it is to use.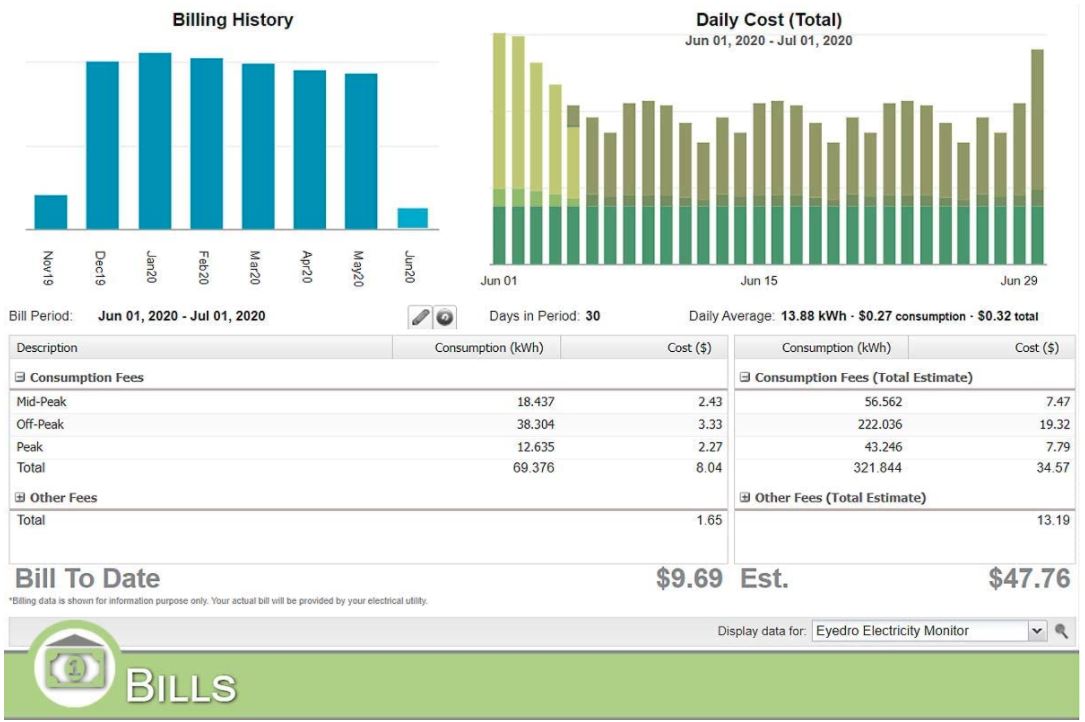 Whether you are in an older home or a new build, Eyedro's included clamp sensors are easy to connect with minimal effort. Most homeowners report being able to complete the physical installation within a few minutes and the software setup within an hour or two.
The Eyedro monitor can do all the important reporting and monitoring without any trouble and can deliver it to you in a range of formats. We especially liked how responsive and up to minute the monitoring was to changes that were taking place such as turning on the stove or turning off a television.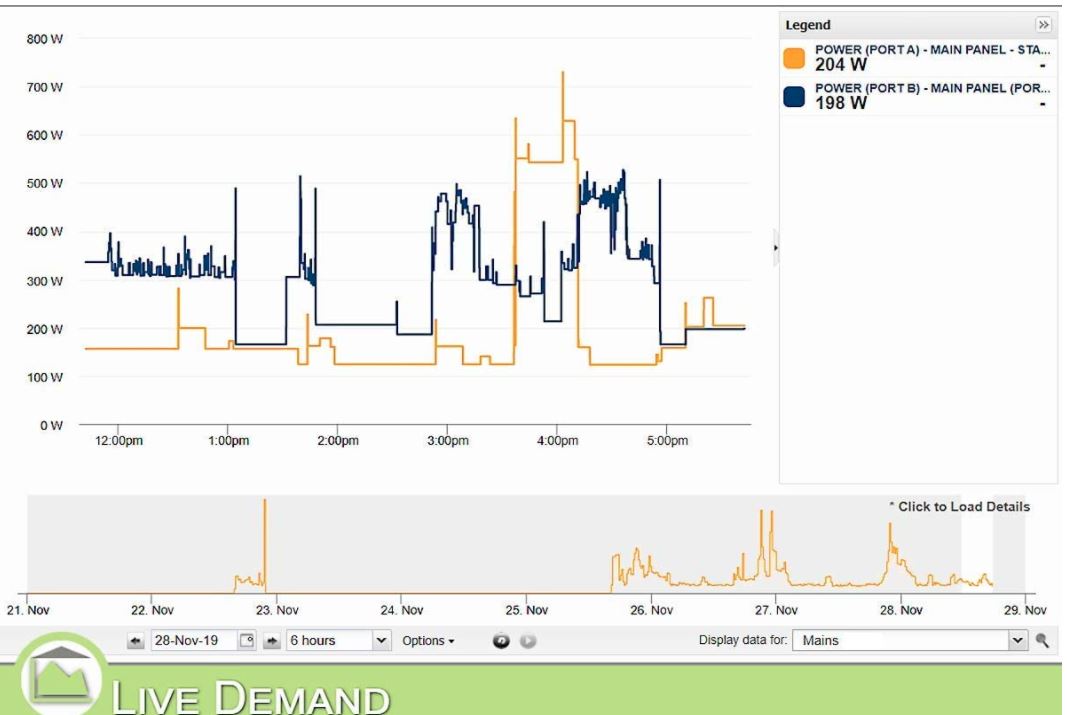 Your smart home monitoring experience can also be highly customized. Using the online web dashboard, you can even set up the "rates" feature which allows you to enter rates from the power company to get a better understanding of how your usage translates into costs.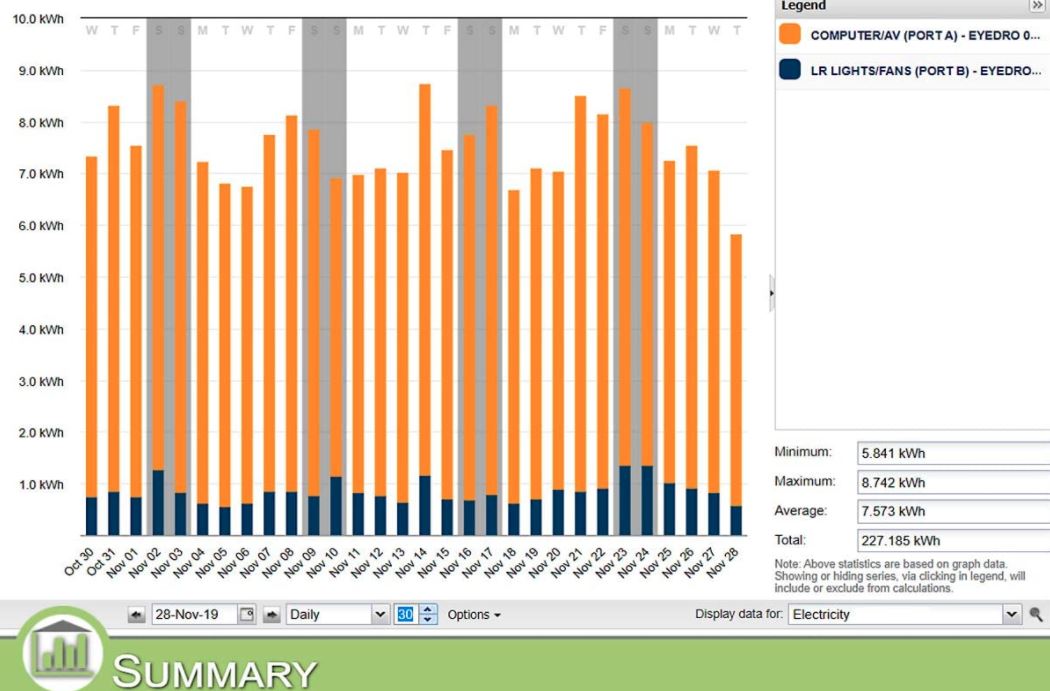 The only tradeoff with the Eyedro is that there is no smartphone app. Everything must be accessed through a web browser application. While it can be accessed using your phone's browser, the experience leaves a lot to be desired. However, all of your data is accessible wherever you are.
What We Liked:
Easy Installation.
Simple Online Setup.
Great Price.
"Rates" feature to see your energy adjustments represented as dollars.
What We Didn't Like:
No mobile device application.
Website requires a login each time.
Best Alternative: Kasa Smart Plug Mini w/ Energy Monitoring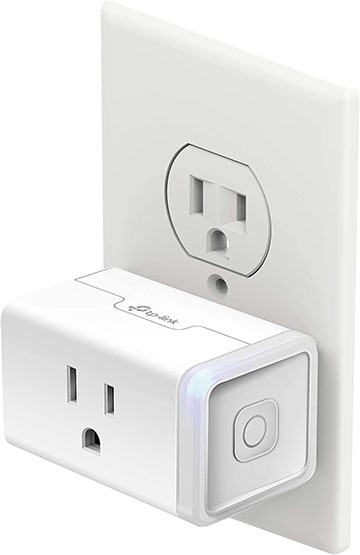 Key Features:
Smart Plugs With Energy Monitoring On-Board.
Voice Control Any Outlet.
Alexa and Smart Home Compatible.
Provides Energy Monitoring and Scheduling.
Accessible from Anywhere.
Easy Setup and Only Requires a 2.4 GHz WiFi connection.
Smartphone App.
UL Certified.
For homeowners that do not need the expense or the deep analytics that our other options on this list provide, the Kasa Smart Plug Mini is a great option to consider. Rather than looping in at the fuse box, this product plugs directly into the outlet and the devices that you want to monitor.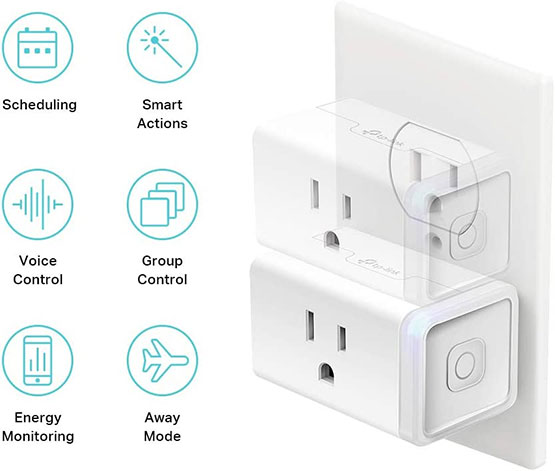 As opposed to a whole home system, this allows you to only monitor the things that matter the most to you. There are a few benefits to a system like this. First, in addition to monitoring, the Kasa Smart Plug gives you the ability to control whatever is plugged into it. This includes setting up schedules, tracking energy consumption and turning it on and off from anywhere.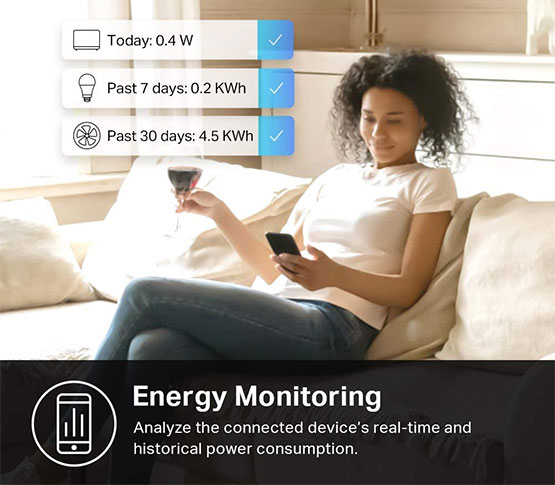 The plugs are Alexa compatible meaning you can control any of these plugs with your voice or the Alexa app. The included Kasa mobile app is no slouch either. Besides helping with setup, the app provides tons of helpful data in regard to your energy usage and provides recommendations on how to maximize your savings.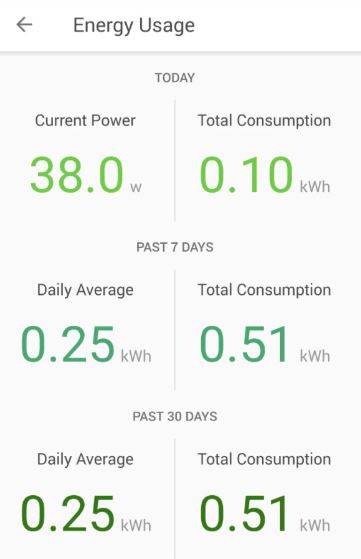 A powerful feature with these plugs is the ability to set up conditional rules based on the actions and behaviors of other smart devices in your home. For example, using the mobile app, you would be able to have your living room lamp turn on every time your front door camera detects motion. This is a great feature set for people that are away from home for long periods of time.
Although it isn't a traditional whole home energy monitor, the Kasa Smart Plug Mini fits the bill as the best alternative to consider.
What We Liked:
Rules and automation connected with other smart devices.
Low price point.
Sleek mobile app.
Easy installation.
Alexa and voice control compatible.
What We Didn't Like:
Doesn't provide whole home insights.
Best 2nd Alternative: TOPGREENER Smart WiFi Outlet w/ Energy Monitoring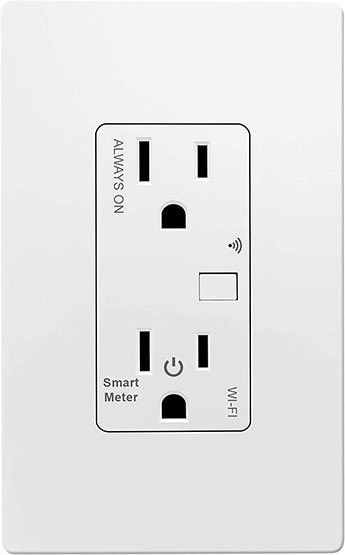 Key Features:
Smart Wi-Fi Outlet.
Google and Alexa Compatible.
Customizable Scenes and Schedules.
Smart Meter Enabled.
For those looking to monitor energy usage with the added benefit of controlling your devices from anywhere, this smart Wi-Fi outlet from TOPGREENER is a great option to consider. Instead of solely being a monitor, this product replaces the outlet in your home with what is essentially a smart device. Energy-saving features like smart metering are already built into the switch and allow you to make adjustments based on monitoring data.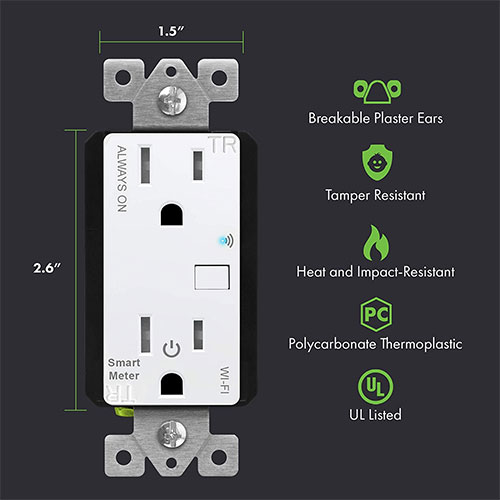 These outlets are Alexa and Google Assistant compatible making anything plugged into them controllable through your smartphone assistant app. Alternatives like these are worth considering if you have young children or adults that continually forget to turn things off. Smart outlets let you know in real time what is on and gives you the power to turn it off from anywhere.
One thing to keep in mind is that installing these outlets is going to be significantly more labor intensive than systems that are simply designed for monitoring that connect at your fuse box. You will most likely need to hire an electrician to install them.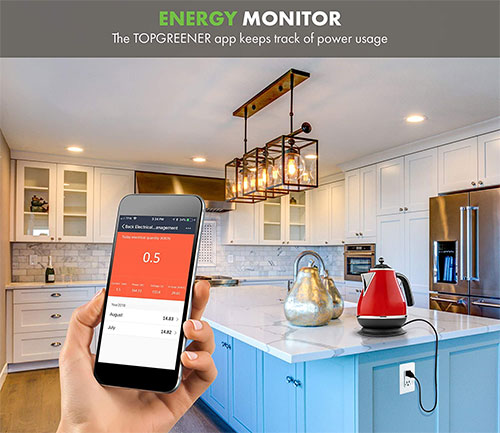 This can get costly depending on the number of outlets that need to be replaced. With that said, many users state that the energy savings they get from the first three months of use more than covers the expense.
What We Liked:
Allows for control of whatever is plugged in.
Includes smart metering features.
Cost per outlet is affordable.
Alexa and Google Assistant compatible.
What We Didn't Like:
Installation can be difficult and expensive.
Choosing the Best Smart Home Energy Monitor For You
While any of the monitors on this list would be a great option, it's important to choose a system that works best for your needs and goals. We recommend that you take stock of your current situation before diving into any specific products or features.
Are you renting? Do you own a home? Are you away a lot where you would like remote control besides analytics? Getting a handle on your current lifestyle will help you get a clear idea of your needs. From there, you can decide on things like price point and key features. Armed with these three criteria, it should make your decision-making process much easier.