USB has evolved a lot over the years. When the technology first rolled out, it was designed for data transfer only. But hardware engineers started using it for power, and power and data designs have both gone up. As a result, we've seen several iterations of USB, including USB 3.2, each more capable than the last.
This year, we're finally starting to see the implementation of a new USB technology: USB 4. This technology is the latest and greatest version of Bluetooth, designed for 8K video and more. But if you're going to take advantage, the first thing you're going to need is a new cable. Just like earlier versions of Bluetooth, Bluetooth 4 will only work with a compatible cable.
Today, we're going to review four of the best USB 4 Type-C cables on the market. These include:
Which one is the right choice for you? To answer that question, we'll have to take a closer look at each cable's design and performance. At that point, we'll deliver our verdict, and you can decide for yourself. Let's get started!
DriverGenius UC240-40G USB 4 Cable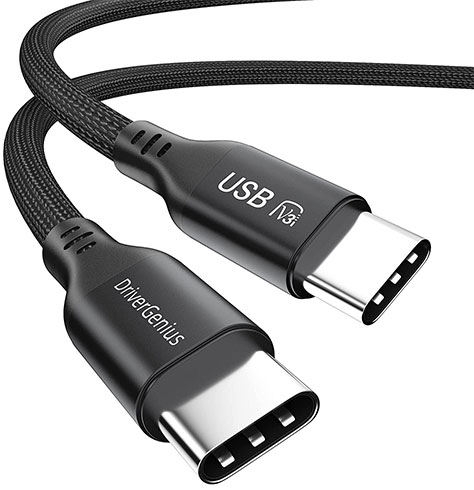 Key features:
5.9 feet long.
Nylon insulation.
DriverGenius is an experienced manufacturer of all kinds of USB technology. Not long ago, we reviewed their serial adapter hub. It worked very well, so we were curious to see how their USB 4 Type-C cord performed.
The DriverGenius UC240-40G is an all-black cable with narrow plastic heads on either end. The heads stay well clear of the tips, so you don't have to worry about fitting them into your device. The heads are also tapered at the back, with an extension that protects the cable where it connects.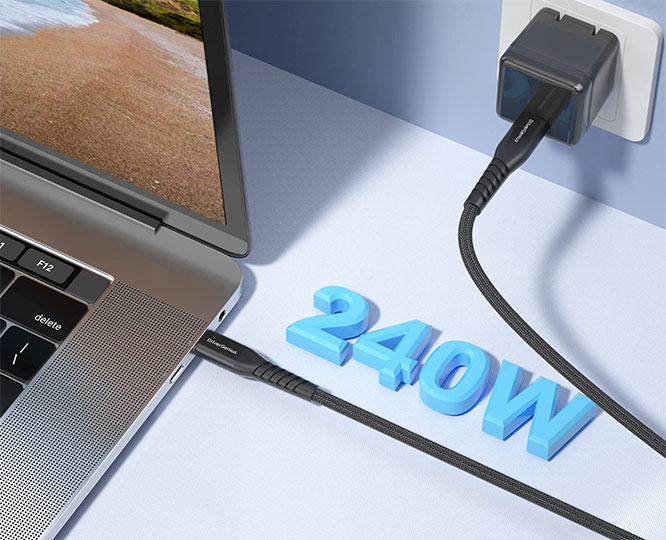 The insulation is made from a dense nylon weave. This material is very durable, and can stand up to twists, bends, and other abuse. It's also harder to tangle than a plastic cable. At 5.9 feet long, it's got plenty of reach. You can run a cable from an outlet to a tall shelf without running out of length.
The maximum data transfer speed of this cable is insanely fast. Unless you're using a USB data blocker, it's capable of transferring data at a rate of up to 40Gbps. That's fast enough to transfer the contents of a terabyte hard drive in less than 3 ½ minutes. To put it another way, it's four times as fast as the maximum speed for USB 3.2.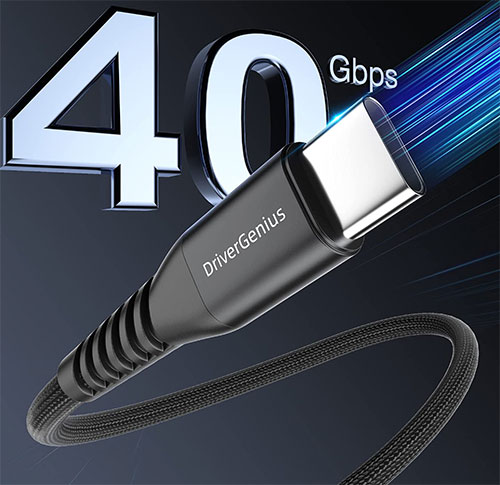 The DriverGenius cable also offers excellent video transfer performance. When connected to a single USB Type-C monitor, it can provide 8K video at 60Hz. Alternatively, it can support two monitors simultaneously in 4K at 60Hz. Either way, you're looking at a top-tier video cable.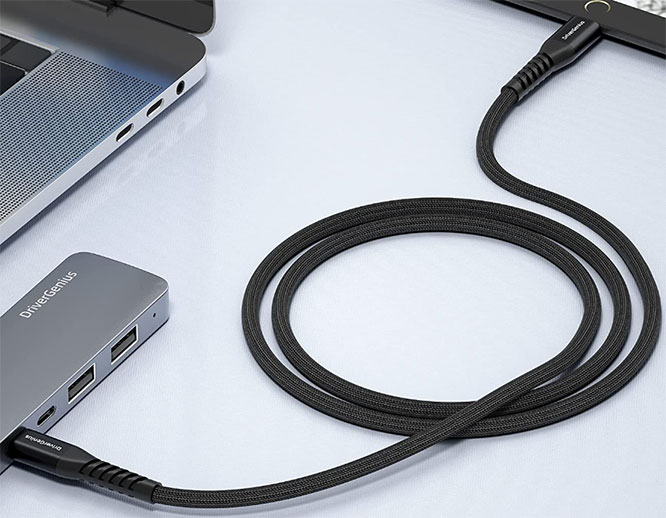 Power delivery is impressive, with the ability to deliver up to 240 watts. That's 140 watts more than the fastest existing PD charge cables. If you use an older charger or port, that's not an issue. The cable is backwards-compatible with USB 3.2 and 2.0, as well as Thunderbolt 3.
DriverGenius backs their cable with a two-year manufacturer's warranty. If it fails due to a factory defect, you'll be fully compensated.
Anker 515 USB 4 Cable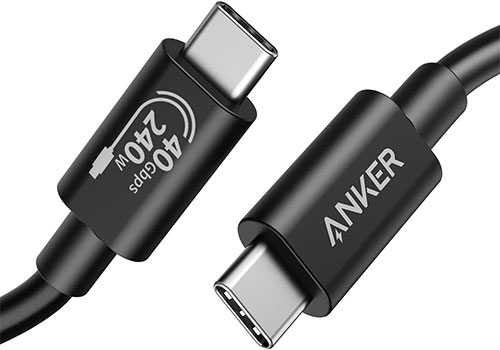 Key features:
3.3 feet long.
Rubber insulation.
Anker is another well-known manufacturer. Their offerings run the gamut from portable power stations to waterproof Bluetooth speakers. But they have a strong reputation for quality, regardless of the product line. So it only made sense to take a look at their USB 4 cable.
The Anker 515 USB 4 Cable is also all-black, but the design is otherwise different. For one thing, it's only 3.3 feet long. This can be limiting in some circumstances. But if you only need a short cable, you won't have to deal with a bunch of slack. The ends are fat and rubbery, but the metal tips are nice and long, so fitment should be no issue.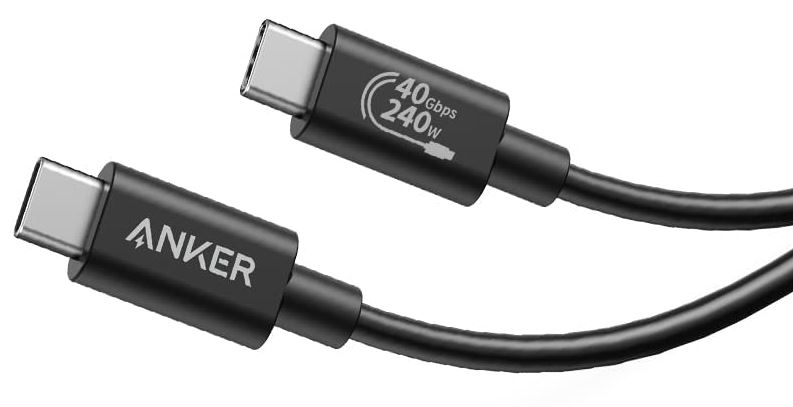 The cable insulation itself is also rubber. It does a great job of shielding and preventing interference. But keep in mind that rubber cables are more prone to tangling than nylon ones. Then again, it's very durable, with a rating of 5,000+ bends. You'll be able to get a lot of heavy use out of it before it fails.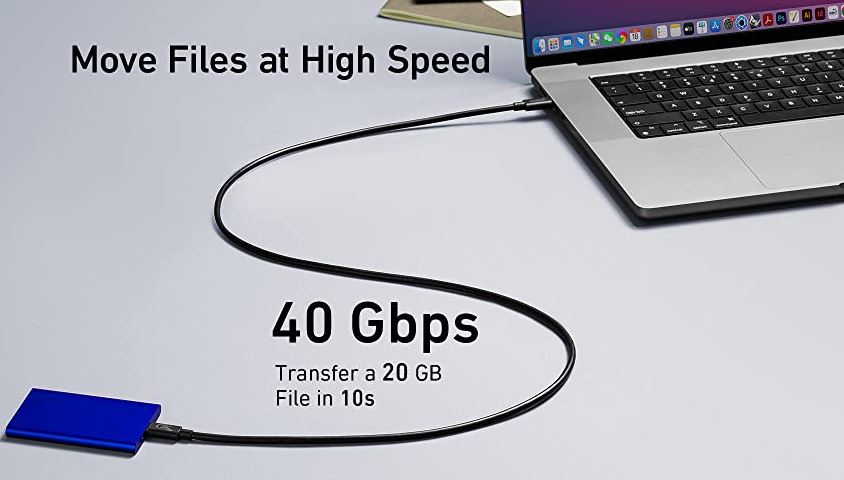 As for performance, you're looking at the same charging and data transfer rates as the DriverGenius cable. However, the video performance is a little bit different. With a single display, you can transfer 8K video at 60Hz. But instead of dual 4K screens at 60Hz, you get a single 4K display at 144Hz. This can be more desirable if you're gaming.
Anker's warranty is good for 18 months. That's more than enough to determine if there are any defects in parts or labor.
Cable Matters [Intel Certified] USB 4 Cable
Key features:
6.6 feet long.
Rubber insulation.
Cable Matters is famous for exactly what you might expect: their cables. We recently reviewed their retractable USB-C cable, and it impressed us with its performance and simplicity. So when we were looking for a good USB 4 cable, Cable Matters was an obvious choice.
The Cable Matters [Intel Certified] USB 4 Cable is available in black or white to match different electronics. The plug heads are a sturdy, blocky plastic, and are well-reinforced at the back end. The smooth rubber insulation is very protective, and is less tangly than most rubber cables. It's also 6.6 feet long, making it the longest cable on our list.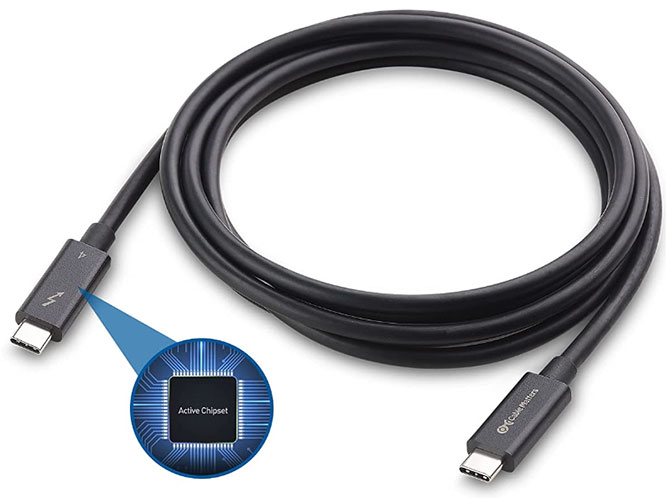 As for performance, this one is a bit of an oddball. On the one hand, it can support 8K or dual 4K monitors. It also transfers data at 40 Gbps, and is compatible with Intel's latest Thunderbolt 4 technology. On the downside, it's only capable of transferring 100 watts of power.
One downside is that it's the most expensive option in this article. The price is nearly twice as much as you might expect, but then again, you're getting an excellent quality cable with wonderful capabilities.
VCOM USB 4 Cable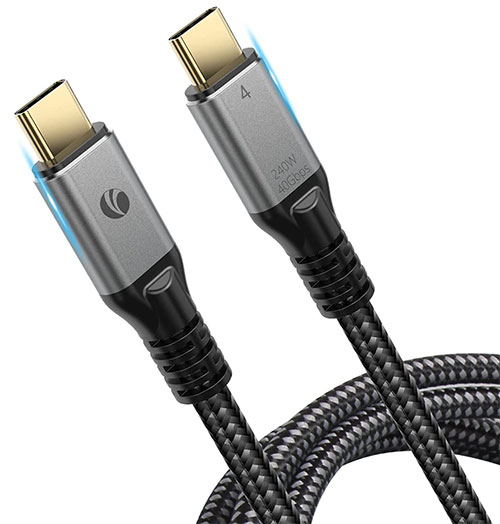 Key features:
2.6, 4, or 6.6 feet long.
Nylon insulation.
The VCOM USB 4 Cable is available in three different lengths: 2.6, 4, or 6.6 feet. This gives you the flexibility to use it for pretty much any application. It can work as a short patch cable, or you can buy the longest version if you need a little more reach.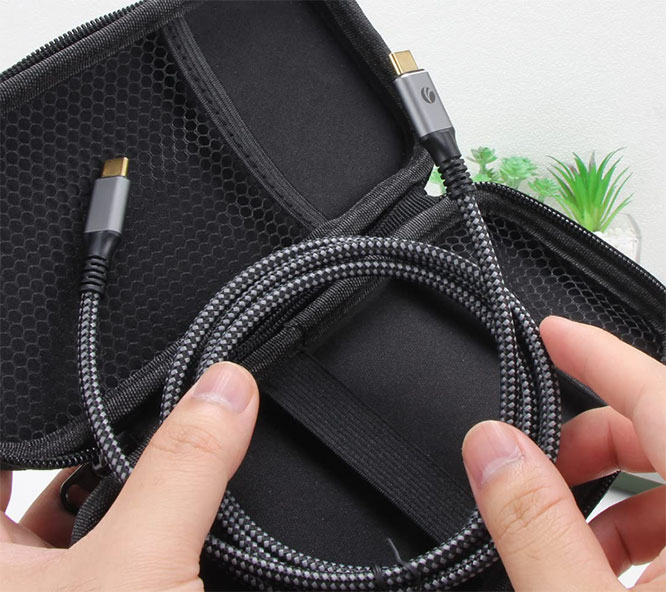 The heads on the cable are silver-grey, with black rubber reinforcements at the back. The cable itself has a dense nylon weave insulation that's exceptionally durable. It's rated for a whopping 30,000+ bends, which is more than almost any other cable on the market. If you want to keep the same USB 4 cord for the next decade, look no further.
The 40Gbps of data transfer and 240 watts of power are the best you'll get from any USB 4 cable. Video transfer at 8K runs at 30Hz. It can also support a 5K connection at 60Hz, or dual 4K displays at 60Hz.
Best of all, the VCOM is the least expensive option in this article. The price is a nice relief, especially when compared to top-end competitors such as the Cable Matters or DriverGenius.
What is USB 4?
USB 4 is a new technology, and you might not be familiar with it. So, what sets it apart from earlier versions of USB? To begin with, it only works with the USB type-C format. There's no such thing as a USB 4 Type-A cable. Besides that, the new standard has several other distinct advantages.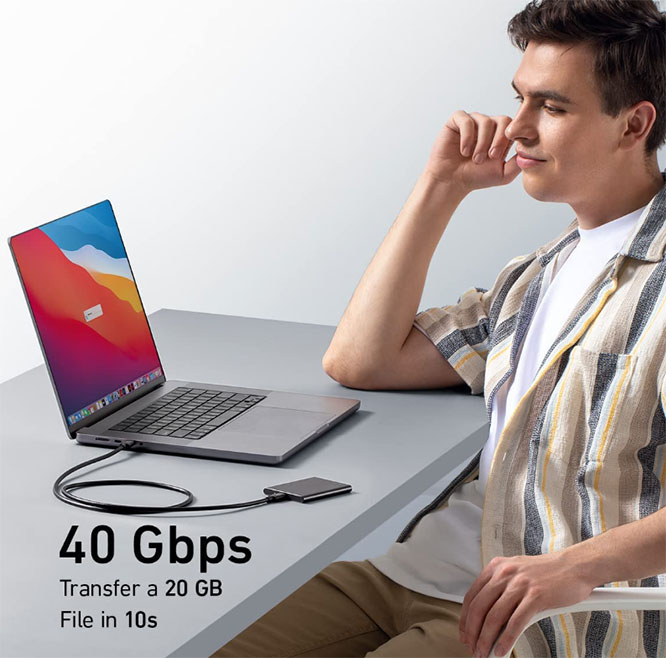 To begin with, the maximum data transfer speed has been massively increased. While USB 3.2 tops out at 10Gbps, USB 4 can transfer data at an insane 40Gbps. It's also compatible with Thunderbolt 3. Not all USB 4 devices will be Thunderbolt-compatible. But if manufacturers want to make them cross-compatible, they'll be able to.
USB 4 also supports DisplayPort 2.0 alternative mode. This allows you to transmit ultra-high-quality video. In theory, the format supports 8K resolution at 60Hz, along with HDR10 color. This is achievable because the bi-directional data lanes become unidirectional when transferring video. As a result, the data throughput doubles to 80Gbps.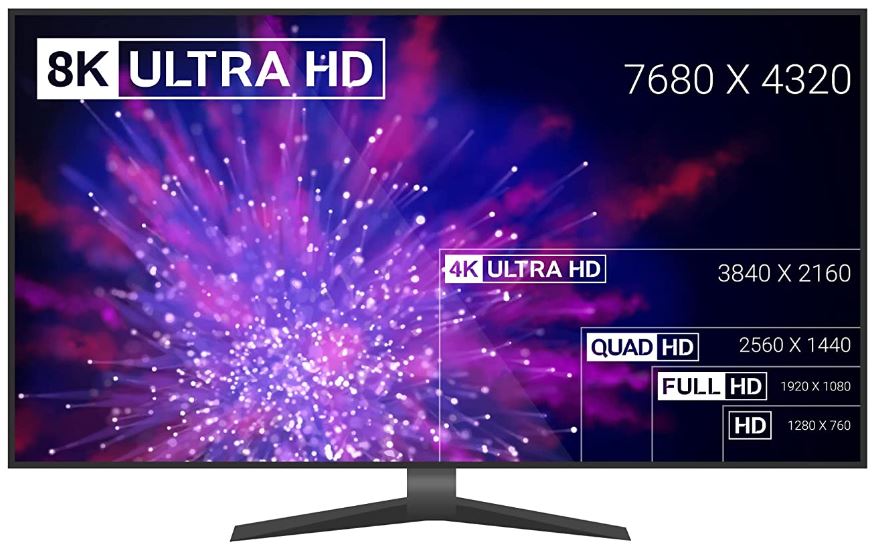 If your device doesn't support alternative mode, USB for uses a technique called protocol tunneling. This sends USB, DisplayPort, and PCIe packets simultaneously. For example, let's say you're using an ordinary 1080p monitor that requires 10% of the total bandwidth. The other 90% would be available for file transfer and other tasks.
Finally, USB 4 cables are capable of 240-watt power delivery. That's 140% more than older USB Type-C standards.
What Makes a Good USB 4 Type-C Cable?
Before we finish, let's talk about what makes a good USB 4 Type-C cable. Other than the length, why would you opt to choose one over another? As it turns out, there are a few factors to consider. Here are the most important.
Charging and Data Transfer
Just because USB 4 is technically capable of meeting certain benchmarks doesn't mean that every cable will. Before you buy, make sure to check the data transfer rating. If it's anything less than 40Gbps, think carefully. You'll be limiting yourself to less than the maximum possible transfer speed.
The same goes for power delivery. Many USB 4 cables won't provide the maximum of 240 watts. That's not a big deal if you're only looking for a data cable. But it's critical if you want the fastest possible charging.
Durability
A lot of cables these days are cheap. This is particularly true for the cables that come with many devices. They a tiny amount of plastic insulation, and they wear out very quickly. Nylon cables tend to be the toughest, but they come with their own issues. While they're harder to tangle or cut, they can sometimes become kinked.
When in doubt, see if the cable has a bend rating. A cable that's rated for 5,000 bends is very good. Anything rated for more than 10,000 bends is outstanding.
Plug Form Factor
In most cases, the size and shape of the plug won't be important. But there are situations where it can matter. For example, if you have a thick phone case, you'll want a longer plug. In general, minimalist plugs are best. Chunky, oversized heads should be avoided at all costs.
Final Verdict
All of these cables could be a great choice, given the right circumstances. But which one should you choose as your first USB 4 Type-C cable? As is often the case with cables, a lot of it ultimately comes down to length. But there are still some other features worth considering.
The DriverGenius UC240-40G is 5.9 feet long, enough for most everyday purposes. The slim heads are great for areas where a bunch of ports are jammed close together. And while the manufacturer doesn't provide a bend rating, the nylon insulation seems fairly durable. Besides which, it's protected by a two-year warranty.
At 3.3 feet long, the Anker 515 USB 4 Cable is the shortest of the bunch. Even so, it's surprisingly capable, and it's rated for 3,000 bends. The rubber insulation makes it somewhat more prone to tangling, but it's short enough that that's a minor issue. And with 4K video transfer at 144 FPS, it's a great cable for gamers.
The Cable Matters [Intel Certified] USB 4 Cable is the longest we looked at, at 6.6 feet. It's not ideal if you want maximum power delivery, since it tops out at 100 watts. That said, it's the only cable on our list that works with Thunderbolt 4. If you're using a brand new Intel chipset, this will allow for top-tier data transfer.
Length is not a concern for the VCOM USB 4 Cable. With 2.6, 4, and 6.6-foot options, there's a perfect cable for any application. Video performance, data transfer, and power delivery are all excellent. And most impressively of all, it's rated for 30,000+ bends in a lifetime. By the time this cable wears out, it will already be obsolete.
Meet Derek, "TechGuru," a 34-year-old technology enthusiast with a deep passion for tech innovations. With extensive experience, he specializes in gaming hardware and software, and has expertise in gadgets, custom PCs, and audio.
Besides writing about tech and reviewing new products, Derek enjoys traveling, hiking, and photography. Committed to keeping up with the latest industry trends, he aims to guide readers in making informed tech decisions.