These days, our smartphones are like extensions of ourselves. Not that long ago, it was perfectly normal to leave your house, and not to have a phone with you. But we rely on our phones for so many tasks that they might as well be glued to us.
Not only do we use them for staying in touch, but we have all kinds of apps. Many people use GPS apps for navigation, or banking apps to manage their finances. If you want to order food, there are dozens of apps to choose from. This gives us all kinds of conveniences that people couldn't have imagined just a few short years ago. Unfortunately, it also means we have to constantly think about ways to charge our batteries.
There are many ways to ensure that your battery stays at a healthy level. For example, a lot of people carry a portable power bank when they go on outings. Others prefer to carry a wall adapter. But no matter what you're plugging into, you need a cable to go along with it.
The cables that come with phones are typically six feet long, although that varies by manufacturer. This is a fine length for using around the house, but it can be inconvenient to put in your pocket. If you want something more manageable, a retractable charging cable is an ideal solution.
We're about to review three of the best retractable charging cables on today's market. These cables are designed with a built-in reel, and they coil up tightly for easy transport. That said, there are important differences to consider.
Most importantly, we need to look at cables with various types of tips. Android phones can charge either via Micro USB or via USB Type-C. iPhones, on the other hand, charge via Lightning cables. We chose a variety of cables, so there will be at least a couple that work with your phone. We'll also talk about other features, such as the cords' charging and data transfer capabilities. After we've given each one a thorough evaluation, we'll make a final comparison. Let's get started!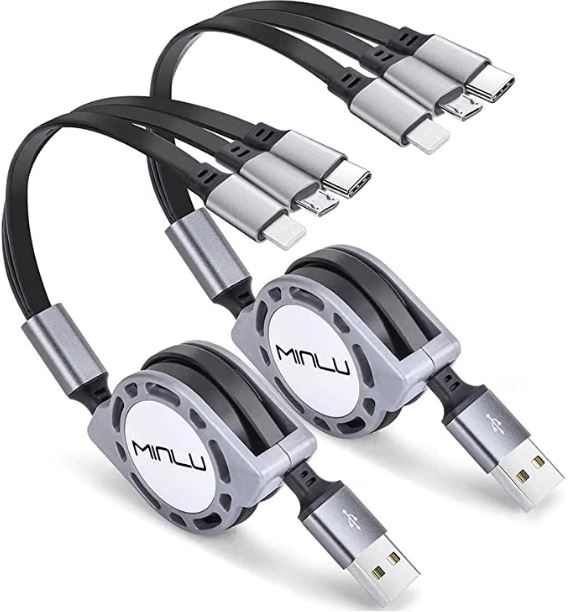 Minlu Multi Retractable Fast Charger Cord
The Minlu Multi Retractable Fast Charger Cord consists of a flat black cable and a small grey reel. The cable itself is made from TPE plastic, which is very durable as well as hard to tangle. The USB tips themselves are crafted from a tough aluminum alloy.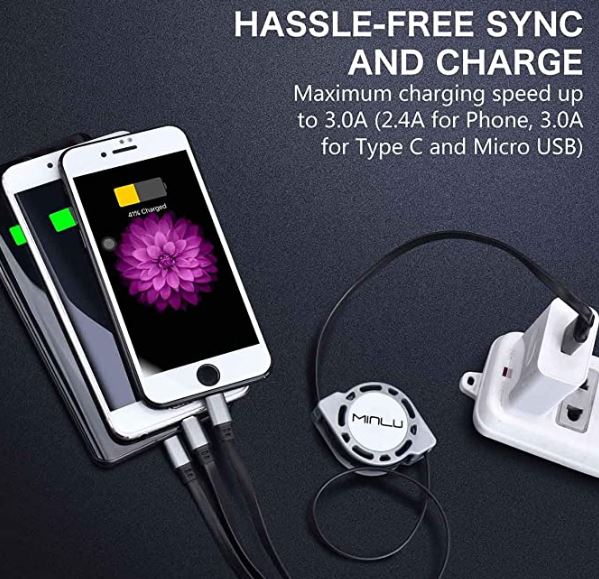 This cord has a three-in-one design. At one end, there's a single USB Type-A plug, for connecting to your power supply. The other end is split, with three short pigtails and three separate tips: USB Type-A, Micro USB, and Lightning. As a result, you'll be able to charge any smartphone on the market.
To extend the cable, just pull gently on both ends. As you pull, it will reach four points where the reel clicks. When you hear a click, you can stop pulling, and the cable will not retract. The four possible stopping points give you four potential lengths. The cable can extend 1 foot, 1.96 feet, 2.86 feet, or 4 feet. This gives you the flexibility to have the exact length of cable you need. To reel it back up, tug on both ends and let the spring-loaded reel pull the cable back in.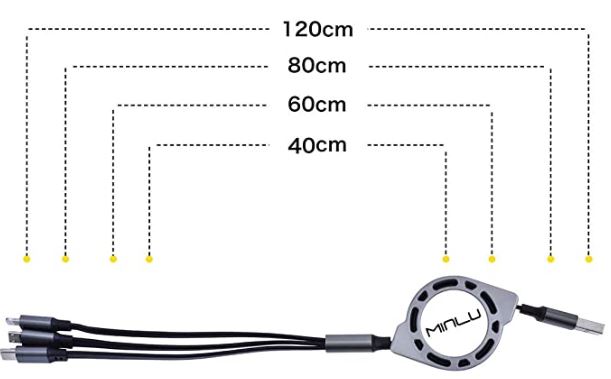 All three tips on the Minlu charger are capable of providing charging power. However, only the Lightning tip is capable of data transfer. If you need a dual-purpose cable and you're an Android owner, you'll want to choose a different option.
That said, the charging performance is very good. The Lightning tip will provide 5 volts of power at 2.4 amps, for a standard 12 watts. The Micro USB tip provides a similar 12-watt current. The USB Type-C tip is a little bit more robust, and can deliver 3 amps of current, or 15 watts.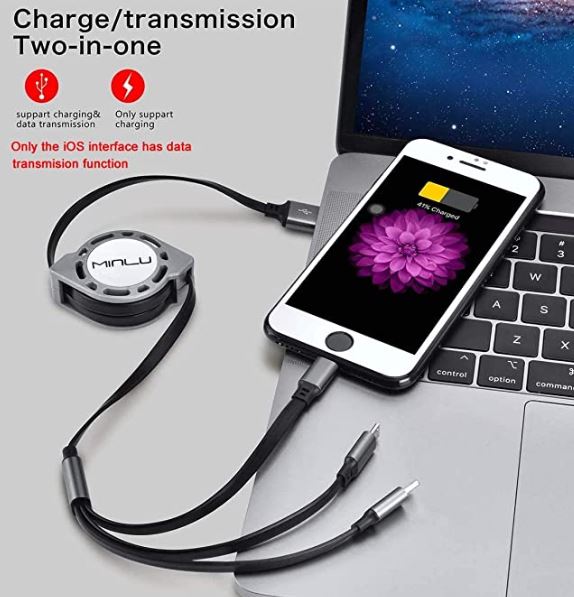 Your performance will be affected by your wall charger or power bank. If you plug into a 2.4-amp USB port, you'll only get 2.4 amps of power. It will also degrade if you're using more than one charging tip. You can charge up to three devices at a time if you want to, but the current will be split three ways. This will significantly slow your charge time. If you're going to do that, it helps to use a more robust, 3-amp charging port.
This cable is protected by a 12-year manufacturer's warranty. If anything fails due to a factory defect, you'll get a full refund or a free replacement.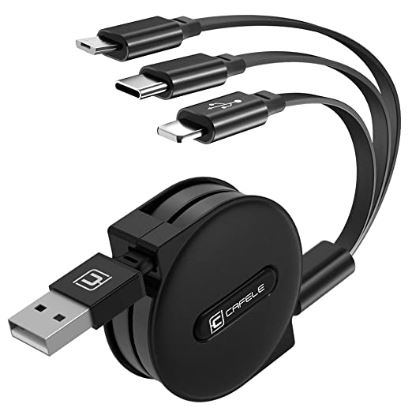 CAFELE Retractable Multi Charging Cable
The CAFELE Retractable Multi Charging Cable is similar in broad terms to the Minlu cable. It has the same general design, with three charging tips in USB Type-C, Micro USB, and Lightning formats. That said, there are major differences between the two, beginning with the color. The CAFELE cable and reel are available in black, grey, or blue. To be fair, that's just a cosmetic concern, but it's still nice to have color options.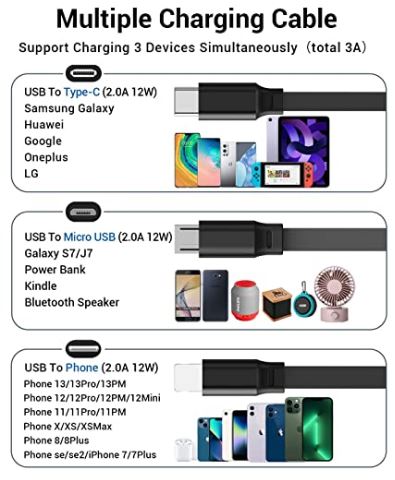 The cable itself has a flat, tangle-free design, and can extend as far as 4 feet. It extends and retracts easily, and it also has five stopping positions. In addition to 4 feet, it can be set to 3 feet, 2.3 feet, 1.6 feet, or 0.6 feet. You're looking at a very versatile cable that's great for your home, car, and just about anywhere else.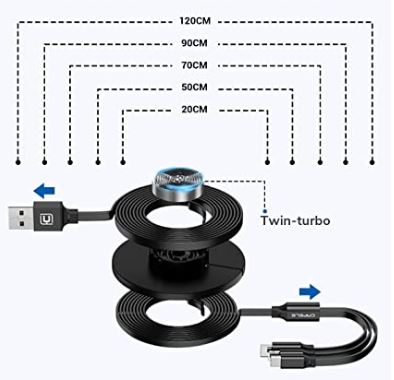 The CAFELE cable can deliver power via all three tips. However, only the Lightning tip is capable of data transmission. This won't pose any issues for charging, but it's troublesome if you need a data transfer cable.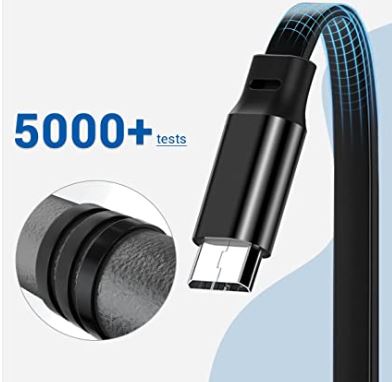 All three tips can deliver 5 volts, 2.0 amps of power, for a total of 10 watts. That's less than standard USB, which is a bit disappointing. However, the input power can be as high as 15 watts. This allows you to split the current between multiple phones. As with the last charger we looked at, be aware that this will slow down your charging performance.
Possibly the most impressive feature of this cable is the warranty. CAFELE guarantees it for three years, which is far longer than most cables. By that point, you'll probably be looking for a new one, anyway!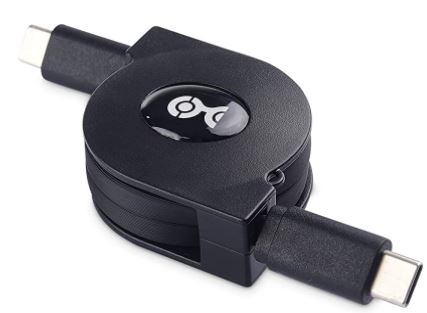 Cable Matters Short Retractable USB-C Cable
Cable Matters is a respected manufacturer of all kinds of cables. For example, not that long ago, we reviewed their HDMI to Display Port Adapter. Based on their past track record, it made sense to check out one of their retractable cables.
The Cable Matters Short Retractable USB-C cable is more or less what it sounds like. It's a USB Type-C to Type-C cable that retracts into a reel. The cable is flat and black, and the reel is colored to match. It's easy to retract and extend, and you can set it to five lengths.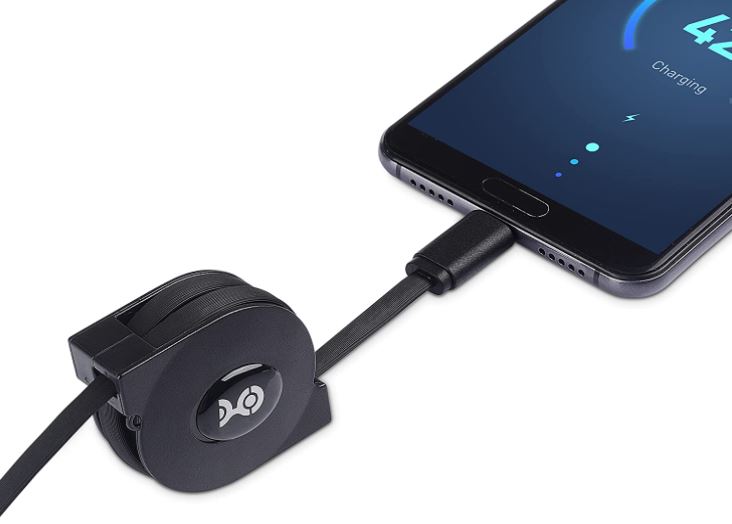 At its shortest, it can be 0.9-foot long. It can then be extended to 1.5 feet, 2.2 feet, 3 feet, or 3.5 feet. As an added bonus, it comes in a two-pack. If your partner – or child – is always stealing your cable, now they can have their own.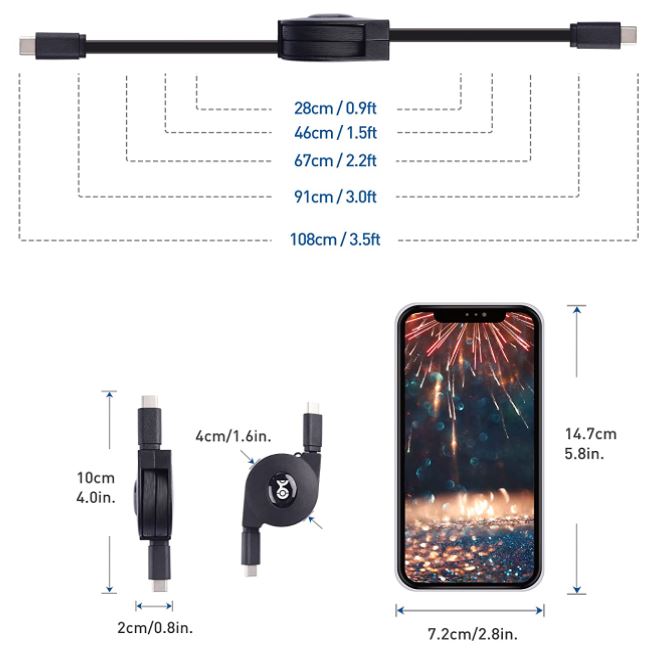 This cable supports PD charging at a rate of up to 60 watts. That's enough to charge even many laptops at maximum speed. It's more than enough to charge any smartphone or tablet while it's in use. It also supports use as a data transfer cable.
The data capacity is only 480Mbps, which is USB 2.0 standard, not USB 3.0. But this is a common occurrence in charging cables, so we're not terribly disappointed. As for durability, it seems reasonably tough, although there's no reinforcement near the heads. There's also no warranty, but at this price, who's complaining?

ReTrak USB-C Cable
The ReTrak USB-C cable has a simple, straightforward design, with simple, straightforward functionality. This is a flat white cable with a matching white reel. It's designed for USB Type-C to Type-C charging, and it's pretty well put together.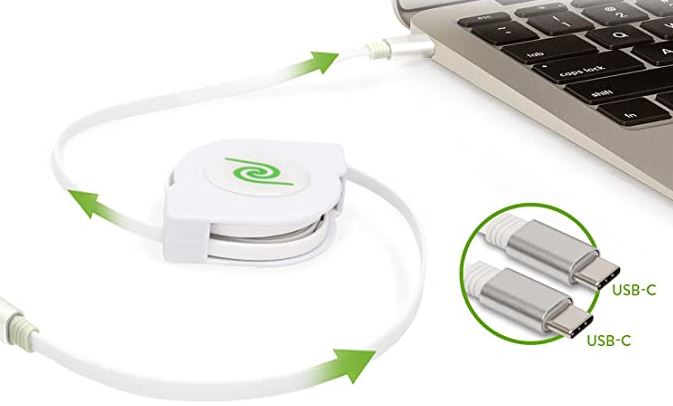 ReTrak doesn't mention any kind of warranty, but the reel seems sturdy and well put-together. The same goes for the tips, which seem tough, and have fat, flexible reinforcement where they meet the cable.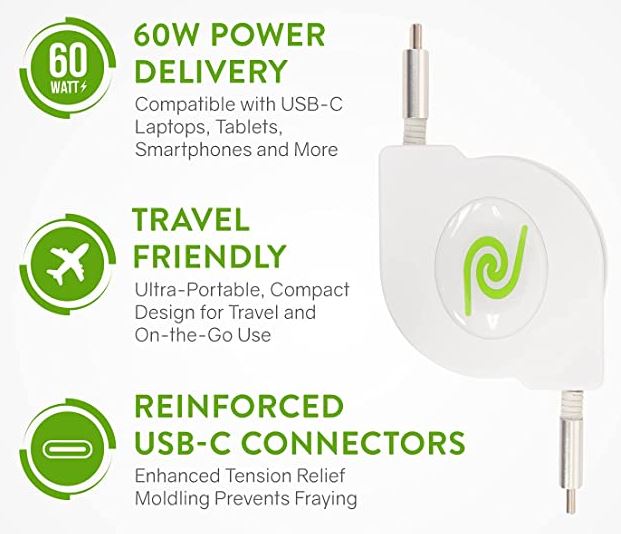 This cable can extend as long as 6 feet, but doesn't have any discreet stops along the way. It's either extended, or it's collapsed. The maximum charging power is 60 watts, which is pretty good. You'll be able to quickly charge any USB Type-C device.
And for anything but larger laptops, you'll be able to use the device and charge it simultaneously. You'll also be able to take advantage of 480Mbps of data transfer. That's not exactly blazing fast, but it's sufficient for most purposes.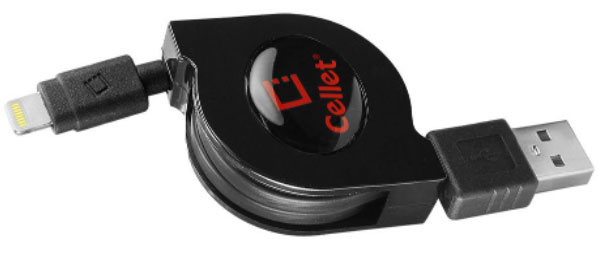 Cellet Retractable Lightning Cable
The Cellet Retractable Lightning Cable is the most compact of the bunch. With a maximum length of 3 feet, it's not suitable for long runs. But if you want the smallest retractable cable possible, you'll love this one.
Despite its name, this cable is actually available in several varieties. The default USB Type-A to Lightning variant is available in white or black. There are also USB Type-A to Type-C, Type-C to Type-C, and Type-C to Lightning. These variants are only available in black.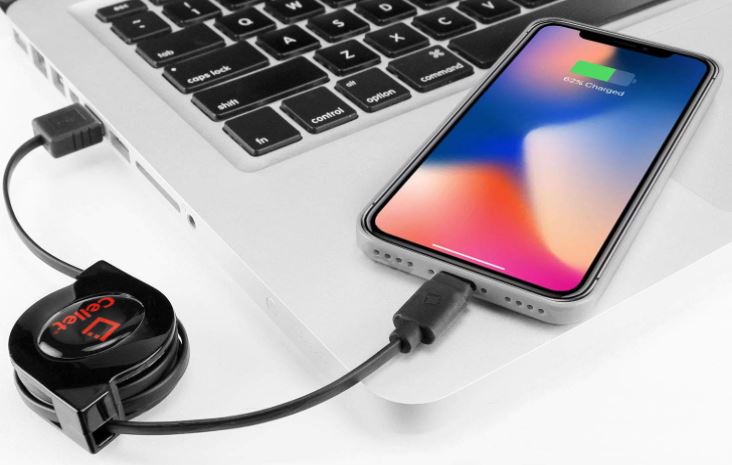 Your charging performance and data transfer rates will depend on which variant you use. The Lightning cables provide standard Lightning cable performance. That's a charging rate of 12 watts, and a data transfer rate of 480Mbps. For the Type-A to Type-C version, you get slightly enhanced performance. The charging rate is 15 watts, and the data transfer rate increases to 512Mbps.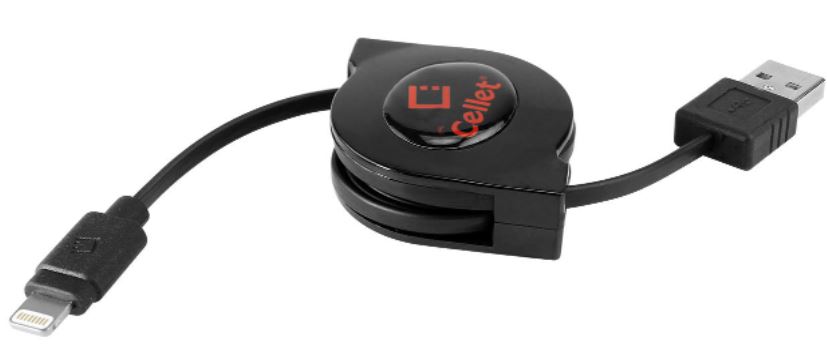 There are no ratings provided for the Type-C to Type-C version. However, it seems to be the same as the Type-A to Type-C. Keep in mind that you'll need a compatible charging port to get more than 12 watts.
But what if you want a different design altogether? If none of these cables scratch your itch, check out our list of the best 180-degree, U-shaped USB Type-C cables. They're great for gaming, or for any time you want to keep the cable out of the way.
Final Verdict
All five of these cables have a lot to recommend them. Depending on your needs, any one of them could be a great choice. But what is it that sets them apart?
We started out by looking at the Minlu Multi Retractable Fast Charger Cord. This cord has USB Type-C, Micro USB, and Lightning tips. As a result, it can be used to charge any type of phone. It's reasonably durable, and it can deliver up to 15 watts of charging power. If you want to charge multiple phones, it's a worthy selection.
Next, we looked at the CAFELE Retractable Multi Charging Cable. This cable has similar features, but there are a few key differences. First, there are more possible lengths. Next, it has slightly less charging power. Finally, it comes with a three-year warranty, so it's certainly pretty tough.
The Cable Matters Short Retractable USB-C Cable is for USB Type-C to Type-C charging only. That said, it provides 60 watts of PD charging power. That's way more power than you can get from a cable with a Micro USB or a Lightning connector. It also comes in a two-pack, which is a great added value.
The ReTrak USB-C Cable is the most basic of the bunch, but that's not necessarily a bad thing. For one thing, it's very tough and durable. For another thing, it provides up to 60 watts of charging power. And with a maximum length of six feet, it can reach anywhere your phone's regular cable can.
The Cellet Retractable Lightning Cable is available in Lightning and USB Type-C variants. It can also accept power from either USB Type-A or Type-C. Depending which version you order, it can be used for most modern smartphones. And at only 3 feet long, it takes up minimal space in your pocket.