There are probably a million different reasons you might want to move an HDMI signal over to a DisplayPort signal. But if you're someone who wants to take advantage of DisplayPort's unique properties, like its ability to handle UHD content with higher refresh rates, then you'll need to be a little more selective with the adapter you choose to get that job done.
Choosing the Best HDMI to DisplayPort Converter Adapters
The good news is that when you're trying to pick a good HDMI to DisplayPort converter adapter, there's really only three or four things you need to concern yourself with. The bad news is that unless you're prepared to think about how you plan on setting up your own converter adapter in very concrete terms, then picking the right one will be much more difficult.
Build Quality
In many ways, build quality is the most obvious thing you should consider. But it can also be very easy to overlook. If you plan on using your adapter in a mobile capacity, then you'll want to pay special attention to the quality of its build. Because for that type of use, you need the adapter to be able to be plugged in and out, over and over.
Time can wear down those connection terminals. But well-built adapters are constructed to endure thousands of connections, provided you don't try and store them in a swamp or similar extreme conditions. Conversely, if you're someone who plans on plugging in the adapter and never touching it again, then you can be less concerned with the overall build quality.
Because as long as you don't end up with a dud, and as long as you're not subjecting the adapter to extreme environmental conditions, just about any decent HDMI to DisplayPort adapter should serve the purposes of a non-mobile user. It really only needs to plug-in and work, right?
Cable Distance
How long is the cable that runs between the HDMI connection and the DP connection? That will help determine how close together the two devices you're connecting need to be. You'll also want to consider the length of the included power connector because any active converter adapter will require an extra power source to work as an active adapter.
In most cases, that power source is provided through USB, which means a USB cable is included with the adapter. You might find alternatives to USB power connections, like DC power connections. But USB power is usually the simplest and most reliable way to get the job done because it doesn't require you to get another adapter or power-box involved.
Format Versions
Most people won't have to worry about this. But if you're interested in accessing higher refresh rates, like PC gamers may be concerned with, then you'll want to think about the version of HDMI and DP supported by the converter adapter that you're using.
Reaching 30Hz while running a UHD 4K resolution is something just about any adapter ought to be able to provide. But how does the adapter perform running at 1440p? How about 1080p? Reaching higher performance standards is only possible when you're working with the latest versions of the DisplayPort format. For people who expect to run high refresh rate content at lower resolutions, these types of questions can be quite important.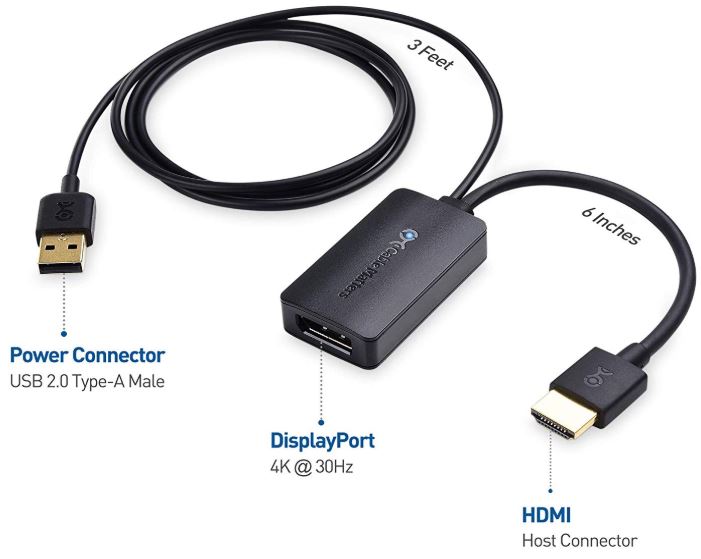 Cable Matters HDMI to DisplayPort Adapter
Like its name suggests, the Cable Matters HDMI to DisplayPort adapter helps connect your PC or laptop up to an HDMI display with a DisplayPort input. You'll need a DisplayPort cable, which isn't included with this kit, in order for the HDMI male to female adapter to work. But once you've got the USB power cable all connected, you ought to find this is one of the most efficient and reliably adapters you could ever hope to get your hands on.
Design & Layout
When compared to a lot of similar adapters, Cable Matters delivers what could be called a generally superior quality. Because this isn't a brand that makes adapters and cables on the side, it's their main focus as a brand. It's easy to see that focus in the design of their products. Here you'll notice gold plated connection terminals on the ends of the adapter, helping to protect the connections from corrosion.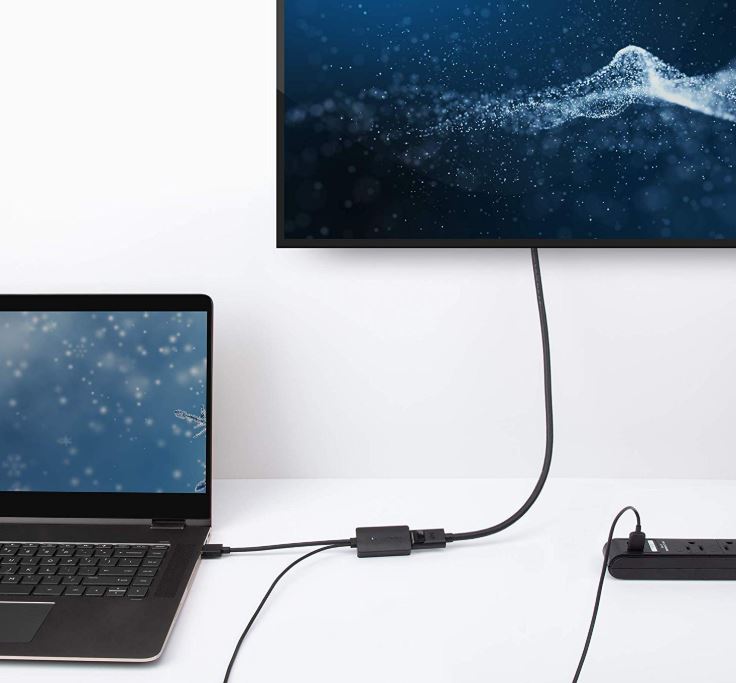 The housing of each adapter is made from sturdy ABS, which is both impact resistant and able to handle heat pretty well. The total adapter weighs about half of an ounce, which is reasonably lightweight, as you might expect. Aesthetically, the only thing to point out is the Cable Matters logo is embedded on the topside of the DisplayPort portion of the adapter. That makes it a little easier to determine which portion of the adapter is which.
The USB 2.0 Type-A male power connector runs about three feet from the center of the adapter. The cable connecting the DisplayPort box to the HDMI format runs about six inches. Using the adapter is a tiny bit complicated because you need to plug in the additional power connector if you want this adapter to be an active converter adapter. But the added step isn't too challenging.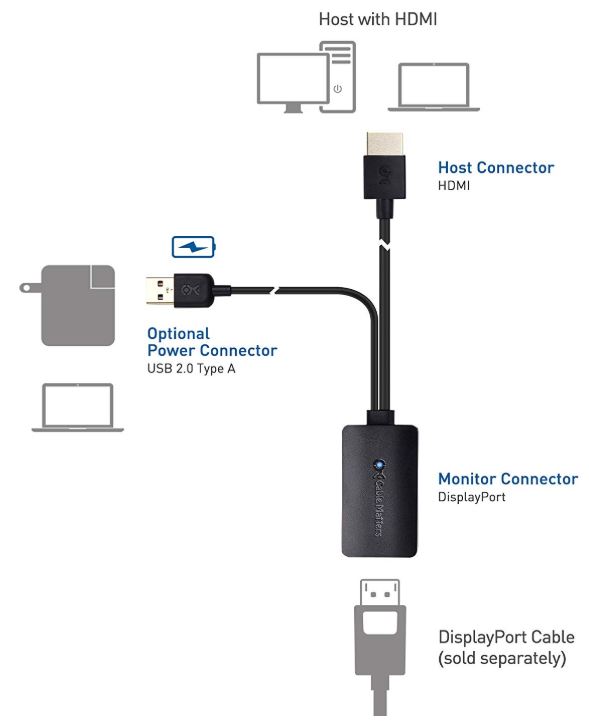 Once connected properly, this adapter provides active HDMI to DisplayPort conversion. That means you can transmit high definition audio and video from your PC to a DP monitor pretty easily, and expand your workspace to a second monitor. The 4K video resolution support means you're covered for resolutions up to 3840 x 2160, at least while running at 30Hz.
Other Considerations
If you're willing to drop down to 1080p, you'll find support doubles to 60Hz. You can also get 60Hz while running at 1440p, at least if your video card happens to support it.
Keep in mind that this isn't a bi-directional cable. It operates solely from HDMI to DisplayPort. You cannot take DisplayPort content and move it over to HDMI.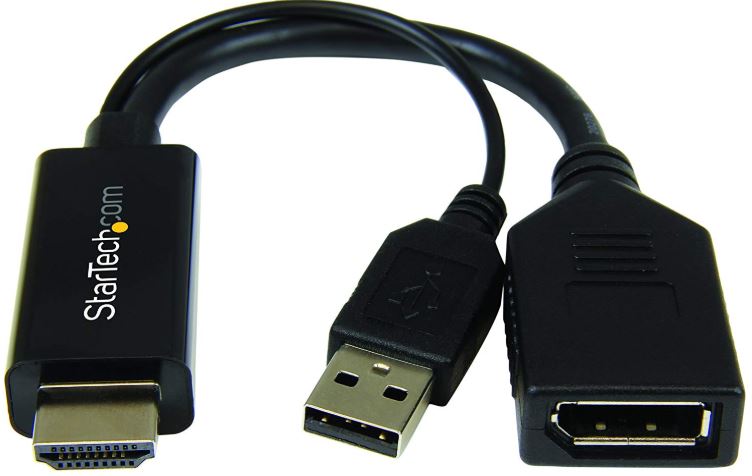 StarTech.com HDMI to DisplayPort Converter
Like Cable Matters, StarTech is another brand that's specialized in making these sorts of cables and adapters. Here you'll find the StarTech HDMI to DisplayPort Converter works to convert HDMI content over to the DisplayPort format, allowing you to connect a laptop or desktop alongside a DisplayPort monitor.
In that sense, this adapter strives to improve your productivity while viewing the documents, spreadsheets, and multiple websites across several screens. You can also capture 4K content being sent through an HDMI source, and view that content on a DisplayPort screen. But it's not all about productivity. This adapter lets you connect with an Xbox One, PS4, and any other compatible gaming console you might want to use alongside a DisplayPort display.
Design & Layout
The StarTech HDMI to DisplayPort Converter is reasonably small and portable, measuring 6.69 x 5.59 x 1.18 inches, and weighing about an ounce and a half. Because the cable only runs about six inches, you need to have everything pretty close for everything in your setup to reach without needing extension cables.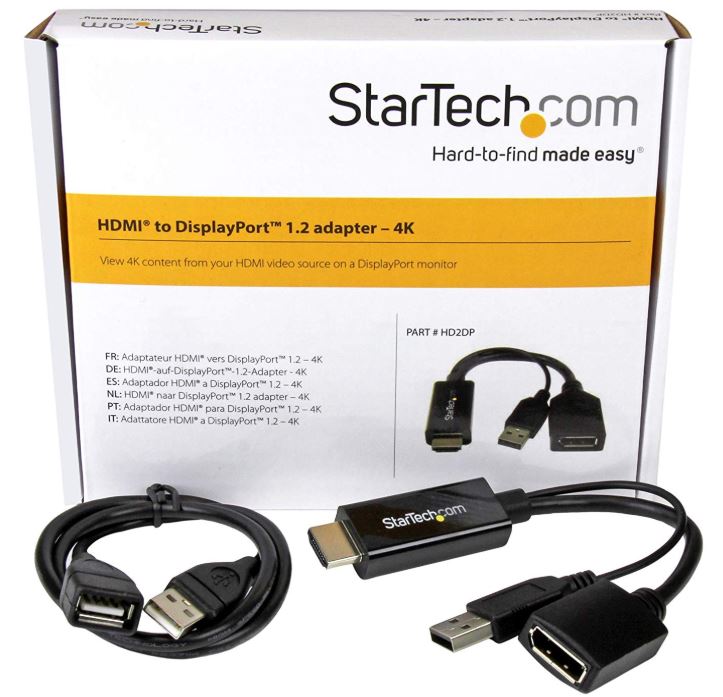 As you'd expect, this is an active video adapter, which explains the USB Type-A male connection that's connected with the HDMI portion of the cable. StarTech makes a lot of different adapters like this, so the general quality of construction here is quite good. For instance, there are small textural indents and rises which help you get a firm grip against the base of the cable. That makes each cable head much easier to connect or disconnect from your devices.
Other Considerations
While running the 4K support, you'll find that you're restricted to 30Hz. But you can run content at a higher 60Hz refresh rate if you're willing to drop outside of UHD resolutions. Because the HDMI is format 1.4 while the DisplayPort is format 1.2. Basically, that's ideal for someone who's concerned with running higher refresh rates on 1440p content.
It's unfortunate that they didn't go above and beyond with specially plated connection terminals. But this sort of basic utilitarian design is easier to appreciate if you're on a tight budget. This adapter includes a three-year warranty from StarTech, in addition to lifetime customer support from Star Tech.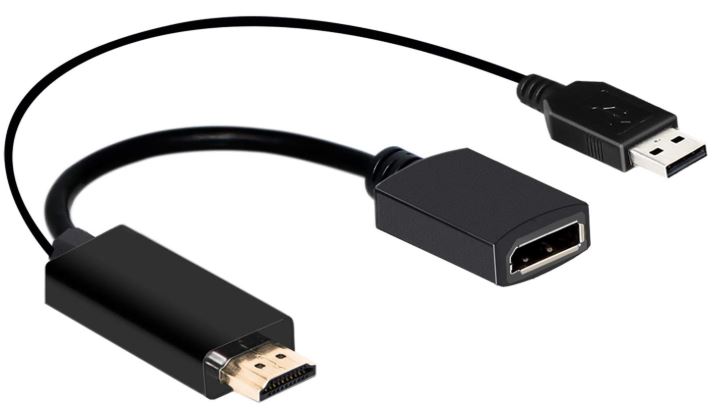 FERRISA HDMI to DisplayPort Converter
The FERRISA HDMI to DP converter has a plug and play design that's easy to appreciate. In terms of its capabilities, you'll find it's great for both mirror mode and extended mode, which closely imitates the capabilities of the other adapters on this list. And as a high performance HDMI to DisplayPort adapter, this converter is capable of connects laptops, desktops, Raspberry Pi 3 Model B kits, and similar devices without issue.
Design & Layout
The Philzli HDMI to DisplayPort Converter is available in a wide range of different sizes. They can be found running anywhere between six inches and 100ft. Actually, the 4ft option is typically the most cost effective variant. And for people who can't get their stuff connected with a tiny 6" cable, four feet really ought to do the trick, which makes that the sweet spot for a lot of different people.
The USB power is made with a Type-A connector. The size of the USB-A connection head is quite small, measuring about 1.8" in length. And the size of the core adapter is equally quite small, measuring 1.69 x 0.71 x 0.31 inches. It's worth noting you'll find gold plated connection terminals, except for the USB-A connection, which is only running power so wouldn't really benefit from the added effort.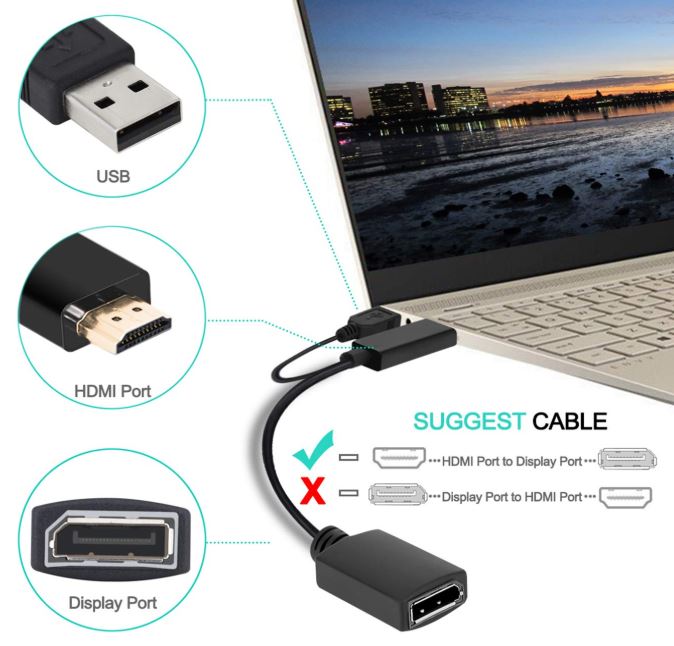 If you do need much longer cables, those options are clearly present. Unfortunately, these much longer cables tend to be a little pricy because the FERRISA HDMI Converter is an active adapter, which tend to be a bit pricier than passive devices. Which is part of the reason why this device supports UHD 4K content, running 3840×2160 at 30Hz.
Other Considerations
Alternatively, you can run 1080p @ 120 Hz. Quite handy for PC gamers who plan on maintaining high refresh rates. But you don't need to be a PC gamer to take advantage of this kind of thing. These cables work well with game consoles like the Xbox One S, allowing you to run content in 1080p without issue.
Like the other converter adapters this list, you're not looking at a bi-directional device. It cannot be used for running a DisplayPort connection over into an HDMI connection. But it does include an 18-month warranty from FERRISA.
Picking Between 3 of the Best HDMI to DisplayPort Converter Adapters
The Cable Matters HDMI to DisplayPort Adapter uses a really clever design. For the DisplayPort and HDMI portion of the device, it only stretches about six inches, which is all most people really need. But it stretches three feet for the power connection, which makes it far more versatile than adapters like the StarTech HDMI to DisplayPort adapter.
If you're looking for top quality adapters and you're willing to pay a little more, you might want to consider the StarTech.com HDMI to DisplayPort Converter. It's not the right choice for everyone because it only runs about six inches in length. But for reliable adapters that are made to last forever, it's tough to beat StarTech. Their considerable warranty and customer service are actually pretty respectable.
The FERRISA HDMI to DisplayPort Converter doesn't have the same kind of strong reputation as Cable Matters and StarTech. However, they do have the best options out there for HDMI to DisplayPort adapters that run more than 30 feet in length. If you're looking for adapters that can go the distance, literally, then you'll probably want to pick up a FERRISA HDMI adapter.