Soocas Spark
Pros
Good cleaning performance.
Easy to use.
Long-lasting battery and quick re-charging.
Slim, minimalist design.
Built-in noise cancellation.
Cons
Bristles may be too hard for sensitive gums.
No app controls.
Handle is somewhat slick.
A good toothbrush is important for your dental health. And if you want to get your teeth squeaky clean, an electric toothbrush is the best option. It's not that you can't get your teeth clean with a manual brush; you can. But it takes a lot longer, and it depends on good technique. If your technique isn't on point or you try to rush things, your teeth won't get clean.
Old-school electric toothbrushes solved the problem of time. With rapidly oscillating bristles, they could make fast work of plaque and other detritus. However, you still had to worry about technique. Today's electric toothbrushes have a lot more to offer. They often have multiple operating modes, and can even give you reminders on your technique.
We're about to review the Soocas Spark Sonic Toothbrush. This electric toothbrush oscillates 30,000 times per second to break up even the worst plaque. But how easy is it to use, and is it the right fit for your dental needs? To answer those questions, we'll need to take a much deeper dive into its design and features. After that, we'll have enough information to render our final verdict. Let's begin!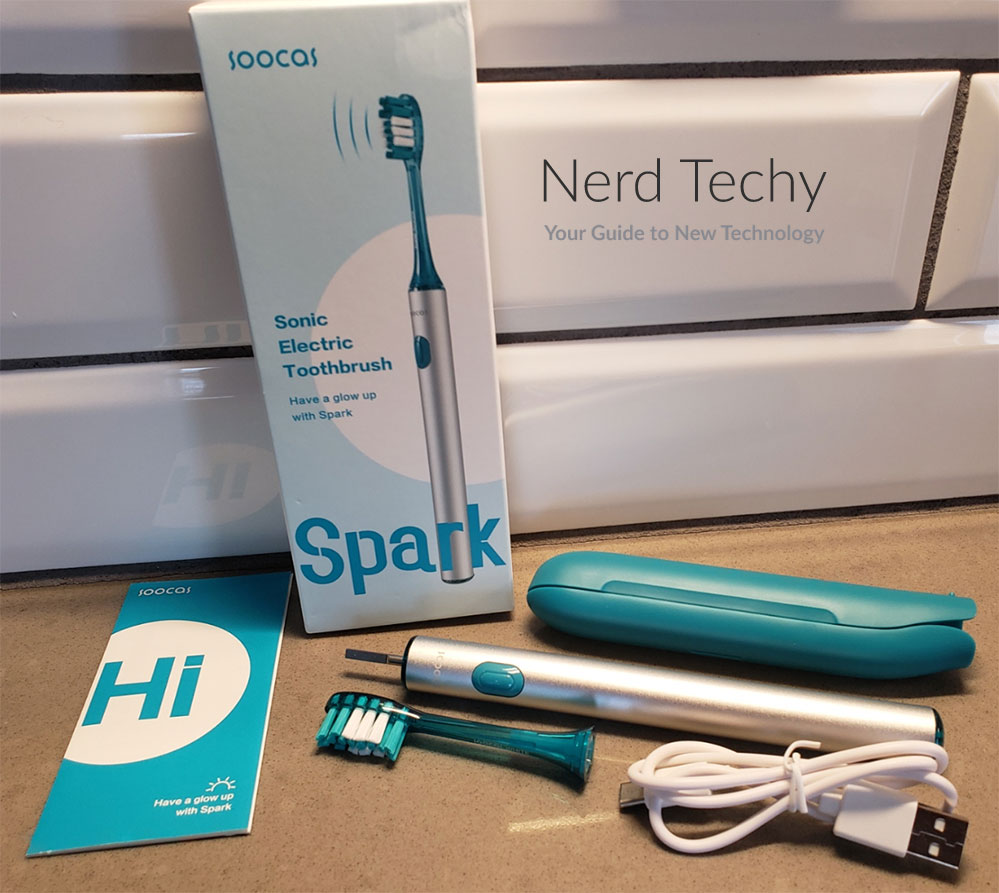 Overall Design
The SOOCAS Spark Sonic Toothbrush consists of two primary components. The first is a smooth, cylindrical handle with an aluminum alloy shell. The material has a brushed, corrosion-resistant finish, and seems very durable although a bit slick with wet hands.. At the top of the unit is a semi-transparent plastic toothbrush head. The total length is only 8.97 inches, with a maximum diameter of 0.63-inch. As a result, it's small enough to be easy to take on the road with you. It should even fit in most toiletry cases.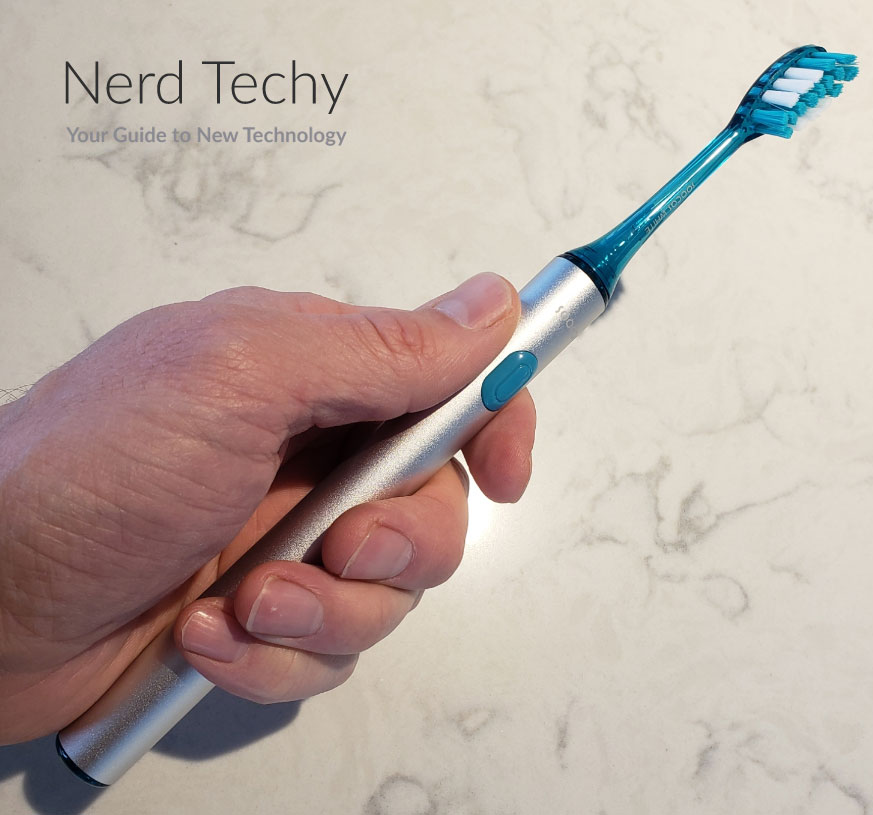 This toothbrush comes with a water-resistance rating of IPX8. This is the highest water-resistance rating available, although it's tough to say what it means. That's because IPX8 indicates that it passed custom testing that exceeds IPX7 standards. IPX7 devices need to work after being submerged for 30 minutes under 1 meter of water. So whatever the Spark can withstand, it's even more than that. Regardless, it exceeds any standard you'll encounter in the bathroom. You can drop it in a sink full of water and it will still work just fine.
If that's not enough, it's also rated for extreme temperatures. The motor and battery will continue working from -4 to 140 degrees Fahrenheit. Even if you're winter camping, you'll still be able to use your electric toothbrush. And thanks to the corrosion-resistant housing, it's easy to sanitize. Just set it in a cup of mouthwash and it will be clean when you come back to it.

The package includes a teal plastic case that goes over the brush head. It snaps shut and pops open easily, and it keeps your brush sanitary when it's not being used. It will also protect your brush when you put it in your luggage.
Controls
The controls on the Spark toothbrush consist of a single button. Pressing the button will cycle between two different speed settings. You'll see a ring light around the base of the brush head. It turns on when the toothbrush is active, and changes color based on the speed setting. It turns blue when the motor is set to the higher speed, and green when the toothbrush is on low.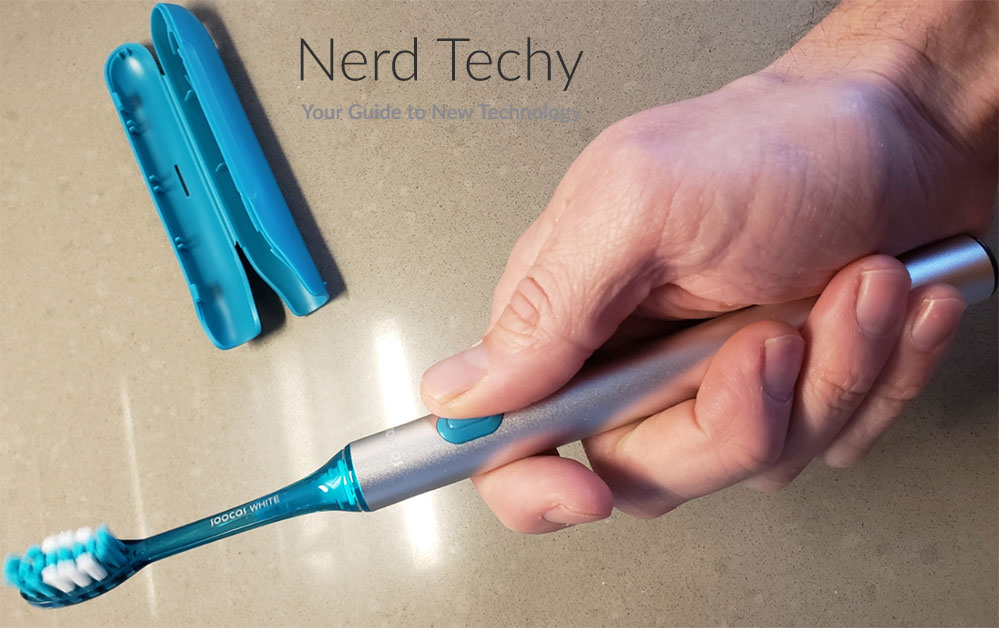 Pressing and holding the button will initiate a cleaning cycle. A timer will run for two minutes, which is the time it takes to clean your entire mouth. Every 30 seconds, the toothbrush will buzz to let you know to change quadrants. So you start at the top left, proceed to the top right, and so on. That way, you scrub all of your teeth clean.
When the battery drops below 20%, the ring light will flash orange three times and the toothbrush will turn off. You can turn it back on if you want to. But the alert lets you know that you're brushing on borrowed time.
The Spark's button is exceptionally durable. It's rated for 20,000 presses. That's enough to brush your teeth twice a day for more than two decades! By the time it finally wears out, you'll probably be ready for an upgrade anyway.
If you want to try this toothbrush brush out for free, you can. It comes with an unconditional 30-day return window. That means you can buy it, try it, and ship it back if you decide you don't like it.
Brush Head
The brush head is well-designed, with a combination of white and green bristles. The green bristles run in a stripe up the center, and are taller at the front and back. They dip down in the middle, where they're flanked by rows of taller white bristles. This gives the brush face an overall concave shape that easily conforms to your teeth.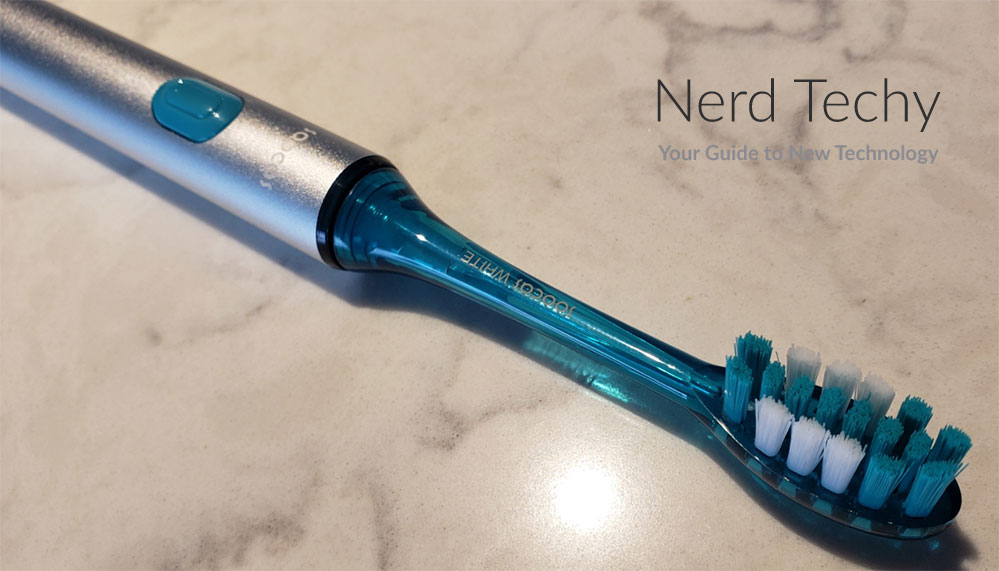 These bristles do a good job of removing plaque and other debris. They're also on the stiffer end of medium. The rounded tips prevent damage to most people's gums, but be careful. If your gums are very sensitive, you're going to want a softer bristle. Then again, you can order replacements online. The connector is common to many different brands, so you'll have plenty of options.
In addition to being reasonably effective, the brush head is exceptionally sturdy. It can even withstand 11 pounds of pressure from the side without cracking. You wouldn't want to press that hard while you're brushing your teeth. But if you drop your toothbrush on its head, it's not likely to snap off.
If you like the basic design but want more brush options, check out the Soocas X3U. It has a similar general build and design quality. But it comes with several brush heads to try out, including a face cleaning brush!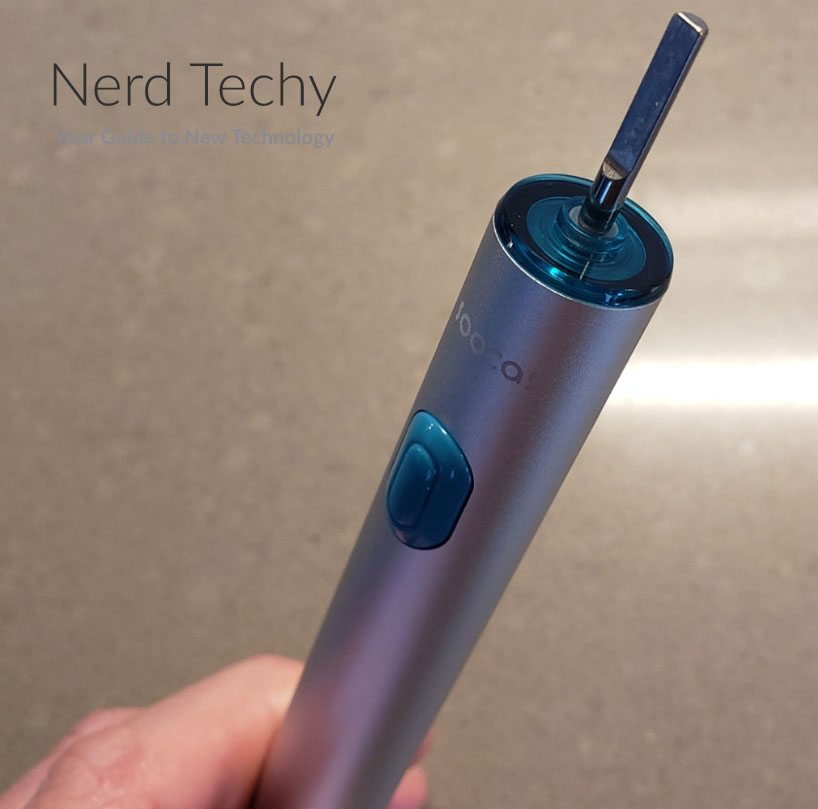 Cleaning Performance
The Spark Sonic Toothbrush's motor produces 30,000 vibrations per minute. That's more than 500 vibrations per second! At this speed, the tips of the bristles are moving around at nearly the speed of sound – hence the name. This produces an effect called cavitation, where water forms little bubbles that collapse under pressure. The sudden collapse of these tiny bubbles causes tremendous force on a very small scale. It makes your mouth tickle as it slams away at plaque.
This toothbrush removes plaque around 5 times faster than a traditional brush. At least, that's what the advertising says. It's certainly very effective, and you can get a very good clean in only 2 minutes. It's not quite as good as some of the fancy, high-end toothbrushes. But it's also significantly more affordable. For regular daily cleaning, it more than satisfies and the brushing results feel wonderful. Simply put, it seems to do a fantastic job at removing food particles and plaque as it effectively freshens-up your mouth.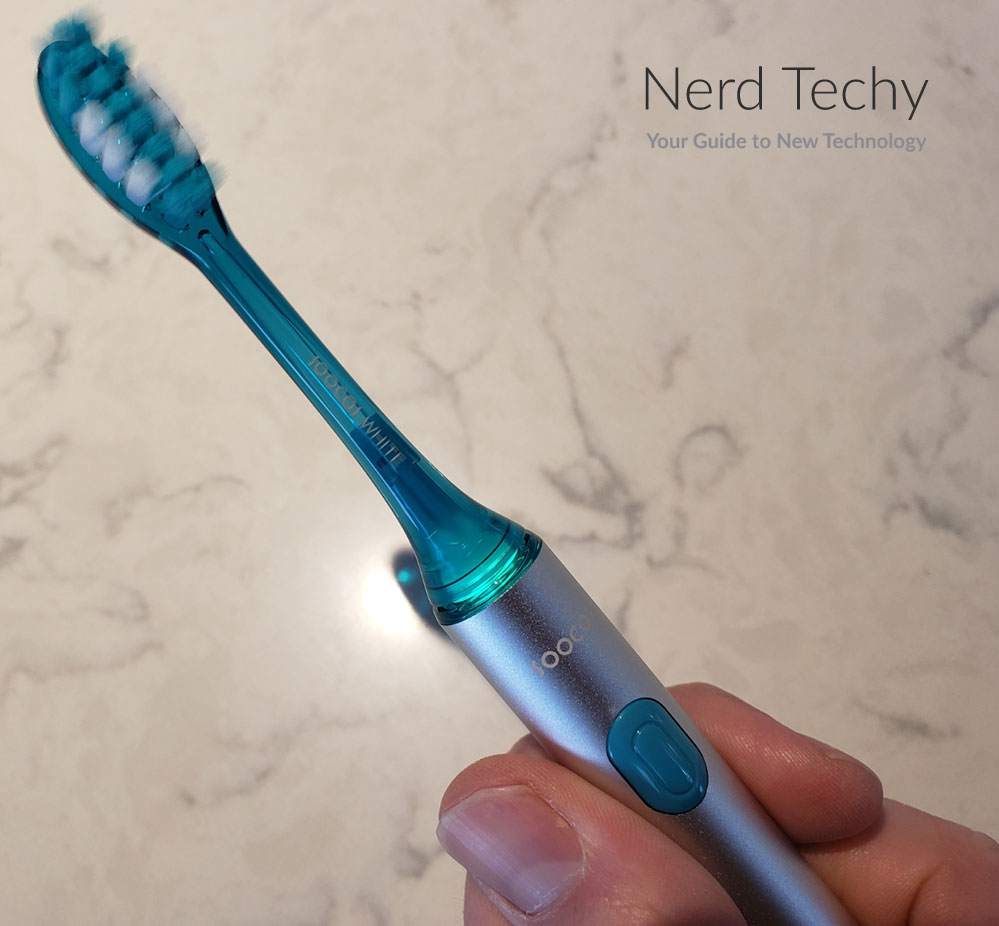 One other feature we should mention is the built-in active noise cancellation chip. This chip powers a small speaker that produces anti-noise to cancel the noise of the motor. Let's be perfectly clear. It doesn't come close to cancelling 100% of the noise. But it reduces the volume to 55dB. You can carry on a normal conversation even while you're using the toothbrush.
If you want an electric toothbrush with a companion smartphone app, consider the Oclean X Pro. The app lets you track your brushing habits and identify opportunities for improvement. It costs a bit more, but it also has a more powerful motor.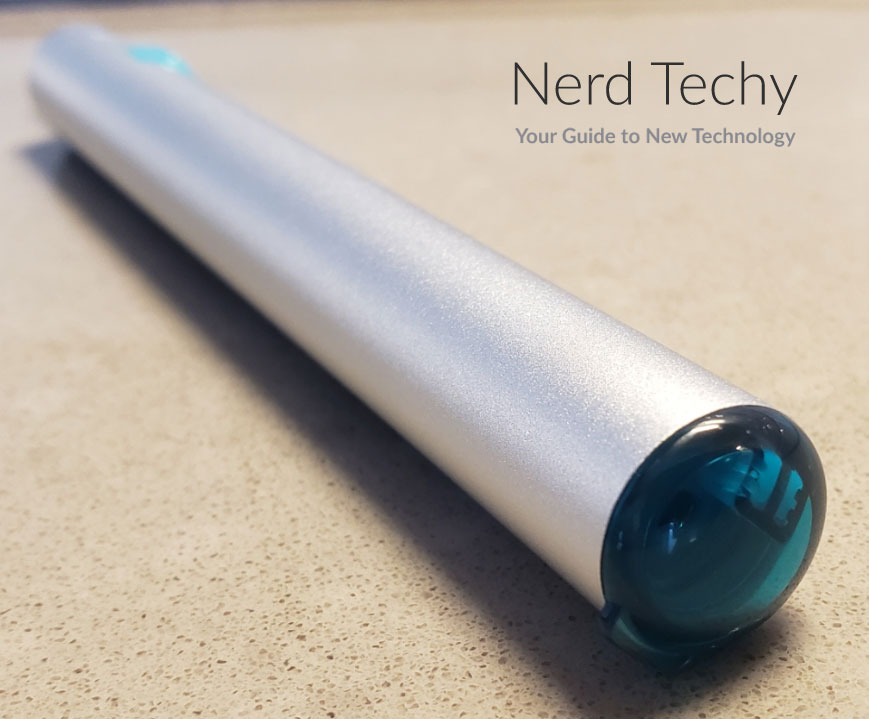 Battery and Charging
The Spark's battery is rated to last for 40 days on a full charge. This seems to be roughly accurate, although we didn't get the chance to test it for the full 40 days. The performance doesn't seem to drop off after a couple of weeks of use, even when brushing three times a day. That's a good thing, since many batteries start to deliver a reduced current as they get drained. You're looking at a great travel toothbrush that will last through even a long road trip.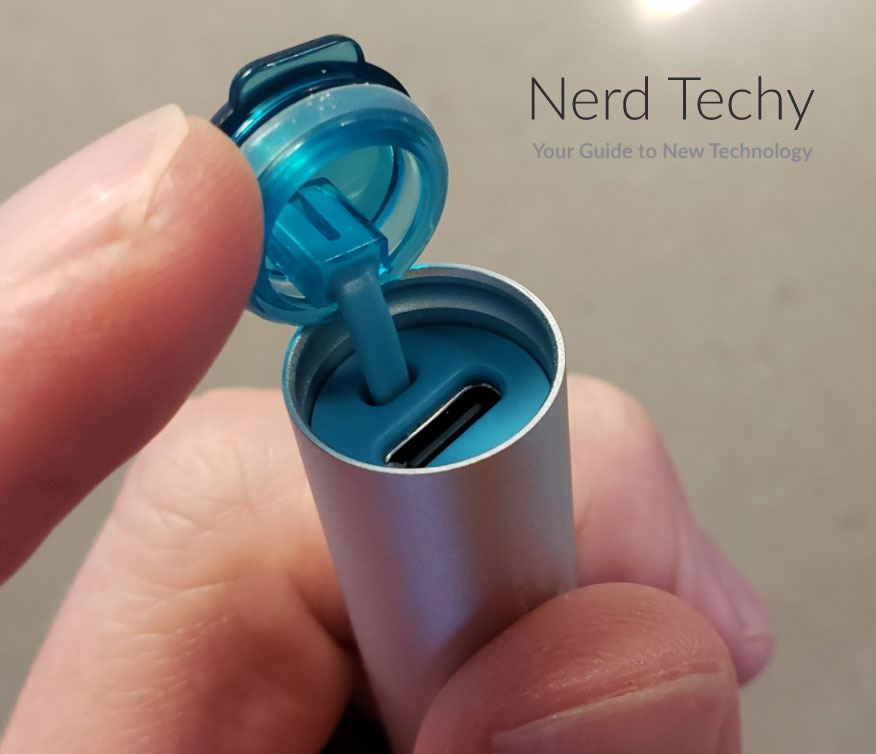 Not that charging is an issue. The package includes a USB Type-A to Type-C cable, and the toothbrush charges through the bottom. When the 600mAh battery is drained, it will fully charge in only two hours. So basically, you can plug it in once a month after brushing and you'll never have to worry about the battery.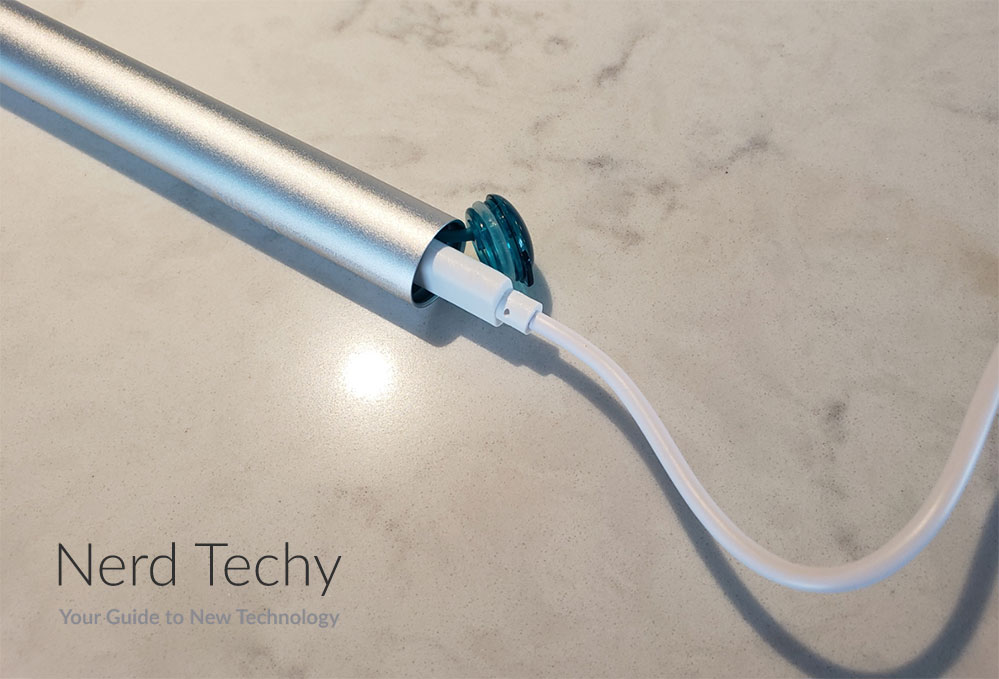 If you're willing to pay more for a premium electric toothbrush, the evowera Planck o1 is a solid choice. It provides top-tier power, along with a smartphone app with many useful features. The wireless charger is also fast and easy to use. The only major downside is that it's proprietary. If it breaks, you can only get a replacement from evowera.
Final Verdict
The Soocas Spark Sonic Toothbrush is a great choice for your home or for on the road. It's ultra-compact, small enough to take with you just about anywhere. The aluminum housing is nice and durable, and it's corrosion-resistant for easy sanitization. Not only that, but the toothbrush is IPX8-rated for water-resistance. Water damage is simply not a concern.
The controls are straightforward and easy to operate. With just one button to work with, there's not much to it. Even so, you get two levels of brushing intensity. And the built-in LED light ring gives you feedback on your current status, along with a battery alert. Brushing is also simple. You spend 30 seconds on each quadrant of your mouth, and alerts tell you when to move around.
The brush head itself is well-designed for most people's mouths. If you have sensitive gums, it would be wise to invest in a replacement head with a softer bristle. You'll have to change heads from time to time anyway. The motor is very powerful, and spins at 30,000 RPM. This drives the bristles at incredible speed, and creates a cavitation effect that removes plaque. The bristles are even rounded at the tips to keep them from being too harsh.
The battery performance is also very good. With 40 days' worth of charge, you can take it on vacation without the need to bring a charger. Not that charging is all that complicated. The USB Type-C cable will have you fully topped off in just two hours.