Cold weather days and the onset of winter can turn your garage from an oasis into an unbearably frigid, unproductive wasteland. An electric heater for your garage or workshop can be a powerful tool to let you enjoy your garage year round regardless of how cold it gets. Because they're electric, these heaters can be set up anywhere there's an outlet for immediate warmth wherever you need it.
With hundreds of options to choose from, the best electric heater for your garage or shop can be hard to find. To help, we've sifted through dozens of units to present you with four of the best heaters for your garage on the market.
We made our decisions based on:
Quality
Functionality
Price
Overall value
Although your perfect heater will depend on several factors including space, features and type, the ones featured have been selected because of their ability to fit various situations.
Best Overall: Tempware 240-Volt Electric Garage Heater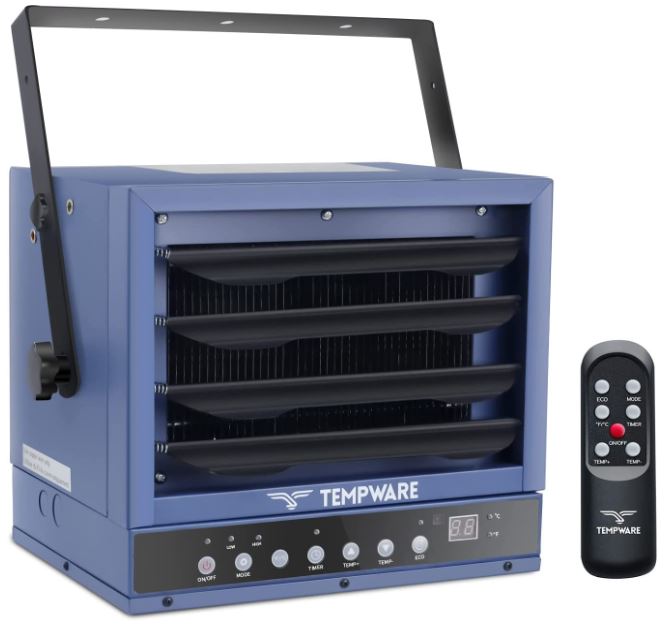 Key Features:
Remote Control.
Overheat Protection.
Timer.
ECO Function.
The Tempware Electric Garage Heater tops our list as the best overall because it does nearly everything extremely well. In terms of build quality, this unit is made of high quality heavy duty steel materials that while sturdy, keep it light enough to be moved around the garage with little difficulty. They optimized the form factor for efficient output and effectiveness. It's got a front grill to provide control over flow without having to move the entire unit around.
In a garage setting, touchscreen buttons can be hard to deal with. Your hands may be dirty or the garage conditions may require you to hit the same button multiple times. It's why we appreciate that the control panel on the front of this heater provides manual buttons that provide just enough feedback to let you know you've pressed it.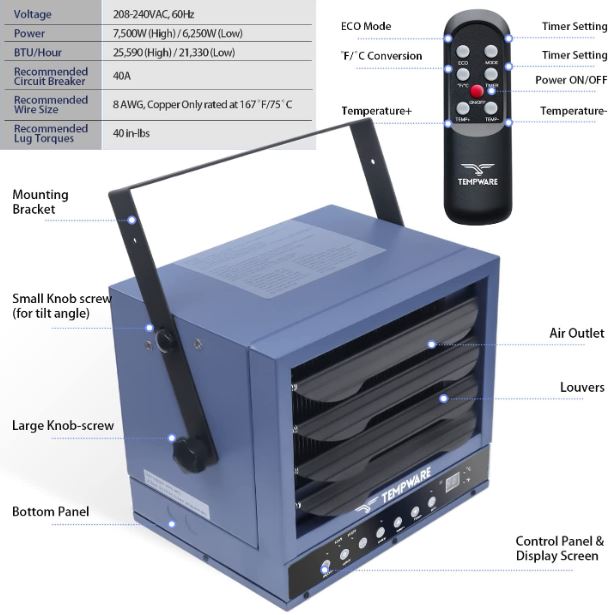 Speaking about the front panel, it's equipped with one of the brightest, easiest to read displays of any unit we've tested. In fact, after some testing we could read the display from over ten feet away with no difficulty.
The remote control is not just an afterthought with this model. You can tell that the manufacturers put a lot of effort into making it work seamlessly with the model. It's a common problem for heating units like this to be unresponsive to a remote that's too far away or obstructed by something in front of it. We were pleasantly surprised that the remote could control the unit with only minor issues. In fact, some reviewers have mentioned they've been able to use the remote from over 25 feet away.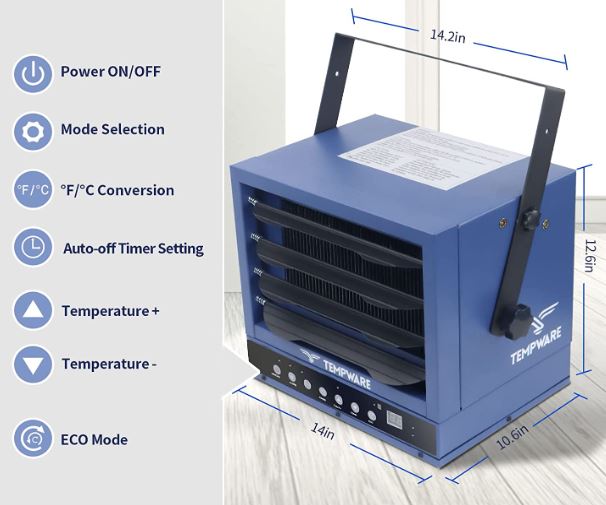 With maximum BTUs of 25,590, this thing is powerful enough to heat a large area up to 1,250 square feet. Even though it's got extremely high output, its ECO mode and auto-shutoff help to keep the cost of heating your garage to a minimum. As far as safety features, the Tempware comes with an overheat protection mechanism to prevent things from getting out of hand.
If you're looking for a more permanent solution, this unit can be hard-wired. You'll need an electrician but the unit comes with everything you need to loop it into the grid. As far as functionality, output and additional features, the Tempware Electric Garage Heater is our top pick.
What We Like
Heats garages up to 1,250 square feet.
Auto-shutoff and overheat safety features.
Solid remote control.
Can be hard wired.
Heavy duty steel construction.
Flow adjustment grates.
Thermostat control settings.
What We Didn't Like
Premium priced product.
Louder than some competitors.
Best High-End: Dyna-Glo Dual Power Garage Heater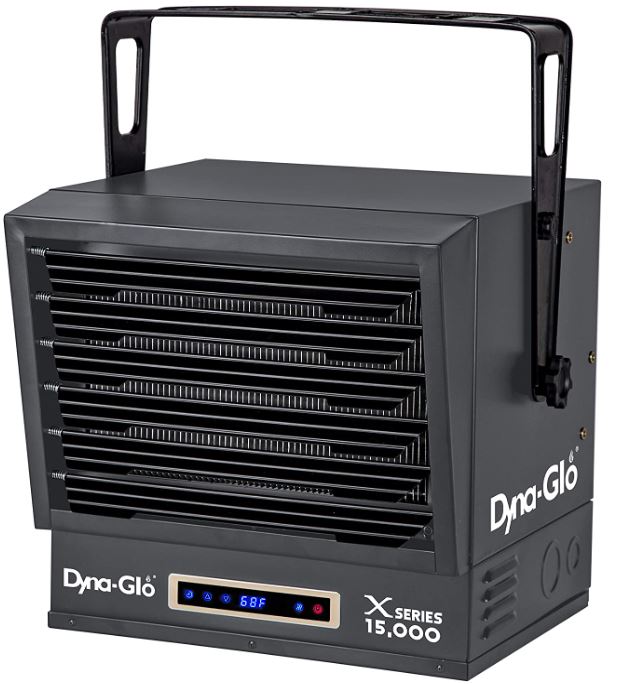 Key Features
24 Heat settings (50°F-95°).
Dual power settings: 11,300W 38,556 BTUs and 15,000W 51,180 BTUs.
Use without heater for convenient summer fan only use.
Adjustable angles for horizontal and vertical air flow with safety lock.
The Dyna-Glo Dual Power Garage Heater is an absolute show stopper. From its matte black paint job to its industrial form factor, it is one of the most aesthetically pleasing electric garage heaters on the market. It's not nice to look at either, this unit is built like a tank and can put out some major heat.
Its sturdy steel construction from front to back provides the type of weight that can only come from a quality unit. In terms of build quality, everything from the brackets, fans to the screws have been thoughtfully designed to provide maximum flexibility. Unlike some other units that only let you adjust up or down, the Dyna-Glo Dual Power provides adjustments for both horizontal and vertical flow.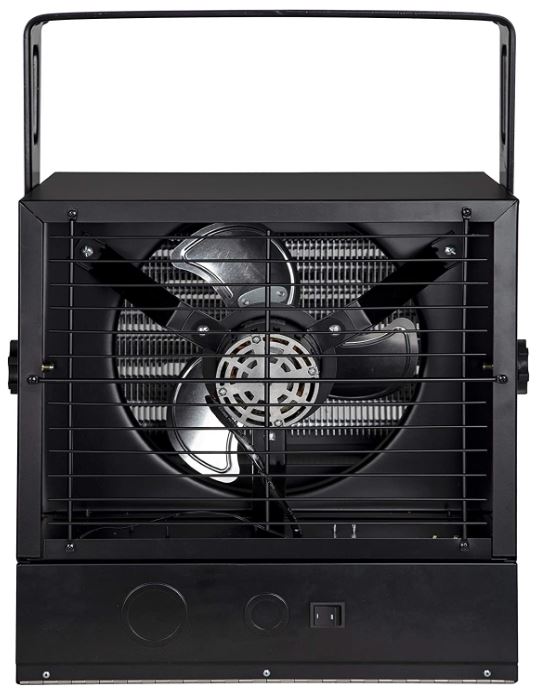 The front control panel and display are very bright and easy to navigate. The one thing to keep in mind is that it's a narrow display which makes seeing the numbers difficult from certain angles. This was minor and didn't take away much from the overall user experience. The Dyna-Glo comes with a solid remote that has great range.
The longer power cable on this unit made it easier to use even if an outlet was further away. In terms of noise, this electric garage heater can put out tremendous amounts of heat with very little added noise. In regard to power output, we love the dual power modes that allow users to tailor their heater to their current needs.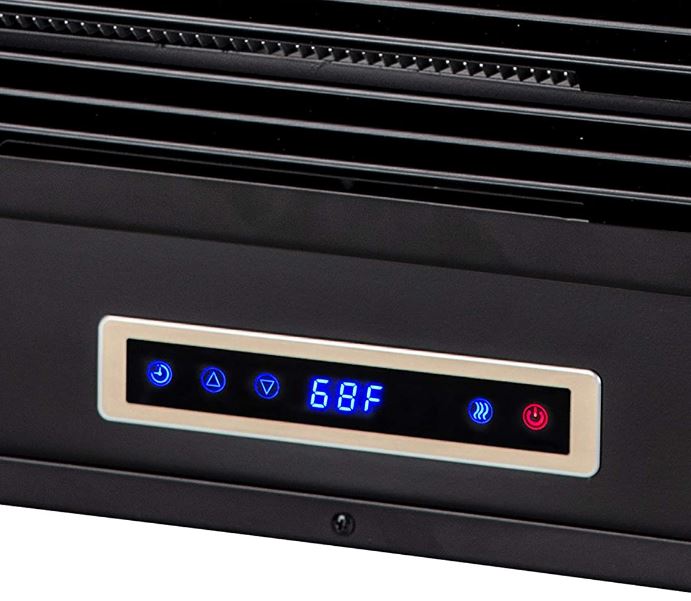 At 51,180 BTU's, this unit can heat a space of over 3,000 square feet. For smaller or warmer spaces, you can switch to a lower power mode. This is a big deal when it comes to energy costs. You can add just a little heat to your garage without having to waste electricity on unnecessary wattage and BTU's.
There are a lot of things to like about this unit. From its design to the functionality and raw power, the Dyna-Glo is a beast of a heater. However, it makes our list as the best high-end unit for a reason. Of all the units we've tested, this is one of the most premium priced units on the market. It's not for everyone. But for those looking for a powerful heater that can add to their garage's aesthetic, the Dyna-Glo Dual Power Garage Heater is a solid choice.
What We Like
Four-way flow adjustment.
Matte black color.
Sleek, industrial form factor.
Dual power modes to fit different space requirements.
Bright screen display.
Robust remote control.
Low noise compared to similarly powered units.
What We Didn't Like
Does not offer a simple hard-wired option.
Customer support can be hard to reach.
Expensive.
Best Runner-Up: Dr. Infrared Garage Heater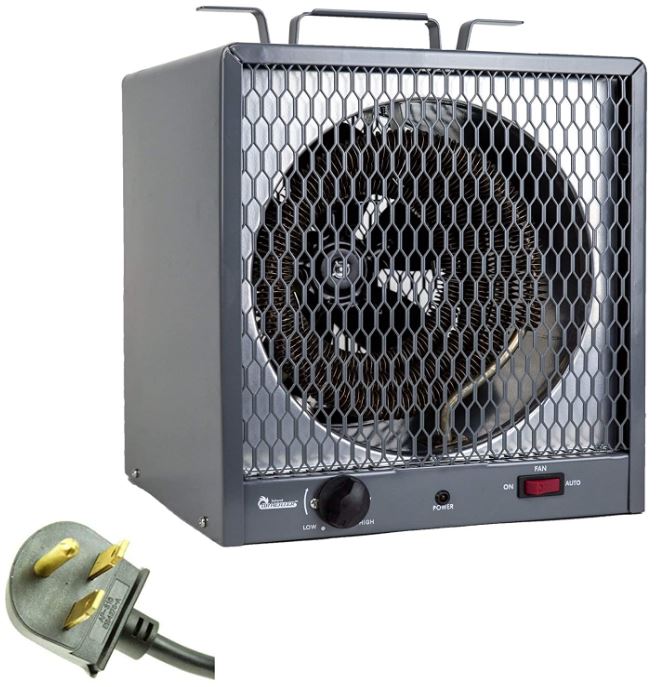 Key Features
Industrial, garage, workshop, construction heater.
240-volt outlet.
Wattage: 5600 watts.
Can heat spaces up to 2,000 square feet.
It was a tight race for the top spot on this roundup. We would do readers a disservice by not mentioning the Dr. Infrared Garage Heater. There's a reason industrial and commercial grade equipment often lack the bells and whistles of their consumer grade counterparts. It's because durability and dependability are both essential in tough environments like a garage or worksite.
The Dr. Infrared takes a different approach than the other garage heaters on this list. It pairs down controls and functionality to its bare essentials. There's a dial on the front that allows you to turn it from high to low. A single robust on and off fan switch illuminates when it's in operation. And that's it. No remote control, no digital readouts.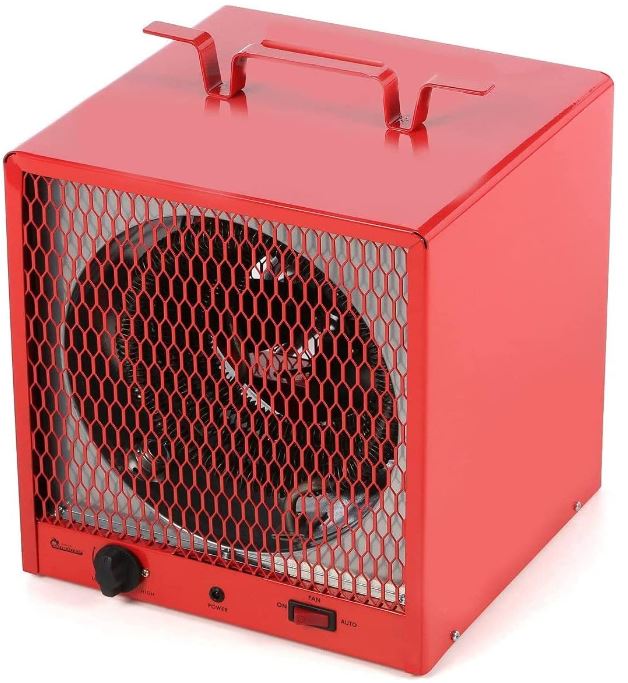 What this unit lacks in features, it more than makes up for in dependability and consistency. While all of the units on this roundup can stand up to rigorous use, the Dr. Infrared outpaces and outlasts them by a significant margin. The reason is because it's bare bones approach prevents the likelihood of something breaking.
Many reviewers have remarked that they aren't bothered by the minimal feature set on this garage heater. In fact several remark that its simplicity is beneficial especially in a busy garage or shop environment. Keep in mind that the Dr. Infrared Garage Heater is a heavy duty unit that only works with a 240-volt outlet.
What We Like
Minimalist design.
Robust dial and button make operation easy.
High heat output with only moderate noise.
Budget friendly price.
Rugged durability and dependability.
What We Didn't Like
It doesn't have thermostat controls.
240-volt outlet makes its portability limited.
Best Budget: Comfort Zone CZ220BK 240V Garage Heater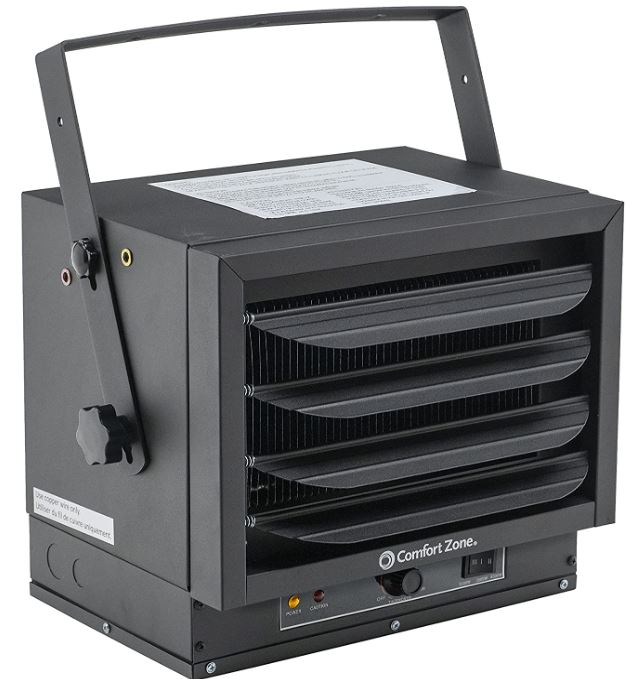 Key Features
Cool Touch Exterior.
Manual Thermostat.
Overheat Protection.
17,065 BTU's.
Can be ceiling-mounted.
Can be hard-wired.
Don't let its small form factor and budget friendly pricing fool you. The Comfort Zone CZ220BK is a phenomenal unit that can flourish in nearly every garage or shop setting.
At over 17,065 BTU's it can hold its own in spaces up to 1,500 square feet. It's one of the most portable and versatile on this list. With its small size, lightweight and ability to be ceiling mounted and hard-wired, the Comfort Zone is a great option for garages and shops that need to maximize their floor space.
In terms of construction, it shares the same heavy duty steel construction as the other units on this list. One reason we chose this model over its competitors was because it didn't sacrifice build quality to reduce the price. In order to make this unit more budget friendly, the manufacturers simply paired down the feature set to the most essential.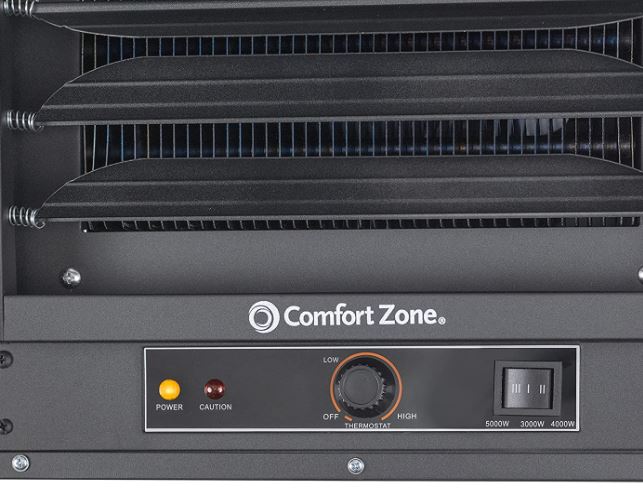 With that said, the Comfort Zone's features are executed flawlessly. A power rocker switch and sturdy dial make this unit easy to operate and control. While we understand the need to skip digital controls for cost savings, we missed the inclusion of a remote control. Especially when mounted to the ceiling, the lack of a remote means someone is going to need to climb a ladder or a stool to turn the unit on and off. One workaround some users have reported is to hard-wire the unit and connect it to a switch on the floor.
Overall, we are extremely impressed by the Comfort Zone CZ220BK as a top-rated budget friendly offering.
What We Like
Small form factor and multiple mounting options
Can be hard-wired
Sturdy build quality
Can heat spaces up to 1,500 square feet
Budget friendly
What We Didn't Like
Lack of remote control.
No thermostat control.
Power chord on the shorter side.
How to Choose the Best Electric Heater for Your Garage
As a major fixture in your garage or shop, it's important to get an electric heater that can meet your needs now and into the future. Especially if you are going to get an electrician to hard-wire it, you'll want to make sure that it's durable enough to last. Let's look at some things to consider in order to maximize the functionality and lifespan of your electric garage heater.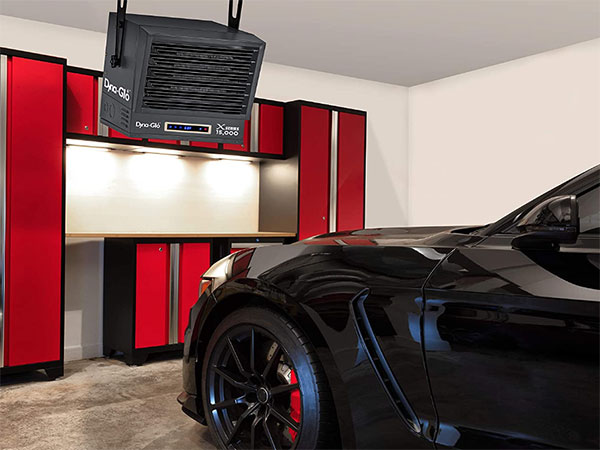 Garage Size
You'll want to consider the size of your garage and make sure that your electric heater is rated to heat a space that large. This can go the opposite way also. If your space is on the small side, you'll want to avoid an overpowered electric heater that would simply overheat your space at cost more to operate.
Portable or Mounted
Some people will want to mount their electric heater off of the floor to save on space. For mounting, make sure that your unit allows for horizontal and vertical adjustment and has the required hardware to mount it to the ceiling or wall.
Adjustable Thermostat
You can either go with a dial or a digital thermostat control mechanism. While an adjustable thermostat often means a more expensive price tag, the added convenience makes it a worthwhile investment.
Safety Features
If you want added peace of mind, look for units that have an auto-shutoff and overheat safety shutoff. This adds an extra layer of safety that's nice to have for those who are safety-oriented.