If you're a mobile gamer, you're not alone. In fact, despite all the hullaballoo over the so-called "console wars," neither Sony nor Microsoft is the top gaming platform. The number one platform is mobile, and mobile continues to grow for a number of reasons. To begin with, everybody has a smartphone. If you want an Xbox, you have to go out and intentionally buy an Xbox. This means that, at least theoretically, mobile games have the largest potential audience.
For another thing, cloud-based gaming is only growing in popularity. This allows phones to play games that far exceed the native hardware capability. No longer are mobile gamers limited to Candy Crush. You can play Fortnite and other popular action titles, too.
That said, a smartphone battery only lasts so long. If you're using your phone for gaming, you're going to need extra juice, which means plugging it in. We've reviewed a number of charging cables before, such as cables for PS5 controllers. But a standard cable isn't ideal for charging a phone while playing. It will actually interfere with hand placement on the side of the screen! One solution is to use a cable with a U-shaped tip. A U-shaped tip bends around from the back of the phone, keeping your cable clear of your hands.
We're about to review three of the best flat, U-shaped & 180-degree USB Type-C cables available. We'll begin with the Anker Gaming USB-C Cable. This is a short, rubbery cable with a simple, flat design. Next, we'll examine the UMECORE U-Shaped USB-C Cable. This cable is a bit longer, and sports reinforced headers made of zinc alloy. Third, we'll look at the UGREEN U-Shaped USB-C Cable. This cable has a braided nylon construction, and measures 6.6 feet in length. Last but not least, we'll consider the AICase USB C Gaming Cable. This is a unique cable with a suction cup attachment that can fit even on very thick phone cases. Which one is the best? Let's dig a little deeper, and find out!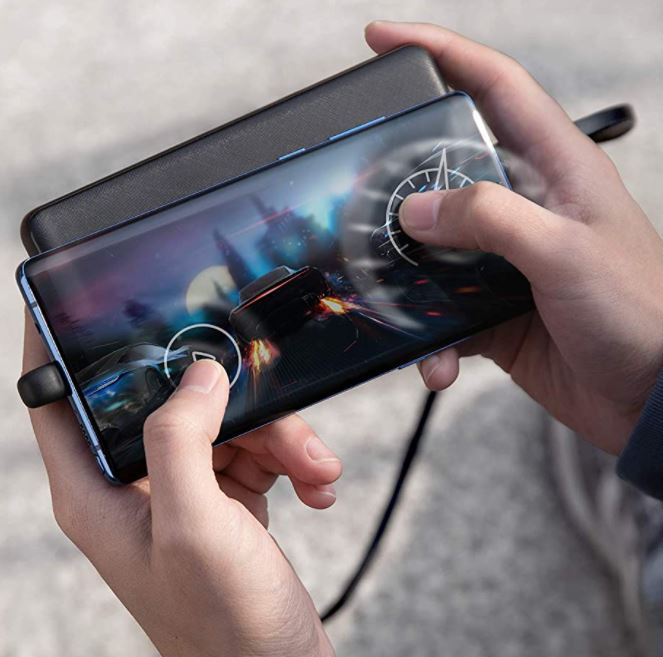 What to Look For in a 180-Degree USB Type-C Cable
So, what makes a good 180-degree USB Type-C cable? A lot depends on your exact needs. Still, there are a few things you definitely need to account for when making your decision. Here are four of the most important.
Header Size and Shape
The size of the header is important on any phone charger. Some headers are excessively beefy, and block the tip from inserting all the way. If you've got a particularly thick phone case, this can become problematic. However, with a U-shaped cable, the thickness of the header is as importance as its length. If it's very fat, the gap between the back of the header and the cable tip will be narrow. This once again limits the size of phone case it will be compatible with.
Durability and Construction
If you're buying a USB cable, you want it to last. Think of the free cables that come with many devices. They're normally cheap, with a simple plastic insulation that's not very durable. Bend it enough times, and the wires inside will get bent, and the cable will fail. A beefier nylon cable helps prevent this in a couple of ways. Obviously, a thicker insulation provides better protection from cuts and scrapes. But it also keeps the cable from bending so hard that the wires inside are damaged. The result is that your charging cable will last longer.
So, how long should a cable last? Fortunately, there's a standard testing protocol, and manufacturers usually list ratings. At minimum, you should be looking for a cable that's rated for 5,000 bends or more. If you find one that's rated for 10,000 bends, so much the better.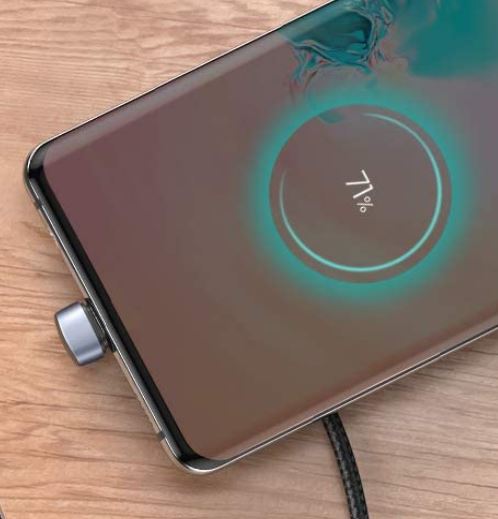 Charging Power
Perhaps the most important consideration is how quickly the cable will charge your phone. This depends on a couple of factors. For one thing, it depends on the charging speeds supported by your phone. If your phone only supports 15-watt charging, a more powerful cable isn't going to do you any good. At the same time, a powerful cable can provide some future-proofing, even if it won't work on today's phone. The bare minimum speed you should look for is 5 volts, 3 amps, which works out to 15 watts. That's going to be the top charging speed on the slowest smartphones. If you can find a charger that provides 18-watt quick charging, even better.
Data transfer rates shouldn't be a concern for this kind of cable, since that's not what you're buying it for. That said, you can expect 480Mbps at minimum from any USB cable. Some USB Type-C cables support 10Gbps or higher speeds, but you won't find that in this style. Again, that's just not what a U-shaped cable is designed for.
Length
Another important factor in choosing a cable is the length. On the one hand, a longer cable gives you more versatility. If you're laying in bed, you'll be able to reach an AC outlet with a longer cord. On the other hand, the longer the cable, the tougher it is to travel with. You're also that much more exposed to damage the longer the cable is. A shorter cable, on the other hand, is easier to travel with, and ideal for using with a power bank.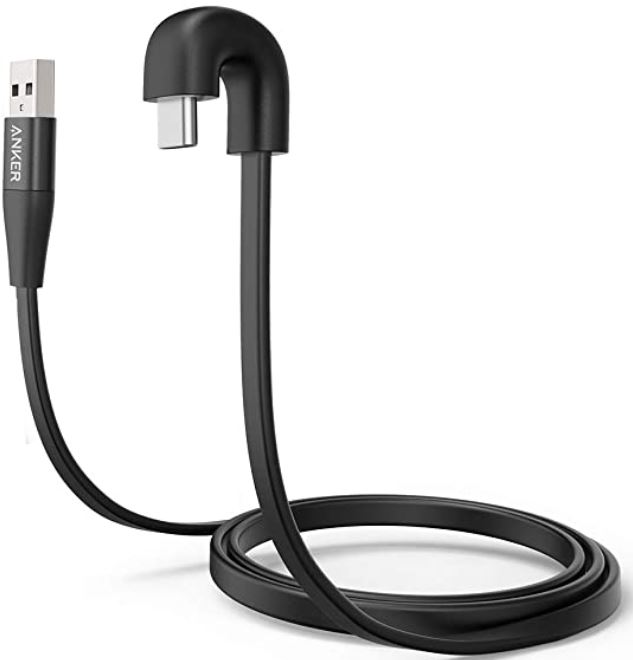 Anker Gaming USB-C Cable
Anker is already a known and respected name in the electronics industry. Among other products, they produce the Anker PowerWave Pad Wireless Charger. Their Gaming USB-C Cable is built to a similar standard, with a lot of thought put into the design.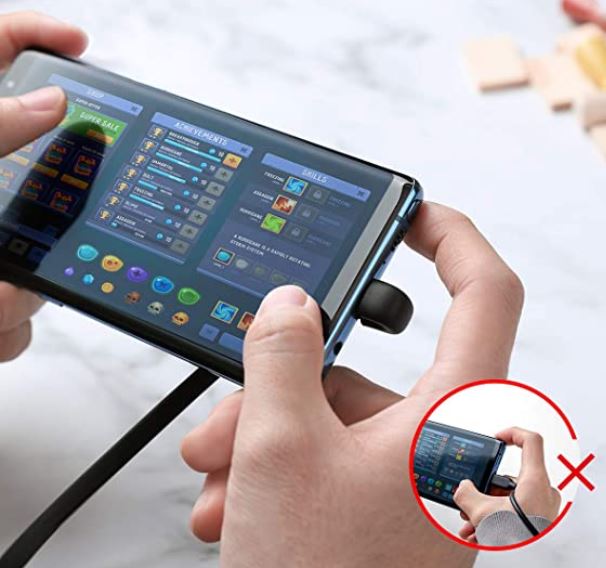 The cable has a flat, nylon design that's virtually impossible to tangle. It's also rated for over 5,000 bends, which makes it more than tough enough for most users. On the downside, it's only three feet long. If you need your cable to reach a long way, you may be disappointed.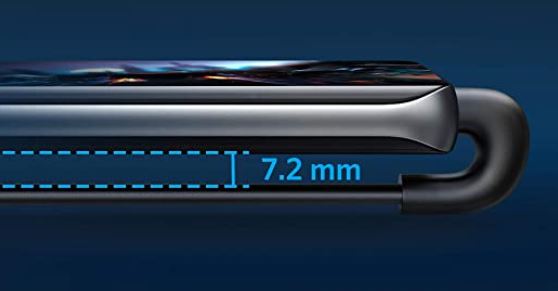 The black nylon cable attaches seamlessly to a plastic USB Type-A tip on one end, and the curved tip on the other. The curved tip is not overly bulky, and has a lot of space in the gap to accommodate a mid-sized case.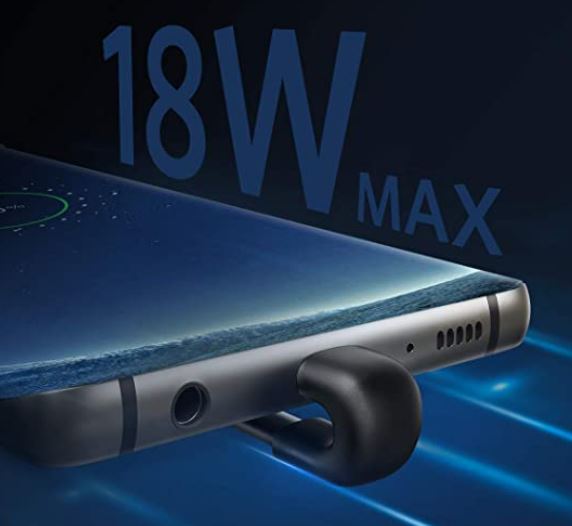 In all, it will work with phone cases up to 7mm thick, or a little over a quarter inch. In total, it delivers 15 watts of power, which is in line with our expectations. More impressively, it's covered by a lifetime manufacturer's warranty.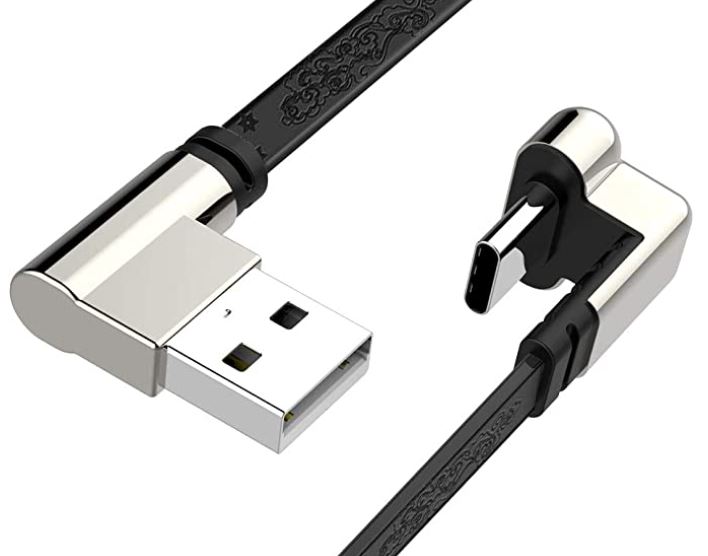 UMECORE U-Shaped USB-C Cable
The UMECORE U-Shaped USB-C Cable is notable mostly for its material construction. The headers are built from rugged zinc alloy, so they're virtually indestructible. The cable is also unusual, with PVC insulation and an embossed night sky pattern. This makes the UMECORE cable not just one of the most durable but one of the most attractive.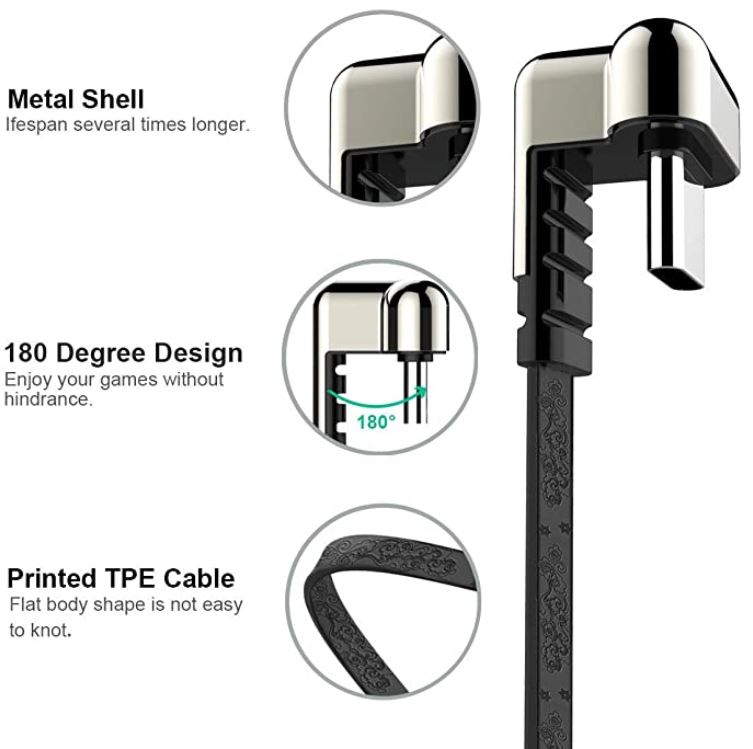 This cable has a 90-degree header on the USB Type-A end, designed to plug easily into a laptop or charger. At the Type-C end, you have a fairly open frame, with space for a 0.2-inch phone case.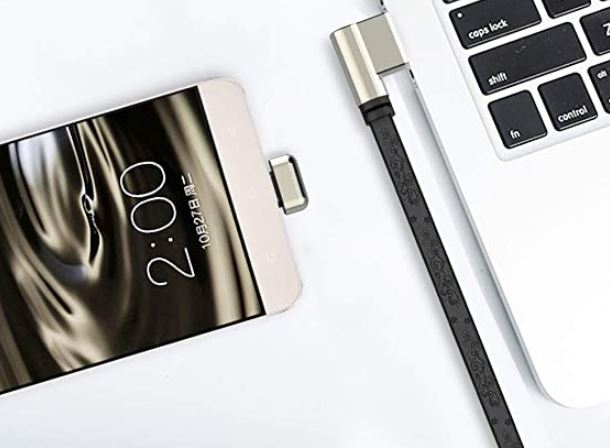 The cable itself is six feet in length, enough for most applications. And with 15 watts of charging, it's got more than sufficient juice for most phones. It's protected by a 12-month warranty.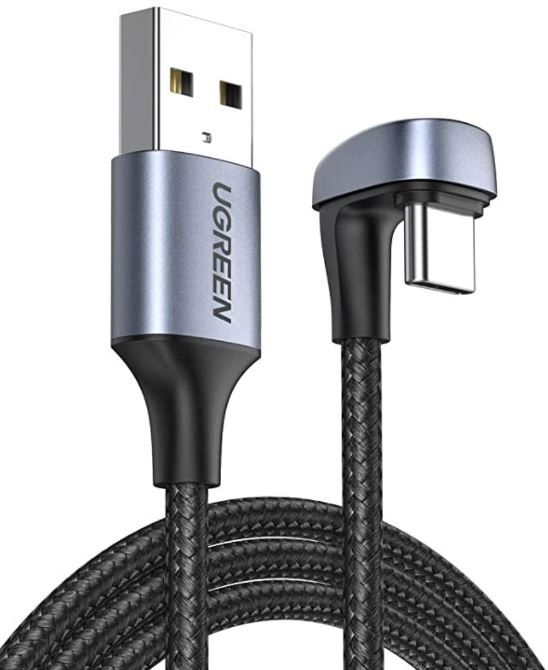 UGREEN U-Shaped USB-C Cable
UGREEN is another respected manufacturer. We've reviewed a number of their offerings, including a high-quality right-angle USB-C charging cable. The UGREEN U-Shaped USB-C cable is the most durable of all our options today, with a braided nylon outer sleeve. In total, it's rated for a minimum of 10,000 bends and 10,000 insertions. By the time it's worn out, it will probably be obsolete.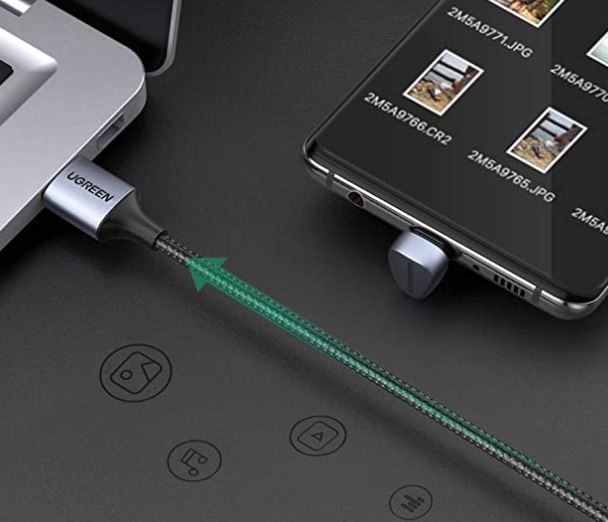 The length of the cable is 6.6 feet, slightly longer than the UMECORE cable. In addition to standard 15-watt charging, it also supports 18-watt QC 3.0 and QC 4.0 technology.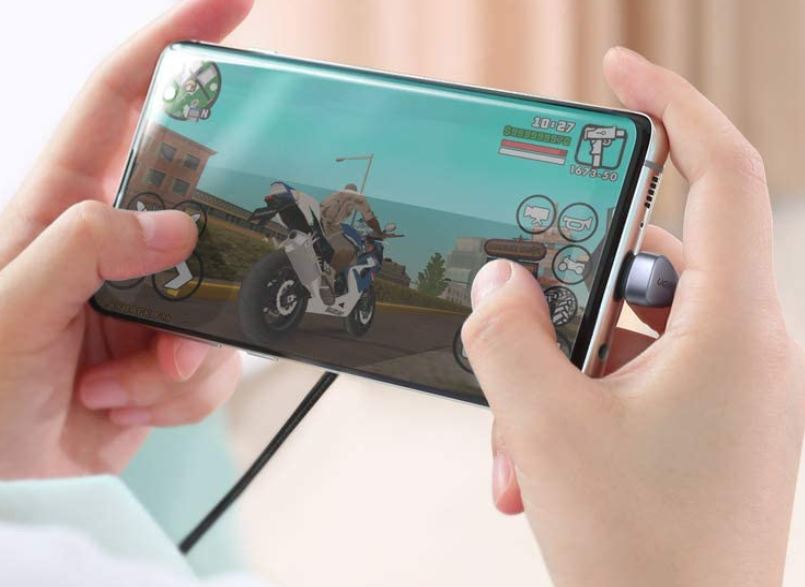 This allows you to get the maximum charging speed on most phones. Not only that, but the headers are sturdier than those found on most phone charging cables. Unfortunately, the beefy headers make it difficult to plug into phones with many cases. It will only fit a case that's 2mm or thinner.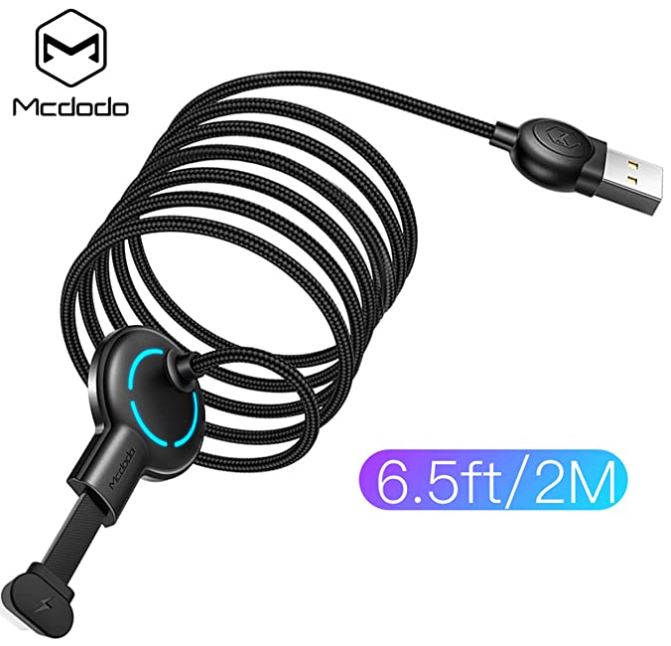 AICase USB C Gaming Cable
The AICase USB C Gaming Cable is definitely the most unique on our list. The bulk of the cable is a simple nylon braid with a USB Type-A tip on one end. However, at the other end, it joins with a small, flat junction box with suction cups on the bottom. This box, in turn, sticks to the back of your phone. A flat TPE pigtail then connects from the box into the bottom of your phone.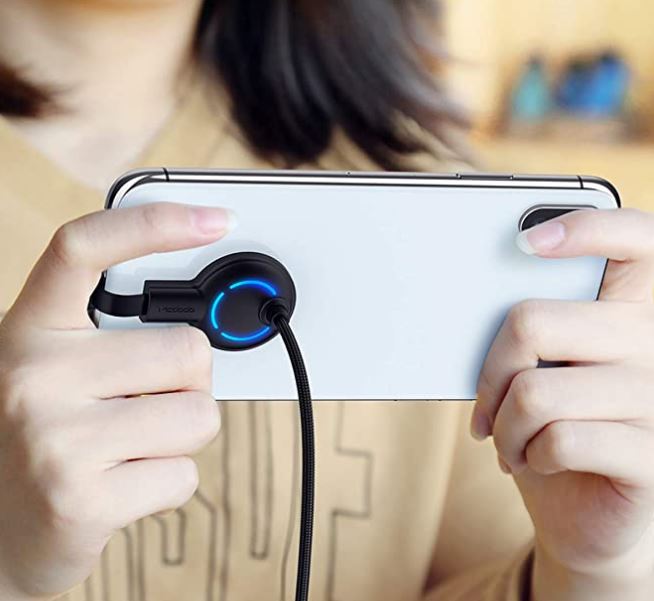 The box is even decorated with a seven-color breathing light, so it looks attractive, not purely functional. The purpose of this design is to allow for a fit on a wider number of phone cases. Because it attaches with a tether cable with a 90-degree Type-C tip, the AICase works with any phone case. Even with a thick Otter Box, you won't have trouble using this charger.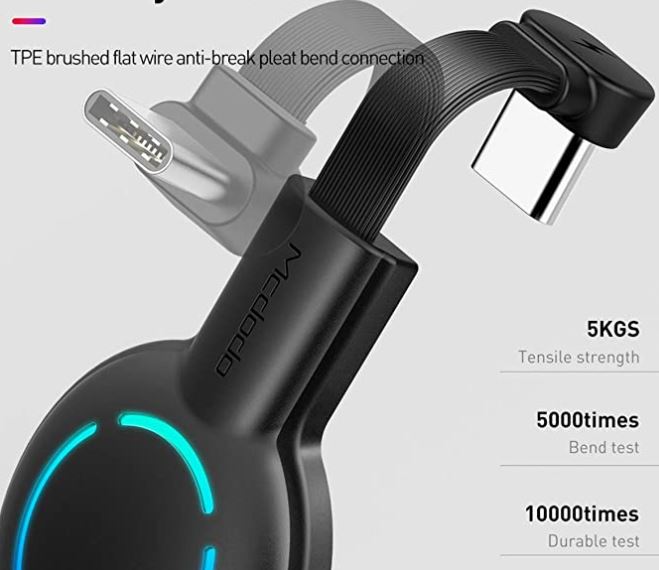 The cable itself is rated for 5,000 bends, and measures 6 ½ feet in length. On the downside, it only charges at a relatively slow 10 watts. Since most modern phones charge faster than this, you won't be getting the maximum speed for your phone.
Final Verdict
So, which of these cables is the best? The Anker Gaming USB-C Cable is undoubtedly the best short cable. It's tough, it's easy to transport, and it accommodates cases up to 7mm thick. As long as you don't need more than three feet, it's a great choice.
The UMECORE U-Shaped USB-C Cable is the most attractive of the bunch. It also has a nifty 90-degree USB Type-A tip and zinc alloy headers, but in other respects it's fairly vanilla.
The UGREEN U-Shaped USB-C Cable has the most rugged design, with a proper nylon weave cable. It also supports 18-watt fast charging. Unfortunately, it only fits with very slim phone cases.
The AICase USB C Gaming Cable is on the other end of the spectrum. Some might not like the suction cup attachment on the back of your phone, and the charging is a bit slow. However, the design allows it to be attached with any phone case, no matter how thick.