The information revolution has changed our lives in ways we never thought possible. With a modern smartphone, you can find get directions, listen to audiobooks, and search for information. This has made today's world more efficient, as well as more connected than ever before. That said, it's also caused us to become reliant on our electronics. Without your smartphone, how would you pay a bill, navigate an unfamiliar neighborhood, or stay in touch with your family? As a result, good charging technology has taken on outsized importance in today's world.
Wireless charging has made charging easier and more convenient than ever. With a wireless charger, you don't have to plug and unplug your phone constantly. You can set it on the charger and pick it up as needed. This makes wireless chargers a great choice for your desk or bedside table. That said, some wireless chargers are better than others. For example, some wireless chargers only work at very low wattages. This means you won't be getting the best performance on newer smartphones. If you're going to get the most out of your wireless charger, it's essential to choose the right one.
Today, we're going to be looking at two of the most popular wireless Qi chargers. First, we'll be reviewing the GooDee K100 Wireless Charger. This is a wide, flat charger that's made specially for smartphones. Next, we'll examine the Anker PowerWave Pad Wireless Charger. This is a slightly narrower charger with raised sides for charging smaller objects. But there are a few other differences that we should take account of. Let's take a deeper dive into each of these wireless chargers, and see how they compare!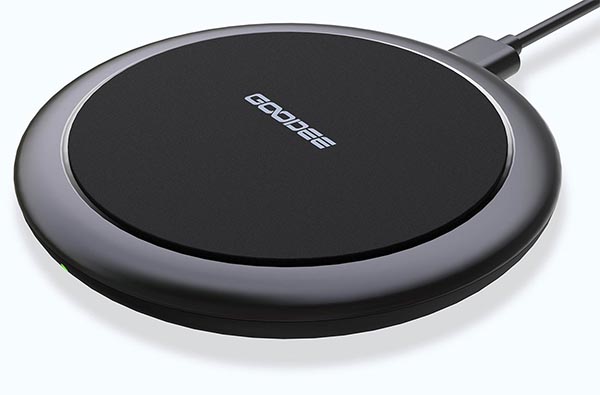 GooDee K100 Wireless Charger
GooDee is primarily known for manufacturing audio-visual equipment, such as video projectors. When we heard they were manufacturing a wireless charger, we were surprised, but also excited to get a peek. The GooDee K100 Wireless Charger is a simple, disc-shaped Qi charger that's engineered for large phones. It consists of a wide charging platform, with a rubberized finish that keeps your phone from sliding off. There's also a set of rubber grips on the bottom to keep the charger itself in place. As an added bonus, the rubberized center pad helps keep earbuds from slipping around. As such, you're looking at a charger that's suitable for large or small electronics.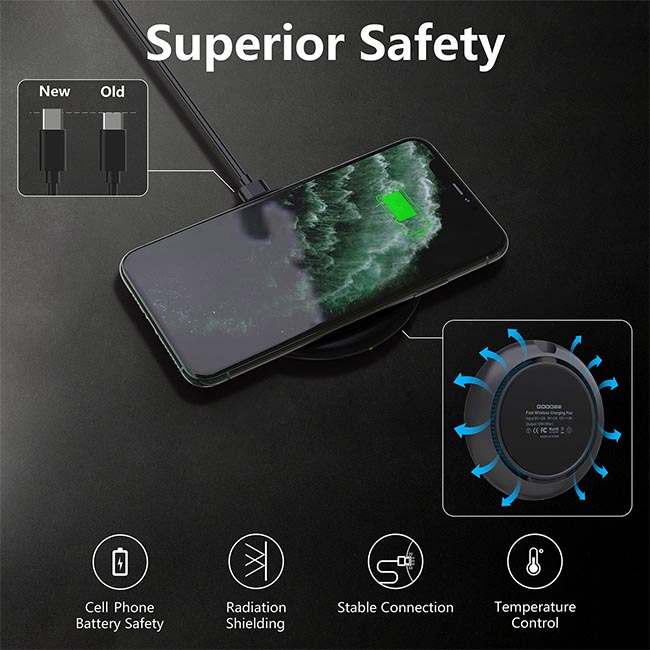 The pad is housed in a black ABS plastic housing. The entire circumference is rounded, so there are no sharp edges or other ergonomic hazards. The K100 is only 0.3 inches in thickness, so it has an exceedingly low profile. This design allows you to slip it into even a flat suitcase or backpack pocket.
The bottom of the K100 sports a circular vent that allows for plenty of air flow. This makes it very heat-resistant, providing powerful cooling to the coils and other internal components. It's also designed to be sleep-safe. The only indicator light is a single small LED on the front of the unit. It will turn on for a few seconds when the charger is plugged in or begins charging your device. After a few seconds, it will turn off, so you can use the K100 on your nightstand without disruption. In the event of a malfunction such as a short circuit or overheat shutdown, the light will remain solid.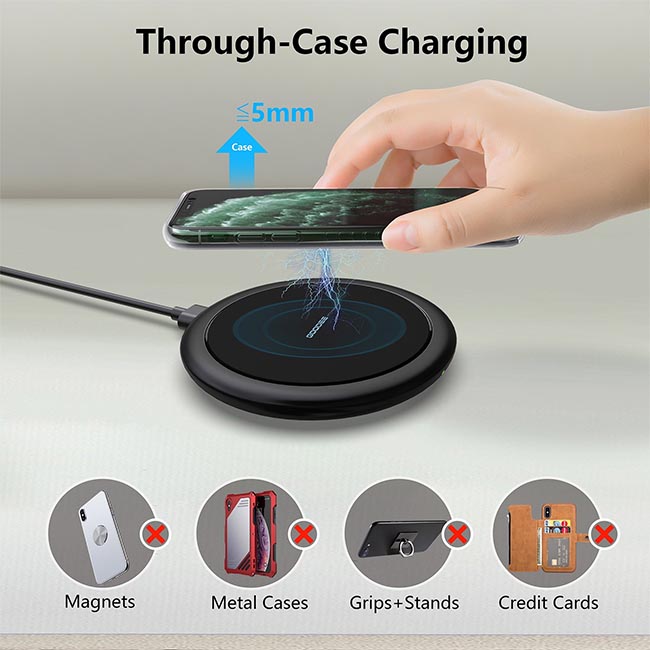 Charging Features
The GooDee K100 can charge at several wattages, ranging from 5 to 15 watts. It also has a trickle charge mode, which is designed for wireless earbuds and other low-wattage devices. As a result, the K100 can be used to charge anything from the latest smartphones to the smallest earbuds. One thing we should point out is that the standard cable in the kit only delivers 5 watts of power. If you want to charge at 7.5, 10, or 15 watts, you'll need a PD cable. Presumably, you'll already have one that came with your phone. If your phone didn't come with one, odds are good that your phone doesn't support faster charging to begin with.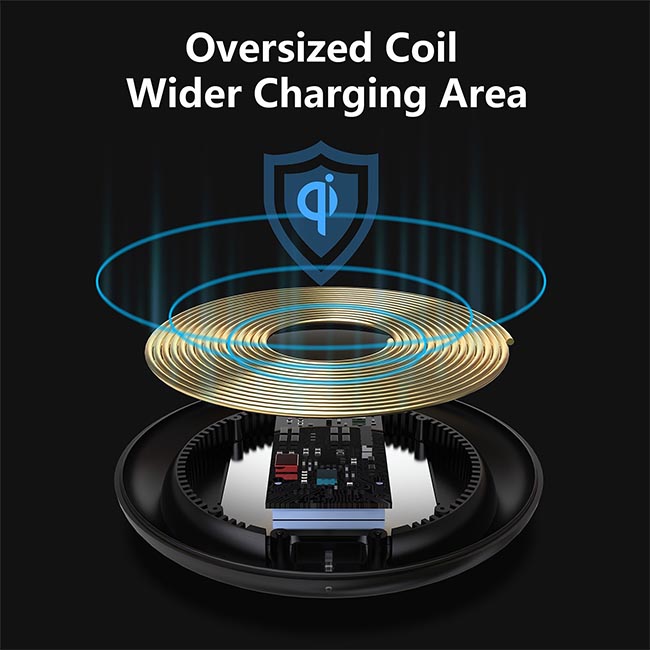 One thing we appreciated about the design is how wide the charging coil is. It's designed specifically for large smartphones. Instead of fiddling around with placement, just set your phone down and walk away. The charging coil is also powerful. It can charge through a 5mm case, provided the case isn't metal or magnetic. Unless you're using an OtterBox, your phone should charge just fine without any issues.
The K100 comes with a handful of safety features to keep you safe. To begin with, it has a built-in temperature control chip. If the unit starts to get too hot, it will automatically shut down to prevent overheating. Moreover, the housing is fire-resistant, which provides an added layer of protection. It has a surge protection circuit, so your phone won't get fried by a lightning strike. It also offers short-circuit protection for both your phone and your charger. All things considered, this is a very safe charger to use.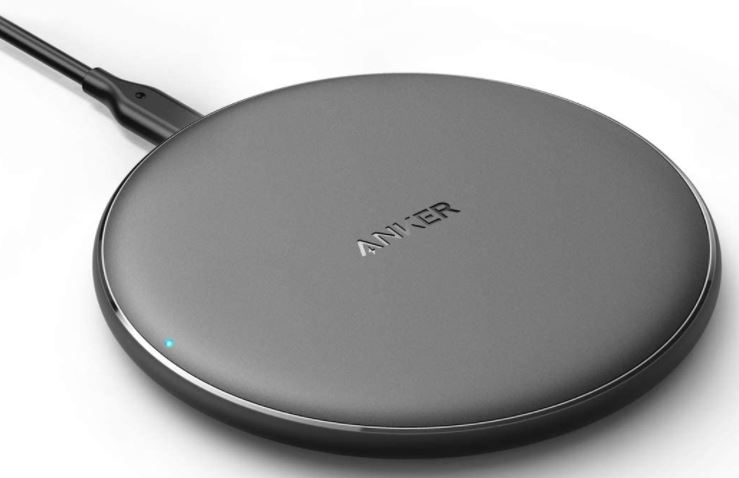 Anker PowerWave Pad Wireless Charger
The Anker PowerWave Pad Wireless Charger has a somewhat fatter design than the K100. At 0.5 inches, it's nearly twice as thick. It's also ever so slightly narrower, measuring just 3.7 inches in diameter. At only 2.08 ounces, it's lightweight enough for easy transport just about anywhere. The case is constructed from black ABS plastic, which is very lightweight. Throw it in a laptop bag or carry-on bag, and you won't have any issues with travel.
The housing sports a pair of rubber rings around the outside, one on the top and one on the bottom. The top ring is designed to keep earbuds from sliding off the top of the charger. It also performs the same function for smartphones. The bottom ring is to prevent the PowerWave Pad charger itself from sliding around or sliding off your table. The bulk of the housing is black, but there are actually two variants. One is all black, while the other is black with blue rings.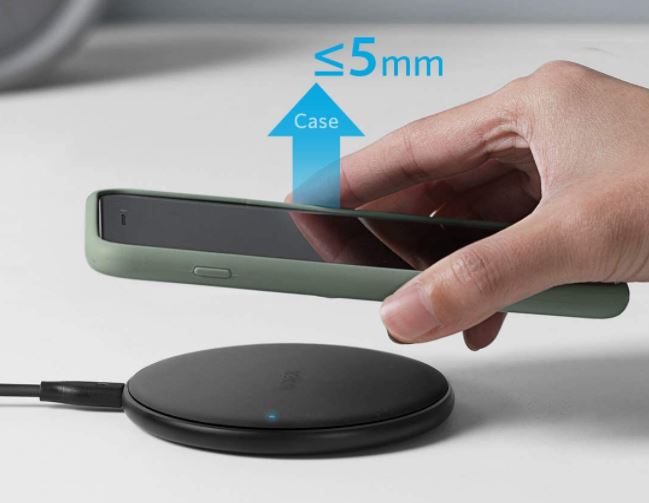 There's a green LED light bar surrounding the circumference of the Anker charger. This ring flashes for 3 seconds whenever the charger is plugged in. When your phone or other device begins charging, the ring will light up solid for 16 seconds. These functions let you know when the charger is connected and when it's charging. Otherwise, the LED light ring remains dark, so it won't pose any issues when you're sleeping. The power input port is located on the outer edge of the charger. This is a PD-capable USB Type-C port that's compatible with any USB Type-C cable. A Type-C to Type-C and Type-A to Type-C cable are included in the box, but an AC adapter is not. Any AC adapter that provides 15 watts will be good enough. That means just about any AC adapter on the market.
Just about the only place you wouldn't want to use the Anker charger is inside your car. For that, you're going to need a charger that also holds your phone securely in place. The Fiora Ultimate Wireless Car Charger supplies a full 15 watts, and your phone will remain safe from damage.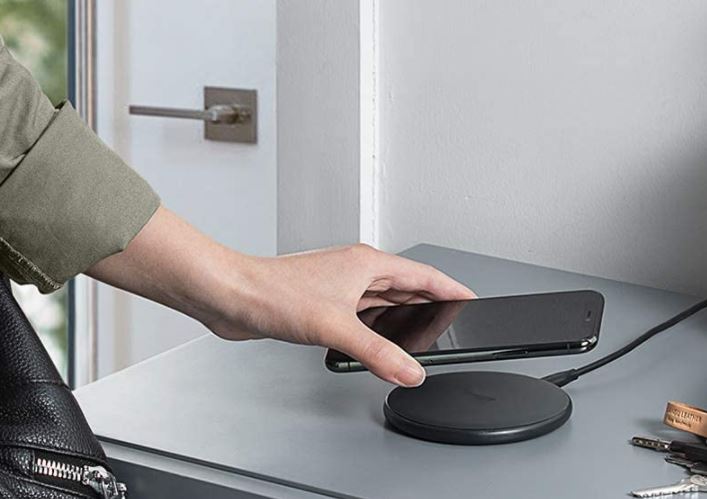 Charging Features
The PowerWave Pad Wireless Charger supports 5-watt, 7.5-watt, and 10-watt charging. The included cables will be good enough for standard 5-watt charging. However, if you want to get faster speeds, you'll need to plug the charger in with your own PD cable. Most modern smartphones that support higher charge speeds already ship with a PD-capable charge cable. Unlike the GooDee K100, the Anker charger does not support 15-watt speeds.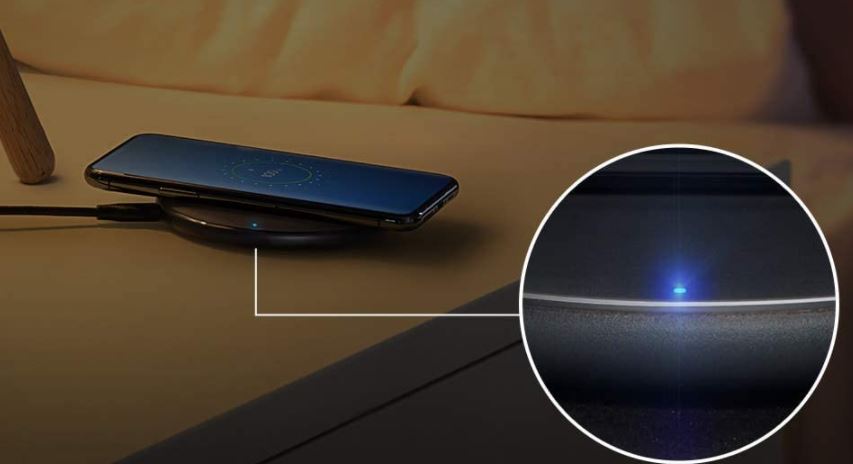 The efficiency of the PowerWave Pad charger will vary depending on the material and thickness of your phone case. This is standard for wireless chargers, since there's no way for manufacturers to know what case you're using. That said, it's rated to work with cases up to 4mm in thickness, a smidge less than the K100. As with the K100, though, this includes only plastic, rubber, or leather phone cases. If there's metal in your case, it's going to cause interference. Similarly, if you have an oversized case like an OtterBox, you'll need a more powerful charger. But for most phones and most cases, the Anker will get the job done.
Like the GooDee K100, the Anker PowerWave Pad Wireless Charger has several safety features to protect your phone and charger. There's temperature control for both your phone and the charger. There's short-circuit protection and surge protection to keep your circuitry safe from damage. That said, the Anker Wireless Charger also offers foreign object detection (FOD). FOD will automatically shut the charger off if it's in close proximity to metal objects, such as keys. This prevents dangerous overheating that can happen if magnetic material is close to the charger. Finally, the entire package is protected by Anker's lifetime refund or replacement warranty. You don't see a lot of lifetime guarantees in this industry, so it's a great added value.
Final Verdict
Both the GooDee K100 Wireless Charger and the Anker PowerWave Pad Wireless Charger bring a lot to the table. The GooDee K100 is the better choice if you need the most possible charging power. With a maximum wattage of 15 watts, it's one of the most powerful wireless chargers on the market. Until technology advances further, you're not going to find any faster. The wide design is another plus, since it's easy to set a phone down on the actual charging coil. The coil has enough power to penetrate a 5mm case, and has plenty of safety protection. Meanwhile, it also has a special trickle charge capability for tiny electronics.
The Anker PowerWave Pad Wireless Charger isn't quite as powerful as the K100. That said, with a maximum wattage of 10 watts, it's still pretty powerful. On many smartphones, 10 watts is already as fast as you can get. On the other hand, you won't get the maximum out of the latest phones. Nonetheless, the PowerWave Pad charger has a sturdy design, with a fat rubber ring that keeps anything from sliding off. It actually offers more safety protection than the GooDee charger, with FOD technology. And with its lifetime warranty, malfunctions are not a concern.