DriverGenius 4XRS232
Pros
Connect up to four DB9 serial devices.
Maintains port assignments during reboot.
Compatible with almost any Windows or Mac machine.
Durable and lightweight.
Cons
Short USB cable.
Not suitable for serial mice and keyboards.
Over time, few things about computers have remained less consistent than wiring standards. USB is an excellent example; the "U" literally stands for "universal," but it's far from universal. There's standard USB (Type-A), there's Type-B, Type-C, Micro USB, and even Mini USB. And within those, there are various standards, such as USB 2.0, 3.0, and 3.1. Not only that, but USB is only one kind of serial connection. There have been a number of standards throughout there years, used for all different kinds of purposes. As a result, there's a healthy market for adapters, hubs, and other devices to aid in connectivity.
One of the oldest – and most enduring – serial connections is RS232. RS232 was first used in the 1960s for accepting computer inputs from electromechanical keyboards. As PCs became mainstream, it became a favored standard for connecting all kinds of peripherals. Not only that, but it found a home in industrial applications, for connecting manufacturing and tooling machines. For home use, RS232 has been obsolete for some time, superseded by the more-versatile USB standard. But industry likes tried and true technology. If RS232 is still good enough for the job, industrial machines will still use it.
But what if you want to control an RS232 device with a modern computer? In most cases, you're going to need an RS232 to USB adapter. With that in mind, we're about to review the DriverGenius 4XRS232 4 Port USB to DB9 RS232 Serial Adapter Hub. This is a 4-port RS232 hub, which connects to your computer via USB. But that's just the bare minimum of what you need to know. To fully understand how this adapter works and what it's capable of, we'll have to dig deeper. We'll talk about what devices it's compatible with, as well as how to set it up. Let's take a closer look, and zoom in on all the details!
RS232 vs. USB – What's the Difference?
Before we talk about how this hub works, let's talk about RS232 and USB. What makes them different, other than the obvious difference in plug size? To begin with, both of them are serial ports. This means they send and receive data in sequences of packets, which come in one after another, or serially. Other than that, the two ports are entirely different, and have virtually nothing in common.
The biggest limitation of the RS232 standard is the rate of data transfer: 1Mbps. By 1960s standards, this was insanely fast, and far more than anyone would ever need. But nowadays, 1Mbps is essentially useless if you want to use a cable for data transfer. Even for a modern mouse or keyboard, you'll oftentimes need a faster connection than that. Another major limitation is that RS232 is capable of a 1-to-1 connection only. In other words, you can't use a hub to connect multiple devices to a single RS232 port. So if you want to connect multiple devices, you'll need multiple large ports on the back of your computer.
A USB port, by comparison, is significantly more capable. The current USB standard, USB 3.1, is capable of transfer rates of 3.1Gbps. That's 3,100 times as fast as RS232, which tells you all you need to know about what it's capable of. In addition to that, a single USB port can be used to connect multiple devices simultaneously. That's why a USB hub works, and it's why you can make a single USB hub with multiple RS232 ports. For applications that USB isn't suitable for, wireless and Ethernet technology has sometimes taken RS232's place. For example, computers can transfer files over the internet, or connect to peripherals via Bluetooth.
The last significant drawback of RS232 is the size of the plug. A USB plug is very small, and only requires five pins. This makes it not just compact, but also presents fewer possible points of failure. Early RS232 ports were very large indeed, and had a whopping 25 pins. This plug (the DB-25) was used on a lot of 1980s printers, as well as on some industrial machinery. But even back then, manufacturers recognized the drawbacks of such a massive plug. For most applications, only a few pins were used anyway, so the DB-9 connector was released in the 1990s. This has a smaller plug, as well as only nine pins for fewer points of failure. It took over the consumer market almost overnight, and remains the current RS232 standard for industrial and commercial use.
Because it's an old standard, RS232 is no longer found on most modern motherboards. If you're lucky, you might be able to find one with an optional RS232 module. This is becoming more and more rare, though. In most cases, you'll need to connect via PCIe, instead. Thankfully, there are plenty of PCIe serial port adapter cards available on the market.
But a built-in card will only work if you've got an open PCIe slot. Depending on your existing build, this may not be the case. Unless you're building a new computer, it can make more sense to use an external hub. With an external hub, you can connect RS232 devices via your computer's existing USB port. That's where the Driver Genius hub comes in.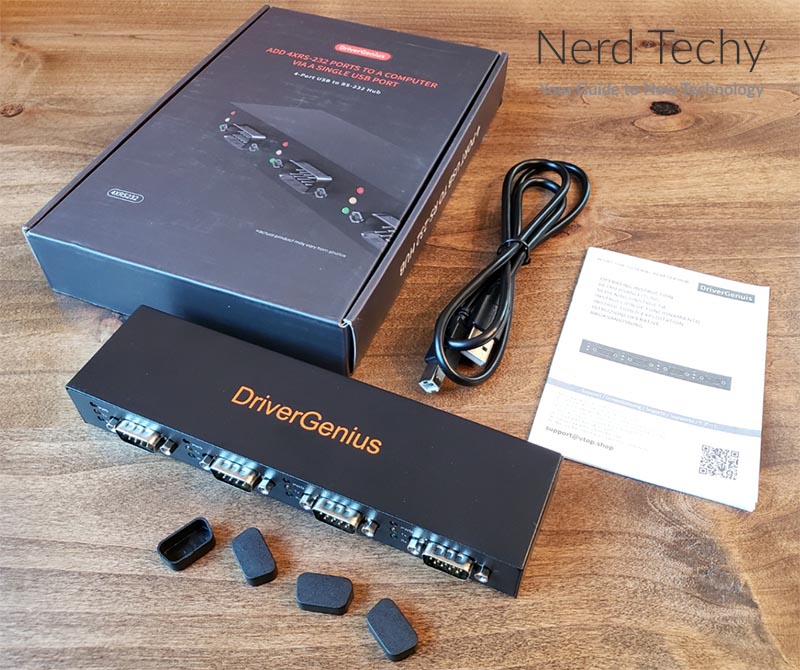 Overall Design
The DriverGenius 4XRS232 4 Port USB to DB9 RS232 Serial Adapter Hub is constructed from aluminum. This is a durable, aircraft-grade aluminum that can stand up to minor shocks and drops with zero issue. It has a matte black finish, which makes it easy to keep clean. It also won't look out of place in a shop, office, or industrial setting. The only real cosmetic touch is an orange DriverGenius imprint on the top panel. And for all of its durability, the hub is reasonably compact and lightweight. It measures 7.3 inches wide, 1.9 inches deep, and only an inch thick. This means it won't take up a ton of space at your workstation.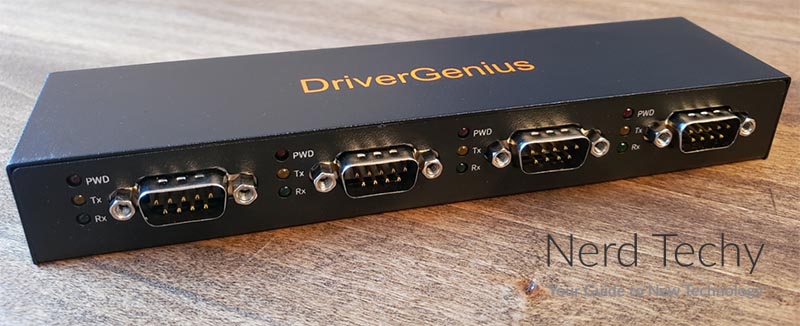 On the back of the housing, there's a USB Type-B port. This is used for connecting to your computer, and a USB Type-A to Type-B cable is included in the kit. The cord is less than three feet long, which was a bit disappointing. Then again, cables are cheap, and you can always buy a longer one if you need it.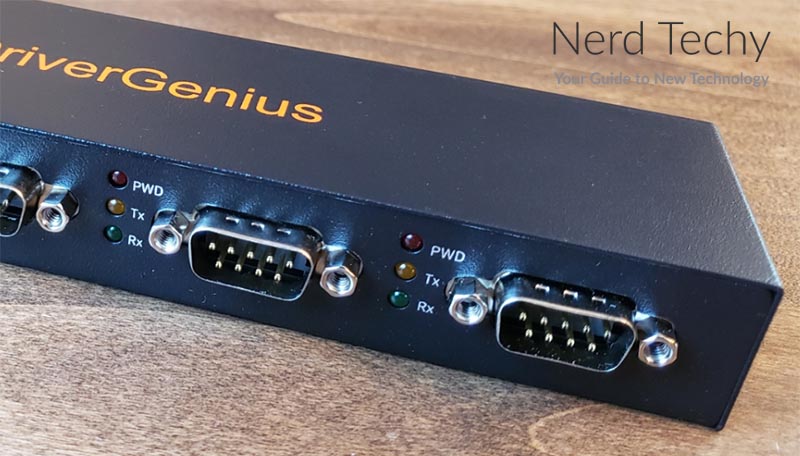 The four DB-9 RS232 ports are located across the front of the housing. To be very clear, these are the 1990s-and-newer 9-pin ports. You won't be able to connect an older 25-pin plug. That said, the ports themselves are as well-designed as we could have hoped. To begin with, there are threaded anchors where you can screw your plugs in. Many modern manufacturers don't even bother with anchors, which is a shame. With the DriverGenius hub, you can securely screw in your plugs, so they won't wiggle and come loose.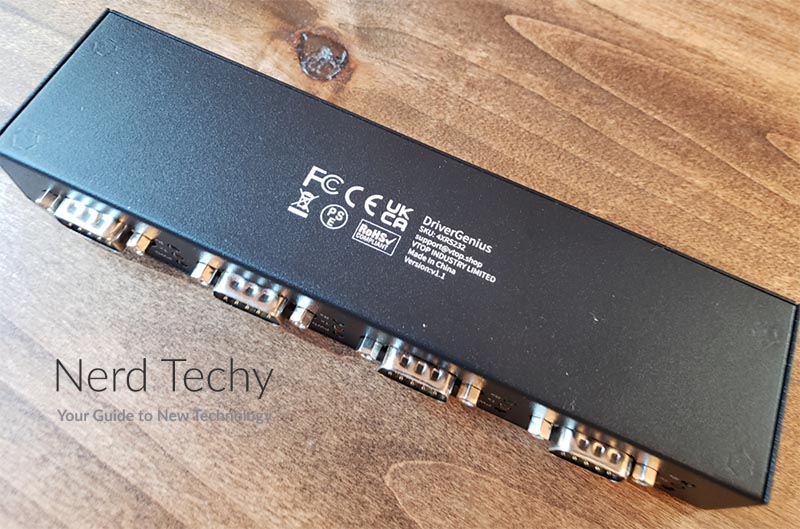 Another thing we liked about this hub is that each serial port has its own set of LED lights. The top, red light indicates that a device is plugged in and powered on. The middle, yellow light indicates that the port is transmitting data successfully. The bottom, green light indicates that the port is successfully receiving data from the connected device.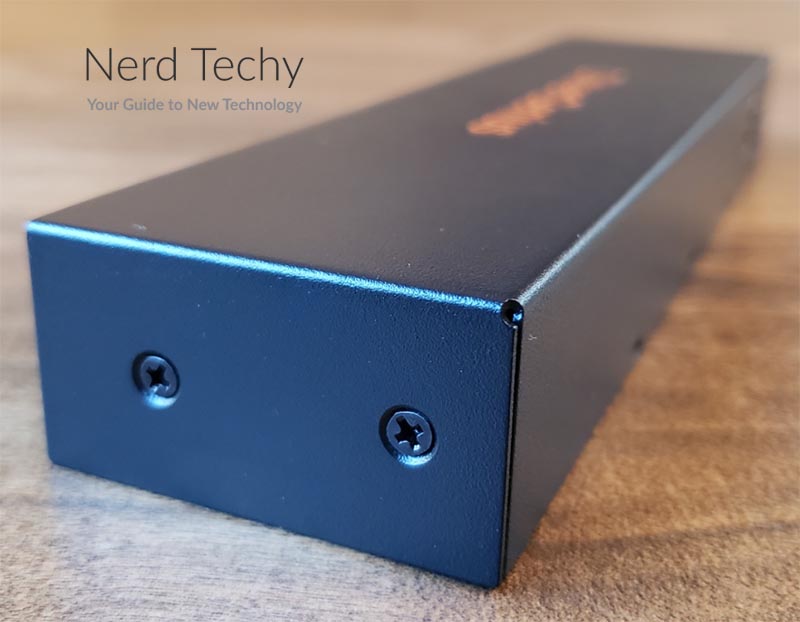 Keep in mind that this is strictly a serial port hub; it just connects to your computer via USB. If you need multiple USB ports, consider a USB Type-C hub, instead. You won't be able to connect any RS232 devices, but you'll expand your USB capacity.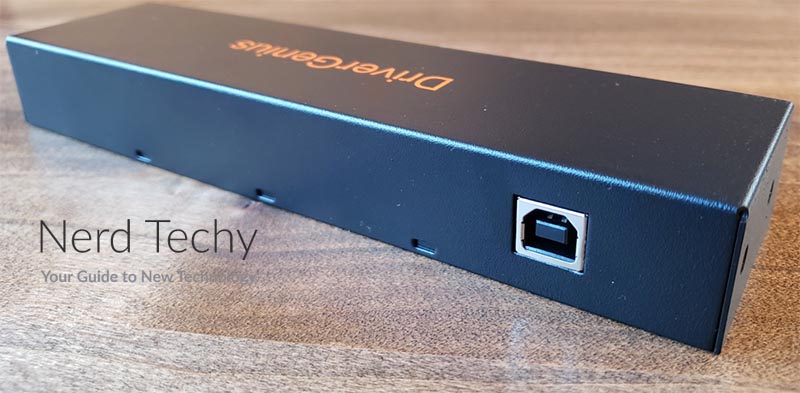 Compatibility & Performance
The DriverGenius RSA232 hub is compatible with most operating systems. That said, it's not plug-and-play. Because it's an uncommon type of device, OS manufacturers don't package the right kind of drivers. Fortunately, DriverGenius offers three different driver packages for download on their website. The first is the standard driver for Windows 10/8.1. This driver package is also compatible with other versions of Windows, all the way back to Windows Vista. The second driver package is a standalone download for Windows 11 machine. The third is a Mac driver, which works with all versions of Mac OS starting with version 10.9.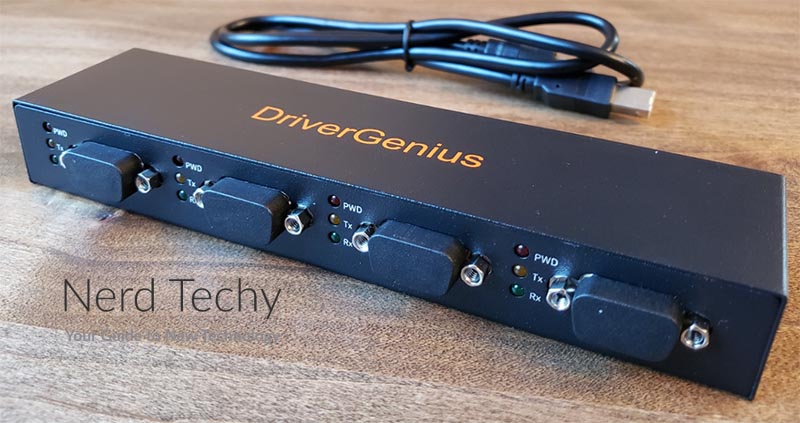 Once the drivers are installed, you'll be able to use pretty much any kind of RSA232-connected devices. This includes industrial devices like CNC machines and industrial controllers. You can also connect low-tech communications devices like serial modems. Higher-tech devices like serial-controlled network switches are also supported. You can even connect retail equipment like receipt printers and older POS systems. There aren't a whole lot of things you can't connect to. The one exception is devices that require a specific I/O address or IRQ number. As a result, you might run into issues with peripherals like keyboards and mice.
The DriverGenius hub will work with any USB port. In addition to newer USB 3.1 and 3.0 ports, it also works with older USB 2.0 and USB 1.1 ports. For devices that require automatic handshake mode, this hub will work seamlessly. You won't have to reconfigure anything in your existing software. Another nice feature is that COM port assignments are stored in internal memory. When you reboot the hub, your connected devices will still have the same virtual ports. This can potentially save you a lot of time following a reboot.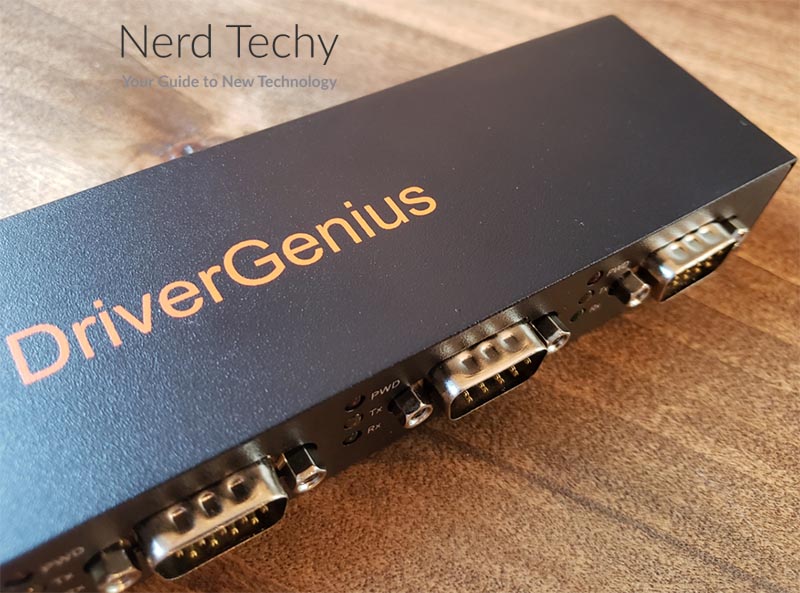 Final Verdict
The DriverGenius 4XRS232 is a good choice for most applications. While it's not suitable for computer peripherals, it's great for commercial and industrial devices. Whether you're connecting to a CNC machine or a receipt printer, setup is quick and painless. The drivers support even much older operating systems, so you can use this hub with most computers. You also don't have to worry about USB port compatibility, since it works with USB 1.1 ports. If that's not enough, the housing is tough and durable. The physical ports themselves are well designed, with high-quality anchors and indicator lights. All in all, we highly approve of this hub.
Meet Derek, "TechGuru," a 34-year-old technology enthusiast with a deep passion for tech innovations. With extensive experience, he specializes in gaming hardware and software, and has expertise in gadgets, custom PCs, and audio.
Besides writing about tech and reviewing new products, Derek enjoys traveling, hiking, and photography. Committed to keeping up with the latest industry trends, he aims to guide readers in making informed tech decisions.