A pair of hearing aids is one of the more intimate tools you'll use in your life. They're in your ears most of the time you're awake, and for over-the-ear hearing aids, they lie against your skin. This gives them the opportunity to collect all kinds of bacteria, as well as ear wax and other detritus. If you're not keeping them clean, you'll have an unsanitary situation in a hurry. Of course, different hearing aids require different cleaning methods, depending on their design. Some need to be cleaned with a small vacuum. Others do better with ultraviolet light and heat. The point is to find the one that's right for you.
Another thing you might have to deal with is moisture buildup. Your ears and face warm up your hearing aids, which can cause condensation. This condensation has a couple of negative effects. First off, if it gets inside the housing, it can potentially damage your electronics. But more commonly, this condensation ends up harboring mold or bacteria. That's disgusting, and it's not something you want going on inside your ears. For this reason, a good hearing aid cleaner won't just get your equipment clean. It will also leave it dry, so you don't have to worry about anything growing in it.
Today, we're going to review three of the best hearing aids cleaning systems that money can buy. We'll start out by examining the PerfectDry LUX. This is a box-shaped cleaner with 360-degree UV-C sterilization and hot air drying. Next, we'll look at the Kapak AuriClear. This is a directional UV-C sanitizer, with a slightly higher temperature for drying. Finally, we'll investigate the Jodi Consumer Hearing Aid Vacuum Cleaner. This is a miniature vacuum, designed for cleaning ear wax and other debris from your hearing aids. After we've thoroughly gone over all three options, we'll be able to make a fair comparison. Let's take a closer look, and see how these hearing aids stack up!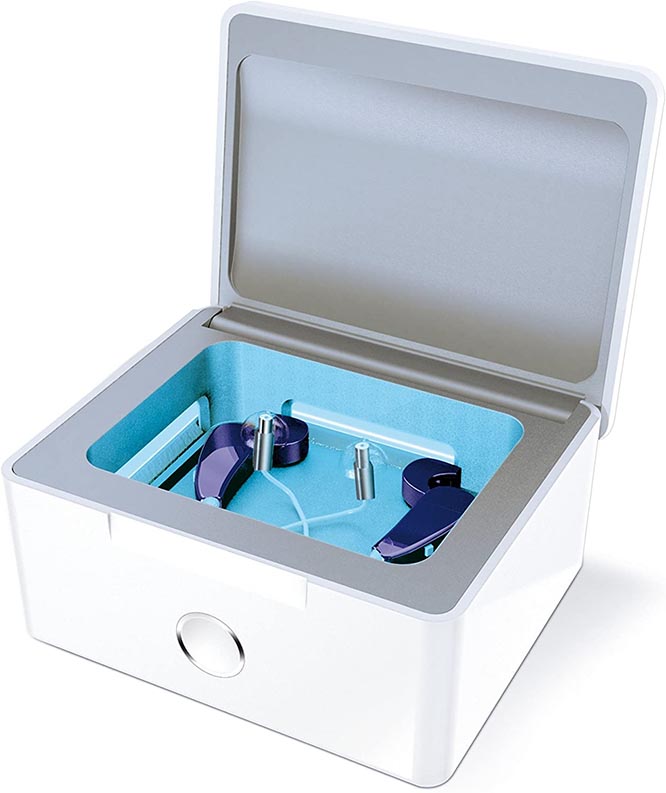 PerfectDry LUX
The PerfectDry LUX is a box-shaped cleaner with a simple, straightforward design. It has a rectangular design, with a width of 3.63 inches, a depth of 3 inches, and a height of 2 inches. That's only slightly larger than the footprint of a deck of cards, and thin enough that it's easy to pack. The housing is white plastic, with a smooth, easy-to-clean finish. All the edges and corners have been rounded off. This keeps it from damaging other items in luggage.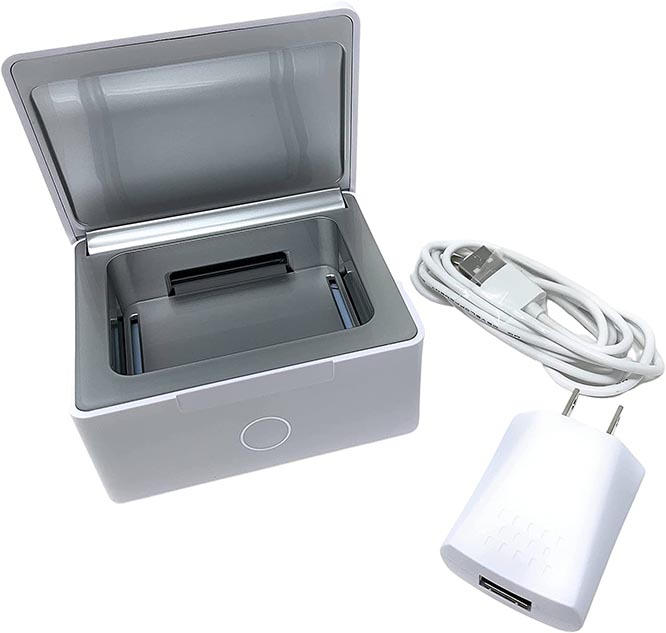 The top of the housing is hinged at the back, and the lid pivots open and shut. The inside is grey, with a nice big cavity in the center. In total, it's big enough to easily fit a pair of over-the-ear hearing aids. The inner lining is also slightly reflective. This helps to distribute light from the ultraviolet emitters, so you get a more thorough cleaning.
Using the PerfectDry LUX is straightforward. You plug it in, open the lid, and close it again. This will initiate a cleaning cycle. Note that the manual says that you need to push a button, but this is incorrect. The manual has not been updated from an older version of the product. All you have to do is close the lid. At that point, a blue LED light ring will light up on the front of the housing. The light will remain lit until cleaning is completed, at which point it will shut off. This keeps you from accidentally opening the cleaner mid-cycle, and exposing yourself to UV rays.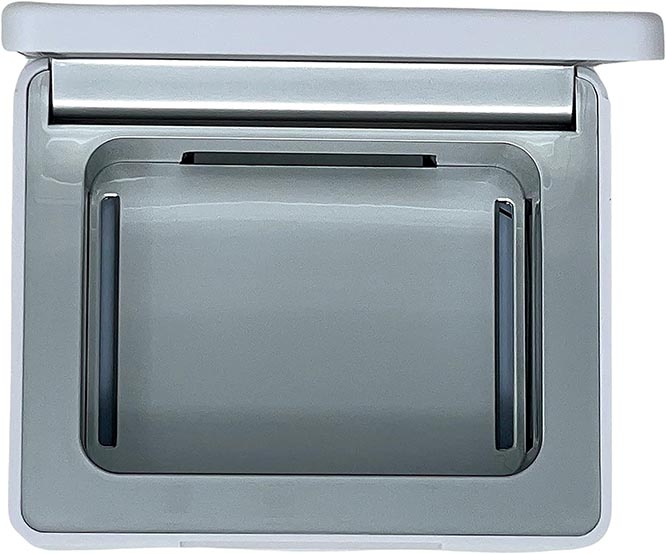 This cleaner is powered by a simple USB cable, which connects to the back via a Micro USB port. We would have preferred to have seen USB Type-C, since it's more modern and powerful. That said, Micro USB is powerful enough to get the job done, so it's not a serious concern. The nice thing about the USB power is that you can use any type of USB outlet. This can be a wall charger, but it can also be a PC or laptop. You can even use a power bank to run it. The charger only draws 1,000mA, which means a 30-minute cleaning cycle draws 500mAh. So even with a very small power bank, you can still get a full charge.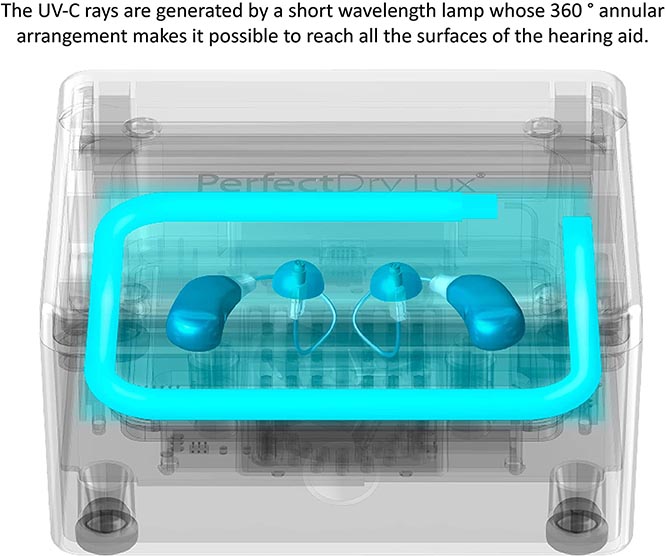 Cleaning and Drying Performance
The PerfectDry LUX cleans your hearing aids via two different methods. First, it utilizes Ultraviolet-C light, also known as UV-C. UV-C light is the most powerful type of UV light when it comes to killing viruses and bacteria. In fact, it will kill 99 percent of germs when used properly. This will make even the grossest set of hearing aids safe to wear. And because of the 360-degree design, you'll be getting UV rays from all directions. If you're worried about germs on your hearing aids, you'll no longer need to be concerned.
In addition to ultraviolet light, the PerfectDry also utilizes hot air to help kill germs and dry out your hearing aids. The heater turns up to 113 degrees, which provides enough heat to evaporate moisture. It's also enough to kill most germs, at least after prolonged exposure. If that's not enough, a built-in fan helps to cycle air through the inside of the housing. This promotes faster drying, and works much better than a passive air system.
A standard cleaning cycle lasts for 30 minutes. For safety reasons, it's best not to open the lid in the middle of a cycle. The ultraviolet rays can damage your skin, and even cause cancer with increased exposure. If for some reason you have to interrupt a cleaning cycle, unplug the unit first. That way, the lights will shut off. Another thing to be careful of is your hearing aid batteries. Make sure to remove these before you start a cleaning cycle. If you don't, the heat from the cleaning process can damage them. It's not hot enough to cause them to explode. However, it can considerably shorten their life span.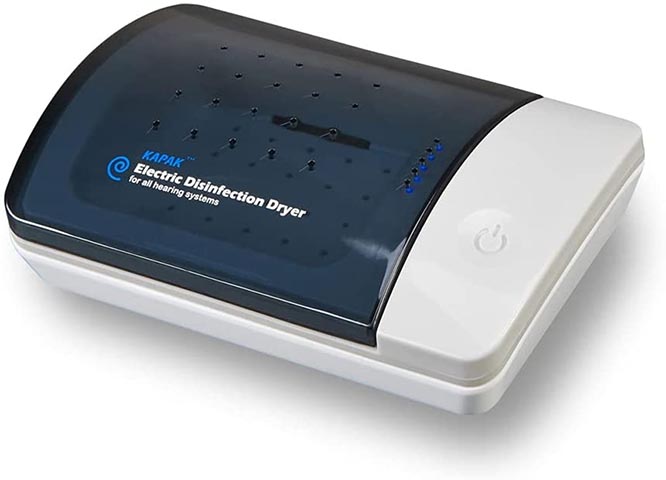 Kapak AuriClear
The Kapak AuriClear is another enclosed hearing aid cleaner and dryer. It has a white housing, with a total size of 5.12 inches wide, 3.35 inches deep, and 1.18 inches thick. In other words, it has a larger footprint than the PerfectDry cleaner's, but it's barely over half the thickness. The top of the housing is arched, with a grey panel on the right side. There's a soft touch power button built into this, which you use to initiate a cleaning cycle. When it's pressed, you'll hear a loud beep to indicate that cleaning has begun. You'll hear another loud beep when the cleaning cycle has completed.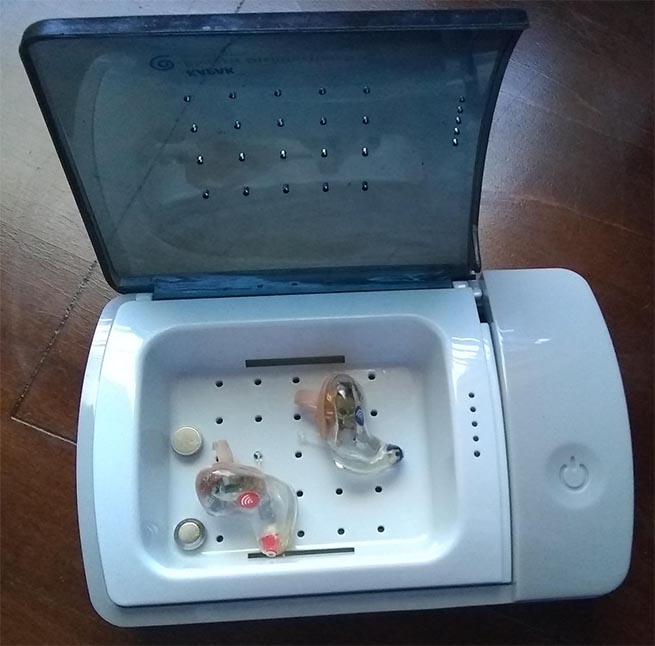 The rest of the top consists of a blue transparent lid. Because its transparent, you can see the inside of the housing, which is made of food grade plastic. The lid is hinged at the back, and opens and closes easily so you can access the cleaning compartment. The compartment is nice and wide, and will easily fit two large hearing aids. For compact, earbud-style hearing aids, you can even fit two pairs inside.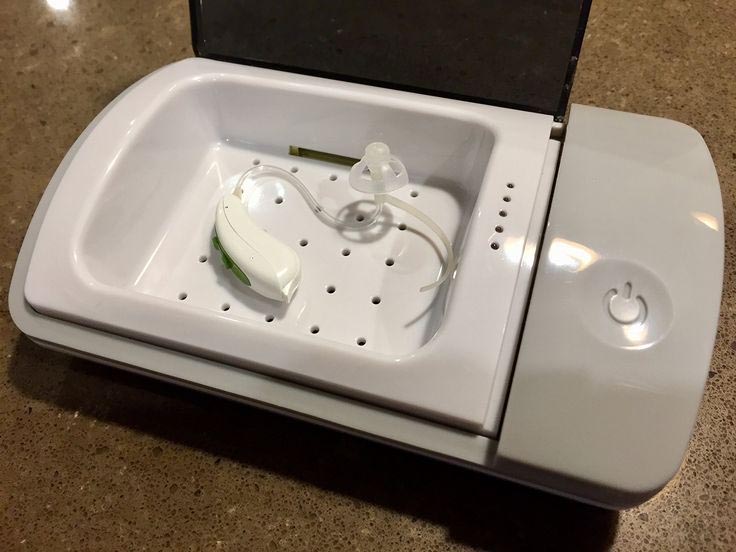 Like the PerfectDry cleaner, the AuriClear is powered by a Micro USB cable. It can also be powered by a PC, as well as by any other USB power source. The package also includes a USB power adapter, so you can plug into a wall outlet without buying any extras.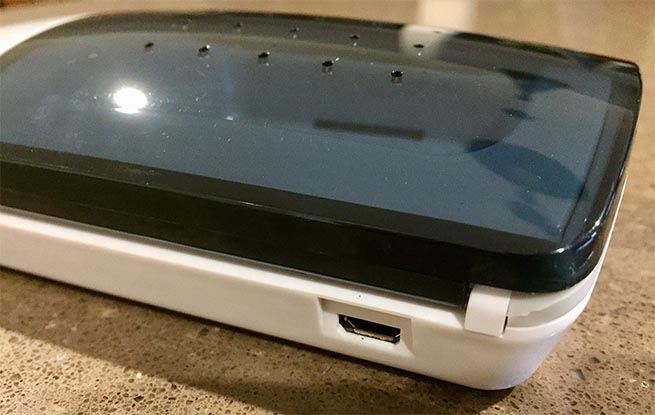 Cleaning and Drying Performance
There are two different cleaning features on the Kapak AuriClear: UV-C and hot air. The UV-C cleaning function runs on an 8-minute cycle. The lighting is just as powerful as the PerfectDry's, and will kill over 99 percent of bacteria and viruses. That said, the transparent lid makes it unsafe for Kapak to use a reflective interior. As a result, the light doesn't distribute as freely, and it only hits your hearing aids from the sides. This somewhat limits its effectiveness. Then again, you can always flip your hearing aids over and run a second cycle.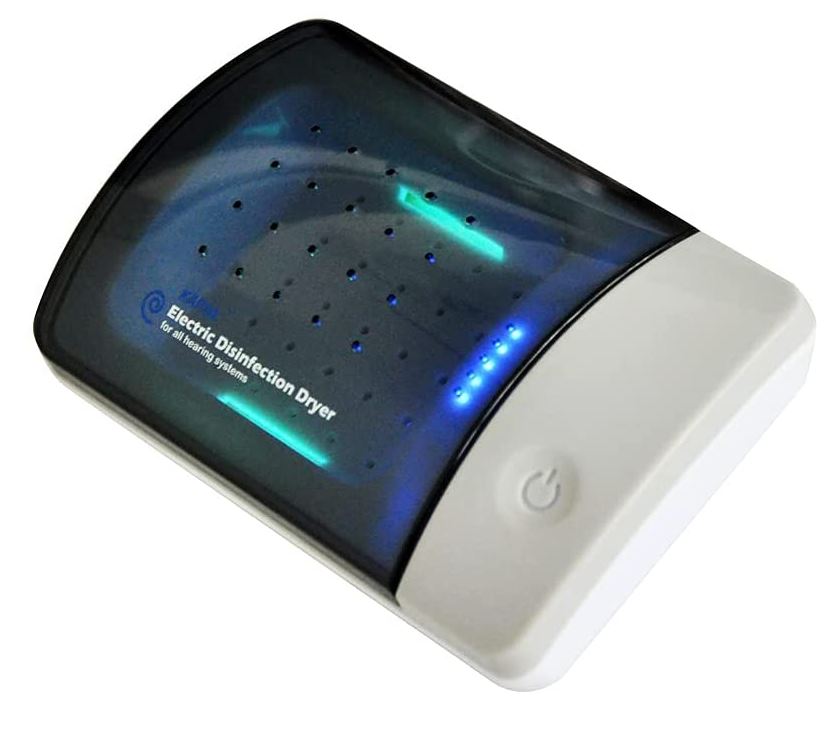 The hot air function runs for a full three hours. It's nice and toasty, with a temperature of 122 degrees. This is very warm indeed, so make sure to remove your batteries before you start a cycle. There's also no fan built into this cleaner. Instead, it relies on heat alone to evaporate moisture from your hearing aids. This lack of a fan is the main reason a heat cycle takes so long. On the other hand, it keeps the AuriClear very quiet during operation. You can easily tell how far along your cleaning has come, thanks to the five blue LEDs to the right. These are clearly visible through the lid, and light up one by one as the cleaning process nears completion.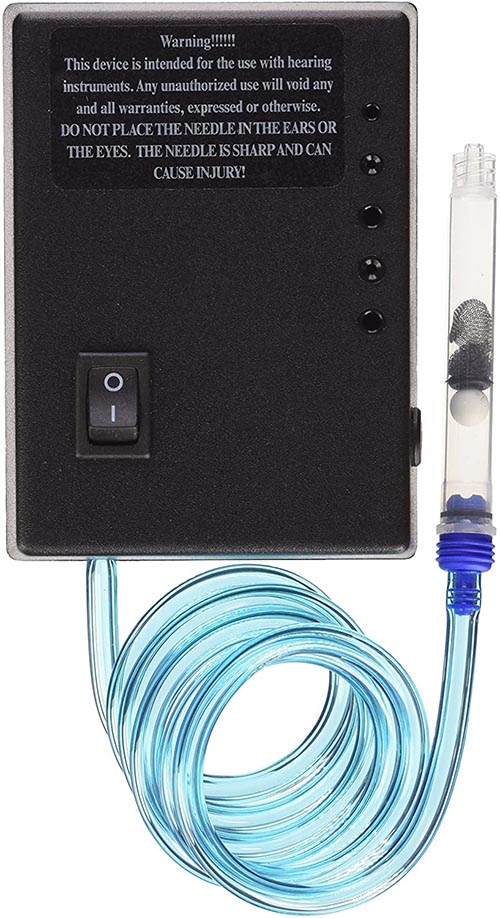 Jodi Consumer Hearing Aid Vacuum Cleaner
The Jodi Consumer Hearing Aid Vacuum Cleaner is an entirely different animal. This is a miniature vacuum cleaner, designed specifically for hearing aids. The main unit is a black motor housing, with a power switch on the front. Connected to one corner is a coiled plastic tube, which can be stretched to a length of two feet. This tube is tipped with a solid plastic cylinder, with a tapered tip that looks like the tip of an eye dropper.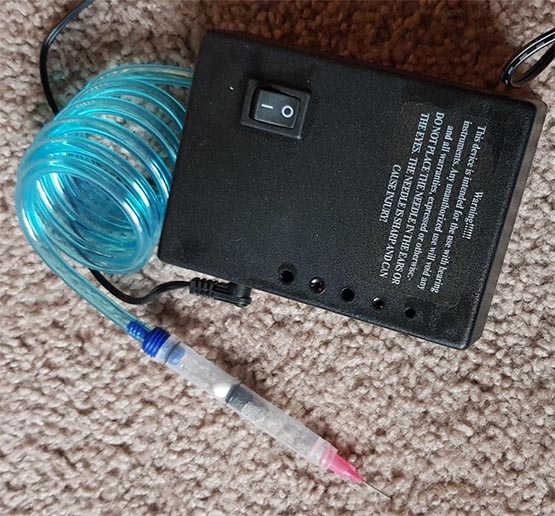 In the middle of the tube is a mesh and foam filter. This catches debris, and keeps it from getting sucked into the motor. Like a traditional vacuum filter, this is replaceable, and Jodi sells the replacements online. It's also tipped with a little plastic ball, which moves to indicate that you're getting positive air flow.
The power supply is a three-pronged power cord, similar to the ones used for desktop computers. This plugs into a DC power adapter block, which connects to the vacuum via a cable with a barrel-style tip. It's compatible with both 120-volt North American and 240-volt EU power outlets.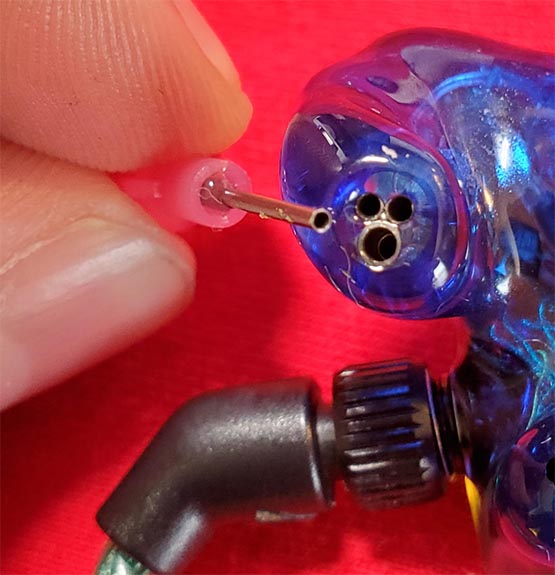 Cleaning and Drying Performance
The Jodi Consumer Hearing Aid Vacuum Cleaner has a rated suction power of 18 inches of mercury. That translates to 60,955Pa, more powerful than even most shop vacs. Keep in mind though, that it's drawing that air through a very small aperture. It's not capable of cleaning up huge messes or anything like that. Then again, it does excel at sucking up ear wax, dirt, and other junk that collects on your hearing aids. You'll just need to find your own way of sanitizing them afterwards. The filter will last for around six months, so maintenance is minimal. All in all, you can color us impressed.
Final Verdict
So, which one of these hearing aids cleaning systems is the best one for you? Let's go over what we've learned. We started by reviewing the PerfectDry LUX. This is a nifty little sanitizer and dryer, with a compact design and easy operation. The 360-degree UV-C sanitization is very powerful, and the powered drying function is fairly effective. Not only that, but it gets the job done in only 30 minutes. If you're cleaning in the middle of the day instead of overnight, you'll get the job done quickly.
The Kapak AuriClear is a bit different. Because of the transparent lid, the UV-C sanitization isn't as powerful. It also doesn't have a fan-powered drying system. Then again, it gets noticeably hotter than the PerfectDry sanitizer. You also have a bit more flexibility. A UV cleaning session will take as little as 8 minutes. On the other hand, if you want to dry your hearing aids overnight, the heater will run for three hours.
Comparing Jodi Consumer Hearing Aid Vacuum Cleaner to the last two options is like comparing apples and oranges. It's a vacuum, not a sanitizer, and should be treated accordingly. That said, the suction power is surprisingly strong, plenty for cleaning most hearing aids. It's also easy to keep clean, with a filter that lasts for as much as six months. If you're trying to get rid of gunk on your ear tips, the Jodi cleaner makes it very simple.