If you're serious about online gaming, a good gaming headset is an essential part of your gear. Anybody can get online and play solo. But in most games, you're playing on a team, and good communications are essential. In fact, communication is the most important part of team play. It's not unusual to see a team of less-skilled players win a game because of superior teamwork.
If your headset isn't up to par, you won't be getting the most from your in-game chat. Maybe you keep having to repeat yourself. Maybe you have trouble understanding your teammates. Maybe there's a ton of lag, and you're not getting your chats in a timely manner. Regardless of the reason, you need to invest in a good headset.
This doesn't necessarily mean you have to spend a fortune. Yes, there are gaming headsets that cost half as much as a brand new console. But you can easily find a good headset for a fraction of that price. You won't be getting premium options like genuine leather or high-quality LED lighting. But you can get a headset that's comfortable and provides reasonably good audio. Most importantly, you can get one that's optimized for voice chat. This is very important, since latency and noise isolation are major factors in voice transmission. A headset that's optimized for single-player play isn't going to focus on those features.
Today, we're going to review two high-quality, budget priced gaming headsets for multiplayer gaming. We'll start out with the BINNUNE Wireless Gaming Headset. This headset has firm, circular ear cups with a swiveling mic and volume control buttons. Next, we'll look at the BEAVIIO Wireless Gaming Headset. This headset has soft, oval ear cups with a flexible mic and a volume control dial. But those are just the most basic physical features. To find out how they compare, we'll have to look a little bit closer, and dig into all their features. Let's take a closer look, and see how these two wireless gaming headsets stack up!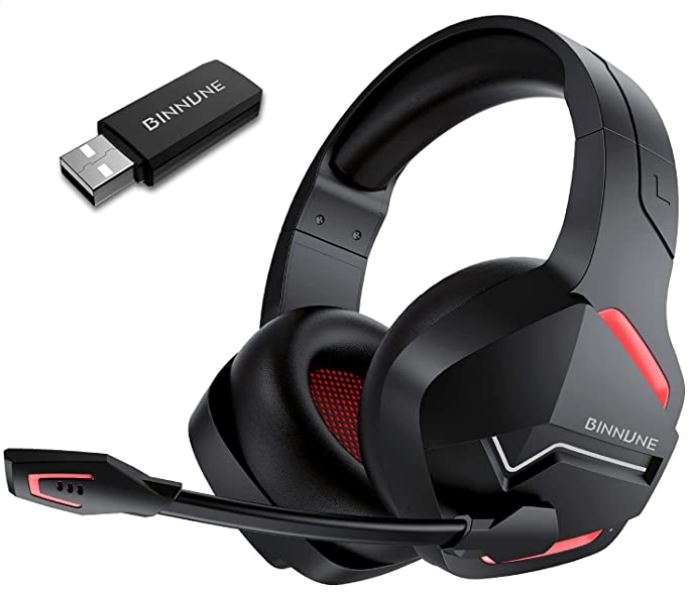 BINNUNE Wireless Gaming Headset
The BINNUNE Wireless Gaming Headset has a thick, chunky design with wide, round ear cups. The ear cups have thick padding, with a soft, faux leather finish that breathes reasonably well. They're also firmly padded, so they won't lose their shape during long periods of wear. The head band is only plastic, but it's nice and thick, so it's reasonably durable. It also has an aluminum band inside, which is very thin, and only visible when the head band is extended. The inside of the band is padded with thick padding, similar to the padding on the ear cups. It's equally comfortable, and is perfect for extended wear.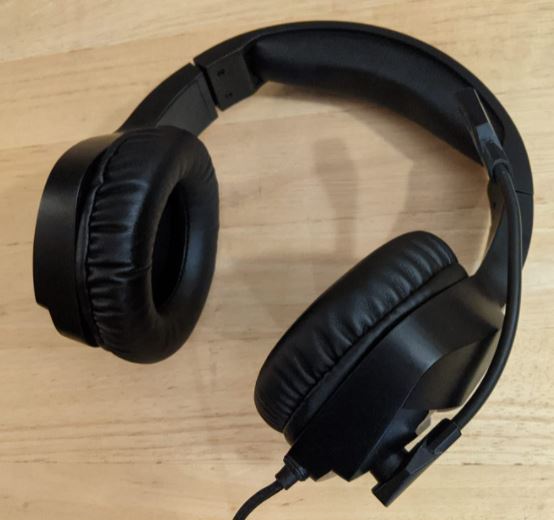 The backs of the ear cups are kite-shaped, with the long parts of the kites pointed towards the back. They're all black, as is the rest of the housing and the padding. The exceptions to this are the red stripes on the sides, and the red texture inside the ear cups. The whole thing has a matte finish, so it won't collect fingerprints when you adjust it.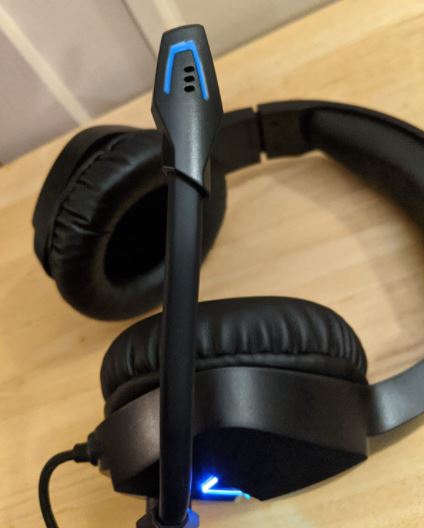 All of the controls and ports are located on the left ear cup. On the bottom, near the front, you'll find the USB Type-C charging port, and a 3.5mm aux audio input. Behind that is a set of small rubber buttons. These buttons are sharply pointed so they're easy to find, and they're meant to be operated with your thumb. The front three buttons are the volume buttons and the power button. Behind these, on the back face of the ear cup, you'll find the microphone button. The microphone itself is located on a rigid boom, but it's still easy to reposition. The boom pivots freely in a 120-degree arc, so you can always point it towards your mouth.
If you want to pay more for a more rugged design, check out the Rig 500 Pro HC. It has a metal frame and head band, and also provides excellent audio quality. On the downside, it only connects to your audio source via a 3.5mm aux cable.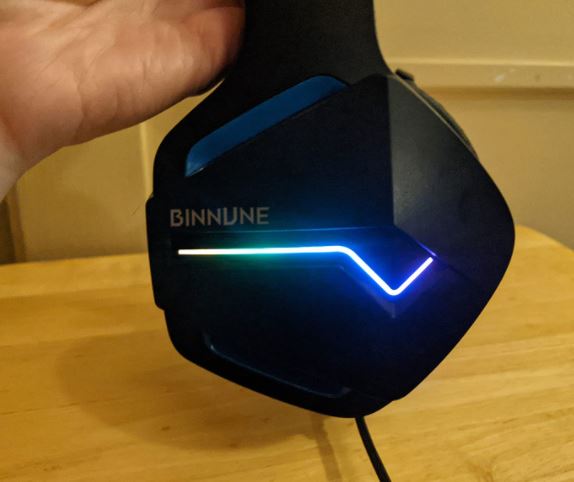 With the BINNUNE headset, on the other hand, you have three connection options. The fastest option is 2.4GHz. It has the lowest latency, and it works on PC or PlayStation. To use the 2.4GHz connection, just put the USB fob in your system's USB port, and turn the headset on. In a few seconds, you'll be automatically connected. Another alternative is to use Bluetooth. With Bluetooth, you can connect to mobile systems like tablets, iPhones, and Android phones. To connect via Bluetooth, first turn the headset on. Next, press the power button three times. The voice alert will say "Bluetooth mode." At that point, your headset will be discoverable in your device's Bluetooth menu.
The third connection option is a 3.5mm aux cable. This can be used with just about any game system, including Xbox consoles and the Nintendo Switch. With a 3.5mm cable, you also won't have to worry about battery life, since power will come from your device. That said, the headset's built-in controls won't work. You'll be limited to any controls available on your game system.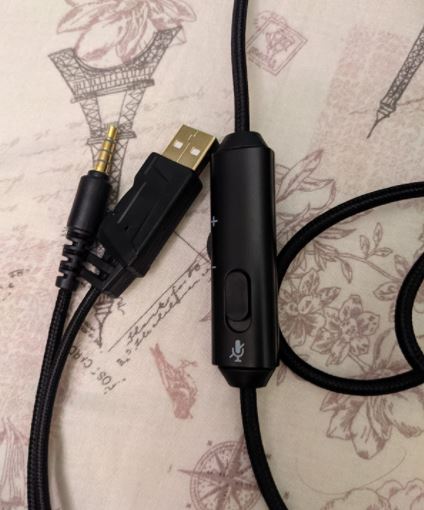 Battery Life & Audio Quality
The BINNUNE Wireless Gaming Headset has a rated battery life of 48 hours on a single charge. To be fair, this can change depending on your volume level. At full volume, you can expect more on the order of 30 hours per charge. But even so, that's a ridiculous amount of battery life. Assuming you stop to sleep at some point, you'll effectively never run dry. Charging via USB Type-C takes only four hours.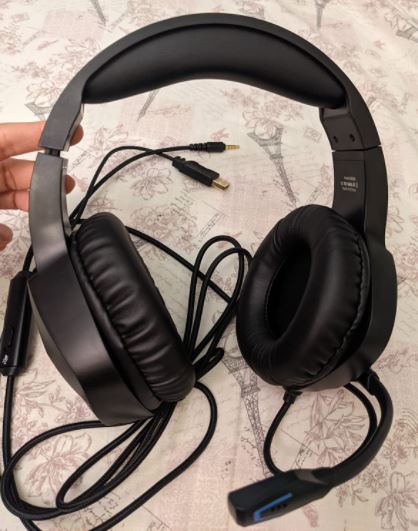 The audio quality is rich and clear, with a powerful, 50mm driver. Stereo sound is surprisingly good, with a good sense of directionality. You can easily tell where sounds are coming from within the game world. As far as the mic quality goes, it does a reasonably good job of noise cancellation. The key is to have it pointed directly at your mouth, since it's highly directional. As long as you do this, you'll transmit only your own voice, with near-zero background noise.
The best thing of all is the latency when you're connected via 2.4GHz wireless. It's far faster than Bluetooth, for a truly "live" audio experience. The Bluetooth connection is not quite as impressive, but it's still comparable to most leading headsets. Of course, using the 3.5mm aux cable has the lowest latency of all, since it's a wired connection.
Let's say you want to focus on audio quality above else, even at the sacrifice of build quality? In that case, consider the Eksa Air Joy Pro. It has very rich audio quality for the price, and it's also more lightweight. Then again, it's not very durable.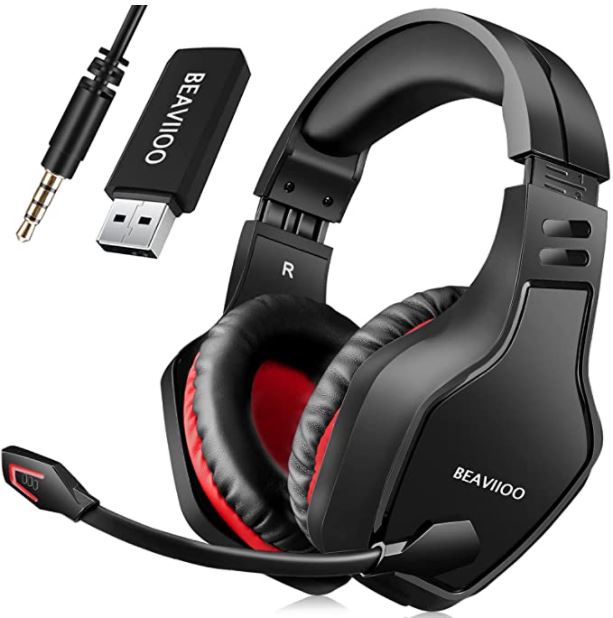 BEAVIIO Wireless Gaming Headset
The BEAVIIO Wireless Gaming Headset has a similar plastic build to the first one we looked at. The most notable cosmetic change is that the highlights are red, not blue, with red bands around the ear cups. The ear cups themselves are also differently-shaped, with a tall, oval-shaped design. This makes them more accommodating to larger ears. On the other hand, the padding is very thin, and has a lot of give to it. If you wear your headset for long periods of time, you might start to experience pressure points.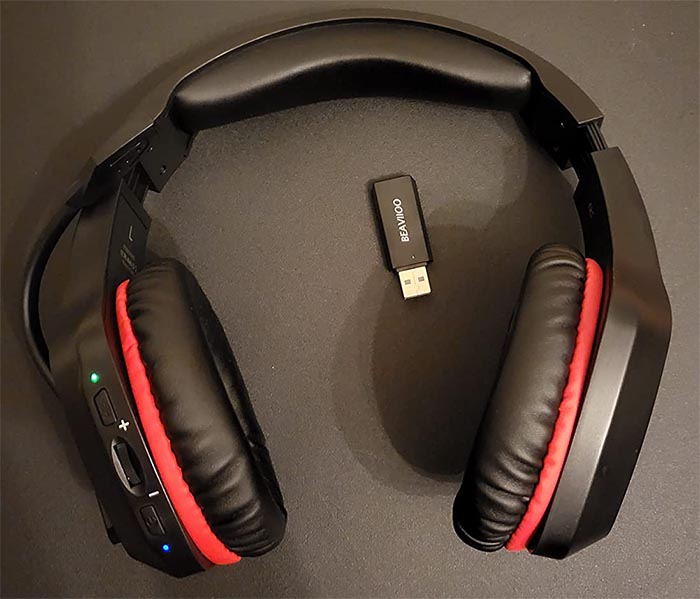 All of the controls are located on the left ear cup. There, you'll find the power button and microphone button, along with the USB Type-C and 3.5mm ports. There's also an adjustment wheel for turning the volume up and down. The microphone is located on a flexible boom, which can be adjusted any way you like. This makes it exceedingly easy to orient in any direction.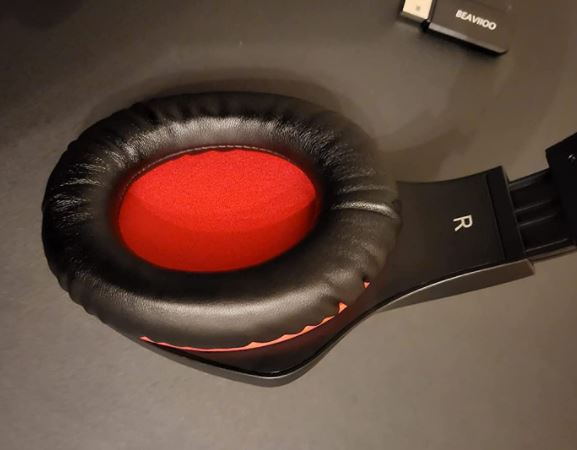 For connecting to your devices, you get the same options as you do with the BINNUNE headset. There's a USB fob, so you can connect to a PC or PlayStation via 2.4GHz wireless. You can use Bluetooth for compatible devices like smartphones. And for everything else, there's a 3.5mm aux cable. The included cable is only three feet long, so it's only good for plugging into a controller. Then again, that's probably all you'll ever use it for.
Battery Life & Audio Quality
In terms of both battery life and audio quality, the BEAVIIO and BINNUNE headsets are nearly identical. The BEAVIIO headset has slightly more battery life, with around 50 hours on a full charge. At full volume, that drops to around 31 hours, a paltry one hour more than the BINNUNE headset. The charging time via USB Type-C is the same, at only four hours. In other words, they effectively have the same battery.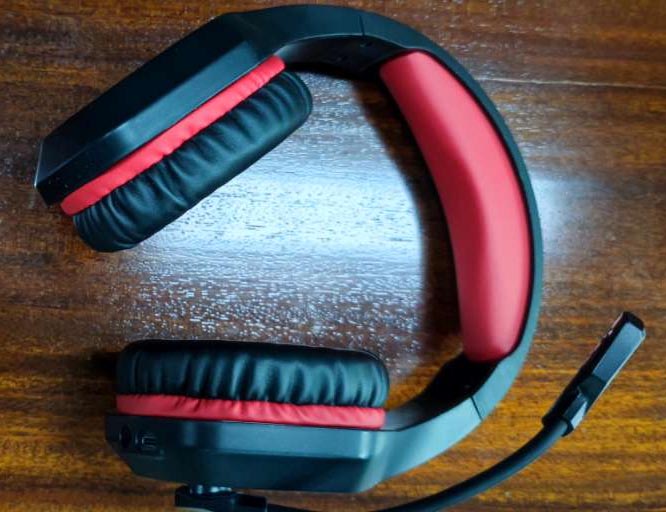 Audio quality is similarly comparable. You don't get the richness of a premium headset, but you do get high-quality stereo performance. You also get plenty of volume, with powerful drivers that move a lot of air. The noise-cancelling microphone is highly effective, as long as it's pointed at your mouth.
For the ultimate in budget comfort and audio quality, check out the Eksa e900 Pro. It offers top-tier ergonomics, as well as surprisingly detailed audio. On the downside, it has a fragile build, so it's easy to break by accident.
Final Verdict
So, which of these headsets is the best choice for your needs? In terms of audio quality, the two are more or less equivalent. They're very loud, and the stereo and richness are excellent for budget headsets. Battery life is also comparable, since the BEAVIIO's battery is only negligibly more powerful. They also offer the same three connection options of 2.4GHz wireless, Bluetooth, and a 3.5mm aux cable.
The main differences are in the physical design. The BINNUNE Wireless Gaming Headset has a wider, shorter shape to the ear cups, and firmer padding. It also has a rigid, swiveling mic boom, and rubbery volume buttons. The BEAVIIO Wireless Gaming Headset, on the other hand, has oval-shaped ear cups. The padding is softer, which can be more comfortable for some, but less so for other people. The mic boom is flexible rather than rigid, which provides you with more placement options. Finally, the volume wheel allows for stepless volume adjustment. As you can see, these things are all a matter of opinion. The best choice is going to be whichever one floats your boat.