OXS S3
Pros
Provides a noticeable upgrade in audio to any TV.
Beautiful sounding low, mid and high tones.
Multiple mounting options.
Doubles as a wireless Bluetooth speaker.
Very affordable with a good build quality.
Cons
Some slight distortion at maximum volume.
Cables are visible from front since the input ports are on top.
Only available in black.
Enjoying a movie or game through your big screen TV is an experience that most people take for granted. Crisp high definition video with vivid colors and special effects. There's only one problem; audio. To put it simply, most televisions have much to improve when it comes to onboard audio. There's a general lack of realism, bass and clarity if you're reliant on your TV's built-in speakers. This is why you see most people investing in a full fledged surround sound system or a simple sound bar to pair with their TV.
Planning a sound system can be incredibly complex, but it can also be quite easy. How so? If you're an audiophile who requires the best of the best, you'll want a dedicated receiver with individual speakers and a subwoofer in your room. But if you're an average person, a simple sound bar is likely the best course of action.
Most soundbars these days are relatively inexpensive and easy to use. But like anything, not all are created equal. If you're an average movie-lover or gamer, a generic, well-built soundbar will likely suffice. Although you could easily spend close to $1000 on a top of the line model, most that cost around $100 still offer a massive upgrade from your television's onboard audio.
If you've been scouring the web for an affordable, yet well-reviewed option, you may have encountered the OXS Soundbar S3. It's a budget-friendly soundbar that's packed with some pretty impressive features. But how do all of these features work, and is it actually capable of providing a significant upgrade to your TV? Today we're going to find out. We'll examine each of its features and ultimately determine if it's worth the price or something you should pass on. Let's find out!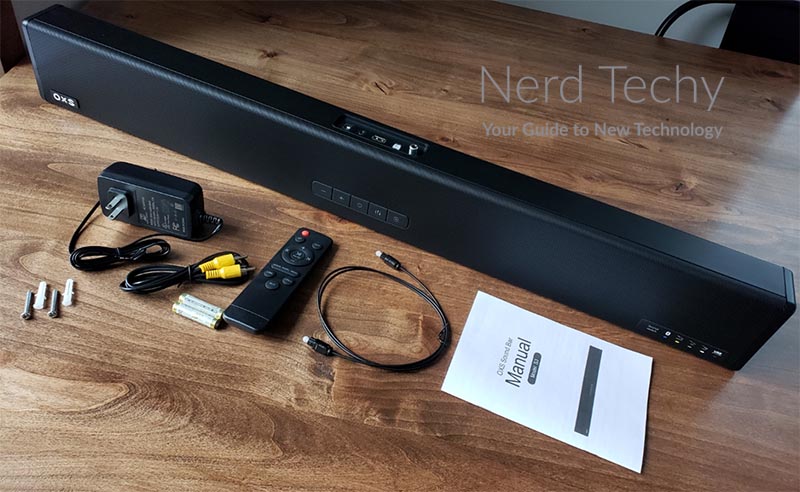 First Look
The OXS Soundbar S3 boasts a fairly standard look with a squared, matte-black finish and a glossy metal grille front speaker panel. Measuring 32 inches in length, 6 inches high and 4 inches deep, the size, weight and feel gives off a solid and well-built first-impression. Inside the box is everything you need and nothing more. Included is the user manual, power adapter, an auxiliary audio cable, a digital optical cable, a wireless remote and two AAA batteries to go with it.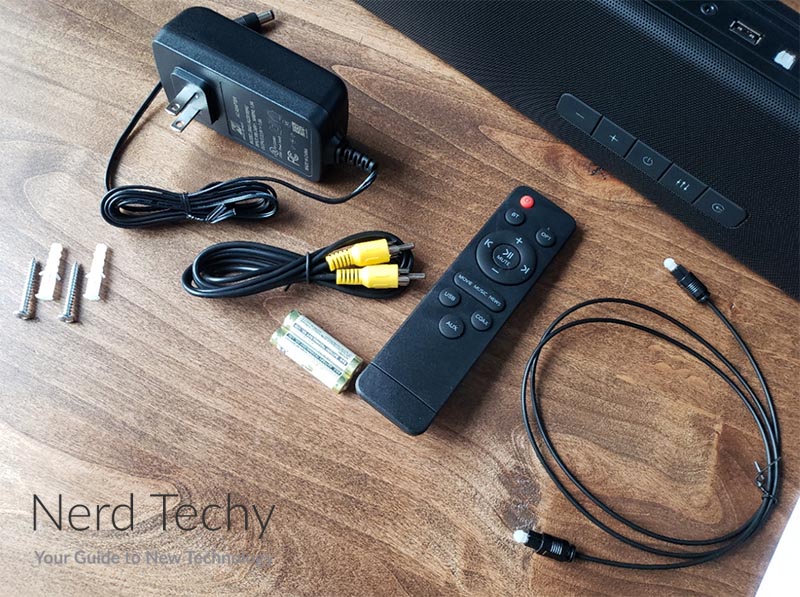 Each end has an integrated woofer port that acts as ventilation to freely let air in and out of the speaker. On the center of the front panel are five rubberized push-buttons. These control the volume, power, several sound modes and the audio source. Located on top, are the inputs for power and connecting the soundbar in whichever manner you'd like. Turn it around, on the back you'll see two separate notches for wall-mounting.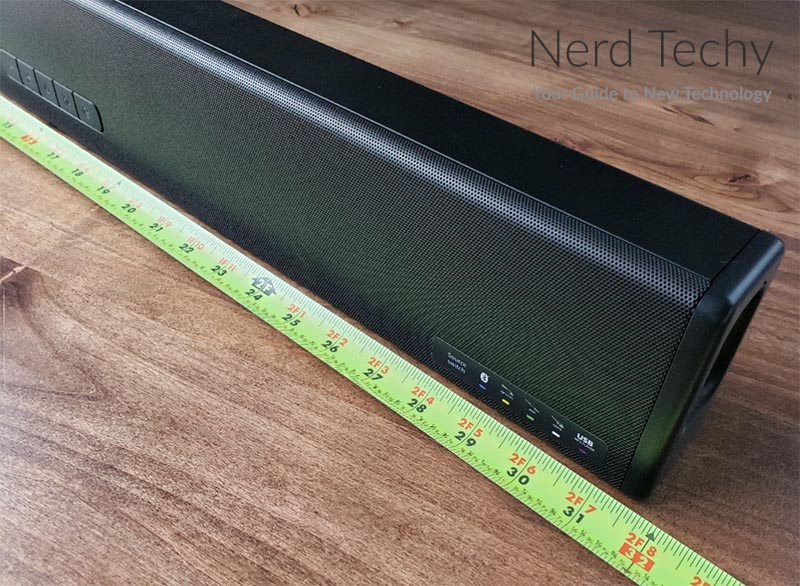 Connectivity
Users are able to connect their TV in a variety of methods. The top-panel inputs let you select between USB, AUX, coaxial or digital optical. In addition, you're also able to pair the OXS S3 wireless using Bluetooth 5.0. Best of all, even if your TV doesn't support a Bluetooth connection, pairing it with your smartphone, laptop or tablet lets you play music through the speaker, without using your TV at all. Pretty cool!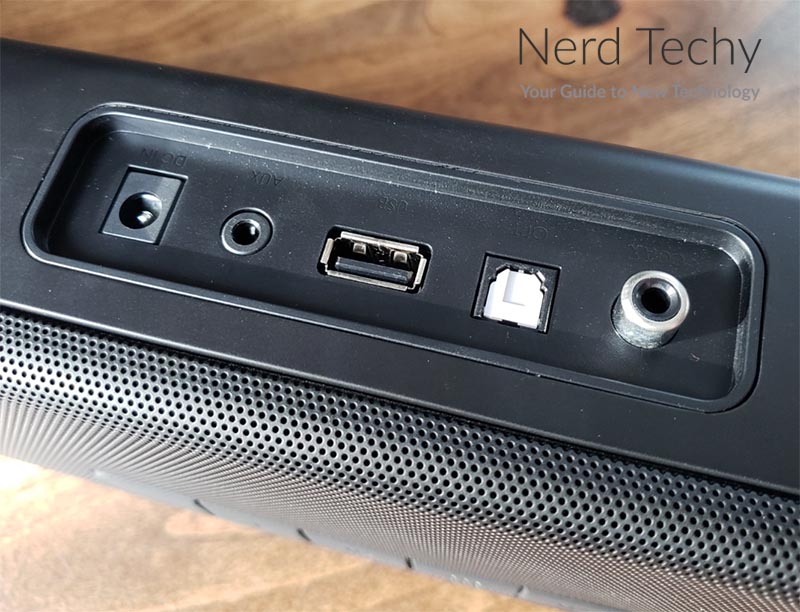 Pairing it wirelessly is simple. Just select "Bluetooth" as the source, and look for "OXS" as a nearby Bluetooth source through your smartphone, laptop or tablet. Tap it, and you're good to go with playing Spotify, iTunes, Pandora or whichever streaming audio service you prefer.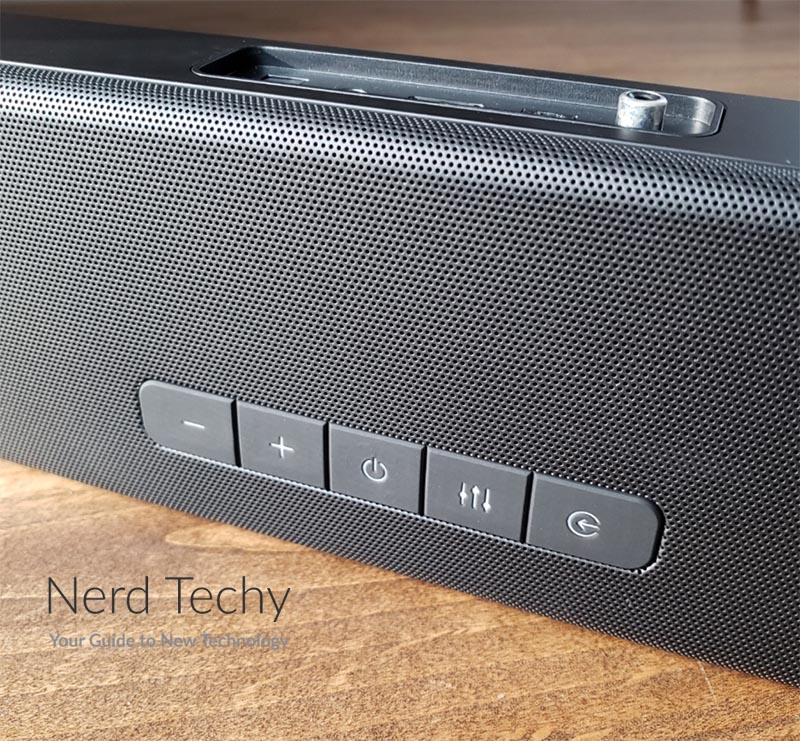 As far as superior audio quality goes, digital optical is the preferred method of connection to your TV. That being said, we highly recommend using an optical cable to wire it directly. However, the variety of connection methods is quite nice to see. Even if you have an older TV, the OXS S3 will likely connect to it one way or another.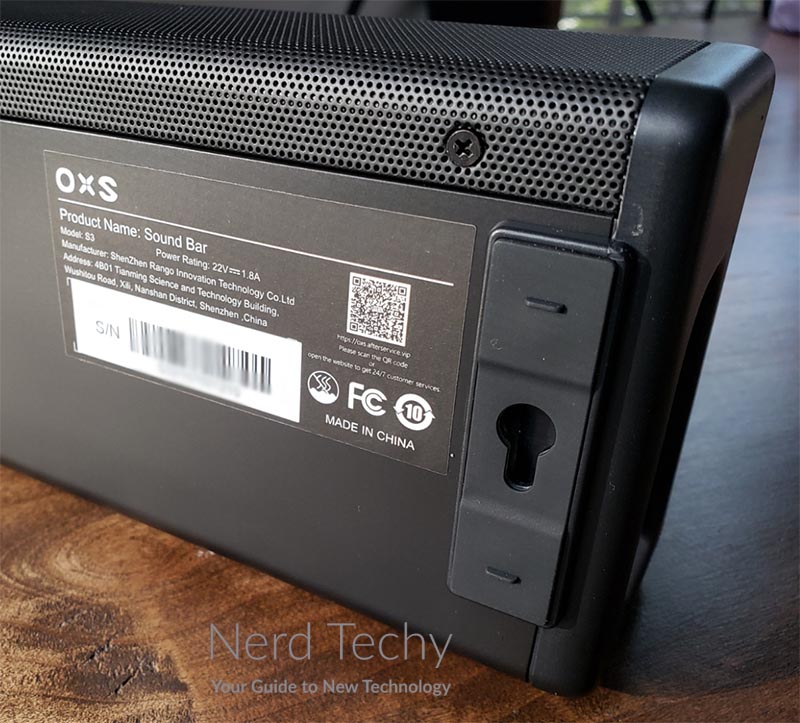 Installation
Setting up the OXS S3 is really easy. Users can opt to either mount it on the wall underneath their television, or simply place it on a shelf or cabinet. The inclusion of mounting screws is a nice touch, however, there was one thing we noticed if you choose to set it on a shelf. There aren't any small "feet" or even rubber nubs located on the underside.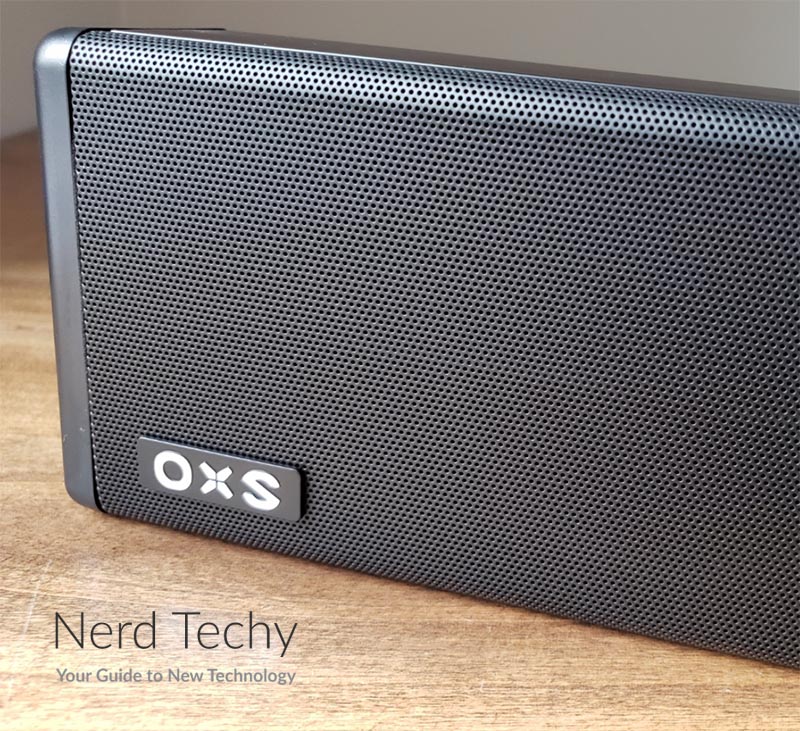 Because of this, we experienced a slight amount of vibration when the soundbar was cranked up and resting on a flat surface. The inclusion of rubber feet would have dampened the vibration so there wasn't a slight issue like this. That said, we highly recommend placing a foam or rubber piece on each underside corner to help combat any unwanted effects.
We appreciate the fact that the inputs are located on the top-side, for easy access. However, this makes the cords visible from the front side when it's near your TV. It isn't a big deal for most, but visually we think OXS could have included two sets of inputs; one on the top and one on the back.
Needless to say, installation is quick and easy. There's little effort required; simply plug in the power cable as well as your preferred audio source cable, then use the remote to open up all the functionality you need.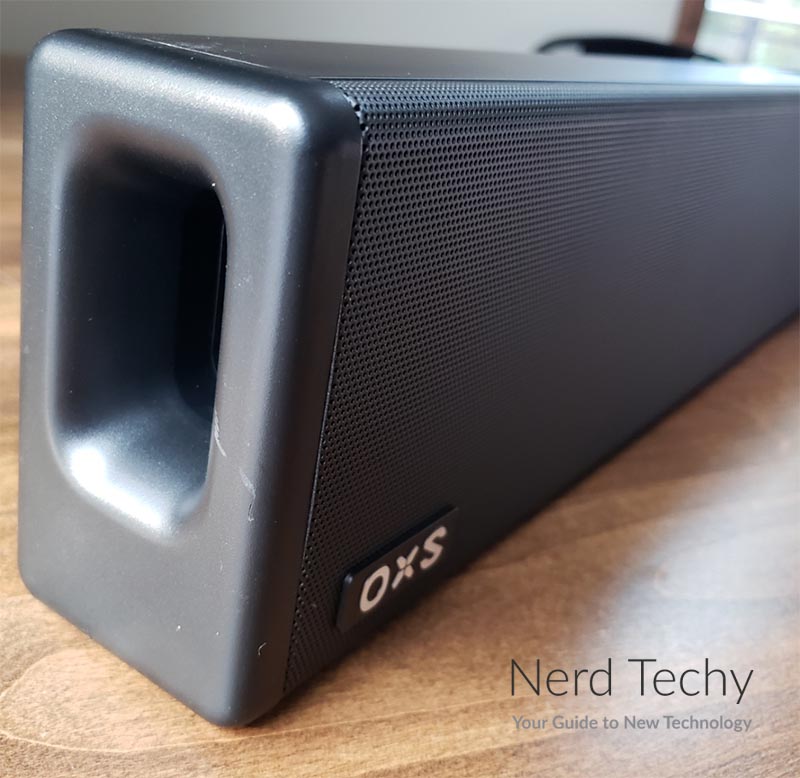 Audio Quality
Depending on the connection method you've chosen to connect to the OXS S3 Soundbar, the audio quality may differ, but only slightly. To be fair, most listeners will likely not be able to discern much of a difference between a wireless connection and a wired connection, but every audiophile or TV-buff knows that digital optical is ideal. Not only for pristine quality, but for audio delay, or lack thereof.
In our experience, the Analog and Coaxial connection didn't seem to make a whole lot of a difference in terms of audio quality. What mattered more was the source of the music or sound that was emitting out of the speaker during television and movie watching.
Once we connected the speaker to our TV, we could notice a huge upgrade over the on-board audio that we were used to. The OXS S3 is equipped with built-in DPS technology that emits 3D-quality surround sound. Internally, there are four separate full range speakers; a pair on each side. These work in conjunction to the port tubes located on each end. Because of this, low tones are given a realistic and vibrant effect. Bass quality always seemed to be delivered well, without any distortion or undesirable effects. Even when we cranked the volume up, the deep tones were still relatively clear and vivid. In fact, the total harmonic distortion is <1%, meaning that the S3 provides less distortion than even the Sony S200F.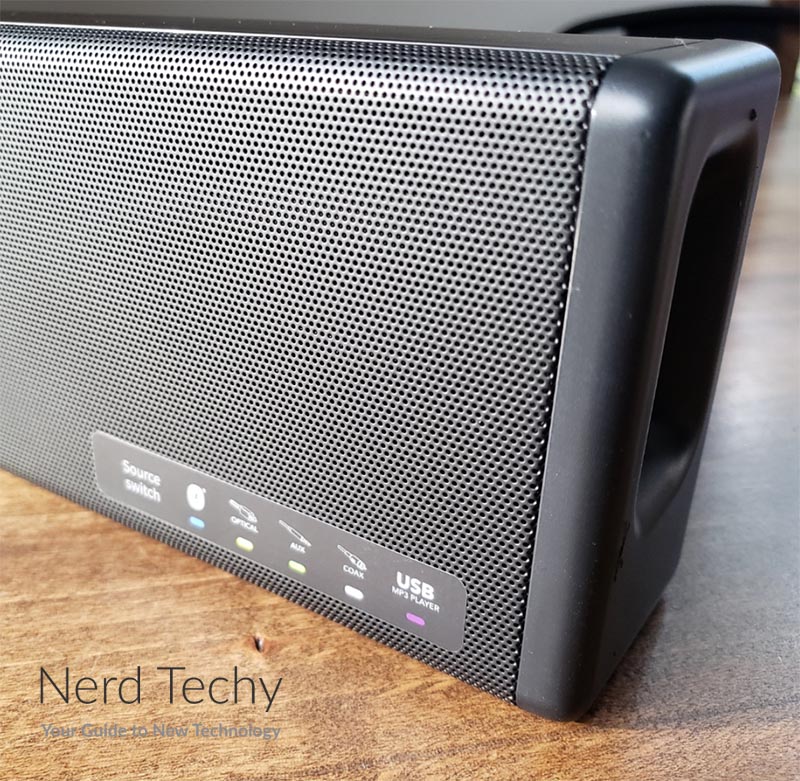 OXS rates the S3 as an 80 watt soundbar, but we feel the power and oomph behind it is much more than that. In addition, they've equipped it with Dialogue Enhancement Technology. This gives an excellent effect when it comes to verbal audio, high tones and precise notes found with music. Dialogue from television, music and movies remained realistic and vivid in almost every instance. The only instance where we noticed a bit of a drawback was when we watched a movie where loud sudden high tones caused a small amount of distortion. The soundbar seemed to have a slightly difficult time discerning clear separation between high and mid tones. Honestly though, this is more of a nit-pick since we were trying to find its weakness.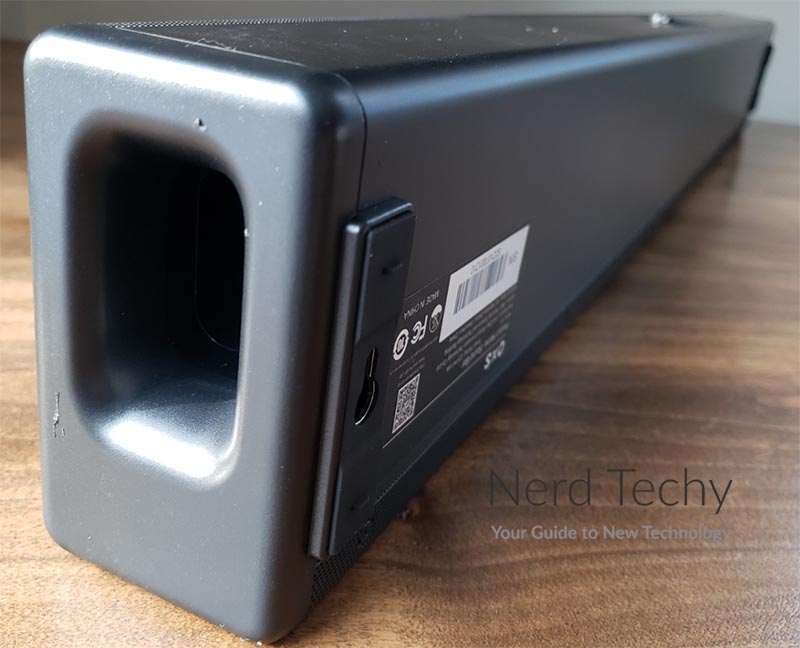 Equalizer Modes
Whether you're gaming, watching movies or TV, you may want to select a specific sound profile. This is possible thanks to the preset equalizer modes that OXS built into the S3's design. Using the remote, users can select between music, movie or game/news mode. These three modes are distinctly different than one another, most notably since they tweak the audio profile to create different effects. For example, music mode will put more emphasis towards instrumentals whereas movie mode will put a lot more attention into the bass and low tones.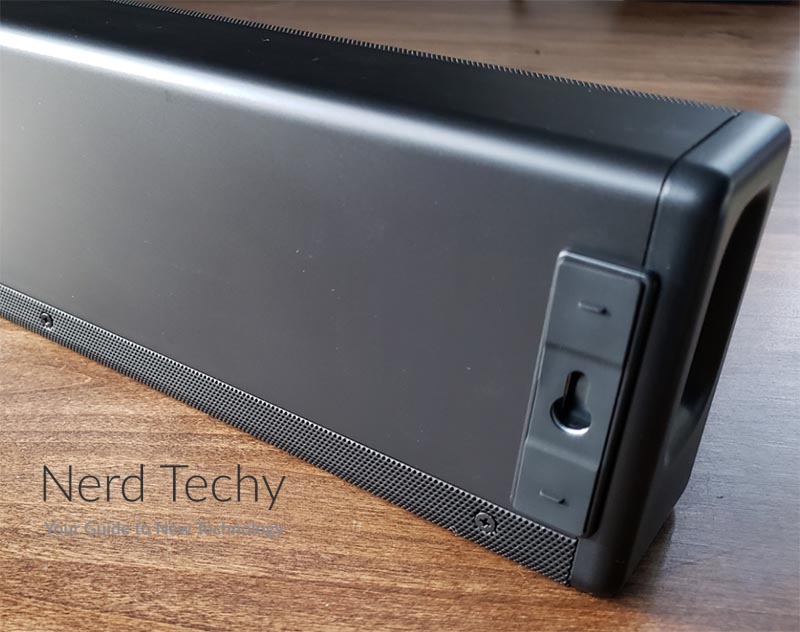 It's kind of fun to test out and experiment with different equalizer modes. In reality, each mode brings a different flavor to your ears. However, the settings are preset and not customizable. Although it's as expected, it would have been nice to have a fourth mode that lets users customize their own audio profile. Either way, we feel that OXS did a great job, overall, at providing users with a fun way to match the audio with whichever medium is playing through your TV or paired device.
Final Thoughts
All in all, we feel that OXS did a great job with their design and execution with the S3 Soundbar. Overall, it's built well, packed with some nice features and best of all, it's quite affordable. You'll be hard-pressed to find another soundbar that offers such an upgrade to your TV's sound capabilities for the price that it comes in at.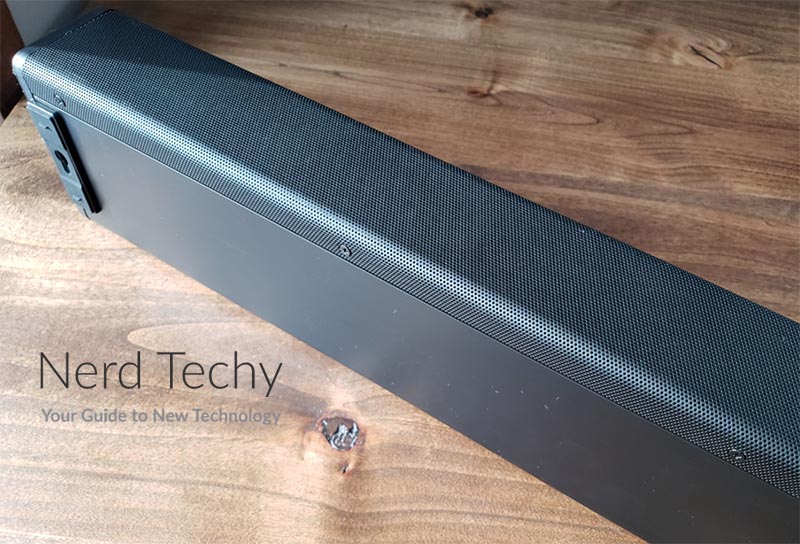 Sure, it's not perfect. There could be some minor improvements with the inclusion of rubberized feet and dual input ports. However, overall, there's little to complain about and plenty to praise. Best of all, the OXS S3 doubles as a wireless speaker for your smartphone, tablet or laptop. Pairing it up is simple and lets you enjoy it even if you aren't watching TV or a movie.
The build quality is on-point and the installation process is painless. We're big fans of the audio quality, but for best effects, we recommend keeping it turned down from 100% volume when you can. The best traits of this soundbar excel in the mid-range, at least that's what we found in our experience. Have you tried the OXS S3? What do you think about it? Let us know in the comments below!