If you have a desktop computer, you might connect a lot of accessories. A second or third monitor, an external hard drive, a media controller, or an external audio input. That's one of the nice things about a desktop; there are plenty of ways to plug in. Not so with a laptop. Sure, you might have a handful of USB ports. But that's a far cry from what you'll have on most desktops. Not only that, but some laptops only have one or two USB ports. If you're trying to connect several peripherals, you're going to have a challenge on your hands. A USB hub is an excellent solution.
So, what kinds of features should you be looking for? On an old-school USB hub, the answer was simple: lots and lots of ports. But nowadays, there are several other factors you need to consider. For one thing, you need to know whether the hub is powered or not. If it's not, you'll be limited in what devices you connect. Essentially, you won't be able to run anything that exceeds your laptop port's power rating. The other thing you'll need to consider is if you want to connect more than just USB devices. Do you need HDMI? Ethernet? An SD card reader? Those are all things you might find on a modern USB hub.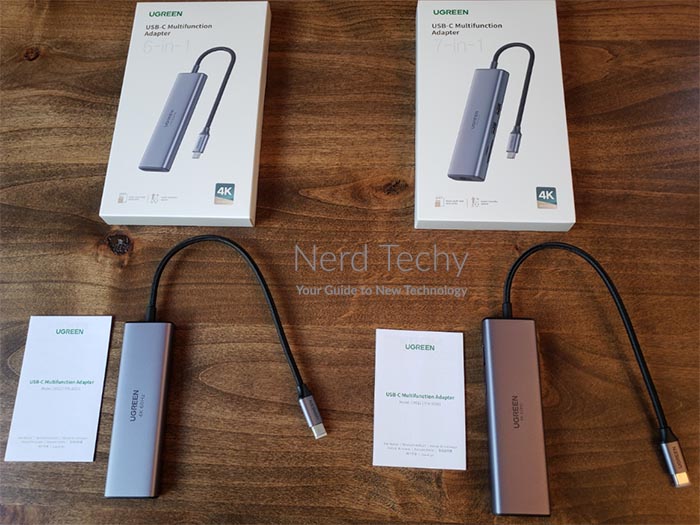 Today, we'll be reviewing two of the better USB Type-C hubs on the market. We'll begin with the UGREEN 7-in-1 USB-C Hub. This is a fully-powered hub, wit HDMI, USB Type-C, USB Type-A, and Ethernet ports, as well as SD card slots. Next, we'll check out the UGREEN 6-in-1 USB-C Hub. As its name implies, it has fewer ports altogether, most notably no Ethernet. It's also unpowered, but it does offer a different combination of ports. Of course, this is just a rough description of what we're dealing with. To fully understand these two USB Type-C hubs, we're going to need to look a little bit deeper. Let's get started!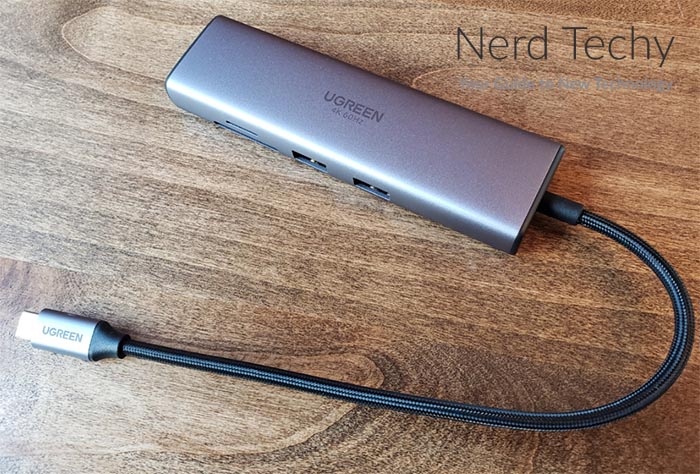 UGREEN 7-in-1 USB-C Hub
The UGREEN 7-in-1 USB-C Hub is a long, rectangular device with an aluminum alloy housing. The housing is silver-grey in color, with slightly rounded edges, and a UGREEN logo stamped in black on the top. The front and black of the housing are also black, and provide an attractive accent. The overall size is 4.8 inches long, 1.3 inches wide, and 0.6 inches thick. This makes it small enough to slip in a laptop bag, backpack, or other carrying container. Meanwhile, the fact that it's aluminum helps it to dissipate heat much better than a plastic USB hub. As a result, any concerns about overheating are minimal.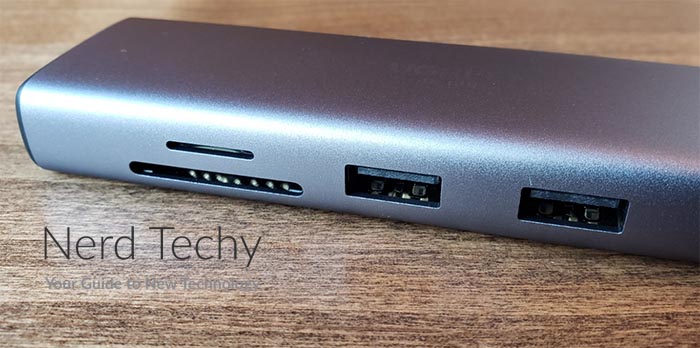 On the back end of the housing, there's a short pigtail cord with a USB Type-C tip. This is used for connecting the hub to your laptop, so you can access all your devices. On the front end of the housing, you'll see an Ethernet port, where it's easy to access.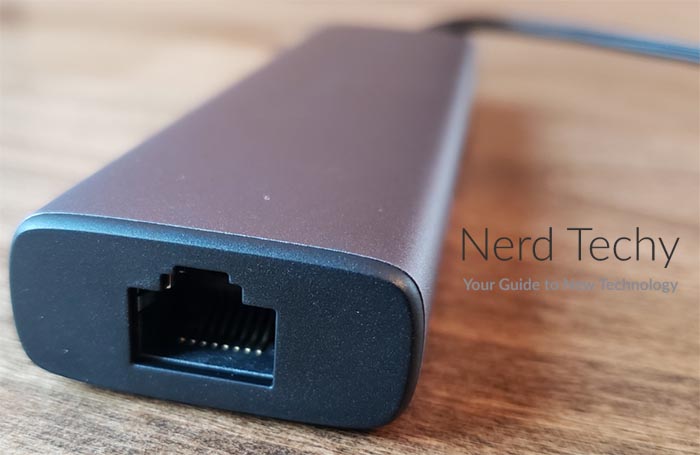 The rest of the ports are located in the sides of the housing. On the right, starting from the end with the cable attachment, you'll first find a pair of USB Type-A ports. Further towards the front, there are a pair of SD card slots. The top slot is a smaller Micro SD slot, while the bottom one is for a full-sized SD card. On the other side of the housing, there's a USB Type-C card near the middle. Towards the back, you'll find the last port, which is an HDMI port.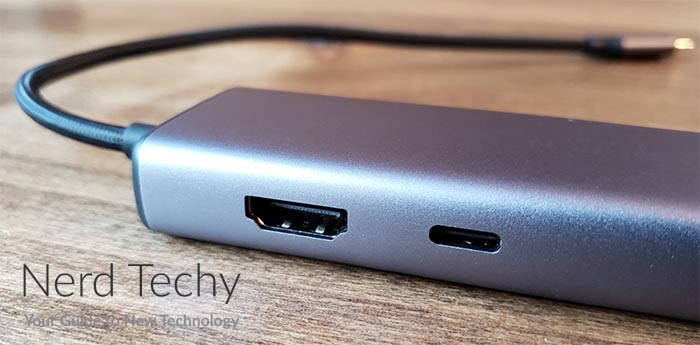 Compatibility and Connectivity
As you can see, there's a whole lot going on here, with a lot of ports and many potential connections. Let's start with the most basic part of all: the USB Type-A ports. These are both standard USB 3.0 ports, so they'll work for any modern USB-connected device. In terms of power delivery, they can supply up to 12 watts. And for data transfer, they provide a transmission speed of 5Gbps. That's insanely fast, more than fast enough for streaming HD video or playing video games. Even if you're loading very large files, your load speed will be quick and painless.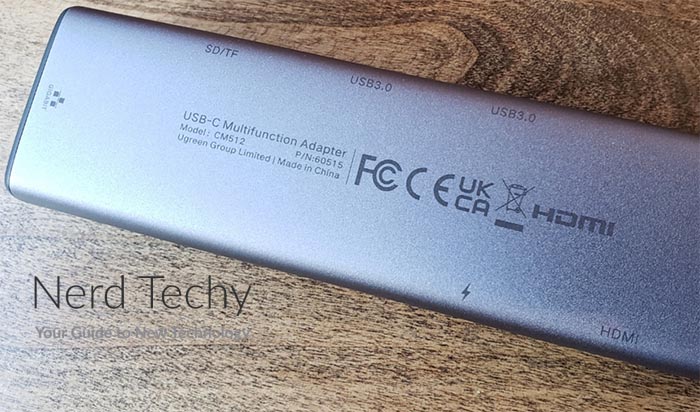 The USB Type-C port is a little bit different. It's actually not designed to be a data port at all. Instead, this is a power supply port. If your laptop only has a single Type-C port, which functions as a power input, this is a great feature. You won't have to choose between charging your laptop and connecting your devices. Instead, you'll be able to do both! When it's set up correctly, this hub will deliver 95 watts of pass-through power to your laptop. Keep in mind that there are a couple of caveats to this. To begin with, if you're using powered devices in the USB Type-A ports, they'll take some of this power.
The other caveat is that you'll need to be plugged into a compatible power supply. If you need a 100-watt USB Type-C charger, consider the UGREEN 100W GaN Fast Charger. Not only does it supply a full 100 watts, but it also has three USB Type-C ports and a Type-A port.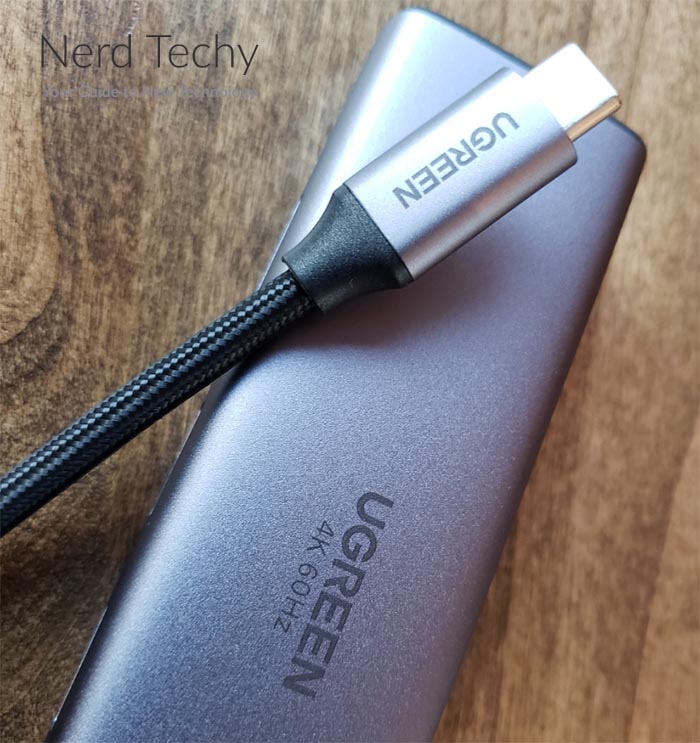 One thing to take note of at this point is that the USB pigtail to your computer presents a bottleneck. You'll be limited to a total transfer speed of 5Gbps, even if you're reading more than one device simultaneously. This won't often be a concern, and it's the same with any other USB hub, but it's worth pointing out.
Moving along to the other ports, the SD and Micro SD card readers both support read/write speeds of 104Mbps. That's not as fast as the transfer speed on the USB ports. However, it's still faster than most SD card readers on the market. For transferring photos and home videos, it's more than speedy enough.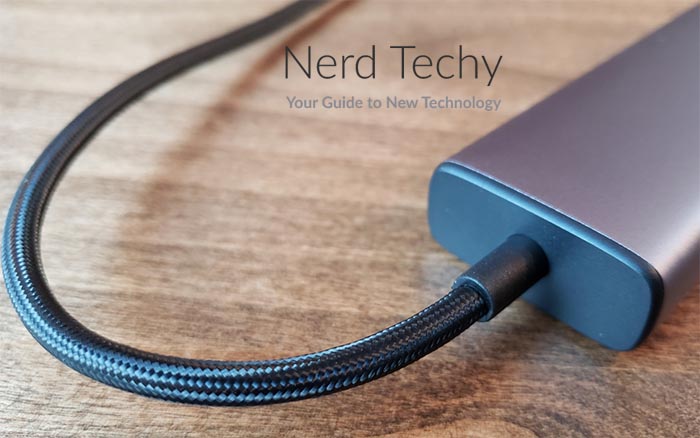 The HDMI port will support resolutions from 480p all the way up to 4K. At 4K, it's even capable of supporting 60 frames per second. This is great for gamers and content creators who want to hook up a second monitor. That said, this requires a computer with Display Port 1.4 technology. This means you'll need a MacBook or iPad from 2018 or later. If you're using a Windows machine, you'll need to check your system specs.
The Ethernet is a standard Gigabit Ethernet port. It's meant to connect to your router, in the event that your laptop doesn't have an Ethernet port. This is another great feature for gaming, where every millisecond of latency is a problem.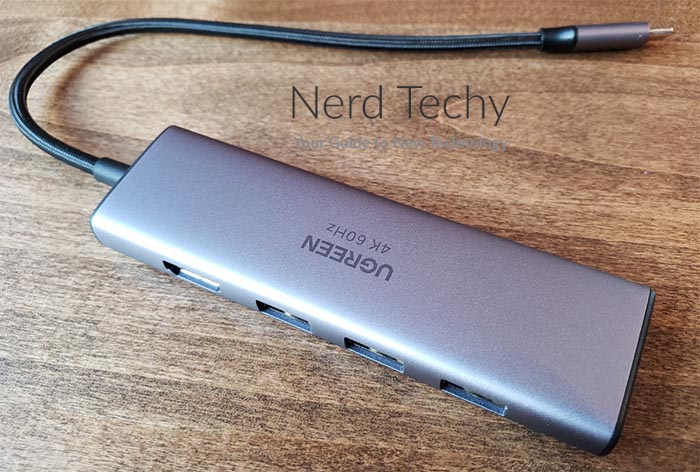 UGREEN 6-in-1 USB-C Hub
The UGREEN 6-in-1 USB-C Hub is very similar in design to the 7-in-1 hub. It has a similar aluminum housing, which is nearly identical in size. At 4.5 inches long, 1.3 wide, and 0.5 thick, it's slightly smaller, but the difference is barely perceptible. You'll find a similar logo on top, with a similar USB Type-C pigtail. So far, it's basically a miniature version of the same hub. But as you may have gathered from the name, this one is a bit different.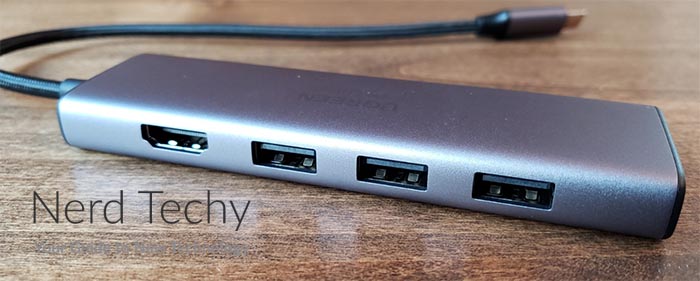 Most of the ports are arranged along one side of the housing. Towards the back, there's an HDMI port, for connecting a second monitor. In front of that, there's a row of three USB Type-A ports. This actually allows you to connect more USB Type-A devices than with the 7-in-1. There are also SD and Micro SD card slots. However, they're right in the front of the housing, not in the side. There's no USB Type-C port, nor is there an Ethernet connection.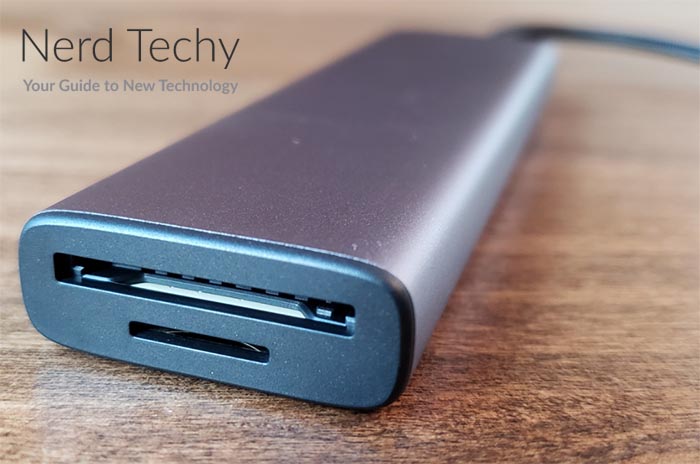 But suppose you need to connect more than three USB Type-A devices? In that case, you might want a more traditional powered USB 3.0 hub. That way, you can connect six, eight, or even more USB devices through a single port. Then again, you won't have an HDMI port, SD card reader, or any other type of connectivity.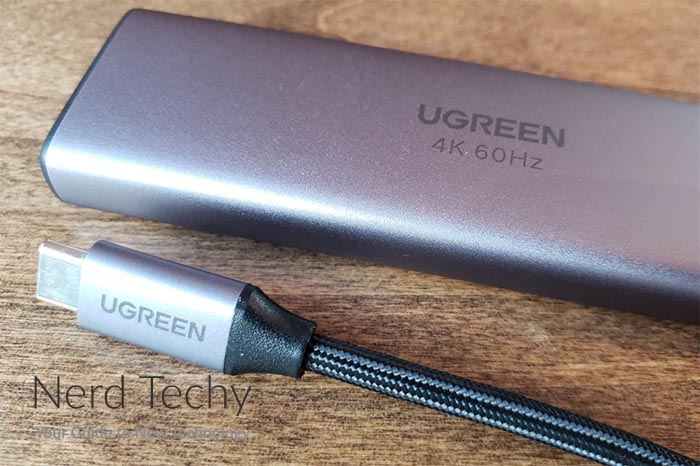 Compatibility and Connectivity
So, how is this USB hub different than the 7-in-1 version? As a matter of fact, there aren't a whole lot of differences. The main difference is that there's no Ethernet port or USB Type-C port. As a result, you can't use this hub to get online, and you can't use it as a power supply. Then again, as long as your laptop has at least two USB Type-C ports, power won't be an issue. And without the extra ports, you'll save a few dollars over the larger hub.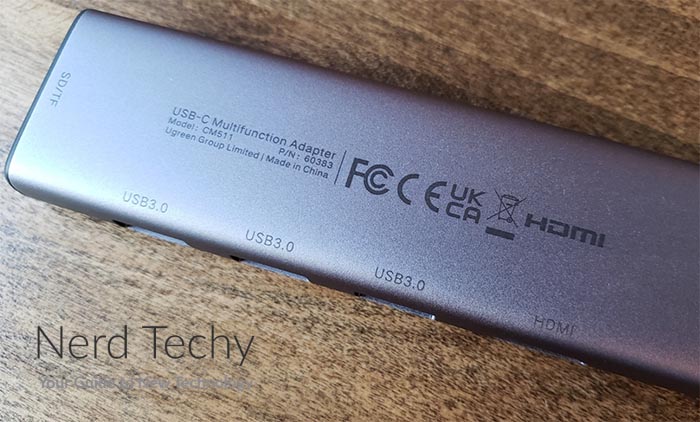 Otherwise, you're looking at near-identical performance. The USB Type-A ports provide 5Gbps data transfer speeds, and up to 12W of power. If you're running on battery, keep in mind that this power will come from your battery. The SD slot performance is the same, with 104Mbps of data transfer speed. Even the HDMI port performance is up to snuff, with support for up to 4K video at 60Hz. Keep in mind this comes with the same restrictions. You'll need a Display Port 1.4-capable computer to get better than 1080p.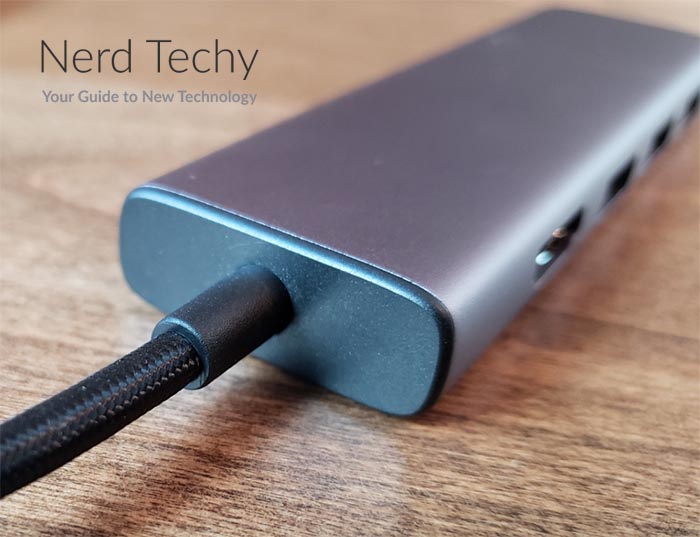 Final Verdict
So, which one of these UGREEN USB Type-C hubs is the best choice? To start with, the UGREEN 7-in-1 USB-C Hub provides you with power. That's a major feature if your laptop only has one USB port. On the other hand, if the charging port is separate from your data ports, you may not need a powered hub. You also get an Ethernet port, which is a situational benefit depending on what your laptop is.
In other regards, both hubs are pretty much identical. You get the same video performance, the same data transfer rates, and the same durable aluminum design. That said, the UGREEN 6-in-1 USB-C Hub has two distinct advantages. For one thing, it's significantly more affordable. For another thing, it has a third USB Type-A port, which might be useful in certain scenarios.