Finding a good set of earbuds can be a challenge even on the best of days. For one thing, there's a seemingly endless array of options. Unless you're willing to look at literally thousands of different earbuds, you have to limit your selection. Do you want the richest possible audio? The longest-lasting batteries? A particularly ergonomic fit? If you can answer a few of those questions, it's easy to rule out a wide swath of potential contenders. One particularly easy way to narrow your choices is if you're looking for a pair of gaming earbuds.
Most wireless earbuds have a fair bit of latency, or delay between the video and the audio. This is barely noticeable when you're watching a movie, for example. But when you're playing a game, the experience isn't reactive; it's interactive. You need to be able to respond in real time to everything happening in the game world. For example, let's say you're playing Battlefield, and somebody shoots at you and misses. Every millisecond of delay before you hear the shot is a millisecond where you could have been reacting. With gaming earbuds, latency is king. This doesn't mean they have to cost a fortune, though. With a little digging, you can find high-quality gaming earbuds at a reasonable price.
Today, we'll be reviewing two of the best sets of gaming earbuds for budget-conscious buyers. To start with, we'll examine the Tozo G1 Gaming Earbuds. These are slick vertical earbuds with six-hour batteries and a specialized gaming mode. Next, we'll look at the Black Shark Lucifer T1 Gaming Earbuds. These earbuds utilize the latest Bluetooth 5.2 protocol for even lower latency. But how else do they compare? How good is the audio, and how long do the batteries last? To answer those and other questions, we'll have to dig a little deeper into both of these pairs of buds. Once we've worked through all the details, we'll be ready to make a comparison. Let's get started!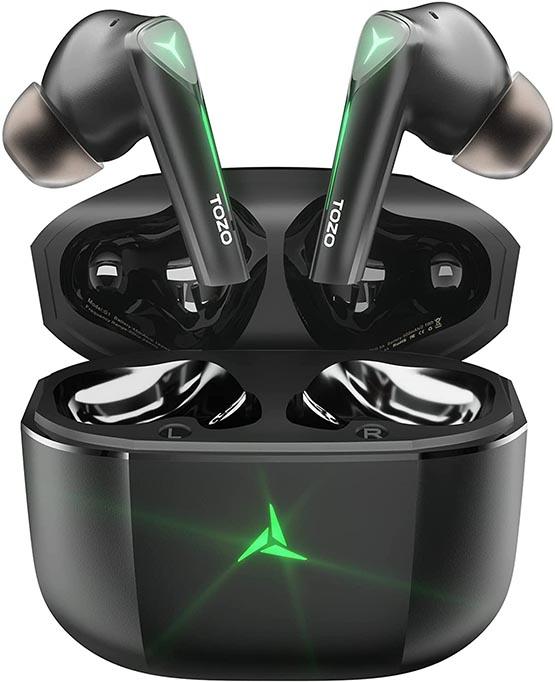 Tozo G1 Gaming Earbuds
The Tozo G1 Gaming Earbuds have a vertical design, with studs that hang down from your ears. The shells are constructed from a matte black plastic, which is easy to wipe down and keep clean. On the tops of the backs, there are green, three-pointed LEDs on a flattened surface. These LEDs breathe when the earbuds are active, which creates the perfect vibe for gaming. Admittedly, this is just a cosmetic touch, and has nothing to do with the earbuds' function. It's still pretty cool, though, and that's good for something.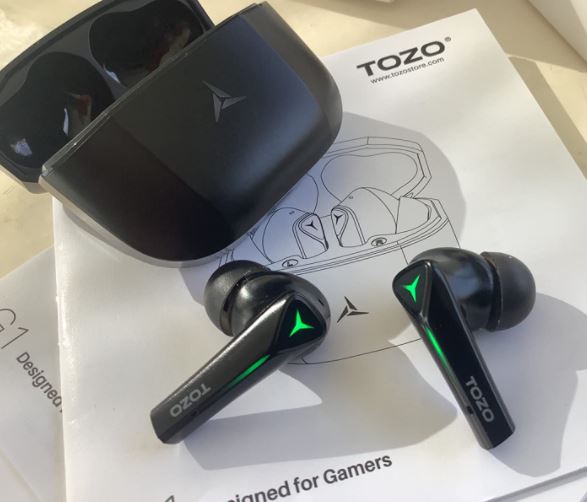 In the same general area as the lights, there's a set of soft touch controls. These controls allow you to skip tracks, play or pause your music, or activate the special gaming mode. On the front of the buds, you'll find a pair of soft silicone ear tips. These make it comfortable to wear the buds for a long period, and also help provide some noise isolation.
One thing that disappointed us about these buds is that they don't have an actual water-resistance rating. Tozo says they're "waterproof," but doesn't provide any additional details. They seem to perform just fine when subjected to sweat, and you can clean them with a damp cloth. Beyond that, in the absence of an IP rating, we'd tread carefully.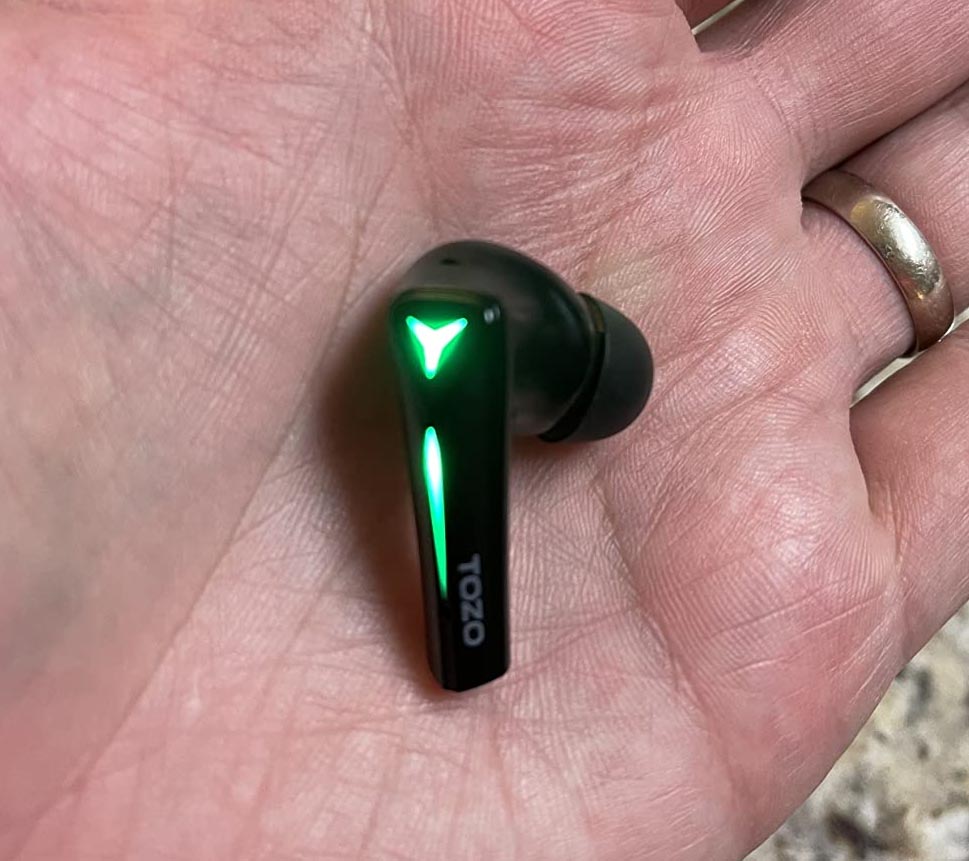 The G1 charging case has a vertical design, and the earbuds drop in from the top. They fit into molded wells, with magnetic retention that keeps them securely in place. The lid is spring loaded, which ensures that it won't pop open in your pocket. Even so, it opens easily, with just a gentle push from your thumb. The housing is black, with a matte finish that exactly matches the earbud shells. There's also a matching, breathing LED light on the front of the case. This illuminates when the case is plugged in and charging.
If you want a different design altogether, consider the Tozo A1 instead. These earbuds have an ultra-compact design that fits snugly inside your ears. They also offer excellent audio quality, but the latency is a tad high for gaming.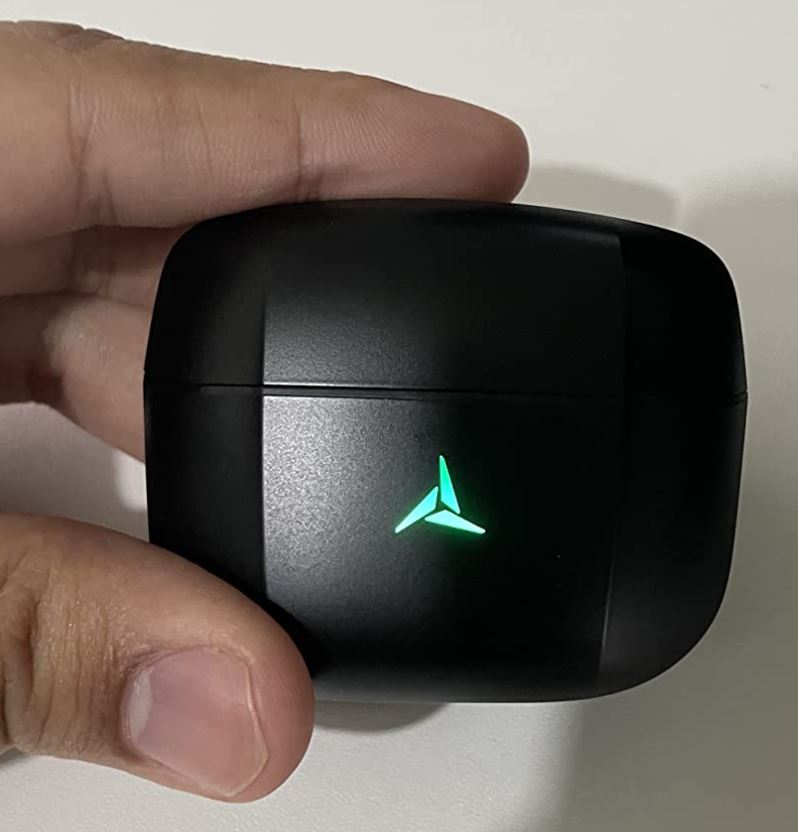 Battery & Connectivity
The Tozo G1 earbud batteries are rated for six hours of performance on a single charge. This is more or less accurate, but keep in mind that these ratings are based on playback at half volume. If you've got your PC volume cranked up to 100, you'll get less battery life. That said, most people should be just fine at half volume or less. If you need more battery life, the case battery has enough power for four full recharges. This works out to 24 extra hours of juice, or 30 hours total before you have to plug in.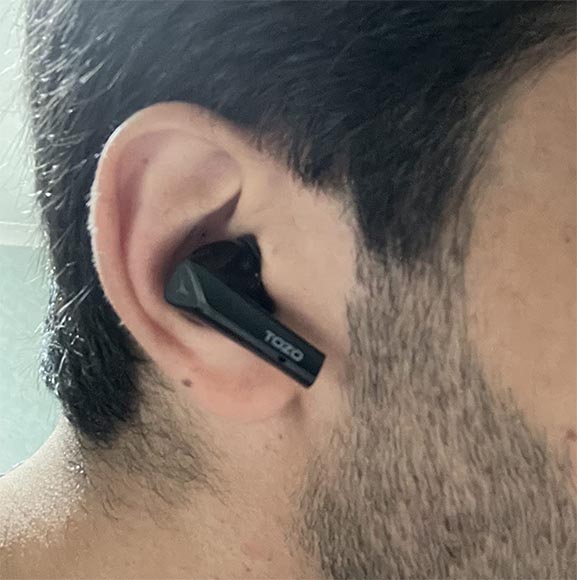 Charging the earbuds takes around 90 minutes, assuming you've let them go totally dead. The case itself will charge in around two hours with the included USB Type-C cable. Assuming you regularly keep all your batteries topped off, you shouldn't often run into an emergency.
These earbuds utilize the Bluetooth 5.0 wireless protocol. This is the current industry standard, and it has a few important advantages over the earlier 4.2 standard. To begin with, the signal is significantly more stable. There's less risk of randomly losing your connection, or of your audio cutting in and out. Secondly, the signal allows for more bandwidth, so you can receive higher-bitrate audio. Most importantly for gamers, Bluetooth 5.0 has far less latency than Bluetooth 4.2. This makes it a far better choice for a pair of gaming earbuds.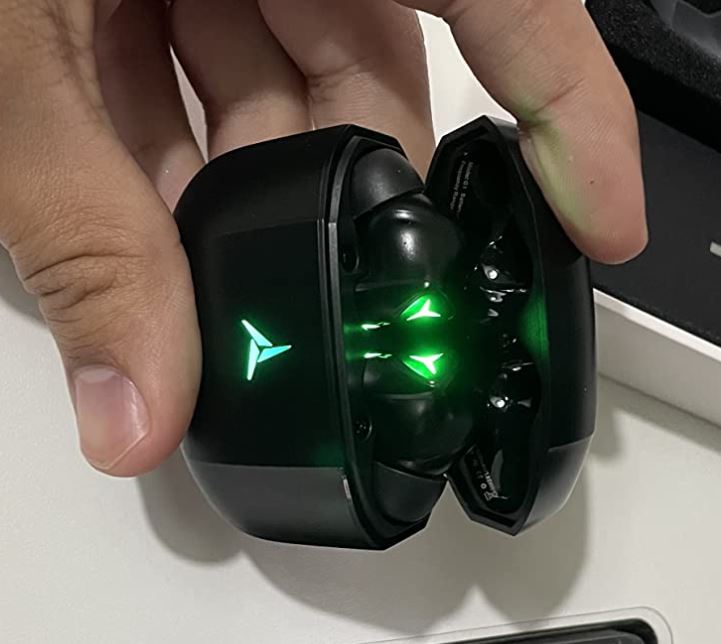 That said, the lowest-latency option is simply to use wired audio, like the Eksa Air Joy Pro. It can be plugged in if you don't want to use Bluetooth, and the audio is very rich. On the other hand, it's a full-sized headset, not a pair of earbuds.
Audio Quality
The G1 earbuds boast a pair of 10mm drivers, which are larger than your average earbud drivers. This allows them to provide plenty of volume, with surprisingly good audio for the price. We're not saying it's studio quality or anything like that, but it's very clear, with plenty of richness. There's also a wide soundstage with plenty of stereo separation, which is essential for gamers.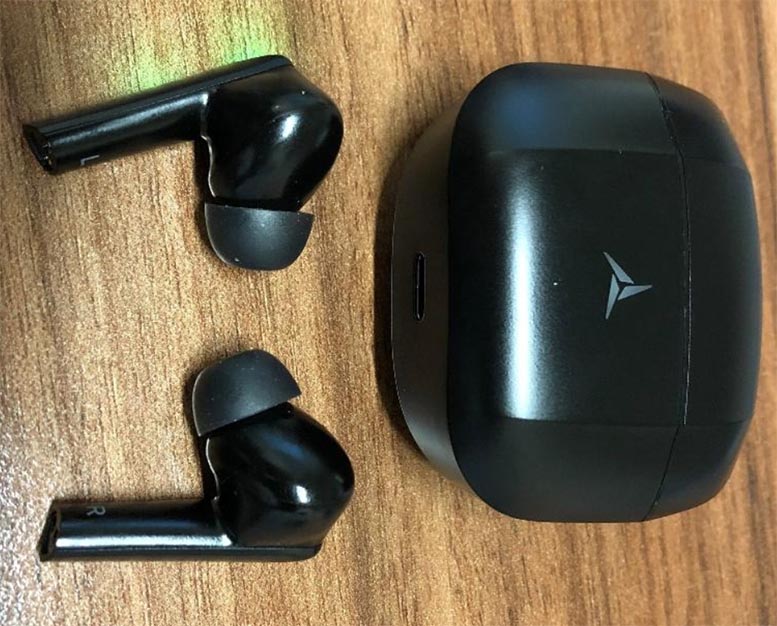 There are two different audio modes, which are designed for gaming and movies respectively. In gaming mode, you'll get a flat EQ, and the earbuds will prioritize low latency above all else. In music mode, the latency will be a little bit higher. However, the bass and treble ends of the spectrum will be boosted, so the audio has more texture and depth.
Voice quality is surprisingly good, thanks to multiple external microphones. These help to hone in on your voice, so background clutter is kept to a minimum. As a result, your teammates will be able to hear you better in chat. As with any headset, how well you can hear them will depend on their mics.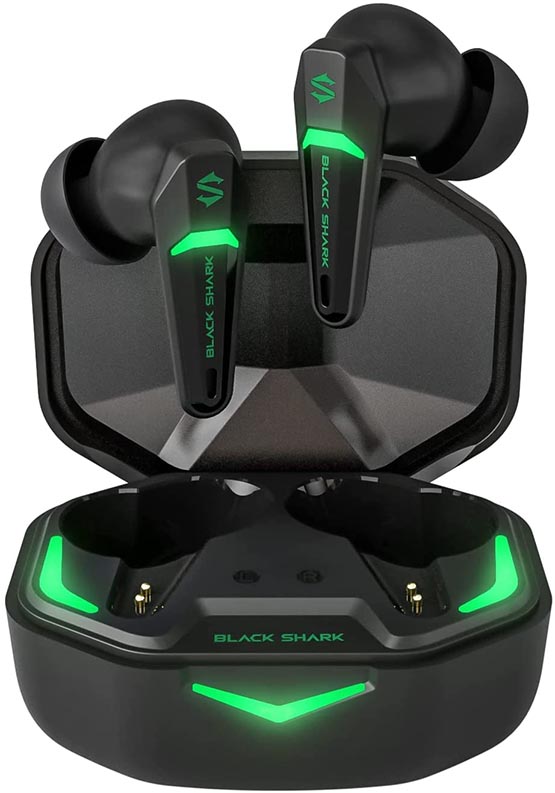 Black Shark Lucifer T1 Gaming Earbuds
The Black Shark Lucifer T1 Gaming Earbuds have a similar design in many respects. They're built vertically, and they even have green LEDs on the black. They also have green Black Shark imprints as well. These imprints mark the approximate location of the soft touch controls, which are very easy to operate.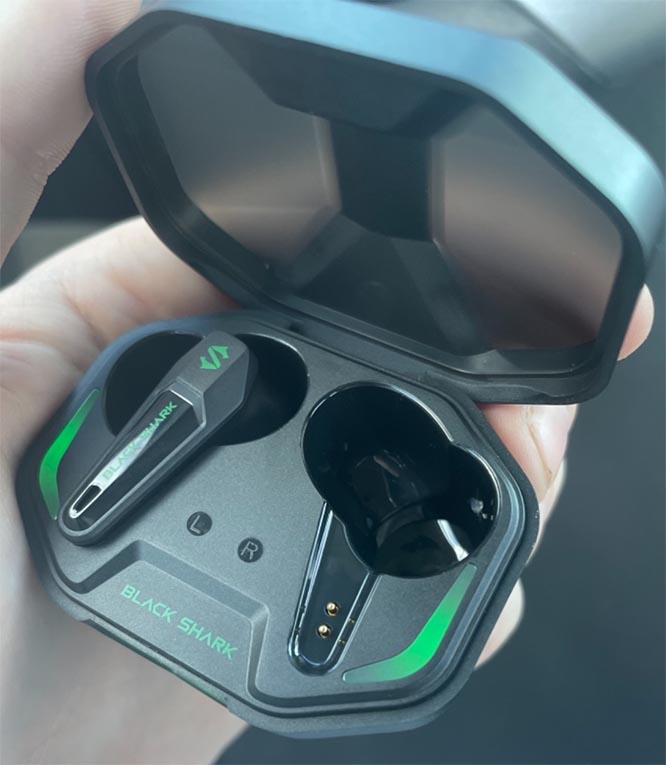 One thing we appreciated is that the kit includes three different sets of silicone ear tips. These are three different sizes, so you can easily get the fit that's right for your ears. They should fit snugly and securely, and provide noise isolation without being uncomfortably tight. Another thing we liked is that there's an actual water-resistance rating: IPX4. This means they're sweat-proof and can withstand light rain, as well as being wiped with a cloth. Just don't immerse them in water or wear them in the shower.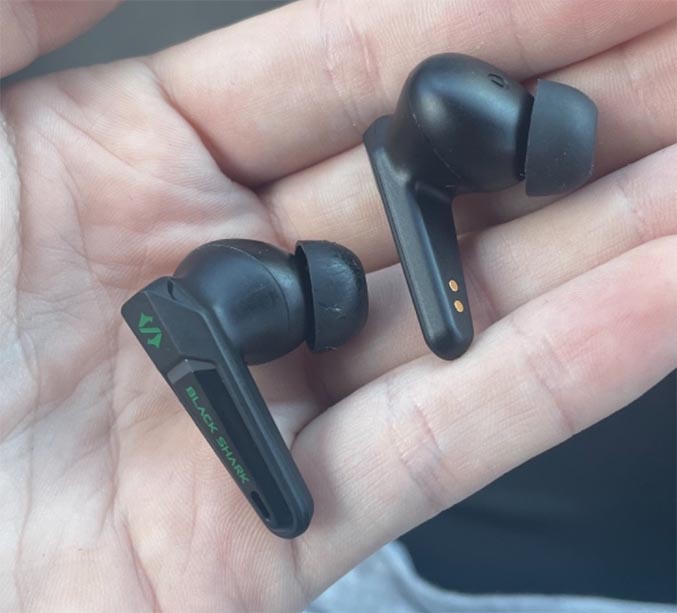 The charging case is horizontal, with green LEDs on the front and top. The ones in top will illuminate when the earbuds are actively charging. The lid is smoked black, but transparent enough that you can actually see the LEDs through it. This is purely aesthetic, but it's still a neat visual effect.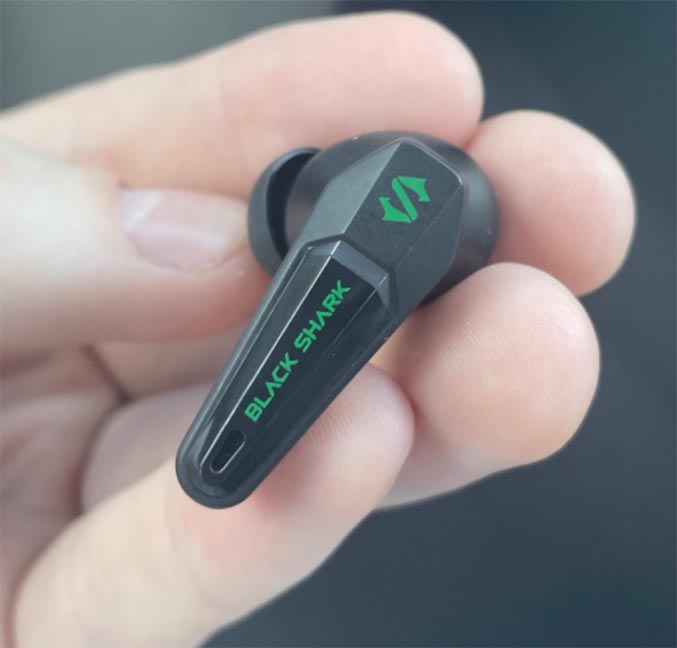 Battery & Connectivity
The Lucifer T1 earbuds have enough battery power to last for around 3 ½ hours per charge. That's shorter than your average earbuds, and it limits what you can do. That said, it's fine if you don't often play for longer sessions. And with 9 full recharges from the case, you'll have a total of 35 hours of battery life. The earbuds will charge in around 90 minutes when they're fully drained, and the case charges in 2 hours.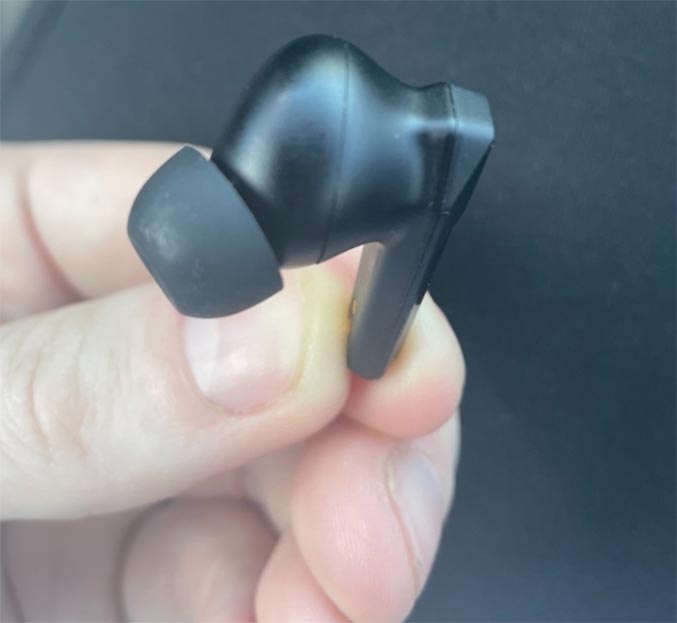 These earbuds charge via USB Type-C, but what if you prefer wireless charging? The Tozo T9 earbuds charge via wire or wirelessly, and have some impressive audio quality. Then again, like the T1, their battery life is limited.
The T1 buds connect via Bluetooth 5.2. This is an enhanced version of Bluetooth 5.0, with most of the same features. That said, it provides even lower latency, the fastest possible with modern technology.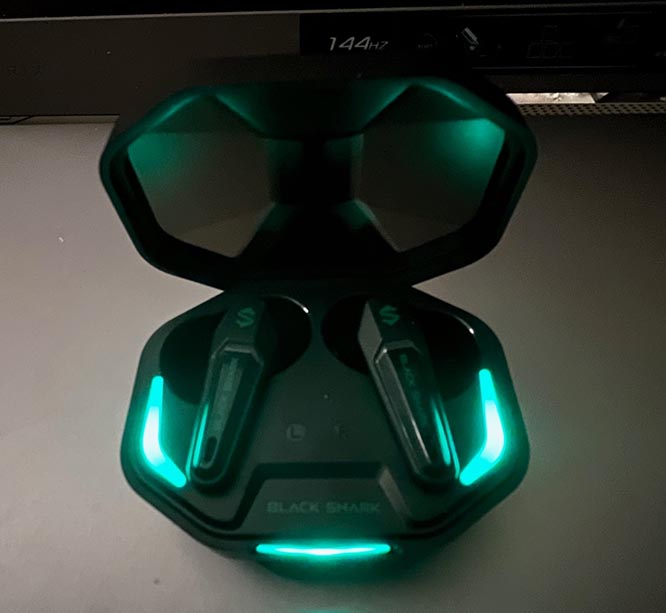 Audio Quality
The Lucifer T1 sports 10mm drivers, just like the Tozo G1. They're able to put out comparable volume, but the T1 drivers just aren't quite as detailed. The sound isn't as rich, although you still get separate gaming and music modes. Mainly, we were disappointed by the bass performance, which is somewhat weak. Call and chat performance is acceptable. The other person shouldn't have trouble hearing you unless there's a lot of background noise.
Final Verdict
So, which one of these wireless gaming earbuds is going to be the right one for you? The Tozo G1 Gaming Earbuds have the longer-lasting batteries, with nearly twice the performance. They also provide superior all-around audio richness, both for gaming and for music.
That said, the Black Shark Lucifer T1 Gaming Earbuds have some advantages of their own. For one thing, you can take advantage of the ultra-low latency Bluetooth 5.2 wireless technology. For another, you get one of the most unique charging cases on the market. Those are some powerful features that are well worth considering.