The newly released Nintendo Switch OLED Model is one of the most talked-about consoles to hit the market. With enhanced audio, an adjustable stand and most notably, a gorgeous 7-inch OLED screen, the 2021 Nintendo Switch model is already making its way into the hands of gamers around the world. At a price tag of $349, it's not exactly affordable. Simply put, most users will want to do everything they can to keep it in as good of condition as the day they purchased it.
It goes without saying, the large 7-inch OLED screen is the main selling-point of this new Switch model. But it's also the most vulnerable and fragile part of the console. If you own it, the first thing you should do is install a quality tempered glass screen protector. While providing both impact and abrasion resistance, a tempered glass screen protector is one of the most essential yet inexpensive upgrades that should be done.
Today we're here to showcase the best tempered glass screen protectors for the Nintendo Switch OLED 2021 model. We'll closely examine each one and determine which offers the best resistance against impact and scratches, all while providing the responsiveness that makes it feel natural.
All of the screen protectors that we're going to discuss are dock-compatible, sold in multi-packs, and available right now on Amazon.
Preparing Your Nintendo Switch OLED Screen
Before you select a screen protector for the new 2021 Nintendo Switch OLED, it's important to prepare yourself and your console for installation. Although each of the screen protectors in this article come with instructions, let's quickly go over it in a few steps.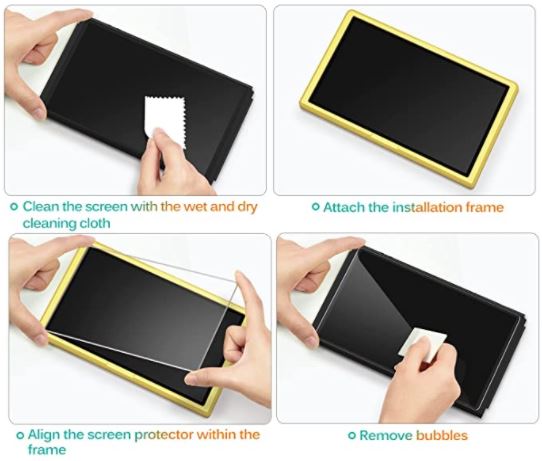 Clear the screen with a dry microfiber or lint-free cloth. Brush it back and forth a few times to make sure no debris is existing on the screen.
Next, use an alcohol-based wet wipe to generously wipe clean any remaining residue or particles. Be sure to let it air-dry before proceeding further.
Align the screen protector so both the top, bottom and side edges align properly. A guide or installation frame make this easier (the iVoler kit includes one) but it's not required.
Carefully press the screen protector downward and use a hard edge or rigid tool to press any bubbles away from the center and to the sides.
We recommend giving it a few minutes to an hour so it can settle.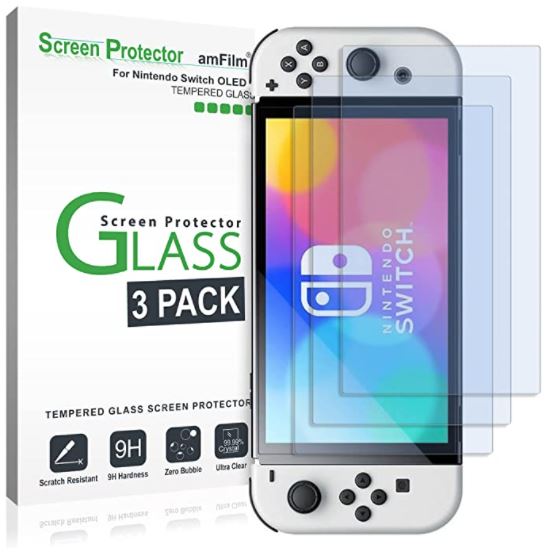 amFilm Tempered Glass Screen Protector (3-pack)
When it comes to screen protectors, amFilm is one of the most popular brands on Amazon. For several years, they've been providing high quality tempered glass screen protectors for a wide range of smartphones, tablets and more. Their newest addition offers specific protection for the Nintendo Switch 2021 model and it's large 7-inch OLED screen.
Comprised of premium tempered glass, the amFilm OLED Switch screen protector offers 9H hardness; the gold standard when it comes to screen protection. In fact, when it comes to the molecular composition, 9H is said to be "harder than a knife cut" and nearly as hard as a diamond. It's specifically enhanced for impact and scratch resistance so you can rest assured knowing that it can easily stand up to scratches from common metal objects like keys, pens and other sharp devices.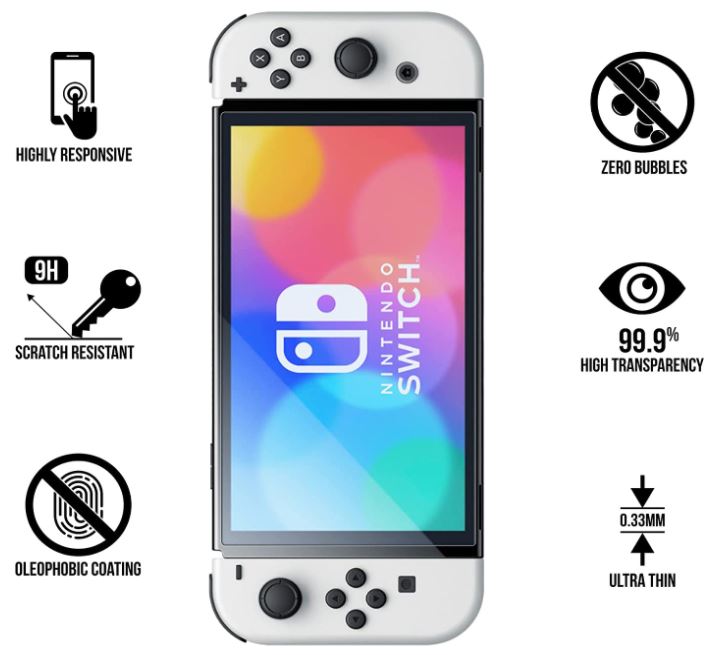 The ultra-clear protective material is only 0.33 millimeters thick, which may not sound like a good thing, but it actually is. Since it's ultra-thin, the amFilm offers an incredibly high transparency of 99.9%. In fact, there's actually a fine balance between too thin and too thick. Too thin; it's not going to offer substantial protection. Too thick; it's not going to offer accurate touch-screen responsiveness. We feel that the thickness of the amFilm is a perfect balance and the best of both worlds.
On top of that, there's an oleophobic coating that offers substantial fingerprint-resistance. Let's face it, nobody likes a screen that's muddied up with messy fingerprints. In addition, amFilm has specifically designed their screen protector to contain zero bubbles once installed.
Best of all, the amFilm tempered glass screen protector comes in a 3-pack with all of the required accessories. This includes a microfiber cloth, three alcohol cleaning wipes, three dry wipes and an instruction manual. Installation is pretty simple, but there's no guide or template included, so you'll need to "eyeball" it to line it up properly. Since 3 glass screen protectors are in one pack, you'll have two extra screen protectors in case the first one breaks, or for if you mess up while installing it.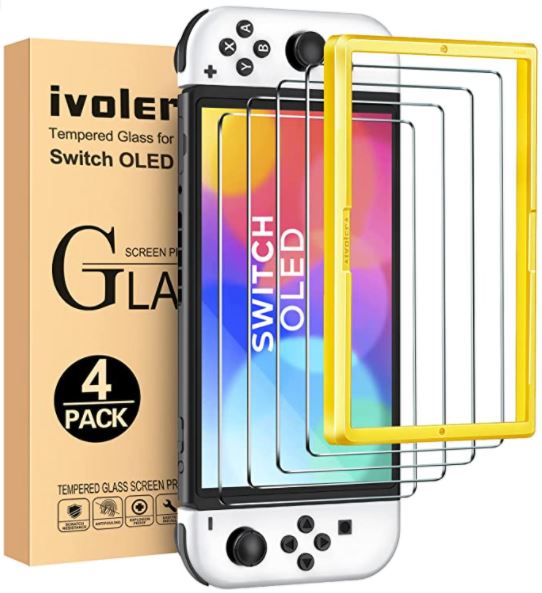 iVoler Tempered Glass Screen Protector (4-pack)
Sold as a 4-pack, the iVoler Tempered Glass Screen Protector offers the easiest and most accurate installation when compared to the competition. Since they've included an alignment frame within the package, you'll get a perfectly aligned install without any of the guesswork you may be accustomed to.
Let's face it, it can be incredibly frustrating to install a screen protector just right with the proper alignment. Simply place the yellow plastic frame over the screen of your Nintendo Switch OLED and you're assured a perfectly vertically and horizontally leveled screen protector.
Just like the amFilm, the iVoler is built with a highly durable 9H hardness that's comprised of high quality tempered glass. With an ultra-thin 0.3 millimeter thickness, you won't sacrifice any responsiveness with the touchscreen. This also allows for a beautiful 99.9% transparency level so it appears natural and free of imperfections.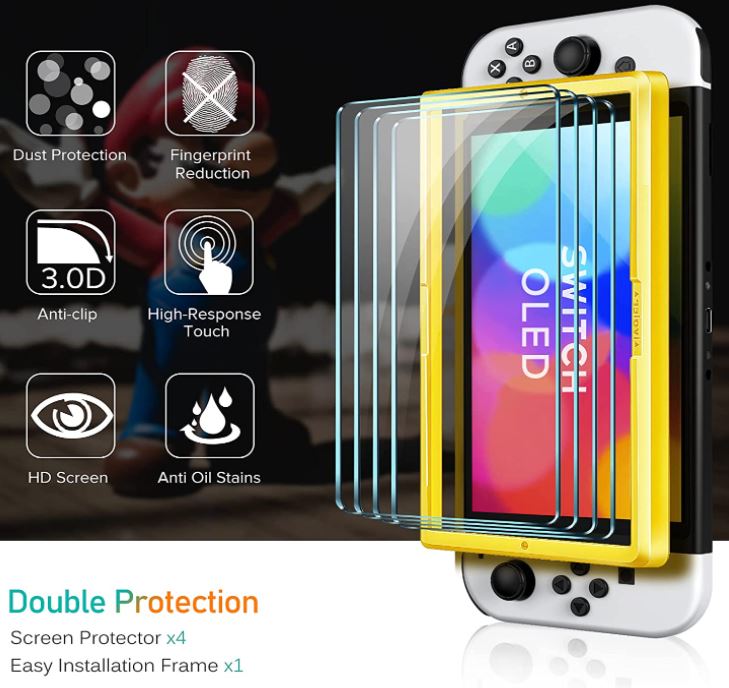 We found that the fit of the iVoler tempered glass screen protector is exceptional in every aspect. It's laser-cut to precisely fit edge to edge without any part of the screen left exposed. What sets it apart from others is the unique anti-static treatment that's applied during the manufacturing process. It provides plenty of resistance against fingerprints, dust and tiny debris like lint or fibers. In addition, an oleophobic layer is also applied that resists moisture, oils and sweat.
All in all, we feel that the iVoler provides a good amount of value. It comes in a 4-pack and contains everything you need to easily install without any mishaps. This includes an installation frame, dry and wet wipes, a squeeze card and user manual. The inclusion of an installation frame sets it apart from the competition. It's a simple, hassle-free solution for those that may not feel confident in applying their own tempered glass screen protector.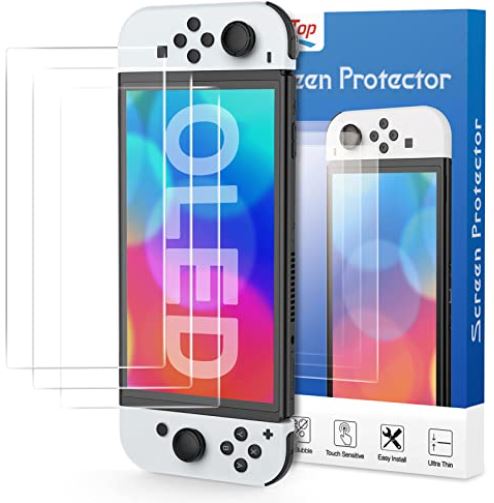 HEYSTOP Tempered Glass Screen Protector (3-pack)
The HEYSTOP Screen Protector is another top-choice that we feel confident in recommending as one of the best tempered glass screen protectors for the 2021 Nintendo Switch OLED. Comprised of the same 9H hardness level as the previous two choices, it offers the same amount of resistance but at a thinner 0.25 millimeter thickness. The thinner material appears even less noticeable, so it's the perfect option for those who want a screen protector that's unnoticeable yet still protective enough for most applications.
The HEYSTOP boasts a laser-cut fit with an extra amount of adhesion that will keep it sturdy and in-place for months, if not, years to come. We found it to be a bit "stickier" than the amFilm and iVoler, so we feel it's a good choice for those who desire reliable adhesion so it will never "pop off" unexpectedly, when you need it most.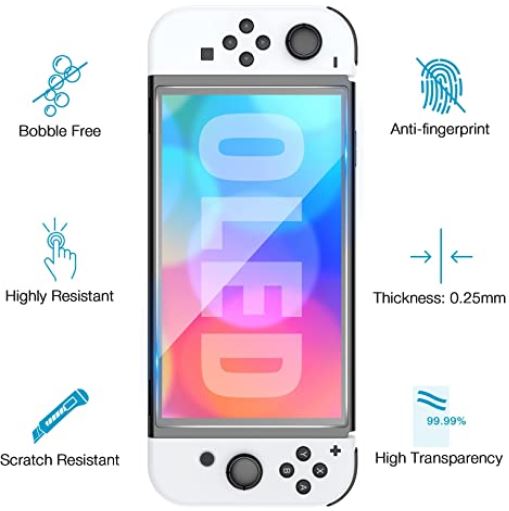 Since they've also included a hydrophobic and oleophic coating, the HEYSTOP protector easily resists residue from fingerprints, grease, oil and moisture. In fact, we found it to offer the best resistance among the competition. It's hard to distinguish precisely, but it felt a bit more "slippery" compared to others. This gave it a slick appearance that was glossier than both the amFilm and iVoler.
We were slightly hesitant about the 0.25mm thickness. It seems a thinner thickness wouldn't provide as good of resistance when compared to thicker screen protectors. However, in reality, the strenth seemed to be completely acceptable and no weaker than the amFilm and iVoler. The nice thing about the thinner glass is that its arguably less noticeable at first glance. It's appearance is slick, slim and shiny – we like it.
Which One Should You Choose?
Although most tempered glass screen protectors for the Nintendo Switch OLED appear the same, they're not. Visually, they're very similar, but there are a few differences that set them apart. Let's quickly go over what we uncovered.
The amFilm Tempered Glass Screen Protector and iVoler are identical in terms of thickness and oleophobic properties. Both measuring 0.33 millimeters thick with a hardness of 9H, they feel sturdy and provide ample protection against sharp edges and light impact. They have a glossy appearance and appear beautifully clear when properly installed. Between the two, we have to recommend the iVoler Nintendo Switch OLED Screen Protector since it includes a useful installation frame. It assures the best accuracy for lining up the screen protector to each edge of the 7-inch OLED.
The HEYSTOP Tempered Glass Screen Protector is another great choice. We believe it has the best oleophobic properties among the others. Although it's not quite as thick, at 0.25 millimeters, it seems to have the same amount of durability as the amFilm and iVoler. However, like the amFilm, there's no guide included.
Ultimately, each of these options all offer ample protection for your OLED Switch screen. The one we would recommend most is the iVoler. Since it's sold in a 4-pack and includes an installation frame/guide. It's a no-brainer choice for those who want a durable screen protector that's precisely lined-up to the edges.
Meet Derek, "TechGuru," a 34-year-old technology enthusiast with a deep passion for tech innovations. With extensive experience, he specializes in gaming hardware and software, and has expertise in gadgets, custom PCs, and audio.
Besides writing about tech and reviewing new products, Derek enjoys traveling, hiking, and photography. Committed to keeping up with the latest industry trends, he aims to guide readers in making informed tech decisions.