ScootHop B1
Pros
Decently long lasting battery.
Three different speed modes.
Large, shock-absorbing tires.
Wide deck for easy riding.
Rides very smooth and comfortably.
Cons
A bit heavy and bulky.
Not as water-resistant as we'd hoped.
Screen is a bit difficult to read in direct sunlight.
When you live in an urban environment, driving a car isn't necessarily the best method of transportation. In the suburbs, you have a lot of open roads and your own parking space. But in the city, you have to rent a parking space. And once you're out on the road, you're going to be sitting in traffic. In some cases, you can almost walk a block faster than you can drive it. Depending on how big a city you live in, a bus, the subway, or commuter rail is much faster. But at the end of the day, public transport doesn't always get you to your destination. Unless you work right next door to the bus stop, your commute will involve traveling on foot.
This isn't the end of the world, but it can be inconvenient at best. You've got to build time into your day for walking, which extends your commute. The same problems come into play when you're shopping, or doing any kind of travel. That's why a lot of city dwellers use alternative methods of transportation. Bicycles, skateboards, and scooters are all excellent ways to navigate an urban environment. At the same time, you can work up a sweat, which isn't ideal if you need to look fresh at work. Instead of getting to the office all sweaty from a bike ride, a motorized method of transportation is preferable. If that's what you need, an electric scooter is a clean, green way to navigate the city.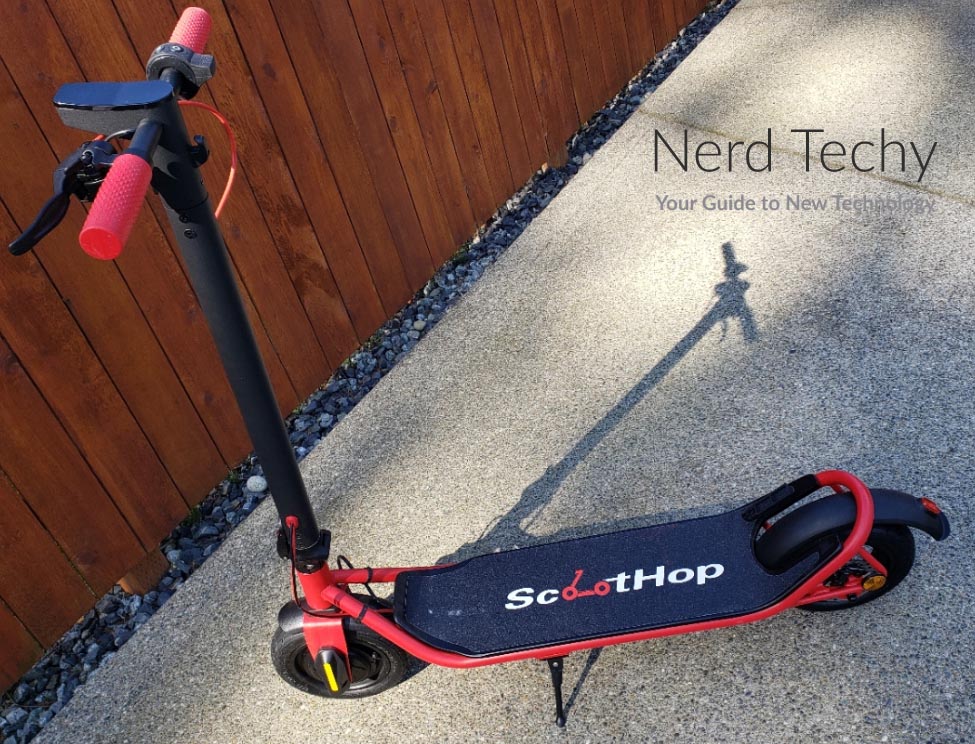 We're about to review the ScootHop B1 Electric Scooter. This is a motorized scooter that's designed for portability and efficiency. It can travel more than 25 miles on a single charge, and it charges in just a few hours. It's wide and easy to stand on, and it has a bright headlight for traveling after dark. And with its large, 10-inch air-filled tires, it can traverse tall bumps and potholes with ease.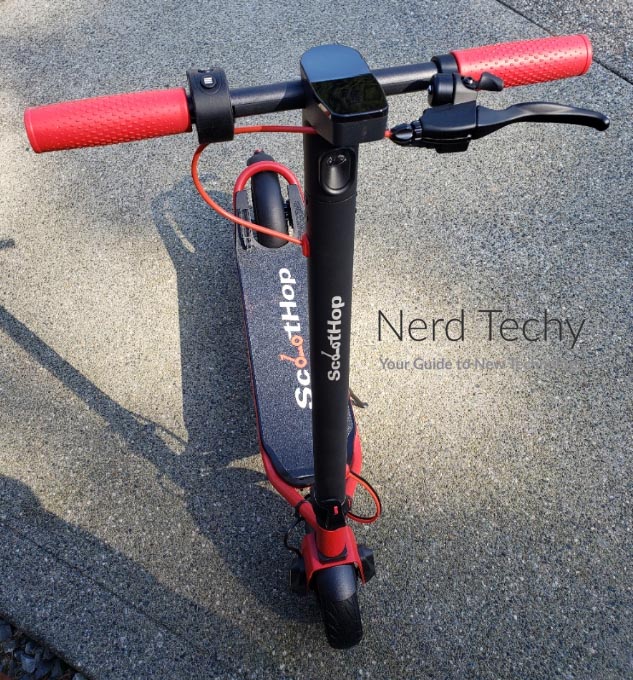 But to truly understand whether this scooter is worth owning, we need to take a closer look. We'll need to look at how it's engineered, and how tough it is. We'll have to discuss the motor performance, as well as the maximum speed. Additionally, we'll also have to consider any safety features, so you get to your destination in one piece. After we've looked into all of these things, we'll have a better idea of what we're looking at. Let's get started!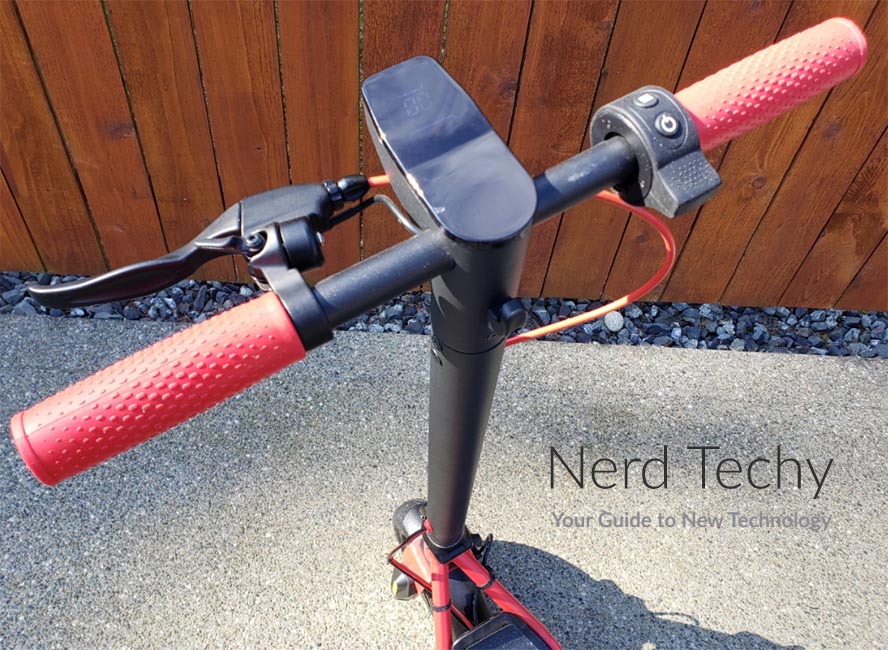 Overall Design
The ScootHop B1 Electric Scooter is a very durable machine. The frame is constructed from high-quality aluminum, which is tough enough to take a serious beating. It has a matte finish, with a blacked-out handlebar rod that won't collect dirt and debris. The rest of the frame is either red or yellow, depending on which variant you order. The colored part of the frame supports the main platform, and attaches to both of the wheels. The handlebars themselves are also colored, which provides an attractive accent on top of the scooter.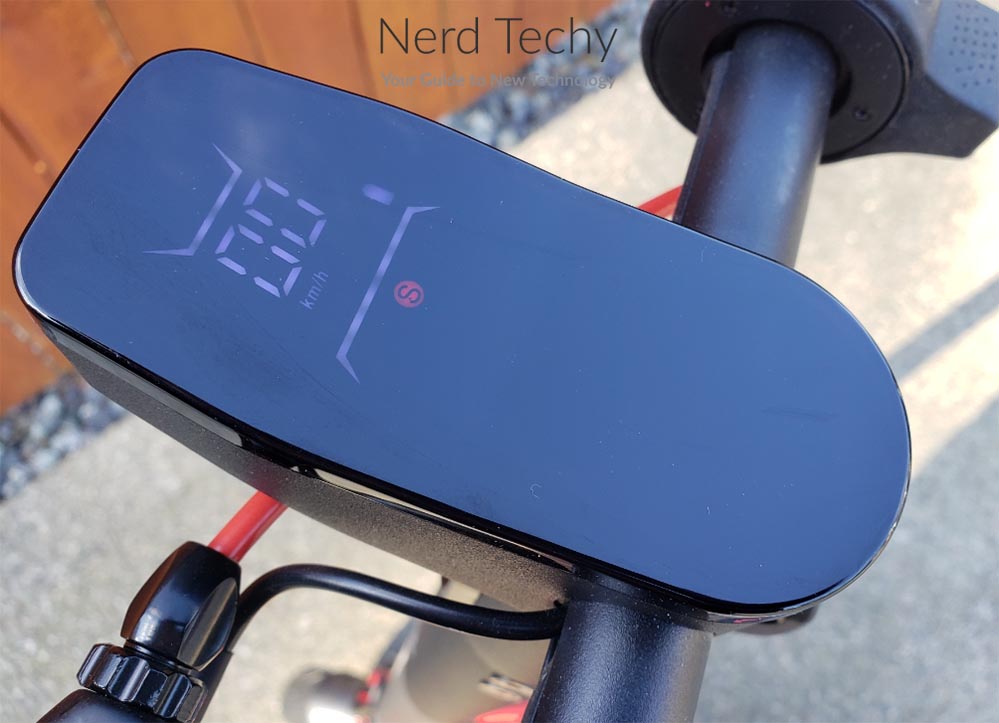 Despite the lightweight aluminum frame, the scooter as a whole is surprisingly heavy. At 39.7 pounds, it's far harder to carry than it is to ride. Then again, most of that weight comes from the battery and the motor. Because these components are located on the underside of the scooter, it's very bottom-heavy. It won't exactly stand up by itself, but it comes pretty close. You certainly aren't going to have any concerns about stability. And when you do need to park it, there's a little black kickstand on the left side of the deck. This is easy to flip up and down, so you can park the scooter efficiently.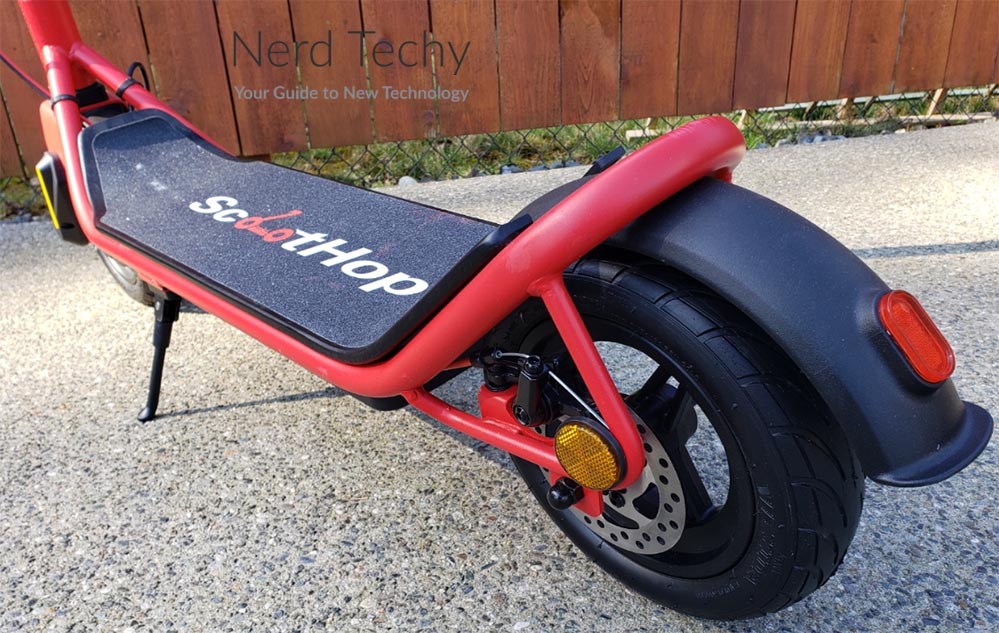 The air-filled rubber tires are big and beefy. With a diameter of 10 inches, they're fat enough to tackle bumps and potholes. This is a major advantage over typical scooters, which tend to have small wheels and a rough ride. By comparison, the ScootHop B1 is very comfortable, regardless of your road conditions.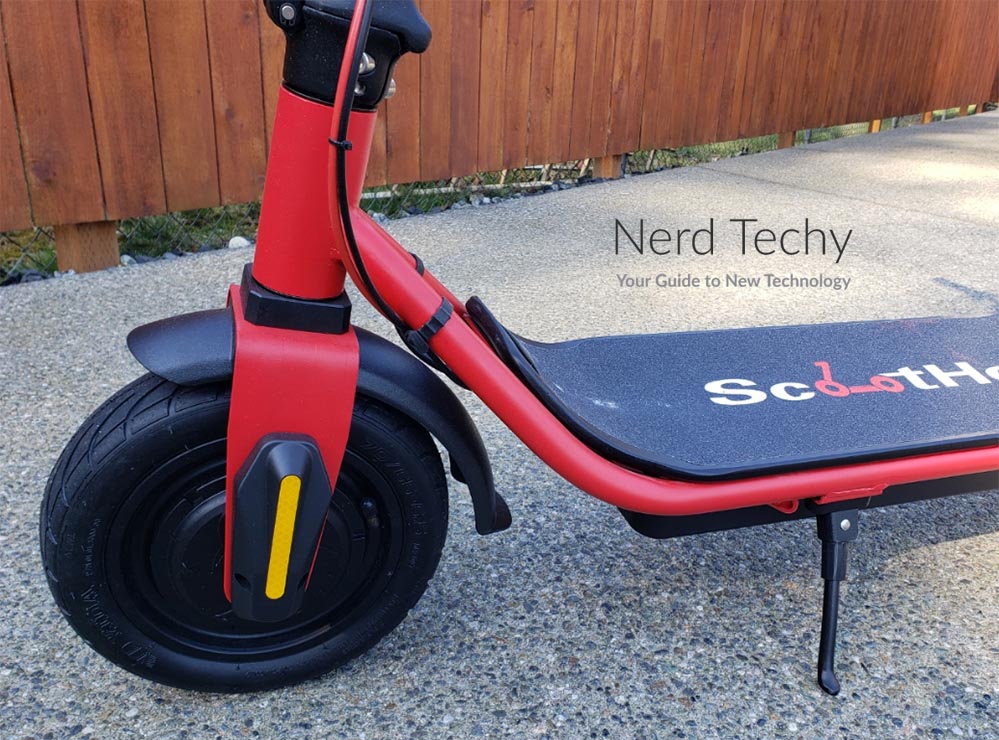 In addition, the B1 has an ultra-wide, 7.9-inch deck. This gives you plenty of room to stand, without your feet hanging over the sides of the scooter. It also has a gritty, anti-slip surface, so you don't have to worry about slipping off. You'll have a secure, comfortable ride, even in wet, slick conditions. Not only that, but the platform can support up to 220 pounds. It would be inaccurate to say that this scooter is strong enough to support literally everyone. But most people will be able to ride without worrying about overstressing the deck.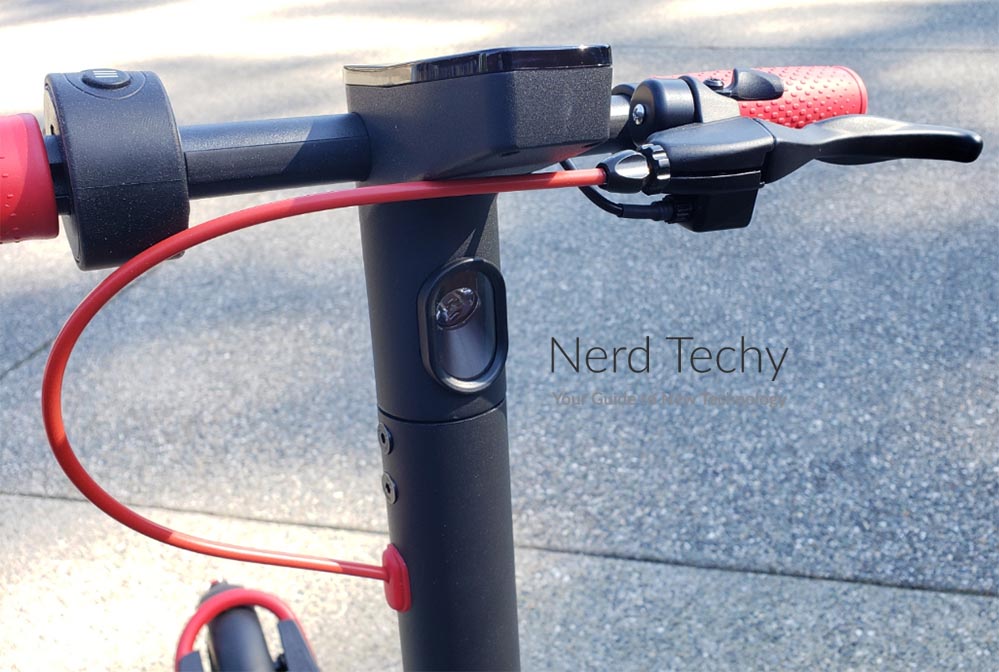 On top of the handlebars, right in the center, there's a bright LED display. This display has a simple white on black design, and shows you everything you need to know. Right in the center, you'll see your current speed. Using the touchscreen, you can switch between kilometers per hour and miles per hour. So no matter what measuring system you use, you'll know how fast you're moving. There's also a visual battery meter. This doesn't tell you exactly how much ride time you have left – that depends on many factors. But you'll at least have an idea of where your battery status is at. In addition, you can see what driving mode you're in, and switch between modes using the display.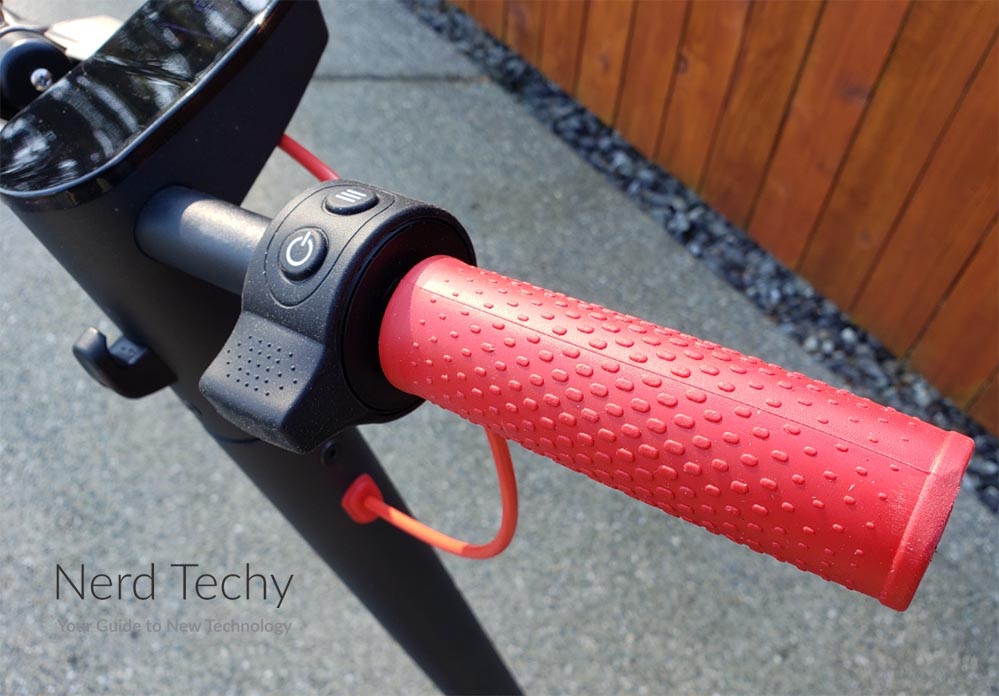 The entire B1 scooter is IPX4-rated for water-resistance. IPX4 is actually one of the lower water-resistance ratings. Essentially, it means that the scooter is splash-proof. You don't have to worry about rain, or about splashing through the occasional puddle. But you don't want to store this scooter outdoors, or leave it exposed to extended foul weather. This is a bit disappointing, since it limits your storage options. Then again, it shouldn't affect your riding. After all, if it's raining, you probably don't want to be riding your scooter anyway. Additional controls are located by the right handlebar. There's a power button, which is self-explanatory, and a menu button for accessing the scooter's settings.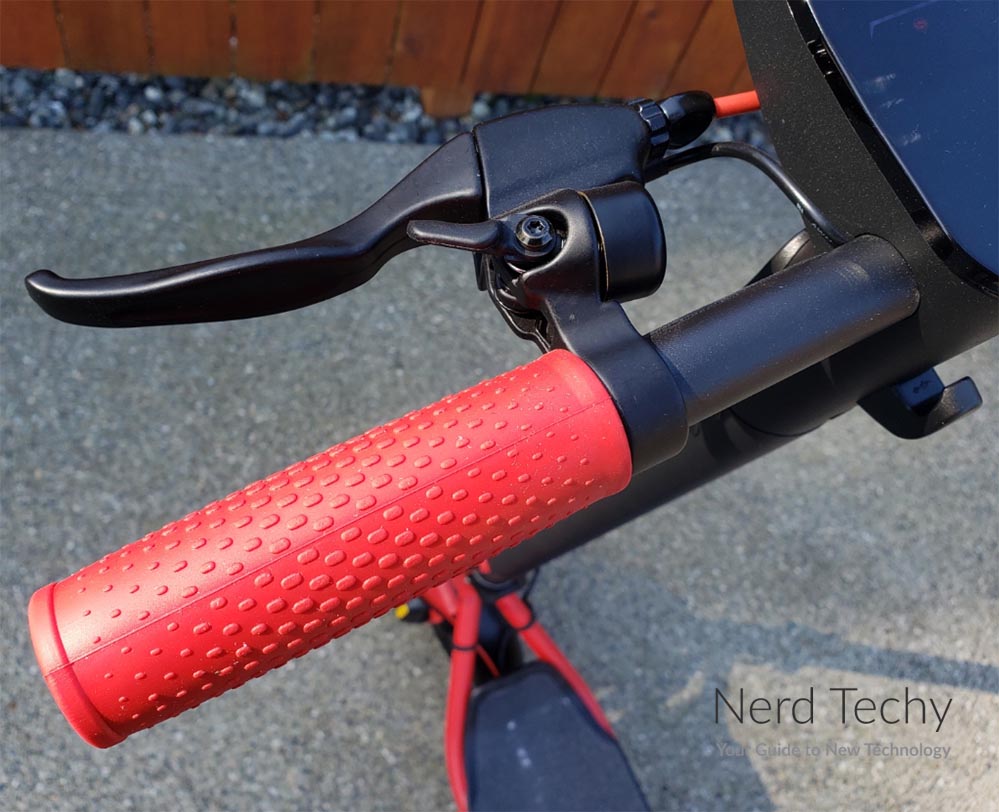 It's worth pointing out that the B1 does not arrive fully assembled. This is only natural, since the package would need to be excessively large. Instead, the handlebars and base come separately. On the plus side, assembly is simple and straightforward. You insert the handlebar rod into the base, and secure it tightly. Then, you'll tighten four screws around the base, which you'll find in the instruction manual. Once everything is put together, you're ready to charge the battery and start riding!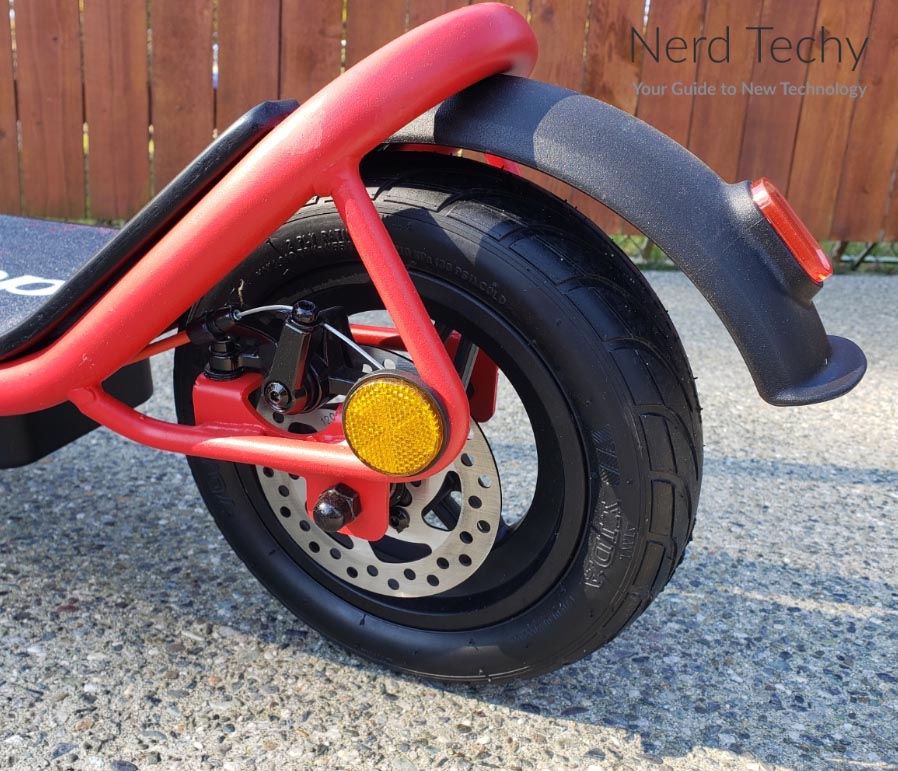 Battery & Everyday Use
The ScootHop B1 has a robust, 350-watt motor, which contributes most of the weight. It's capable of speeds up to 15.5 miles per hour, which is pretty speedy for a little electric scooter. It's even powerful enough to tackle a hill with a 15% slope. This lets you keep riding when other scooters would force you to get off and walk. That said, the 15.5MPH speed is the highest of three settings. You can also cruise slower when it's appropriate for conditions, or just to save batteries. Long-pressing the power button for three seconds will turn on the motor. Tapping the function key will switch between the settings. You can also set cruise control at whatever speed you're comfortable with.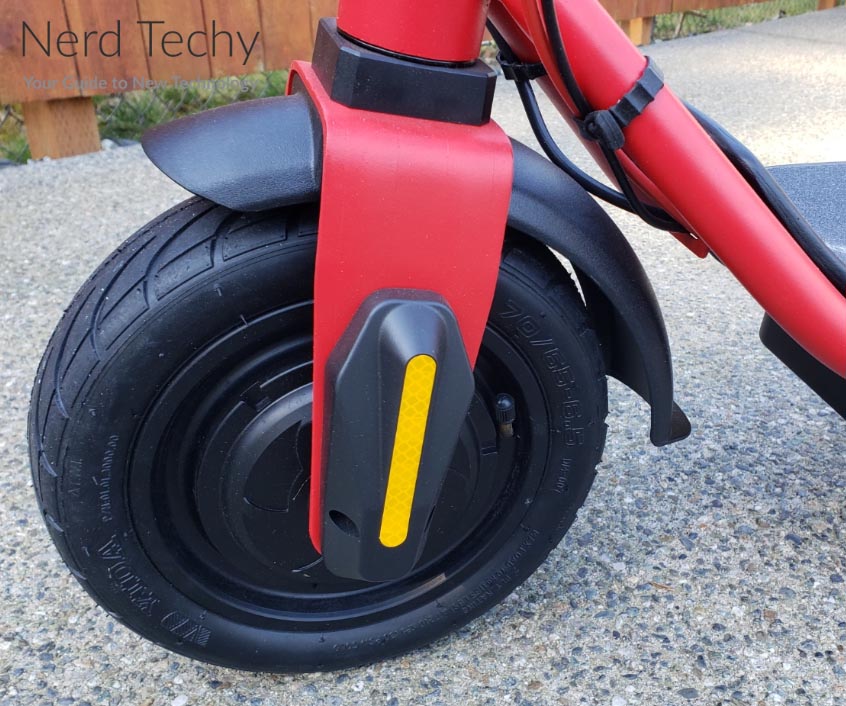 The accompanying battery makes up most of the rest of the scooter's weight. It has a 350Wh capacity, with a 36-volt output. This is sufficient for a travel distance of around 25 miles. Keep in mind that higher speeds will burn through your battery faster. You'll also use more power if you're carrying a heavy load or traversing a bunch of hills.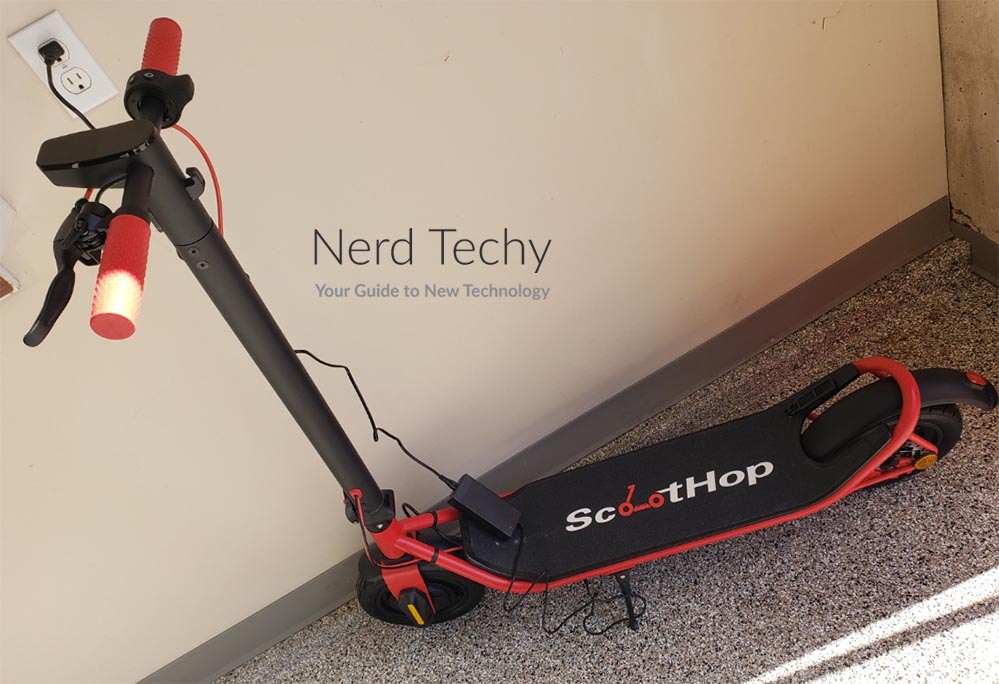 Even so, you should have more than enough juice for an everyday urban commute. A smart battery management system helps to maintain efficiency, so you get the best possible performance. Using the included charging cable, you can fully charge a dead battery in about six hours. Since you probably won't run the battery all the way down, your actual charging time should be shorter.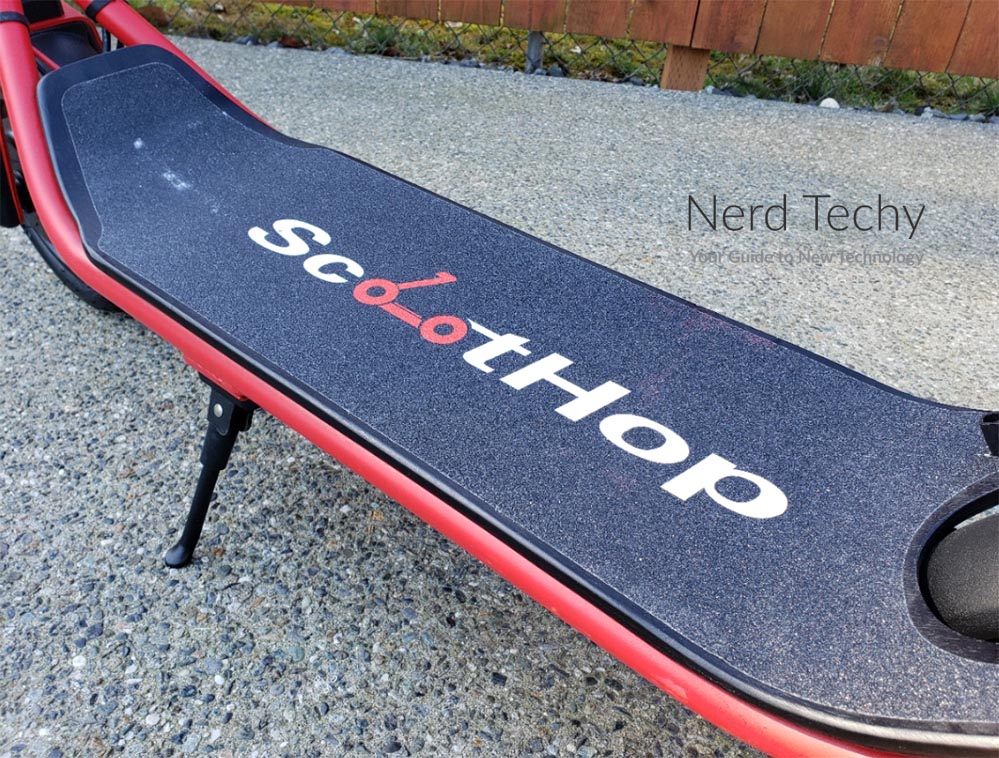 When you get to your destination, you don't have to worry about storing the ScootHop B1. It's completely collapsible, and you can fold it shut in just a few seconds. This makes it easy to stow in a closet, or even under your desk at work. When it's time to go, you'll have the scooter opened up in a few seconds more.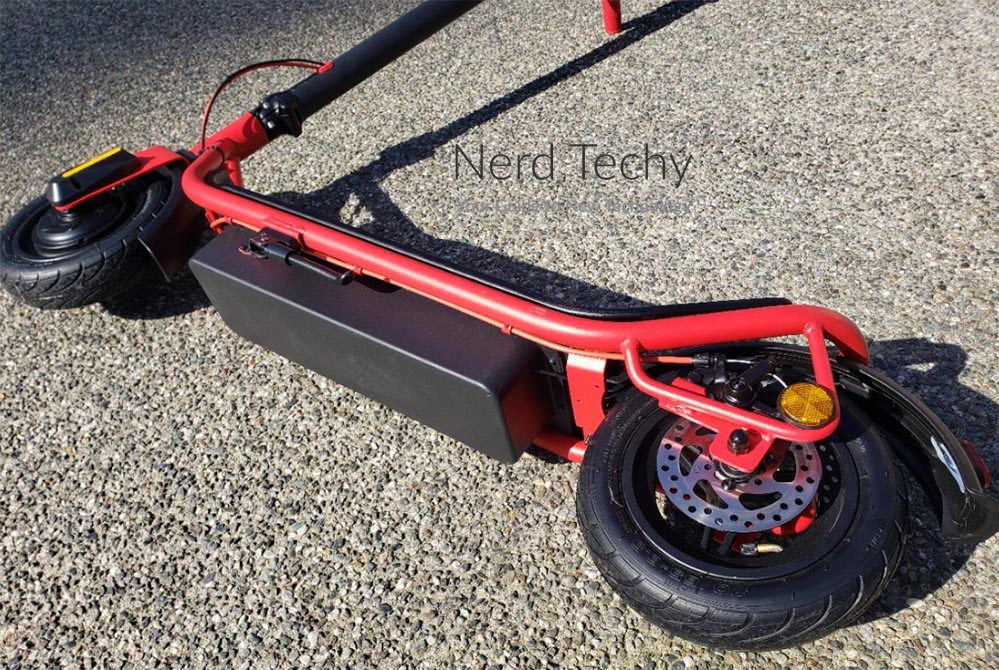 Safety & Extras
As with any other form of transportation, a good scooter should have safety features to protect the rider. The ScootHop B1 has a few different features to help you stay safe on the road. To begin with, there's a bright, built-in headlight. Press the power button twice to turn it on, and twice again to turn it off. Yes, it will drain your battery faster. But it will help you identify obstacles, and make you more visible to motorists. There's also a brake light on the back, to alert others when you're coming to a stop. And when the brake light isn't illuminated, there's still a rear reflector to ensure that you're visible.
The braking system is also robust. The front brake is electrical, which theoretically gives it more stopping power. This is essential, since the front brake does more work than the rear brake. That said, an electric brake could fail if there's a battery issue or a wire gets disconnected. As a backup, the rear wheel has a mechanical disc brake. This doesn't provide quite as much stopping power as an electric brake. But it will work reliably, even if the electrical system is having issues.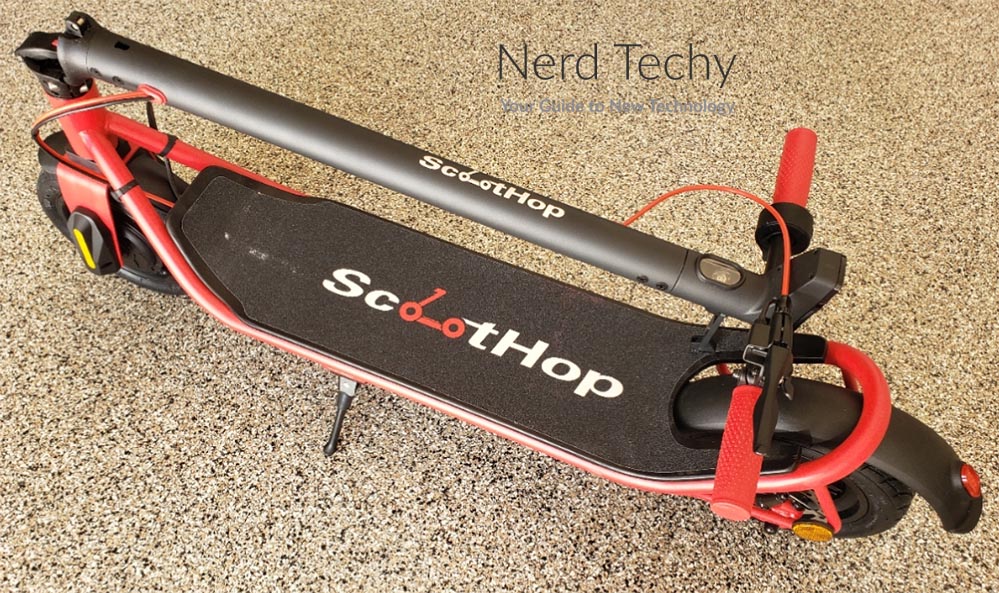 Final Verdict
The ScootHop B1 is a robust electric scooter that can travel up to 25 miles on a single charge. It's easy to use, and while it's a bit heavy, that weight is firmly situated underneath the riding platform. The display keeps you posted on your speed and settings, and assembly takes only a few minutes. And when you need to come to a stop, the dual brakes are very effective. All things considered, this is a very well-engineered machine for the price.