WINCENT RSzero
Pros
Tough, pry-resistant design.
Large enough for a full-frame handgun.
Small enough for cars and travel.
Opens instantly with RFID fobs and wrist band.
Cons
Cannot be opened if the battery is dead.
Initial programming is awkward.
If you're like millions of other Americans, you might keep a pistol in your home for protection. Depending on where you live, you may even have a concealed carry permit. A handgun is a great tool for self-defense. Unlike a rifle, it's easy to carry, it's easy to conceal, and it doesn't take up a lot of space. Yet even though it's small, it still gives you the ability to stop an attack on your life.
But like Uncle Ben said to Peter Parker, "With great power comes great responsibility." In the hands of a trained, responsible adult, a gun can be a life-saving tool. In the hands of a criminal, an untrained person, or a child, it can be incredibly dangerous. As a gun owner, it's your responsibility to make sure that only you and authorized people can access your firearm. This means investing in a good quality gun safe.
As a pistol owner, you have a slight advantage over anyone with a hunting rifle or AR. Those guns take up a lot of space, and you need a full-sized upright safe to properly store them. As for taking them on the road, you can generally forget it, unless you're hunting or going to the range. With a pistol, all you need is a small, portable safe. If it can be properly tied down, it's going to be your best way of securing your firearm.
WINCENT RSzero Elite Smart Gun Safe
Today, we'll be reviewing the WINCENT RSzero Elite Smart Gun Safe. This is a lightweight, portable safe that's equally effective at home and on the go. It unlocks instantly with an RFID fob swipe, or in just a few seconds with a numeric code. It even comes with an RFID-embedded silicone bracelet.
But how secure is it really? To find out, we're going to have to dig a little bit deeper. We'll have to look at how it's constructed, and how tough the material is. We'll need to discuss the storage capacity, and how the safe is powered. After talking about all these things and more, we'll have enough information to render a fair verdict. Let's get started!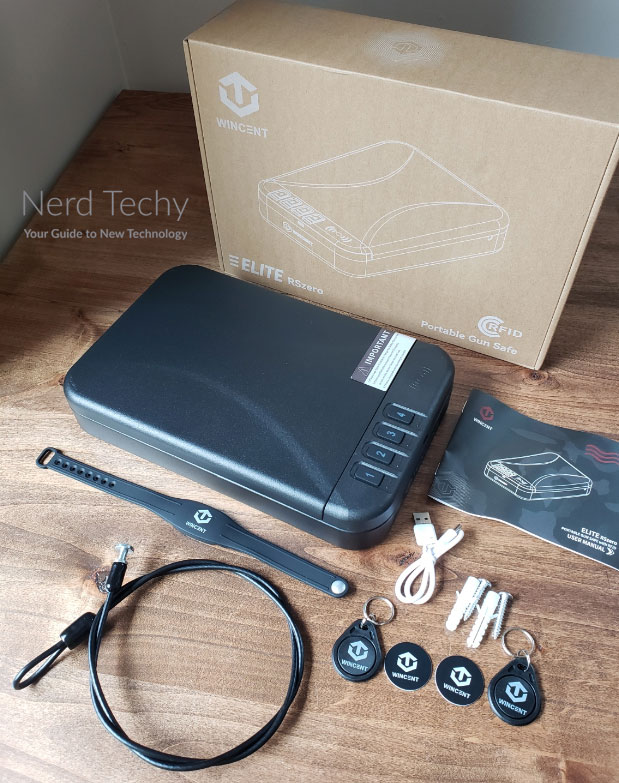 Overall Design
The WINCENT RSzero Elite Smart Gun Safe is constructed from a tough 18-gauge steel. This isn't quite as strong as the 14 or 12-gauge steel you'll see on larger, heavier-duty gun safes. But it doesn't really need to be. The design itself offers a lot of protection, since there's no big door to pry at.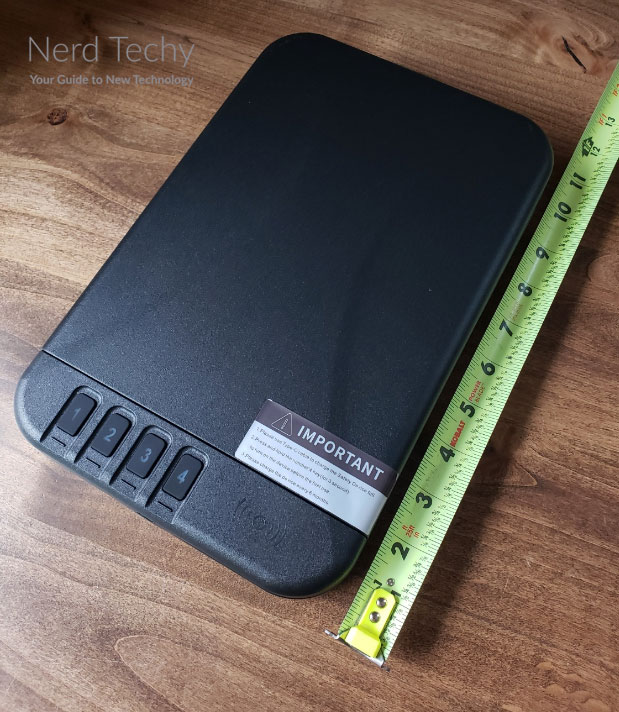 It's roughly rectangular in shape, at 11 inches long, 7 inches wide, and 1.9 inches thick. The edges and corners are rounded, which provides far more strength than 90-degree angles. The finish is matte and lightly textured, so it's easy to grip and doesn't collect dust and fingerprints. The only real cosmetic element is a white "Wincent" imprint on the front edge. In the same general area, you'll find a USB Type-C charging port.
The lid is hinged at the back, but the hinge has a recessed design. This means there's no pry point to directly attach the hinge. The entire area under the lid has a similar rolled design, which prevents prying altogether. The net result is a compact save that's virtually impossible to force open.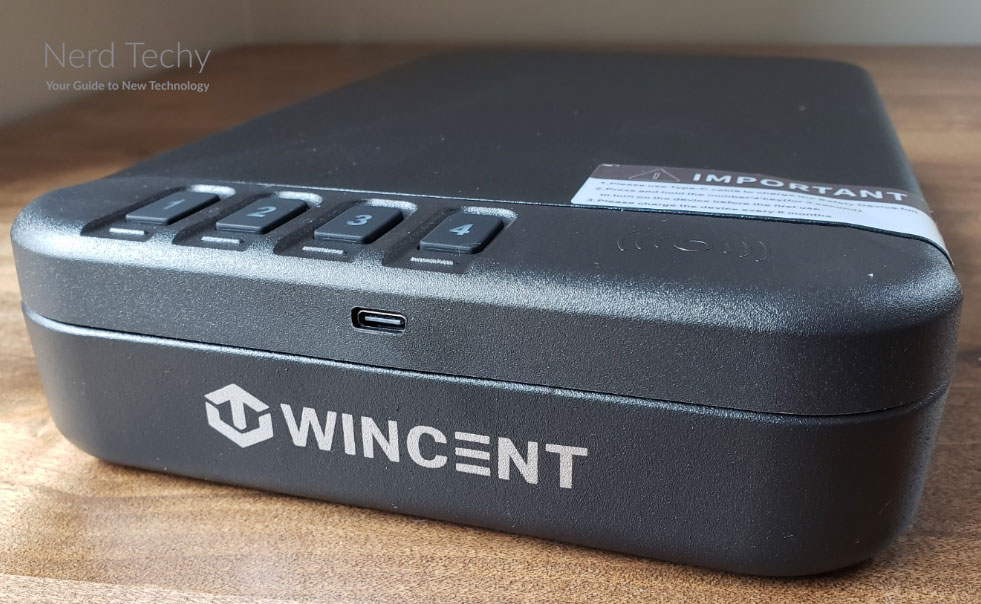 At the front of the top, just in front of the lid, there's a row of four soft silicone buttons. These buttons are numbered 1 through 4, and they all light up when you press one. Just next to the buttons, you'll see a little radio symbol embossed in the surface. This is the location of the RFID reader.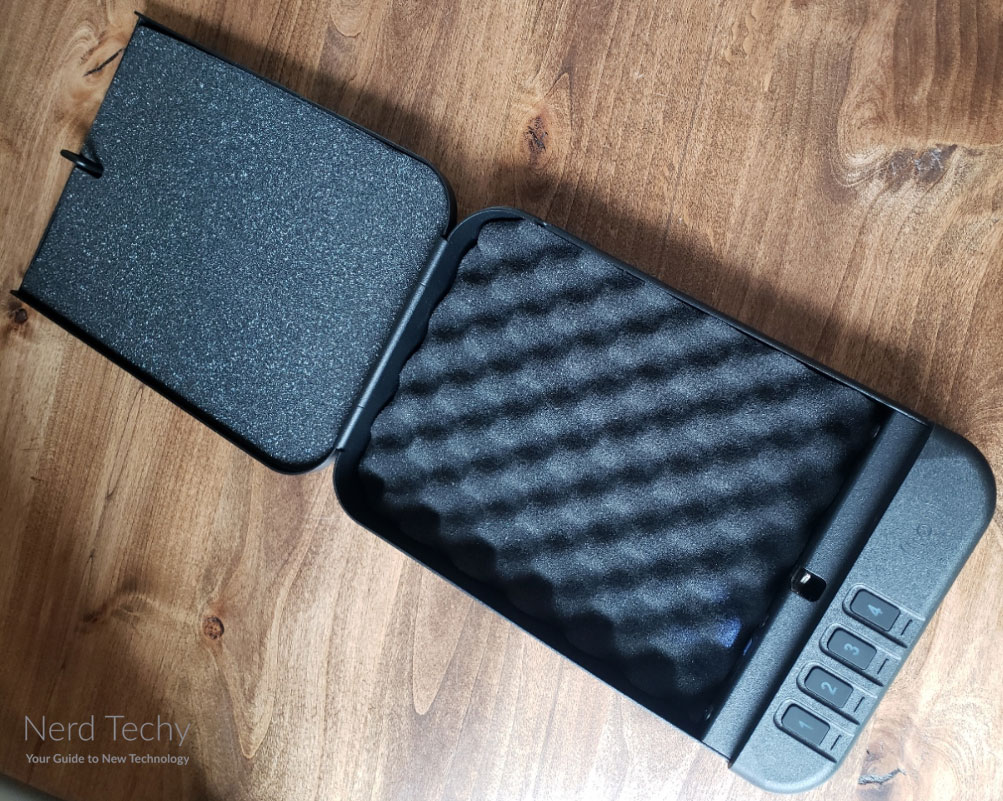 Inside the Safe
The inside of the RSzero Elite is well-padded, with memory foam both above and below. The bottom padding is thick and lush, with an eggshell texture that conforms to many surfaces. The top padding is flatter and thinner, to fit inside the lid. When the case is closed, your gun will be protected on all sides, and completely safe from scratching.
The total dimensions of the inside of the safe are 8.7 inches long, 6.9 inches wide, and 1.8 inches thick. This is long enough to fit an 8.5-inch handgun. For reference, that's the length of a Colt 1911. Even with your pistol, you'll be able to store a magazine or two. The only things you won't be able to store are oversized handguns like the Glock 41 Gen 4.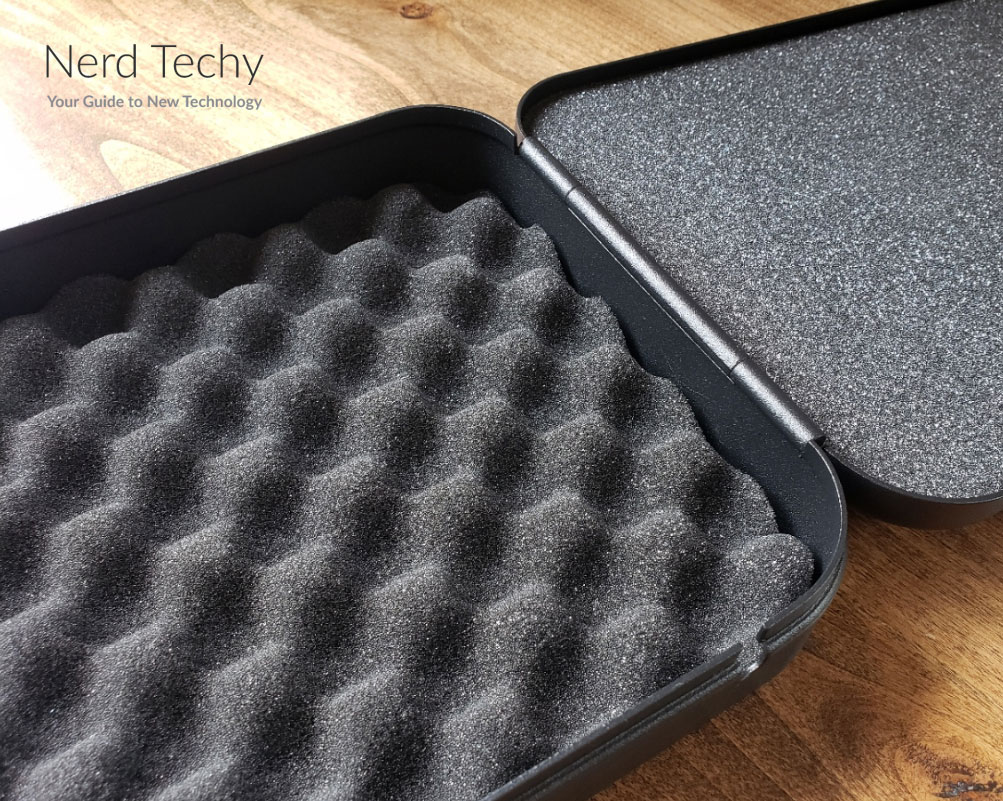 Of course, there's no rule saying that you can only store guns in this safe. Considering how secure it is, it's a great choice for storing all kinds of valuables. You can keep your passport, Social Security card, cash, and other small objects locked safely away. Then again, this isn't a fire safe, so your papers could be toast in the event of a fire.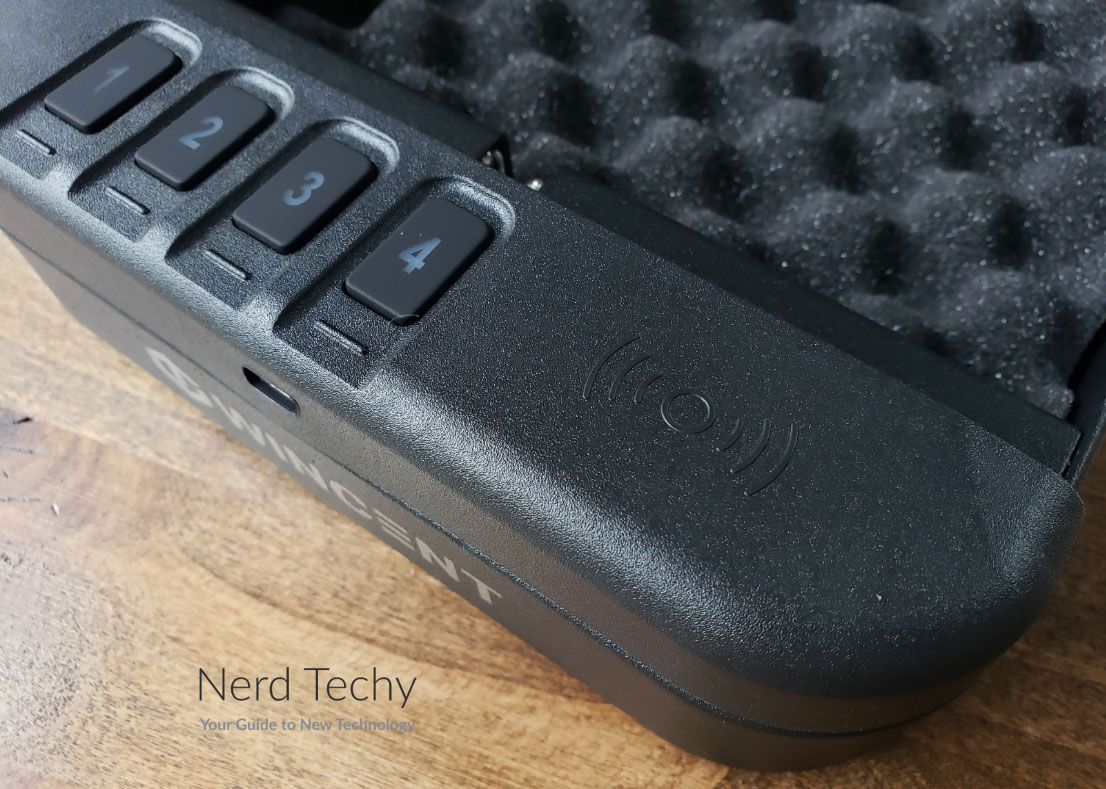 How Does it Open?
There are three ways to open the WINCENT RSzero Elite. To begin with, there are two different types of RFID access. The first is a silicone wrist band, which is the most convenient method. The wrist band is waterproof and comfortable, and it's low-profile enough that it won't attract attention. Meanwhile, you can literally pass your wrist over the RFID sensor to pop open the door.
The second RFID-access method is to use one of the RFID fobs. There are four of these in the package, so you can share with your spouse and other family members. They're small and round, and are designed to attach to your keychain. You use them the same way as the wrist band. Just wave one over the RFID sensor, and the door will pop open.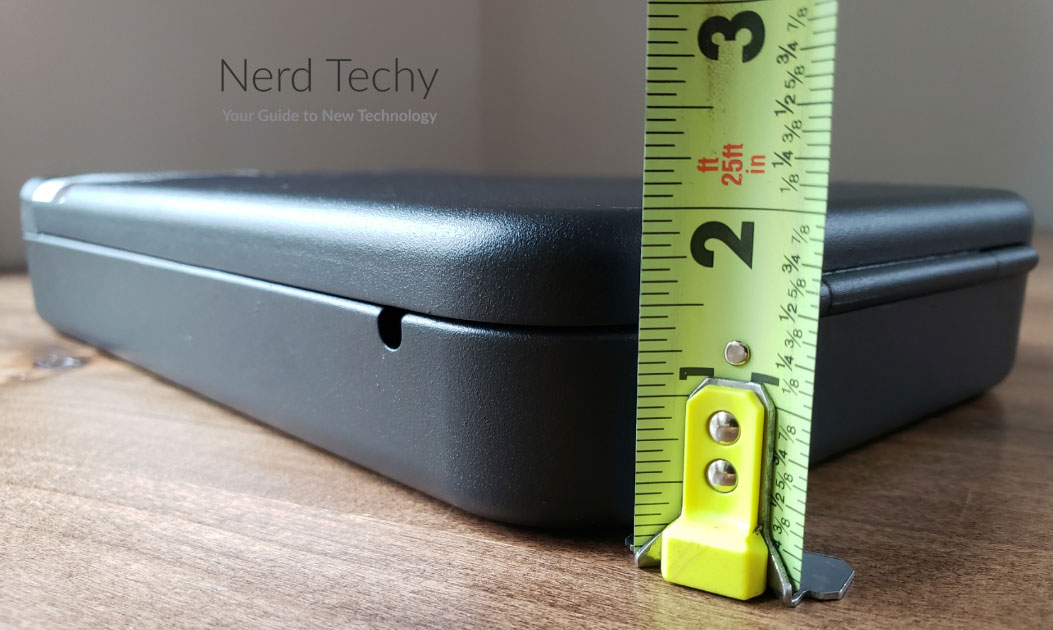 If you prefer not to rely on RFID technology, you can simply use a numeric access code. This takes a few seconds to enter, but it still gets you into the safe pretty quickly. Even if you're not using this method, you'll probably want to change the default code. Out of the box, it's set to "1-2-3-4," which makes it easy for anyone to guess. Enter the code, open the safe, and you'll find all the accessories it comes with, including an instruction booklet. Programming it is a bit of a pain, but you only have to go through the process once.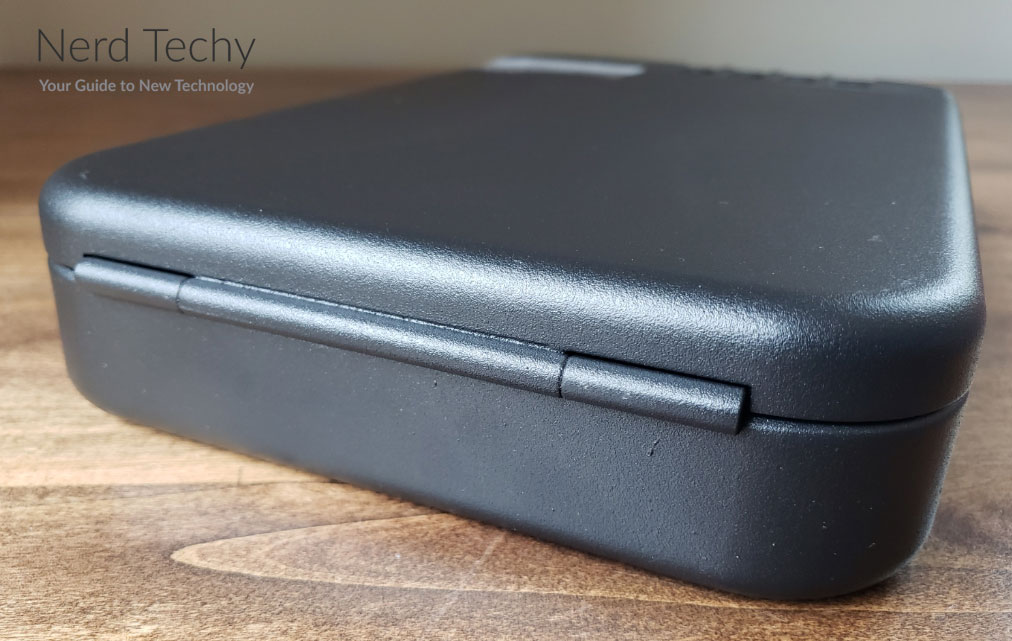 One thing we liked about this safe was the auto-lock feature. If there are five consecutive bad card swipes or five consecutive incorrect codes, it will lock out. It will unlock after 100 seconds, so it's not as if you'll be locked out forever. Meanwhile, it's virtually impossible to figure out your code by trial and error.
Battery and Charging
WINCENT doesn't state exactly what the battery's capacity is, but they don't really need to. It will last for around six months of normal use, unless you leave the safe open a lot. That's quite a lot of battery life, and it means you can go for a long time without having to charge.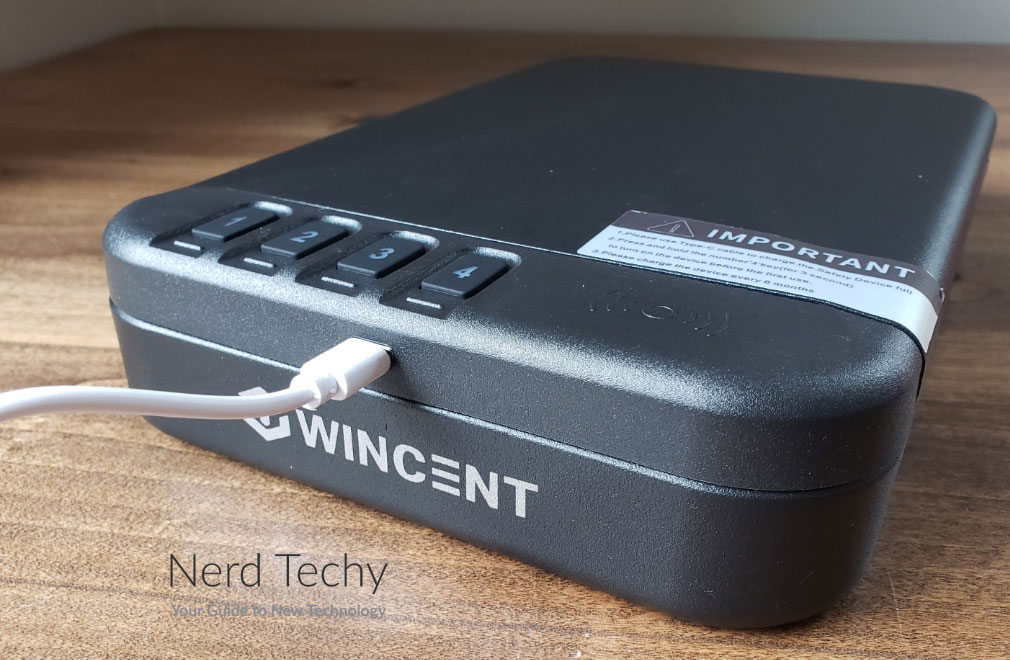 At the same time, charging is easy. You simply use the included USB Type-C cable to connect the safe to any USB power source. Charging from a standard USB power source takes just a few hours. After that, you'll be good to go for another six months or so.
One thing we would have liked to see is a mechanical backup key option or an external battery compartment. As is, the built-in lithium battery cannot be changed or accessed. When it dies, there's no way to get into the safe. You have to plug the safe in, wait a few minutes for it to build up a minimal charge, and then open it. If you're just going to the range, that's not a huge inconvenience. But in case of emergency, getting locked out of your gun safe is bad news. Make sure to remember to keep your battery charged. Just plugging it in for a while every couple of months should do the trick.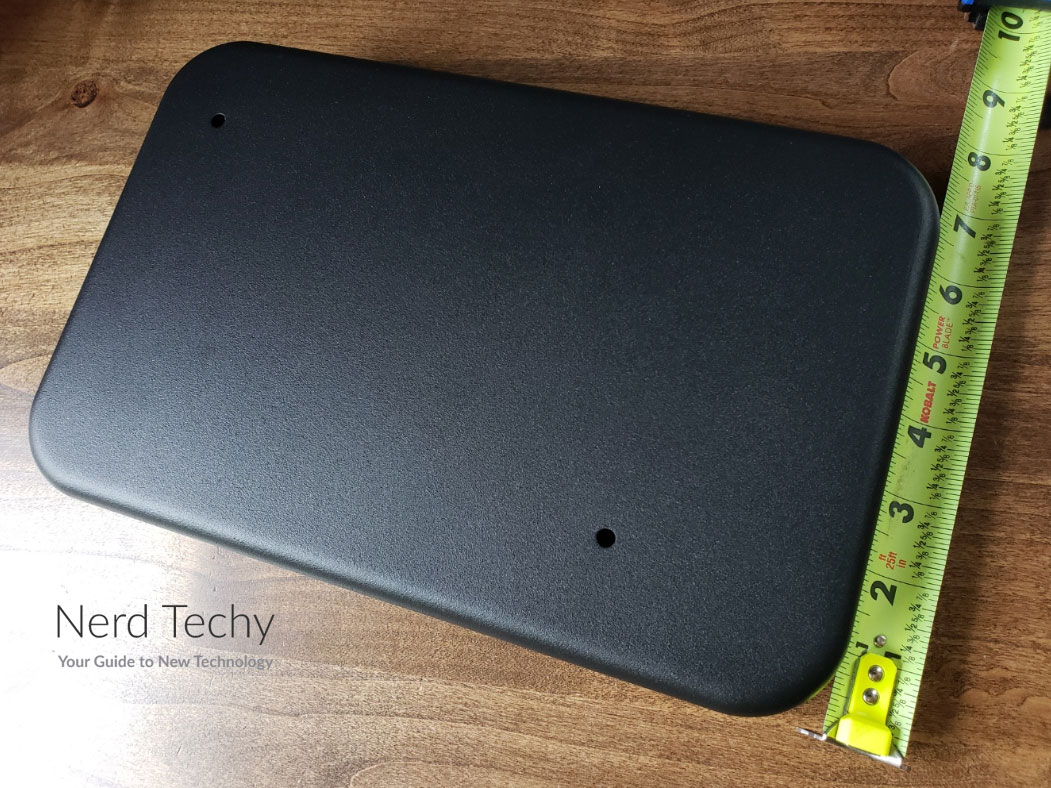 Extra Features
With any compact safe, you face an obvious problem. What's to stop someone from stealing the entire safe and then sawing into it later? If your handgun is going to be truly protected, the safe itself will need to be secured somehow. Thankfully, WINCENT provides two easy ways to do that.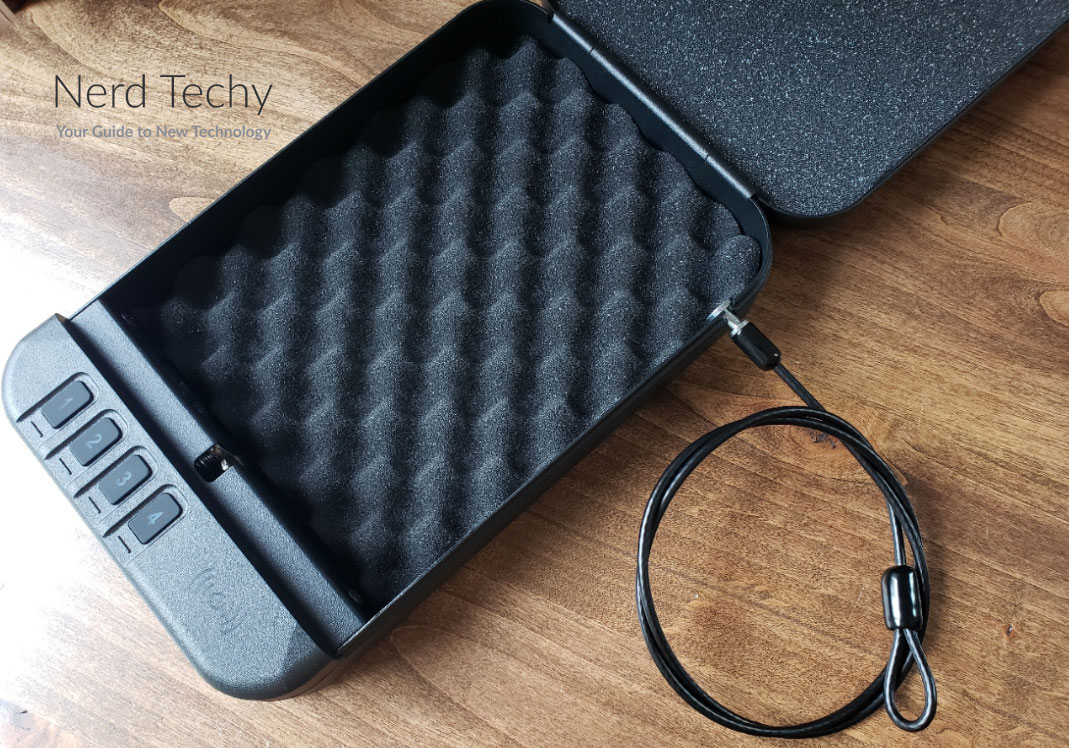 First, there's a security cable. This cable has a loop on one end, and a special flanged peg on the other. To use it, you first wrap it around a secure object, then run the pegged end through the loop. Then, open your safe, and slide the peg into the slot at the top right. Close the lid, and the cable will be firmly locked into the safe. When properly done, it will be able to withstand over 840 pounds of pulling force. This is a great way to secure the safe in cars, or in a hotel room with heavy furniture.
If you're looking for a more permanent option, you can always mount the RSzero Elite to your wall. There are two pre-drilled holes in the back, and two mounting screws with anchors in the kit. This allows you to mount the safe in a closet, or even screw it down to a piece of furniture. Be warned, though; someone could easily remove the safe with a prybar. We far prefer the security cable.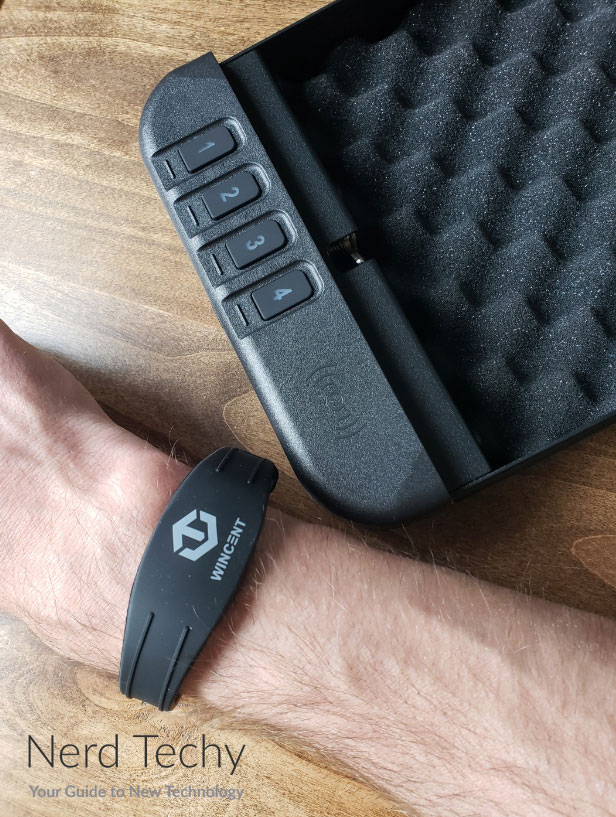 One last thing to point out is that there's an LED light inside the case. When you open the lid, it automatically lights up, so you can find your gun or valuables. This is a nifty feature when using the safe at night, but be sure to close the lid when you're done. Otherwise, it will drain your battery.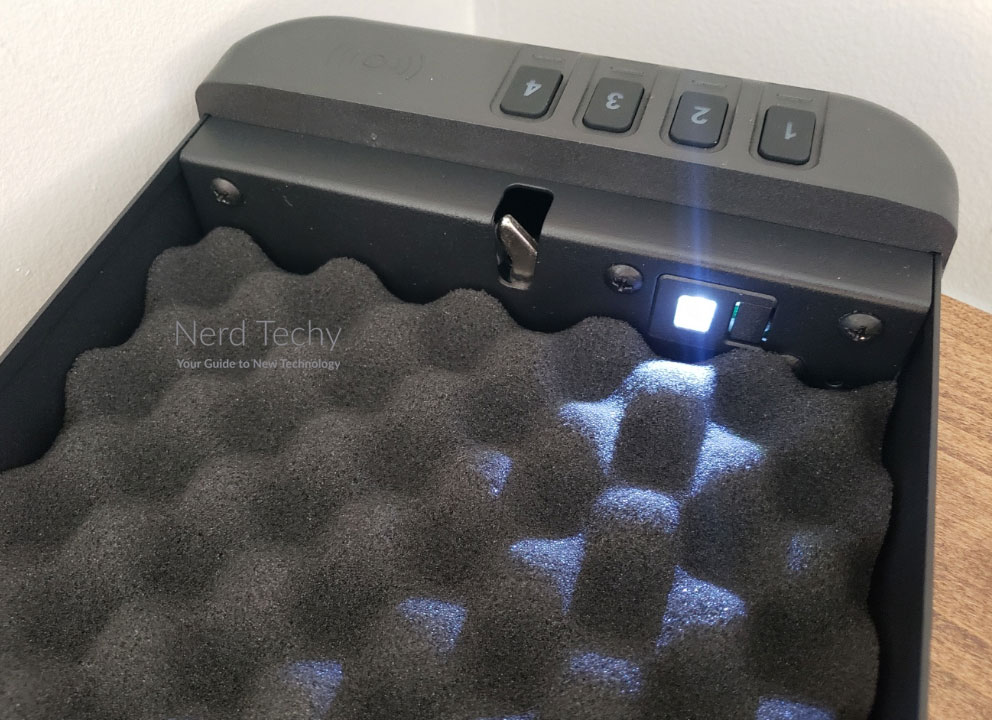 Final Verdict
As you can see, the WINCENT RSzero Elite Smart Gun Safe is a great little lockbox. If you're looking for a home safe, we'd still recommend one with a keyed or mechanical backup. But for on-the-go use, this is a solid choice. It's just that well-designed to use in your car.