The Nintendo Switch is, without a doubt, the most innovative game console of the current generation. From their very beginning, Nintendo has been known for innovation and taking risks. Sometimes, like with the Nintendo 64 controller, they swing and miss. Other times, like with the Wii, they hit the ball clean out of the park. It's easy to see that the Switch falls into the latter category. Only Nintendo would build a device that's both a standard console and a handheld gaming platform. The detachable controllers, the charging base, and the screen are all very high quality.
This makes it all the more bizarre that the Switch's built-in kickstand is so absurdly dinky. It's notorious for falling off or getting broken, which means you're going to need a replacement. We've talked about several Switch accessories in the past, including Nintendo Switch Ethernet adapters. Because we've learned so much about the Switch, we decided to review kickstand replacements.
Today, we're going to look at four different replacement options for your Nintendo Switch kickstand. First up will be the Nyko Kick Stand, which is a fun, colorful option that spices up the Switch's appearance. Next will be the Yoowa Kickstand Replacement. This is a sturdier option, but takes some effort to install. Third, we'll look at the AmazonBasics Playstand, a unique option that's in a class of its own. Finally, we'll look at the RepairBox Kickstand, a basic choice without any frills. Let's check them all out, and see what makes each one unique!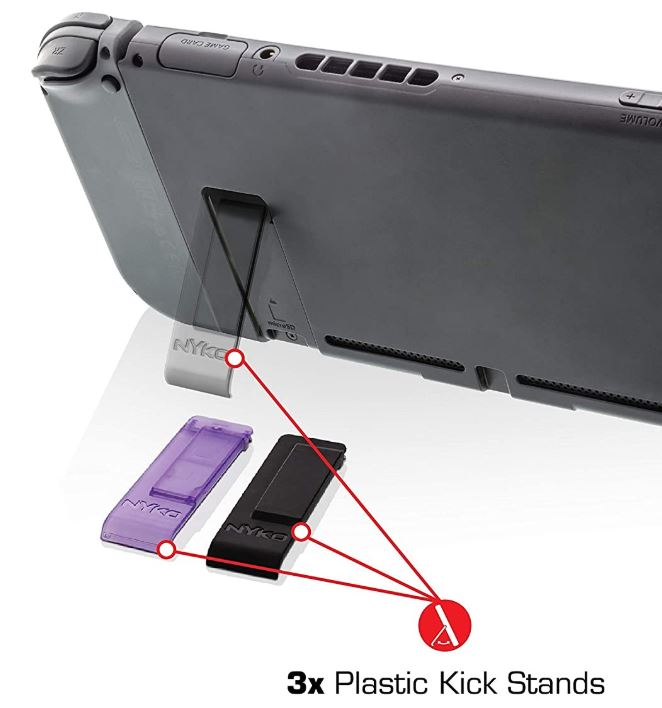 Nyko Kick Stand
The Nyko Kick Stand doesn't come as a single, solitary unit. Instead, it comes in a three-pack, with purple, clear, and black options. This means it's easy to match to certain color schemes. But it's not just useful for making your Switch more attractive. It also means that if one of the kickstands breaks, you've already got some replacement options. No need to wait a few days while your next replacement ships. Not that replacements should be a serious issue. The Nyko Kick Stand isn't exactly built like a brick house, but it's sturdier than the original Nintendo Switch kickstand.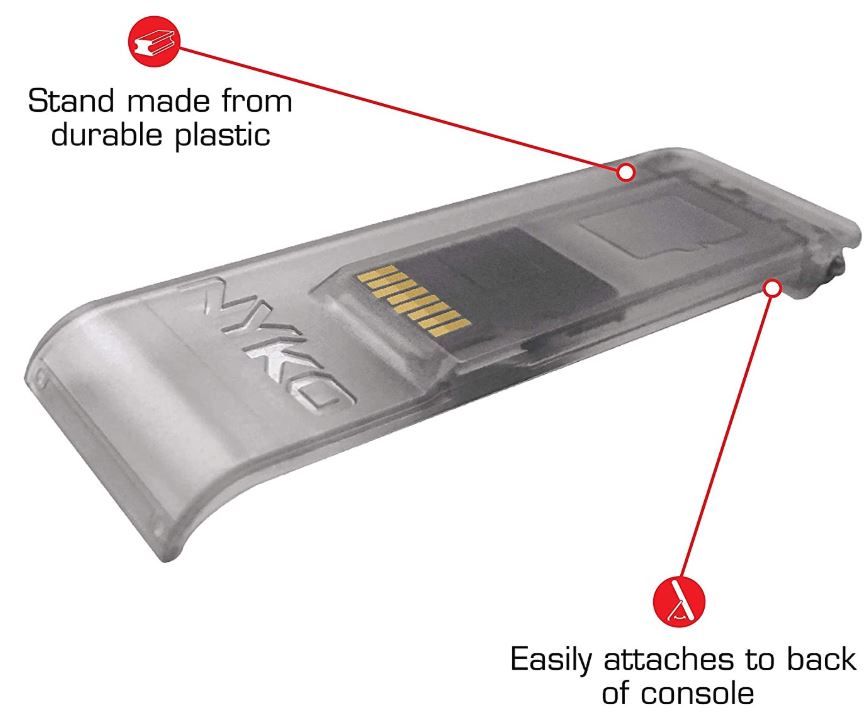 One nice thing about the Nyko Kick Stand is that it's easy to install. It's designed to snap into the existing slot in your Nintendo Switch, just like an OEM replacement. Just remove the original kickstand – or what's left of it – and snap the Nyko Kick Stand into place. Once it's installed, it's very easy to open. The spring action is very light, so you can easily pop it open with a single finger. Another nice feature is that it won't block your Switch from docking. Some replacement kickstands cause problems with docking, which somewhat defeats the purpose. The Nyko Kick Stand neatly avoids this issue, while still adding an attractive splash of color.
Once you've replaced your existing kickstand, perhaps you'll want to think about protecting your Switch better than before. One way to do that is to use a well-designed travel case. If you've got a few dollars left over, check out our review of the best padded Nintendo Switch Lite travel cases. Any of those options will do an excellent job of keeping your console safe.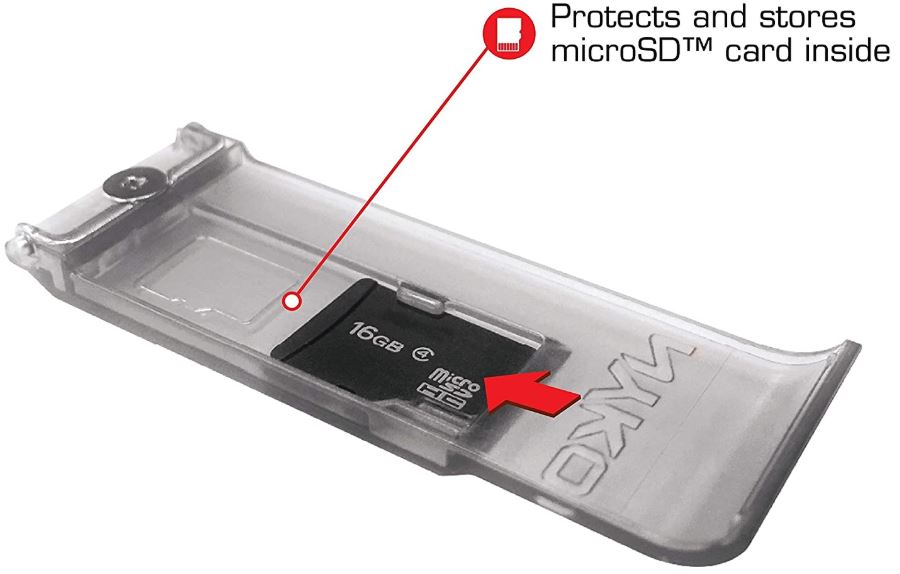 Extra Features
The Nyko Kick Stand is a relatively minimalist stand, without a ton of extra features to speak of. That said, it's still an improvement over the stock Nintendo Switch kickstand. Not only is it more durable, it also has a small slot for carrying an additional Micro SD card. This is a great option if you have a lot of saved games. It also means you can keep your Micro SD card safe during travel or transport. Bring your games to your friend's house, and your saved games will be ready and waiting for you.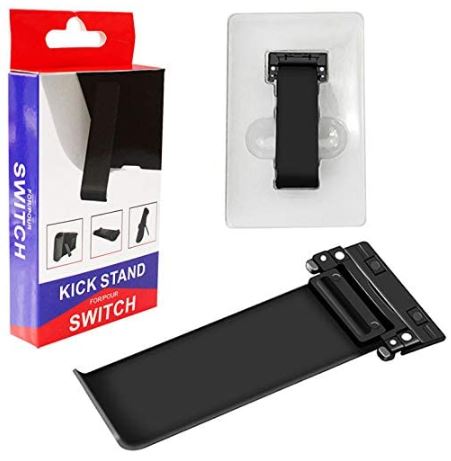 AOJAKI Kickstand Replacement
The AOJAKI Kickstand Replacement is designed with durability first and foremost in mind. Instead of a plastic hinge, it's constructed from black anodized aluminum, which makes it much tougher than the original. You'll probably break the Switch itself before you manage to break this stand. And you don't have to worry about it scratching your nice wood or glass table. There's a small rubber lip on the end, which prevents scratching. As a side effect, the rubber prevents the kickstand from sliding around. This means your Nintendo Switch will stay securely in place, even during an intense gaming session. Like the Nyko Kick Stand, it also won't prevent your Switch from docking properly.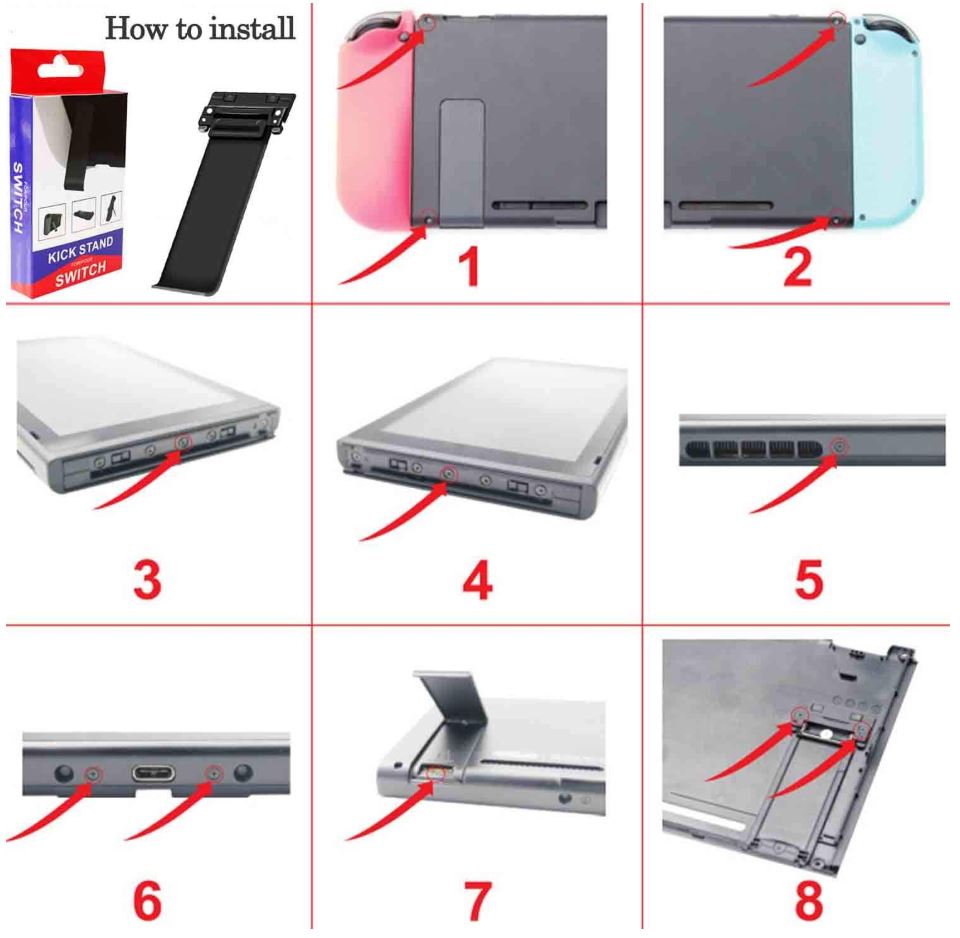 The downside of the AOJAKI Kickstand Replacement is that it doesn't snap into place like most others. Instead, you have to remove the screws in the kickstand groove. Unfortunately, in order to remove those two screws, you have to take the entire case apart. So far, so good. Not too complicated, right? But as the late Billy Mays would say, "Wait, there's more!". All of the screws are locked into place with blue thread lock, which makes them a pain to extract. Not only that, but they use a proprietary screw style that was designed by Nintendo to prevent people from self-repairing. To attempt this operation, you'll need to buy a Triwing screwdriver along with the AOJAKI Kickstand Replacement.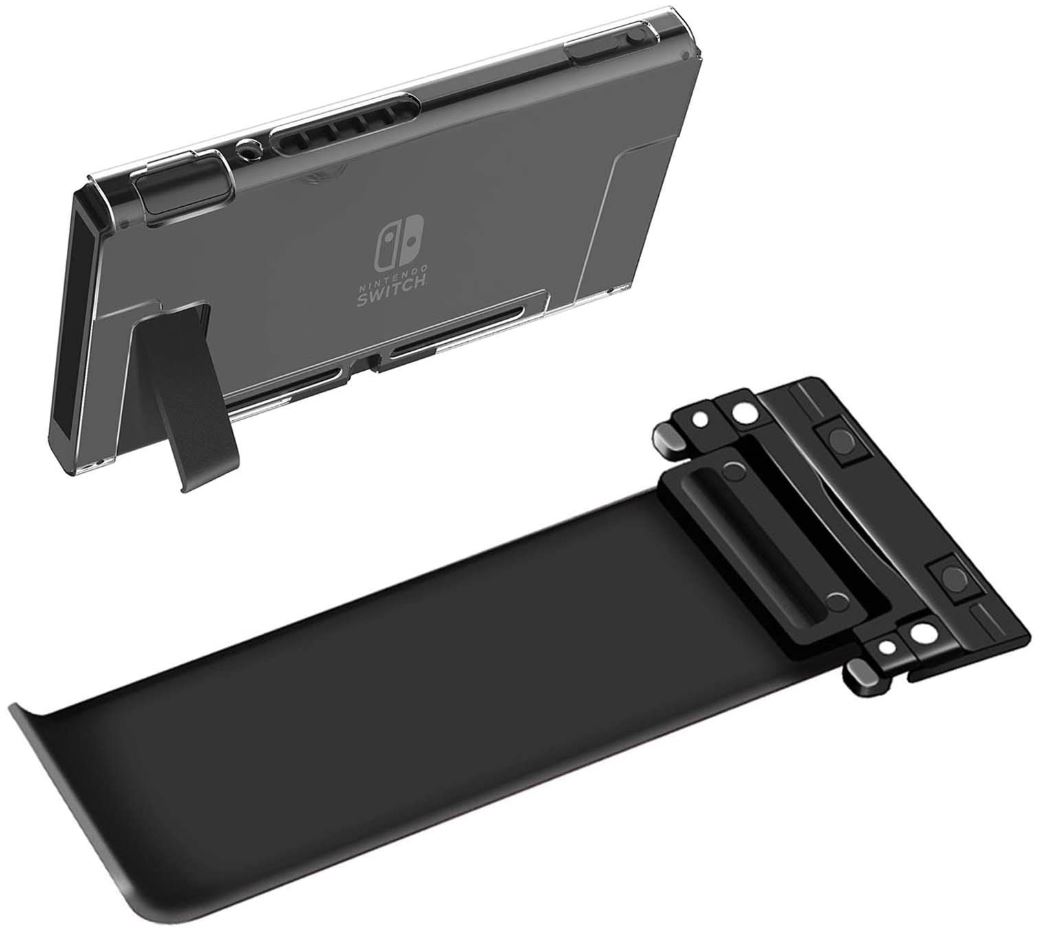 Extra Features
The AOJAKI Kickstand Replacement does include some extras that make it worth your consideration. In addition to the kickstand itself, you get a set of Nintendo Switch thumb caps. Admittedly, this is an odd choice to include with a kickstand replacement. That said, they're a nice added touch, particularly if you're not a fan of the existing thumb caps. They give you a little bit more grip, which can be helpful when your thumbs are sweaty from intense gaming. The AOJAKI Kickstand Replacement also comes with a 1-year manufacturer's warranty. Any damage during that first year will be completely covered. There's even a 45-day money back guarantee. If you don't like the kickstand for any reason, just send it back and get a full refund.
Even with a good kickstand, you've got to be concerned about the integrity of your Switch screen. Scratches can greatly diminish your console's lifespan, and cause problems during gaming. In that case, take a look at the best Nintendo Switch tempered glass screen protectors. They'll keep your screen safe even if you tend to be rough on your system.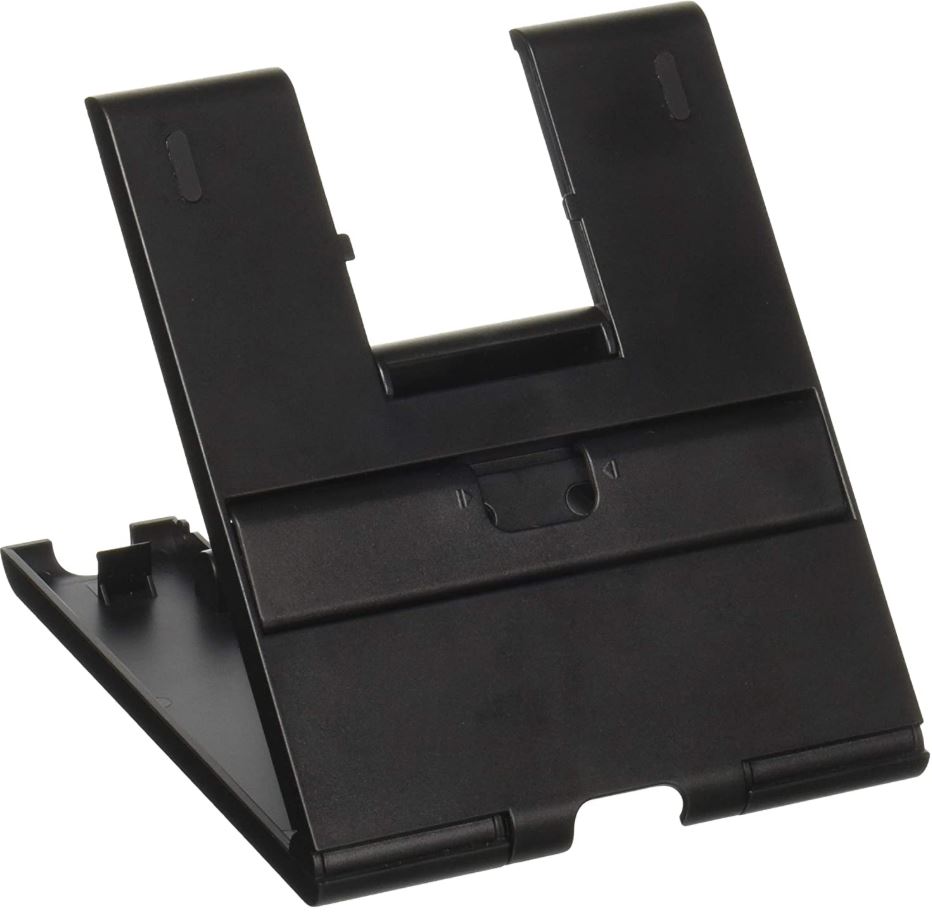 AmazonBasics Playstand
As we mentioned from the outset, the AmazonBasics Playstand is anything but basic. Indeed, it's one of the most innovative Nintendo Switch stands on the market. Technically, it's not even a replacement kickstand. It doesn't install directly on the back of the Switch. Instead, it's a standalone unit that can be stored separately. Not only does this avoid the whole docking issue, it also means you don't have to worry about installation. Just set it on your table, and you're ready to go. It's also lightweight, tipping the scales at just 3.04 ounces, and it's totally collapsible. This makes it compact as well as lightweight. Throw it in a backpack along with your Switch, and you won't even notice you're carrying it.

The stand itself is constructed from black ABS plastic. It's narrower than the actual Switch unit, but more than wide enough to provide sufficient support. It unfolds like a book, with one side on the bottom and the other side supporting your Switch. There's also a small bracket in the top half, which folds down to rest directly under your Switch. The design is relatively open, with a large opening in the back. This provides plenty of airflow, which ensures that your Switch won't overheat while it's docked. This is a significant improvement over some other, similar stands, which can cause significant overheating.
The back of the frame is supported by a pair of adjustable arms. The arms fit into small grooves in the base, and can be adjusted through three different positions. As a result, you'll get the perfect viewing angle, regardless of how you're sitting. Keep your Switch upright if you're playing on a desk, or lay it back if you're playing on a coffee table. This is also a great feature for watching movies. You can get the best viewing angle on the screen, which means colors come through clearly. On the bottom of the base, there are a pair of non-skid rubber feet. These feet don't just keep the stand from sliding around. They also keep it from scratching your table. Your wood and glass will be perfectly safe.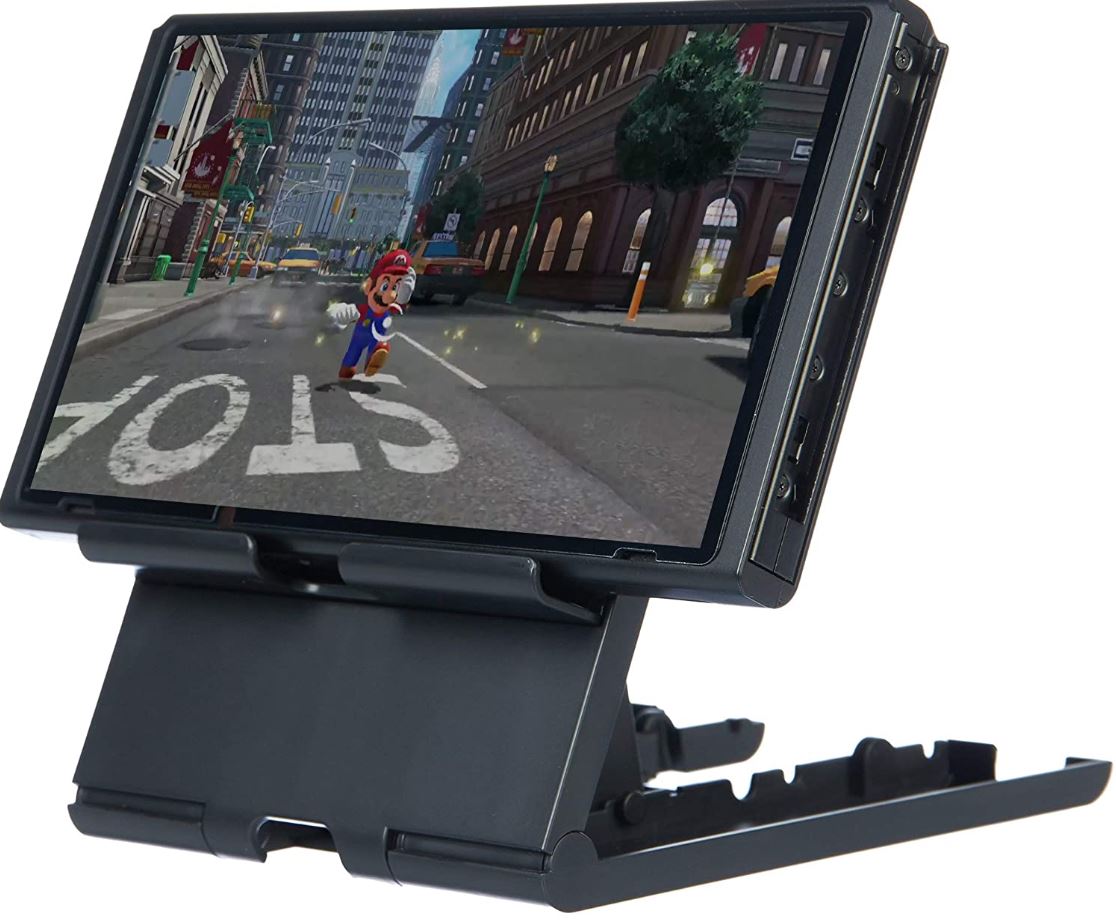 Extra Features
The best feature about the AmazonBasics Playstand is that it allows you to play your Switch while you're charging it. This is a significant upgrade over a standard kickstand, which doesn't give you room to plug in. It does this in a clever, creative way. There's a small opening in the support bracket, which sits directly beneath the charging port. Not only does this allow you to play and charge, it also protects your plug from easy damage. In addition, you also get the standard AmazonBasics one-year warranty. If anything should happen to go wrong, you're protected.
Another benefit of the AmazonBasics Playstand is that it can also double as a stand for your smartphone or tablet. This means you can use a single stand for all your devices. If you're going on the road, for example, you can travel much lighter with this stand.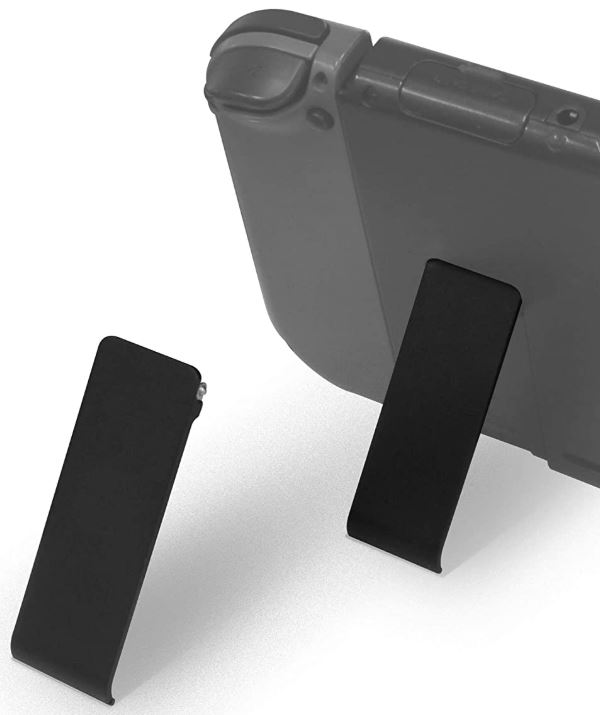 RepairBox Kickstand
The RepairBox Kickstand is the most basic option on our list. It comes in a single color: black, so it matches the back of the console just fine. As a matter of fact, it's just about identical to the original Nintendo Switch kickstand. This makes it easy to install. All you have to do is remove the remnants of your broken stand and snap it into place. Because it's essentially an identical replacement, the RepairBox Kickstand fits in your dock. You won't have any issues with using the Switch in console mode. Then, when you want to use it as a portable unit, your kickstand will be ready and waiting for you.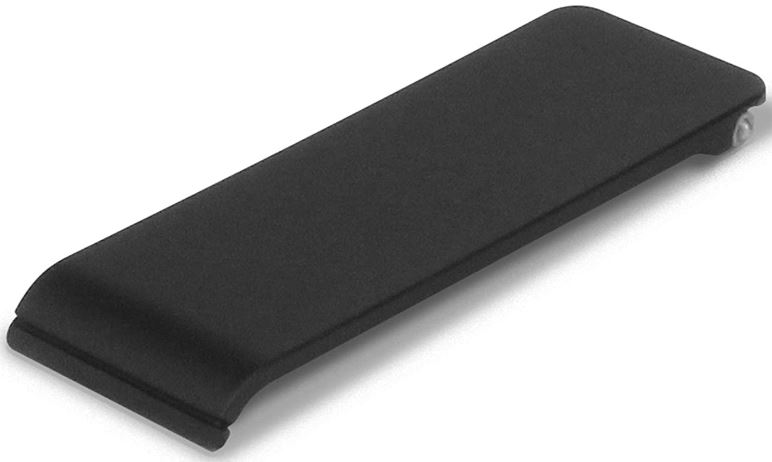 Extra Features
The RepairBox Kickstand has no extra features whatsoever. As we said, it's more or less identical to the original kickstand. So why would you buy it? Simply put, it's cheap, and it's easy to use. Considering the fact that Nintendo charges a small fortune for a dinky piece of plastic, this is a good thing. Even if you're on a slim budget, you don't have to get soaked by the manufacturer. The RepairBox Kickstand has got you covered.
Final Verdict
At the end of the day, each of these Nintendo Switch kickstand replacements has its own benefits and drawbacks. Depending on what you need, any one of them can be the best choice. The Nyko Kick Stand is a great choice if you want a colorful look. This is especially true if you want one that matches your Switch's color scheme. It's not the toughest choice, but it's easy to install. And the SD card storage is a nice extra touch. The AOJAKI Kickstand Replacement, by contrast, is a bit more substantial. It has a tougher design that's built to last. That said, installation can be a bit of a headache. If you go this route, be prepared to spend some time getting your new kickstand installed.
The AmazonBasics Playstand is a truly unique option. It's not technically a replacement for your kickstand; it's an alternative. The adjustable frame is a great feature, since it allows for multiple viewing angles. And the play and charge compatibility means you can use it for extended periods without any issues. Finally, the RepairBox Kickstand is the most basic option. It's more or less equivalent to the original Nintendo Switch kickstand. This means it's easy to install, but it also means there are some durability issues. That said, it's very affordable, much less than you'd spend on a manufacturer replacement. If you're looking to spend as little as possible on your replacement, it's your best choice.