If you own the new Steam Deck, you may be searching around for the best wireless earbuds to use. Whether you're an avid or occasional gamer, you probably already know the importance of good audio quality.
Rather than relying on the built-in speakers, pairing a set of Bluetooth earbuds to your Steam Deck can make a huge difference. However, not all earbuds are the same. Some provide gaming-specific features while others simply miss the mark. Ultimately, it's quite difficult to determine which set will work best for gaming on the Steam Deck.
Needless to say, a top-rated pair of gaming earbuds for your Steam Deck is a major upgrade. By providing lasting comfort, a built-in mic, good audio quality and a low-latency connection, you'll stay immersed deep within the game and experience better focus and concentration. In the end, wireless earbuds are the perfect companion to anyone looking to improve their Steam Deck gaming experience.
Choosing the Best Wireless Earbuds for Steam Deck
Which wireless earbuds are best for your Steam Deck? We take connection, comfort and overall sound quality into consideration. Let's quickly discuss what to look out for, then let's get right into it with our top-picks.
Connection
Wireless earbuds use Bluetooth to pair to your Steam Deck. You'll want to look for the latest version 5 for the most stable and reliable connection. Anything using version 4 or lower, you'll want to avoid using. Bluetooth 5 provides the best transmission for wireless range and lag-free communication.
Low Latency
Certain wireless protocols like aptX low latency is an ideal feature that's specifically designed for gaming. By providing the lowest possible latency, you won't experience any delay or lag in what's happening visually to what you're hearing through the earbuds. Simply put, low latency keeps up with fast paced gaming where milliseconds can be a huge difference.
Comfort & Fit
It goes without saying, whichever wireless earbuds for Steam Deck should be comfortable. The fit they provide should be snug, wiggle-free and without any pressure points. Most earbuds come with interchangeable tips, so you're usually able to achieve a decent fit, regardless. But even with the right tips, you'll want them to stay snug in your ears without the need to constantly remove them if they're not even cozy to begin with.
Sound Quality
The overall sound quality is crucial. Regardless of the game you're playing, deep bass, accurate highs and mids are all things we look for. If they don't provide an exceptional soundstage, there's not point in using them for gaming.
Microphone Quality
The earbuds you choose to use with Steam Deck must have a built-in microphone. And even if it does, you'll need to make sure it provides clear transmission so your team-members or allies can hear you communicate with them. We stray away from earbuds that sound muffled or distorted when using them for phone calls or voice chat.
Battery Life & Charging
Since wireless earbuds rely on internally charged batteries, you'll need to pick a pair that's able to provide several hours of continuous use without the need to recharge. Most gaming-specific earbuds come included with a charging case that makes this easy. However, every earbud has their own requirements. That said, battery life varies from brand to brand. Regardless, we recommend a pair that charges via USB-C rather than micro USB or a different outdated protocol.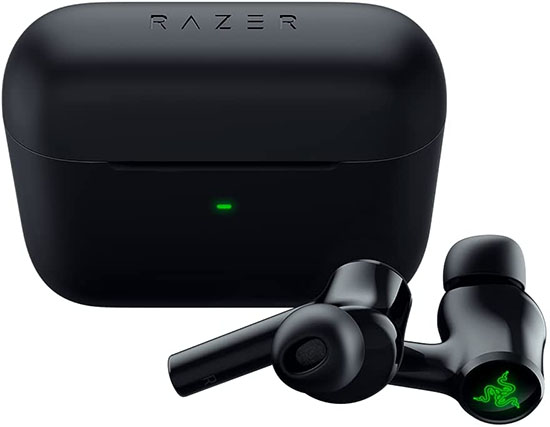 Best Overall: Razer Hammerhead True Wireless (2nd Gen)
Recently fully-redesigned, the 2nd Gen Razer Hammerhead get our pick for the best overall. Although they're a bit expensive, they're also the best performing when it comes to gaming. These are a set of true wireless earbuds that come included with a charging case.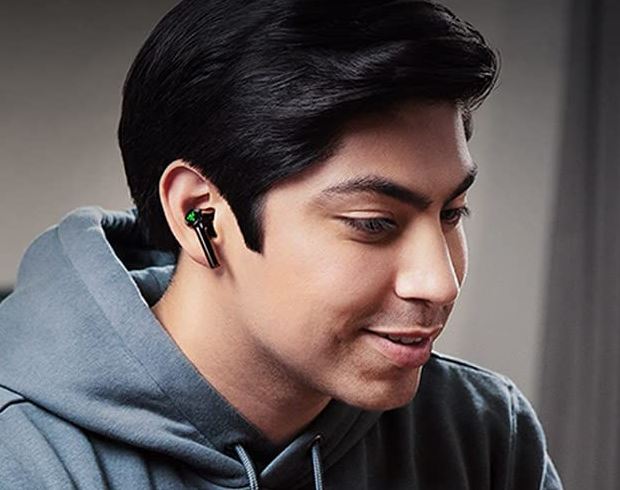 These are small, well-fitting earbuds that are equipped with some pretty special features. For starters, ANC or active noise cancellation intelligentially listens to your surroundings and effectively cancels-out any background noise. It works quite similarly to the ENC (environmental noise cancelling) equipped microphones that do the same thing, only for voice transmission. This way, whoever you're communicating with will only hear you, and nothing in the background. Ultimately, it keeps your gaming experience solely between you and your screen. Outside distractions are drowned out.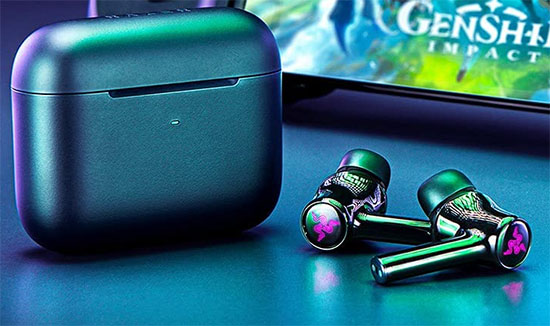 Our favorite feature that we view as essential is the 60ms low latency gaming mode. This is a dedicate game mode that's ideal for Steam Deck users. It works great to assure the most stable connection without any delay between what you're doing in the game and what you're hearing through your earbuds.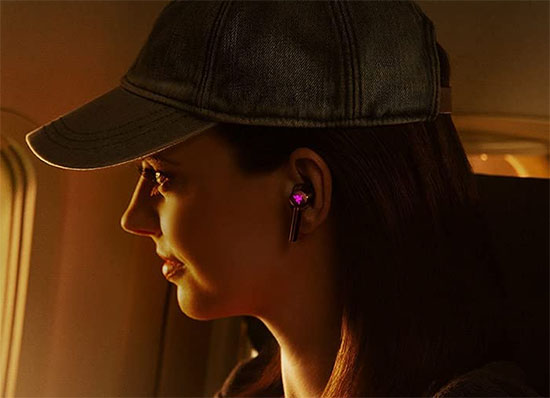 The Razer Hammerhead 2nd Gen are visually stunning and look great. Look close and you'll notice that each Razer logo on the outside of each earbud illuminates in a vast array of colors. Over 16.8 million different colors, to be exact. While this gives a nice effect, it doesn't seem to really affect the battery life. Speaking of, you can usually get around 4-5 hours per session before you need to place them in the charging case to be topped-off. Additionally, the case provides around 30 hours of total playtime, or about 6 full recharges for the actual earbuds.
What We Liked
60ms low latency.
4-5 hour battery life between charges.
Case provides up to 6 full recharges.
App controls for added customization.
Excellent sound and voice quality.
What We Didn't Like
Quite expensive.
Touch controls can be finnicky.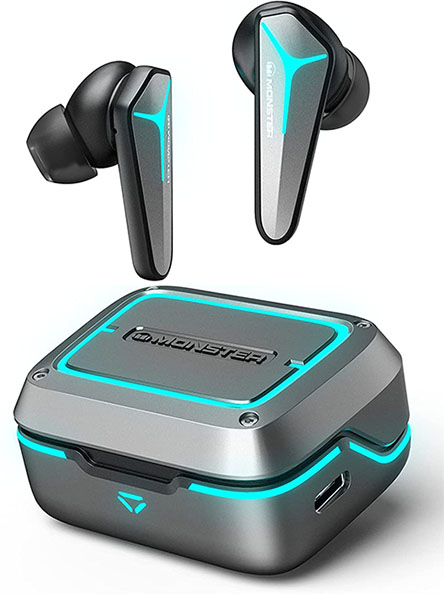 Best Runner-Up: Monster Mission V1 Wireless Earbuds
As another top-rated pick, the Monster Mission V1 are a highly capable set of true wireless earbuds that have a lot of great features. With a sleek, modernized appearance, the V1 earbuds are both equipped with and external LEDs. They're small, well-made and provide a nice amount of comfort for even the longest gaming sessions. Equipped with the same ENC feature as the Razers, voice clarity and transmission is on-point.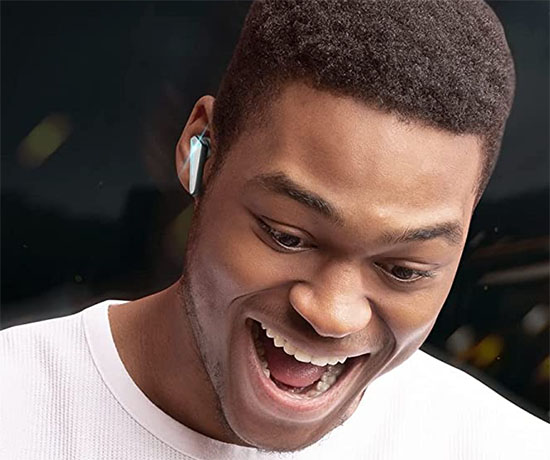 The Monster Mission V1 are equipped with the latest Bluetooth version 5.0 and a specific game mode. In game mode, the earbuds have a 48ms response time for ultra low-latency in order to provide exceptionally accurate gameplay. When activated, game mode also illuminates the built-in external LEDs, giving them a colorful effect. Unfortunately, you're unable to turn them off while in game mode. In addition, the LEDs don't light-up in music-mode, only while in game-mode.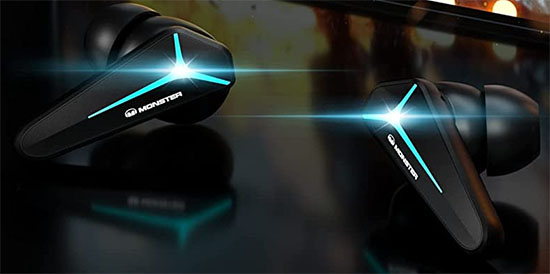 The charging case has a matching set of LEDs that also only illuminate while charging or once you open-up the lid. This is a nice feature for using them in a dark or dimly lit environment. However, the case is incredibly compact and supports both USB-C and wireless charging. That's right, you can simply place the charging case on a wireless charging pad and it'll top-up the internal battery without the need to plug in a USB cable. While this may not be useful for everyone, it's a nice bonus feature to have.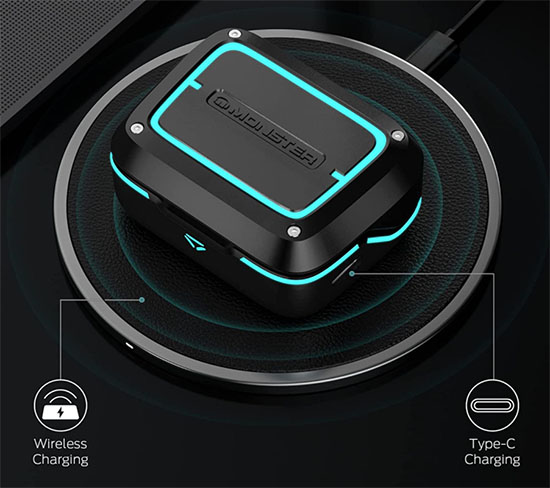 With the Monster Mission V1, the battery life is decent, overall. The earbuds provide around 4-5 hours of use before needing to be recharged within the case. The case, therefore, provides nearly 5 full recharges or 25 hours of total battery life. Lastly, it's worth mentioning that the V1's are available in both gray or black color schemes.
What We Liked
48ms low latency.
4-5 hour battery life between charges.
Case provides up to 5 full recharges.
Moderately affordable.
LEDs built into the case and each earbud.
Supports both wireless and USB-C charging.
What We Didn't Like
A bit flashy for some tastes.
LEDs only active in game mode.
LEDs cannot be turned off.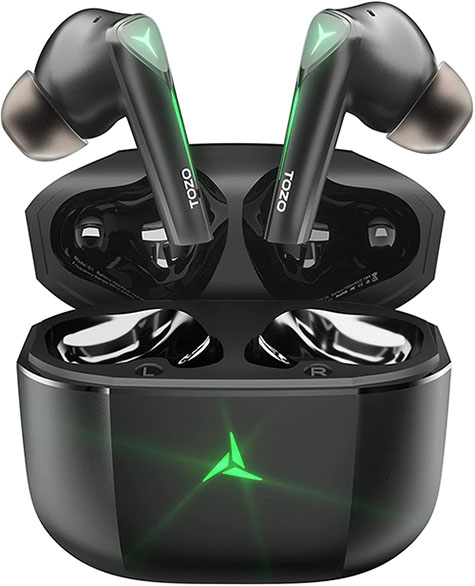 Best Affordable: TOZO G1 Wireless Earbuds
If you want a pair of wireless earbuds for Steam Deck that doesn't break the bank, look no further than the TOZO G1 Wireless Earbuds. They're surprisingly well-featured, especially considering their low price-tag. Boasting a 45ms low latency game mode and built-in LEDs, they're visually similar to the last two options, but considerably less expensive.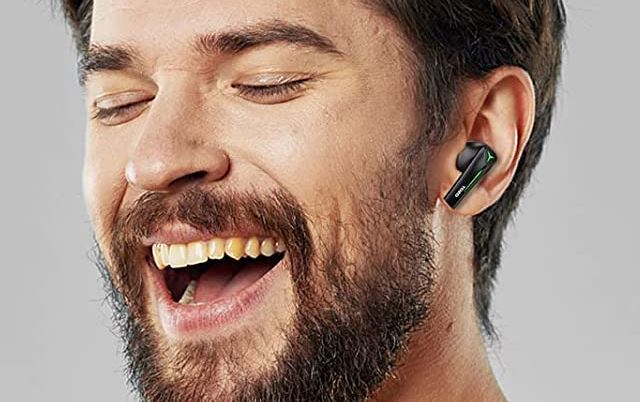 Similar to the Monster Mission V1, the LEDs only illuminate while pairing or when game mode is activated. When listening in music-mode the LEDs automatically turn-off. Luckily, they don't seem to have a drastic effect on the battery life. Speaking of, the TOZO G1 provides up to 6 hours of battery life between charges. Using the charging case, you can recharge the buds up to 6 times before you need to plug-in the USB-C cable. Best of all, the USB-C recharging for the case is exceptionally fast. Within 2 hours, the charge case will be topped off and ready to go.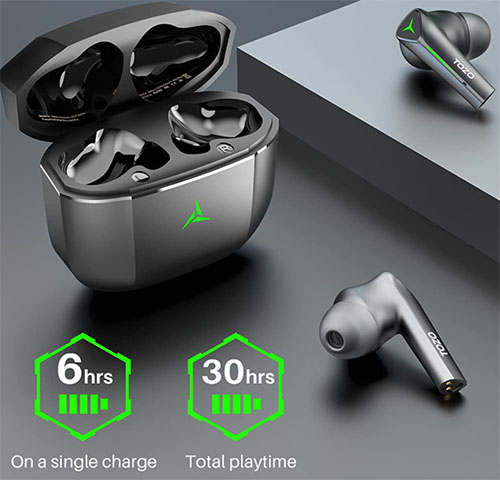 The G1 earbuds are incredibly compact, well-fitting and comfortable. Each bud is lightweight and perfectly sculpted for stability while you're wearing them. Although the audio quality is decent with a nice amount of bass and accuracy, there's no ANC or special features that make them sound better than more expensive options. Simply put, they sound good, but not as vibrant as either the 2nd Gen Razer Hammerhead or Monster Mission V1.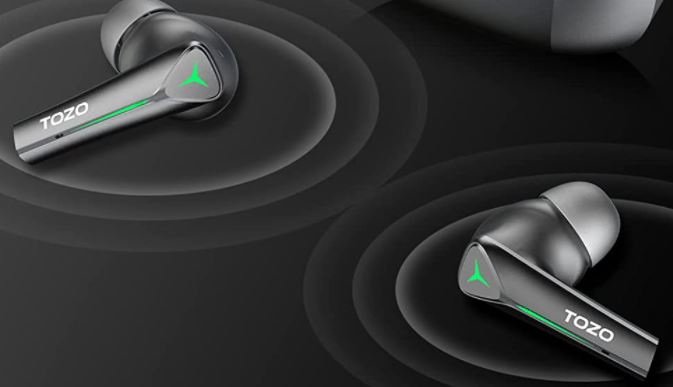 Although there aren't any special codecs or features in regards to the built-in microphones, voice quality is acceptable. Whether you're communicating with teammates or taking a phone call, voice transmission seemed accurate and true. All in all, the TOZO G1 provide an excellent gaming experience, even while being a low-budget option.
What We Liked
45ms low latency.
Very inexpensive.
6 hour battery life between charges.
Case provides up to 6 full recharges.
Built-in LEDs are more-subtle than other options.
Sound quality is decent.
What We Didn't Like
Bass can be a bit weak.
LEDs only active in game mode.
LEDs cannot be turned off.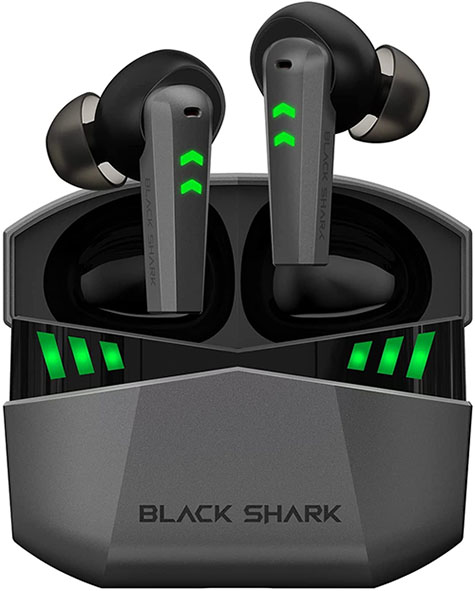 Best Alternative: Black Shark Lucifer T2 Wireless Earbuds
As another affordable option, the Black Shark Lucifer T2 are a great pick. Using the latest Bluetooth 5.2 protocol, they're specifically designed with gaming in mind. The dedicate game mode provides a 35ms connection, which is the fastest transmission of today's offerings. They're well-design, comfortable and seem to provide a nice fit, overall. In fact, they're even IPX5 water resistant to protect from moisture or any splashing water.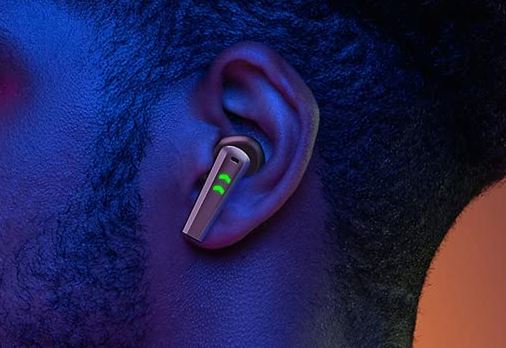 Look closely and you'll notice a matte black appearance with the inclusion of several LEDs; two on each earbud and a total of six on the case that indicate remaining battery life. Unlike the other options we've discussed, the LEDs on the Lucifer T2's are only illuminated while charging and pairing. Regardless of the mode, the LEDs are not activated. This is a bummer for those who love the flashy appearance, but a bonus for achieving the best possible battery life or a less-flashy design.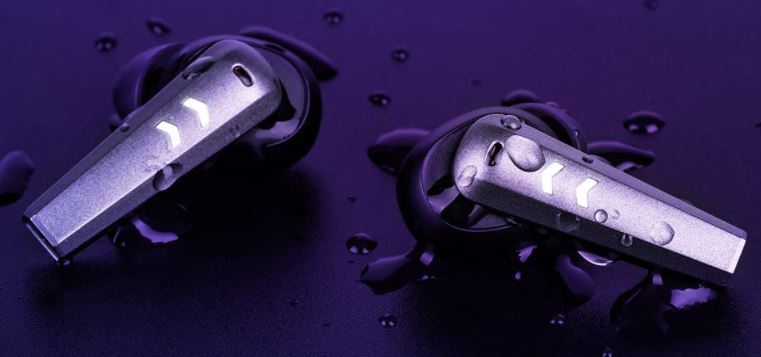 As far as sound quality goes, they provide a similar audio experience as the TOZO G1's but not quite as amazing as either the Razer or Monster options. Internally, the drivers provide a nice amount of bass and clarity while remaining as realistic as possible. In addition, each earbud is equipped with dual microphones that are considered "hyperclear mics". To be perfectly honest, the microphones don't seem to work any better than the other options, but it's nice to know that Black Shark put a bit of thought into making the voice clarity perfectly acceptable.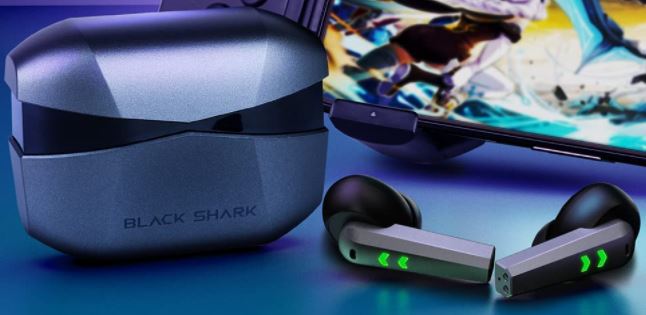 In regards to battery life, the Lucifer T2 earbuds boast around 5 hours per charge. Using the case, you can achieve around 4 full recharges. While this is the least amount of recharges, these are also one of the most affordable. That said, you're not going to get everything you want for a budget-price. Regardless, the Black Shark earbuds are a great all-around pick. Especially for those who want high-end features without the enormous price-tag.
What We Liked
35ms low latency.
Affordable price-tag.
LEDs are not activated while in use; conserves battery life.
5 hour battery life between charges.
Case provides up to 4 full recharges.
IPX5 water resistant.
Sound quality is decent.
What We Didn't Like
LEDs are not adjustable.
Case battery capacity is lower than average.
Which Wireless Earbuds for Steam Deck are Best?
As you can see, there are several great options to choose from. But which wireless earbuds are best for your Steam Deck? Let's re-cap to go over what we learned.
The 2nd Gen Razer Hammerhead our our favorite pick. As the best all-around option, they're also quite expensive. However, there's good reason for this. Razer is a popular brand name, so you're paying for a premium. But what you get is fantastic. Active noise cancellation (ANC), environmental noise cancellation (ENC), app-controller customization, an excellent fit and superb audio quality are to be expected. They're a great performer for gamers looking for the top rated option. While the 60ms response time isn't quite as fast as even the cheaper options, the wireless transmission speeds are totally sufficient for Steam Deck gaming.
The Monster Mission V1 are another excellent alternative. Priced about half as much as the 2nd Gen Razer Hammerhead, they offer a lot to love. Both the voice and audio quality is superb with a few extra bells and whistles. Notably, the charging case supports wireless charging as an effective alternative to standard USB-C charging. In addition, they utilize the same ENC feature as the Razers, but don't have ANC. Regardless, they sound great and provide a wonderful experience for all Steam Deck gamers.
Next, we closely examined the TOZO G1. These are priced considerably lower than anything else and have quite a bit going for them. The sound quality is decent, although not quite as good as the Razer or Monster options. Regardless, the 45ms low latency within game mode assures that they can easily keep up with fast-paced gaming. The LEDs are not quite as vibrant, but that's OK. Best of all, the 6 hour battery life between charges is well-loved. All in all, they're hard to pass up for those not looking to break the bank.
Last but not least, we took a closer look at the Black Shark Lucifer T2. These are priced slightly higher than the TOZO earbuds, but not by much. In fact, they're very affordable and boast the lowest latency of all the options we've outlined. The 35ms low latency game mode is an excellent feature. Providing decent audio, you're not getting the same soundstage as the Razer's but it's still decent. Although the LEDs only illuminate while charging, this is actually a good thing. The Lucifer T2's don't have the highest battery capacity charging case, but they're sleek, well-designed and overall a very attractive pick.