Stellar Repair for Video
Pros
Repairs +17 popular video formats.
Very easy to use.
Works with any storage media..
Free trial version only lets you see a 20% preview.
Cons
Interface is fairly basic.
Paid version is a bit pricey, but serves its purpose.
Whether you're a videographer, a YouTuber, or simply a hobbyist, video recording is a real talent. You need to know what you're doing, and you've got to use the right equipment. A good quality camera, mount, and gimbal all go a long way towards getting the best shots. Good lighting is important, and if you're a streamer, you probably also use a green screen. And that's just to mention the equipment and financial costs. You also put a lot of time and effort into producing the best possible videos. This makes it all the more frustrating when your video files become corrupted.
File corruption can happen for any number of reasons. Most commonly, there's some kind of issue with the storage medium. A flash drive may be starting to fail, or there could be physical damage to a Micro SD card. Sometimes, there's an issue with the encoding, and the video comes out choppy. The video may devolve into a bunch of random blocks or lines. No matter how it happens, this is bad news for your recording project. Unless you can fix your damaged video, you'll have to go back out and re-record everything. Thankfully, there's a powerful software solution that might just get you back in business.
We're about to review Stellar Video Repair. This is a free-to-try app that's designed to repair damaged or corrupt video files. It works with +17 different file formats, and it can work on any kind of storage medium.
But how well does it actually perform? To find out, we're going to need to take a much closer look at the software. We'll start out with the basics. How is it installed, and how do you start fixing files? Then, we'll move on to the specifics. What kinds of files can you fix, and how does the output process work? We'll also talk about the differences between the free and the paid versions of the software. Once we've gone over all these things, we'll be ready to deliver our verdict. Let's begin!
Stellar Repair for Video – Basics
Stellar Repair for Video is free to download and try. Just go to Stellar's website and choose the version that's right for your system. It works on both Windows and Mac, so just about everybody will be able to use it. The free version comes with most of the same features as the paid version. You can repair almost all types of video files, and play them. For now, we'll be discussing the free version. We'll talk about the paid features in the final section.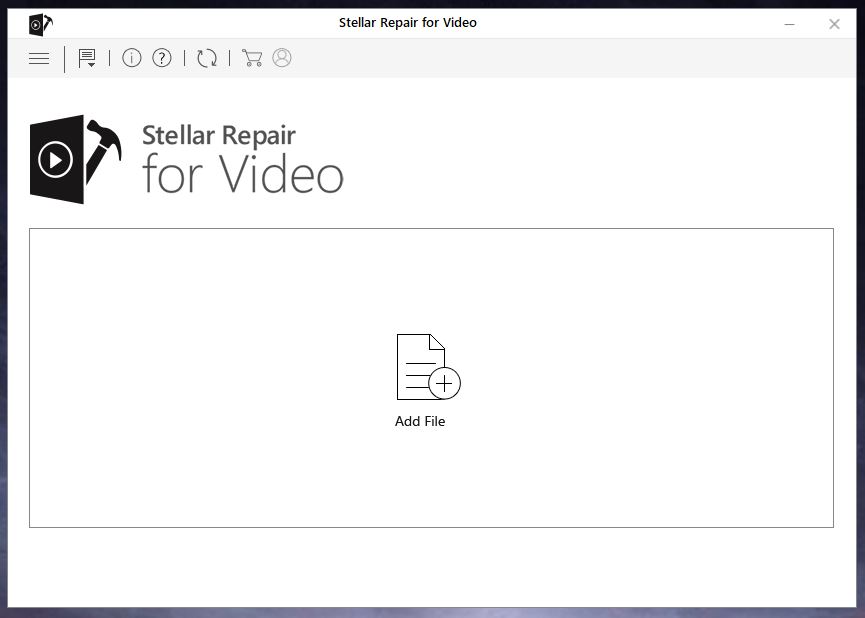 Once the software has been installed, you'll see a blank screen with the option to add a file. Click the screen, and you'll open an explorer window to locate and add your files. This is one thing that really could stand to be improved. Using the explorer window is fine for adding files. But if you're trying to add multiple files, we think it would be much easier to have a drag-and-drop interface. Unfortunately, no such interface exists, so it can sometimes take a few minutes to add multiple videos. Along the same lines, there's no way to remove a video from the list. If you add a bunch of videos and one of them got added by mistake, you can't actually delete to remove it. However, there is an option to deselect certain files you may have mistakenly added.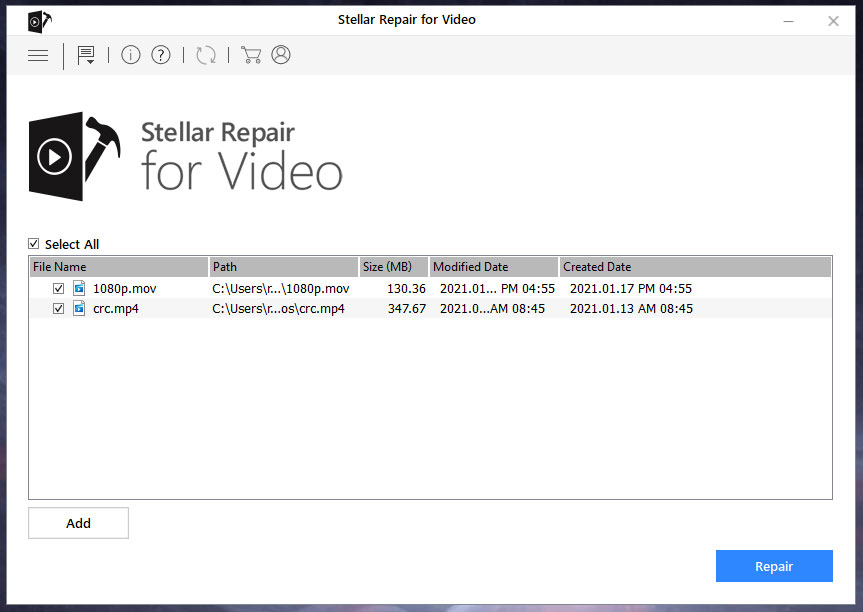 On the plus side, you don't have to go through a lot of hoops to actually find your videos. This software works with any type of storage medium. If your camera connects via USB and can be viewed as a drive, you can access your files directly from there. Alternatively, you can access videos on an SD card, on your computer's hard drive, or on a thumb drive or smartphone. Basically, if your computer can recognize the storage media, you'll be able to access it.
It's important to keep in mind that the Stellar Repair for Video will only repair videos that are on physical media. If you're trying to recover videos that you've uploaded to the internet, you're going to need a different tool. 4K Video Downloader is a good example. It won't fix damaged videos, but it can download videos from YouTube if you're locked out of your account.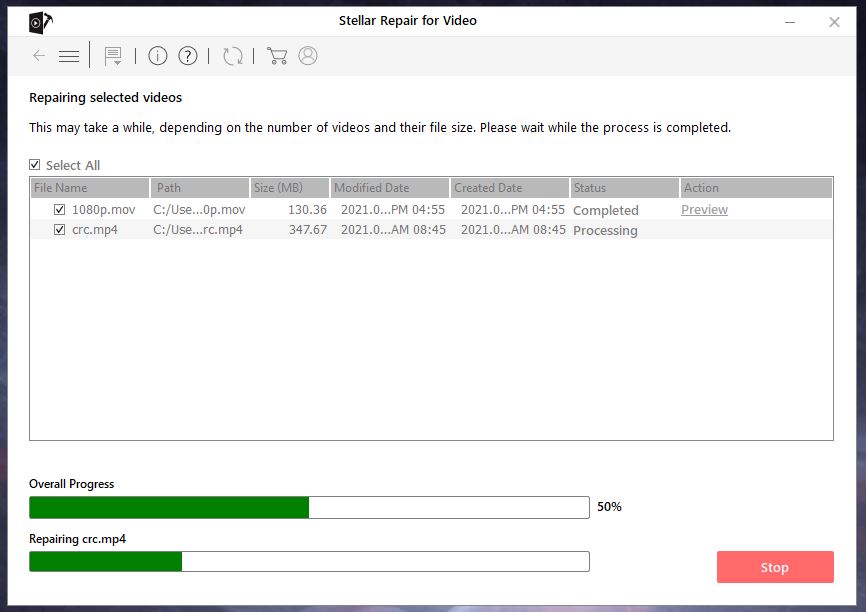 Once the repair is complete, you'll be presented with a preview screen. This works a little bit different depending on what operating system you're using. In Windows, you'll use an integrated viewer that's part of the Stellar Repair for Video. On Mac, you'll view your previews in Apple's Quick Look app.
Assuming you're satisfied, if you're using the full version, you'll be able to save the new, repaired file. One thing we appreciated is that you can save to any location. If you're dealing with a corrupted drive, you don't have to write your fixed file to that same drive. Save it to your hard drive, thumb drive, or any other storage medium you want.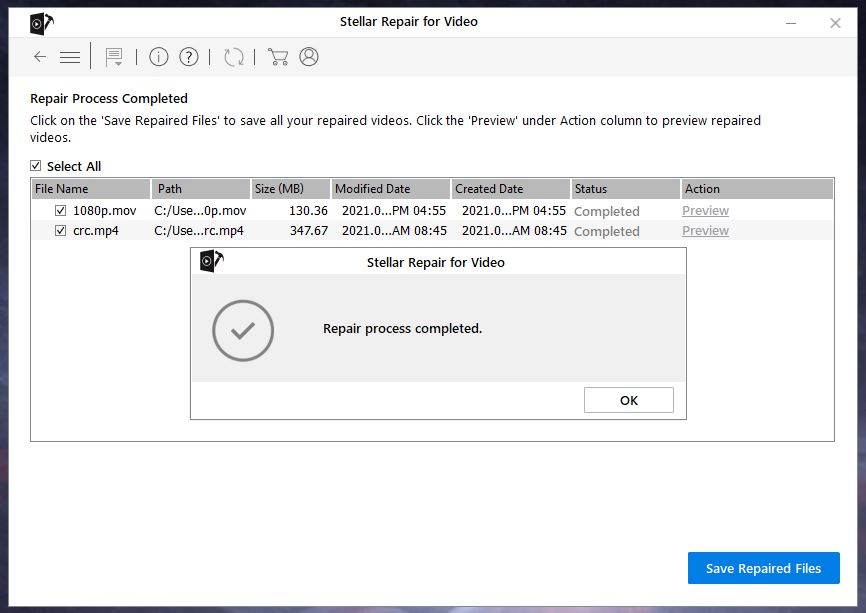 Supported Files and Formats
The Stellar Repair for Video software supports a wide variety of formats. In all, it can support +17 of the most common video formats for both Windows and Mac. It supports ASF, AVCHD, AVI, DIVX, FLV, F4V, MJPEG, MKV, MOV, MPEG, MP4, MTS, M4V, WEBM, WMV, 3GP, and 3G2. Yes, there are some obscure formats that it doesn't repair. But for the most part, it supports any type of video you might need.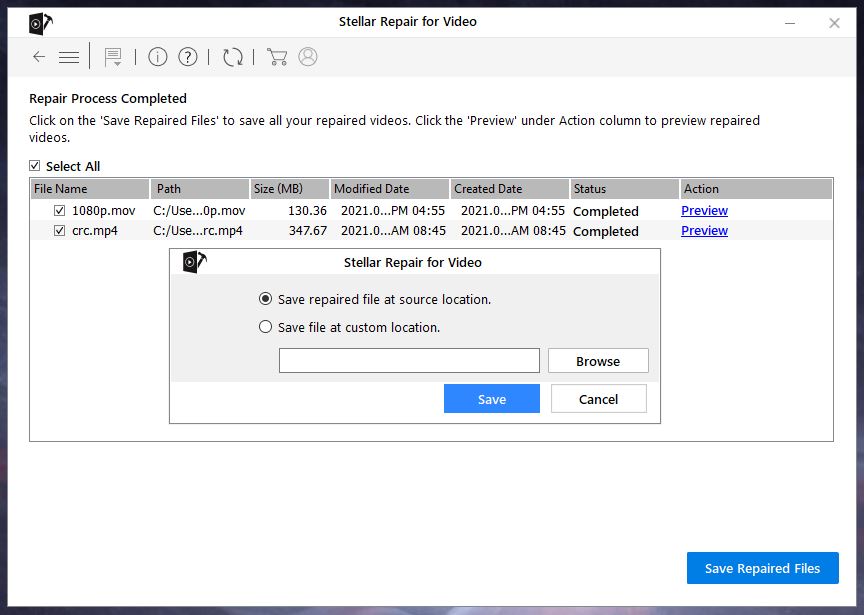 As for quality, the sky is the limit. You can get far better quality than even some of the highest-quality cameras. This goes beyond simple 1080p, H.264 conversion. Stellar Repair for Video supports the modern H.265 codec, along with HEVC and UHD. You can repair videos with a resolution of up to 12K, which is higher than most professional movie cameras. VR, 360-degree video, and other large-format features are also supported. If you're able to film the video, chances are good that this software can handle it.
Once your video has been repaired, it will output in the same format it was recorded in. It will also output in the same quality. So if your original video was in 4K, the repaired version will also be 4K. The goal is to recreate the original as faithfully as possible, without any modifications. If you need to change formats or resolutions, consider the VideoProc Converter Video Editing Software. It won't repair videos on its own, although it can be used to trim out bad segments. That said, you can use it to convert newly-repaired videos to your desired format.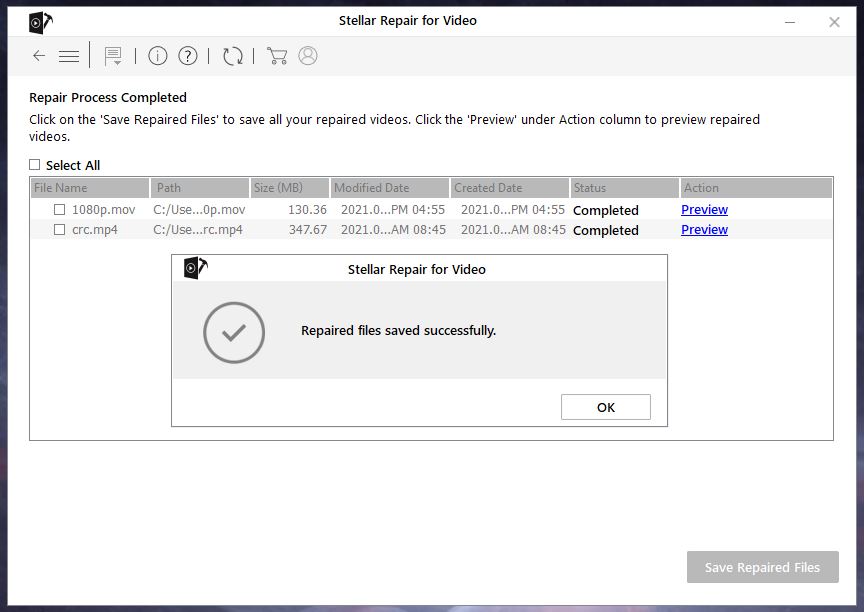 As we mentioned, you can add multiple videos to the Stellar Repair for Video simultaneously. This allows you to repair them all at once, instead of processing them individually. It's a nice feature to have if an entire drive or camera has become corrupted. Not only that, but you can mix and match file formats to your heart's content. If you've got a wide variety of files types, you can repair them all simultaneously without any issues. Keep in mind, though, that repairing many videos will be slower than just repairing one. Exactly how long will depend on your individual computer.
Optional Paid Features
As we mentioned, the paid version of Stellar Repair for Video comes with additional benefits. The most significant is that you can repair any size video. With the free version, your output is limited to 20% of the original video length. If you want to repair full-length videos, you'll have to sign up for the paid version of the software. It's available in three different tiers, depending on your needs.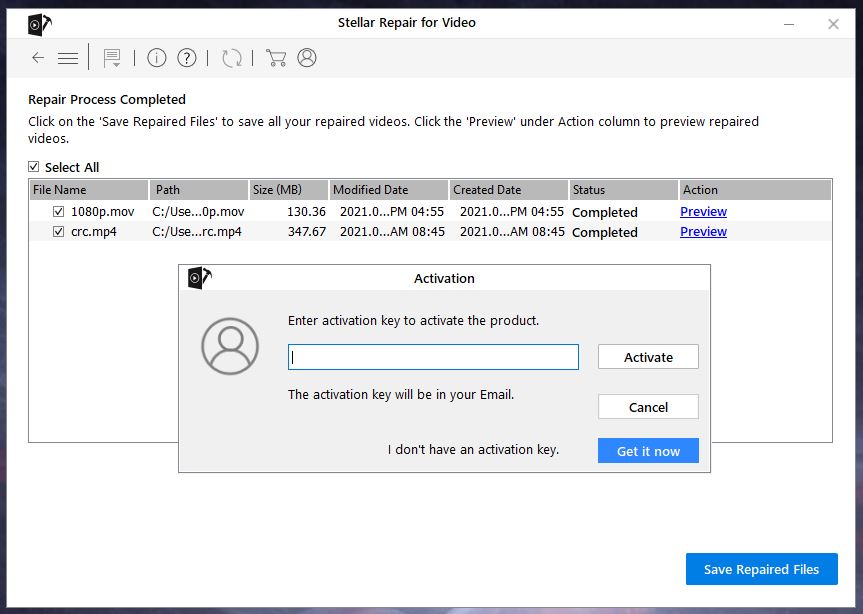 Standard: This is the basic plan that most people are going to want. It gives you a lifetime license to use the software on any single device. You can save videos of any size, and you can also edit the header information. If all you need to do is repair videos, this is the plan for you.
Professional: This plan is a bit more expensive, but it gives you a couple of added perks. To begin with, you'll get one year of technical support. This can be handy if you need help getting things set up, or getting it to work with your particular footage. In addition, you'll be able to repair most types of image file as well as videos. If you're trying to fix a variety of media, this can be a better plan.
Premium: The Premium plan gives you everything you get with the Professional plan, but with even more benefits. For one thing, you can restore deleted photos. This is handy if you tend to fat-finger your camera menu. For another thing, you can install the software on three different systems, a great feature for professionals.
Final Verdict
Stellar Repair for Video is a robust video repair software that can fix most types of damage, stuttering, distorted video, and other issues can all be fixed with just a few clicks. The user interface isn't perfect, but it's straightforward and easy to understand. You get support for many file formats, from the common to the more obscure. And with the paid versions of the software, you can repair any length video. All in all, we were very pleased.