Most of us use an automobile as our primary means of transportation. In many parts of the country, it's the only means of transportation. This makes it all the more frustrating when your car battery dies. You have to call your boss and tell them you'll be late for work. You end up late for social engagements, and you can even get stranded. Prepared drivers will know to keep a set of jumper cables in their trunk. But jumper cables alone aren't a foolproof solution. You still need somebody with a working battery to jump your car. Depending on where you are, it could take a while to find a friendly stranger.
This has been a problem for a long time, and there are many solutions. For example, there are services like AAA that will come and jump you for a small fee. But even in those cases, you still end up having to wait. If it's a busy day, it can take 90 minutes or more for a driver to show up and jump you. This can still make you late for your engagements. An even faster solution is a portable jump starter. These can be small, single-use devices, or big, commercial-grade units that can provide hundreds of jumps. Most drivers are going to want a smaller jump starter, because you don't want to take up your entire trunk.
Today, we're going to review the Imazing IM29 Portable Jump Starter. This is a compact, handheld jump starter that's good for up to 30 jumps per charge. It's designed to be easy to store and carry, and it also doubles as a portable power bank.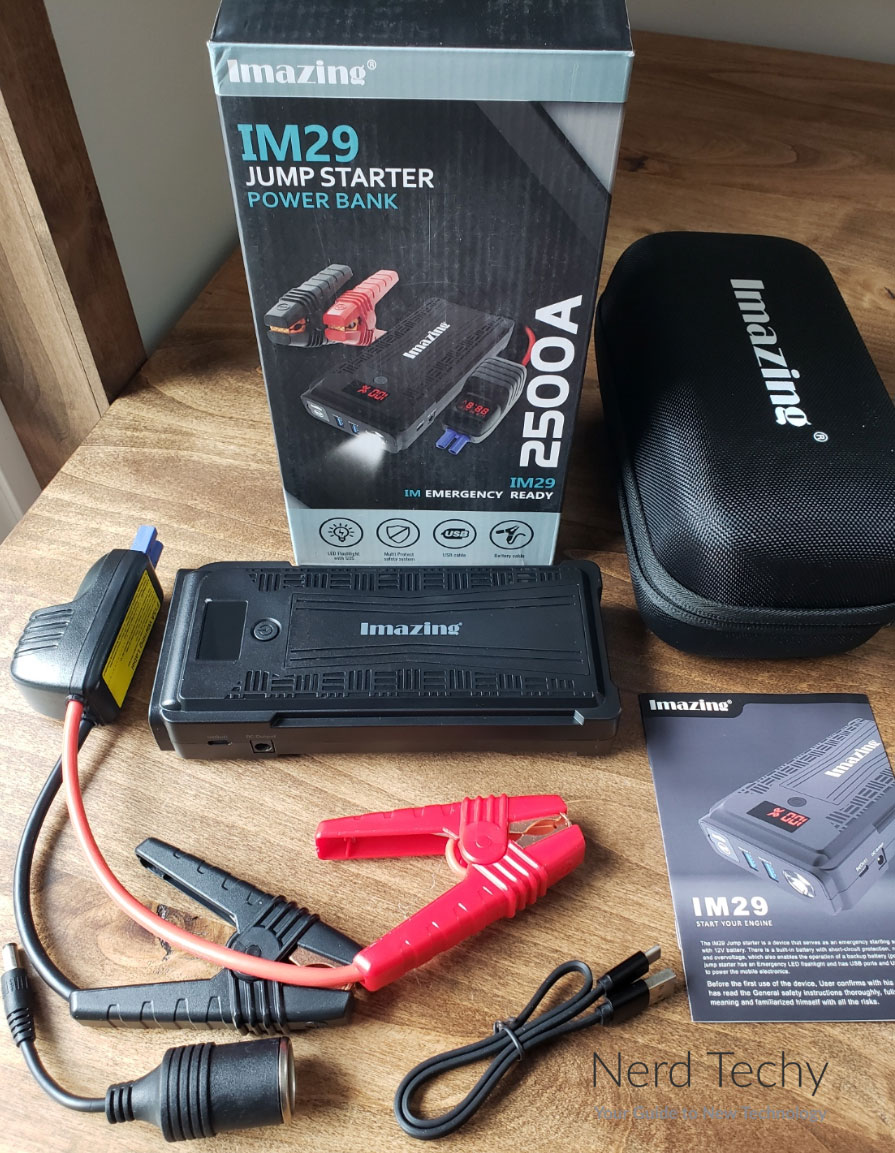 But before we render our verdict, there are a lot more things we'll need to consider. We'll have to talk about the physical design, and how you control the jump starter. Additionally, we'll need to look at the battery capacity, and what kinds of vehicles you can jump. We'll also have to go over the safety features, as well as any extras we come across. After we've evaluated all of those things, we'll have a clearer idea of what we're dealing with. Let's dig in, and see what we uncover!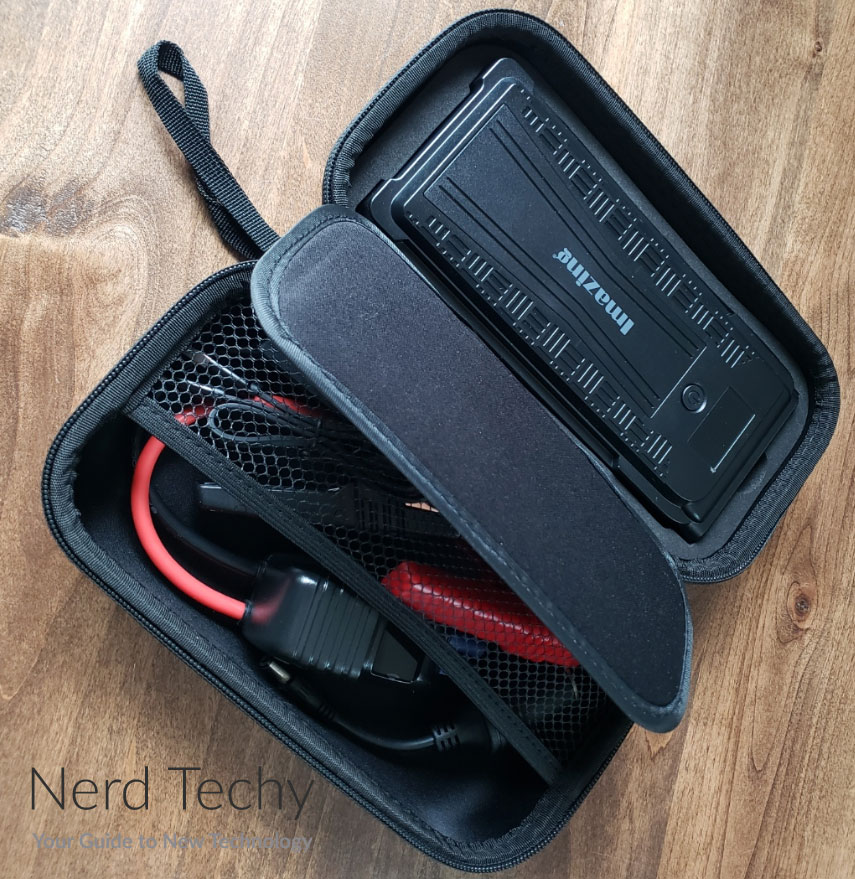 Design & Construction
The Imazing IM29 Portable Jump Starter is about the size of a large smartphone, only much fatter. It measures 7.83 inches long, 3.62 inches wide, and 1.61 inches thick. At 22.7 ounces, it's lightweight and easy to carry in one hand. Not only that, but the top and bottom are textured, so it's easy to grip, even under wet conditions. The housing is constructed from a durable black plastic, with a plain matte finish. This keeps it from collecting dust and fingerprints, and easy to wipe off. That's important for any tool you're using under the hood of your car.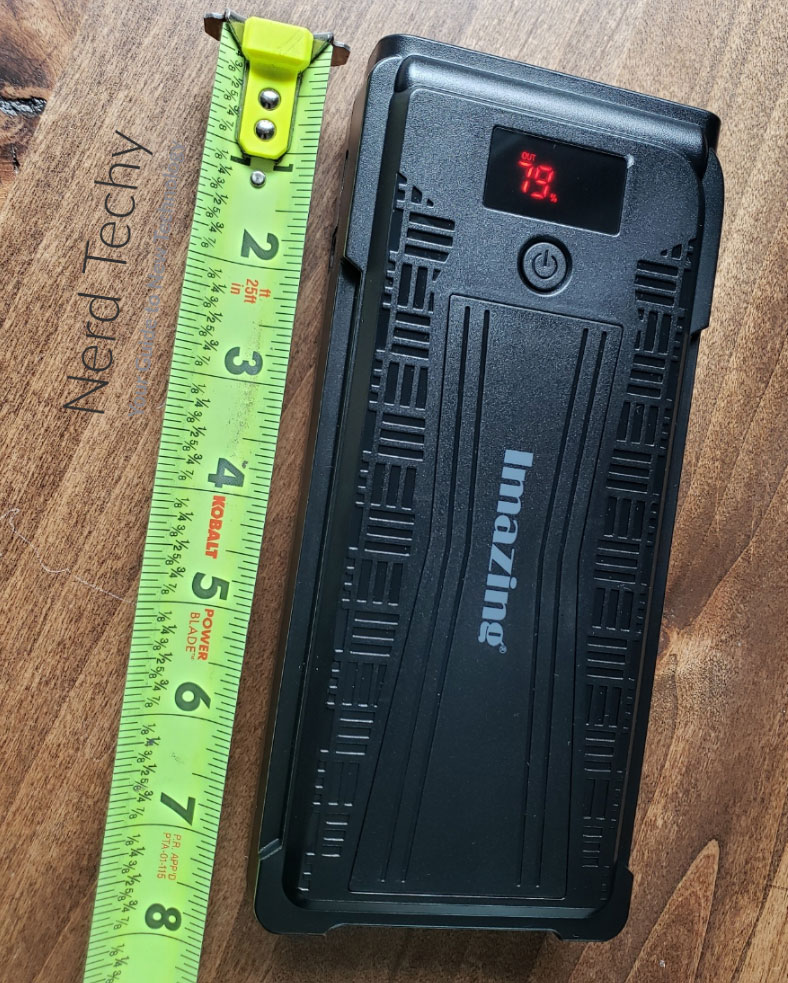 On the top surface, there's a bright white Imazing imprint, which is the only visible branding. Just to the front of the imprint, you'll find a black power button. This is important, since when the jump starter is on, it will slowly run through its battery. By leaving it off while it's in storage, you ensure that you'll have the power you need in an emergency. Like any battery, this one will slowly deplete over time, even when the power is off. After a year of disuse, it's rated to retain about half of its total capacity. As a result, Imazing recommends charging the IM29 at least once a year, even if you haven't used it.
There's a small LCD screen in front of the power button, with red numbers and lettering. It turns on whenever the IM29 is active, and it shows you the current battery level. You'll also see when any power is being drawn, as well as any error warnings that may appear.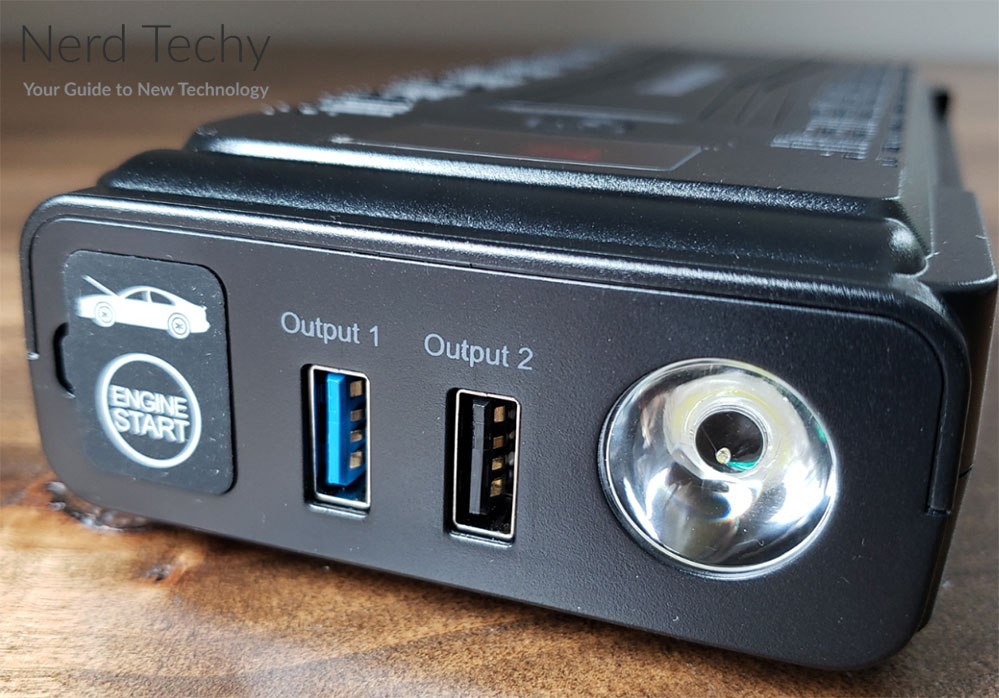 On the left side of the housing, you'll find a USB Type-C charging port. This is used to charge the internal battery, and can also be used to charge your other devices. There's a USB Type-C charging cable included, so you can plug into any USB port or adapter. There's also a little automotive power adapter, so you can charge the jump starter while you're driving. Next to the USB Type-C port, there's a barrel-style DC port, which is for outgoing power only.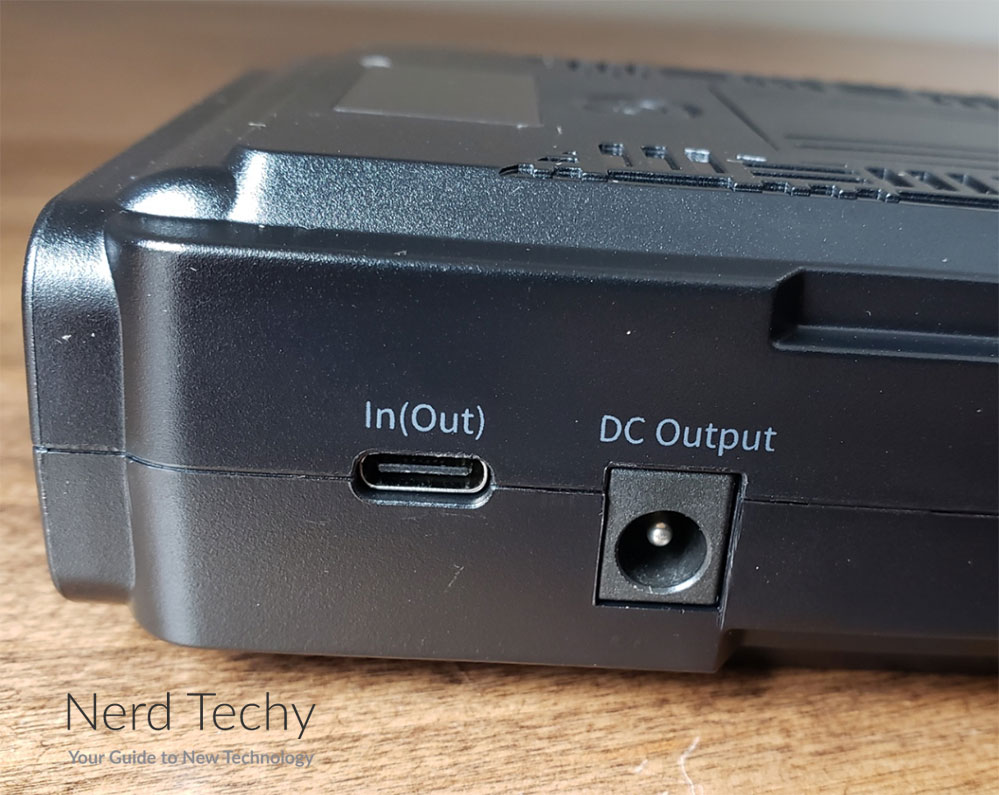 The front panel is where you'll find everything else that's worth noticing. At the right end, you'll see a black rubber plug. This plug covers the jumper cable connection socket. That way, it doesn't get clogged with dust or dirt while you're not using it. In the middle, there are two USB Type-A ports, with blue inner tabs to make plug orientation easier. At the left end, there's a flashlight, which we'll discuss more in a minute.
The actual jumper cables themselves are separate from the main unit. This makes everything easier to store and transport. They consist of a pair of cables, joined at one end to a single plug that goes into the IM29's socket. The cables are black and red as you might expect, with corresponding clamps on the ends. They're not very long, but length isn't all that important. It's not like you need to reach from one car to another.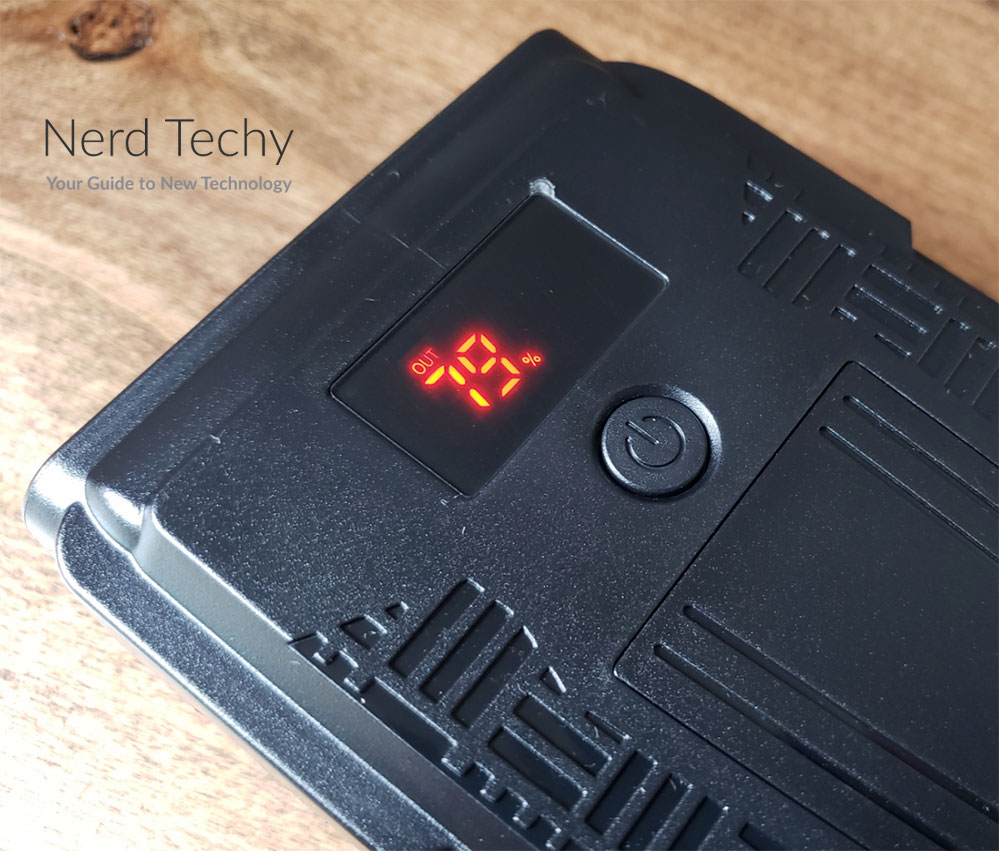 At the base of the cables, on the plug, there's a small LCD display. This is similar to the display on the main housing, but it shows the current outgoing voltage. You'll also see any applicable error messages on this screen. At the tips, the clamps have broad plastic covers over most of the jaws. As a result, it's virtually impossible to give yourself an accidental electric shock.
Along with the jump starter and cables, you get a zippered carrying case with semi-rigid sides. It's reasonably protective against scratches and other everyday damage from transport. Not that damage is a huge concern. The IM29 is protected by a robust two-year warranty, which protects you from premature failure.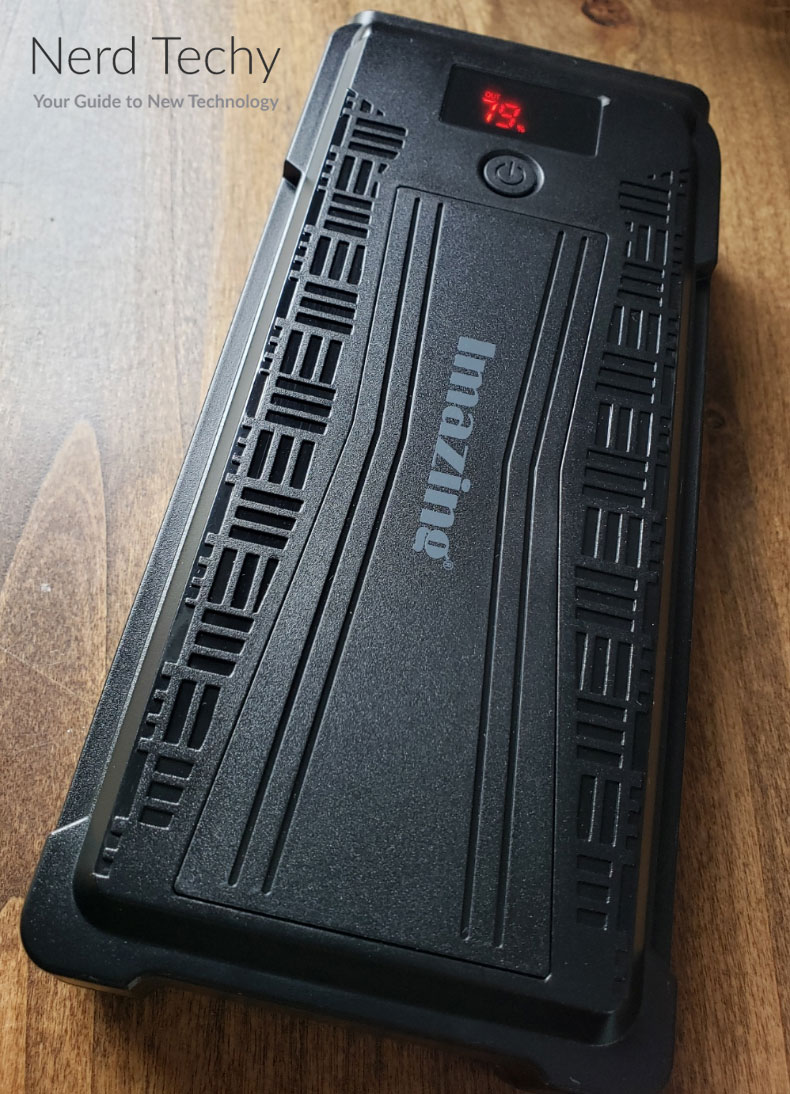 Jump Starter Performance
The Imazing IM29 delivers a peak current of 2,500 amps. That's sufficient to jump most engines on the road. It can jump an 8-liter gas engine, which is enough for the largest SUVs. It's also capable of jumping diesel engines with up to 8 liters of displacement. This includes any pickup truck, as well as most smaller delivery vans and similar-sized vehicles. The total battery capacity is 20,000mAh, which is enough to get 30 jumps on a single charge. Your actual performance may be less, since some jumps are harder than others. Even so, you'll be able to reliable start your vehicle. Recharge the jump starter in your car's automotive outlet, and you'll be back in business.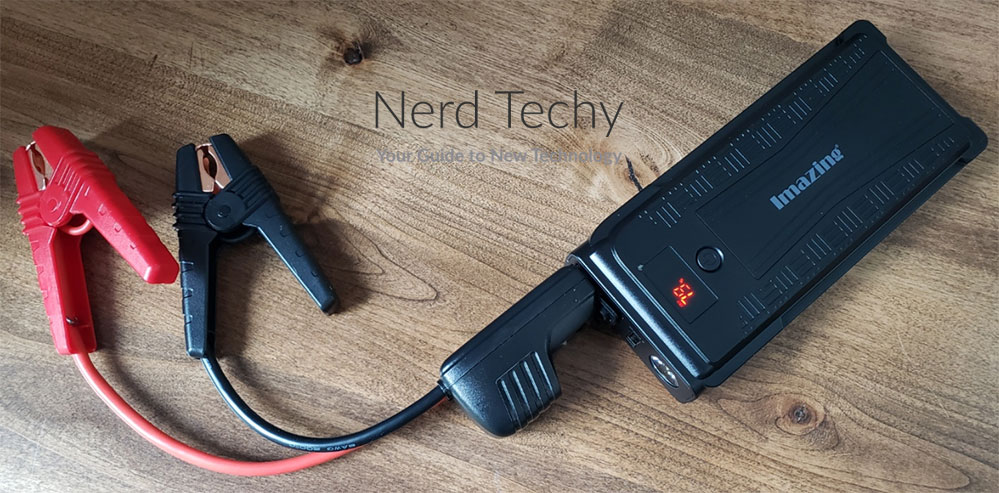 If you need to start even larger vehicles, consider the more powerful Imazing IM27. With its current, it can jump 8-liter diesel engines and 10-liter gas engines. That said, it has slightly less overall capacity, so the power bank function is slightly less useful.
Charging the IM29 is easy. As we mentioned, it can be charged in any USB port. Charge it up at home, or top it off while you're on the road. That said, home charging is going to be your best option in most cases. The battery takes a while to charge, so it's best to just leave it plugged in overnight. Keep in mind that the kit doesn't include a USB AC adapter, so you'll need to provide your own.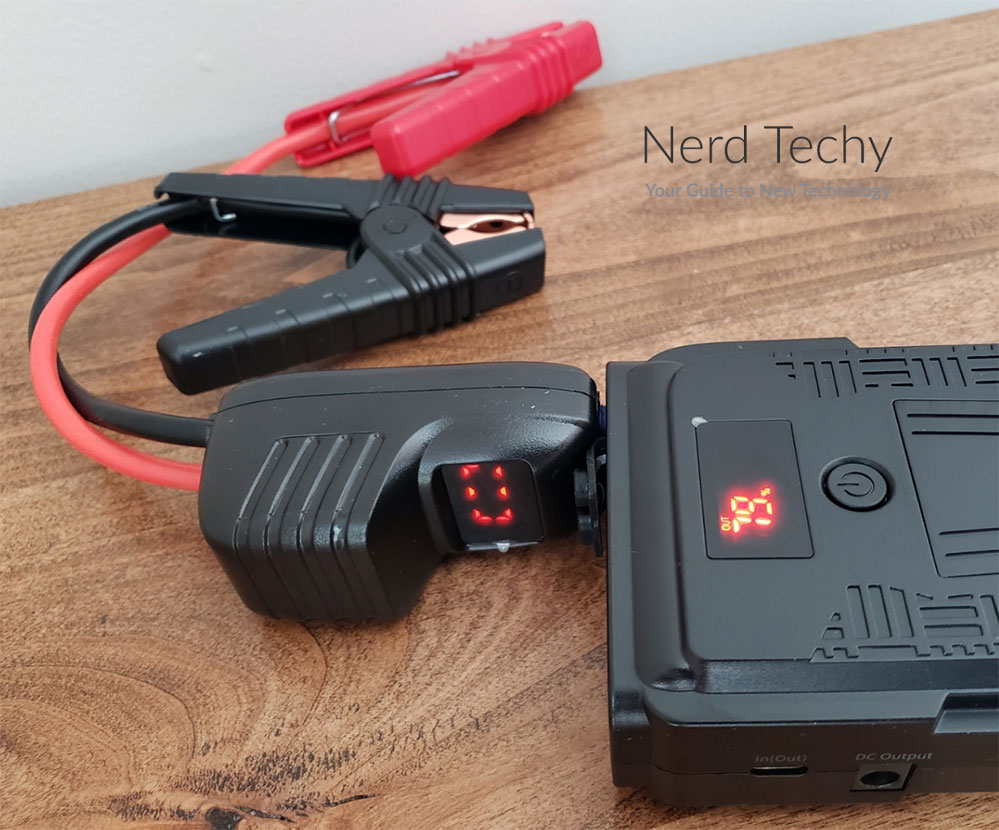 For most people, overnight charging won't be a major issue. But if you need faster charging, there are other options, like the Fanttik T8 APEX. It has similar power capacity, and it charges in only 90 minutes. On the downside, it can't be used to jump lithium batteries, which are common in newer cars.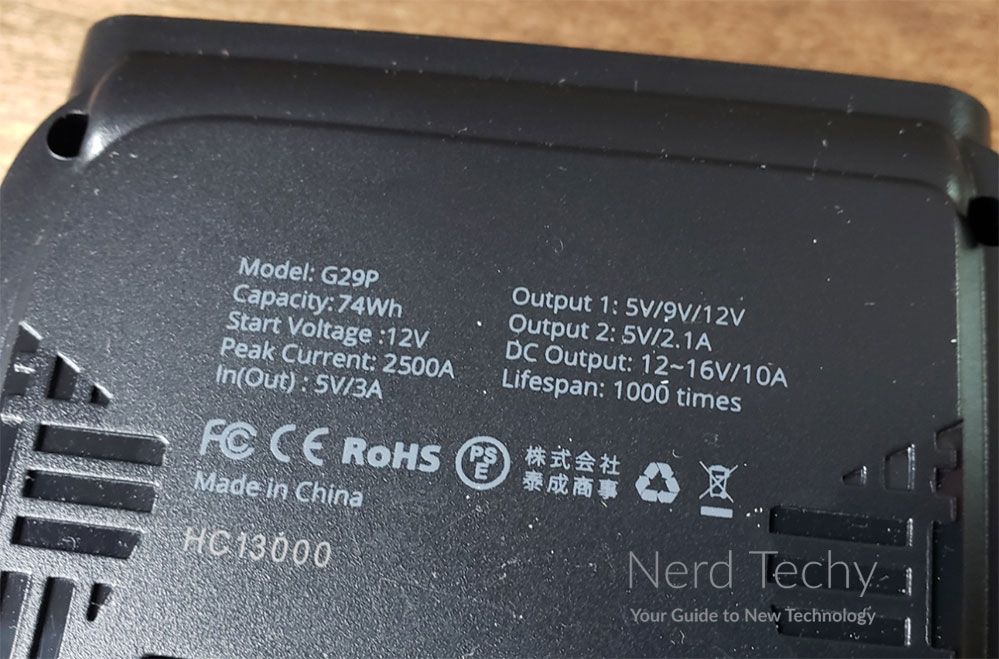 The IM29 has a battery management system (BMS) with a number of important safety features. First off, there are sensors to detect reverse polarity. If you accidentally attach the clamps to the wrong battery terminals, the jump starter will deactivate. You get short circuit protection, which protects you from damaged insulation or a defective car battery. There's protection against overcharging and under-voltage, which keeps your battery safe. In power bank mode, these same protections will protect your smartphone and other devices. Meanwhile, over-discharge protection keeps the internal battery from draining too far. This ensures that it won't run totally dead, to the point where it can no longer charge.
Bonus Features
Before we wrap up, there are a couple of bonus features we should take a look at. We already mentioned that there's a built-in flashlight. This light is surprisingly bright, more than good enough for changing a tire on a dark night. Not only that, but it can be set to SOS and strobe modes. The SOS mode can be used to call for help. The strobe, meanwhile, allows you to use the IM29 as an impromptu roadside flare.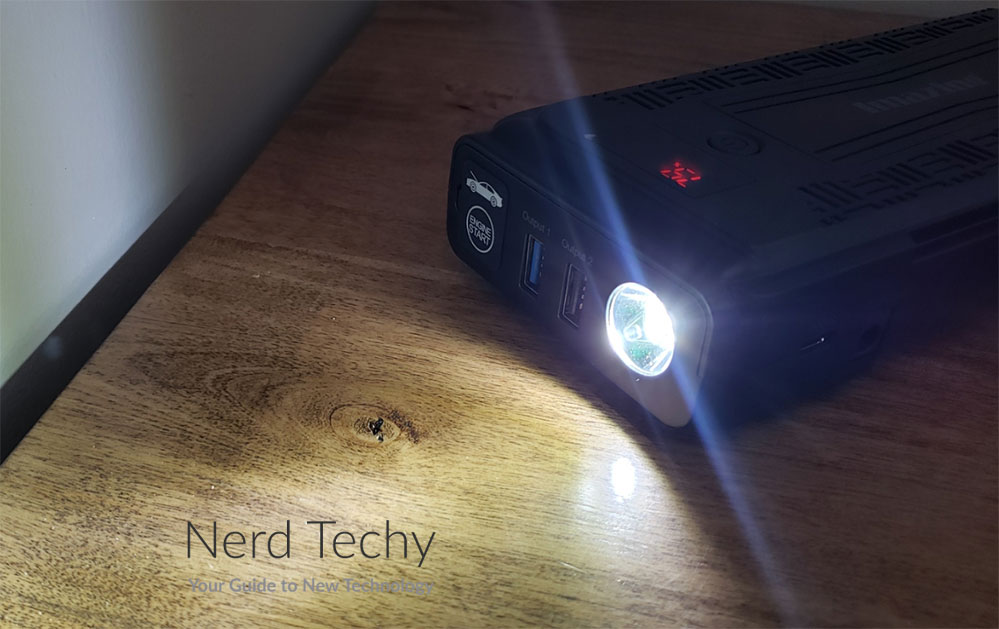 We also mentioned that the IM29 doubles as a power bank. With 20,000mAh of capacity, it can charge the average smartphone six to eight times. That's as much as a lot of dedicated power banks this size. The two USB Type-A ports at the front provide a standard 12 watts of power. The Type-C port on the side provides 18 watts of PD charging power. This is enough to get the maximum charging speed on an iPhone.
That said, 18 watts doesn't even begin to approach the limits of fast charging. For example, the Tacklife T8 offers significantly more powerful QC charging. It does this with a similar battery capacity, so you can charge all the same devices. However, it's less powerful, and can't jump larger vehicles.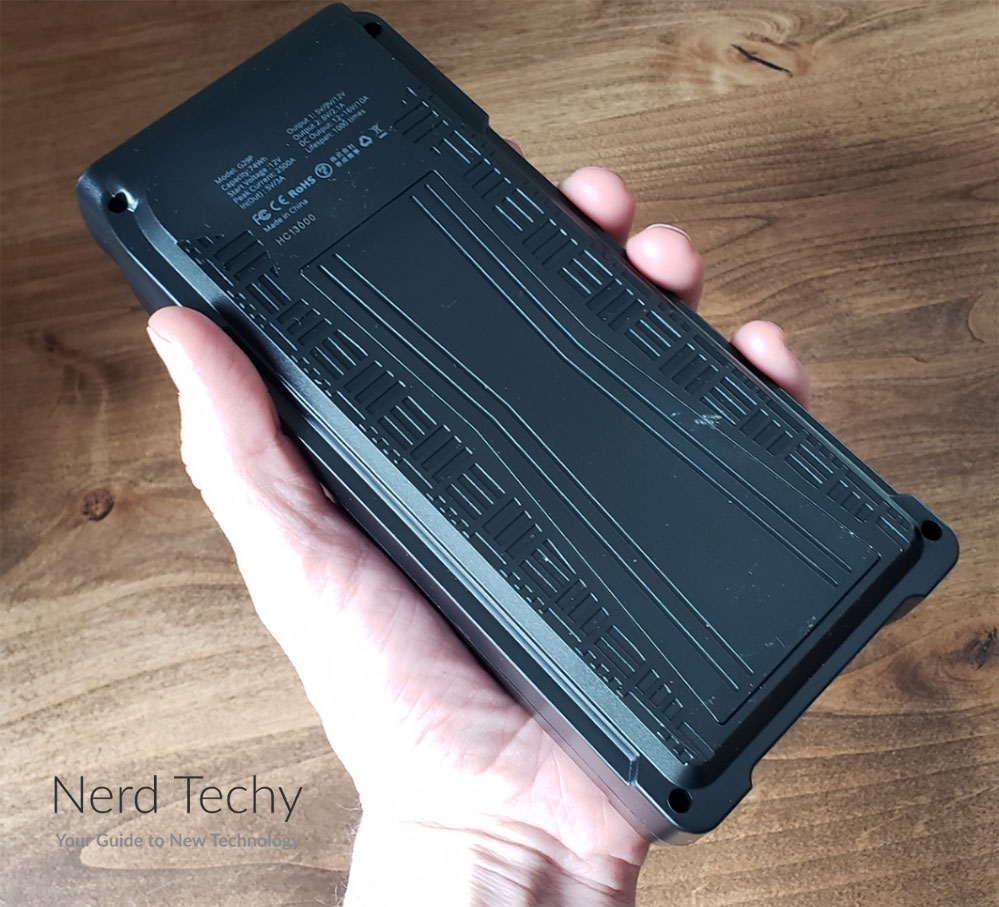 Final Verdict
As you can see, the Imazing IM29 Portable Jump Starter is a powerful little device. It can start almost any vehicle, so your SUV or delivery van will be ready to go. It doubles as a power bank, so you can charge more than just your car. And with plenty of safety features, it won't hurt you, your car, or your other devices.