If you own or plan on owning the new 2022 iPad Air 5, you're not alone. Featuring the breakthrough M1 chip, super-fast 5G and a brand new front-facing camera, the iPad Air 5 will surely turn heads. But as with any Apple product, you can expect it to be somewhat fragile. Without the proper equipment, that is.
First and foremost, you're going to want an effective way to protect the beautiful 10.9-inch Liquid Retina display. But rather than a standard screen protector, many iPad Air 5 users are opting for an added layer of privacy.
Instead of the crystal-clear transparency most have become accustomed to, a privacy screen protector adds an extra tinted layer that changes the viewing angle of the screen. That way, random onlookers have a much more difficult time seeing what's displayed on your screen. Random strangers won't be able to spy on what you're doing. Ultimately, only those directly behind the iPad are able to view without any sort-of distortion.
Choosing the Best iPad Air 5 Privacy Screen Protector
Luckily, there are several iPad Air 5th-generation privacy tempered glass screen protectors already available. Most are hard to discern from each other. However, we're here to showcase them in an organized manner. We'll list each option and discuss the features as we go. Regardless, any of the options we're showcasing are worthy of consideration. Let's get right into it.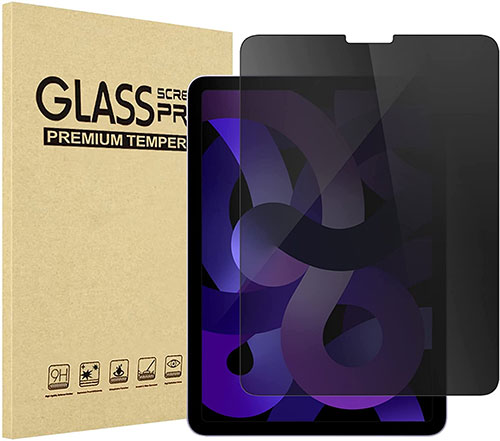 Best Overall: ProCase iPad Air 5 (Tempered Glass) Privacy Screen Protector
ProCase is no stranger when it comes to anti-spy screen protectors. Their tempered-glass privacy screen protector is our pick for best overall. Affordably priced and readily available, it adds a dark film layer that blocks out any onlookers outside of a 60-degree field of view; 30-degrees on each side of your iPad 5 screen.
The material is a thin but stiff piece of tempered glass with a clear adhesive backing. It has a 9H hardness level, which is the standard for any tempered glass screen protector, these days. This means it's extremely scratch, abrasion and crack resistant. Being that it's 0.33mm thick, it also doesn't take any sensitivity away from the touchscreen. In fact, it's even compatible with the Apple Pencil.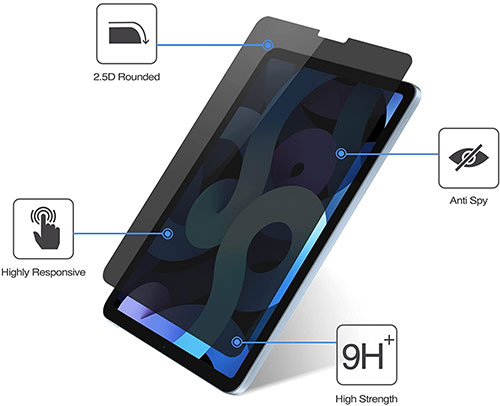 Although the installation can be a bit tedious, the ProCase privacy screen protector comes with all of the equipment for preparing and installing the screen protector. This includes a few wet wipes, a microfiber cloth and an installation frame that perfectly aligns it to your iPad. This way, all of the guesswork is taken-out and you can successfully install it first-try.
Once you have it installed, you'll likely now notice the 2.5D rounded edge that it provides. Simply put, the entire edge of the ProCase privacy film is evenly rounded for a better feel and added longevity. It effectively minimizes any risk of the edge prematurely cracking or flaking-off around the edge; a common problem with any screen protector.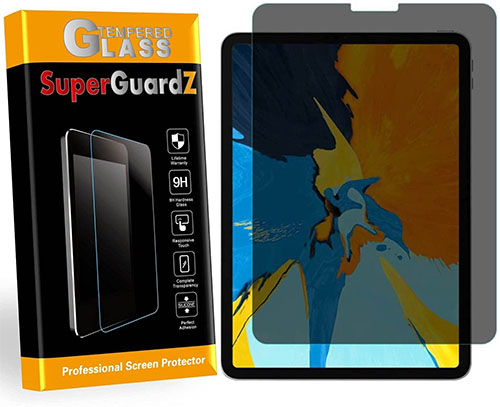 Best Runner-Up: SuperGuardZ iPad Air 5 (Tempered Glass) Privacy Screen Protector
Priced identical to the ProCase, the SuperGuardZ Tempered Glass Privacy Screen Protector is another excellent choice. It provides a tinted layer than offers the same anti-spy properties as the ProCase; 60-degrees total or 30-degrees on either side. In fact, looking at them side-by-side, they're nearly identical with many of the same specifications.
The SuperGuardZ provides a 9H hardness level and .33mm thickness, which is the gold-standard for stiffness. In addition, it's fully capable of reducing the risk of scratches, abrasions, bumps and bangs. However, it doesn't have the desirable 2.5D rounded edge as the ProCase. The edge is a bit less-forgiving but still offers full protection. Ultimately, it's comprised of high-quality material with silicone adhesion that stays put once you have it installed.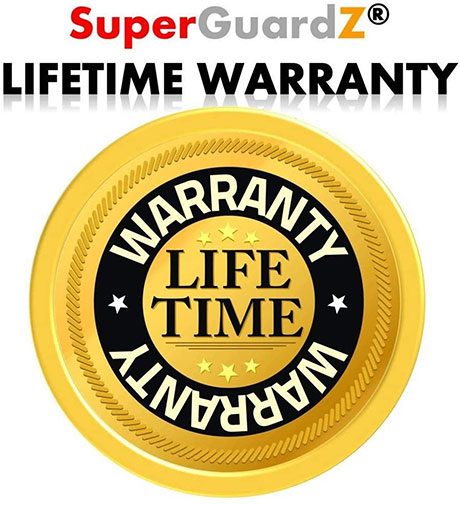 Speaking of, installation is easy since all of the required accessories are included. Alcohol-based wet wipes, dry wipes and a cleaning cloth are all within the box. Unfortunately, there's no frame guide included. In the end, it may make installation a bit more tedious than it needs to be, but it only requires an extra few seconds of concentration.
The anti-fingerprint properties of the SuperGuardZ are on-point. In fact, we think it has a better surface layer than the ProCase, but not by much. Most people won't discern much difference. However, what truly sets the SuperGuardZ apart is the lifetime replacement warranty. If you feel it prematurely cracks or becomes problematic, you're covered by a 100% satisfaction guarantee. It's a great bonus!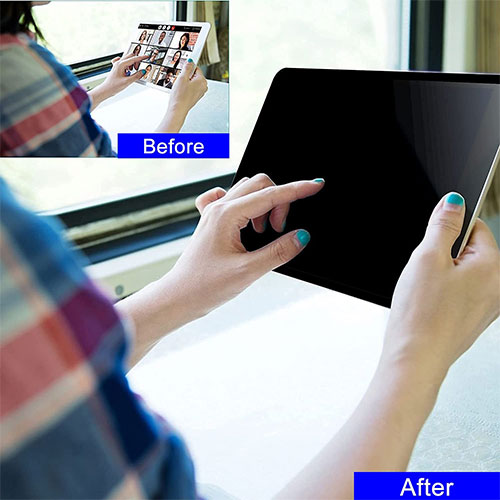 Best Alternative: Mamol iPad Air 5th Gen Privacy Film
The Mamol iPad Air 5th Gen Privacy Film offers something a bit different than the other two we've already discussed. Rather than being a tempered glass screen protector that you install once and leave on, it's a 0.25mm thick removable paper-like film that you can apply and remove whenever you'd like. Instead of using a sticky-residue, it applies to your screen by magnetically attaching to the iPad itself.
Although it isn't like your typical screen protector that provides a super-hard layer, it's solely for privacy-purposes. However, you can use it in conjunction with any standard tempered-glass screen protector and simply remove it when unneeded. While it doesn't provide much in the way of scratch or abrasion resistance, it effectively adds the same 60-degree viewing angle that most other anti-spy screen protectors give your 5th-gen iPad Air.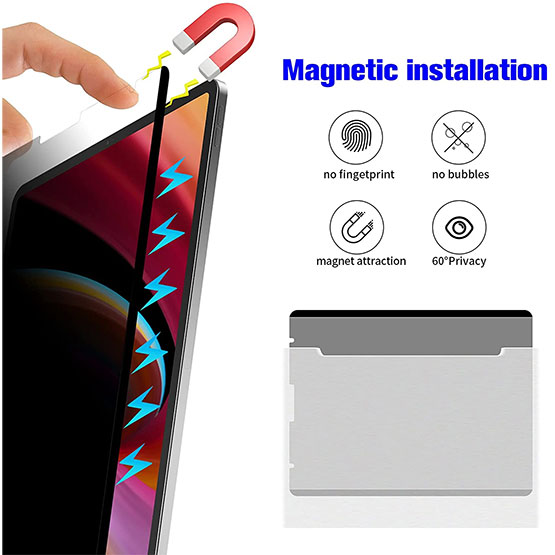 However, it also does a great job at providing a smooth, bubble-free surface that simultaneously reduces glare. The magnetic backing is surprisnlgy strong. It adheres to the iPad Air 5 with ease and removes with little effort and a a small amount of prying. When you're done in a public area and back at your home, you can easily remove it and continue using it as you normally would.
The Mamol Privacy Film is super-thin. How thin? We're not exactly sure, but it's often compared to a stiff piece of paper with little flex. That said, it's not exactly fragile but not super-tough like your typical tempered-glass screen protector. Ultimately, it provides a great way to temporarily add and remove a privacy layer; ideal for daily bus-rides or public outings when you don't want someone spying on what you're doing. Best of all, it's backed by a lifetime warranty, giving users added peace of mind.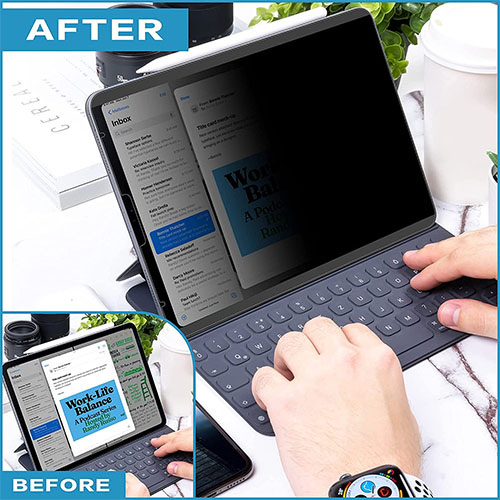 Best 2nd Alternative: FILMEXT iPad Air 5 Privacy Screen Protector
Like the Mamol, the FILMEXT iPad Air 5 Privacy Screen Protector is quite similar, providing a thin-layer film that's completely removable. It uses the same magnetic design, but the magnets seem to hold a bit better than the Mamol. In addition, the thickness is 0.35mm which is only .10mm thicker, but it's apparent when seeing them side-by-side.
Unfortunately, the FILMEXT costs nearly twice as much. However, it provides the exact same privacy-layer as all of the other options; 60-degrees total or 30 degrees from every side. Just like the Mamol, there's a set of magnets along the top and bottom of the film. As stated, we believe they're slightly stronger, but not by a whole lot. Does it justify the added price? We're not sure, but it's a great alternative.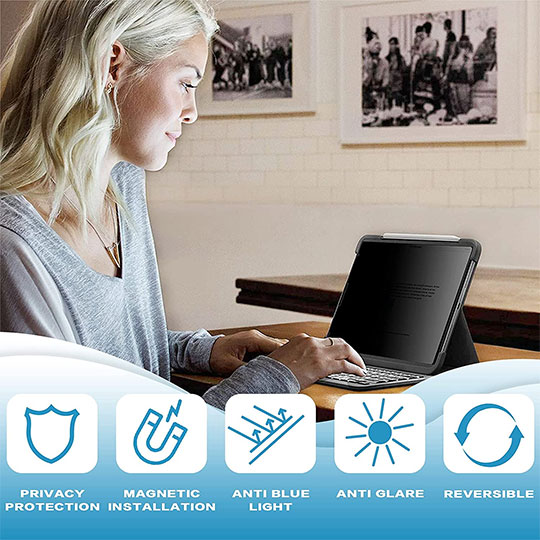 Since this isn't a hard, tempered-glass screen protector, you'll probably want to use the FILMEXT in conjunction with your own permanently-installed screen protector. That is, if you want total scratch resistance and better protection from impacts. Regardless, it's bubble-free, stiff and highly usable once properly installed. Some users complain that the magnets aren't quite as strong as they'd like, but we disagree. They're plenty-strong for proper adhesion.
Although the warranty isn't quite as generous as other offerings, the FILMEXT comes with a 30-day return policy and a 90-day replacement warranty. It's good to see a bit of added peace of mind for a screen protector that's priced at a premium.
Which Privacy Screen Protector is Best for the iPad Air 5th-Generation?
As you can see, there are a few different options to choose from. When it comes to the best, the decision is ultimately yours. Let's quickly re-cap to see what we learned.
The ProCase Tempered Glass Privacy Screen Protector is an excellent pick. For those looking for a no-frills, sturdy and well-built screen protector with an added layer of privacy, look no further. It's fairly priced, incredibly durable and built with impact and scratch resistance in mind. This is a semi-permanent option that should be applied and left as is once you've set it.
The SuperGuardZ Tempered Glass Privacy Screen Protector is virtually identical to the ProCase, but without the 2.5D rounded edge. It carries nearly all the same features and properties; it's even priced the same!
As a great alternative, the Mamol iPad Air 5th Gen Privacy Film and FILMEXT iPad Air 5 Privacy Screen Protector offer something a bit different. Rather than being a super-hard, diamond-like layer like the ProCase and SuperGuardZ, it's a paper-like film that magnetically attaches. This method allows for easy installation and removal. Best of all, you can use them along with your standard tempered glass screen protector and take it on or off at will. It's the perfect solution for those who regularly use their iPad Air 5 in public but come home each day to their own private environment.
Meet Derek, "TechGuru," a 34-year-old technology enthusiast with a deep passion for tech innovations. With extensive experience, he specializes in gaming hardware and software, and has expertise in gadgets, custom PCs, and audio.
Besides writing about tech and reviewing new products, Derek enjoys traveling, hiking, and photography. Committed to keeping up with the latest industry trends, he aims to guide readers in making informed tech decisions.