BALDR Pioneer 500
Pros
Charges up to 10 devices at once.
Attractive matte-finish exterior.
Stable voltage even with a low battery.
Water-resistant rubber flaps covering all ports.
Dual built-in flashlights.
Cons
No maximum surge rating.
USB Type-C PD port is underpowered.
Somewhat portable but still quite heavy.
Electronic devices are an essential part of our everyday lives. For evidence of this, look no further than your smartphone. Yes, it can be used for communication, just like older phones. But in many ways, communication has become secondary to all a phone's other functions. We use them for snapping photos, watching streaming videos, and accessing social media. Instead of depositing checks at the bank, many people deposit them through a smartphone app. The same goes for traditional GPS units, which have mostly been replaced by apps like Waze. If your phone battery is dead, you're not just incommunicado. You're also missing out on all your other apps.
Smartphones are just one example. We rely on laptops for work, and most of our entertainment is electronic. Some folks even need electronics to get a good night's sleep. If you use a CPAP machine, you know how much of a game changer they can be. This makes it all the more frustrating when you don't have access to power. Maybe you're going camping. Maybe you're spending the weekend at an off-grid hunting cabin. Or maybe, the power is out for an extended period and all of your batteries are dying. In those kinds of situations, a portable power station can make all the difference in the world.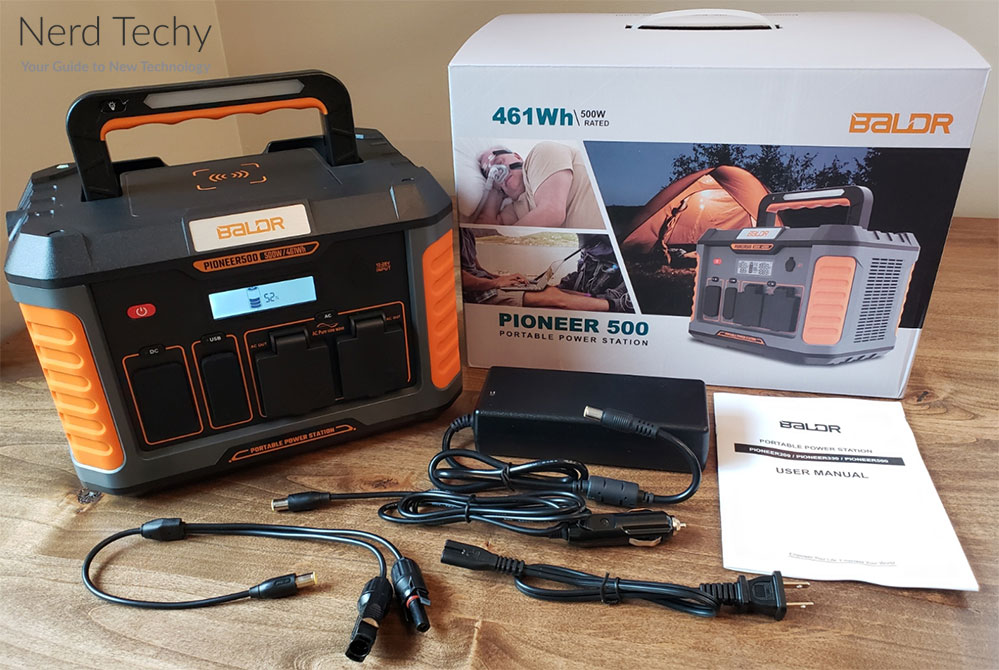 We're about to review the BALDR 500w (Pioneer 500) Portable Power Station. This is a compact, portable battery bank that can power all kinds of devices. With AC, DC, and USB outlets, you can charge a phone, run a mini fridge, and do much, much more.
But there's a lot more to a good power station than just wide compatibility. We'll have to look at the battery capacity, and how much power you can deliver. We'll need to look at the safety features, build, and physical design. In addition, we'll also need to talk about how to charge the power station itself, as well as any extra features. Let's take a closer look, and see how this power station stacks up to the competition!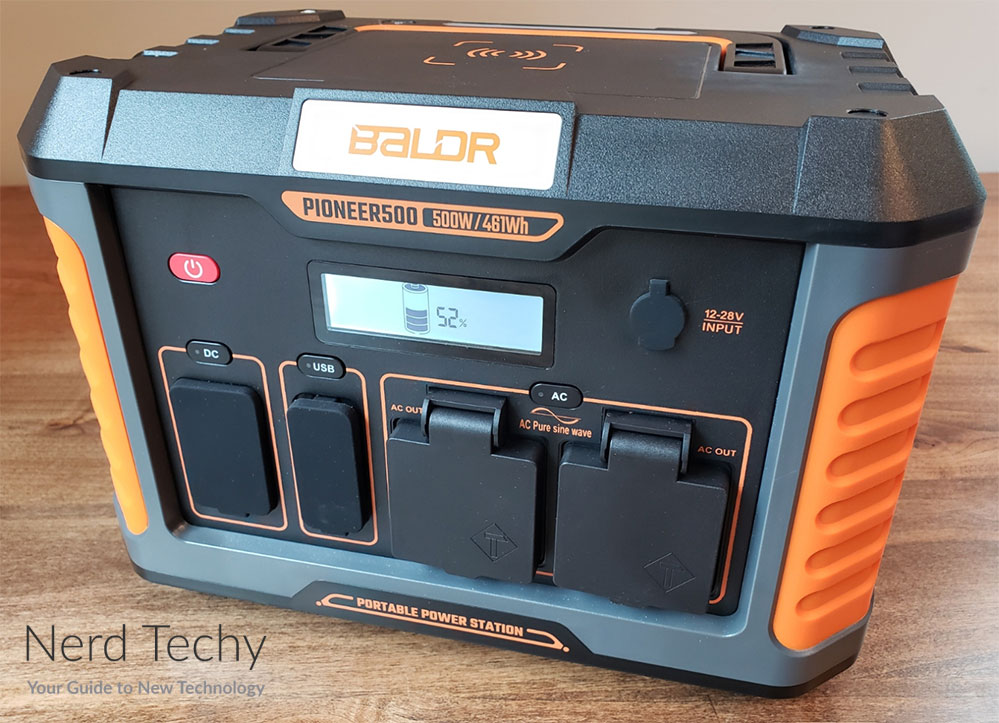 Overall Design
The BALDR Pioneer 500 Portable Power Station is constructed primarily from grey plastic. However, the top and bottom panels are black, while there are rubbery orange bumpers at the corners. It's relatively small, at only 11.4 inches wide, 7.9 inches tall, and 7.9 inches thick.
At 13.4 pounds, it's heavier than you'd expect for the size, but it's still easily portable. There's a folding handle in the top, with an ergonomic silica gel padding. Even if you're schlepping it a long way, it won't dig into your fingers.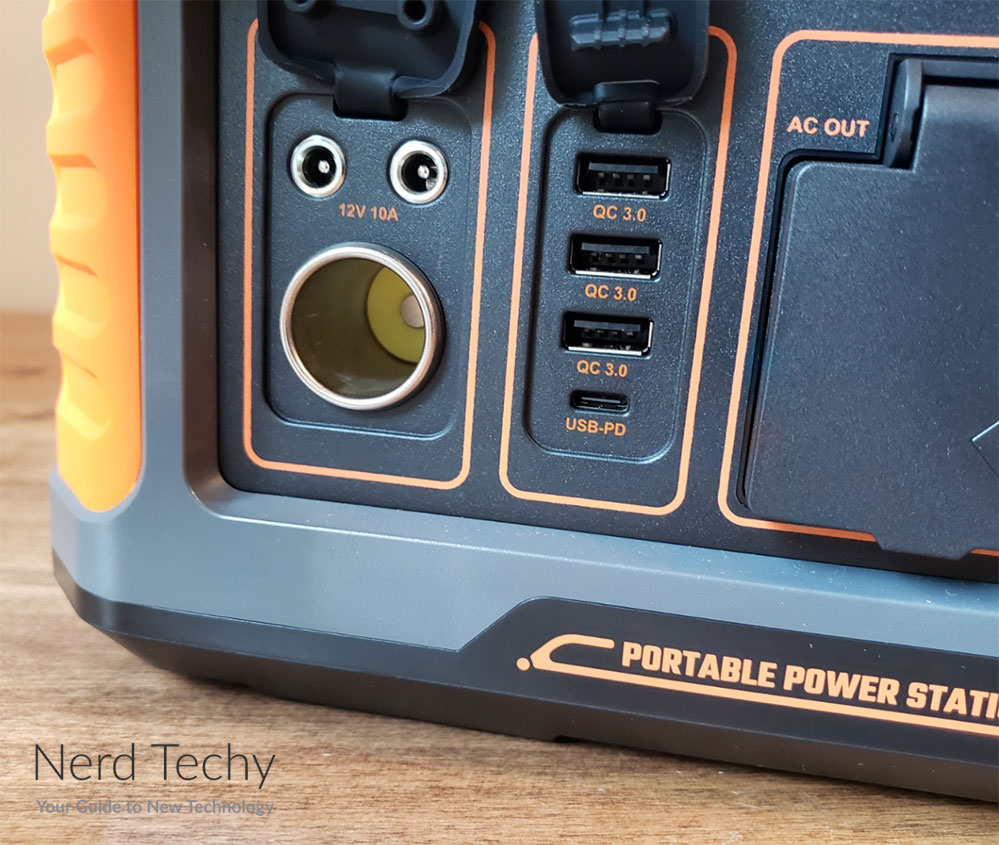 There's a built-in light bar on the front of the handle, along with a control button. When the light is active, it can shine towards the front to target it at a particular spot. Or, you can leave the handle folded down and shine the light up for atmospheric lighting. There's also a second light on the top of the left side of the housing, which is significantly brighter. It's controlled by the same button, and can be set to two different modes. You can use it as a constant light, or set it to SOS mode to signal for help.
The sides of the housing are vented, with horizontal slits across most of their surface area. This allows air to flow through the housing, and keeps the electronics cool. Like most power stations, there's a built-in fan that kicks in when the temperature gets too high. Thankfully, the fan is very quiet, and you'll barely notice that it's running. If there's any kind of ambient noise at all, you won't even hear the fan over it.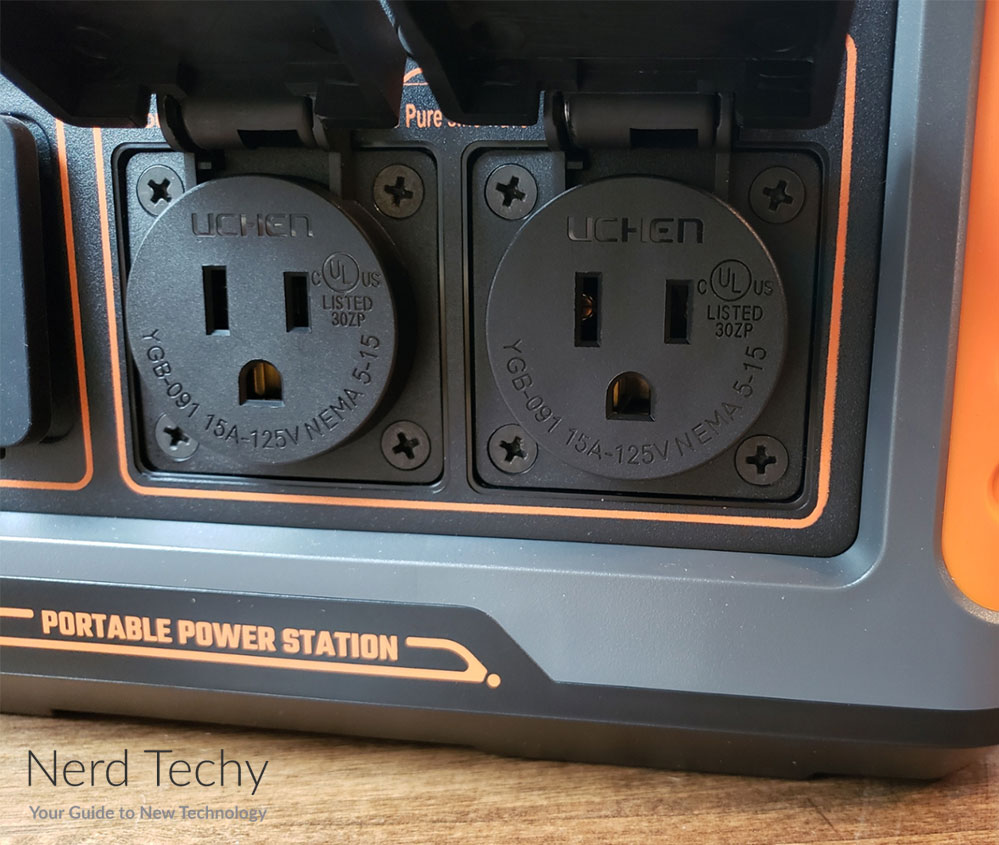 The rest of the important physical features are located on the front panel, where they're easy to access. At the top left, there's a bright red power button. This is used to activate and deactivate the entire power station. By turning it off when it's not in use, you keep your battery from slowly draining over time. At the top right, there's a power port for charging the internal batteries. It's covered by a rubber plug when not in use, to keep out dust and other debris.
At the top center, there's an LCD display, which keeps you updated on the system's status. In the middle, there's a visual battery meter with five bars. There's also a percentage readout of your battery charge, along with the estimated time remaining. At the left of the battery meter, you'll see your input wattage, which will be 0 unless you're currently charging.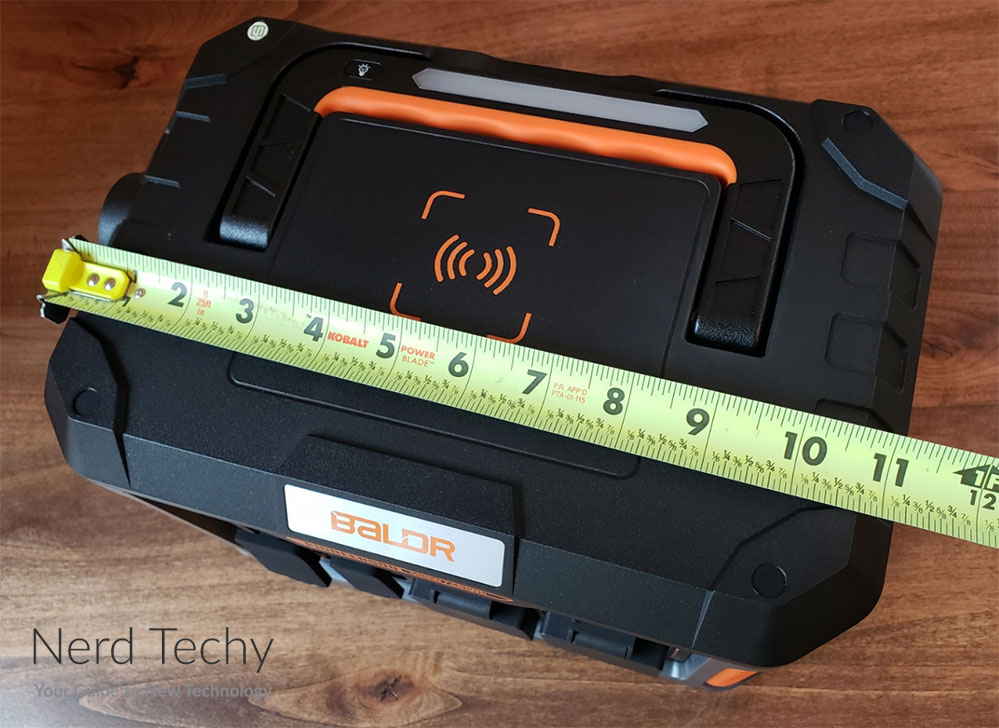 At the right side, there's a similar readout of your output wattage. If your input wattage is higher than your output wattage, the internal battery is charging. If the output wattage is higher, the internal battery is being drained.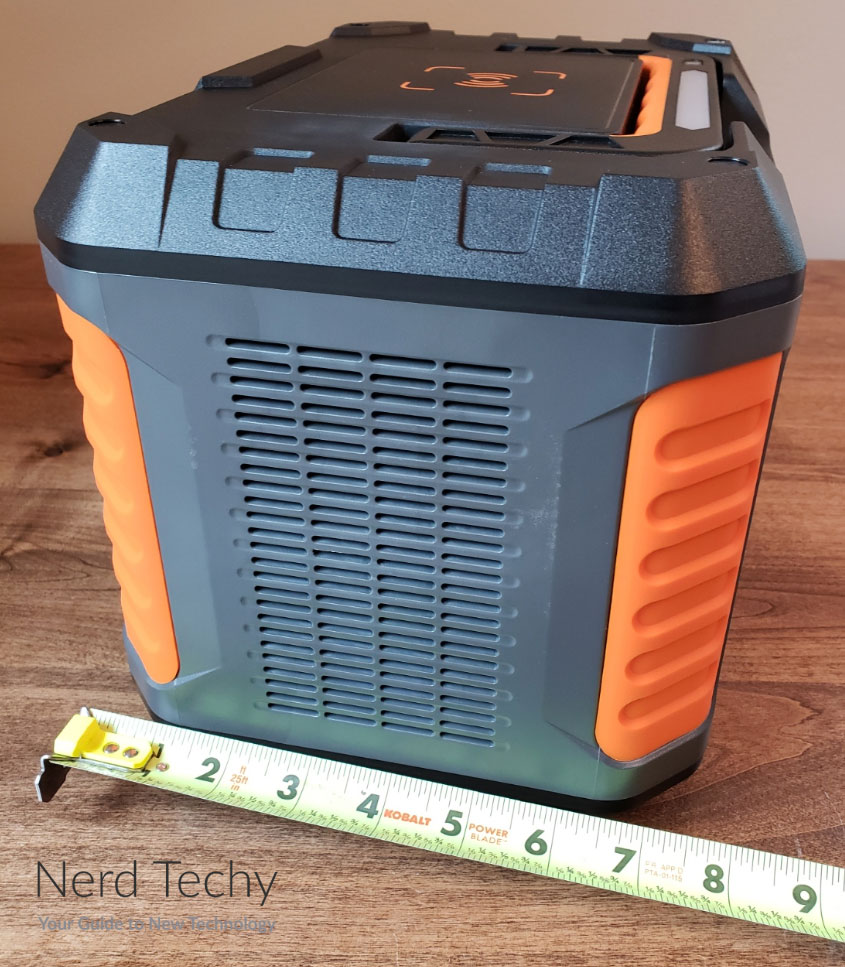 The power ports themselves are located along the bottom. To the left, you'll find a pair of barrel-style DC ports, along with an automotive-style DC outlet. At the center, there's a column of three USB Type-A ports, with a USB Type-C port beneath. At the right, there's a pair of three-prong AC power outlets. Each AC outlet, the USB ports, and the DC ports, have their own hinged plastic covers.
This keeps them covered when not in use, much like the rubber plug on the input port. Along the same lines, each group of ports has its own separate control button. If you're not using the DC ports, for example, you can leave them off while turning on the AC outlets. This prevents "vampire" power drain from unused power ports.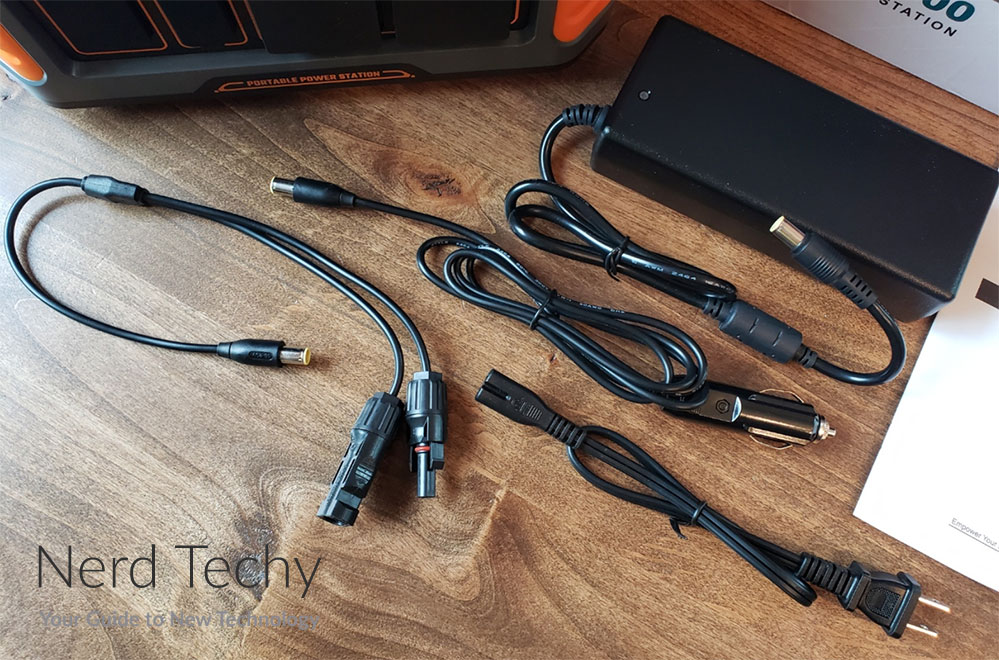 Along with the power station itself, the BALDR kit comes with all the cables you need for charging. To begin with, there's an AC charging adapter, for plugging into your wall outlet. Next, there's an automotive charging cable for plugging into your car's cigarette lighter. Finally, there's an MC4 adapter, which can be used to connect to any standard 120V solar panel.
Battery Performance and Capacity
The BALDR Pioneer 500 power station's internal battery has a capacity of 461Wh. That's equivalent to 92,200mAh at 5 volts. This works out to as many as 40 charges on a smartphone. Larger phones will get more in the neighborhood of 30 charges. Laptops can get 8 to 10 charges, which isn't half bad. You can even run a 90-watt mini fridge for 4 ½ hours. That's enough to keep your food cold during an afternoon without power.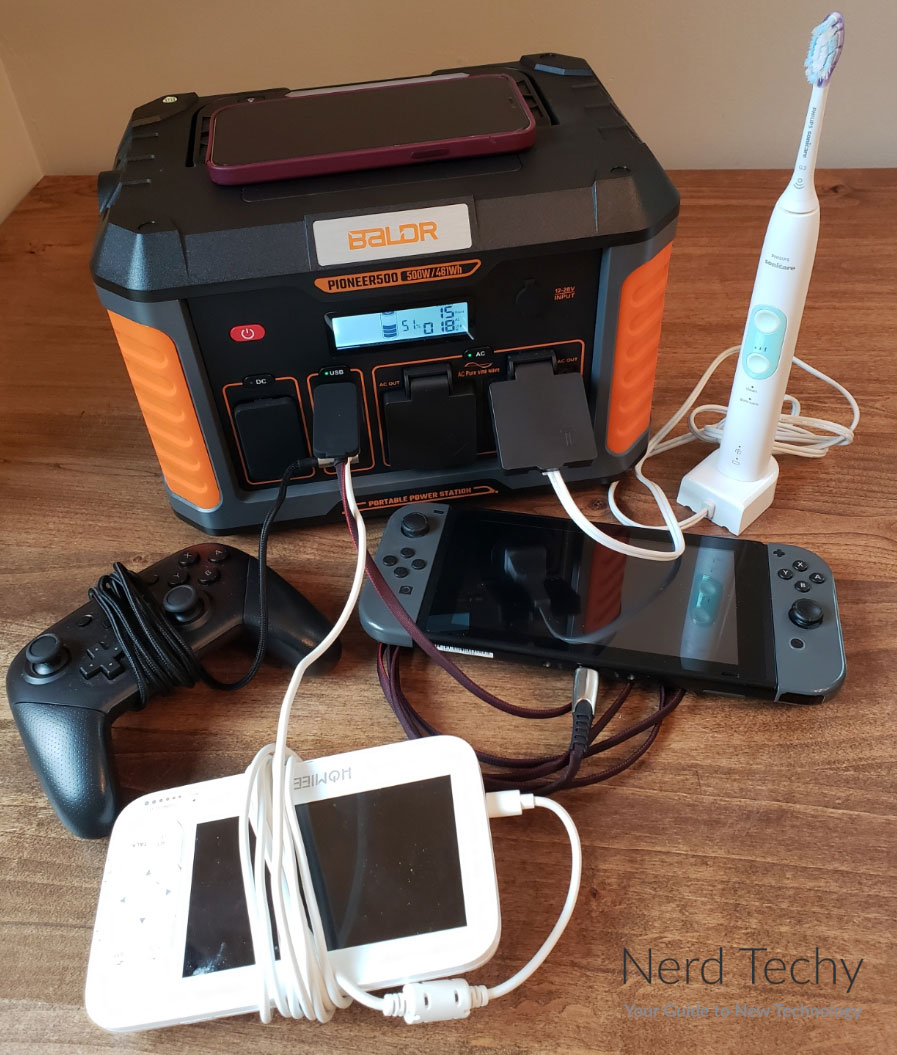 If you need more battery capacity, there are plenty of options available. Take the Tacklife P50, for example. It has a similar size and weight, so it's equally easy to move around. But it also has a higher capacity, so you can charge more things. Then again, it takes longer to charge than the BALDR.
The BALDR power station has a built-in automatic shutoff mechanism to preserve your battery. If it's left unused for three hours, it will automatically shut down. Ideally, you should turn your power station off manually when you're done using it. But this useful failsafe ensures that you won't lose all of your charge while the station is put away.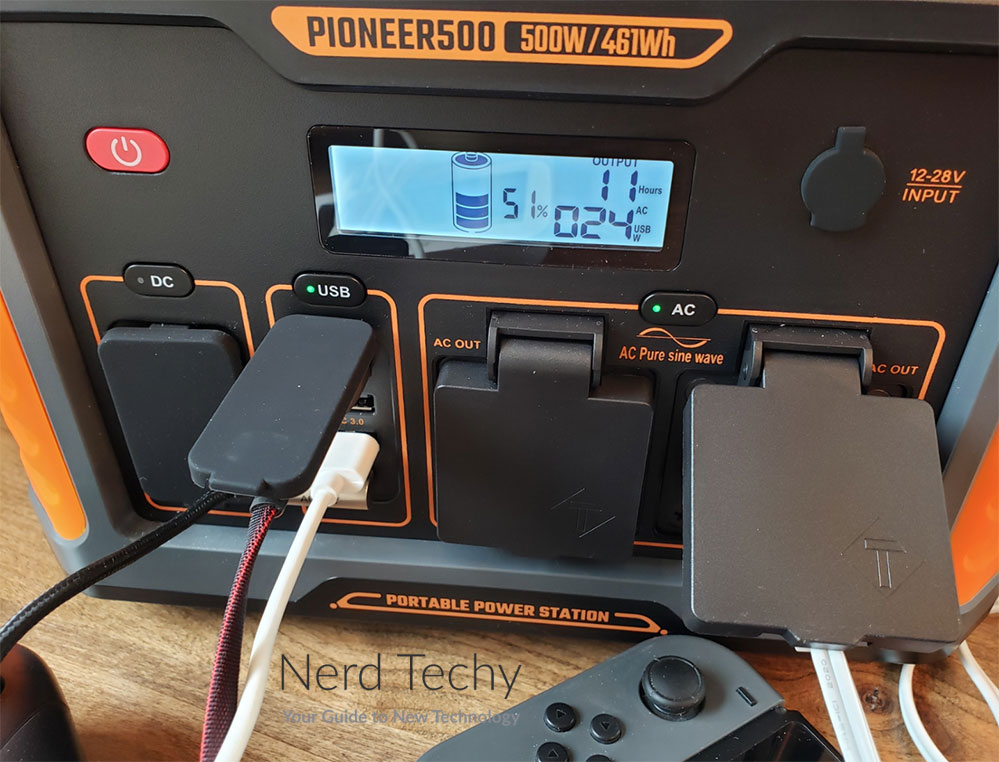 When the battery does run dry, you'll have three ways of charging them. The fastest way is to use a wall outlet, which takes 4 to 5 hours to fully charge. Using the car charger, you'll get a full charge in around 7 to 8 hours. In theory, solar panels can charge the batteries in as little as 6 hours. This assumes you're using dual 120-watt panels under ideal circumstances. In practice, 8 to 10 hours is more realistic, even with dual panels. Even so, it's great to have the ability to recharge without being connected to the grid.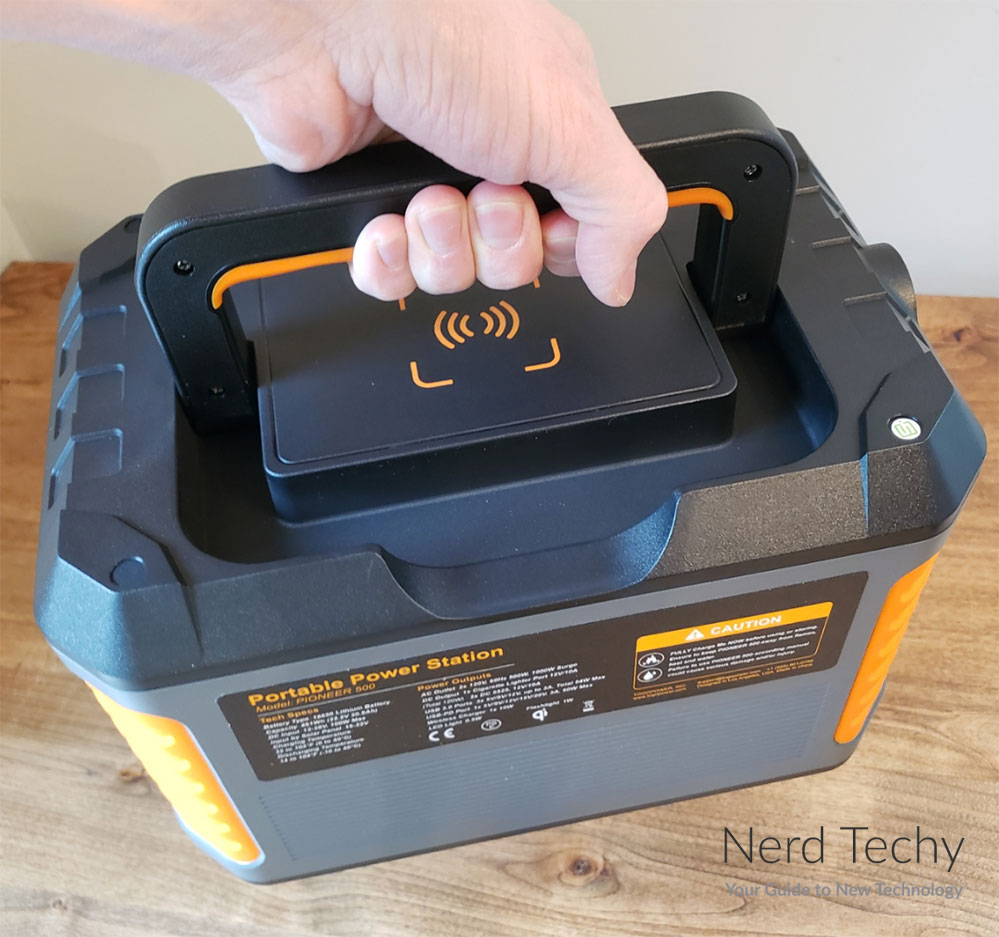 Of course, there are other features you might be looking for. For example, what if you need to jump your car? In that case, consider the Issomi Power Station. It's smaller and lighter than the BALDR, and it also doubles as a car jump starter. Then again, it has less total charging capacity, and fewer power ports.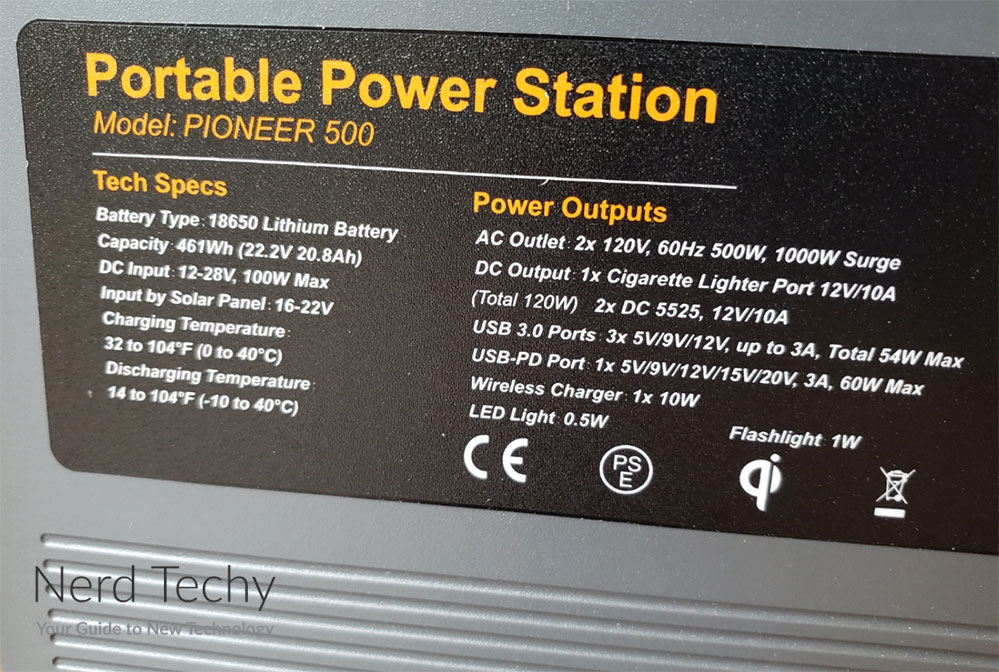 Charging and Safety
So, what can you actually do with the BALDR 500w power station? Let's start with the AC outlets, which provide a maximum current of 500 watts. That's enough to run many small to medium-wattage devices. You can't run a power drill or a space heater, but most other devices will work just fine. That said, there's no surge power rating. As a result, compressor-driven devices can cause it to shut down, even if they draw less than 500 watts.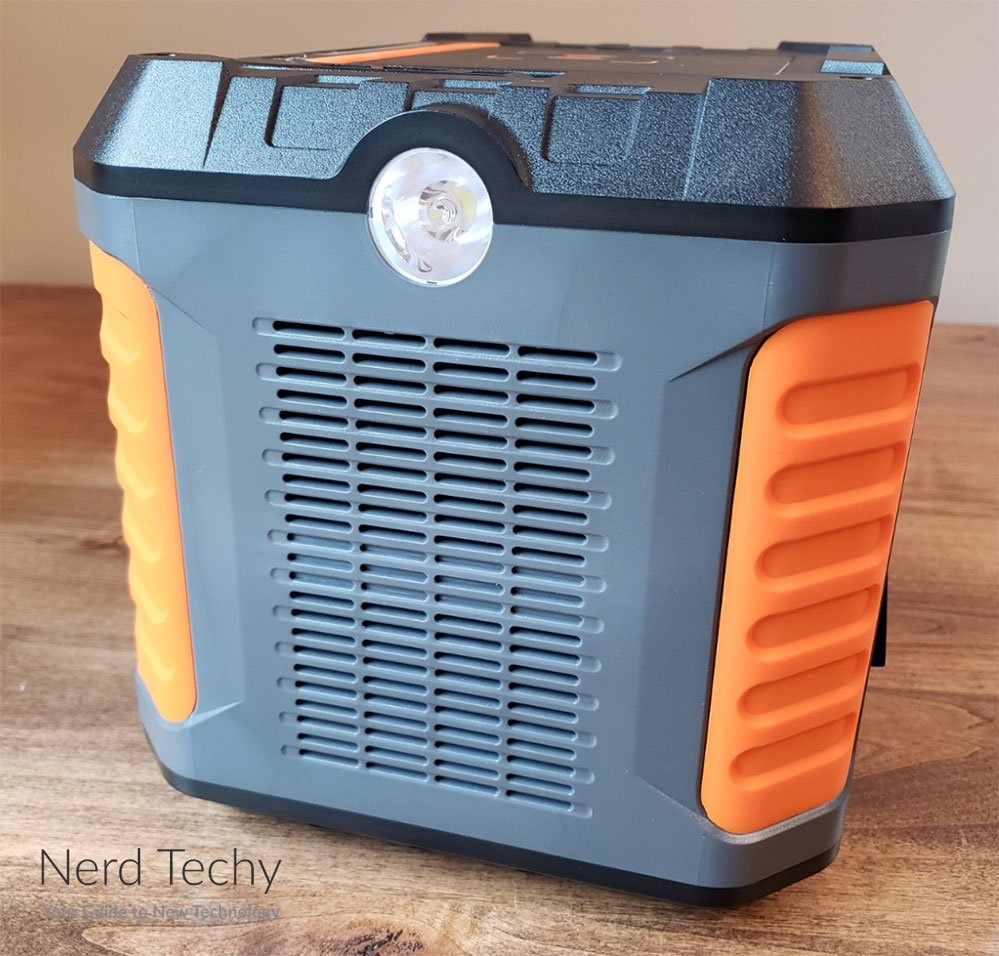 If you want to run a larger mini fridge or cooler, check out the Oupes Solar 600. It has a continuous wattage rating of 600 watts, with a 1,000-watt surge rating. It also has a larger battery capacity, while maintaining a similar size and weight. On the downside, the cooling fan is very loud.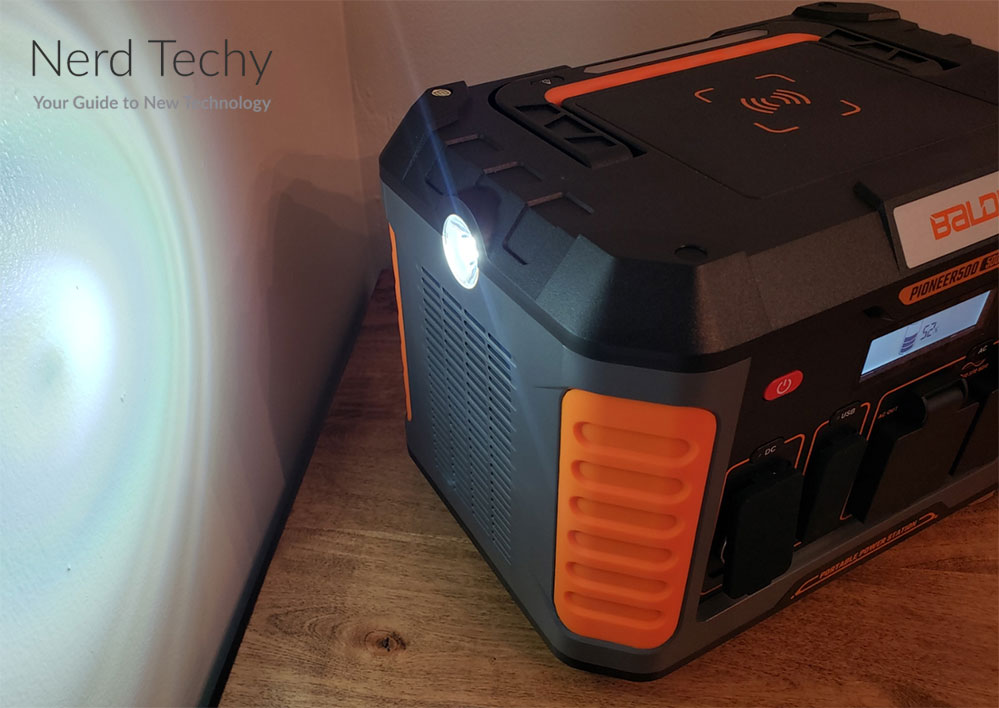 The USB Type-A ports output a standard 12 watts of power. The USB Type-C PD port is slightly more powerful, delivering 18 watts. This is the maximum wattage for iPhone charging, so it's the most you'll need for most smartphones. But it's not as high as many other PD outlets, which can deliver as much as 100 watts. You won't be able to use a USB Type-C laptop while it's being charged. There's also a wireless Qi charging pad on top. This is slower than USB, but many people find it more convenient.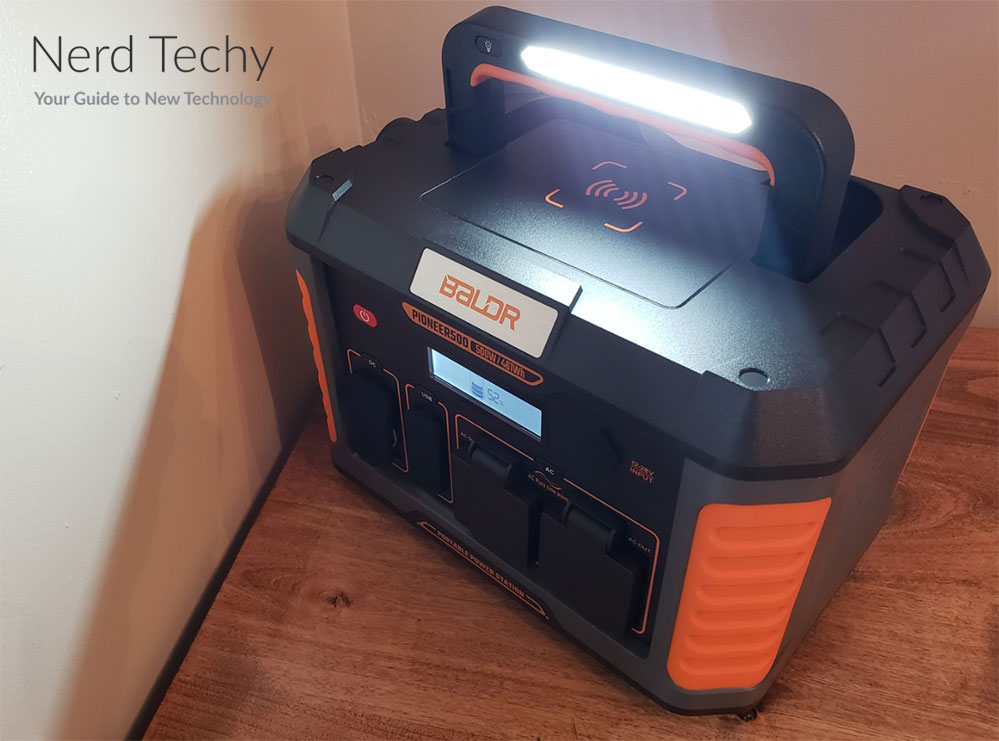 The DC power outlets deliver 12-volt regulated power. The internal circuitry will deliver a clean, consistent current, even when the battery is low. Meanwhile, the AC outlets deliver pure sine wave power, which is safe for sensitive devices like CPAP machines. Along with this, you get a suite of safety features. The system protects you from overvoltage, undervoltage, short circuits, and excessive temperature.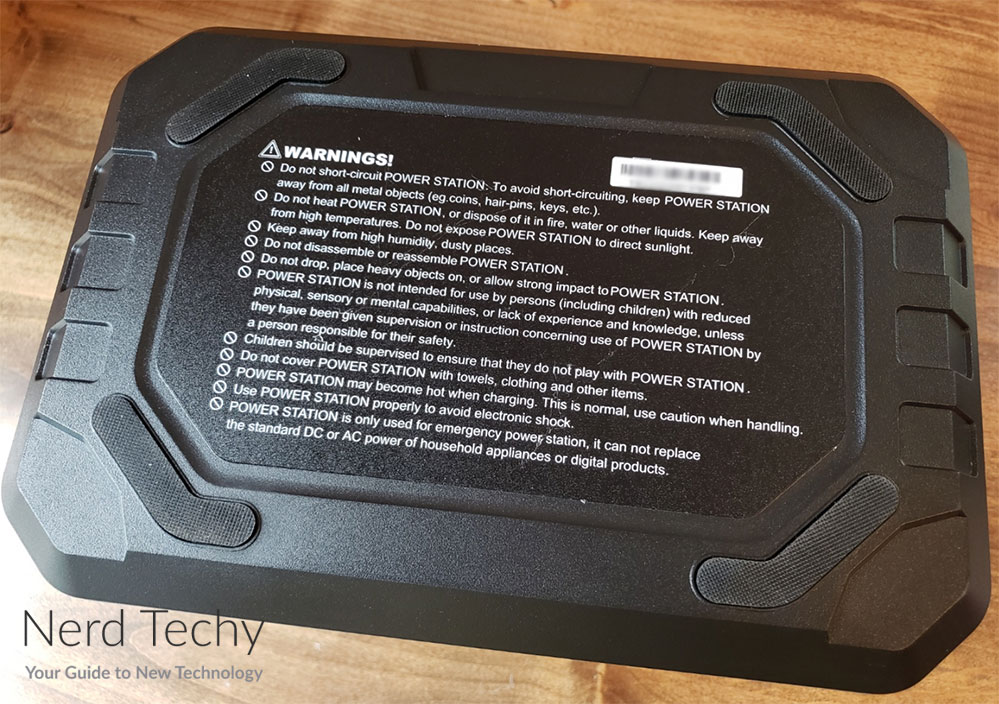 Final Verdict
The BALDR 500w (Pioneer 500) Portable Power Station is a robust little power station. It can charge up to 10 devices at once, and deliver up to 500 watts of AC power. With multiple safety features and a durable build, it's very reliable. It's also lightweight and portable, which makes it suitable for all kinds of applications. All in all, we were very pleased.