These days, we're surrounded by electromagnetic (EM) radiation. To some extend, this has always been the case. The natural light we get from the sun, for example, is a form of EM radiation, and it's essential for life. Our ozone layer protects us from the most harmful rays, gamma rays and X-rays. Meanwhile, lower-frequency waves have long been used by humans for communication. Radio waves are a form of EM radiation, as are terrestrial broadcast TV waves. But smartphones, WiFi routers, and other wireless forms of data have flooded many other bandwidths. Almost anywhere on earth, you're constantly being bombarded by radiation.
For most people, this isn't an issue. Radio waves, WiFi, and smartphone signals are all non-ionizing radiation. This means that they don't have enough energy to damage your cells' DNA. In other words, they can't give you cancer. But for some people, even the presence of this "harmless" radiation can cause physical symptoms. These symptoms can range from pain to nausea to disorientation and brain fog.
Unfortunately, there aren't many places you can go where there's no EM field (EMF). Unless you want to go live off-grid in the wilderness of Montana, you're going to be exposed. On the plus side, there are ways to minimize your exposure, such as whole-house EMF protection. But for a personal level, a EMF-blocking hat or beanie is a smart way to go. We're about to look at four of the best EMF protection (Faraday) beanies and hats on today's market. From warm weather to cold, we'll show you how to protect the most vulnerable part of your body: your head. Let's take a closer look!
How Does an EMF Protection Hat Work?
Before we go any further, let's discuss the basics. How does an EMF protection hat even work? These hats work thanks to the magic of Faraday fabric. Faraday fabric, in turn, works on the same principle as the Faraday cage. This is a 19th-century invention that was designed to protect engineers and inventors from electricity. What the inventor, Michael Faraday, didn't realize, was that he hadn't just found a way to block electricity. He had found a way to block out any kind of EM radiation. All it takes to block out different parts of the EM spectrum is to slightly modify the design.
The first Faraday cages were literal cages, made from conductive metal beams. When arrayed in the correct pattern, the beams will divert and neutralize the electrical charge. This works because charged particles are diverted as they approach the cage. So instead of traveling or arcing across a Faraday cage, the charge will jump around it. Positive particles will jump through one side, while positive particles jump through the other. This creates a neutral zone in the middle where the particles have not passed. Instead, the positive and negative charges on either side of the cage cancel each other out. You're left with an electrically neutral area.
This same type of large cage is still used in modern applications. For example, the military builds Faraday cages into the design of many secure facilities. This is designed to prevent wireless surveillance, and make it harder for other countries' spies. Hospitals apply the same principle to prevent interference from EMF sources in their area. This is because many sensitive medical devices can malfunction when exposed to external EM radiation.
So, how does a Faraday cage block other radiation? After all, X-rays and radio waves don't have a positive and negative charge like electricity does. The principle works because even a static field (ordinary air) produces a positive and negative charge. This in turn creates a weak electrical field around the outside of the cage. If the cage is properly designed, this electric field will then block out all kinds of EM radiation.
Faraday fabric is made from a conductive metal weave. When woven in the proper pattern, the metal creates the same effect as a Faraday cage. Wrap yourself with this fabric, and you're putting yourself in an electrically-neutral, EMF-free bubble. The most common material used for this purpose is silver. It's highly conductive, as well as being softer and more flexible than most conductive metals. As a result, it's well suited to being spun and woven into a cloth.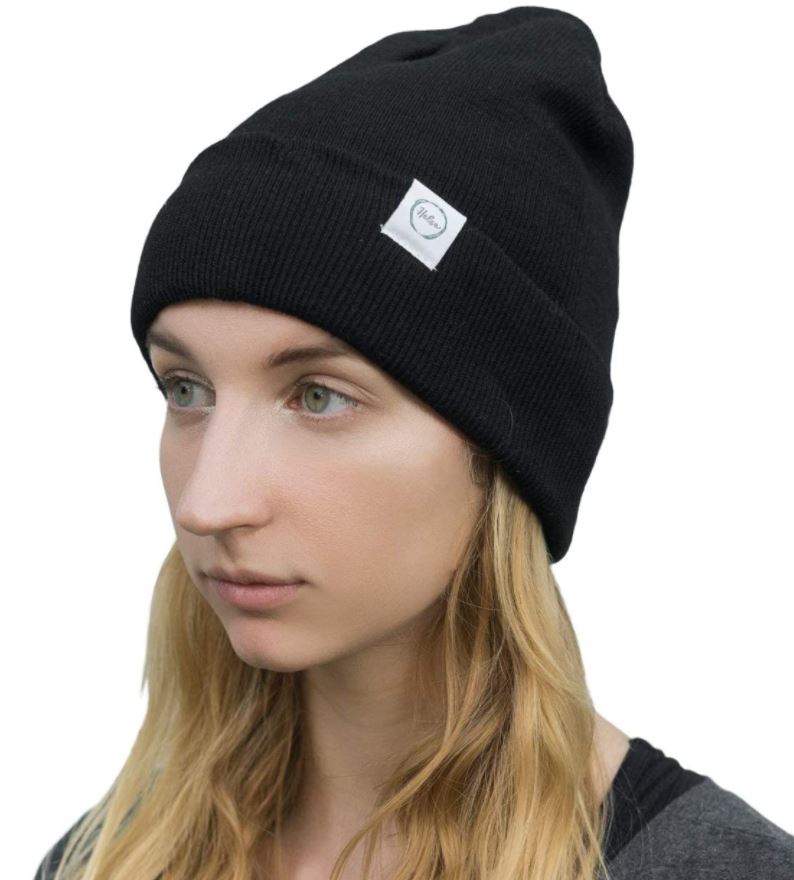 Halsa EMF Protection Beanie
The Halsa EMF Protection Beanie is an attractive beanie that comes in three different colors. In addition to the standard black, it comes in grey, and a "pink" that's really more of a coral. The outer layer has a finely-ribbed texture, which appears smooth from more than a few feet away. Sizing is one size fits most. If you have a truly enormous head, it will be too small. But it should be a decent fit for the majority of adults.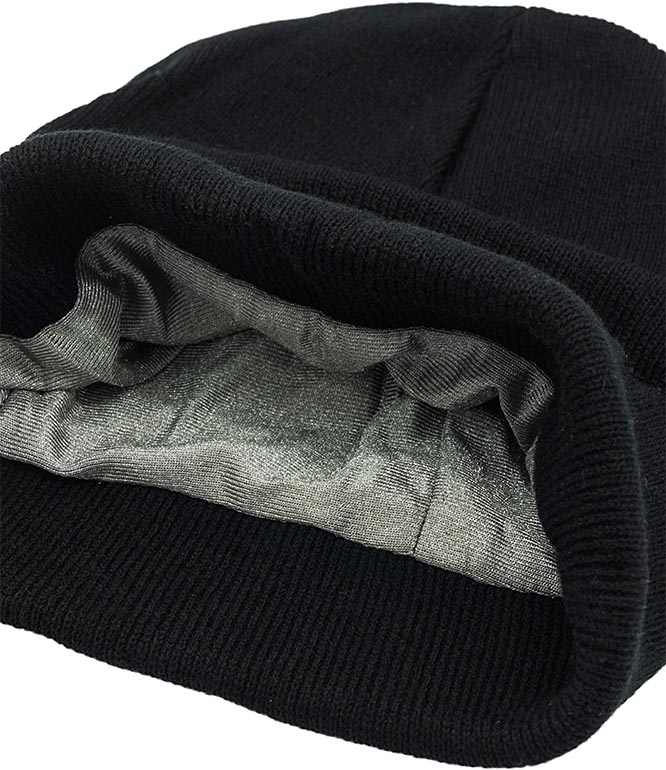 The hat is constructed from two layers. The outer shell is a 100% acrylic yarn. This material is soft and flexible, and has a little bit of stretch to it. The inner layer is made of 100% silver Faraday fabric. This is the layer that provides the actual EMF protection. It's surprisingly comfortable, even when it's in direct contact with your head. It's also reasonably effective at blocking EM radiation, although a lot depends upon how it's worn. You'll obviously get better performance the more of your head it's covering. In terms of temperature, this hat is relatively lightweight. It's good for brisk fall or spring days, but not for the dead of winter.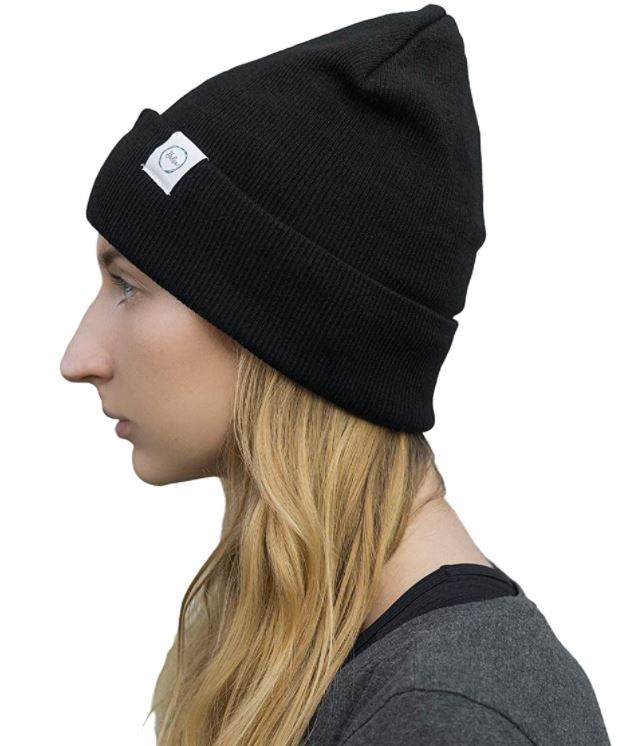 The Halsa beanie, like most EMF blocking hats, is hand wash only. The vibration and abrasive action of a motorized washing machine will damage the silver Faraday fabric. Instead, wash this beanie in detergent and cool water, then rinse it out and let it hang dry. Neither the acrylic nor the Faraday fabric holds much water, so it dries out in just a few hours.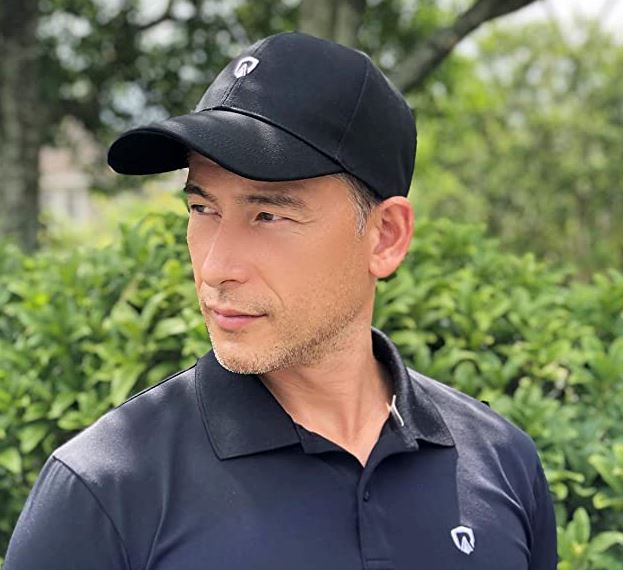 RadiArmor EMF Blocking Hat
RadiArmor manufactures a variety of EMF protection equipment. In the past, we reviewed their EMF-blocking cell phone sleeve, and it worked very well. So when it came time to choose an EMF blocking hat, going back to this brand was a no-brainer.
To all outward appearances, the RadiArmor EMF Blocking Hat is a simple ball cap. It's available in black or deep blue material, with a smooth finish that's easy to brush off. Both colors come with a white RadiArmor emblem on the front, which is the only visual feature of note. This is a one size fits most hat, with a sliding buckle on the back. Instead of a plastic closure, the buckle is a durable metal, and can be adjusted to infinite positions. The maximum size is 23.5 inches, though. If you have a very large head, that's not going to be big enough.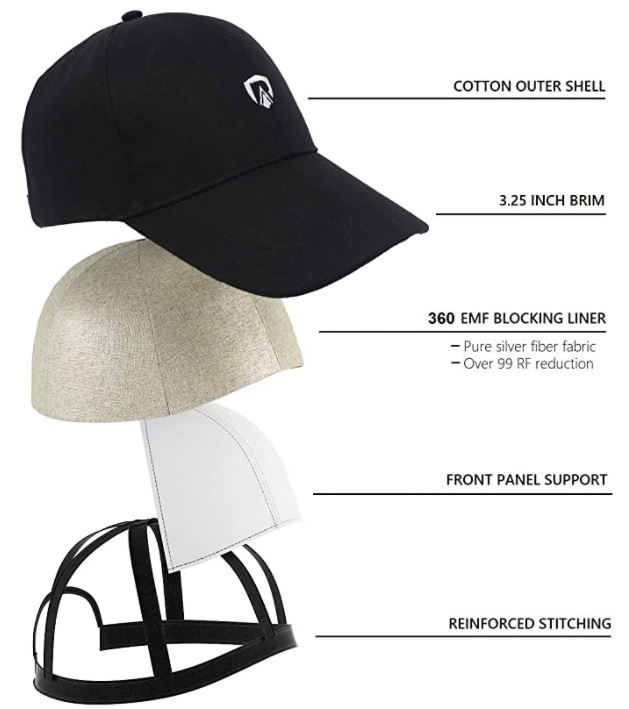 The outer shell is stitched from a tough cotton, and the brim is both wide and stiff. The shell is also solid all the way around, except for the adjustment hole at the back. The inner liner is made from a silver Faraday fabric, which mates perfectly with the shell. The fit is very comfortable, and the material is all lightweight. This makes the RadiArmor hat perfect for hot summer days. And while it doesn't cover as much area as the other hats, it does cover the top of your head. Cell towers and most other "major" radiation sources are overhead, so you're still getting significant protection.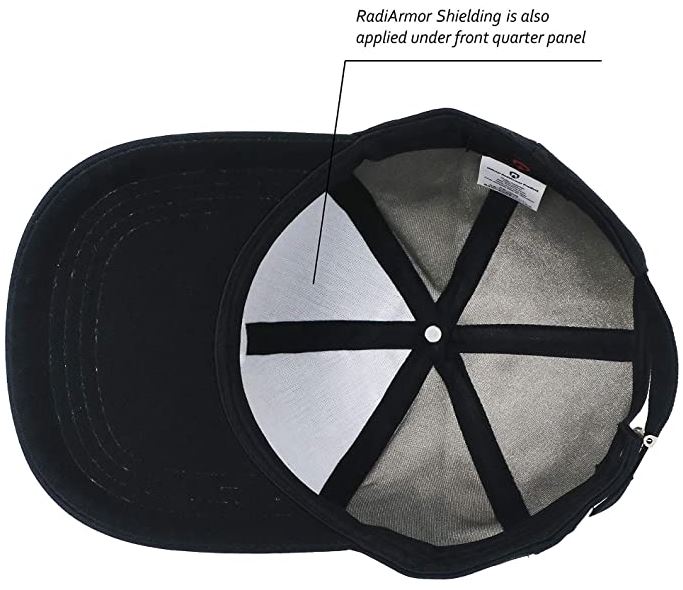 This hat is very rugged, with extra reinforced stitching across the edges of all the panels. There's also a stiff, lightly-padded front panel for a little added protection. That said, you still have to hand wash and hang dry it.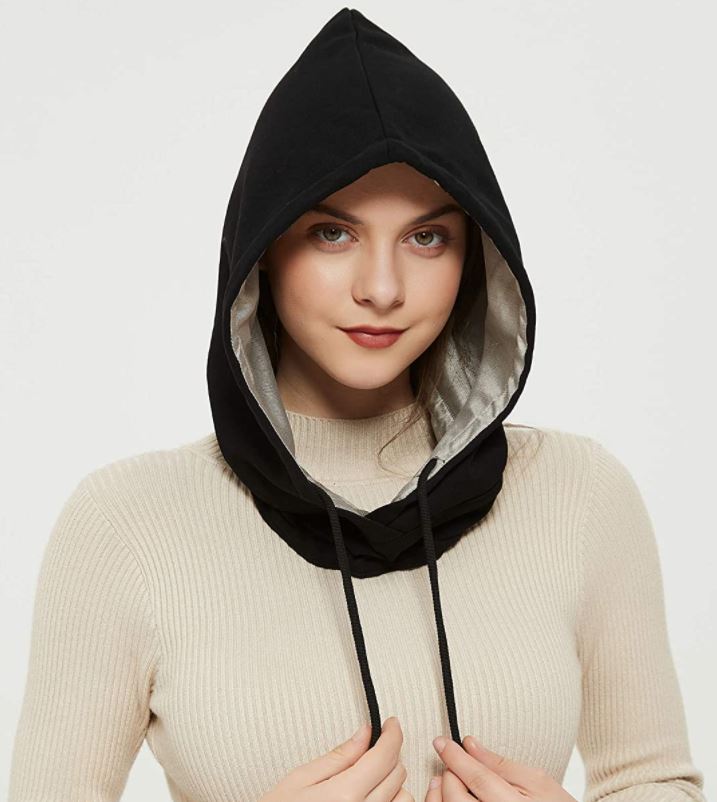 Radia Smart EMF Hood
Radia Smart is another manufacturer we've sampled from in the past. Their EMF blanket impressed us with its quality and comfort. As a result, we decided to take a look at the Radia Smart EMF Hood. This is a full-sized hood that covers your entire head, and joins with a collar around your neck. The outer shell is black in color, with a soft, smooth texture. The hood is a one size fits all. As long as your head will fit through the hole in the bottom, you'll achieve a comfortable fit.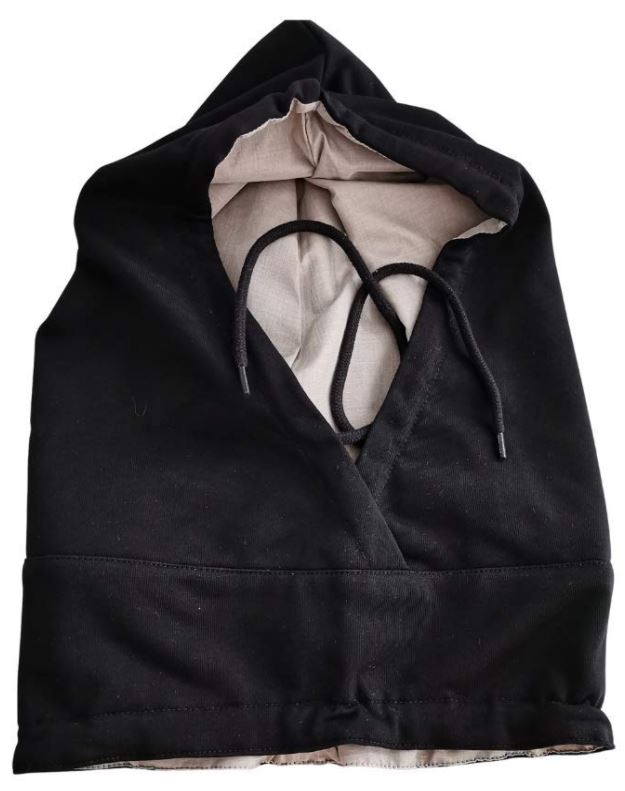 The outer shell is a cotton/poly blend, which is designed for a combination of warmth and easy cleaning. In fact, this is the only one of today's offerings that can be machine washed. Just be careful. It can only be washed on the cold setting, and it still needs to hang dry. Even so, you're looking at a relatively easy task.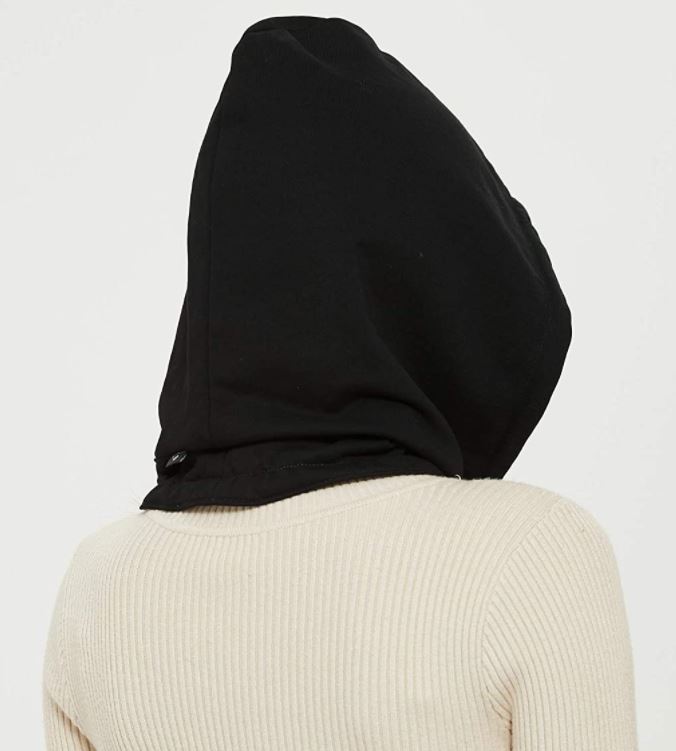 The inner liner is constructed from silver Faraday fabric, which provides fairly good protection. In point of fact, this hood offers a ton of protection. For one thing, there's a drawstring at the front. If you're having a particularly tough time, you can cover almost your entire face as well as your head. For another thing, the wide collar covers your neck and your thyroid. The thyroid can be particularly sensitive to radiation, so it's nice to have protection in this area. The construction is a bit heavy, so you're looking at a cold-weather hood. This is great for snowy winter days, when an ordinary hat wouldn't be warm enough.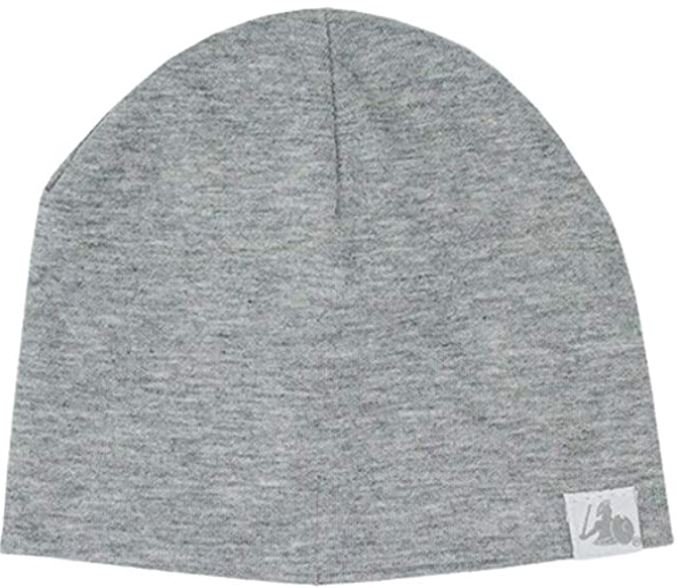 DefenderShield EMF Radiation Protection Beanie
The DefenderShield EMF Radiation Protection Beanie is a straightforward grey beanie. The outer shell is made from a cotton/nylon blend, and it has a very soft feel to it. It's also exceptionally flexible. All of these hats have some level of adjustability, but this hat is truly exceptional. It can stretch to accommodate even a 28-inch head, which is very large. All you have to do is roll the bottom up and down to create a larger or smaller opening. For people with smaller heads, the same technique can be used to cover the sides of your head. As an added benefit, you can order an infant size. This is great news if you have any little ones with EMF sensitivity.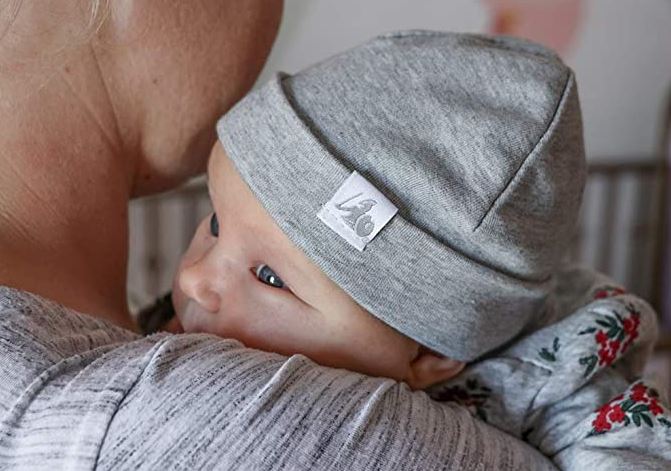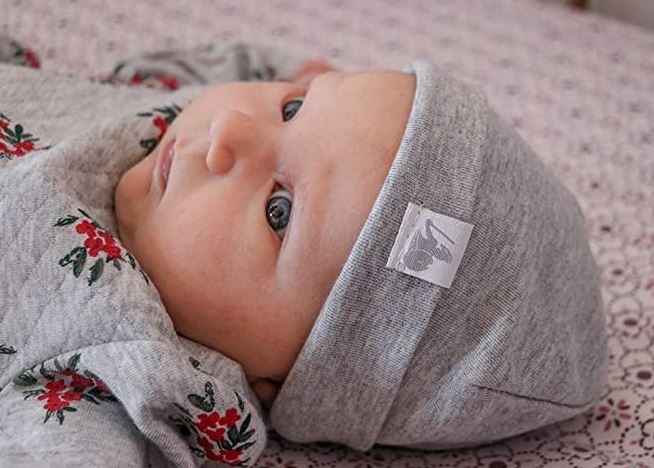 The inner shell is made of a silver weave, which is as soft and comfortable as the outer. This weave is hand wash only, but we were still very pleased with the comfort level. The material isn't just soft; it's also breathable. As a result, it's a great choice for fall or spring weather, when there are moderate to cool temperatures. In terms of EMF protection, a lot depends on how the beanie is worn. If it's rolled way up and sitting on top of your head, it offers moderate protection. If it's pulled down over more of your head, you'll get better results.
Final Verdict
As you can see, these are all high-quality Faraday hats. But which one is ideal for your needs? In addition to your fashion sense, a lot also depends on the temperature. We started out by looking at the Halsa EMF Protection Beanie. This beanie is a plain black, white, or coral, and it's reasonably soft and comfortable. The fit is excellent for most people, and the weight is perfect for fall and spring weather.
The RadiArmor EMF Blocking Hat is a perfect companion for warm summer days. The material is lightweight, so you won't find yourself retaining a ton of heat. It's also surprisingly durable, with double-stitched seams and a reinforced front panel. This is a fashionable, effective solution for hot-weather EMF protection.
The Radia Smart EMF Hood, on the other hand, is our go-to choice for cold-weather EMF protection. It's soft and thick, perfect for chilly days and howling winds. Moreover, it provides full coverage for your head and neck. If you want an EMF hat that also protects your thyroid, you're looking at it.
Finally, we looked at the DefenderShield EMF Radiation Protection Beanie. This is similar to the Halsa beanie in many respects. It's a breathable beanie, designed for use in cool and mild weather. However, it's thinner and more flexible. It will accommodate even very large heads, but it lacks the Halsa beanie's textured look.