Way back in the 2012, Oculus launched their first line of VR headsets, the Oculus Rift.
At the time, this was bleeding-edge technology. And while Oculus had produced some amazing hardware, there wasn't a ton of content available. Even so, they garnered a ton of attention, and the company won many awards.
In 2014, Facebook purchased Oculus outright. At the time, this seemed like a minor piece of insider baseball. But then, in October of 2021, Facebook founder Mark Zuckerberg announced a major change.
Facebook was changing its name to Meta, and trying to break into the VR space. The goal is to transform the idea of an online community. Ultimately, Meta aims to create a virtual world where people can interact via VR headsets.
It remains to be seen whether Meta's particular vision will be the way of the future. But it's undeniable that their Oculus Quest hardware will play a major role in the next generation of VR technology.
Any VR headset faces an obstacle, though; it needs to be powered. The Oculus Quest 2, released in October, 2022, has a battery life of around two to three hours.
If you need more than that, you'll need an external battery. The easiest way to do this is with a head strap with a built-in battery.
Today, we'll be reviewing four of the best Meta/Oculus Quest 2 battery head straps available.
All of them will extend your battery life, and some have extra features or improved ergonomics. But to make an informed decision, we'll have to dig a little deeper into their design. Let's take a closer look, and see what we find!
Quest 2 Elite Strap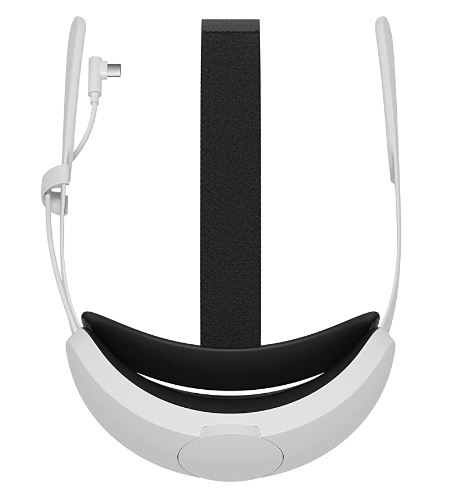 Key Features:
5,200mAh battery.
Sleek, attractive design.
Easy-to-adjust fit wheel.
Official Meta product.
The Quest 2 Elite Strap is Meta's official upgraded battery strap. It's built much like the OEM strap, with a white plastic band that wraps around your head. Meanwhile, a black nylon strap stretches over the top, and can be adjusted by repositioning the velcro closure.
The material is slightly flexible, and fits comfortably around your head. And you can adjust the tension of the side strap by turning a dial on the back of your head. This mechanism makes it easy to adjust the size, regardless of how big your head is.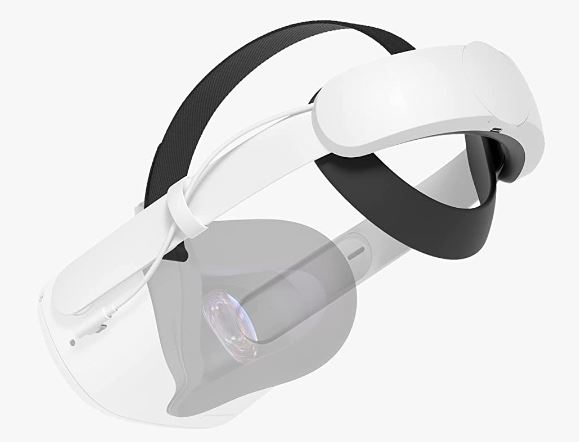 At the rear of your head is a cradle that cups the back of your head. It's padded with rubber, and conforms well to the shape of any skull. This does a great job of stabilizing the Quest 2 in front of your face. Meanwhile, a battery pack mounts on the back of the head cradle. The extra weight in the back actually makes the headset more comfortable, because it balances things out.
The battery has a capacity of 5,200mAh, which is the same as the Quest 2's internal battery. As a result, it effectively doubles your performance. Charging is also simple. There's a USB Type-C port in the battery, so you can use your original Quest 2 charger.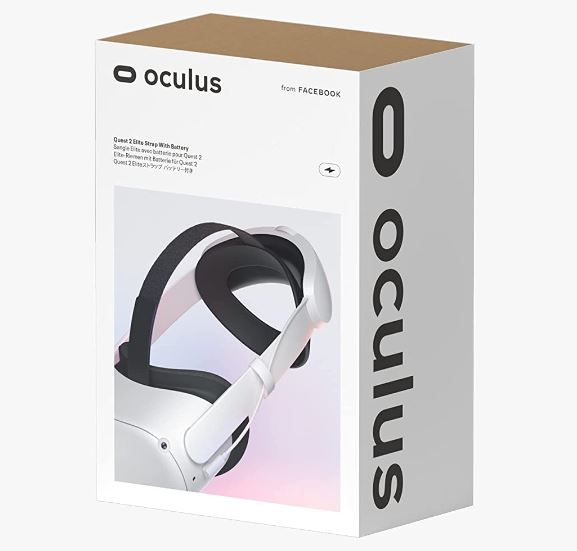 A small wire runs from the battery to the main unit, and is secured in a retention ring on the left strap. When you plug in the Quest 2 Elite Strap, your main battery will charge at the same time.
What We Liked:
Excellent weight and balance.
Very easy adjustment.
Built and designed by Meta.
What We Didn't Like:
BUSQUEDA Elite Head Strap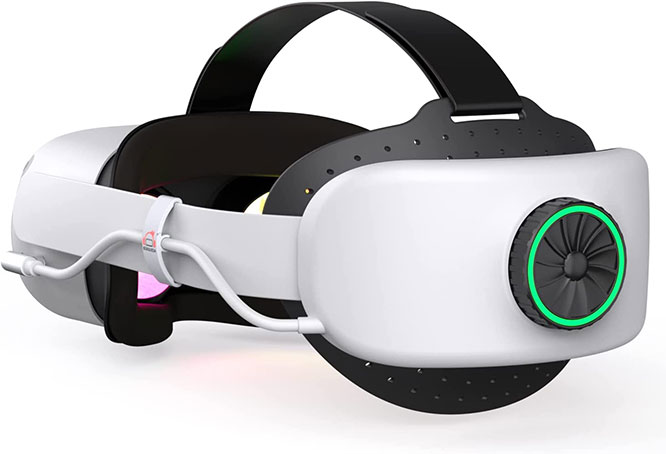 Key Features:
8,000mAh battery.
Vented head cradle.
Supports fast charging.
Built-in battery meter.
The BUSQUEDA Elite Strap is similar in many ways to the official Quest 2 elite strap. It has a near-identical frame, including white plastic side straps and a black nylon top strap. However, the material in the head cradle is a bit different. Instead of being solid padding, it's vented TPU rubber. The holes make it very breathable, so you don't have to worry about sweat during long VR sessions.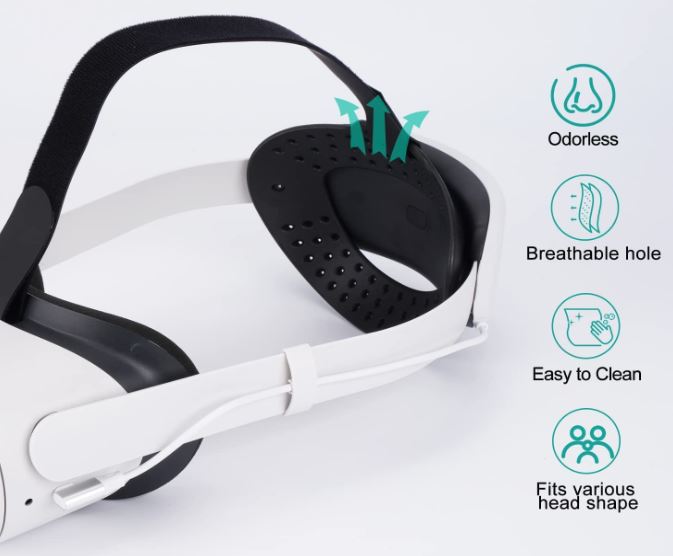 That said, there are some differences to point out. For one thing, the tension adjustment dial on the back doubles as a battery meter. It has an LED light ring on the front that shines green when your charge is between 75% and 100%. It changes to a three-quarter ring when your charge drops to 75%, then half green below 50%. Below 25%, it's just a quarter ring. When it drops to 10%, the ring turns all red. This indicator is very convenient, but it's wired into the battery by necessity. As a result, your screen will cut out momentarily when you tighten or loosen the strap.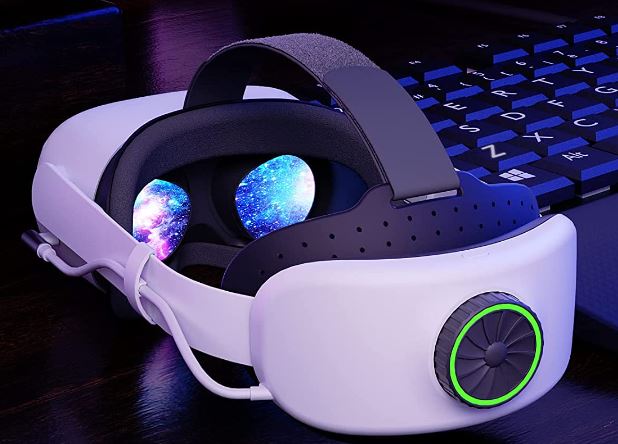 The battery pack connects to the screen via a wire, and charges via USB Type-C. However, it has a capacity of 8,000mAh. That's enough to increase your battery life to seven hours. The BUSQUEDA Elite Strap also supports fast charging, and comes with a fast charging cable. Plug that into the battery pack, and it will fully charge in four hours. After six hours, the main battery will also be fully charged.
What We Liked:
Large battery capacity.
Supports fast charging.
Easy-to-read battery meter.
What We Didn't Like:
Finicky battery connection.
BOBOVR M2 Plus Head Strap Twin Battery Combo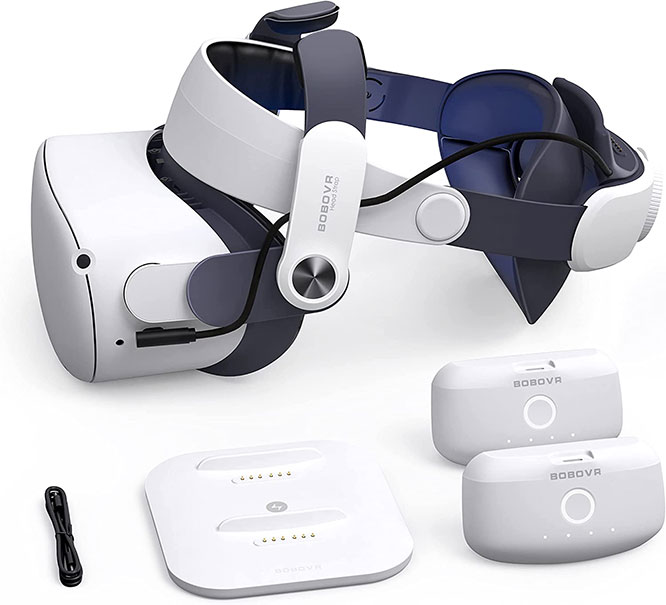 Key Features:
5,200mAh battery.
Hot-swappable dual-battery kit.
Interchangeable PU leather and honeycomb padding.
Includes a charging station, carry case.
The BOBOVR M2 Plus Head Strap Twin Battery Combo has a different design altogether. Instead of wrapping around your head, the side straps stick up at an angle from the back of your head. At the front of your head, they're several inches higher, and connect to a second set of downward-facing straps. These support the Quest 2 in front of your eyes. The design is meant to be ergonomic, and it's certainly very comfortable. But it's also a bit bulky, particularly if you have a smaller head.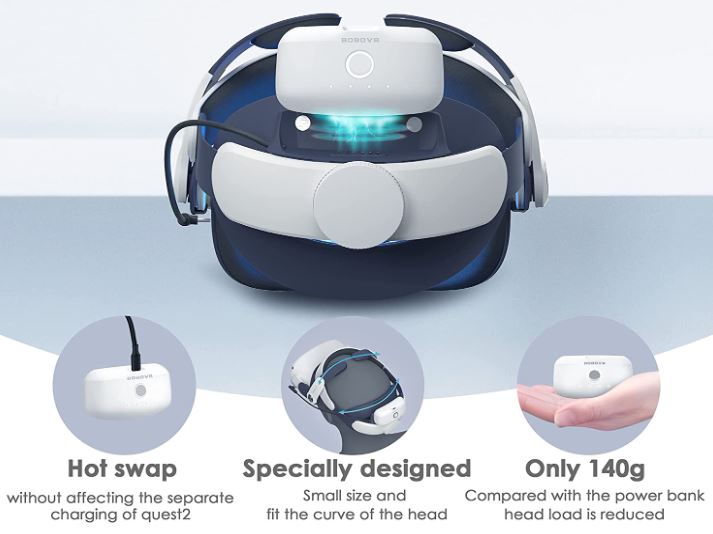 The rear cradle is particularly comfortable. Instead of a single cushion, you have your choice of padding. The default PU leather is nice and thick, and feels very soft on your head. Or you can swap out the leather for a set of rubberized honeycomb cushions. These aren't quite as soft, but they're significantly more breathable.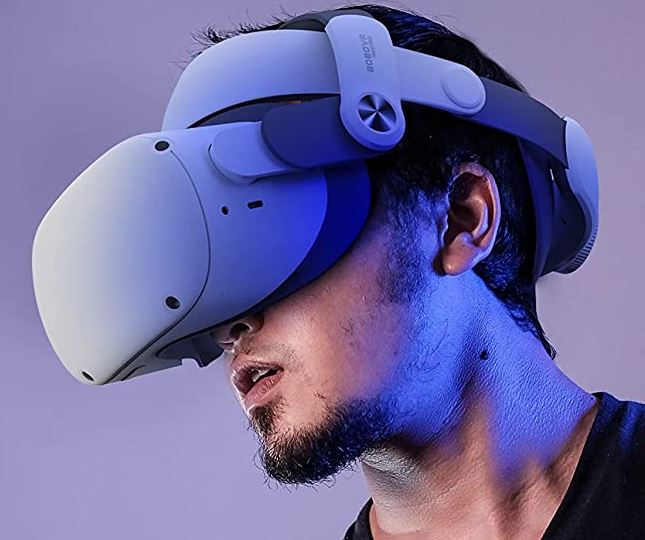 The adjustment wheel is located on the back of the rear cradle, with a row of four LED lights above it. Press a button, and these will light up to let you know your charge level. Above the lights is a little cradle to fit the 5,200mAh battery. This will double your capacity, but is also magnetized. The kit includes two batteries, and they're hot-swappable. You can seamlessly change them out while you're playing. The magnets will guarantee that they snap precisely into place on the power contacts.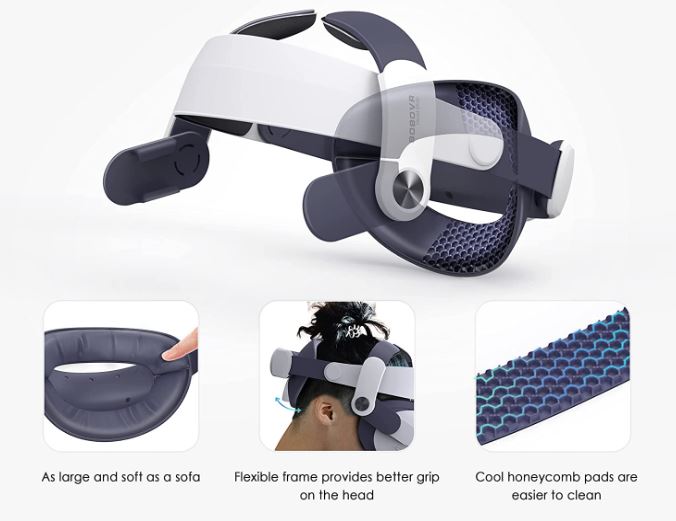 The kit includes a charging base, which is made of white molded plastic. You can drop the batteries in and charge them simultaneously. Or you can charge them individually with the USB Type-C cable. You also get a semi-rigid grey carrying case. It's reasonably durable, with a zipper closure and a carrying handle on the top.
What We Liked:
Virtually unlimited battery capacity.
Interchangeable padding components.
Magnetic batteries are easy to swap.
What We Didn't Like:
AUBIKA Quest 2 Battery Head Strap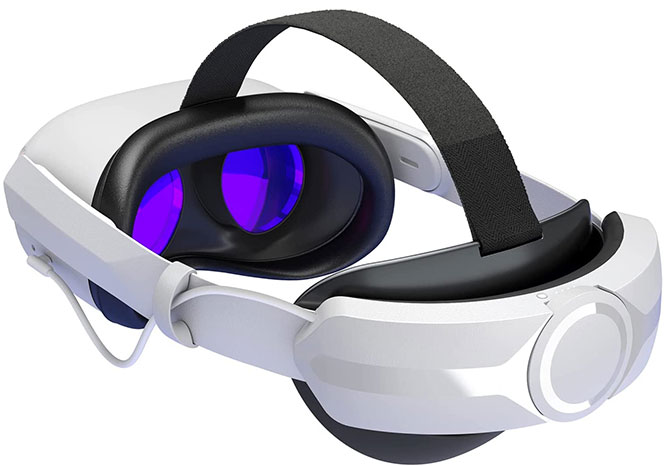 Key Features:
5,000mAh battery.
Easy-adjust fitment wheel.
LED battery indicators.
Multiple optional accessories.
The AUBIKA Head Strap is more akin to the standard Quest 2 strap. It has white side straps with a black nylon strap across the top. There's also a rubber-padded back cradle to provide stability and balance.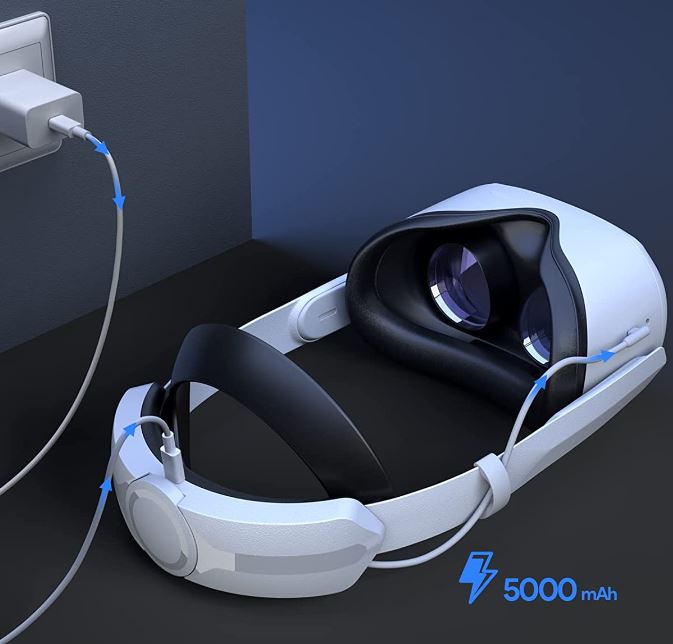 It's very affordable, but this comes with its own drawbacks. Specifically, it's not very durable. After a few weeks of use, the velcro on the top strap can start to wear out. This isn't a big deal if you rarely make any adjustments. But if it's a shared headset, it can become a problem.
The adjustment wheel at the back is easy to operate and can fit almost any head size. There are four LEDs on the frame above it, which indicate the battery level when you press a button. The battery itself has a capacity of 5,000mAh, which will almost double your total capacity. It connects to your Quest 2 via a wire, and you can charge both of them simultaneously via USB Type-C.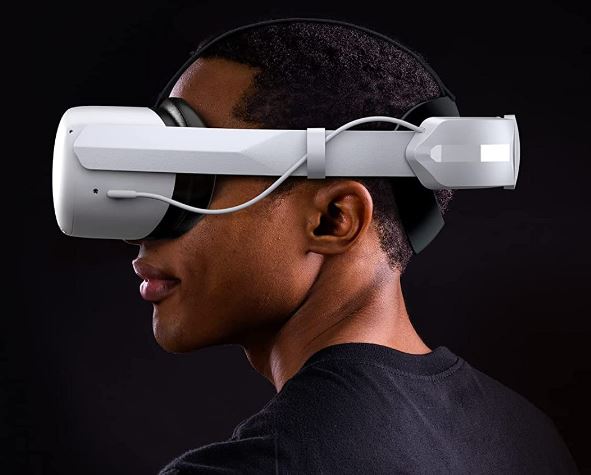 You can order the AUBIKA strap in black or white, and as well as with an optional case. The case is semi-rigid, and it's made from a tough, scratch-resistant nylon with a zipper closer. You can also order the strap with an accessory kit. This kit includes a mesh bag, an extra cushion, a protective heat dissipating shell, and a hard carrying case.
What We Liked:
Comfortable and easy to fit.
High-quality optional accessories.
Affordable.
What We Didn't Like:
How to Maximize Your Meta Quest 2 Battery Life
The Meta/Oculus Quest 2's OEM battery will last for around three hours. That's if you're watching videos or gaming at 60 FPS. If you crank it up to 120 FPS, you can expect more like two hours of battery life. Either way, that's not much compared to most of your electronics.
In addition to increasing your battery capacity, you can extend your VR sessions by reducing your power usage. So, how do you cut down on your Quest 2's total battery usage? Here are a few tips to make your VR system last longer:
Turn off your Quest 2 when you're not using it. Don't just put it to sleep. In sleep mode, the Quest 2 will continue to draw a slow trickle charge. When you turn it back on, you won't actually be at full charge. Instead, hold the power button until the system makes a chime and the light on the front turns off.
Unplug your VR system when it's fully charged. Leaving the Quest 2 plugged in when its fully charged will damage the battery over time. Eventually, you'll see a reduction in battery life. Instead, watch the indicator light. When it turns from red to green, unplug your system.
Use the original charger. Other chargers could deliver a less-than-ideal current to your battery. The standard Meta charger will be best for its long-term health. This won't be necessary if you're using a third-party battery with its own charger.
Turn off your WiFi. You'll need your WiFi on for multiplayer gaming, streaming, or performing system updates. But WiFi also draws power. If you're playing a single-player game, go ahead and turn it off.
What's the Best Quest 2 Battery Head Strap?
You could make a good argument for any of these Meta/Oculus Quest 2 battery head straps. But how do they compare? Here's what we've learned.
The Quest 2 Elite Strap is our top choice, partially because it's the official Meta upgrade. You don't have to worry about it damaging your Quest 2 system, since they're made by the same manufacturer. That said, it's also very comfortable and easy to adjust. And you can keep using your original charger, all while doubling your battery life.
The BUSQUEDA Elite Strap is similar in its overall design. However, the battery holds enough charge to last for seven hours. And with fast charging capabilities, you don't have to wait around forever for it to recharge. The adjustment knob interrupts the battery connection, which is a bit of a bummer. But depending on your preferences, the LED battery indicator could be worth the tradeoff.
The BOBOVR M2 Plus Head Strap Twin Battery Combo won our hearts with its magnetized design. You can hot-swap the two batteries in and out while you're playing, for effectively limitless battery life. It's a bit top-heavy, which may be a problem for some users. But the interchangeable padding on the head cradle somewhat makes up for that. Either way, it's a great choice for long VR sessions.
The AUBIKA Head Strap is affordably-priced, and still performs as well as many others. With its 5,000mAh battery, it will significantly extend your battery life. It's not as durable as we could have hoped. But all things considered, it's a great choice for anyone looking for an affordable option.