It's time to get outside and enjoy the spring weather! BLUETTI is offering fantastic deals on portable solar generators for their Spring Sale 2023, starting on March 7th.
Now's the perfect time to stock up on their vast lineup of portable power stations for enjoying the outdoors in true style. Today we're going to explore which specific products are discounted and available now. Let's get right into it.
BLUETTI AC500 and B300S – Perfect Combo for Home Backup Power
AC500+2/B300S Starting price of $7098 (Was $7598, Save $500)
By combining the AC500 and B300S, they offer the ideal solution for home backup power or to use off-grid at a remote location.
With a built-in AC power output of 5000W, the internal pure sine wave inverter can handle almost any appliance. And with a surge rating of 10,000W, it's ready for unexpected jumps in power when necessary. By adding a B300S LFP battery to the AC500, you can increase the overall capacity in 3072Wh increments. This way, you can expand the entire system up to 18.4kWh with six attached.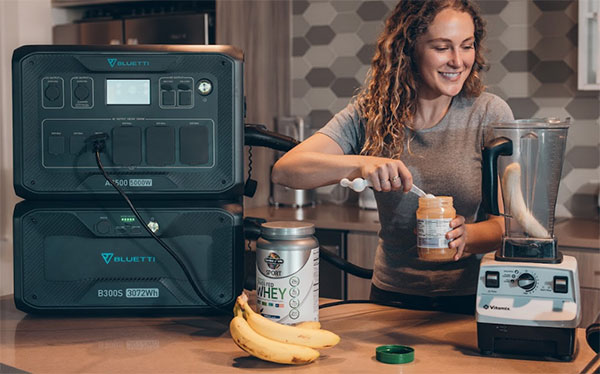 Needless to say, this is an enormous capacity that can easily give you peace of mind while living remote or to back up an unreliable power grid. Best of all, when properly installed to your home's electrical system, the AC500 can automatically detect outages and switch over without any hiccups, within 20 milliseconds. Therefore, outages can virtually be a thing of the past without any manual intervention needed.
Best of all, the BLUETTI smart app provides real-time monitoring from anywhere with a connection. It opens up a whole realm of insights that make it easy to see and understand what's going on, power-wise.
Additionally, there's an MPPT solar charge controller built right into the AC500 that accepts a solar array up to 2400W. But if you're not utilizing solar, the AC input can support a current of up to 3000W. As a result, charge times are ridiculously quick when both are used in conjunction.
BLUETTI EB3A – Ultra Portable Power Station
EB3A+PV200 Starting price of $658 (Was $798, Save $140)
For those looking for a compact power station that's easy for traveling, look no further than the BLUETTI EB3A. This ultra-compact solution tips the scale at only 10lbs. with dimensions small enough to fit in any vehicle or most storage compartments. Boasting a maximum AC output of 600W and a 1200W surge rating, there's plenty of power to go around for most small to medium sized accessories and appliances.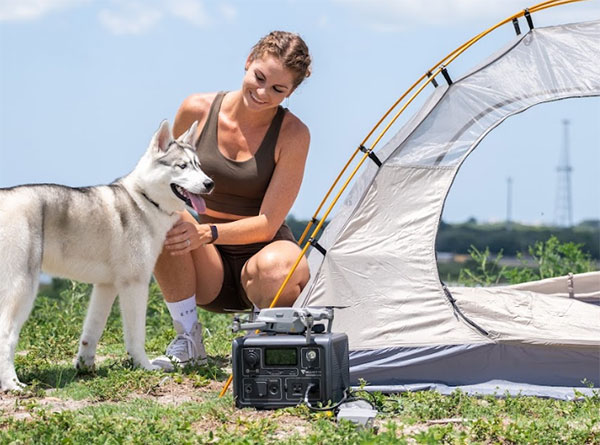 Inside, there's a LFP battery with a capacity of 268Wh. LFP technology is far-superior to traditional lithium-ion or lead acid cells due to the fact that it can handle 2,500 charge/re-charge cycles before you may notice any degradation in the overall capacity. Once it does, it will still hold 80% of its original capacity for the remainder of its life. This provides years of usage without needing to worry about its longevity.
While 268Wh may not seem like a lot of capacity, for its size, it's quite a bit. Ideal for camping or emergency backup power, the EB3A has the ability to power a 10W light for up to 22 hours or a 60W car fridge for 4 hours. In addition, it can power a 60W laptop charger for 4 hours or an 80W TV for 3 hours. And like other power stations in BLUETTI's lineup, it accepts a solar input of 200W for connecting a panel to charge via the sun. Best of all, the BLUETTI app pairs well with the EB3A, opening up plenty of insights into power usage, remaining battery life, etc.
BLUETTI EB70S – Advanced Portable Power Station
EB70S Starting price of $519 (Was $599, Save $80)
If you feel the EB3A may not provide all the power you'd like, you may want to step up to the BLUETTI EB70S. Ideal for outdoor activities such as camping, overlanding or off-grid living, it's recently been updated with improved specs. Notably, it now offers a continuous AC output of 800W with a 1400W surge rating. Combine this with the internal capacity of 716Wh and you have plenty of versatility in terms of whatever you'd like to power.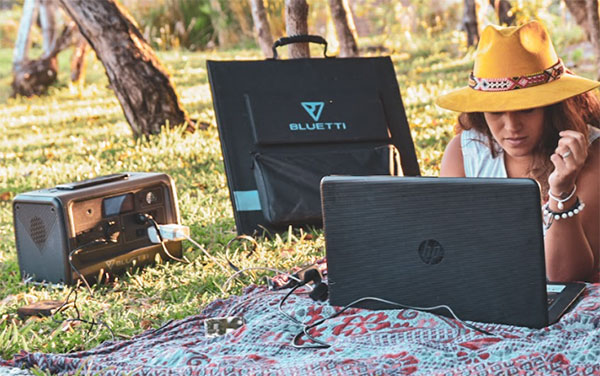 Capable of running up to 12 devices or appliances simultaneously, it supports both AC and DC outputs for powering virtually anything you use on a daily basis. From full 100% capacity, the EB70S has the ability to run a 75W TV and a 90W mini fridge for about 6 to 8 hours. And with multiple re-charging methods available, users can opt to hook up a solar panel or re-charge via their car's DC output in relatively little time.
BLUETTI AC300 and B300 for Off-Grid Living
AC300+B300 Starts at $2999 (Was $3898, Save $899)
AC300+2/B300 Starts at $4998 (Was $6197, Save $1199)
Limited 800 units until March 31st at 10:00PM
For those living in a tiny home or totally off-grid, the AC300 and B300 units are the ideal combination. Equipped with a massive 3000W AC inverter with 16 power outputs, it offers more than enough outlets for relying on it as your sole source of off-grid power. By adding a B300 unit to the AC300, you can expand the capacity in 3072Wh increments all the way up to a total of 12,288Wh with four B300 modules attached.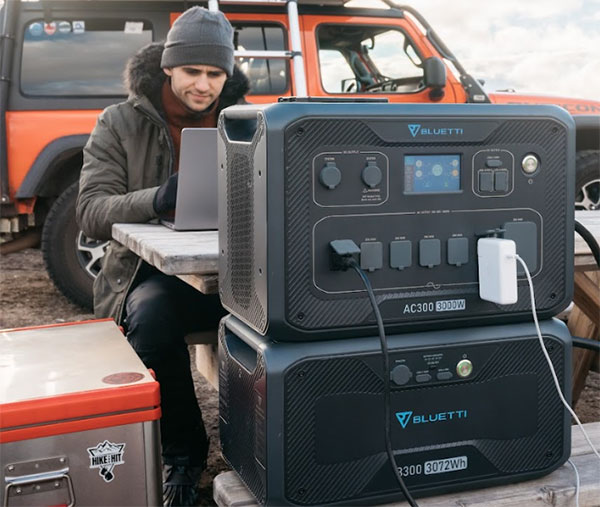 Although you could also use it in an RV or van, the modularity of the AC300 and B300 offers a lot to love. It's designed for high-load appliances but can perform equally well when used with smaller, everyday electronics. In fact, with just one AC300 and a single B300 expansion battery, users can operate a 700W full size refrigerator for up to 3.7 hours. Or, a 500W washing machine for as long as 5.2 hours before needing to be re-charged.
BLUETTI AC200MAX – All-Around Mobile Power Solution
AC200MAX+3/PV200 Starting price of $3046 (Was $3496, Save $450)
As a step-up from its predecessor, the AC200P, the AC200MAX takes portable power to a whole new level. It's a mid-sized power station with the capability of being paired with multiple B230 or B300 expansion batteries. By itself, the AC200MAX supplies a 2,048Wh capacity, but with two B230s that can increase to 6,144Wh. Alternatively, you can opt for two B300's which will bring this to 8,192Wh.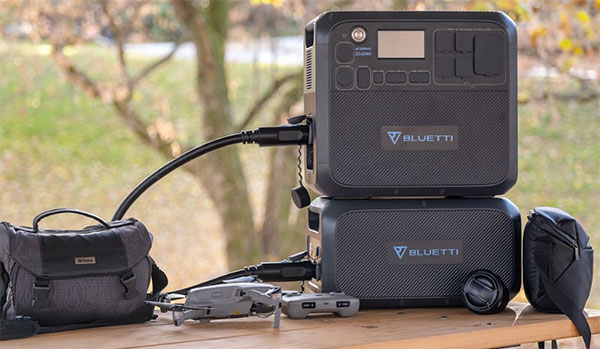 The AC200MAX supports a maximum AC output of 2,200W, which is enough to power most mid to large sized appliances and/or devices without issue. And with 14 outlets, there's support to charge or power virtually any and everything you could think of. As an added bonus, there's even two wireless charging pads on the top of the unit. All in all, it's a well-designed, versatile power station that's relatively budget-friendly.
BLUETTI AC200P – Top Pick for All-in-one Power
AC200P+B300 Starting price of $3398 (Was $3998, Save $600)
As an alternative to the aforementioned options, the BLUETTI AC200P is a top pick for all-in-one power. With its built-in 2,000W inverter and 2,000Wh capacity, it's one of the most compact power stations for its class. Whether you'd like to use it solely as emergency backup power or for off-grid living, the AC200P is impressive in its own right.
However, some may feel that the capacity may need to be increased. Therefore, BLUETTI made it compatible with the B230 and/or B300 battery expansion modules. With this, a single B230 can expand the battery capacity to 4,048Wh while a single B300 can bring it up to 5,072Wh.
BLUETTI PV120, PV200, PV350 Solar Panels
PV350 Starting price of $769 (Was $849, Save $80)
If you're utilizing any of BLUETTI's power stations, you probably want to take advantage of solar charging. It's the cleanest, quietest and most eco-friendly way to replenish the internal capacity of any of their products. Unlike others, BLUETTI's solar panels utilize monocrystalline cells which are a step-up from polycrystalline cells that you might find with inferior brands. These monocrystalline cells are proven to provide a 23.4% efficiency rating and are said to have an increased lifespan.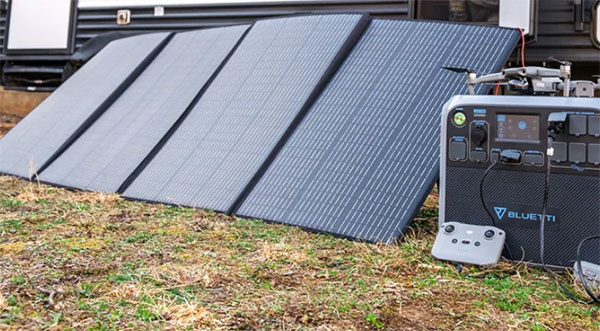 Each BLUETTI solar panel is coated with a special ETFE material. As a result, they're designed to withstand scuffs and abrasions that may happen with normal use. In addition, each one has its own IP65 junction box that is resistant to water and moisture. Best of all, the panels are simple to transport with their folding design and built-in handles. All in all, the panels are likely the best accessory you can purchase with whichever portable power station you choose.
Who Is BLUETTI?
BLUETTI has been in the industry for more than 10 years while being dedicated to a sustainable future. They offer green energy storage solutions for indoor/outdoor use, and strive to provide an eco-friendly experience for all. They're now present in over 70 countries and widely trusted by millions of customers worldwide.
If you haven't heard of BLUETTI, you may have been living under a rock. They've made a great name for themselves as a top provider of power solutions for backup and/or emergency use. While their products are built with long lasting quality in mind, they offer comprehensive, well-designed products that are all backed by impressive support and warranties. Visit their official website at https://bluettipower.com/ for more information.