bonoch BBM04
Pros
Full house coverage with upgraded frequency.
Hackproof and encrypted close-loop transmission.
Micro SD card storage for memory playback.
Panoramic view of entire room with PTZ technology.
Cons
Monitor is a bit bulky/large.
More expensive compared to other baby monitors.
As a parent, you always want to keep an eye on your baby's every movement, especially during the first few months. However, this can be challenging if you have other household chores to attend to or need to leave the room for a short while.
That's where a baby monitor comes in handy. It helps parents keep track of their little ones, ensuring their safety and well-being. In this article, we review the bonoch long range video baby Monitor (model BBM04), discussing its features and performance so that you can make an informed decision as to whether you need this device in your life or if you should keep looking.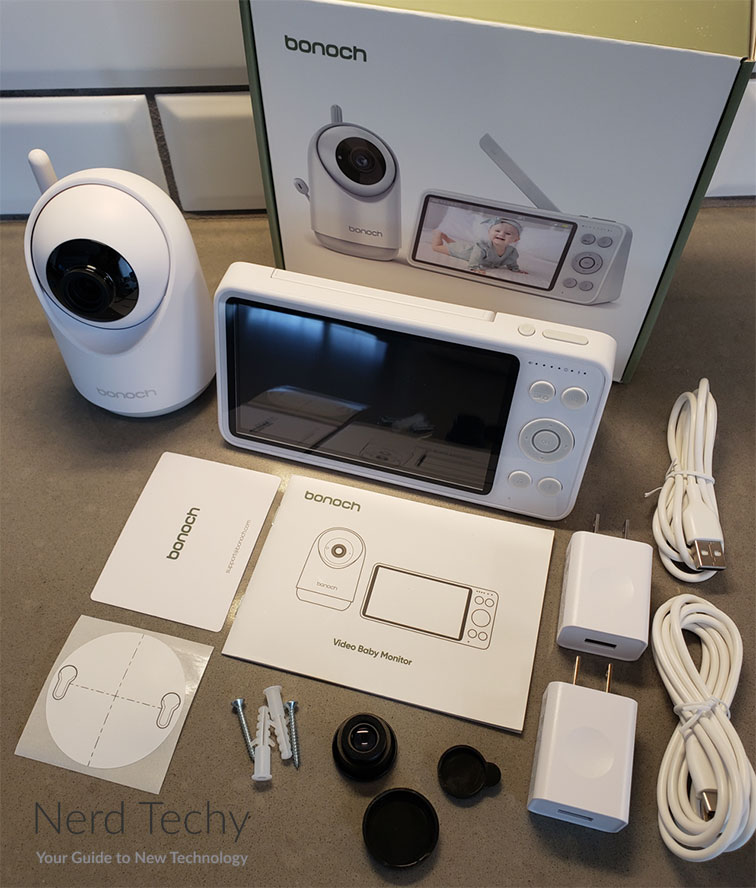 Features
When we first received the bonoch long range video baby monitor, we were impressed by its design and features.
The monitor's upgraded frequency solution of 900MHz provides full house coverage, which means the signal is strong enough to go through walls, giving parents stable live streaming from any room in their house. We tested this feature by placing the monitor in different rooms and found it to be true. We could view the live stream from any corner of our house without any interference.
The bonoch baby monitor also supports both auto and manual recording, video playback, and taking photos, which was a great feature for us to capture the precious moments of our baby's growth and development. It was easy to access the recorded videos and photos from the Micro SD card locally, and we didn't need an internet connection or an app. We really appreciate this feature, as it ensures you can access your content with ease.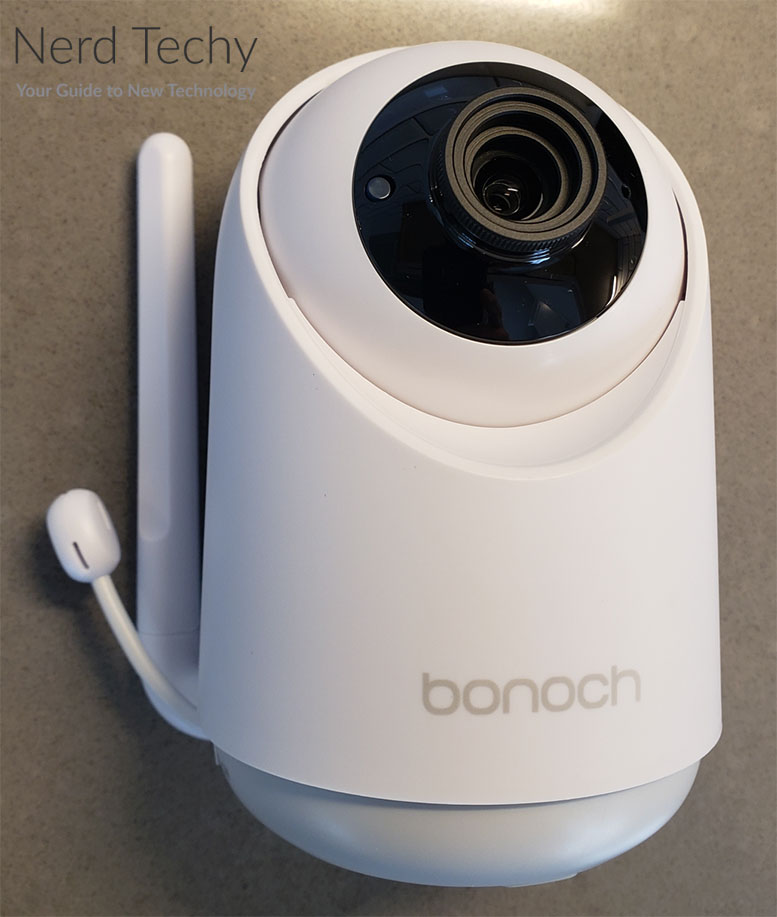 Privacy and Security
Privacy and security are essential when it comes to baby monitors. We were impressed by the bonoch baby monitor's privacy and security features. Unlike units that make use of Wi-Fi connections, the bonoch monitor doesn't need an internet connection, which means there isn't any risk of unauthorized access or hacking to your baby's room. The FHSS system prevents interference from other devices and improves the security of the transmission.
We are astonished by the unparalleled security provided through Handshake Protocol – a blockchain-based, decentralized system that replaces traditional methods of ensuring internet safety. This feature gives parents immense peace of mind knowing their children's data is absolutely secure.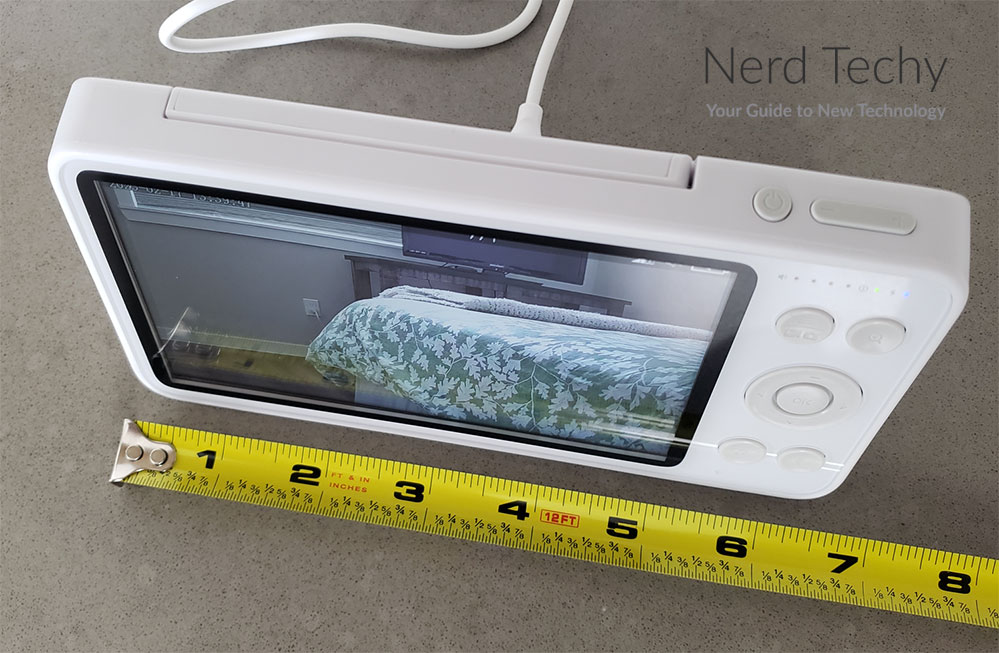 Video and Viewing Experience
The bonoch baby monitor provides superior video quality and an immersive viewing experience. The monitor and camera both offer a resolution of 1080p, providing crystal-clear images and videos.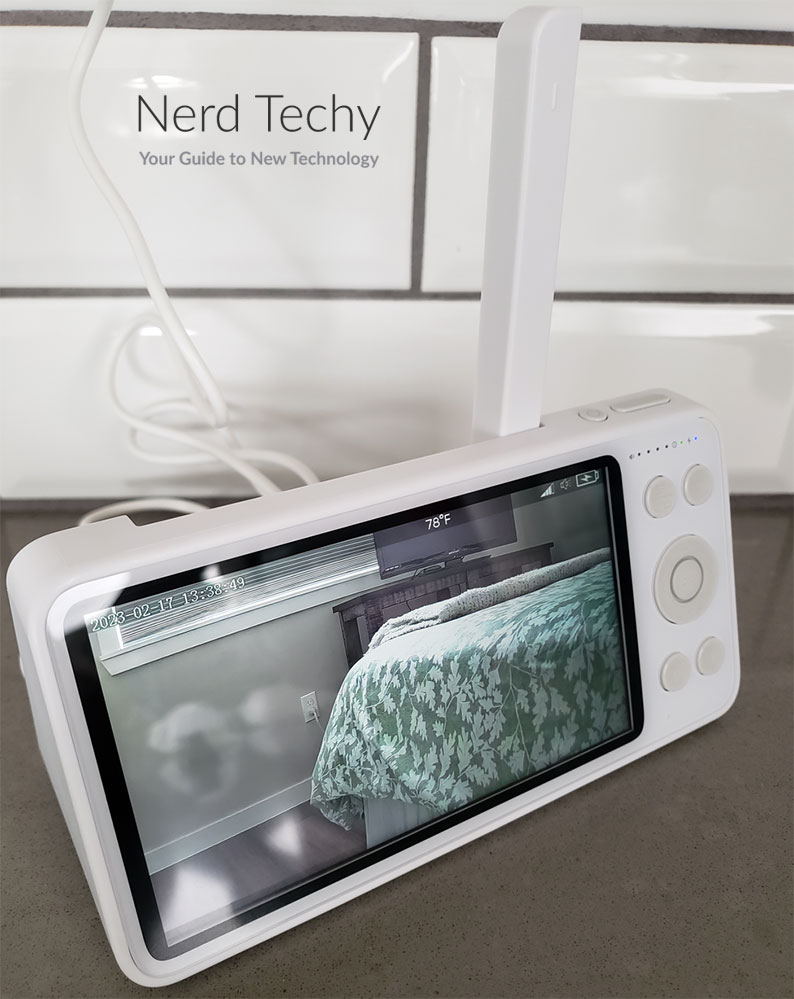 We appreciated the panoramic view of the entire room, thanks to the included, yet optional 110° wide angle lens. It screws onto the lens and adds a better field of view for tight areas. Ultimately, it captures more space in a single shot. This gave us a wider field of view and innovative perspective, enabling us to monitor our baby's movements and actions without having to move the camera.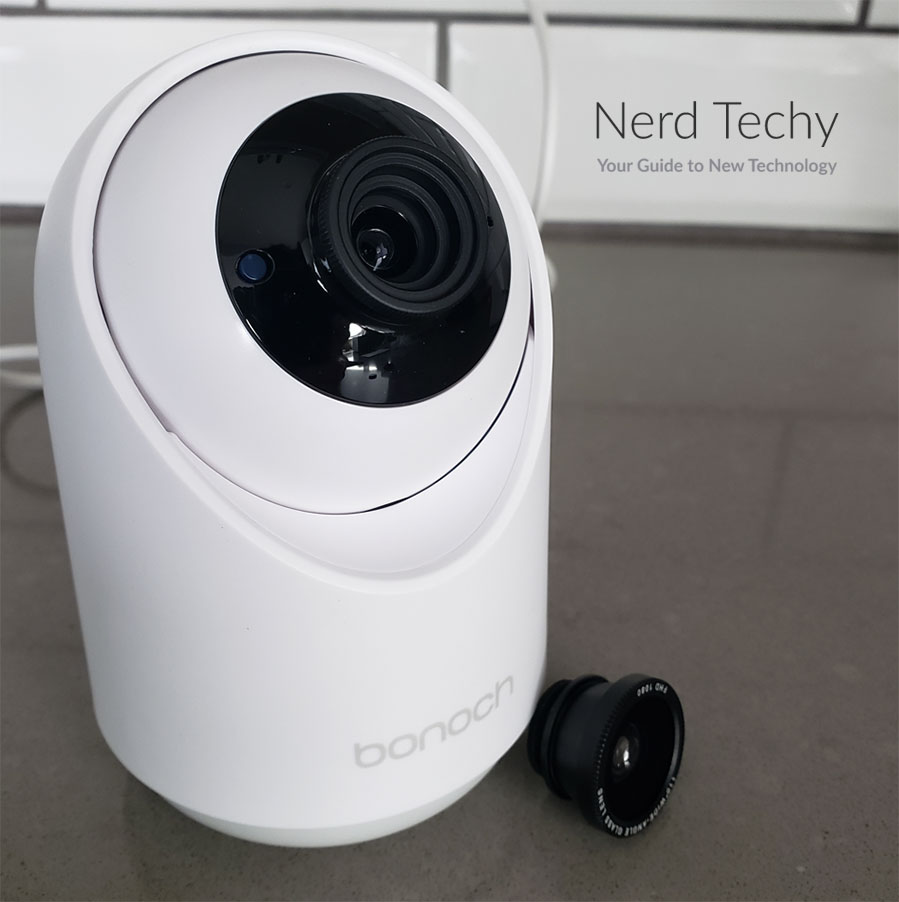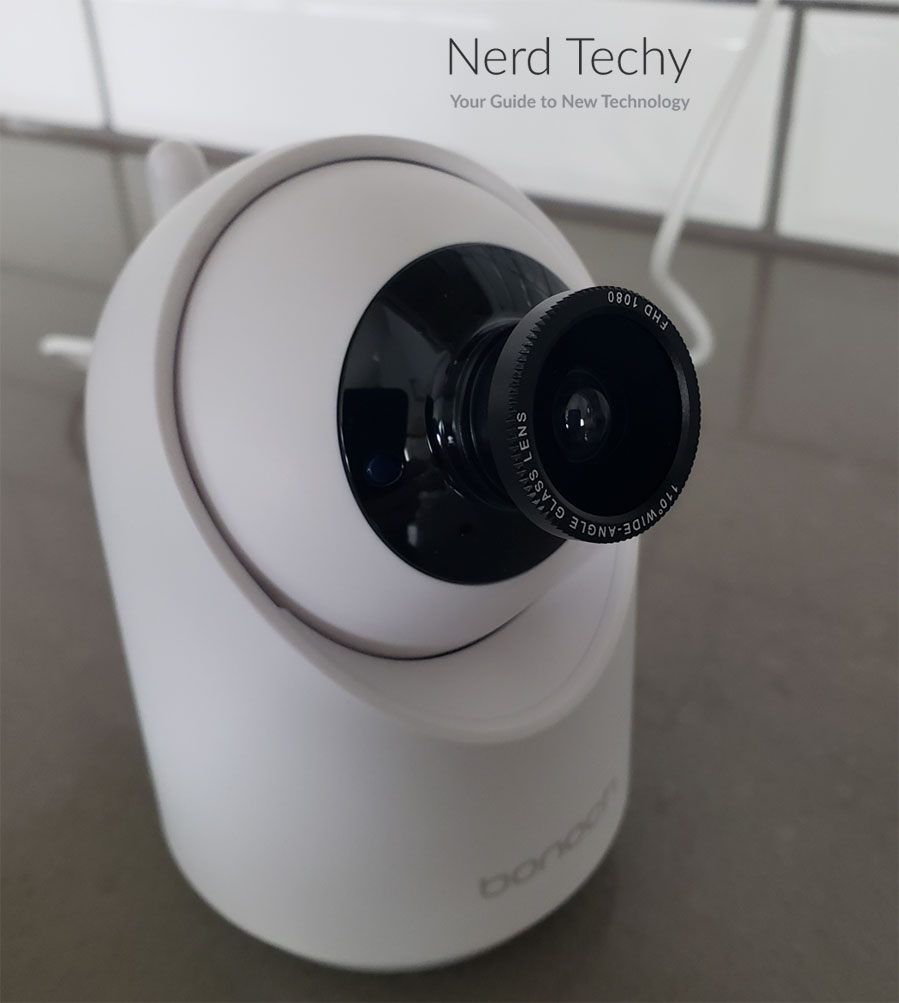 The included night vision ring provided a better night vision experience and reduced astigmatism in certain scenes. The monitor's night vision mode ensures that parents can keep an eye on their baby even in low-light conditions. It's a nice addition, to be sure.
The bonoch's PTZ technology allows parents to pan 355°, tilt 115°, and zoom in 2x or 4x, providing a more comprehensive and personalized viewing experience. We found this feature to be helpful when we wanted to focus on a specific area of our baby's room, such as the crib or the playpen.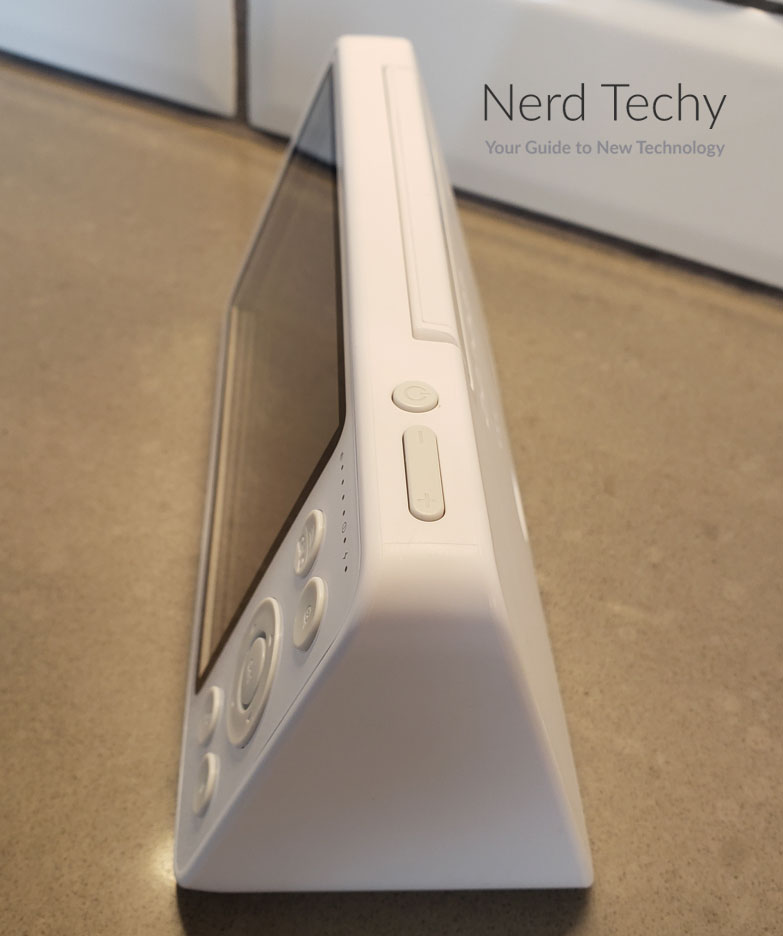 Accessibility
The bonoch baby monitor is designed to be user-friendly and accessible for all parents. The monitor's 5.5" screen is easy to navigate, and the controls are intuitive and straightforward. Admittedly, the monitor unit itself is somewhat bulkier, in a wedge-like shape rather than a completely rectangular design. However, the monitor's size and weight still make it relatively easy to carry around the house, ensuring parents can keep an eye on their baby from any room.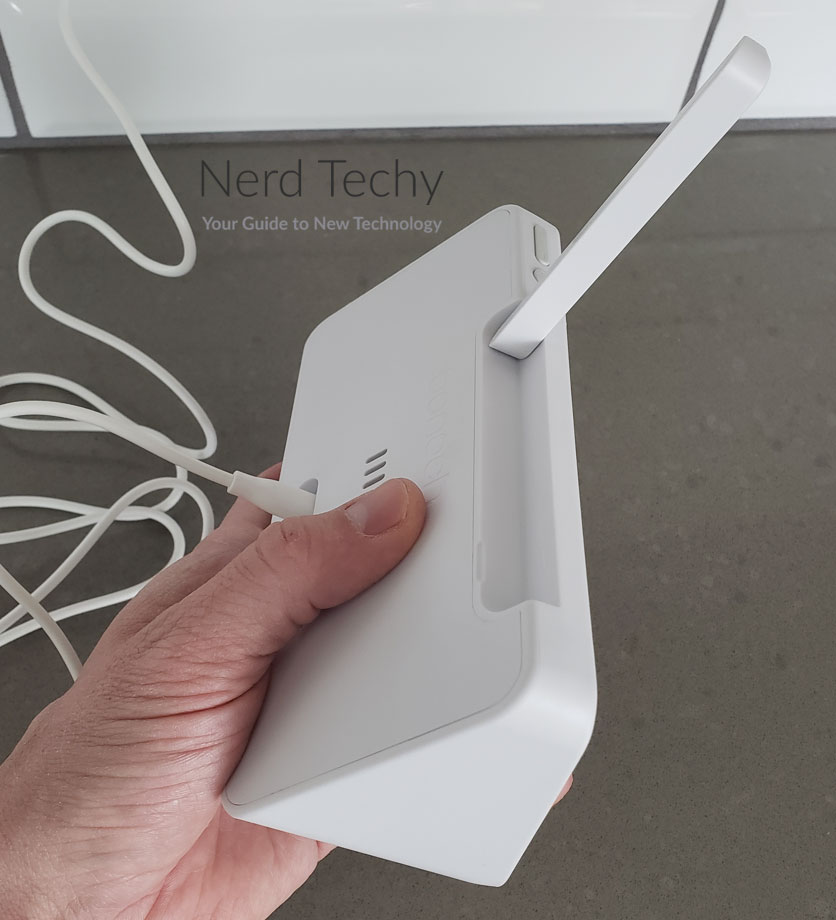 The battery life and USB-C interface make it easy to charge and maintain the monitor. The monitor's long battery life ensures that parents don't have to worry about charging the device frequently, providing peace of mind.
While the monitor provides a clear view of the baby's room, parents can also verbally communicate with their baby through the microphone. Simply press the microphone button and you can speak to your child with ease.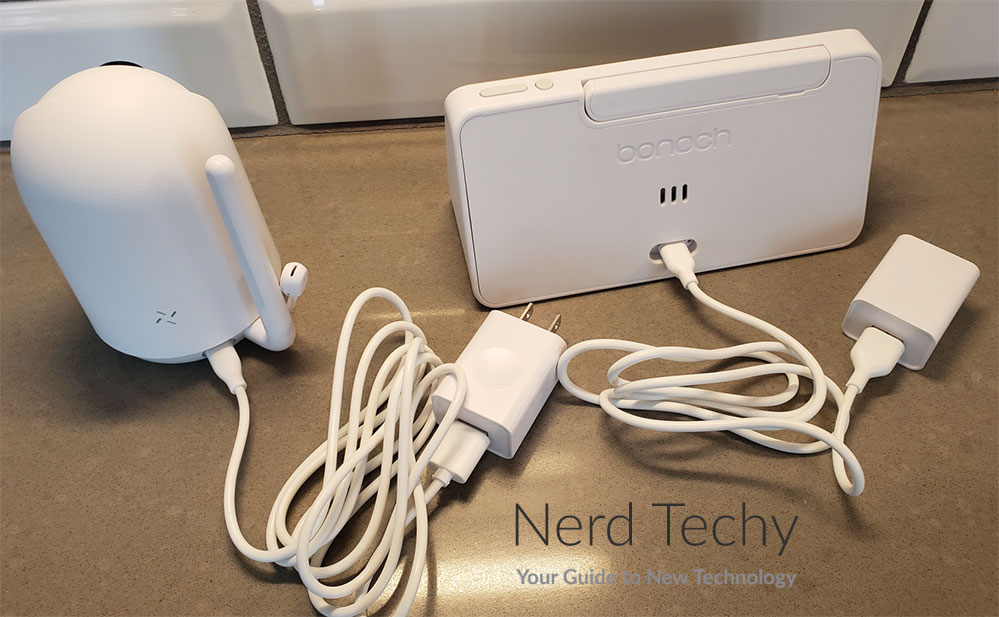 However, one potential drawback is the monitor's price. While the bonoch is a high-quality and advanced baby monitor, it may be more expensive compared to other baby monitors in the market. However, parents who prioritize privacy, security, and advanced technology may find it to be worth the investment.
It was clearly designed with parents in mind. Its intuitive controls, easy-to-navigate screen, and long battery life make it a fine choice for those who want to ensure their peace of mind. Sure, you may have to spend some extra money when compared to other baby monitors, but if you value privacy and high-tech solutions, then this is definitely worth your money.
User Interface
With its user-friendly design, the bonoch baby monitor offers unparalleled convenience to parents. Its 5.5" screen ensures crystal-clear visuals of your baby's room, while intuitive and straightforward controls make navigating this monitor a breeze! The onscreen display is easily readable at a glance, providing useful information like battery life, signal strength, and recording status in one convenient location.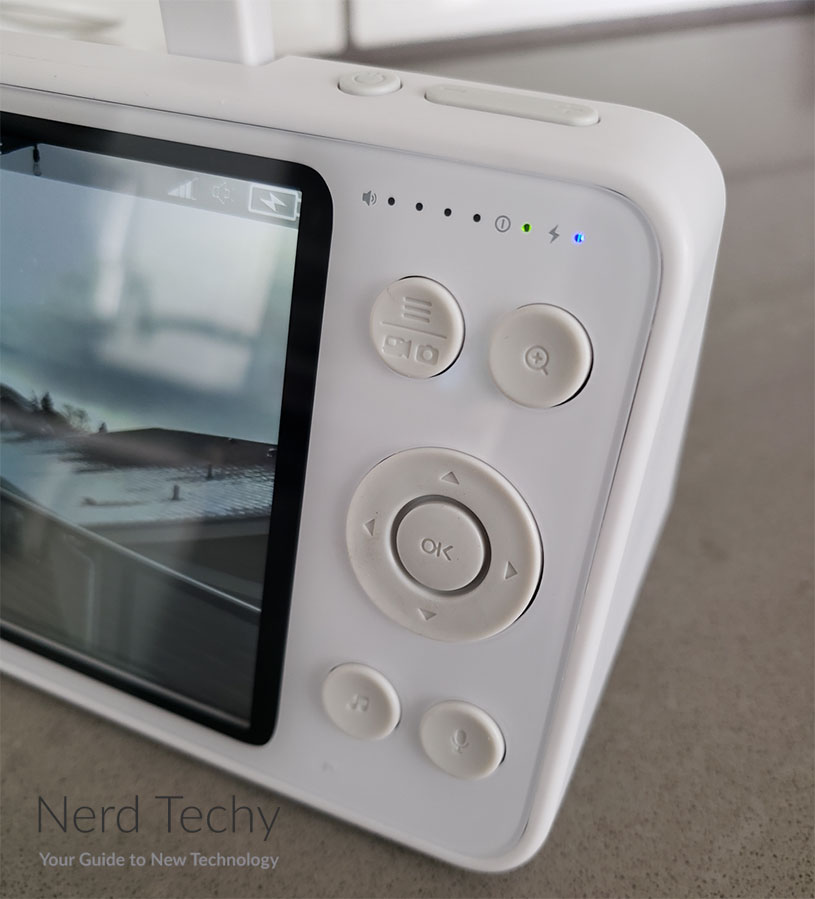 Although the monitor itself is slightly bulkier than most we've tested in the past, it's still relatively portable and allows parents to easily keep track of their little one from any room in the house. Additionally, PTZ technology provides a full view of the child's surroundings without needing manual adjustment. Now you can effortlessly observe your baby's activities with just a single glance.
With the monitor's convenient memory storage and playback capabilities, parents can capture beautiful moments of their baby's growth and development with ease. This is a big deal, and one that's sure to appeal to a lot of parents. It's true that most of us snap pictures on our phones, but having a device working in the background, recording your baby's every milestone, can be invaluable—especially if your phone breaks.
With the bonoch baby monitor in your house, you can take comfort in knowing that you always have a clear and comprehensive view of your baby's room. The superior audio and visual quality provide assurance that your little one's safety is being taken care of. Not only do you get to see what's happening but hear it, as well!
As you can probably tell, we're pretty thrilled with the bonoch. In this day and age, a device like this is almost an absolute must-have, especially if you want to keep your child safe and secure. It offers excellent audio and visual clarity, a long battery life, intuitive controls, quick setup, superior memory storage capabilities, and a respectable price tag—all in one neat package.
Yes, it's pricier than some other models on the market, but we think the additional features are worth it. With this monitor, parents can take advantage of modern technology and enjoy peace of mind knowing that their baby is safe.
Image Quality
This is another feature of the bonoch baby monitor that's worth discussing. The 5.5" LCD screen offers sharp, clear visuals with a resolution of up to 1280 x 720 pixels. This means you can always check in on your baby without worrying about missing any details.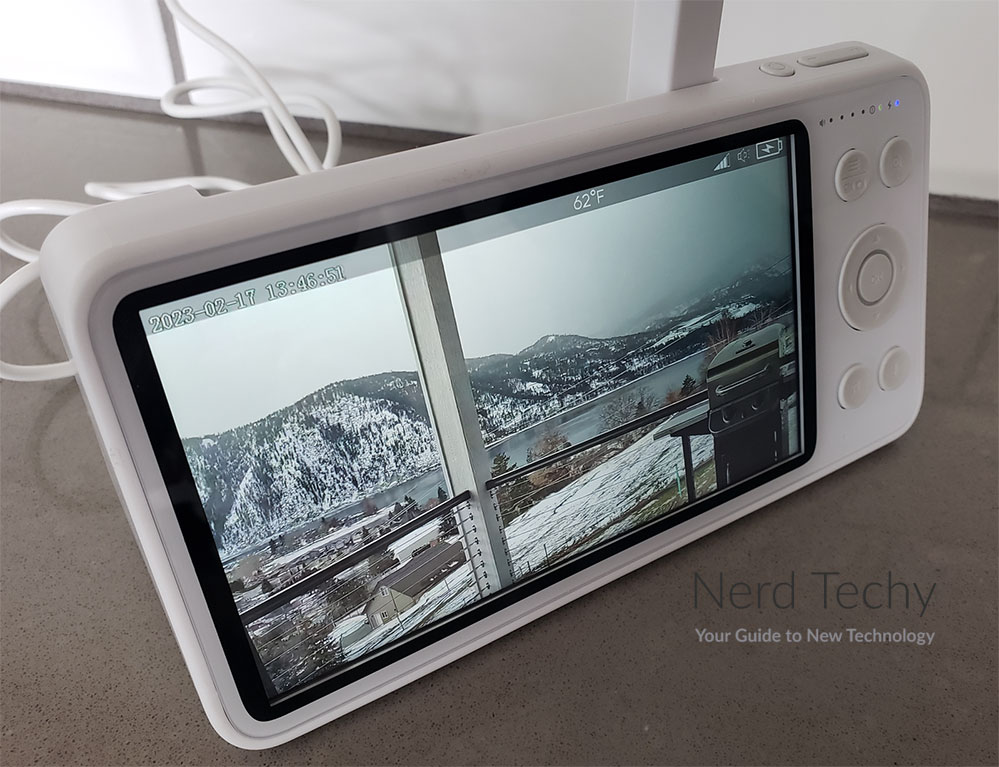 Colors are rich, vibrant and very accurate. The camera seems to do a great job at providing a clear view regardless of the lighting scenario in the room or nursery you're watching. We had no difficulty or complaints in regards to the visual quality, even in total darkness or extreme sunlight.
And that's a big part of why parents are willing to shell out a few extra bucks for the bonoch long range baby monitor – peace of mind is priceless. So if you're looking for the perfect way to keep an eye on your little one without ever having to worry about image quality, then this may be just what you've been searching for!
Whether it's day or night, you'll be able to get a good view of what's going on in their room—and that's priceless. It's our opinion that the investment is well worth it for all the peace of mind it brings.
Memory Storage and Playback
The bonoch features Micro SD card storage for easy access and downloading of videos and photos. For optimal performance, the monitor recommends memory cards with capacities ranging from 32GB to 128GB. This allows recordings to be stored between 10-48 days depending on the size of your memory card.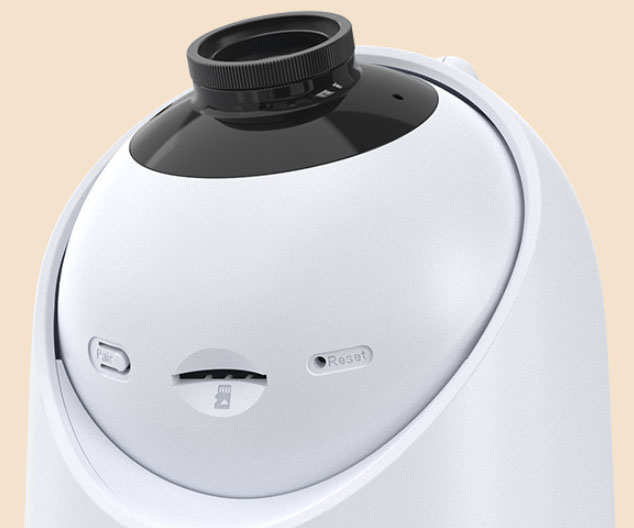 The monitor makes it straightforward to take videos and photos, enabling parents to quickly access recorded images and footage from the Micro SD card without a tedious or cumbersome connection process. This feature gives busy moms and dads the ability to conveniently review their infant's growth milestones as well as capture precious moments of their child in action—all without ever needing an app or internet.
This is a very welcome addition because it gives parents the freedom to keep track of their little one without having to be tethered to a device. For busy parents, this is an absolute must-have feature. It's one of the key reasons why it's so popular with parents.
Battery Life
The bonoch long range video baby monitor comes with a long-lasting battery that ensures parents' peace of mind. The built-in battery has a capacity of 7800mAh, which ensures a long-lasting charge. We found it easy to charge the monitor with the USB-C interface, and we appreciated the long battery life of 40 hours in eco mode and 15 hours in regular mode (with the screen always on).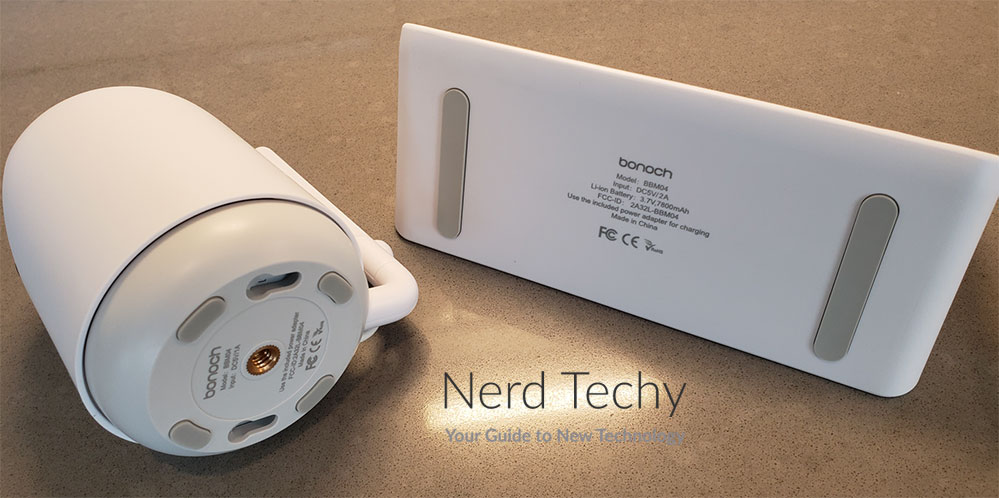 The Importance of Security in Baby Monitors
Let's face it; the hacking of devices like baby monitors is a real thing in the modern era. As a parent, it can be scary to think that someone could gain access to the device in your baby's bedroom and eavesdrop on everything they do. That's why it is so important to invest in high-quality security measures when shopping for a baby monitor.
High-quality security measures will help you rest easier knowing that no one else is able to see or hear what's going on in your little one's room. You always want to look for features like two-way communication, motion detectors, encrypted data, tamper alerts, and more. These are all additional layers of protection that can ensure your family's privacy remains intact even when using a baby monitor.
With the right precautions in place, a baby monitor can be a wonderful tool for moms and dads everywhere. It's great knowing that even when you're away from your little one, you can keep a close eye on them and make sure they are safe and sound. And that's what makes the Long Range Baby Monitor such an essential device for parents.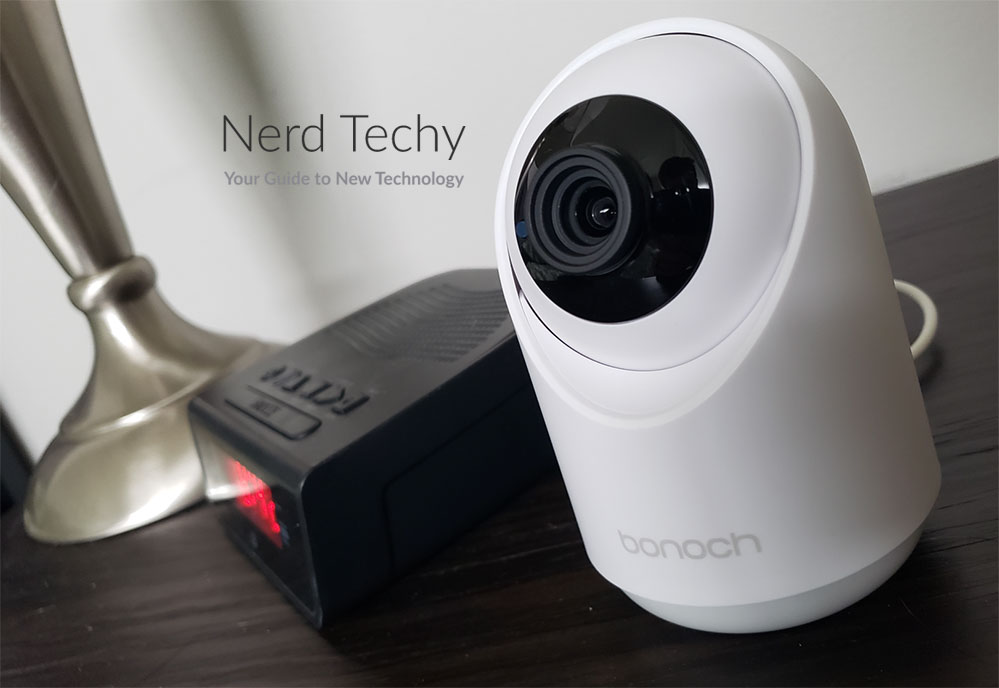 Final Thoughts
With only a couple of notable drawbacks, the bonoch long range video baby monitor shines in many areas. The audio and video quality are top-notch, it has intuitive controls, and setup is a breeze. It has impressive memory storage capabilities, a long battery life, and excellent value for money given its features. We can safely say that this monitor is a worthwhile investment for anyone looking to keep an eye on their child.