Key Takeaways:
In the age of digital advancement, the keyboard has become an indispensable tool for many. From programmers to writers, gamers to office professionals, a significant portion of our day is spent tapping away at these keys.
But just as important as the keyboard itself is the position in which we use it. Enter the angled keyboard riser stand – a game changer in ergonomic computing.
Designed to elevate and tilt your keyboard for optimum typing comfort, these stands can make a world of difference in promoting better posture, reducing wrist strain, and ensuring a more pleasant computing experience.
Today, we'll explore the best angled keyboard riser stands currently available, guiding you towards a more comfortable and productive typing journey.
#1 – ESC Flip PRO Computer Keyboard Stand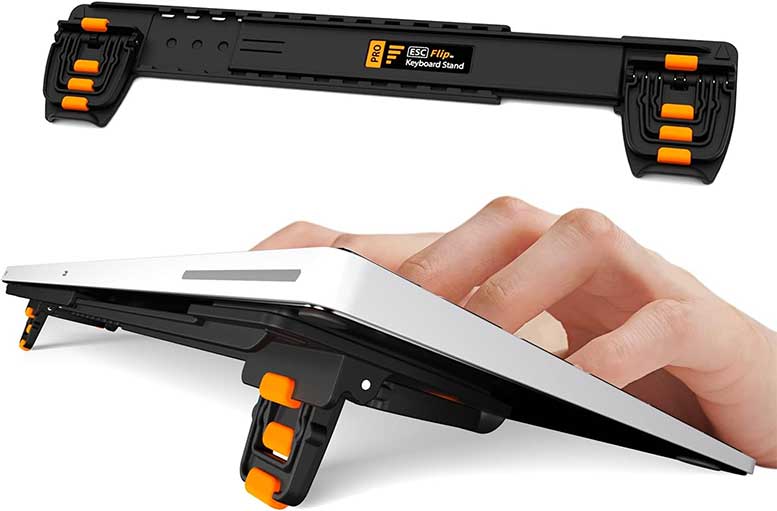 Key Takeaways:
Offers four different height adjustments ranging from 0.6″ to 1.66″
Retractable width between 10″ to 15″.
Can be used to create a positive or negative tilt.
Unique micro-suction design that can be reused indefinitely.
Having had the privilege to test the ESC Flip PRO Computer Keyboard Stand, it's clear that this is not just another peripheral in the crowded marketplace. Its patent-pending design stands out immediately, with an ingenious retractable width adjustment between 10″ and 15″. This makes it vastly compatible, fitting seamlessly with almost every keyboard brand and model we tried. Both compact mechanical keyboards to full-sized traditional ones work equally well.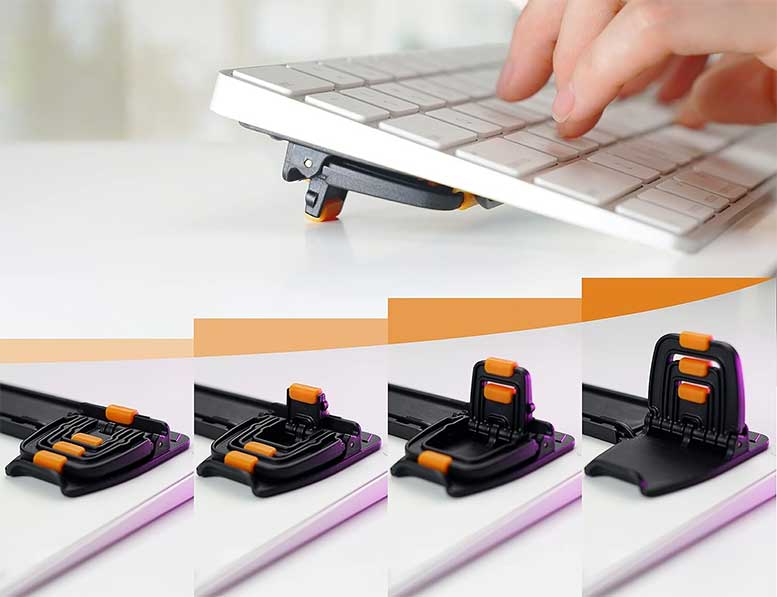 The adjustable heights are a game-changer. With four different elevation choices, users can easily switch between a low 0.6″ rise to a higher 1.66″ elevation. We found that this catered to varied typing styles and ergonomic preferences. Ultimately, this ensures an optimal typing experience regardless of the user's posture or desk height.
Most notably, there's a micro-suction pad on each end of the stand. This little innovation ensures that the keyboard remains firmly attached to the stand. Even after several adjustments and repositions, the suction remained as strong as the first time. And, in the event that the pads gather dust or lint over time, a quick rinse in warm water restores them to their original stickiness.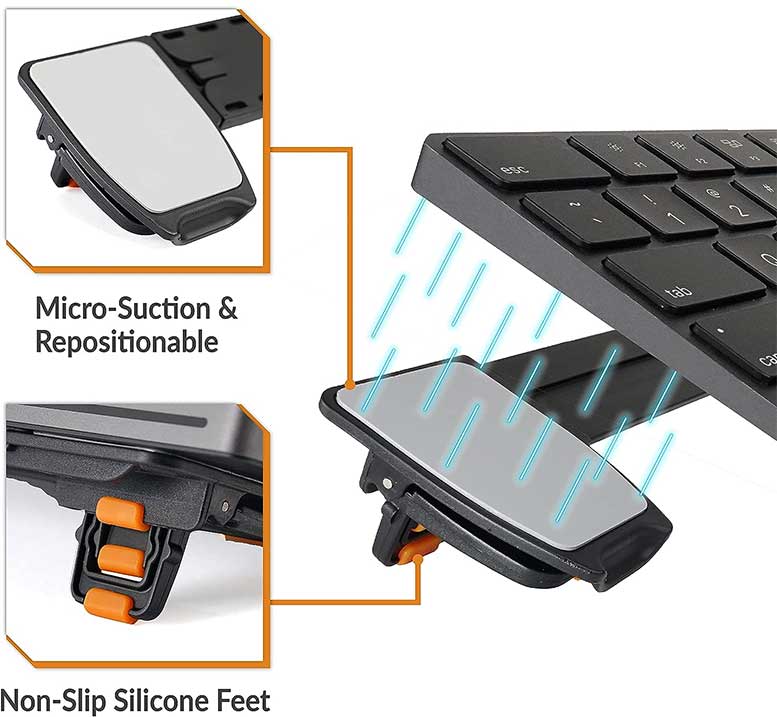 The design also allows the ability to install the stand on the front or rear of your keyboard. This allows users to choose between a positive or negative tilt. With this, you can angle the keyboard to slope away from or towards you, which can be a significant ergonomic advantage depending on your typing style.
We also appreciated the thoughtful touch of the orange rubberized feet. Beyond adding a pop of color to our setup, these feet grip the surface with tenacity. Throughout our use, the keyboard remained firmly in place without any hint of sliding. Plus, no unsightly marks or scuffs were left behind on our desk.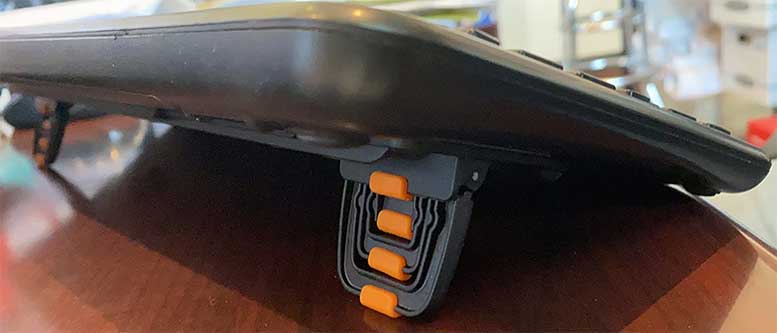 Lastly, while primarily designed for keyboards, the ESC Flip PRO's versatility extends to tablets and laptops. Placing a tablet or laptop on the stand provides a more-comfortable typing angle. A win-win for those looking for multiple uses.
#2 – ZELMINE Keyboard Riser Lift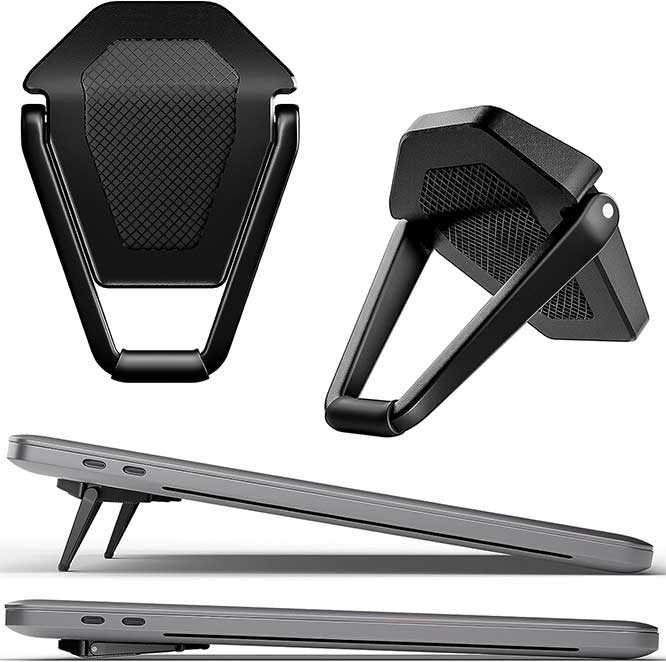 Key Takeaways:
Two individual risers, one for each corner.
Sticks via 3M VHB tape that's hard to remove after application.
Raises keyboard to 0.2″ or 1.5″
Made of solid zinc alloy.
In the sea of keyboard risers available, the ZELMINE Keyboard Riser Lift presents a compelling and distinguished offering. From the moment we unboxed the pair of individual stands, their quality and design were immediately evident.
The first thing that struck us was the solid feel of the zinc alloy construction. It gives the ZELMINE an undeniable sense of durability and weight. This isn't just a flimsy piece of accessory; it's a heavy-duty tool built for longevity. The triangular design not only lends a modern aesthetic but also imparts exceptional stability, ensuring that our devices remained secure and in-position.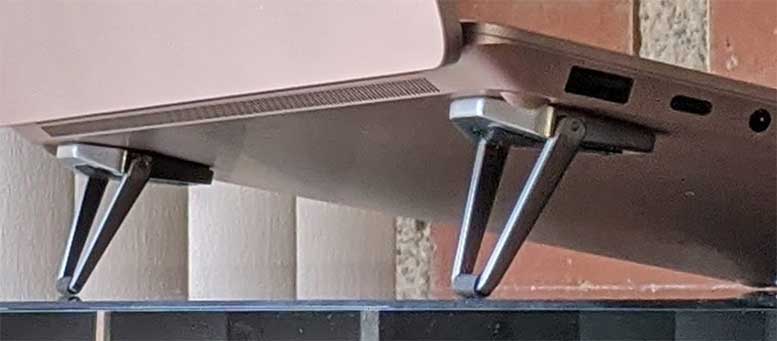 Offering moderate flexibility, the ZELMINE risers can be adjusted to two heights. In its folded position, it provides a subtle 0.2″ elevation—perfect for those who prefer just a touch of height. When opened, the rise extends to a more pronounced 1.5″, giving a noticeably elevated typing or viewing angle that many will find enhances comfort.
Attaching the ZELMINE to our devices was a breeze, thanks to the pre-installed 3M VHB tape. This adhesive is known for its strength, ensuring that the risers stay firmly in place. It's worth noting that this adhesive is particularly strong. Removing the stands isn't a task you'll want to undertake frequently, as it requires a bit of effort to pry off. However, this strength is more of an assurance rather than a hindrance, as it guarantees the stability.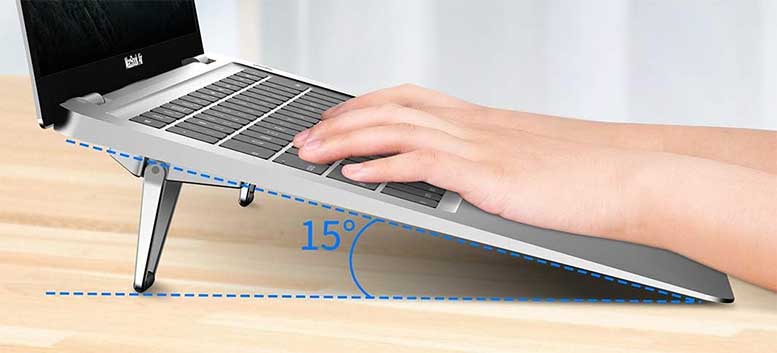 A notable advantage that may not be immediately apparent is its utility for laptop users. By placing the ZELMINE at the base of a laptop, we noticed an improvement in airflow, which is crucial for maintaining optimal operating temperatures and prolonging the life of any laptop.
Its universal compatibility is another feather in its cap. Whether it's keyboards, tablets, or laptops, as long as the underside is flat, the ZELMINE risers fit perfectly. Plus, with the option to choose between black or silver colorways, users can select the variant that best matches their aesthetic. Awesome!
#3 – SUPBEE Universal Keyboard Stands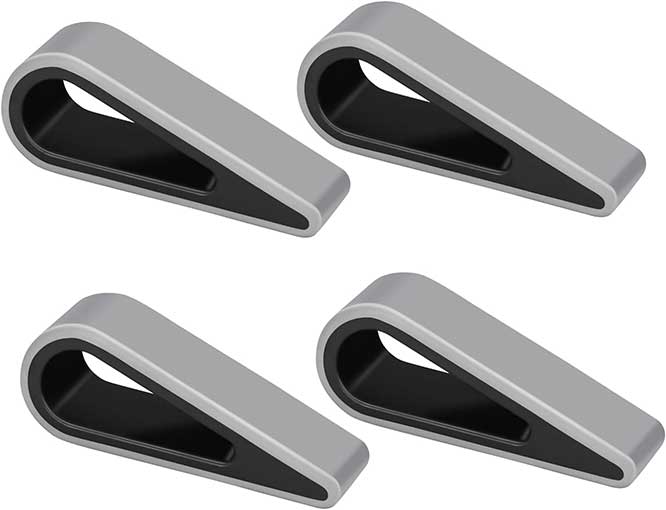 Key Takeaways:
Comes in a 4-pack.
Made from thick ABS plastic that doesn't warp or bend.
Provides a lift between 0.3″ and 1.5″
Unique triangular hollow design allows for easy cable routing.
Upon unboxing the SUPBEE Universal Keyboard Stands, the initial impression is one of sleek simplicity. These compact stands, coming in a pack of four, promise an elegant solution to an often-overlooked need in many workspaces, and they certainly deliver.

The material itself speaks volumes about the product's quality. Made of stiff ABS plastic, the stands feel sturdy and durable. They confidently support the weight of various keyboards and laptops without the slightest hint of deformation.
But it's not just about rigidity. The entire stand is coated with a rubbery silicone surface, ensuring two critical things. First, the devices and desks they come in contact with remain scuff-free. Second, they provide a non-slip base, making sure that the keyboard or laptop remains steadfast in its position.
In terms of functionality, the SUPBEE stands are a lesson in intuitive design. By simply acting as a wedge between the device and the desk surface, users can adjust the angle of elevation. Depending on how far you move your keyboard or laptop, you can achieve a rise ranging from a subtle 0.3″ to a more noticeable 1.2″. This sliding adjustability is a wonderful for those who like to change their setup based on the task at hand or merely to give their wrists a different typing experience throughout the day.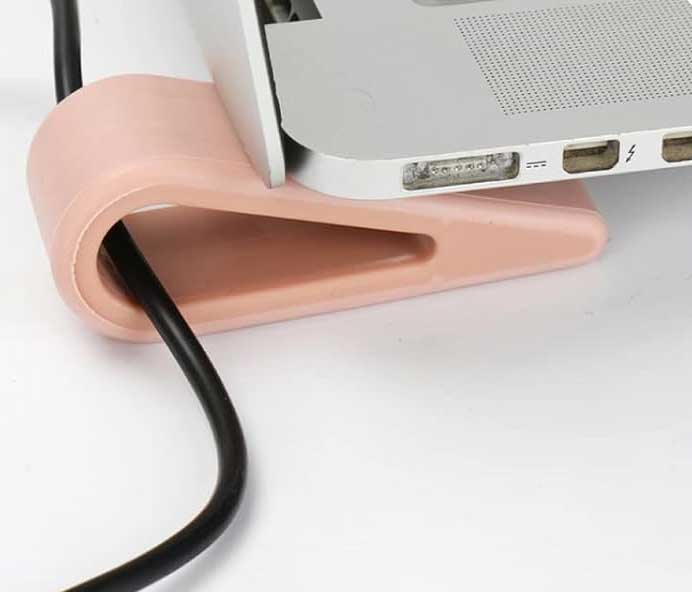 Beyond the obvious, one of the notable features of the SUPBEE stands is their hollow triangular interior. At first glance, it might seem purely aesthetic, but this design choice serves dual practical purposes. For the tech-savvy workspace filled with various cables, this hollow space becomes a handy route to manage and organize cords. In addition, when used with laptops, this space promotes improved airflow.
The variety in color options – black/gray, beige, or the more playful pink – means there's a SUPBEE stand to match every personality and workspace aesthetic. Whether you're going for a professional look or a touch of whimsy, SUPBEE stands are a fantastic choice.
#4 – Richboom Acrylic Tilted Keyboard Stand

Key Takeaways:
One size, one piece design.
Ideal for desktop keyboards; not for laptops.
Made from 12mm thick acrylic.
Equipped with silicone anti-slip edge and front lip to promote stability.
After using the Richboom Acrylic Tilted Keyboard Stand for a couple weeks, we can certainly attest to its impressive build quality and thoughtfulness in design. The moment you see it, you'll notice its one-piece, sleek design which nicely complements most desktop keyboards.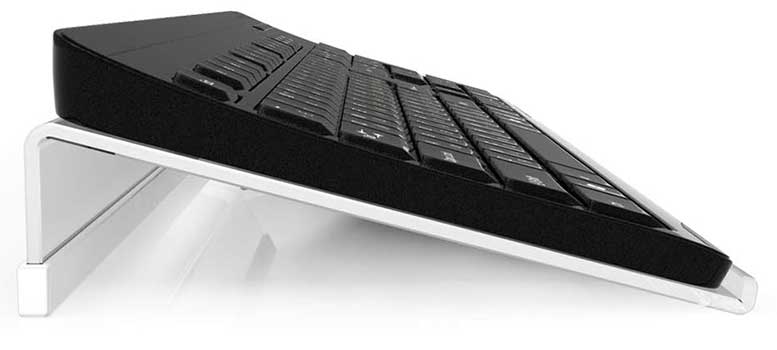 Measuring 17 inches wide, it provides ample space for small, medium and full-sized keyboards. At 5.5 inches deep and a height of 1.5 inches at the rear, it offers a comfortable angle for prolonged typing sessions. While the angle and sizing isn't adjustable, it's set to a very effective height that promotes proper ergonomics.
One of the notable features is the front lip, a simple yet effective solution that ensures the keyboard remains firmly in place without any annoying slips. It might seem like a small detail, but it's a perfect addition. This is further complemented by the fully polished finish with rounded corners and edges. This not only makes the stand aesthetically pleasing but also eliminates the potential for any snags or scratches when moving or adjusting your keyboard.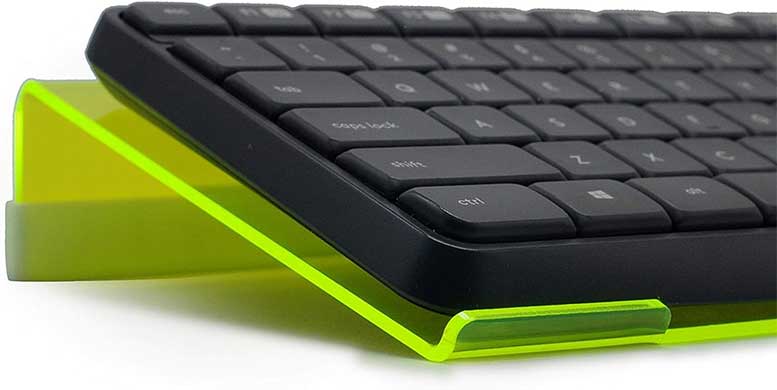 The 12mm thick food-grade acrylic used in its construction strikes an ideal balance between sturdiness and elegance. It's heartening to know that it's made of high-quality material without any harmful odors right out of the box. The fact that it's available in clear, white, and fluorescent green colorways ensures users have choices to match their own aesthetics.
Perhaps the most practical feature is the rubbery silicone sleeve that's fitted along the rear base edge. This ensures that regardless of the surface it's placed on, the stand remains stationary, providing a stable platform for typing. However, it's worth noting that this stand is exclusively designed for desktop keyboards. Those looking to use it for laptops or tablets might be a little disappointed.
Tilted Keyboard Riser Stands FAQs
Should you tilt your keyboard or not tilt?
Whether to tilt your keyboard depends on personal comfort and ergonomics. A slight tilt can align wrists in a more neutral position, potentially reducing strain. However, always prioritize a posture where wrists remain straight and relaxed while typing. Adjust based on your comfort and specific setup.
What is negative tilt?
Negative tilt refers to angling the keyboard so that the front (where the spacebar is located) is elevated higher than the back (where the function keys are). This is the opposite of the more traditional positive tilt where the back of the keyboard is raised. Negative tilt aims to promote a more neutral or downward wrist position, which can help in reducing wrist extension and potentially provide a more ergonomic typing posture.
How does tilt affect your performance?
Tilt in keyboard positioning can influence ergonomics and comfort, potentially reducing wrist strain. The right tilt might improve typing speed and accuracy for some users, while the wrong angle can hinder performance and increase discomfort. Adjustments should be based on individual preference and comfort.
Should you angle your keyboard for gaming?
Whether to angle your keyboard for gaming largely depends on personal comfort and the type of games you play. Some gamers angle their keyboards to have better access to specific key combinations or to position their hands more comfortably during prolonged sessions. If angling the keyboard reduces wrist strain and provides a more intuitive key access, it can be beneficial.
Meet Derek, "TechGuru," a 34-year-old technology enthusiast with a deep passion for tech innovations. With extensive experience, he specializes in gaming hardware and software, and has expertise in gadgets, custom PCs, and audio.
Besides writing about tech and reviewing new products, Derek enjoys traveling, hiking, and photography. Committed to keeping up with the latest industry trends, he aims to guide readers in making informed tech decisions.