Not everyone likes their keyboard at the same level or angle. Some people like to combine a flat board with a wrist rest and type at a level or downward angle. Some prefer a palm rest with an angled board. The point being, there's a reason keyboard manufacturers put those little feet on the backs of the boards. But what happens when one of those feet breaks? What if you want your laptop to be angled while you're typing? Or what if – gasp – your keyboard never came with feet to begin with?
In all of those cases, a keyboard riser stand is an excellent solution. But risers can take many forms. Some are large, stationary units, while others are portable or collapsible. Which type of riser is the right solution depends on your needs. And today, we'll be reviewing three very different keyboard riser stands.
Note: At no extra cost to you, we may earn a commission for purchases using our links. Learn more.
We'll start by looking at the ESC Flip Computer Keyboard and Laptop Stand. This is a slim, collapsible riser bar that attaches to the back of your keyboard or laptop. Next, we'll examine the MoKo Universal Laptop/Notebook Stands. These are simple plastic wedges that can be used to prop up a keyboard, a laptop, or any other flat object. Finally, we'll check out the WIWAPLEX Clear Acrylic Tilted Keyboard Stand. This is a rugged acrylic stand that's designed to sit invisibly beneath your keyboard. Which choice is the best? To find out, we'll need to take a closer look. Let's see how these risers compare!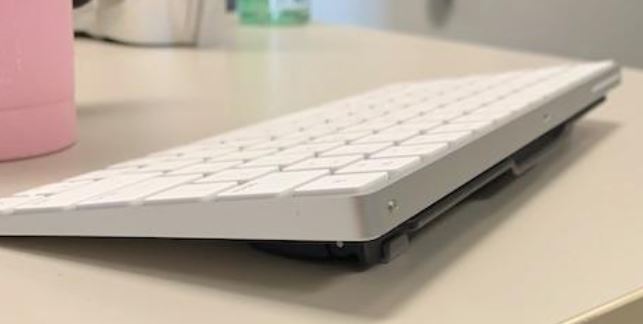 Why Use a Keyboard Riser?
Before we go any further, let's address the elephant in the room. Why would you use a keyboard riser in the first place? There are a few reasons. First, we already discussed comfort. This is the main driver for many people, since nobody likes being uncomfortable. If you need to work on your laptop for 40 hours a week, you very much want it to be a pleasant experience. This isn't just a matter of comfort, either. Over time, poor posture and overstressed hands can lead to repetitive stress industry. Carpal tunnel syndrome may be a meme to some. But ask anyone who suffers from it, and they'll tell you just how miserable it is. Using a keyboard riser can keep you from having to find out firsthand.
A keyboard riser can serve another useful function if you're a laptop user. Sometimes, laptops can get hot during heavy use. Depending on the design, they can get hot enough that the system needs to start throttling back performance. By elevating your laptop slightly, a good riser allows air to flow freely underneath. This improved airflow keeps your laptop cooler, maximizing your performance. A riser can also make cable management easier if you're using your laptop with an external mouse.
Another time a riser is useful is if you're using your laptop with a standing desk. By elevating the display, it becomes slightly easier to read. And if you're using a dual-display configuration, bringing the two close to the same level can reduce eye strain. Along with a keyboard riser, you may also want to elevate a monitor from time to time. This can be done to achieve a better angle or to equalize height in dual-monitor setups. In that case, a desktop monitor riser will be an excellent companion to your keyboard riser.
When you're shopping for a riser, keep all of these factors in mind. Are you using a desktop keyboard, or are you typing on a laptop? Are you sitting, or are you using a standing desk? And do you have to take your riser with you on the road? Knowing the answers to these questions will help you find the riser you need.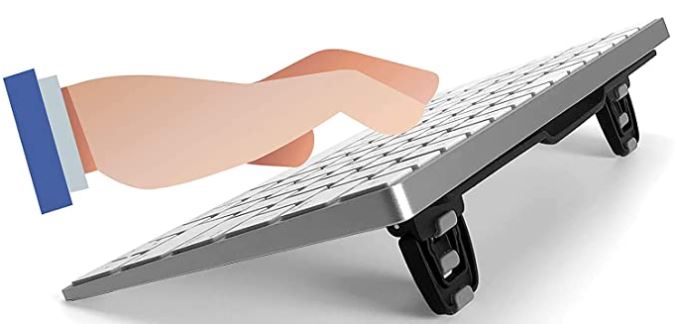 ESC Flip Computer Keyboard and Laptop Stand
The ESC Flip Computer Keyboard and Laptop Stand is meant as a drop-in replacement for broken keyboard feet. It also does a great job of adding feet to a keyboard or laptop that doesn't already have in.

The riser itself is constructed from black plastic, and consists of a flat bar that adheres to the back of your device. The bar has a set of feet attached on each side, which can be flipped down to change the keyboard's angle. All sets have rubberized tips, which are designed to be safe for use on delicate surfaces. If you have an antique desk, you won't have to worry about scratching up the finish.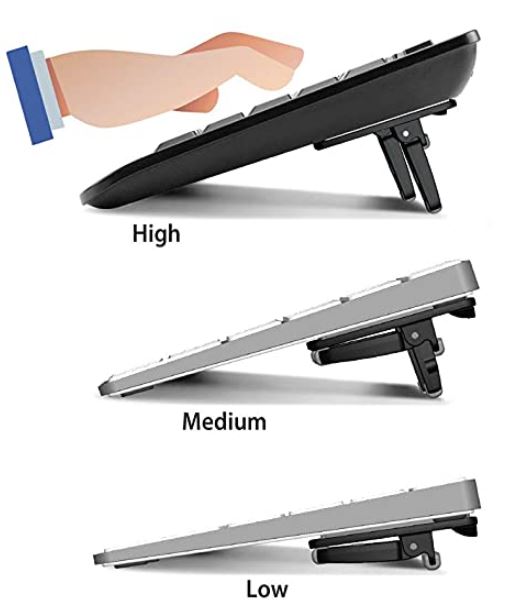 The design of the ESC Flip stand allows it to be used with just about any keyboard or laptop. That said, because it sticks on the back, it needs a flat area where it can be adhered. The overall profile is nine inches wide and two inches high, so you'll need an area that size. When fully collapsed, the lowest setting is only 0.6 inches thick. The middle set of feet gets you to one inch. The tallest set will lift your keyboard by an inch and a half. All in all, you've got quite a bit of versatility here. The only major downside we noticed is that the size is actually a bit too small for very large keyboards. If your board is more than about 18 inches in width, it can wobble when you hit keys at the top corners. Any smaller than that, and it's as stable as can be.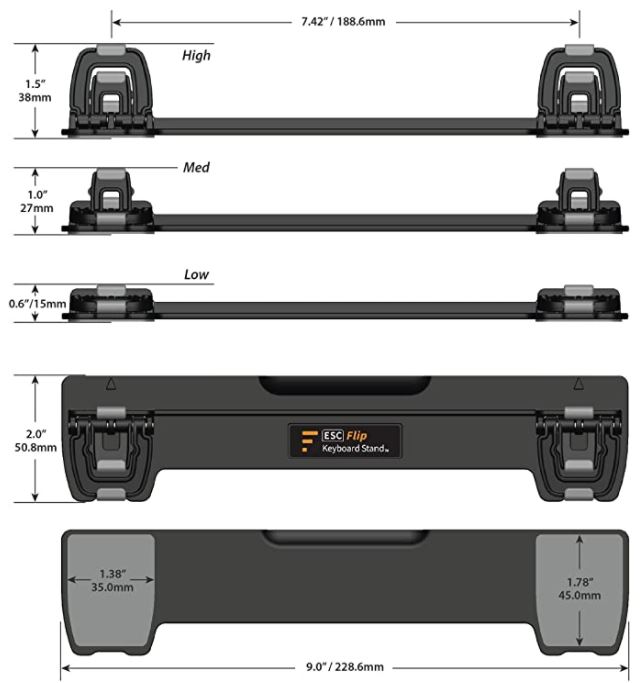 Another neat feature is the method of adhesion itself. We'd expected some double-sided tape or 3M mounting strips. Instead, the ESC Flip stand utilizes innovative micro suction pads. These pads don't require an adhesive, and won't leave a residue when removed. Just clean the back of your keyboard or laptop, and press down. This allows you to move the riser to a different device without a ton of hassle. In fact, the same micro suction pads can be reused an unlimited number of times. When they get dirty, they can be washed with plain water and air dried. Once they're dry, they'll work the same as they did on day one.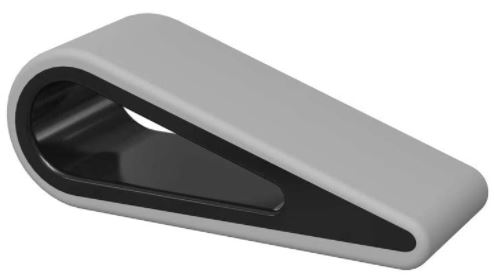 MoKo Universal Laptop/Notebook Stands
MoKo is known for producing good quality electronics accessories. In the past, we reviewed their PS5 Controller Case, and we approved of its performance. So when it came time to review keyboard risers, we were happy to see that MoKo was selling a pair.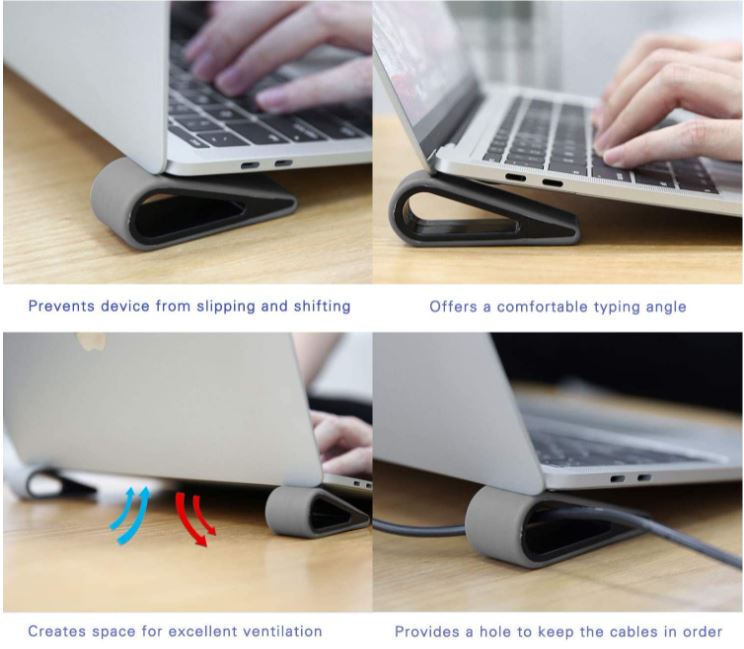 The MoKo Universal Laptop/Notebook Stands consist of simple black wedges with soft silicone covers. The covers will be grey, pink, or beige, depending on which version you order. The construction is solid, and the black polymer wedges are much stronger than they look. We're not saying you can drive a car over them, but they're more than strong enough for the heaviest electronics. Even if you're using a big, oversized laptop, they'll have no trouble supporting the weight. Meanwhile, the silicone covers ensure that the wedges won't slide around or scratch your keyboard or laptop.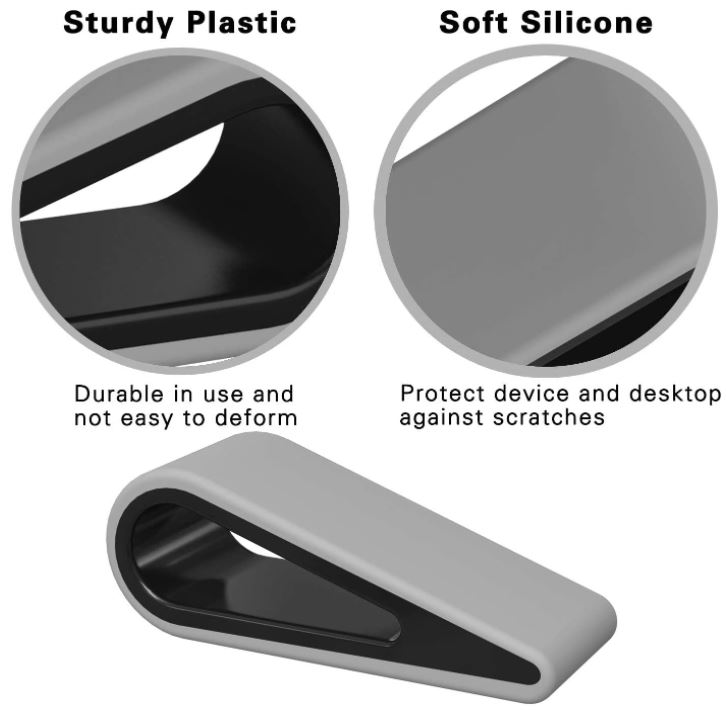 Each MoKo wedge measures 3.15 inches in length, 1.18 inches in height, and 1.18 inches wide. This makes a pair of them a sturdy, stable platform for both keyboards and laptops. It also makes them easily adjustable. Just move your keyboard forward or backward on the wedge as needed to achieve the desired angle. They're portable, albeit not quite as convenient as the ESC riser. Moreover, the hollow areas in the center of each wedge make excellent channels for cable management.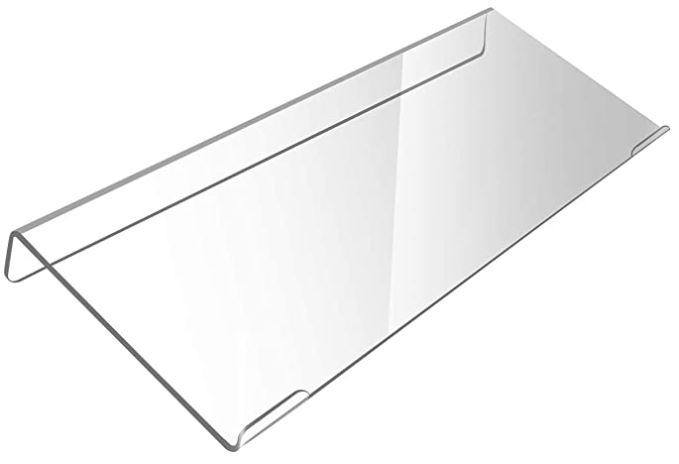 WIWAPLEX Clear Acrylic Tilted Keyboard Stand
The WIWAPLEX Clear Acrylic Tilted Keyboard Stand is the most rugged of our three options. Constructed from clear acrylic, it's tough enough to take a beating, and will withstand years of relentless tapping. The clear design also makes it discreet. It elegantly lifts your keyboard without a lot of unnecessary fanfare.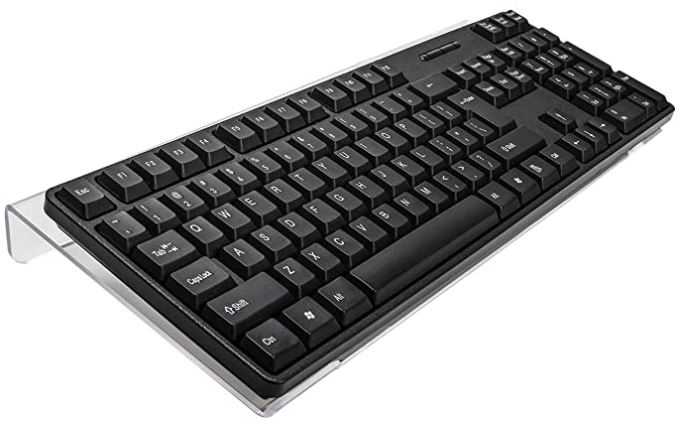 The size of the stand is 17 inches wide and six inches deep, and it's 1.15 inches high at the back. Unlike the previous two risers, it's not adjustable. The height is what it is. That said, it's a comfortable medium height for most users. The larger drawback is that the platform is not well-sized for laptops. It's suitable for external keyboards only.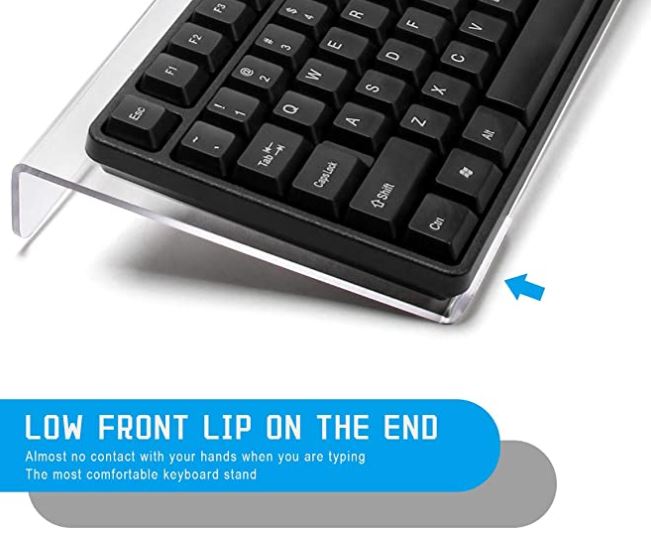 Your keyboard is supported at the front edge by a short acrylic lip. This lip is only half an inch tall, whereas many similar risers have an inch-high lip. The problem with a taller lip is that it can dig into your hands, which gets downright painful over time. The WIWAPLEX's shorter lip avoids this issue, so you can type freely without unnecessary discomfort. In fact, the lip has a wide gap in the middle, so many peoples palms will never even come near it. Then again, this spaced-out design leaves a gap of more than a foot between the two lip sections. This means the WIWAPLEX stand is too big for very small tenkeyless keyboards.
Final Verdict
So, which one of these keyboard riser stands is the best? As is so often the case, it depends largely on what you need. The ESC Flip Computer Keyboard and Laptop Stand is a great replacement for broken keyboard stands. If one of your little feet has snapped off, the ESC will get you back to the right angle in a hurry. The micro suction grip pads are innovative, and the collapsible design makes the riser nice and portable. That said, it won't work on laptops or keyboards without a flat area on the back. It's also not much more durable than stock keyboard feet.
The MoKo Universal Laptop/Notebook Stands are definitely the most unique risers on our list. By virtue of their small size, they're inherently portable, and they also come in a four-pack. This means they can be used on two keyboards or laptops at once. They can also be used for propping up anything else you can imagine.
The WIWAPLEX Clear Acrylic Tilted Keyboard Stand is an ideal choice for stationary use. With its clear acrylic construction, it's relatively discreet. It's also well-engineered, with a front lip that won't dig into the heels of your hands. That said, the riser itself is the size of another keyboard, and it's not collapsible. It's also not ideal for laptops or mini keyboards, due to the shape. Consider this a solid choice for office purposes, but not for much else.
Please consider sharing:
Note: At no extra cost to you, we may earn a commission for purchases using our links. Learn more.