Whether it's at the desk in the office or the long drive to work, people are spending more time sitting than ever before. To help keep things optimal, it's important to have tools in place that allow you to do this both comfortably and safely.
Prolonged sitting can lead to a range of issues including poor circulation, compromised posture and chronic joint pain which can lead to long-term health problems. While there are many solutions to help with this, few are as effective as under desk foot and leg rests. They can improve comfort, allowing you to sit more comfortably for longer periods of time.
Benefits of using an under desk foot rest:
Improving circulation and reducing the risk of blood clots.
Alleviating back pain and improving posture.
Reducing muscle fatigue and soreness in the legs and feet.
Enhanced comfort.
Improves focus.
With so many options available, it's overwhelming to try to find the best one for your specific needs. That's why we reviewed several options and come up with a selection that match a range of different needs. When deciding, we took the following factors into consideration:
Comfort: It's important to select one that's comfortable to use for extended periods of time. Look for features like adjustable height and the ability to tilt.
Size: Measure the space under your desk to ensure that the footrest you choose will fit. Consider the size of the footrest itself as well as the size of the base, if it has one.
Adjustability: Look for footrests that offer a height or tilt function. This will make sure you have a footrest that can accommodate different positions and seating angles to customize your comfort level.
Weight capacity: Make sure it can support your weight. Besides safety, it'll also ensure its longevity, letting you use it for more time before needing a replacement.
Material: Consider what it's made out of. Many options include memory foam, rubber, etc.
Price: Determine your budget and look for footrests that fit within it. Keep in mind that you may need to spend more for higher quality.
Best Memory Foam: Everlasting Comfort Under Desk Foot Rest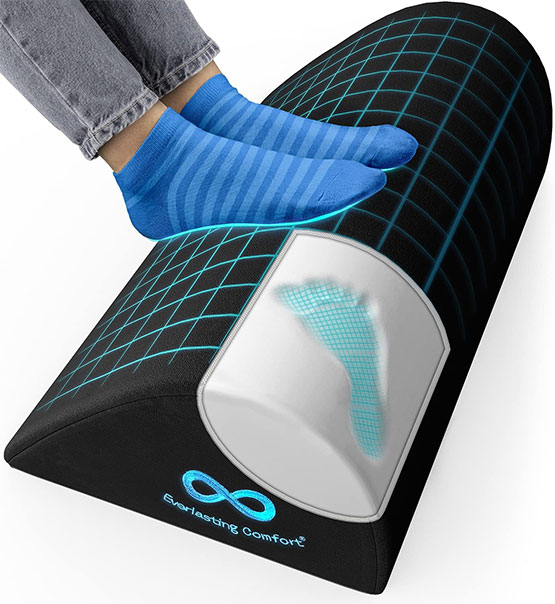 Key Features:
Dimensions: 17″ x 9.5″ x 4.75″
Weight: 1.1 lbs.
Teardrop design for most leg lengths.
Heat responsive memory foam.
Can be flipped over to use as a rocking exerciser.
Tested by OEKO-TEX to be safe.
Memory foam is an ideal material choice that provides an outstanding balance of softness and support. This is why it's the primary material used in our best overall option. The Everlasting Comfort Under Desk Foot Rest has several features that promote pain relief and improved comfort. This is important especially if you intend to spend extended time at your desk.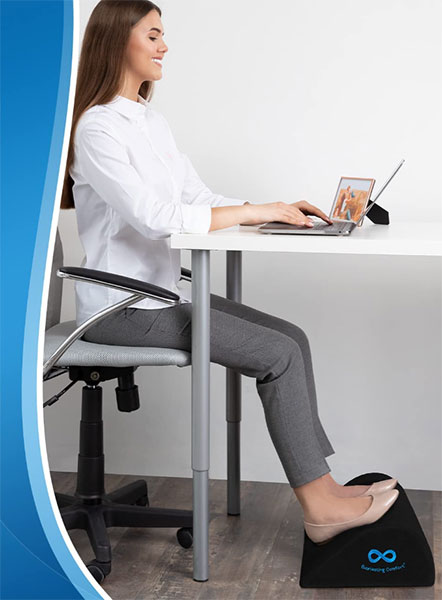 A unique teardrop design encourages a natural sitting posture, regardless of your height or the length of your limbs. The angled position and memory foam can adapt to the shape of your feet and arches to give the right amount of support and cushioning. It's comprised of a special heat responsive memory foam which enhances its foot molding capabilities. This is a big advantage over other standard memory foam footrests we tried. It creates an embracing sensation that can make the experience incredibly cozy.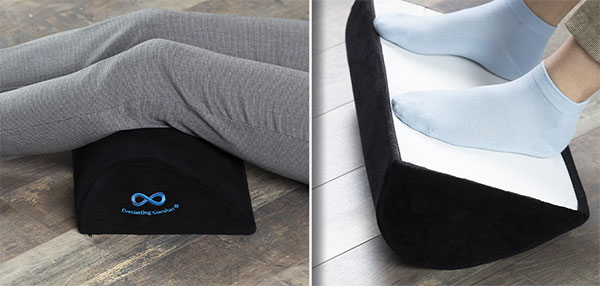 Besides a footrest, you can flip it over and use it as a rocking exerciser. This may help increase circulation and refresh tired feet. This is not an unofficial hack either. In fact, it was specifically designed and certified to double as a foot rocker. Many users mention that this is their favorite feature. It's a great option for those that fidget or move their feet while at their desk.
This under desk footrest is made with certified safe materials. It's even been tested by OEKO-TEX to earn the STANDARD 100 label. Ultimately, this means that every component is certified safe for human health. It's one of the few products on the market to have done the extra work to attain this certification.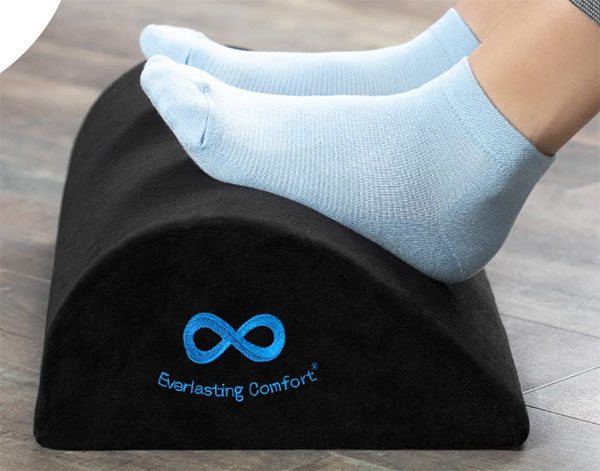 Overall, the Everlasting Comfort Foot Rest is a great option. Its unique teardrop design, heat responsive technology, and multifunctional use make it worth strong consideration.
What We Liked:
Teardrop design provides different resting angles.
Heat activated memory foam provides excellent cushioning and support.
Rocking feature helps improve circulation.
What We Didn't Like:
May slide around on smooth surfaces.
Best High-End: Lilithye Height Adjustable Under Desk Footrest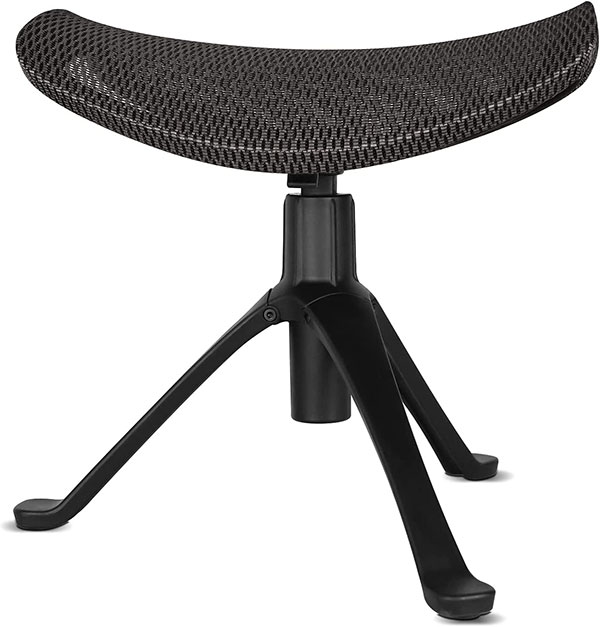 Key Features:
Dimensions: 15.75″ x 9.06″ x 15″
Weight: 5.5 lbs.
Adjustable height: 8 levels ranging from 14.57″ to 17.72″
360° rotatable design.
One-button disassembly for easy storage.
Maximum load capacity of 66 lbs.
Tough mesh surface material.
The Lilithye Under Desk Footrest is a solid option if you're looking for one that provides different heights and easy adjustment. It has a single button design that allows you to change the height between 14.57 and 17.72 inches, making it a great option for different configurations. Additionally, it has a 360 degree swivel design that moves with you as you shift seat or leg positions.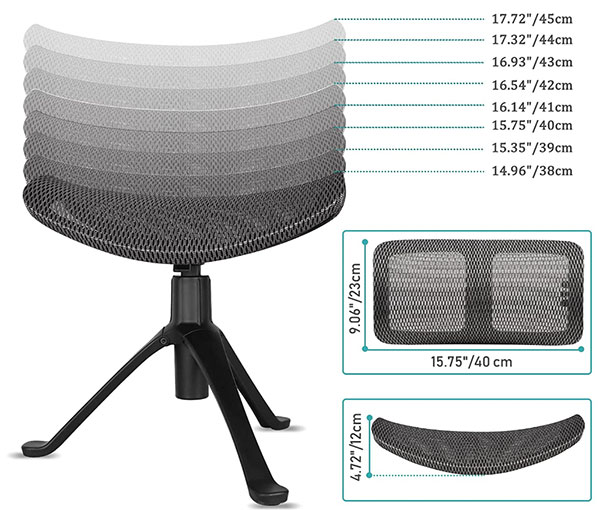 One of the best features is its ergonomic, sloped design, making it optimal for extended use. Besides providing a suitable spot for your feet, the top portion is removable and can double as a lumbar support when you separate the top from the legs. It's one of the most versatile options out there.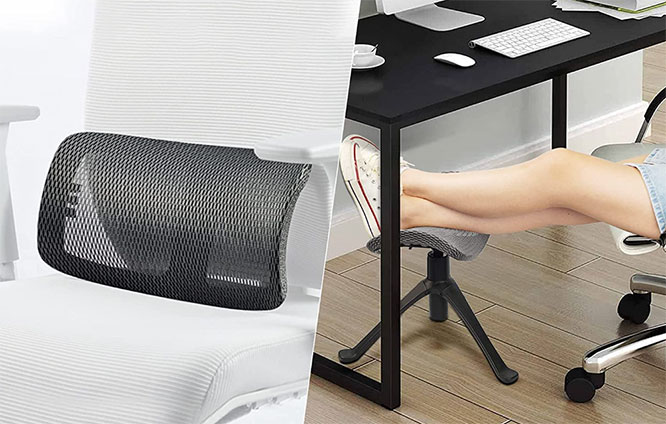 Overall, the Lilithye appears to be a good choice for people specifically looking for a height adjustable, high-end option that's more of a premium pick. Its ergonomic design and 360 degree swivel make it an effective tool for relieving work fatigue and improving comfort.
What We Liked:
Single button adjustment is easy to manage.
Smooth 360 degree swivel.
Base is sturdy while maintaining a small footprint.
Looks and feels high-end.
What We Didn't Like:
Mesh surface may be rough on bare legs or feet.
Costs more than others.
Best Alternative: InteVision Extra Large Foot Rest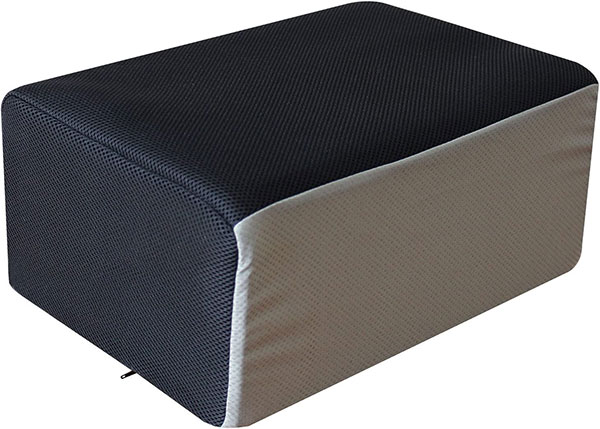 Key Features:
Dimensions: 7″ x 12″ x 7.5″
Weight: 5.1 lbs.
Can be laid on its side for a different height.
Non-slip silicone layer on base to prevent slipping.
Removable and machine-washable cover.
Some people may want the benefit of height adjustment without all the moving parts and button pressing. For them, the InteVision Extra Large Foot Rest is a great alternative. It's essentially a cube that can be flipped onto its different sides to achieve three different heights. This eliminates any buttons or moving parts.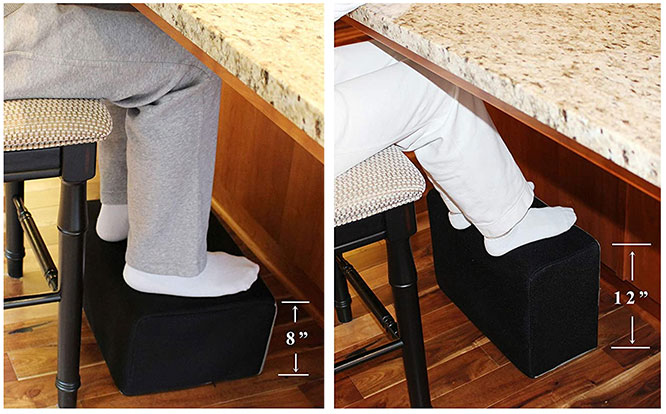 At 17.5 x 12 x 8 inches, it's designed to allow you to adjust the height to meet the needs of sitting in various locations. For example, it's a great option if a variety of people use it. No matter their height, they can choose a side that works best for them. This also eliminates the need to manually adjust the height, repeatedly for different users.
Despite its large size, this footrest is lightweight and easy to move around. The material is firm enough to provide optimal support and it does a great job cushioning the arches of the feet.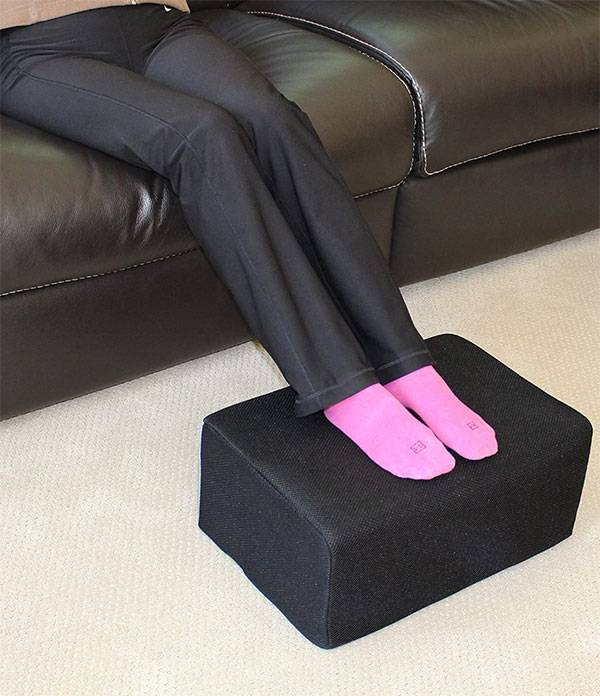 Another real benefit is its non-slip design. The exterior material and weight distribution prevent it from sliding on most surfaces, including polished marble floors. The cover is also removable and fully machine-washable, making it easy to keep clean by tossing in the laundry.
We feel the InteVision is a great alternative for anyone wanting a footrest that can go with them from the office desk, kitchen counter, sofa and everything in between. Overall, it's a versatile and useful tool that's worth definitely worth considering.
What We Liked:
Convenient height adjustment.
Large surface area.
Non-slip material keeps things in place.
Cover is machine washable.
Useful in multiple seating scenarios.
What We Didn't Like:
May not provide as much cushioning support as memory foam.
Best 2nd Alternative: Eureka Ergonomic Tilt Adjustable Footrest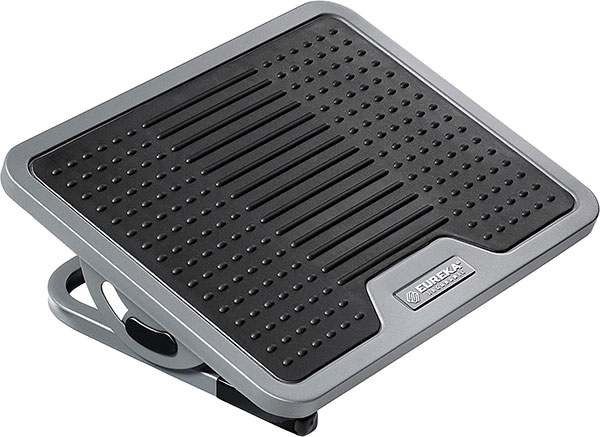 Key Features:
Dimensions: 15.35″ x 11.81″ x 3.35″
Weight: 5.15 lbs.
Ergonomic design with adjustable height and tilt.
Non-toxic, rubber material.
Flat texture.
Adjustable angle between 0-20 degrees.
Scratch resistant rubber feet.
If adjustability is a top priority, the Eureka Ergonomic Tilt Adjustable Footrest is an option for you to consider. Some users prefer a footrest that adjusts to fit their seating position rather than the other way around. While the tear drop design of others may give you variety, it requires you to make adjustments to your body in order to achieve certain angles.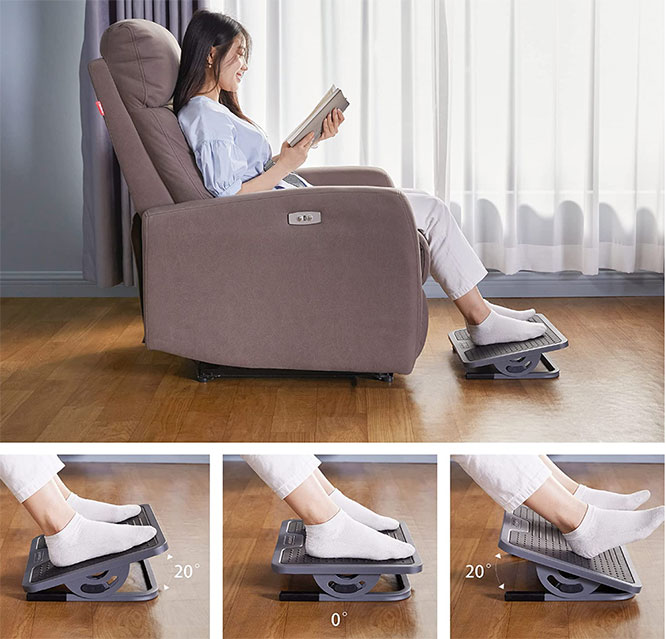 This is a great choice if you'd like to provide additional pronation to either your calf or shin muscles. The floating adjustment feature can also help improve blood circulation. Some users mention it takes some practice to become familiar with the angle adjustment control, but it's very fluid and easy to access.
We also love the flat texture design. It provides a massage-like effect to your feet to help release pressure and tension. In addition, the anti-slip material used on the platform helps keep your feet firmly in place.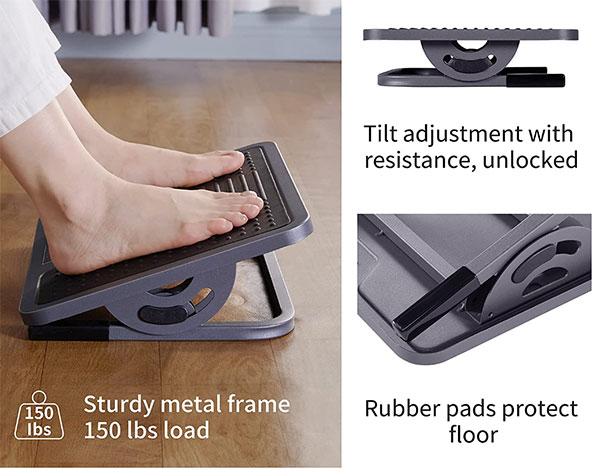 Besides its comfort and support features, this footrest is also highly scratch resistant. This makes it a good option if you intend to use it on surfaces like soft wood floors. Several rubber feet prevent the floor from being scratched while simultaneously securing it in place.
Overall, the Eureka Ergonomic is a great option provides comfort, support, and scratch resistance. Its ergonomic design and adjustable angle make it an effective tool for relieving strain and promoting good posture.
What We Liked:
Angle adjustment is easy to use.
Slip resistant platform provides great stability.
Rubber feet make it suitable for all surfaces.
What We Didn't Like:
Less amount of adjustment positions than others.
Best Hammock-Style: Auoinge Under Desk Foot Hammock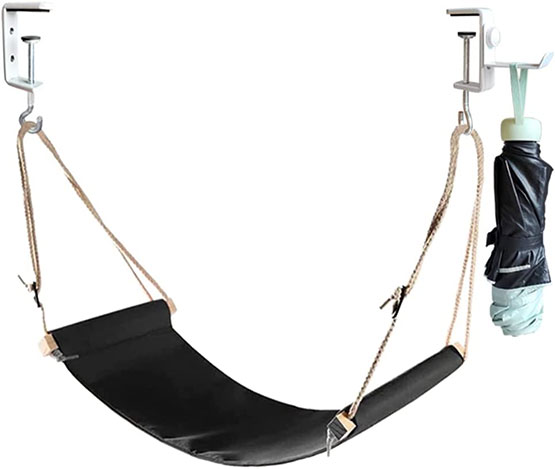 Key Features:
Dimensions: 22″ x 6.6″
Weight: 14.1 oz.
Fixed mounts with rubber stoppers.
Premium cotton fabric.
Adjustable rope length.
Maximum bearing weight of 176 lbs.
If you're looking for a unique footrest, the Auoinge Under Desk Foot Hammock is one of the best. It's in a unique form factor that has gained popularity as of recently. One of the most favorable features is how it lets you adjust the height and tension to your precise specifications. Since it spans the width of your desk, it gives you plenty of space to spread out or take a wider foot position. Besides the functionality, some people just like the novelty of it.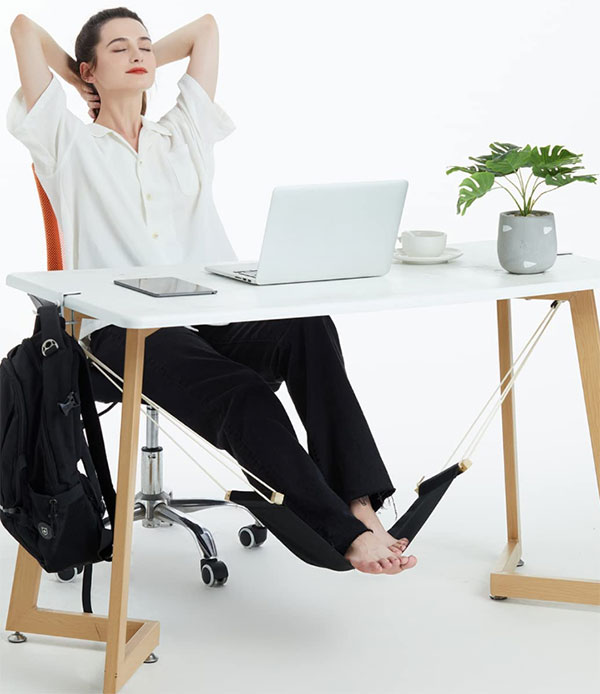 One of the standout features is its fixed mounts with rubber stoppers. You can either clamp it to the edge of the desk or mount it to the underside. These rubber stoppers allow you to adjust the height and lock it in place. We put significant weight on it and it had very little slippage. To keep the desktop safe, clamps have rubber nubs on both sides. A great addition is the metal arm on one clamp that can hold headphones, a bag or virtually anything.
The fabric is soft, making it a good choice for those who are worried about overheating and sweating. It's soft to the touch yet highly breathable. All while being well-made and stitched efficiently.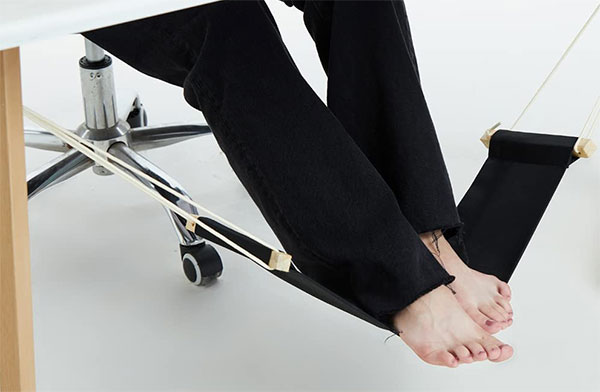 Installation is easy. The rope length is adjustable from 12″ to 25″ to fit a wide range of setups. It's compatible with most desk types and has a maximum table top thickness of 1.9 inches. There's also a maximum table length of 62 inches, so it'll only work with certain-sized desks. The adjustable height, premium quality materials, and circulation-boosting design make the Auoinge Under Desk Foot Hammock a solid option to consider.
What We Liked:
Rubber stoppers keep things locked into place.
Can be mounted in two ways.
Fits desks up to 62 inches wide.
Rubber components prevent damage to your desk.
Very cozy and quite unique.
What We Didn't Like:
Adjusting the height may require more effort than non-hammock options.