When you're gardening, it's important to get your plants the right amount of water. Give them too much, and they could be subject to mold and rot. Too little, and they won't grow as well or produce as much of a yield as they ought to. Most people water every day and skip days when it rains. But how do you know exactly how much water your plants are getting?
A rain gauge is a great solution to the problem. You can scientifically measure how much rain is coming down and moderate your watering accordingly. That said, traditional rain gauges have to be emptied manually and you have to go outside to read them. A wireless rain gauge allows you to get the same information without leaving the comfort of your home.
Today, we're going to review four of the best wireless rain gauges that money can buy. No time to read the full reviews? Here's a short summary:
Of course, there's a lot more that goes into making a good rain gauge. Let's take a closer look at all of these options, and see how they stack up!
Best Overall: AcuRite 02446M Wireless Rain Gauge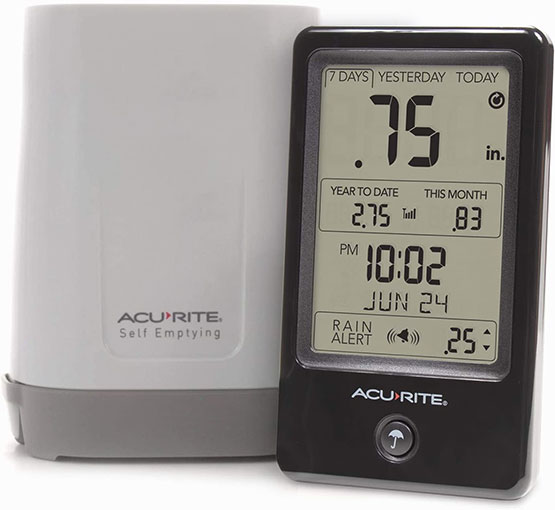 Key features:
100-foot range.
Displays totals by day, week, month, and year.
Customizable rain level alerts.
The AcuRite 02446M Wireless Rain Gauge has a grey exterior housing. It's open at the top, which allows rain to enter and fill a collection cup. This cup then empties into the base, which has drainage slots in it. As a result, you don't have to go out and empty it when it gets full. It transmits accurate rainfall data every 60 seconds, so your information will always be up to date.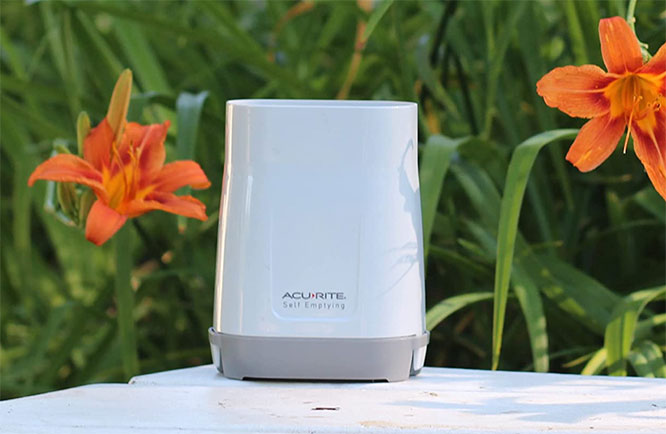 The interior wireless receiver has an all-black housing with a large touchscreen display on the front. It's rectangular and slightly wedge-shaped, so it's fatter and flat on the bottom. This allows you to stand it freely on a counter or shelf. In addition, there's a screw slot in the back. You can use this to hang the display on your wall to avoid taking up any surface space. The signal range of 100 feet will be fine if your rain sensor is out on your back deck. But if you want to put it further out, you'll have more limited placement options.
The sensor itself is accurate to within 0.01-inch. The top of the display will show your current day's total rainfall by default. But you can switch it to show yesterday's rainfall, or your total from the last seven days. Beneath this, in smaller numbers, you'll see your month-to-date and year-to-date totals. Between these numbers is a little icon that indicates your current signal strength. Next, you'll see the current day, date, and time.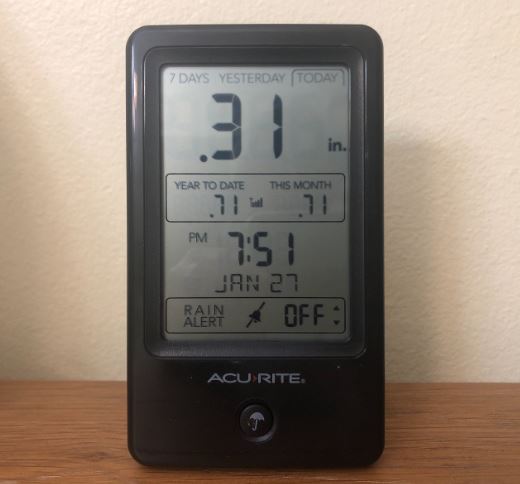 At the bottom of the display is a customizable rain alert. You can adjust this to set rainfall targets for the day. When the target is met, a little alarm will sound. This makes it easy to know whether or not you need to water your garden.
AcuRite is a popular manufacturer of weather-monitoring equipment. Not long ago, we reviewed their wireless home weather station. It worked very well, and we were happy with its performance. So it only made sense to see how well their wireless rain gauge performed.
What we liked:
Customizable rainfall level alerts.
Easy-to-use touchscreen display.
Reliable and accurate.
Affordable.
What we didn't like:
Relatively short range.
Can be damaged by freezing temperatures.
Best Runner-Up: ECOWITT WH5360B Wireless Rain Gauge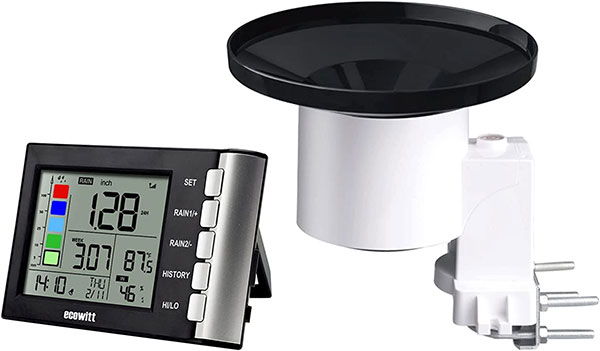 Key features:
300-foot range.
Displays total by day, week, month, year, and lifetime.
Customizable rain rate and level alerts.
Compatible with the ECOWITT WiFi gateway.
The ECOWITT WH5360B Wireless Rain Gauge has a wide black collector bucket. It drains automatically, and sits inside a narrower white battery base.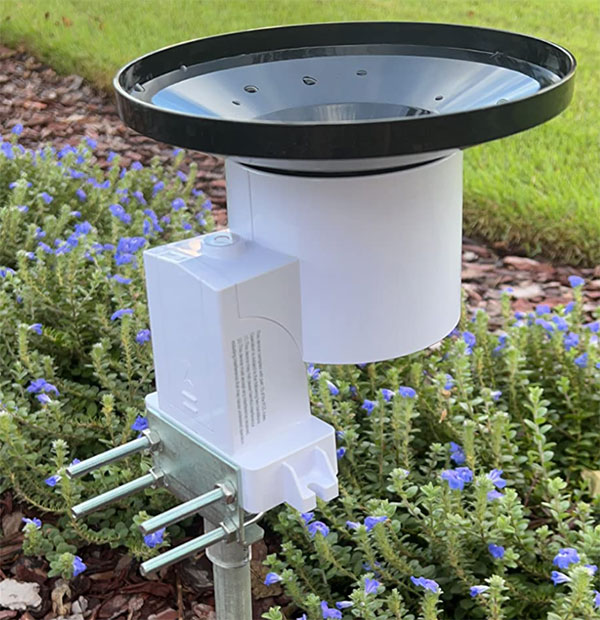 The downside of the broad design is that it can attract birds when it's partially full of water. The birds can knock debris into the bowl or use it as a toilet, throwing off your measurements. On the side of the base, you'll notice a set of threaded rods. These are designed to attach to a set of U-bolts, so you can secure the gauge to a vertical post. You can mount it on just about anything, such as a narrow fencepost or other pole.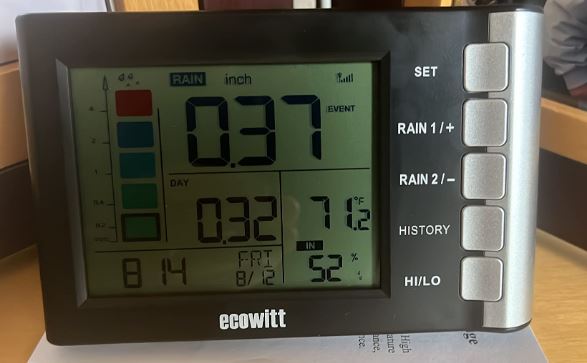 The interior display is big and broad. It's mostly made of black plastic, including the sturdy kickstand on the back. However, the five control buttons on the right are grey, as is the accent strip down the right side. As for placement, you'll have zero issues. A 300-foot signal range allows you to position the gauge and the display pretty much wherever you want.
The screen has a number of elements, starting with the rainfall display itself. This is the largest portion of the screen, and is located at the top right. It shows your rainfall data by the day, week, month, year, or lifetime of the gauge. These measurements are accurate to 0.01-inch, and update every 49 seconds. On the left of the screen is a vertical graph that shows rainfall for the current rain event, last hour, or last 24 hours.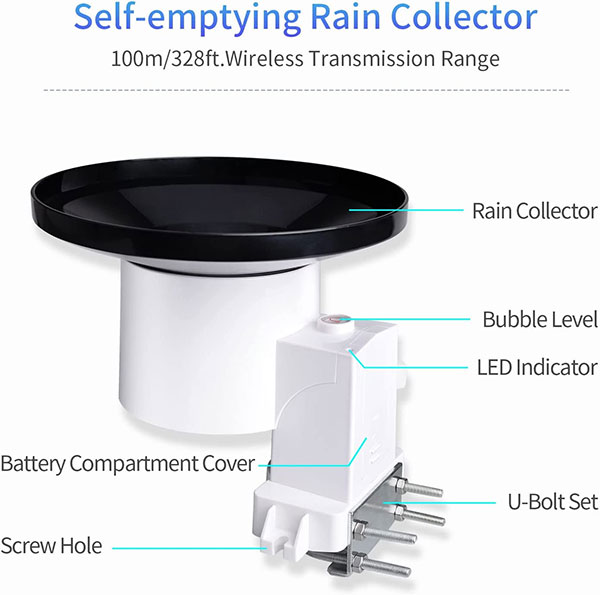 Aside from your rainfall numbers, the WH5360B also shows your indoor temperature and humidity. These numbers are updated every 60 seconds and are also stored in memory. You can even bring up a record that shows your highest and lowest humidity and temperature of all time. If that's not enough, you can set an alert for high or low temperature or humidity. This is a useful feature if you're growing plants indoors.
The system includes a built-in calendar and clock, along as an alarm clock function. It's also compatible with the ECOWITT GW1100 WiFi gateway. This gateway connects your rain gauge to the web, and allows you to upload your stats in real time.
What we liked:
Long signal range.
Also monitors indoor temperature and humidity.
Compatible with the ECOWITT WiFi gateway.
Won't get damaged by freezing weather.
What we didn't like:
Wide collection pan can turn into a birdbath.
Reads about 10% less than a manual gauge.
Best Alternative: Geevon Wireless Rain Gauge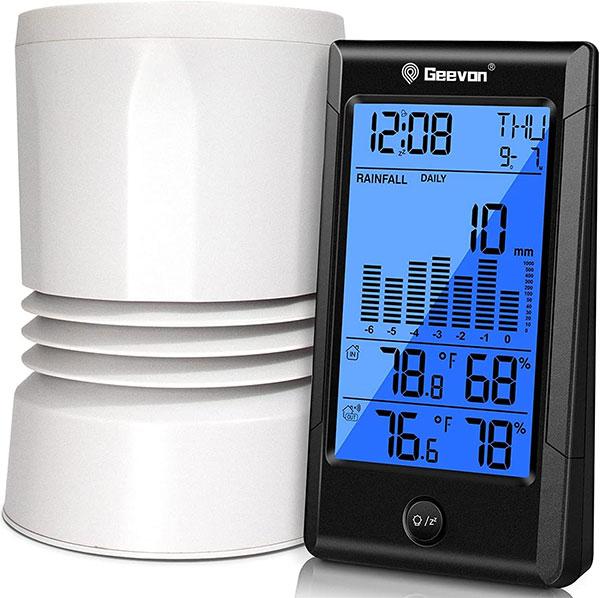 Key features:
150-foot range.
Tracks rainfall by day, week, month, or total.
On-board graph shows individual totals for the last six hours.
The Geevon Wireless Rain Gauge has a white cylindrical rain collector. The collector itself has a narrow mouth that keeps debris from getting inside and causing any malfunctions. Meanwhile, there's a series of drain slots that run around the circumference near the bottom. That's more drainage than you need, but it ensures that a partial block won't impede ordinary operation.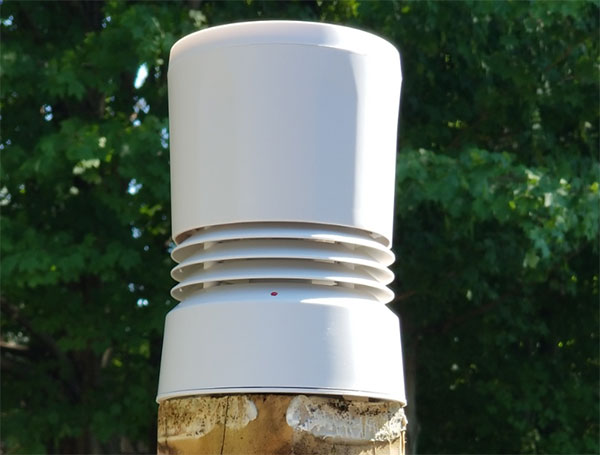 The interior display can be ordered in black or white. Both versions are otherwise identical with broad displays and bottoms that are thicker than the tops. You can set the receiver on your counter, or mount it on your wall using the screw slot. The range is pretty good, at about 150 feet. That's enough distance for most applications, but it's something to keep in mind.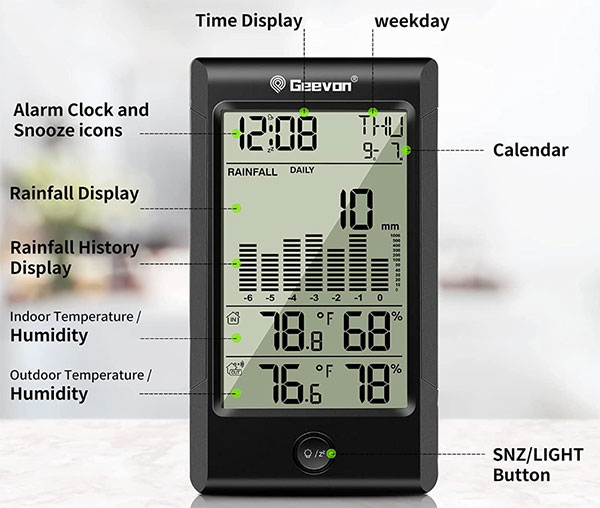 The sensor is accurate to 0.01-inch, and shows the current day's rainfall on the main display. You can modify this to show your weekly, monthly, or lifetime total as an alternative. Beneath this is a graph that shows detailed rainfall information for the previous six hours. It's not much use for gardening. But if you're a meteorology enthusiast, it's a pretty cool feature.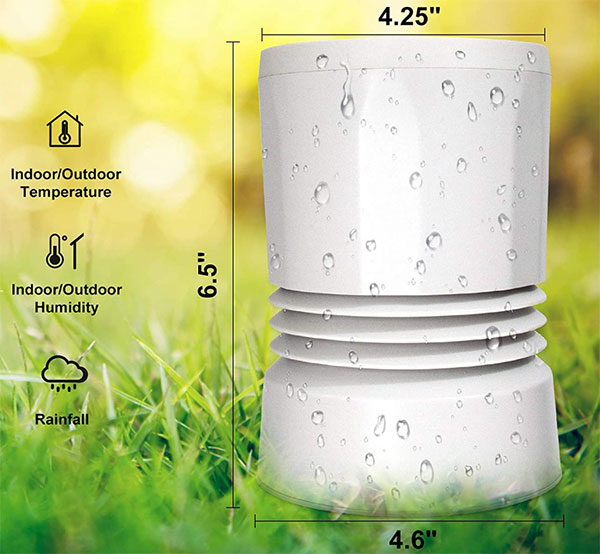 Along the same lines, the Geevon rain gauge also has a built-in temperature and humidity sensors. These sensors are located in both the outdoor gauge and the internal receiver. As a result, you'll also see your indoor and outdoor temperature and humidity. Depending on what you're doing, this information could be just as helpful as the rainfall level. Our only complaint is that the history features aren't as useful as they might sound. The memory seems to clear randomly from time to time, losing all your old measurements.
What we liked:
Tracks humidity and temperature both indoors and outdoors.
Well-designed interior display.
On-board graph shows rainfall totals for the last six hours.
Outdoor collector doesn't catch debris easily.
What we didn't like:
Can be damaged by freezing temperatures.
History sometimes randomly clears itself.
Best 2nd Alternative: La Crosse Technology 724-1415BL Wireless Rain Station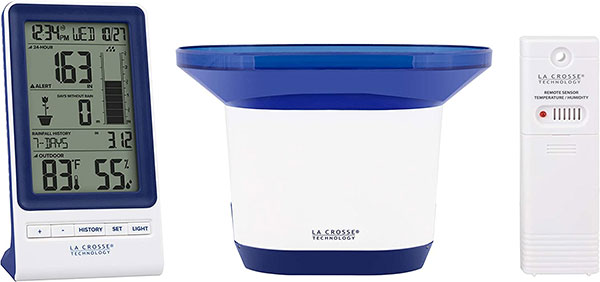 Key features:
330-foot range.
Tracks rainfall by the day or the week.
Show the number of days without rainfall.
The La Crosse Technology 724-1415BL has a wide blue collector bowl that sits in a white base. It's designed to sit on a flat surface and collect your rainwater, and is entirely self-emptying. Be aware that before you use it you'll have to open the top and remove the little cardboard tab inside.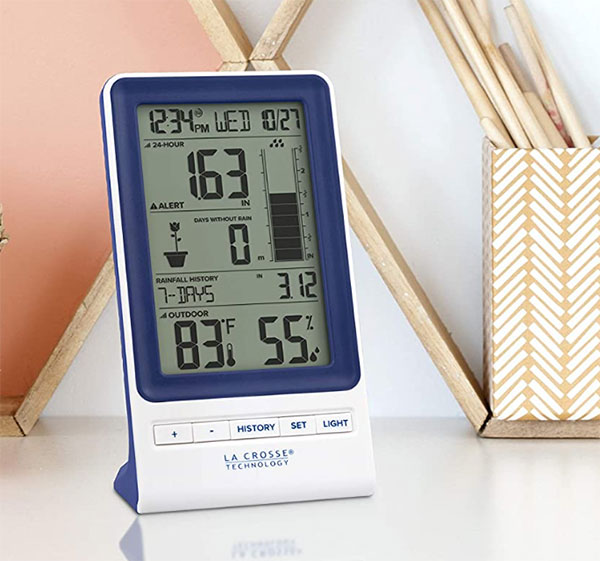 The indoor display is also made from white and blue plastic. It has a wide screen, with a row of physical control buttons underneath. The screen is tilted slightly backwards, and attaches to the base at the front. The kit also includes a separate remote sensor which is about the size of a remote control. This device picks up the temperature and humidity, and can be positioned anywhere you like. Both wireless connections have a range of 330 feet, so placement is very easy.
The display is very busy, and shows your 24-hour rainfall total to an accuracy of 0.01-inch. Beneath that, it shows the number of days since the last rainfall. You'll also see your 7-day rainfall total, and a visual graph of your daily precipitation. The day, date, and time are displayed across the top of the screen.
What we liked:
Long signal range.
Won't get damaged by freezing weather.
Shows how long it's been since it last rained.
Separate temperature/humidity sensor.
What we didn't like:
Can't wall-mount the display base.
No long-term history tracking.
Final Verdict
So, which one of these wireless rain gauges is the best choice? A lot will depend on what you need. Here are our thoughts on each of today's options.
First up, we evaluated the AcuRite 02446M. This rain gauge has a well-designed outdoor unit, with a reliable draining mechanism. It's surprisingly accurate, and the internal display is well-designed. You can track data by the day, week, month, or year. You can even set an alarm to sound when the rainfall has reached a certain level. As long as you don't need a ton of signal range, you'll have everything you need.
Next, we looked at the ECOWITT WH5360B. This wide-mouthed rain gauge is designed to mount on a pole. With its 300-foot range, you can put it pretty much anywhere around your yard. The display also impressed us, with its beefy design and intuitive physical buttons. And with temperature and humidity sensors, it's ideal for taking care of houseplants.
Third on our list was the Geevon Wireless Rain Gauge. This gauge is notable for tracking your temperature and humidity both inside and out. It's also well-engineered, with a narrow top opening that makes clogging or debris a virtual non-issue. This is combined with a large, intuitive display that tracks rainfall by the hour. If you want the most possible information, this is a great choice for you.
Last but not least, we reviewed the La Crosse Technology 724-1415BL. This rain gauge also comes with a separate temperature and humidity sensor that can be placed indoors or out. We also liked the 330-foot range, which gives you the freedom to space out all three devices as needed.