Whether you're plugging in Christmas lights or using a corded power tool, it's sometimes tough to reach an outlet. In those situations, you often need to rely on an extension cord to provide power. This is fine for one-off situations, but what if you keep needing a cord in the same space? It might be tempting to leave the cord plugged in all the time, but that can present a fire hazard. Along the same lines, an extension cord dangling across the floor is a good way to trip and hurt yourself. But at the same time, coiling, uncoiling, and storing an extension cord can be a headache. Clearly, there needs to be a more convenient solution.
A wall or ceiling-mounted extension cord reel is a good way to install semi-permanent power wherever it's needed. Typically, the male end of the cord is left plugged in. The female end is then available in the reel, so it's there whenever you need it. Because only the male end is "permanently" plugged in, the wire is not normally under a load. This means you're not creating a fire hazard. And because the cord is reeled up when it's not in use, you eliminate the tripping hazard as well. On the plus side, storing and retrieving your cord is quick and easy, so it doesn't turn into a hassle.
We're about to review three of the best wall-mounted extension cord reels that money can buy. We'll begin by looking at the ReelWorks Heavy Duty Extension Cord Reel. This is a heavy-duty 65-foot, 12-gauge cord and reel for indoor use. Next, we'll check out the Aceland Retractable Extension Cord Reel. This is a rugged metal reel with a 25-foot outdoor-rated cord. Finally, we'll examine the Chromex Wall Mounted Extension Cord Winder. This is a unique reel and support basket that fits most common extension cords. Which one is right for you? We're about to take a deep dive into all three options, and see how they compare.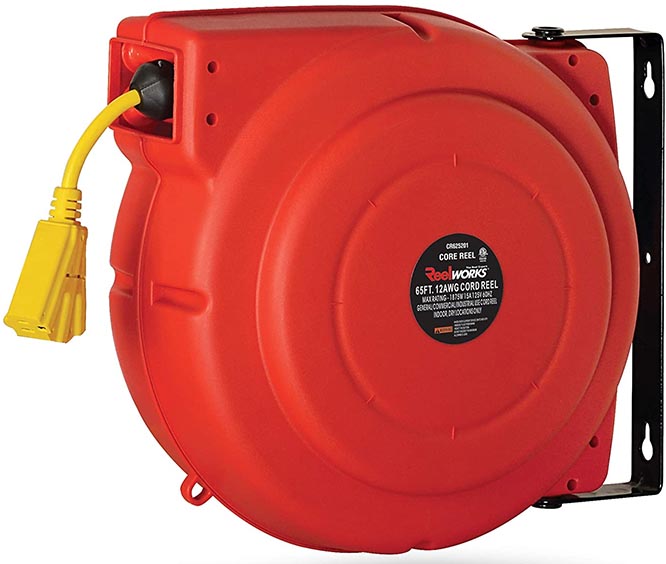 ReelWorks Heavy Duty Extension Cord Reel
The ReelWorks Heavy Duty Extension Cord Reel is the beefiest of all three of our options. It has a durable plastic housing, which is molded from polypropylene. It's impact- and shock-resistant, which makes it ideal for busy workshops with a lot of activity. The total size of the housing is 17.4 inches wide, 17 inches tall, and 9 inches thick. It's high-visibility orange, and is shaped like a giant tape measure, with a weight of 19.8 pounds. At the top front, where the tape would be on a tape measure, there's an opening where the cord protrudes.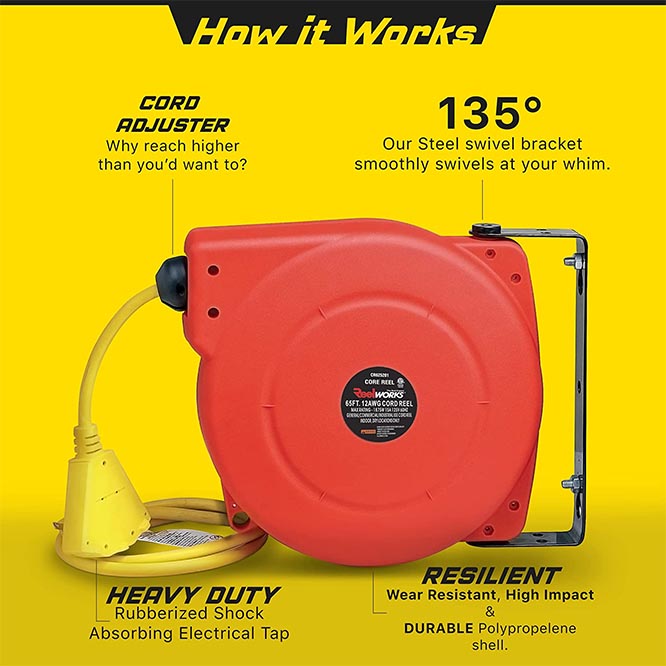 How far the cord protrudes is up to you. The reel has an internal tension spring with a ratcheting function. When you pull the cord out gently, it locks into place. When you give the cord a sharp tug, the ratchet will disengage, and the spring will retract the cord. This is a great feature, since you don't have to fiddle with anything to get the length you need. Just pull out however much cord you want, whenever you want it. You don't have to worry about babysitting the cord during retraction.
In addition to this, there's also an adjustable rubber stopper on the female end of the cord. This can be used to adjust the amount of length left out when the cord is hanging. You can leave it short if it's mounted low down, or leave a lot hanging. Even if you're mounting the reel on your shop ceiling, you can leave the cord end where it's accessible.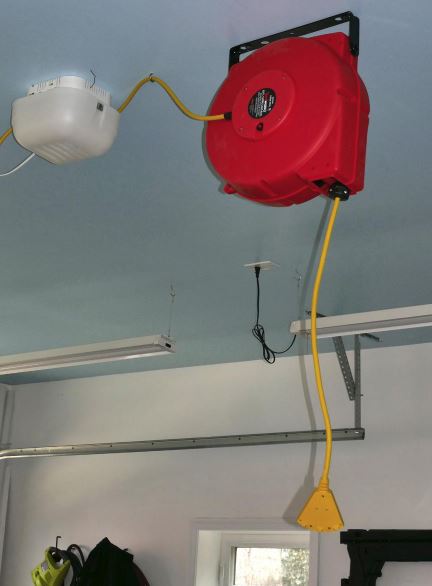 The back side of the ReelWorks reel fits into a sturdy black metal mounting bracket. The mounting points form a hinge, which allows the reel to pivot 135 degrees. This gives you a little more flexibility in terms of where the cord can be used. Inside the package, you'll also find the screws and other hardware you need for mounting. On most surfaces, you can complete the installation in 15 minutes or less. ReelWorks guarantees the reel, cord, and bracket for 12 months from the date of purchase. If yours has any defects, you'll get a free replacement or a refund.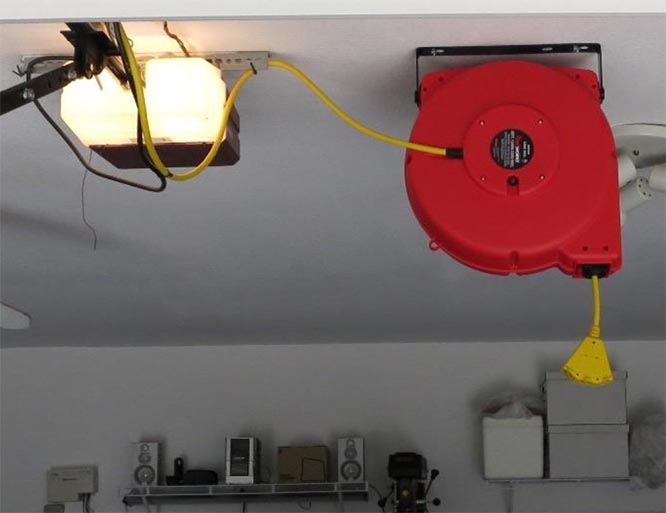 Cord Design & Capability
We've established that the ReelWorks reel is high quality, but how does the cord inside perform? This is a bright yellow cord, which is great for visibility. It's a heavy duty design, with a 12-gauge wire and plenty of insulation. We're not saying it's indestructible, but it's tough enough for commercial use. The male lead cable is 5 feet in length, which gives you plenty of reach for an outlet. It protrudes from the left side of the reel, and initially points downward. The end has a 3-prong grounded tip, so once again you'll be just fine with most powered equipment. One thing to be aware of is that some of ReelWorks' promotional material shows a GFCI switch. The GFCI is present on some ReelWorks cords, but not on this one.
The female end of the cord has three separate three-prong outlets, spread out in a fan shape. The total length of the cord is 65 feet, which gives you more than enough reach for most scenarios. In terms of power rating, it's capable of delivering a current of 125 volts, 1,875 watts, and 15 amps. This is more than enough capacity for any standard 15-amp outlet. You'll be able to run any kind of power equipment, provided it doesn't require 20-amp power. Keep in mind, though, that this current is shared when more than one device is plugged in. Another thing to be aware of is that this cord is not rated for water exposure. You can use it outside on a nice day, but it should only be installed indoors.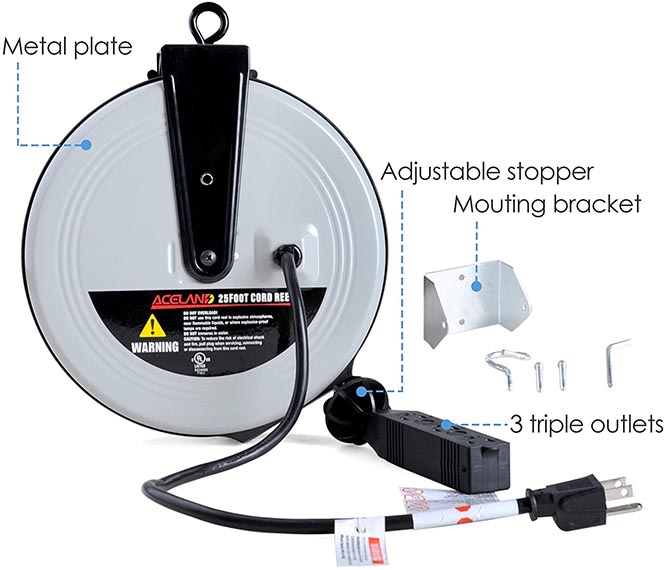 Aceland Retractable Extension Cord Reel
At first glance, the Aceland Retractable Extension Cord Reel has a lot of similarities to the Reel Works. It consists of an extension cored, stored inside a closed reel housing, with a mounting bracket. But if you look a little bit closer, there are some important differences between the two. To begin with, the housing is made out of metal, not plastic. This makes it tougher and more durable. That said, the opening for the female end of the cord is made of plastic. That way, you don't have to worry about a sharp metal edge damaging your cord. Another major difference is the size. The Aceland reel is compact, with a diameter of just over 12 inches and a thickness of 5.51 inches. It's correspondingly lighter, tipping the scales at only 7.96 pounds.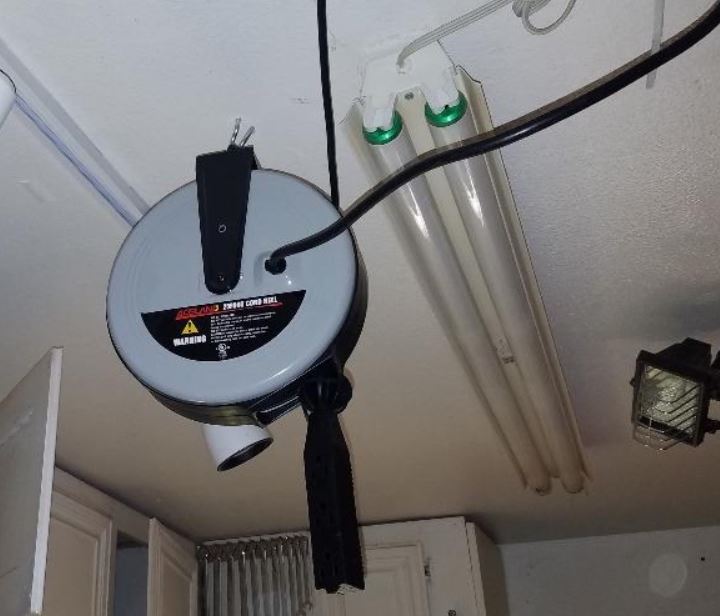 This is yet another spring-loaded reel, so it's easy to pull out and retract. There's also a movable rubber ball stop that adjusts the free length of the cord. This stop fits very loosely, though, and tends to slip down on its own. If you want it to stay in place for the long term, put a zip tie on the cord in front of the stopper.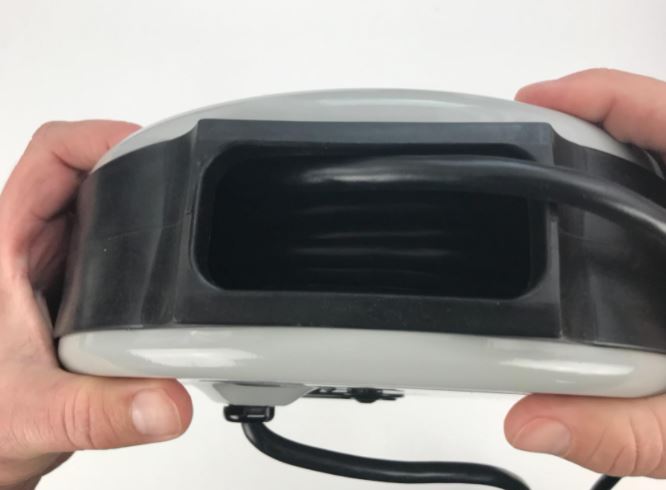 The mounting bracket has a couple of different pins and hinges for holding onto the reel. One is designed for wall mounting, while the other is engineered to hang from your ceiling. Either way, it will pivot 180 degrees, so you get plenty of flexibility. All the necessary screws are also included. The literature is unclear on whether the warranty is for 12 months or for a lifetime. But you're at least protected from any factory defects or shipping damage.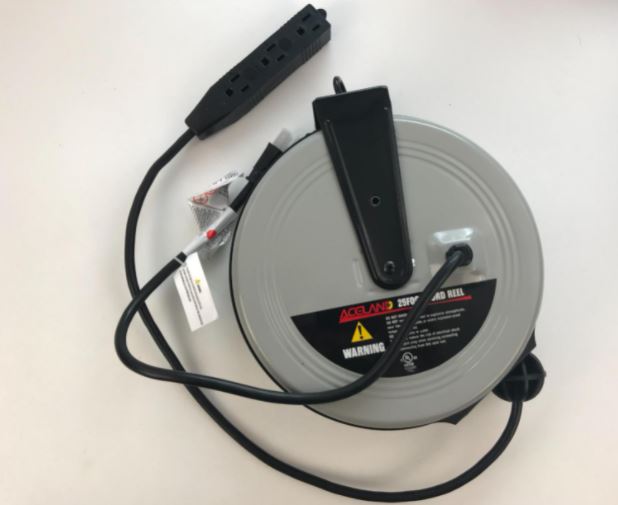 Cord Design & Capability
The Aceland Cord Reel comes with a black, 16-gauge cord. The cord is well-engineered, rugged, and tough enough to take a beating. It's also weather-resistant, so it can be used under almost any outdoor conditions. On the downside, it only has a rated capacity of 125 volts, 1,125 watts, and 9 amps. That's awfully low amperage, and it limits what you can actually do with this cord. It's fine for few lights, or even for running a TV or a laptop. But if you plug in something like a power drill or a refrigerator, you're not going to get enough juice.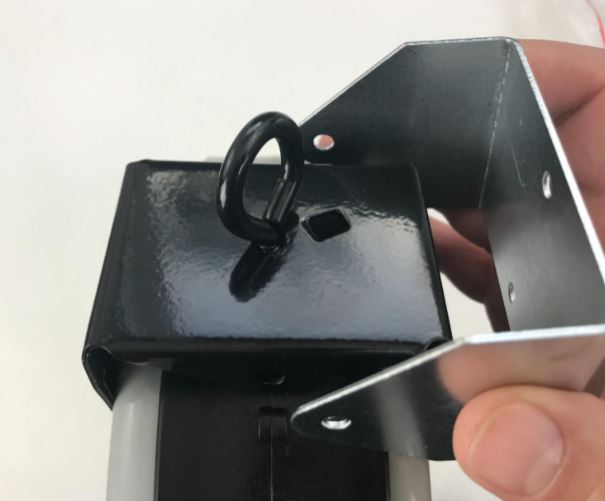 The 3-prong male lead cable protrudes from the left side of the housing. At two feet long, it's a big short, and you might have to mount it somewhere less than ideal. That said, it's perfect for plugging into a garage door opener power outlet. The female end of the cord has a length of 25 feet, with a rectangular plug block on the end. This block has three grounded outlets, so you can plug in up to three devices. Just remember that the power is shared. If you're running a device that draws close to 9 amps, you should use that device alone.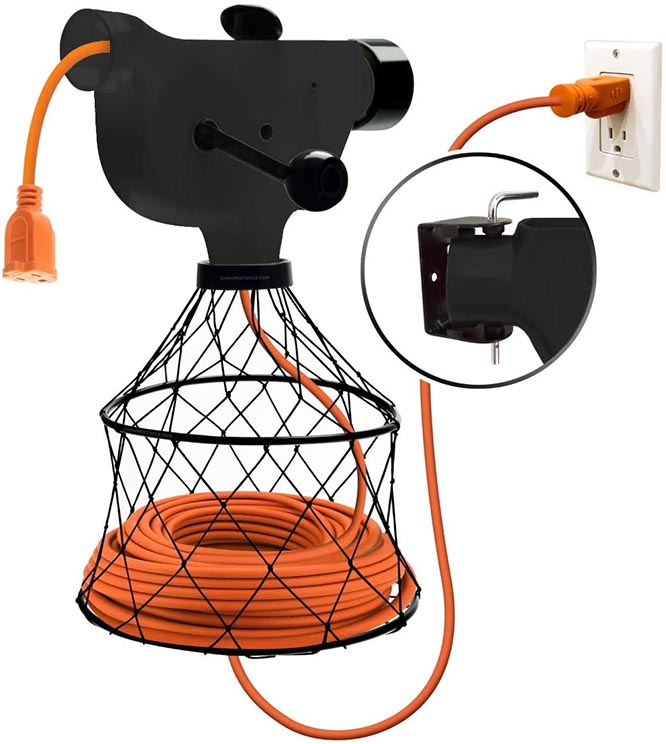 Chromex Wall Mounted Extension Cord Winder
Chromex is an experienced manufacturer of electrical and wiring tools. Not long ago, we reviewed their magnetic wire pulling kit, and we were impressed. The Chromex Wall Mounted Extension Cord Winder is another intriguing product. Instead of a traditional reel, this tool stores your extension cord in a basket, which hangs down underneath. The male end of the cord then extends through the bottom of the basket. As a result, it can be shortened or lengthened as needed, for the perfect length to reach any power outlet.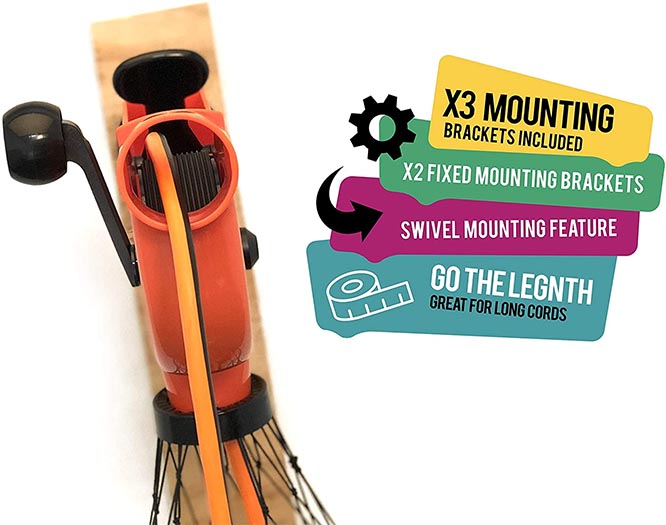 The upper crank housing is made from a tough polymer, and is available in black, beige, or orange. There's a lever on top, which can be raised to allow you to pull out the female end of the cord. To feed the cord back into the basket, you close the lever until the roller is snug on the cord. Then, you turn the crank, and the cord feeds neatly into the basket.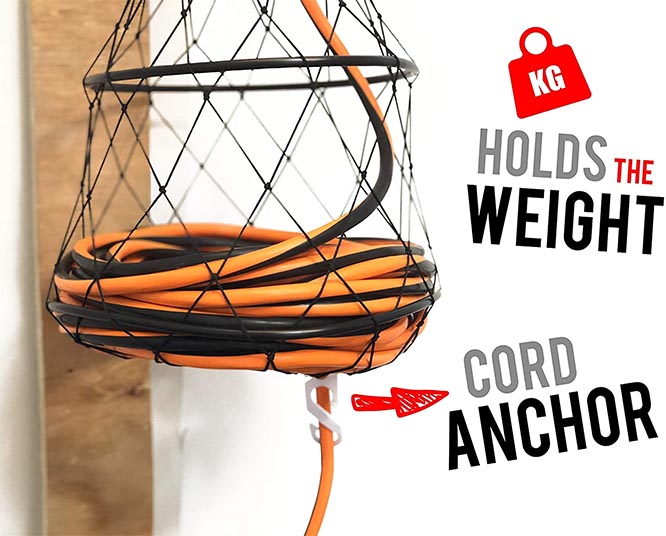 The kit includes all necessary mounting screws, as well as three different mounts. The first is a swivel mount bracket, which allows the winder to pivot. The other two are fixed mounting plates, with a twist-lock release. You can position all three mounts around a larger work area, or across multiple jobsites. This makes the Chromex winder more portable than a traditional cord reel. It's also protected by a 12-month warranty, as long as you send in your registration card.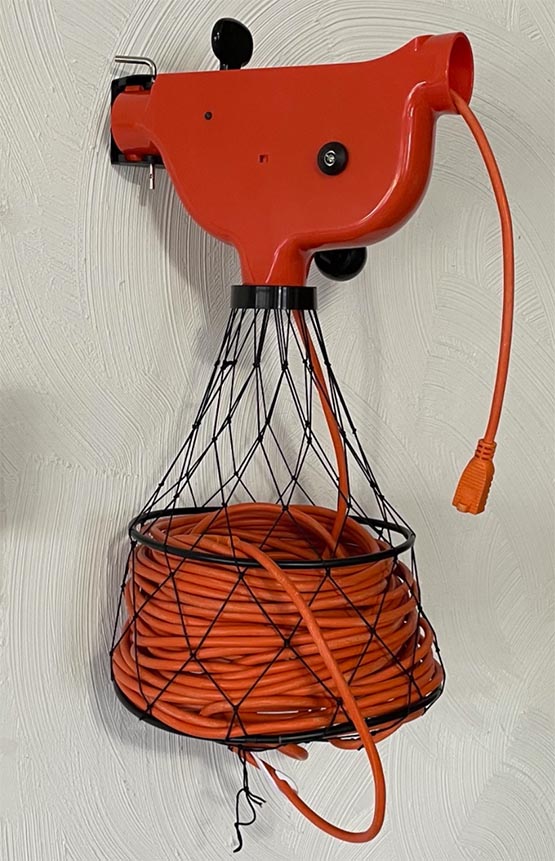 Cord Design & Capability
The Chromex winder doesn't actually come with an extension cord. In order to use it, you'll have to provide your own cord. On the upside, the basket and reel are pretty versatile. With a 16-gauge light-duty cord, you can fit up to 150 feet. With a 14-gauge medium-duty cord, you can store 100 feet. Finally, with a heavy-duty 12-gauge cord, you can store up to 50 feet. Unless you need to run a very heavy cord for a very long distance, that's all you're ever going to need.
Final Verdict
As you can see, each of these extension cord reels has its own benefits and drawbacks. Let's go over what we've learned, and see how they stack up. We began by reviewing the ReelWorks Heavy Duty Extension Cord Reel. This reel has a heavy-duty cord, which is suitable for any 15-amp application. It's also 65 feet long, which gives you a ton of reach. The overall design of the reel itself is durable and easy to install, so we had no issues there.
The Aceland Retractable Extension Cord Reel has the most durable reel of all, with a metal construction. This allows it to take significant abuse, even in demanding environments. The thing we liked most, though, was the design of the bracket, which is easily converted to a ceiling mount. If you're looking for a cord to plug into your garage door opener, this is an ideal choice. On the other hand, the 9-amp power rating is more than a little underwhelming.
The Chromex Wall Mounted Extension Cord Winder has an altogether different design. On the downside, you don't any cord. On the upside, you can use almost any cord you want, and even change the cord out as needed. The storage basket design is unique, but we also liked the mounting options. With three different mounts, you can easily move the Chromex around between different areas.