There's no doubt that flash technology has come a long way, but hard drives are still the king of bulk storage. USB flash drives are usually slower and much lower capacity than their internal counterparts, and nobody has time to wait for 20GB of data to write to a Blu-Ray disk. If you want to move hundreds of gigs of data, or simply access something stored on an internal drive without having to open your computer up, a Hot-Swap SATA Mobile Rack is a great solution.
This technology works in an almost identical fashion to internal drives, with special upgrades allowing you to Hot-Swap. This means that you can insert or remove the drives while your computer is turned on. If this is something you're looking to do, it's essential that you select a properly configured device. Hot-Swapping a drive on a live system when it doesn't expect it can cause data corruption or drive failure. To help you separate the trash from the treasure, we dug around to find the three best Hot-Swap SATA Mobile Racks currently on the market.
Kingwin Single Bay Mobile Rack
Often, the simplest solution is the best. This is the moto that Kingwin goes by when they develop their trusted and reliable computer components. This hot-swappable SATA mobile rack is more than adequate for business or personal use, including everything you need to get started.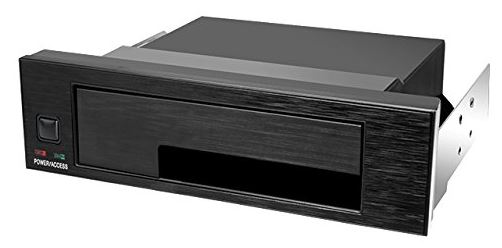 Layout
The Kingwin Single Bay Mobile Rack is designed to fit into a 5.25" drive bay. This is the same bay that's normally reserved for your CD drives. Since we rarely use optical media anymore, this rack is a way to breathe new life into an old slot. Instead of the multi-tray systems used in many racks, Kingwin opted to go for a dual slot system.
You'll notice that there's a smaller hole in the bottom right. This is used for 2.5" SATA drives such as laptop hard drives or SSDs. The large flip up cover allows the bay to expand to accommodate a standard 3.5" hard drive. Because the SATA port is located proportionally on both drives, this allows a single connector to support both drive sizes. However, the one disadvantage of this system is that you can only use one drive at a time.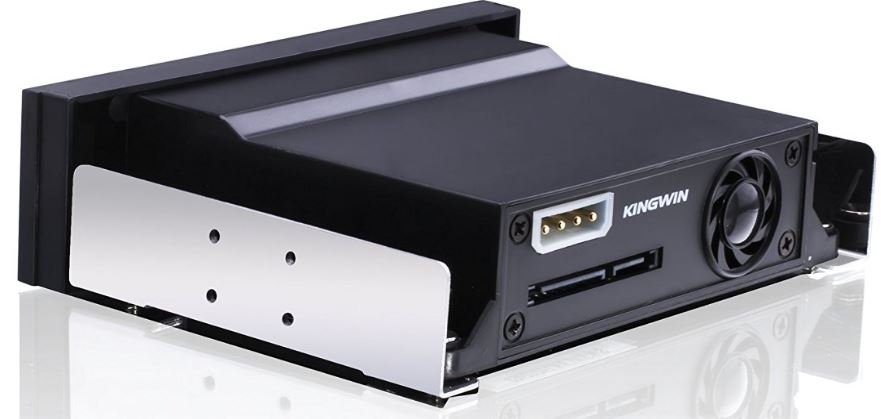 Functionality
Hard drives are a little longer than this bay is deep. This means that they'll stick out a bit. In many ways, this makes using it very simple. First, you'll notice that there is a power button on the left side. When you want to disconnect the drive, you'll need to make sure the bay is turned off. While it's off, you can remove or insert any drive you like. Since it sticks out, this is as easy as pulling on it or pushing it in. When you're done with the drive, all you have to do is push the power button and pull it out.
Why do you need to use the power button? Generally, hot-swappable indicates that you can change the drive while the power is on. Technically, this is true. Since you're not turning off the computer itself, it's still a hot-swap bay. However, most consumer drive use something called buffering. While you're using the computer, there are a number of read and write operations that the operating system does. Some of these are just general operating procedures, others are flags indicating which files are in use so other programs know not to use them.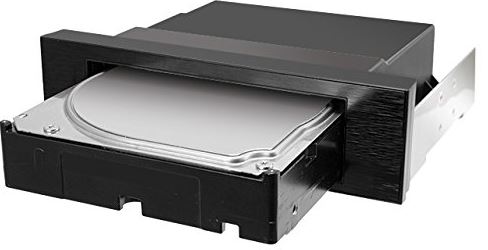 If all of these operations were completed in order, it could slow down the operation of your drive. To compensate for this, your operating system will delay unimportant disk operations until the drive is free. When you pull a drive out unexpectedly, some of these buffered operations will be incomplete. This can lead to errors where your disk thinks certain files are still in use, and data can even become corrected.
This hot-swap bay uses the power button to fix this issue. When you press the power button, the drive quickly wraps up all incomplete operations so that your drive is ready to go. Unless you're in the middle of a massive file transfer, this is almost imperceptible. But once the lights go off, you're ready to change the drive.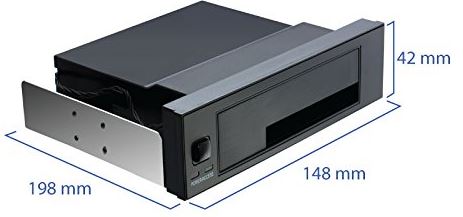 Durability
It's true that this is an affordable option, and many of the components are designed to be inexpensive. But it's reinforced where it counts. The SATA ports are all scratch resistant and reinforced. This allows them to survive 50 thousand insertions. This is much more than your typical SATA connector, as they are generally not designed to have disk drives inserted and removed all the time.
StarTech.com Mobile Rack Drawer
If you've been keeping up to date with NerdTechy, you'll have seen plenty of our reviews on the StarTech.com gear. They're best known for their affordable and high quality cables, but their business extends into all forms of connectivity devices. This particular mobile rack is designed for business use, and has a number of security features that aren't found on other racks.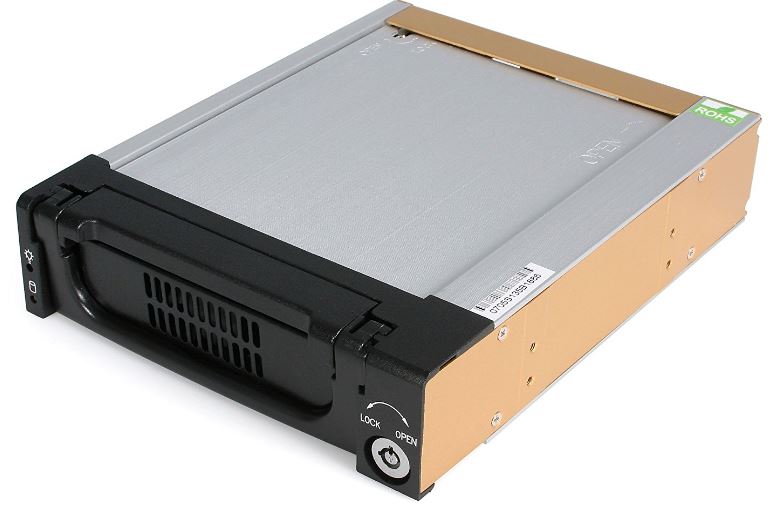 Layout
One of the unique things about the StarTech.com Mobile Rack Drawer is that it's designed to be used with a specific drive. There are two main components to the system, the rack itself, and the drawer. The rack is very simple in design. It's got a thin outer bezel with a grooved inner bezel that's designed to make the tray easy to slide in. The drive is fitted with an opposite aluminum frame that mates with the one in the bezel. Inside the tray, you can fit any 3.5" or 2.5" drive and lock the case shut. With this system, it's not as easy to change drives. But there is an added layer of security. By design, the idea is to have one tray for each drive.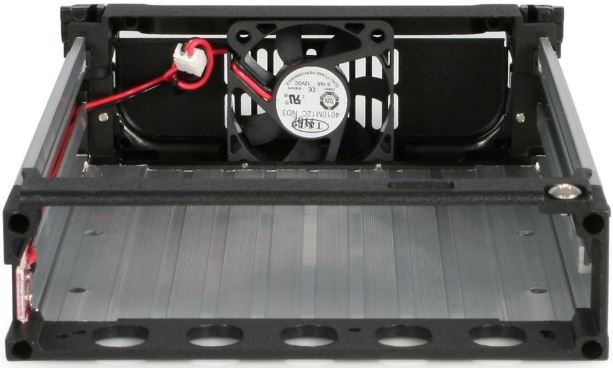 Functionality
As we move everything onto the cloud, data security is becoming an increasing concern for consumers. If your business is handling client data, it's important that your hardware is just as secure as your software. One of the primary security features on this SATA bay is the lock on the right side. With the included key, you can lock the drive into the bay so that it's impossible to remove without causing damage. This prevents somebody from walking buy and scooping a storage device, and also prevents accidental removal.

Just like the previous drive, this one includes a power button to prevent issues with buffering. Although this does cause an extra step, it only takes a moment. The inclusion of this button means that you don't have to purchase a hot-swap specific drive.

Durability
This is probably one of the most durable drive bays we've looked at. A rugged aluminum frame keeps everything protected. From a general use and abuse point of view, the build quality is complete overkill. You'll destroy the hard drive inside before you break the frame. But the reason for it's impressive construction is the security features. They wanted to make something that was tamper proof, and the aluminum frame is the best way to do it.
Syba Bay Tray Less Mobile Rack
If you're looking to connect more than one drive, Syba has got your back. Just one quick browse through their offerings and you'll see that they produce a number of popular computer components. But upon closer inspection, it becomes clear that they put their own unique twist on each of them. This hot swappable SATA drive bay is no different.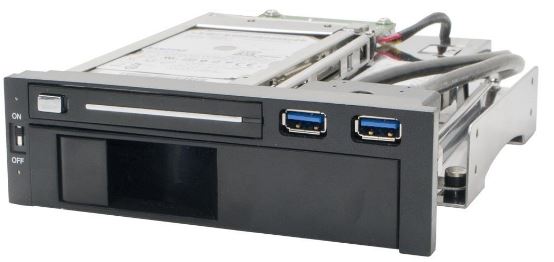 Layout
From the first glance, you'll notice a few key differences between the Syba Bay Tray Less Mobile Rack and your typical unit. The first main difference is the layout. The 3.5" drive bay takes up most of the space. It's got a large indented latch on the front, making it easy to secure your drive in place. Where most drives have a smaller latch that allows you throw in the 2.5" drive, this one has an entirely separate section. The latch on the 2.5" drive is a little smaller, using a slide lock in place of the large latch. The tiny power switch is the toggle variety, making it a little easier to isolate your drive electrically.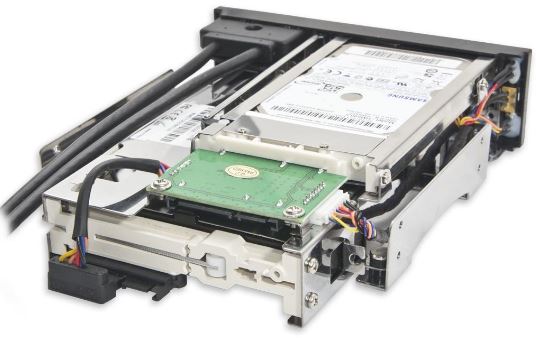 Functionality
One of the most unique features about this particular rack is the two USB 3.0 ports on the front. These can connect directly to a header on your motherboard, giving you two more USB ports you wouldn't have had otherwise. The only consideration is how many ports you have. If you only have 2 or 4 USB ports on your cause, you're likely going to have another header somewhere. If you already have 6 or more, there isn't many motherboards that supply more USB 3.0 ports. One option you have is to remove ports that are hard to access and use these instead, but this is at your own discretion.
Another benefit of this drive bay over others is the fact that you can use two drives at once. But the 2.5 and the 3.5 drive bay have their own SATA connectors, so as long as you've got space to connect them on your motherboard they will operate independently.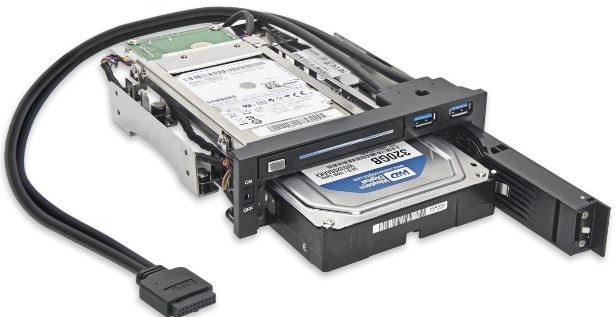 Durability
If you're using this on a portable computer or cart-mounted server that will be on the go, this is your best option. All of the drive bays lock in place, so you're not at risk of having one slip out of the connectors when it moves around. This is especially important for 3.5" hard drives, since they are so heavy. That's why the latch is reinforced on that bay. For a 2.5" drive, this probably isn't necessary. But it's good that Syba included it as a precaution.
Which Hot Swap SATA Mobile Rack is Right for Me?
Luckily, this is one of the simpler purchasing decisions you'll need to make. If all you care about is getting the easiest way to access internal drives, then the Kingwin Single Bay Mobile Rack is your best option. We recommend this especially for those of you who work as computer technicians. It's easy to pop drives in and out, making it ideal for anyone who's dealing with a large number of drives that come in and out of the shop.
For a corporate environment where security is a key concern, the StarTech.com Mobile Rack Drawer is the only choice. This is the most secure bay we've looked at, providing users with both rigid, tamper proof construction and a drive locking mechanism.
If you want to access two drives at once, then the Syba Bay Tray Less Mobile Rack is the bay you want to look at. You can use one 3.5" and one 2.5" drive simultaneously. Additionally, it provides you with some extra USB 3.0 ports so you can factor flash drives into your work system.
No matter which one you choose, there is one important thing to remember. These bays aren't SATA controllers, they just provide a way for you to plug in the drives. They still have to be connected to your computer. If you're out of SATA ports, you'll need to add in additional PCIe controller cards if you want more SATA ports. Remember, you won't want to use removable drives in a RAID configuration. But all of these cards support standard SATA mode.
If you're not too keen on having to hit the power button every time you change drives, you can purchase a drive that has built in SSD caching to address the issue. We'd recommend the Seagate FireCuda Gaming SSHD. Not only is it faster, but by design the caching is all done internally on the SSD to speed up performance.