Fingerprint readers have been on the market many years now, and during that time there has been an immense growth in terms of what they can do. If you're looking for scanner to make it a little easier to login to your computer, you can find casual-use fingerprint readers. And if you're trying to prevent unauthorized network access over business interests, you can find scanners that are as strong as those used in forensic labs.
Choosing a Fingerprint Reader
But choosing the right biometric reader means finding one that meets all your needs. It's about knowing you're selected a fingerprint reader that can implement the right solutions for your problems. Depending on how much security you need, choosing the right reader can have significant ramifications for the security of your system. Fingerprint readers have proven invaluable for preventing identity theft and reducing fraud, but only when you've got the right tool for the job.
Accuracy and Security
Most fingerprint readers use scanner-based designs, which take pictures of your fingerprints for verification. When a print reader is attempting to look for matches, it uses a mathematical template to evaluate the image it's taken, and compare the data to registered personnel profiles. Having a high quality image is essential to the performance of a fingerprint reader. In many cases, false positives or negatives can be sourced back to the resolution of a device.
Occasionally, you'll find quality measured in dots per inch, which should be at least 250 dpi for reading fingerprints. Other times, manufacturers will list accuracy as a false acceptance rate (FAR) or false reject rate (FRR.) Those figures let you know how many consecutive logins it takes for an unverified individual to be given access to the system, and how often verified people will be inaccurately rejected by the system.
But not all readers use scanner designs. Modern fingerprint readers can take advantage of a wide array of biometrics, from your pulse to the dilation of your pupils. Within the realm of fingerprint readers, silicon touch sensors are a non-optical design that's can be a strong alternative to standard readers. For example, fingerprint acquisition can be more difficult with optical scanners while you're in cold environments. And the combination of optics and glass means that dust, sand, or abrasion may eventually disable or impair an optical-based reader.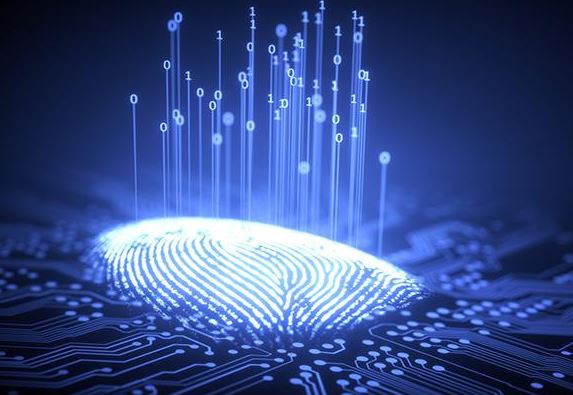 Durability
Anytime you're dealing with a device that's going to see repeated physical contact, you have to think about how its physical body will hold up to regular use. For environments with higher throughput, you're going to want to pay even closer attention. Unless the fingerprint reader is completely portable, a fully metal design is generally your best bet. Plastics tend to be harder to clean, more likely to attract fingerprints, and not particularly sturdy.
Usability mostly comes down to the FRR of the device, paired against how easy it is to link-up with the software you want to lock-down. For logging into Windows devices, it's best to seek devices that support Windows Hello. If you've never heard of it, Windows Hello is the software suite responsible for helping users access functions and programs through biometric controls. Although it's not absolutely necessary to have support for Windows Hello, it does make setting up a fingerprint reader much easier.
Compatibility
You should be assured the scanner you choose will be compatible with whatever your computer OS you're using, as well as the network architecture of whatever software you want to use it with. Just because a scanner says it supports Windows doesn't mean it supports all versions of Windows, or that it supports all versions equally. You've got to pay attention to version-by-version support, and see if that support is continuing on whatever legacy operating system you may use.
Cheat Detection
If you've seen a couple of Spy movies, then you've probably seen a biometric scanner be tricked by someone using fingerprints pulled off of tape. Unfortunately, that kind of cheating isn't far from reality. Fingerprint readers that use scanners are essentially just simple cameras looking for patterns. Without anti-spoofing in place, it's not that difficult for a mildly resourceful person to eventually trick them.
Some readers get around this by requiring two forms of biometric data. For example, the reader may require you to read both a fingerprint and palm vein print. While doubling the amount of biometric data collected is one way to drastically improve security, it's also a guaranteed way to double the cost of the biometric reader. Fortunately, many software-based spoof protections are available that keep accuracy high without the need for additional biometric inputs.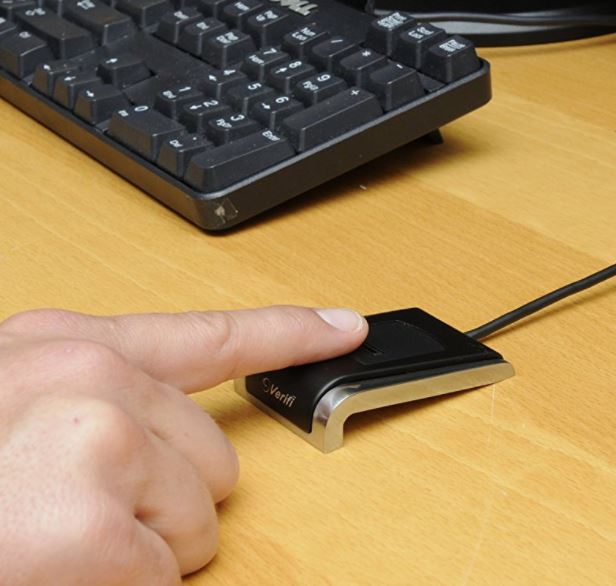 Verifi P2000 Premium Metal Fingerprint Reader
The Verifi P2000 is a good example of the kind of improvements that have come to fingerprint readers over the past couple of generations. What was once a kind of esoteric technology you'd only see in government buildings and labs is now accessible to essentially everyone with the P2000.
Although this fingerprint reader doesn't have the kind of extremely high end features that you'd want for protecting multi-million dollar holdings, that's not what it aspires to do. This reader is more equipped towards helping people rapidly log into their computers, providing one-finger PC access for people who are on a budget.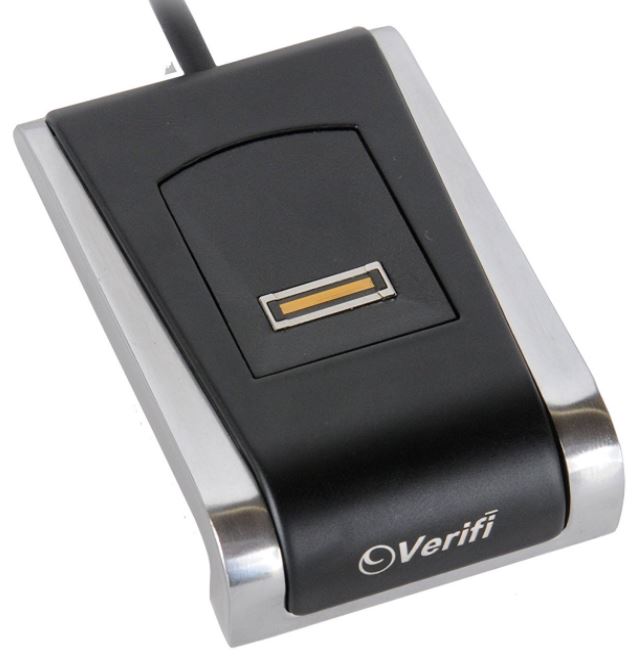 Build and Features
The slide sensor state of the art for fingerprint reader technology, in most cases it manages to correctly read your fingerprint on your first swipe. And the construction of the body is entirely metal, ensuring it's made to hold up to steady use. The 2.8 x 1.8 x 0.8-inch build is small enough to take up virtually no desk space, but large enough that you won't worry about losing it.
The P2000 includes also the free edition of Roboform password manager. Under normal circumstances, using a password manager can be a questionable security decision. But with biometric data, it's safe to say that the addition of a password manager will do nothing but speed up your access to any programs you see fit to protect.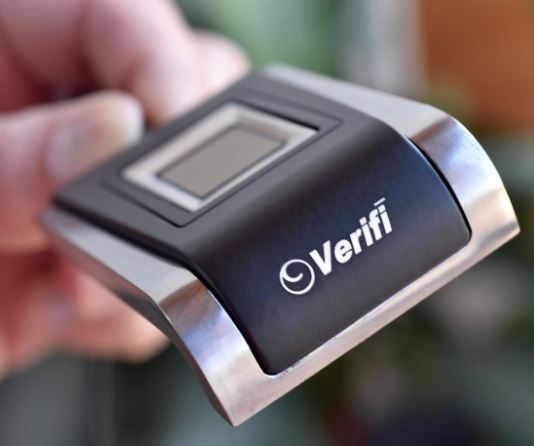 Compatibility and Other Considerations
The P2000 uses an older driver system than more recent versions of Verifi products. Consequently, some users have issues where their keyboard and mouse intermittently fail to respond for about one second of time. That kind of issue might be a minor irritant if it's involved in a system that's expecting extended use.
The P2000 supports all the latest versions of Windows, including 8, and 10. It doesn't work with older versions of Windows like 7, XP, and Vista. Fortunately, it does support Windows Hello, so you'll have easy and quick access to all Windows functions. This reader also includes a CD with quick start guide, drivers, and password manager software that's great for helping lock and unlock browsers.
Verifi P5100 Premium Metal Fingerprint Reader
With the P5100, Verifi uses a design that's more than a little unique. Like any good fingerprint reader, the P5100 offers one-touch access to your computer. And like any good reader should, the P5100 offers many of the best features of modern fingerprint readers, like support for Windows Hello. But the P5100 isn't doesn't use an optical design, which allows it to escape many of the limitations of optical biometrics, and allow this reader to be adapted to a wider range of applications.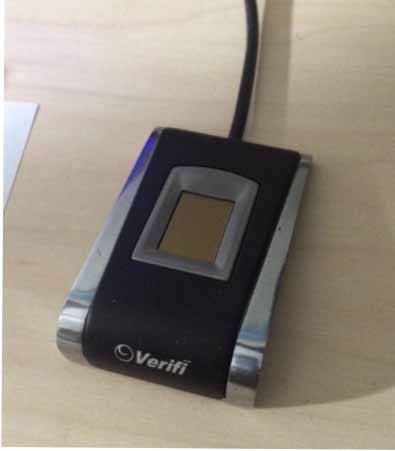 Build and Features
In place of an optical sensor, the P5100 uses an extra-large silicon touch sensor. Instead of swiping your finger past a camera, you gently press your finger against the sensor. Until you get the hang of where you're expected to touch, you may have to press slightly higher or lower. When you press off-center, you'll get an indication that you need to re-try the scan. When you get a hang for using it, you can generally log in with one try. But until you've done it a few times, you'll end up pressing the terminal two or three times to get started.
Like the P2000, the P5100 uses an all-metal construction that ensures the device is built to last. That metal construction helps this scanner look great on a desk as well. The 2.8 x 1.8 x 0.8-inch build is about the same size as an ordinary optical scanner, so like with most fingerprint readers, desk space shouldn't be a concern.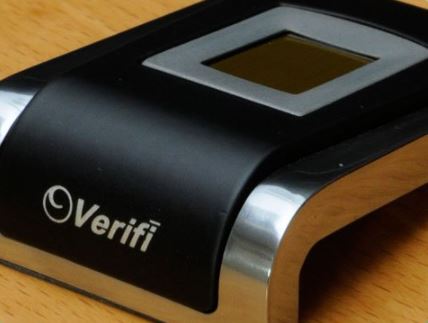 Compatibility and Other Considerations
Apart from its metal construction, the P5100 has a number of things in common with the P2000. For example, it includes the same free edition of Roboform's password manager software. But there are some significant differences when it comes to compatibility. The P5100 supports Windows 7, Windows 8, and most versions of Windows 10. Users have found no compatibility the Pro version of Windows 10.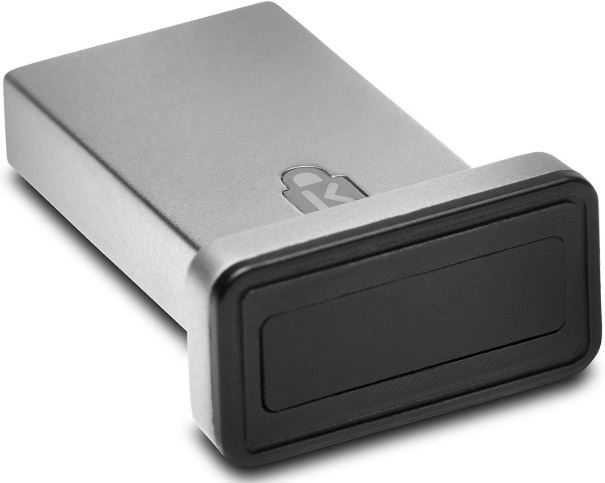 Kensington VeriMark IT USB Fingerprint Key
The Kensington VeriMark IT is the world's first fingerprint reader to support Fast Identity Online (FIDO), two factor authentication, and Windows Hello. With all of those features on a fingerprint reader about the size of the end of your thumb, the result is affordable authentication paired with top-notch security. In a world that's increasingly dominated by cloud services, VeriMark IT is budget-friendly and highly convenient way to protect Microsoft products/software.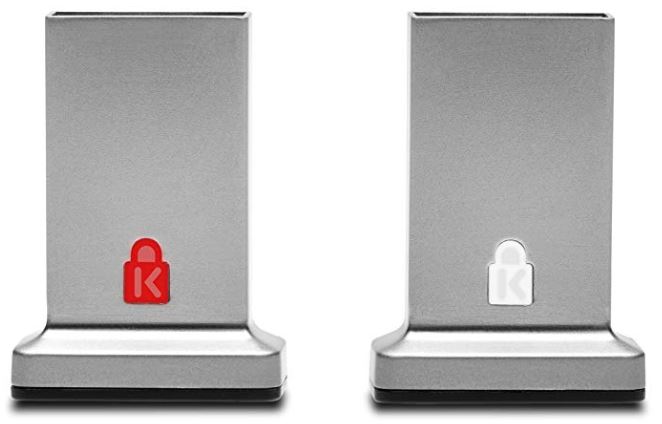 Build and Features
The build of the VeriMark IT uses essentially the same design Kensington has used for years. It's a compact 0.8 x 0.6 x 0.4-inch body that closely resembles the USB plug-in connector for a wireless mouse. That small design can easily attach to a keyring, allowing you to carry a biometric scanner with you anywhere you go. The reader weighs less than an ounce, which is small enough to forget you're even carrying it.
Supports Windows Hello, Windows Hello for Business, Azure, Active Directory, Office 365, Skype, OneDrive, and Outlook.
FIDO2/WebAuthn Compatible.
Match-in-Sensor Fingerprint Technology – fingerprint data is secured in the sensor so only an encrypted match is transferred to the system.
Durable zinc allow body with LED accepted/rejected indicator.
TAA compliant.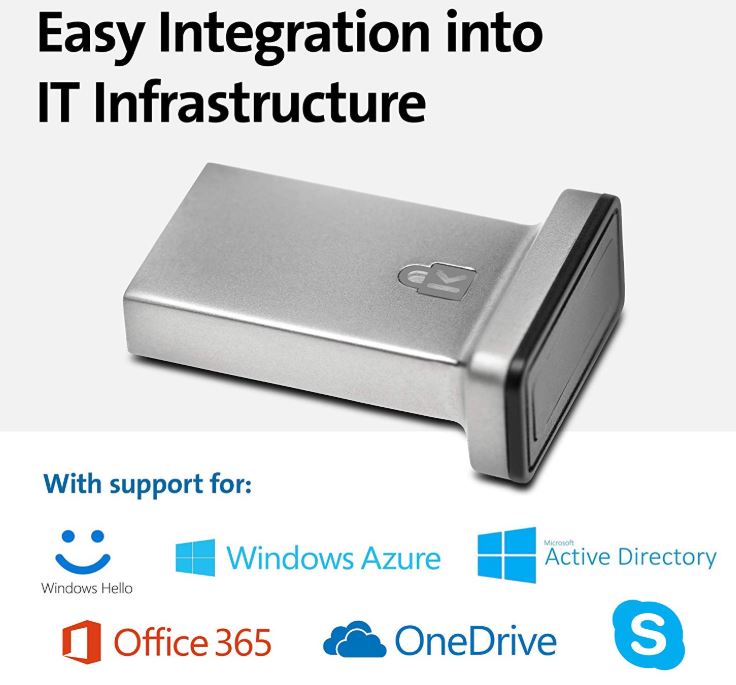 Additionally, this scanner offers 360° of readability, so you can take your fingerprint reading from just about any angle. And even though it's small, this reader exceeds industry security standards for biometric devices, with a false rejection rate of merely 3%, and a false acceptance rate of as little as 0.002%.
In other words, authorized users won't be recognized about 1 out of 30 tries, and unauthorized users would need thousands of tries to have a chance of making their way into the system. Those exceptionally strong rates are largely thanks to its powerful anti-spoofing protection.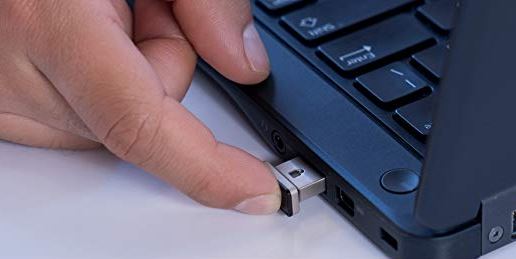 Compatibility and Other Considerations
The VeriMark IT is compatible with all recent iterations of Windows, including 10, 8.1, and 7. Kensington includes a 2-year warranty, as well as a 90-day money back guarantee if you're not satisfied with their reader. Unfortunately, it isn't compatible with Mac OS or Chrome, but it's fully compatible with Windows Hello and U2F applications.
Choosing Between Three Secure Fingerprint Readers
If you're tired of typing in passwords and you want to one-finger access to your programs, then the Verifi P2000 is a great choice. Provided that you're using a modern version of Windows, you should find no issues with support. It provides more accuracy than an ordinary person needs, but stops short of providing the protection necessary for a government lab.
But optical scanners aren't going to work in every circumstance. For environments where optical scanners aren't going to cut it, the Verifi P5100 is a great pick. Even if you were open to the idea of choosing an optical scanner, the P5100 is generally more convenient to use because you don't have to swipe your finger to login. The P5100 also has much better driver support than the P2000, ensuring you'll continue to have this reader work well through future Windows updates.
But neither the P5100 nor the P2000 are particularly portable. You may want to be able to carry your scanner with you from one device to the next. That being the case, the Kensington VeriMark IT is an excellent choice. Even though it's quite small, it has more security features than any number of full-sized readers. And having the fingerprint reader on your person adds an additional layer of security. For someone looking for a portable reader, the VeriMark IT is a great way to make all your USB-based devices more secure.