As moviegoing experiences go, it's tough to get more old school than a home projector. Throw up a screen, or just clear off a white section of wall, and any room becomes a theater. Bust out some popcorn and put on you're favorite movie, and you're ready to go. But when many people think of projectors, they often don't think of modern, state of the art devices. This is understandable, since projectors are an old technology. But old-school projectors used reel to reel film, which was an inherently clunky storage method. With a modern digital projector, you can get far superior image quality from Blu-Ray and other modern sources.
That said, projectors have traditionally lagged behind TVs in terms of resolution. In the days of 720p HD, people were still using SD projectors. When 1080p became the consumer standard for TVs, projectors were mostly 720p. Now that we're in the era of 4K, a lot of projectors have stepped up their game, and upgraded to 1080p. But what if you don't want to sacrifice image quality to use your projector? What if you want to play back your ultra HD video in all of its glory? In that case, you'll have to choose from the very limited number of 4K projectors on today's market.
We're about to review the Anker Nebula Cosmos Max. This is a powerful home projector, with a native resolution of 4K. It also has a set of four built-in 10-watt speakers, for audio that's far superior to most projectors. Combine that with a host of pre-installed streaming apps, and you're already looking at an attractive package. But this is a premium-priced projector, and we expect more than just crisp video. If we're paying top dollar, we want to see a projector with all the bells and whistles. To find out if this one is up to snuff, we'll have to dig deeper. We'll look at everything from the physical construction to the video quality. We'll talk about the software and its other capabilities. Let's see what this projector has to bring to the table!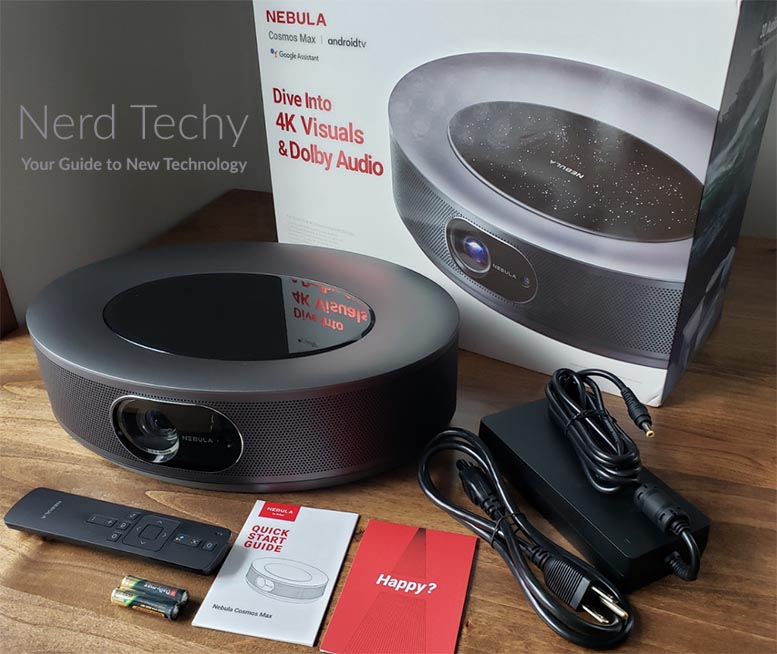 Design & Controls
Right out of the box, you can tell the Anker Nebula Cosmos Max is special. Most home projectors have a simple rectangular shape, which is utilitarian and functional. This one, on the other hand, is built like an oval. The oval shape allows the four speakers to spread sound evenly throughout the room. As a result, the sides are vented throughout, but don't let that fool you. The housing and frame are made from aluminum, so it's very durable. The black finish helps the projector to remain discreet in a dark room. And because it's metal, it distributes heat more efficiently. This means it cools off faster when you shut off the power.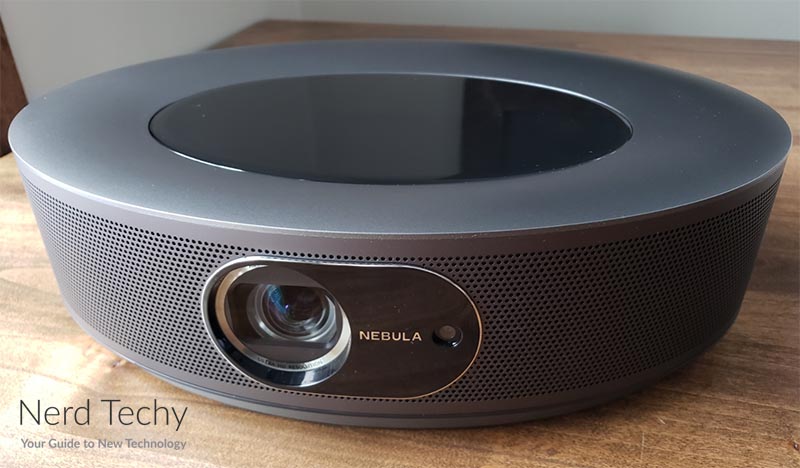 The lens is located directly in the front, and is slightly recessed into the housing. This is a nice feature, since it makes it harder to burn yourself by accident. Next to the lens, you'll see the word "Nebula" in silver, followed by what looks like a second, smaller lens. This is actually a sensor, which helps with some of the automated functions. We'll talk about the automation more in the next section. The top of the housing is a slick black plastic, with a glossy finish. It has the word "Nebula" printed in red in the center, surrounded by a white starscape. The stars are actually LEDs, which glow when the Cosmos Max is operating. If you prefer less distractions, you can turn them off in the menu settings.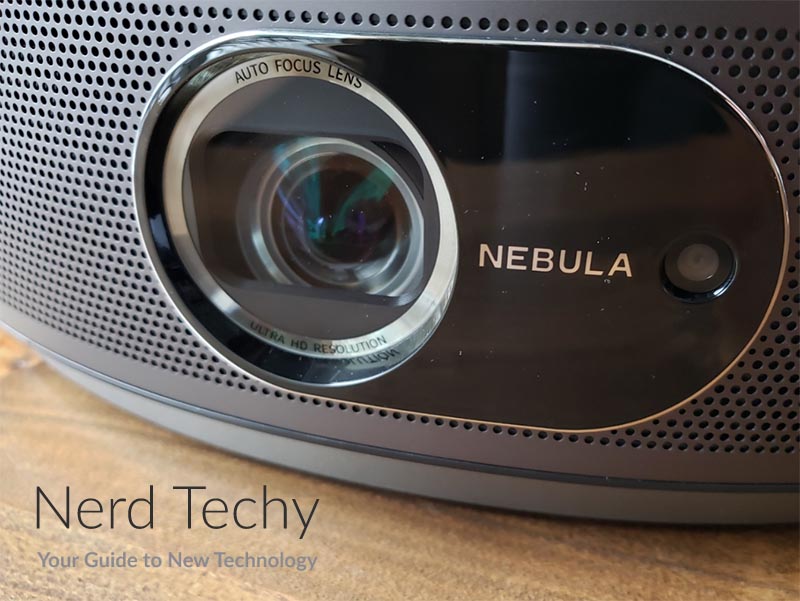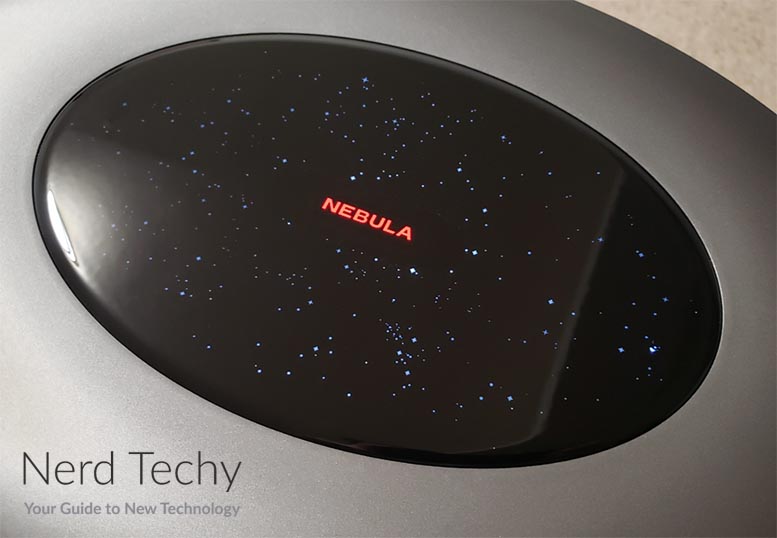 All of the input ports are located on the back side of the housing. To the left, there's a power port. This is a simple round hole, where you connect the barrel-style power adapter. Next, there are a pair of HDMI ports, followed by a pair of USB ports. These give you the flexibility to connect a wide variety of devices.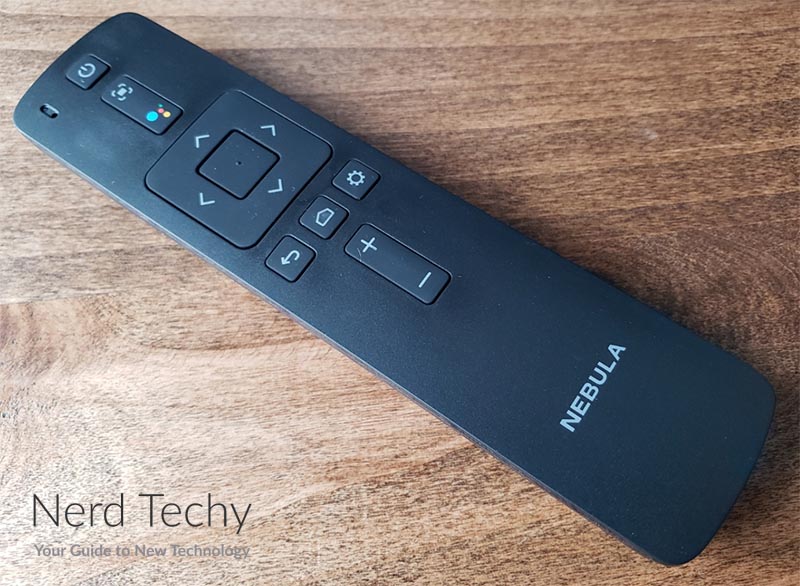 One thing you'll notice is that there are no buttons or physical controls. The Cosmos Max is designed to be used with a remote control, which is included in the package. This remote can be used to perform any functions, including adjusting the picture. You can switch between inputs, and control your streaming apps directly. In practice, you'll find that the smartphone app takes over, once you've gotten it set up. That's not to say that you can't use the remote. It's just that once you've installed the app, the remote mostly becomes superfluous.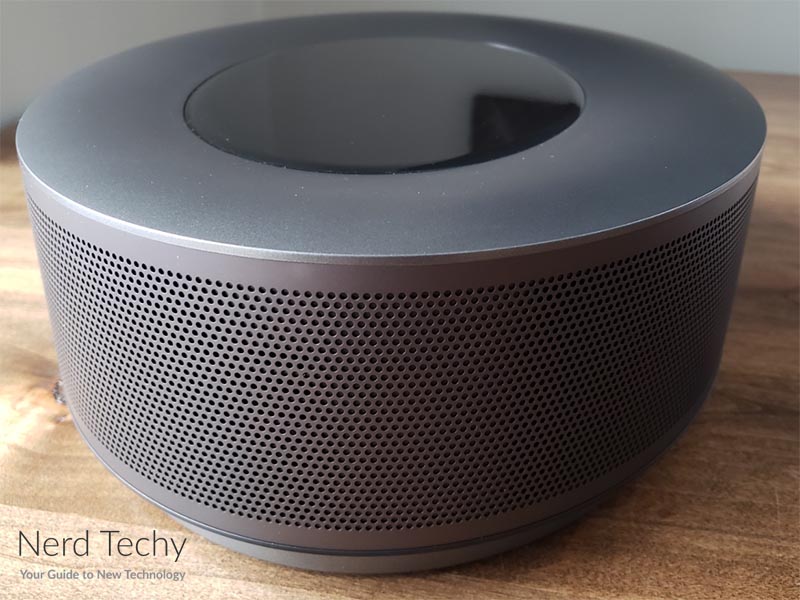 If you want a more portable, freewheeling projector, check out the Philips PicoPix MaxTV. It's tiny, and easy to carry anywhere. It's also significantly more affordable. On the downside, you only get 1080p resolution, with 4K video downscaled to 1080p.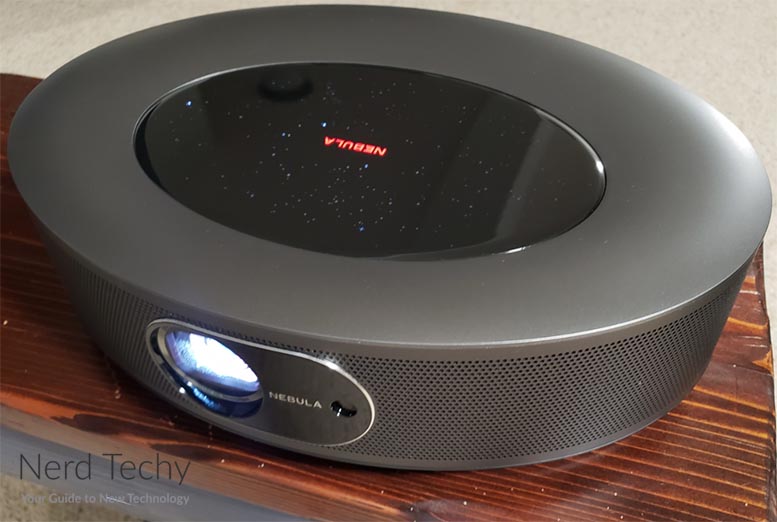 Video Quality
In the world of projectors, we generally talk about two types of resolution. First, there's native resolution, which is the resolution the projector is capable of producing. So a projector with a 1080p native resolution is capable of projecting 1080p video exactly as intended. Second, there's supported resolution, which is the type of input the projector can accept.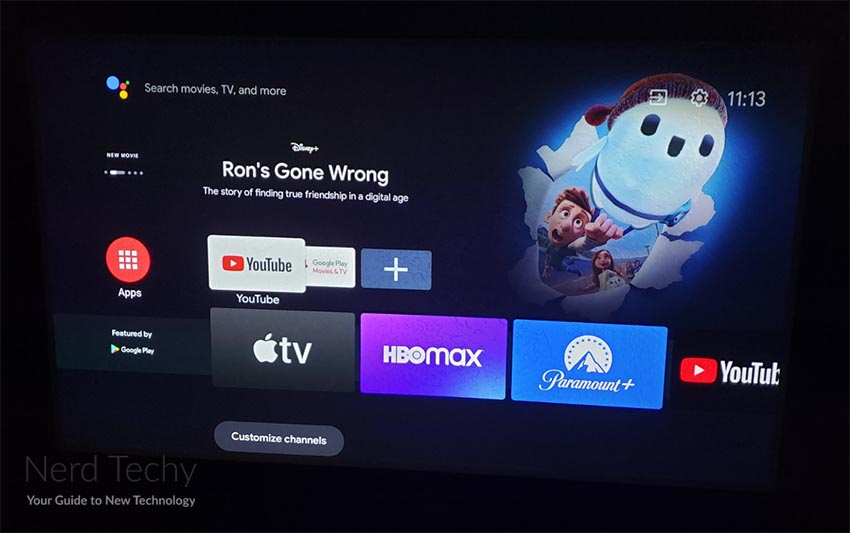 Generally, projectors have a higher supported resolution and a lower native resolution. This is the case for a lot of "4K" projectors on today's market. Dig a little deeper, and you find out that they support 4K video, but their native resolution is only 1080p. The Nebula Cosmos Max, on the other hand has a native resolution of 3,840 x 2,160 pixels, or full 4K. This means when you play your 4K videos, they won't get downscaled to 1080p. Instead, you'll see them in their original, full 4K resolution.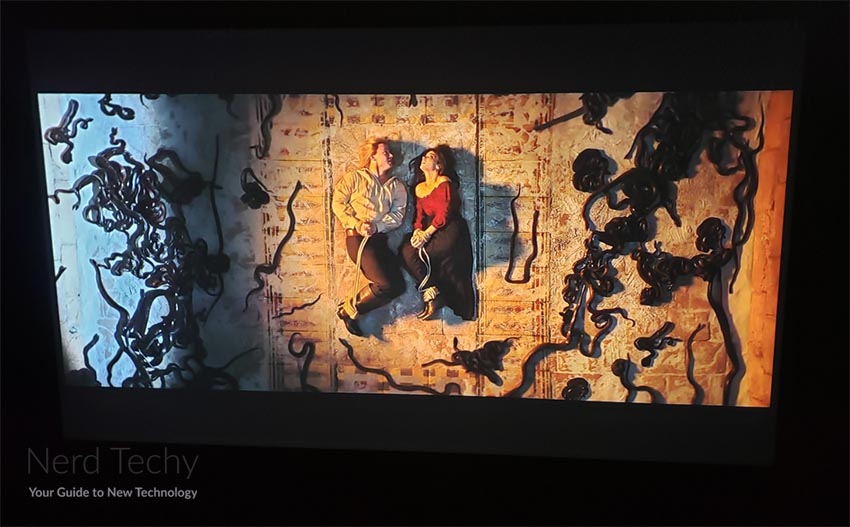 If 4K resolution isn't important to you, take a look at the JIRENO Cube4. It's comparable in many respects, including some of the automated functions. It's also significantly more affordable, which is a relief for your wallet. On the downside, it's a 1080p projector with small internal speakers.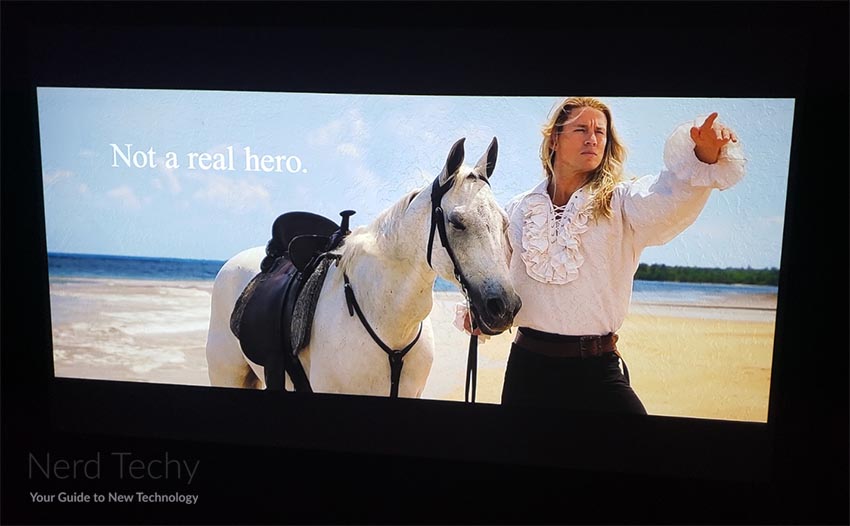 The Nebula Cosmos Max has a brightness of 1,500 lumens. That's fairly bright, and suitable for most viewing circumstances. It's not bright enough for use under fluorescent lights, so it's not suitable for offices. Then again, you probably don't need a premium 4K projector for your next PowerPoint presentation. In any other environment, you'll get brilliant color clarity and plenty of contrast. Even dark scenes look great, with plenty of difference between various dark shades. The image quality, in general, is on par with the resolution.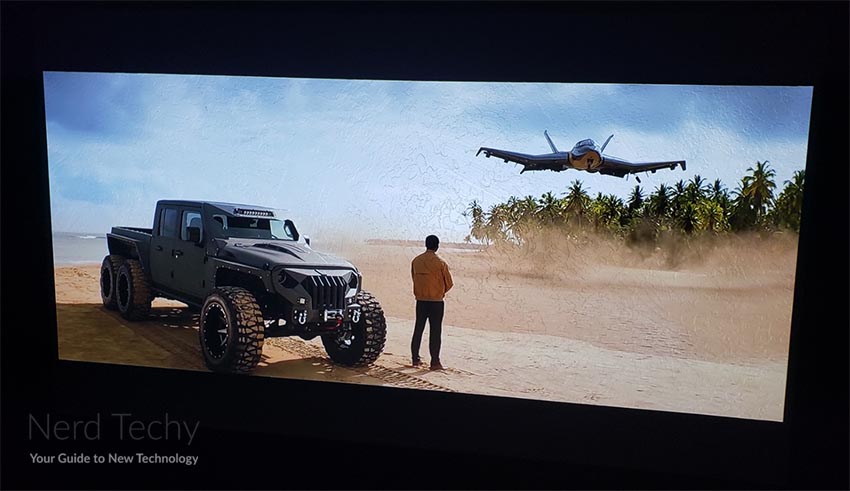 The display size can be adjusted between 80 and 150 inches, depending on your distance from the screen. If that's not enough, the menu also allows for digital zoom. If you're not getting the size you need, you can easily adjust it – within reason.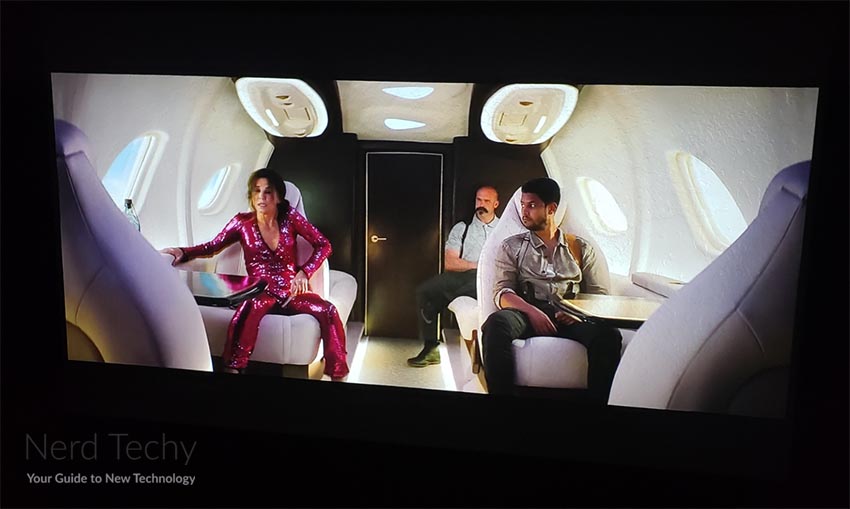 Focus and keystone adjustment are very simple. Remember that sensor in the front of the housing? It allows the Cosmos Max to automatically adjust the focus as needed. This normally happens within three seconds, so you don't have to wait very long. In addition, the vertical and horizontal keystones can both be adjusted by 40 degrees in either direction. This allows for some crazy projector placements that won't work well with other systems. Not only that, but the keystone adjustment, like the focus, is also automatic. It works quickly and effectively most of the time. And if for some reason it glitches out, it's easy to make adjustments manually from the projector menu.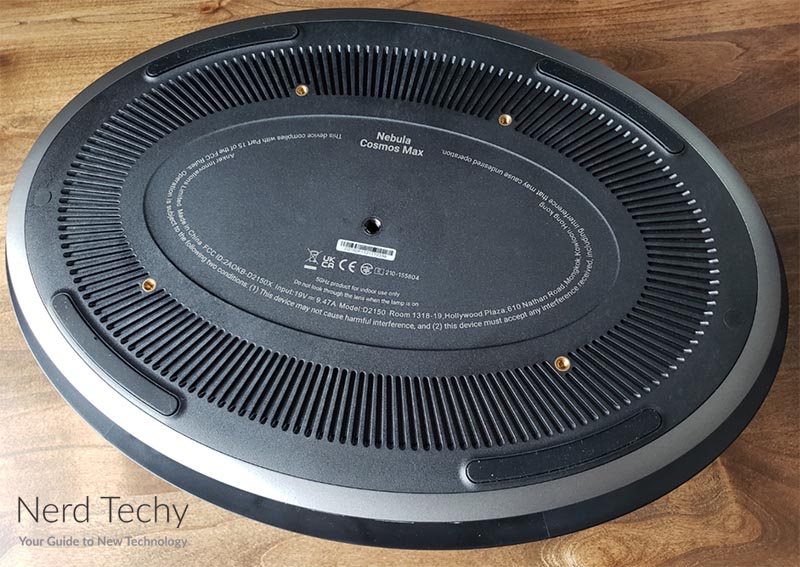 Compatibility & Extras
So, what can you do with the Nebula Cosmos Max? To begin with, you can use the HDMI ports to watch videos from most devices. You can connect your game console, Blu-Ray player, computer, or even an ordinary set top box. If you have a compatible phone and a USB Type-C adapter, you can even play your videos that way. The two USB Type-A ports, meanwhile, can be used for external drives and thumb drives. This allows you to watch your own video library, or recordings you've received from friends. The system is compatible with a 4K Fire Stick, too. Just plug it in and start streaming.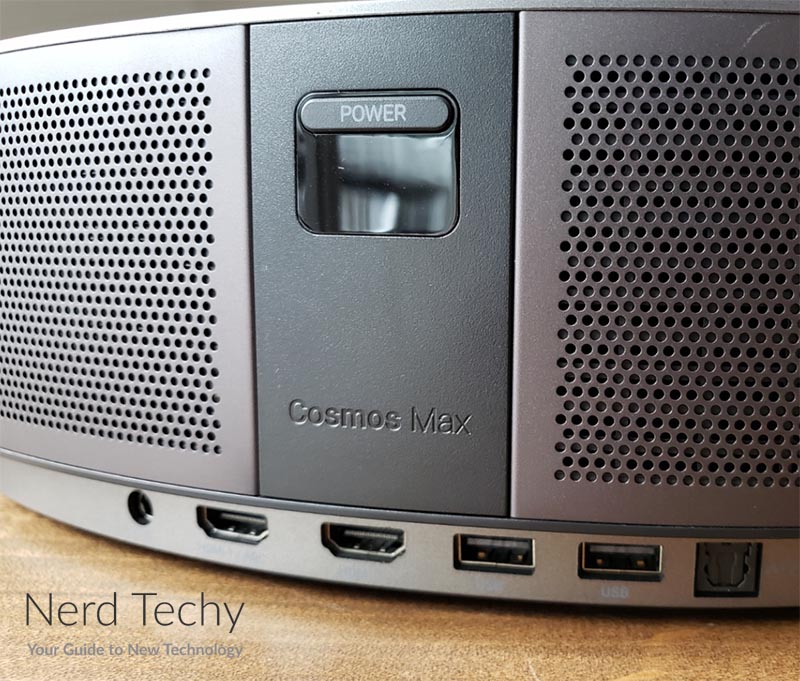 This projector comes installed with the Android TV operating system. Everything you do, including selecting input sources, is done within that operating system. This gives you the ability to choose from the more than 5,000 video apps on Google Play. These include all the major services, such as Netflix, Hulu, Disney+, HBO Max, and others. You'll also find niche services like Shudder if you want to scratch a particular itch. If you have an internet connection, you can use all of these apps from the projector itself. There's no need to even connect any wires.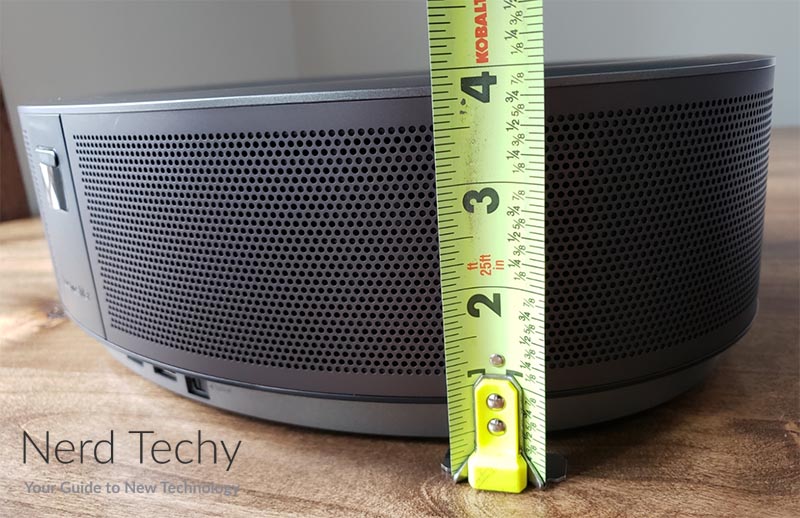 The only drawback of this design is that you have to be logged in to Google for the system to work. In most cases, this won't be any trouble. If you're an Android user, you can just log in with your existing account. If you're not, a Google account only takes a few minutes to set up, and it's free. That said, you can't use the Cosmos Max at all if you're not online. If your internet goes out, you won't even be able to watch a movie on Blu-Ray.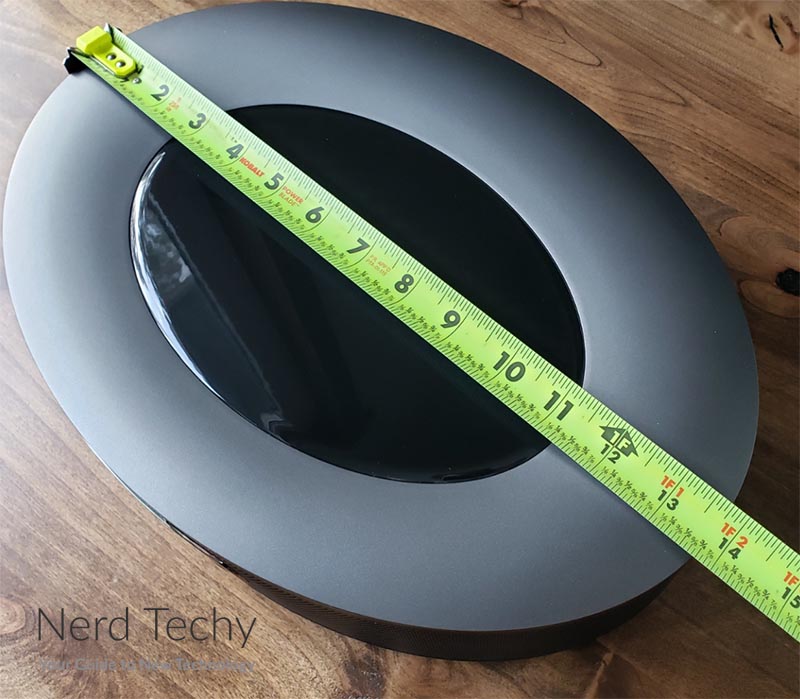 The speakers on the Cosmos Max are surprisingly powerful. Because they're arrayed in four locations, they spread noise equally throughout the room. And because they're 10-watt speakers, they're powerful enough to fill that room with rich audio. They even support Dolby, which a lot of projector speakers don't. If you really want to crank things up even further, you can still use an external Bluetooth speaker set. The Anker Soundcore Motion Boom is an excellent choice.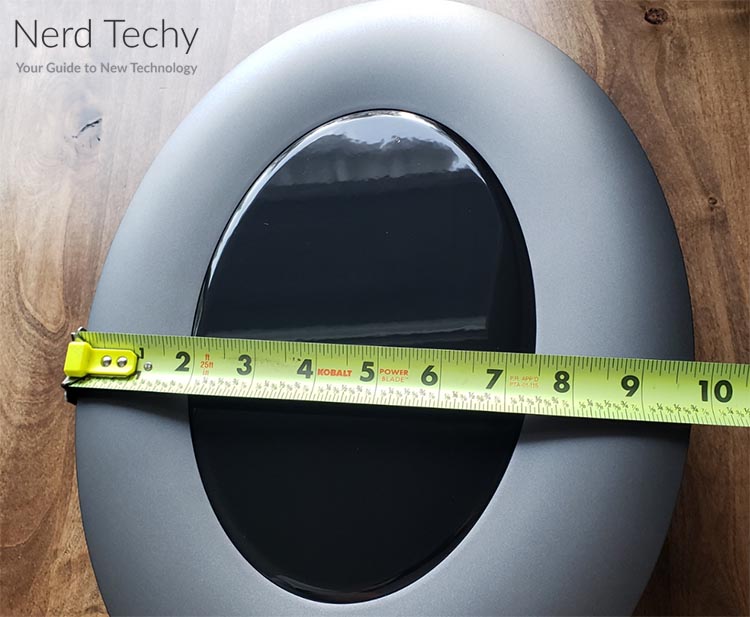 Final Verdict
The Anker Nebula Cosmos Max is one of the most impressive projectors on today's market. The native 4K resolution alone puts it a cut above the competition. But the smart automated features and the powerful app capabilities make it even more robust. Combine that with a solid build and high-quality speakers, and you're looking at a truly superior home projector.