PicoPix MaxTV
Pros
Ultra-compact and lightweight.
High-quality built-in speakers.
Excellent image vibrance and clarity.
Pre-installed Android OS with multiple streaming apps.
1080p native resolution with 4K downscaling.
Cons
Could be brighter.
Expensive.
We normally think of technology as a steady progression. Someone invents a machine, it's used for a while, and maybe some people make improvements along the way. Eventually, someone invents a different, better machine, and the older machine becomes obsolete. VHS tape is a good example. In the 1980s, it was a new, amazing way to watch movies and home videos. But by the new millennium, VHS tapes were becoming obsolete, and were replaced by DVDs. DVDs, in turn, are now on life support, as Blu-Ray discs are starting to dominate the market.
But some technologies simply refuse to die. Vinyl music is a good example. CDs nearly killed the format, but it's since come back in the digital age. After all, anyone who values convenience isn't using CDs: they're listening on a streaming service. Vinyl, on the other hand, remains the most true-to-life audio format, since it's analog instead of digital. Projectors are another example. Back in the day, an old-school reel-to-reel projector was the only way to watch movies at home. But film reels are clunky, and projectors quickly fell out of favor in the age of VHS. But thanks to modern digital video, projectors are starting to make a comeback. They're a great way to enjoy a retro movie night with friends and family.
We're about to review the Philips PicoPix MaxTV Mobile Projector. This is a compact mini projector that's surprisingly capable. It supports native 1080p video, and has a wide color gamut for playing Blu-Ray videos. It also has several pre-installed streaming apps, so you can play video directly from the projector. But there's a lot more that goes into making a well-engineered video projector. We'll talk about the physical design, the control scheme, and the video inputs. We'll look at the various video features, as well as the quality of the built-in speakers. Once we've taken all of those things into consideration, we'll be ready to hand over our verdict. Let's begin!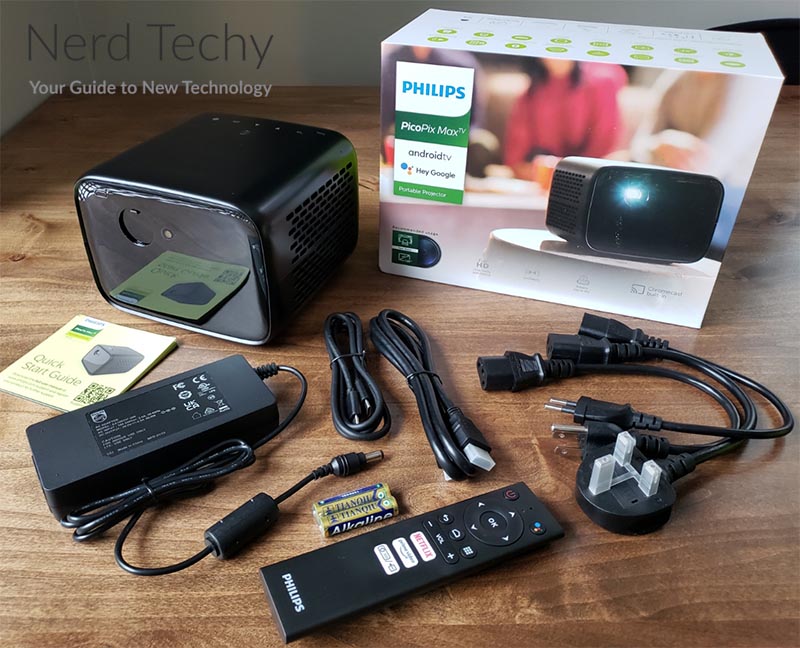 Design & Controls
The Philips PicoPix MaxTV Mobile Projector has a black plastic housing that seems reasonably durable. The matte black finish is easy to keep free of dust and fingerprints, and at 4.3 pounds, it's very lightweight. It's also reasonably compact, measuring only 6.2 inches high, 5.9 inches long, and 4.7 inches wide. The shape is roughly rectangular, but the corners and edges are all rounded. This ensures that it won't jab you or poke you during handling.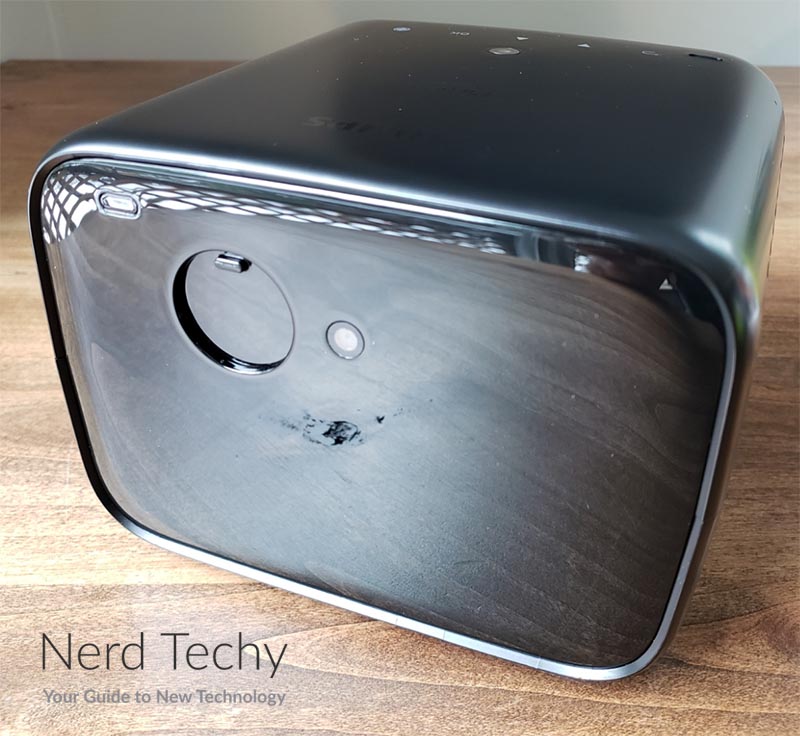 The sides and back of the housing are vented, which allows for plenty of air flow. One thing we appreciated was that there's a soft fabric layer inside the vents, to keep dust out. Even so, the fan is surprisingly quiet. It's certainly audible, but if you're watching anything with audio, you won't even notice. The lens is located on the front, towards the upper left quadrant. It's recessed into the main housing, so it's harder to burn yourself by mistake. There are also sensors visible next to the lens itself. These are used for the auto-focus and auto-keystone adjustment.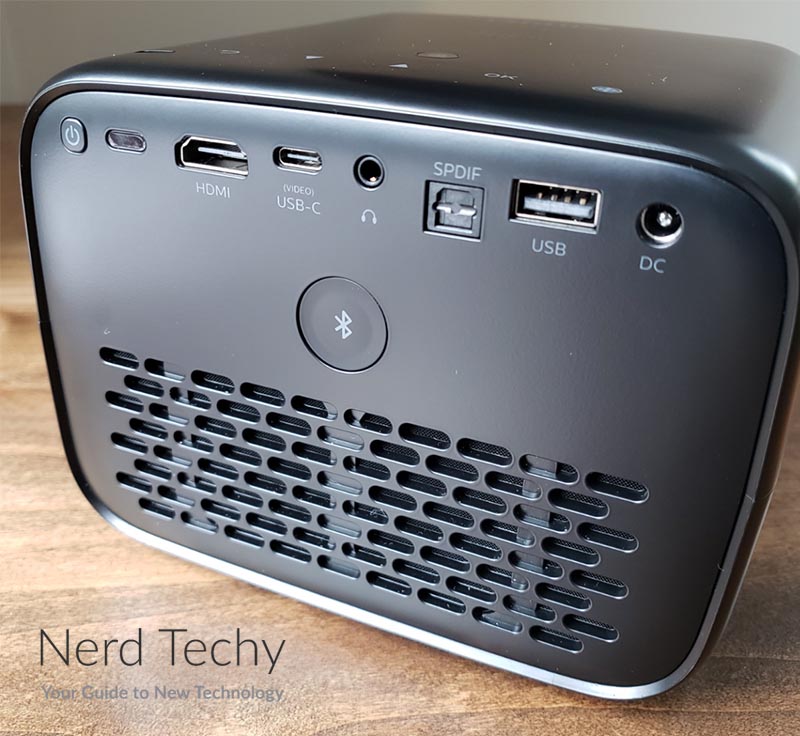 Since the keystone and focus are automatic, there's no need for any knobs on the top of the housing. Instead, the only markings you'll see are glossy "Philips" and "PicoPix" imprints. Along the back of the top of the housing, you'll find all of your controls. These are soft touch buttons, marked with white icons, and they blend seamlessly into the housing. The first four buttons are used to navigate the menu and change your projector settings. The fifth activates the auto-focus and auto-keystone function.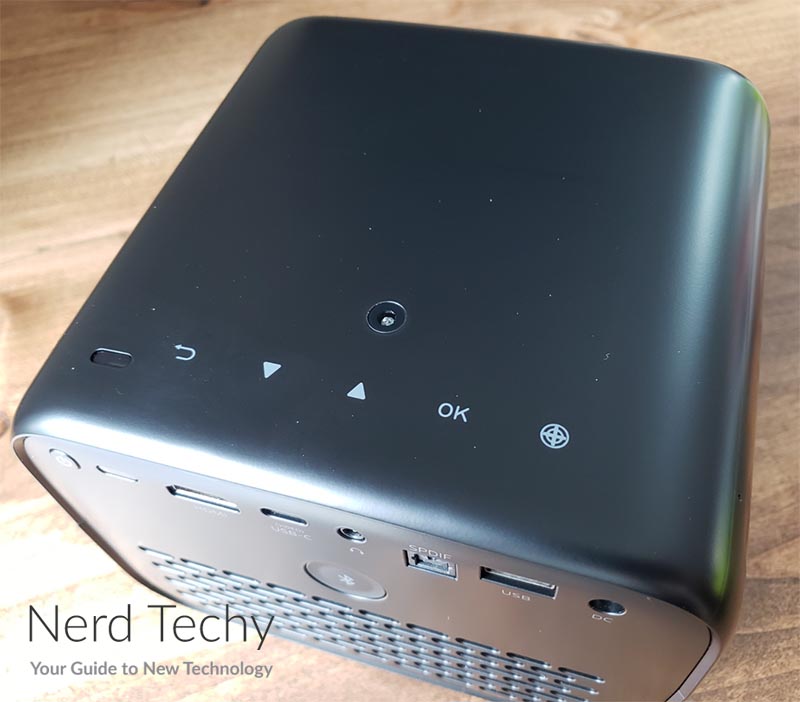 The power button is a larger, physical button in the upper left quadrant of the backplate. There's also a Bluetooth pairing button right in the middle of the back. All the other controls are located on the infrared remote, which is included in the package.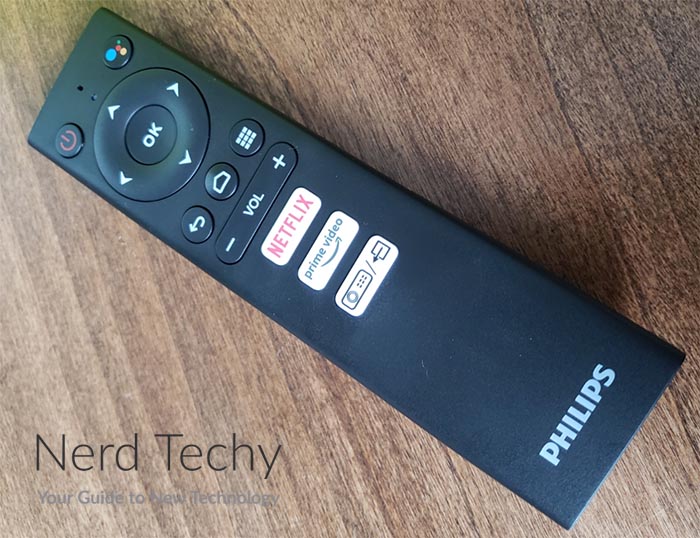 Your various input ports are located in a row across the top of the back. At the left, there's the input sensor for the remote. Following that are the HDMI, USB Type-C, and 3.5mm aux ports. Next, there's a port for running a Sony/Philips digital audio cable, and a USB Type-A port. The last port is a barrel-shaped input port for a power adapter. The adapter is included in the package, and consists of a block-shaped AC plug with a thin cable.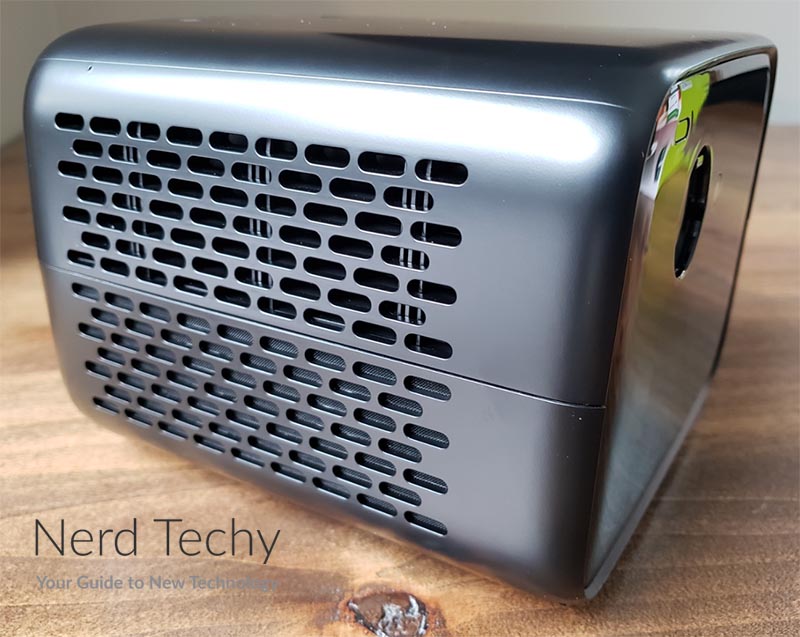 The MaxTV is an impressively small projector. But what if you want one that's even more compact? If that's what you need, take a look at the Philips PicoPix Max. It's incredibly tiny, but still offers similar video quality. It's also tripod-mountable, but the speakers are tiny, and the battery doesn't last as long.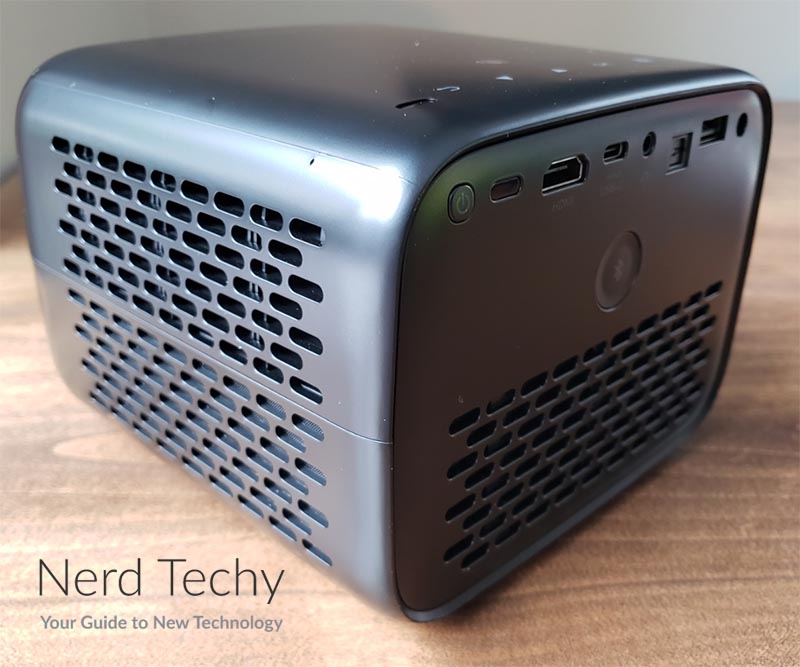 Video Quality
There are two ways of measuring projector resolution, and the Philips PicoPix MaxTV excels in both respects. The first type of resolution is the supported resolution. In other words, how high-resolution of a video can you play? The second type of resolution is the native resolution. In other words, how high of a resolution are you actually going to see? With most projectors, the supported resolution is higher than the native resolution, and that's true here. The MaxTV will support up to a 4K input, and has a native resolution of 1080p.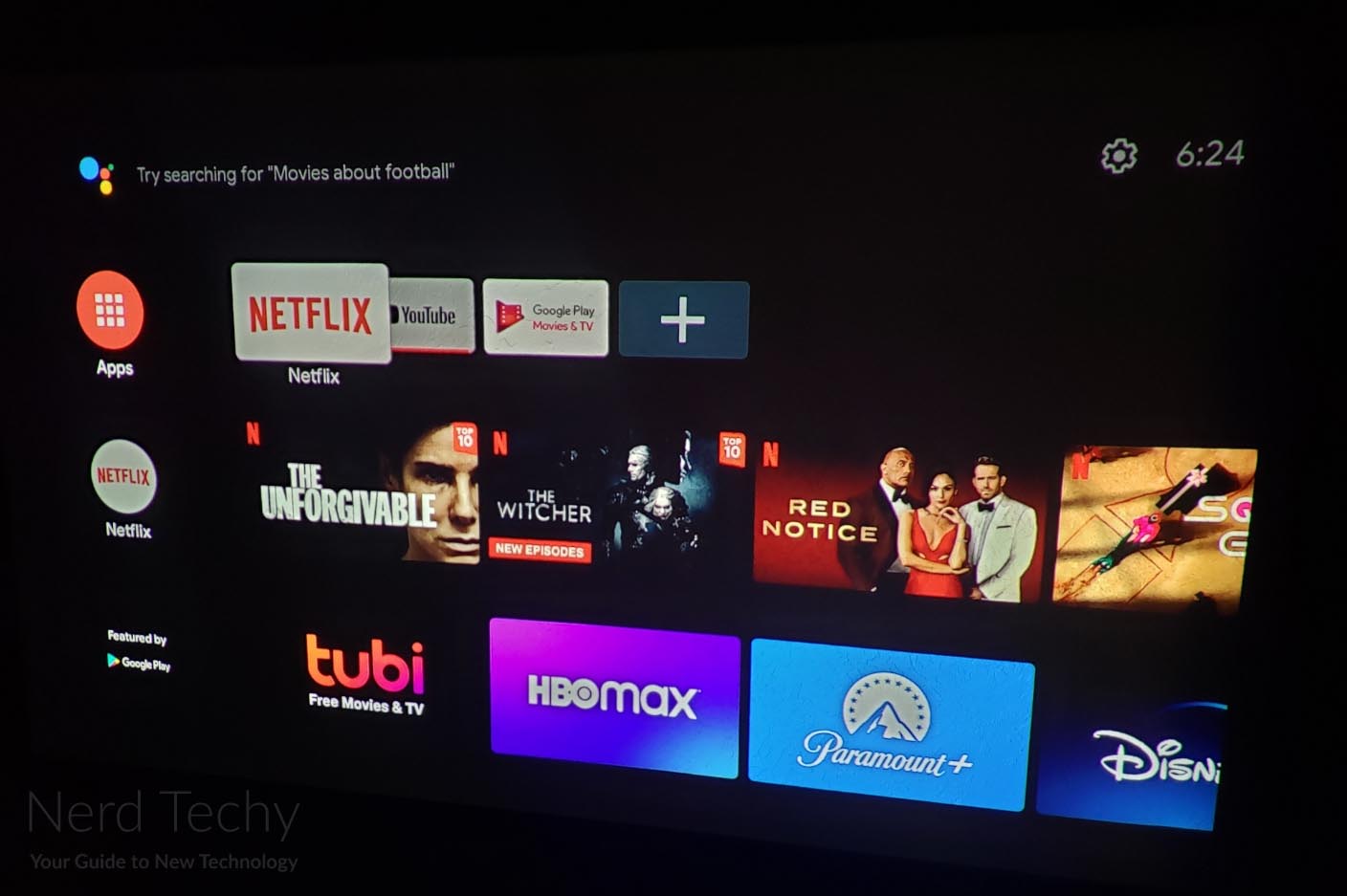 This means that when you play any video in 1080p or lower, it will play back as is. So a 720p video will be 720p, a 1080p video will be 1080p, and so on. If the video has a higher resolution than 1080p, it will automatically downscale to 1080p. Considering that most home projectors still have a resolution of 720p, this projector impressed us.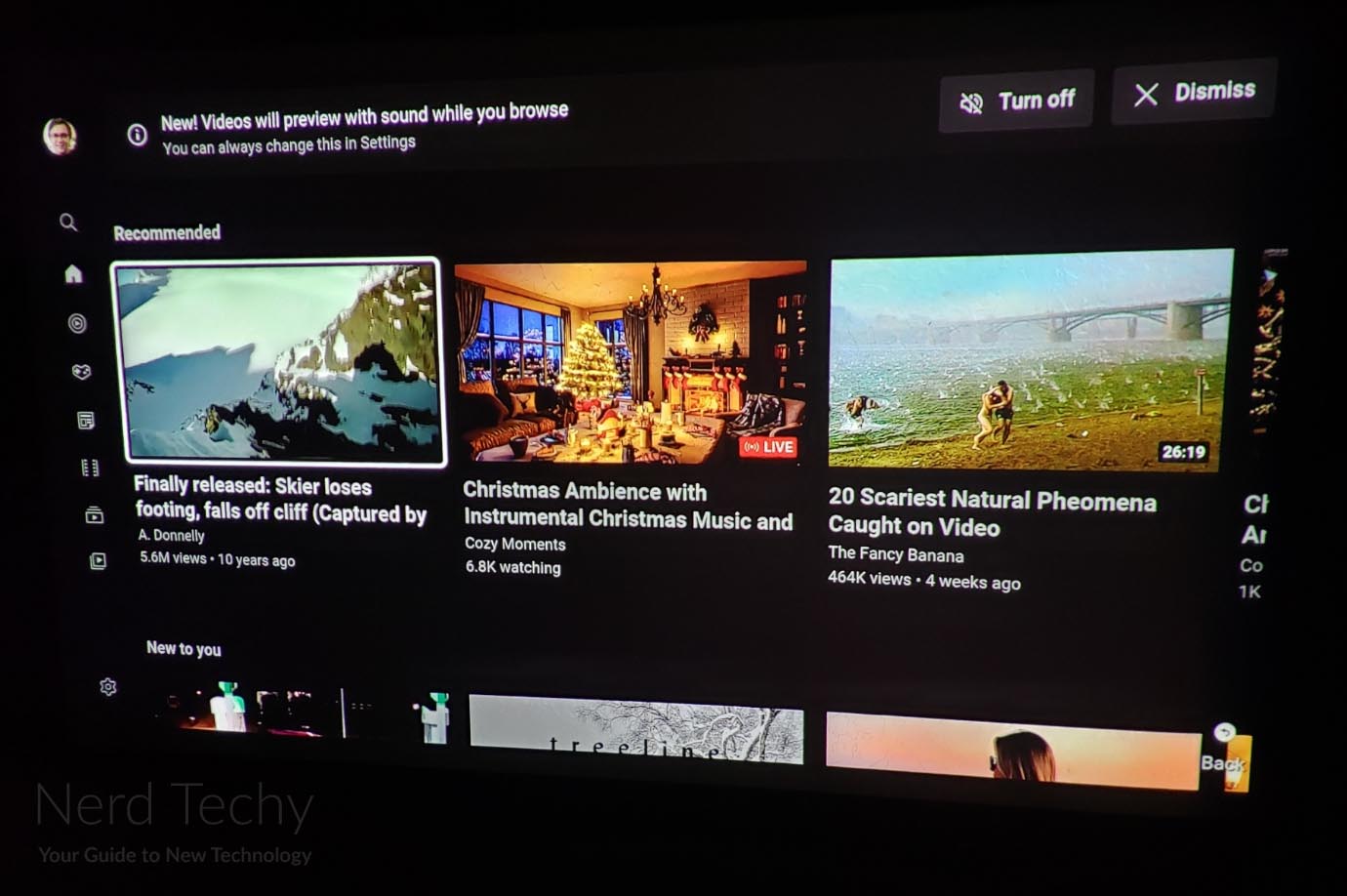 When you set up the MaxTV, it can be positioned between 10" and 126" from your wall or projector screen. The further away you set up the projector, the larger the video will appear. At its closest, the screen will have a diagonal measurement of 30 inches. At the furthest, it will have a measurement of 126 inches. Once you've set up the projector, press the autofocus button, and wait for it to do its thing. Within a few seconds, you should have a clear image, with all four corners nicely squared off. Keep in mind that if you're too close or too far, the lens won't be able to focus. But as long as you're within the stated distances, your image should look just fine.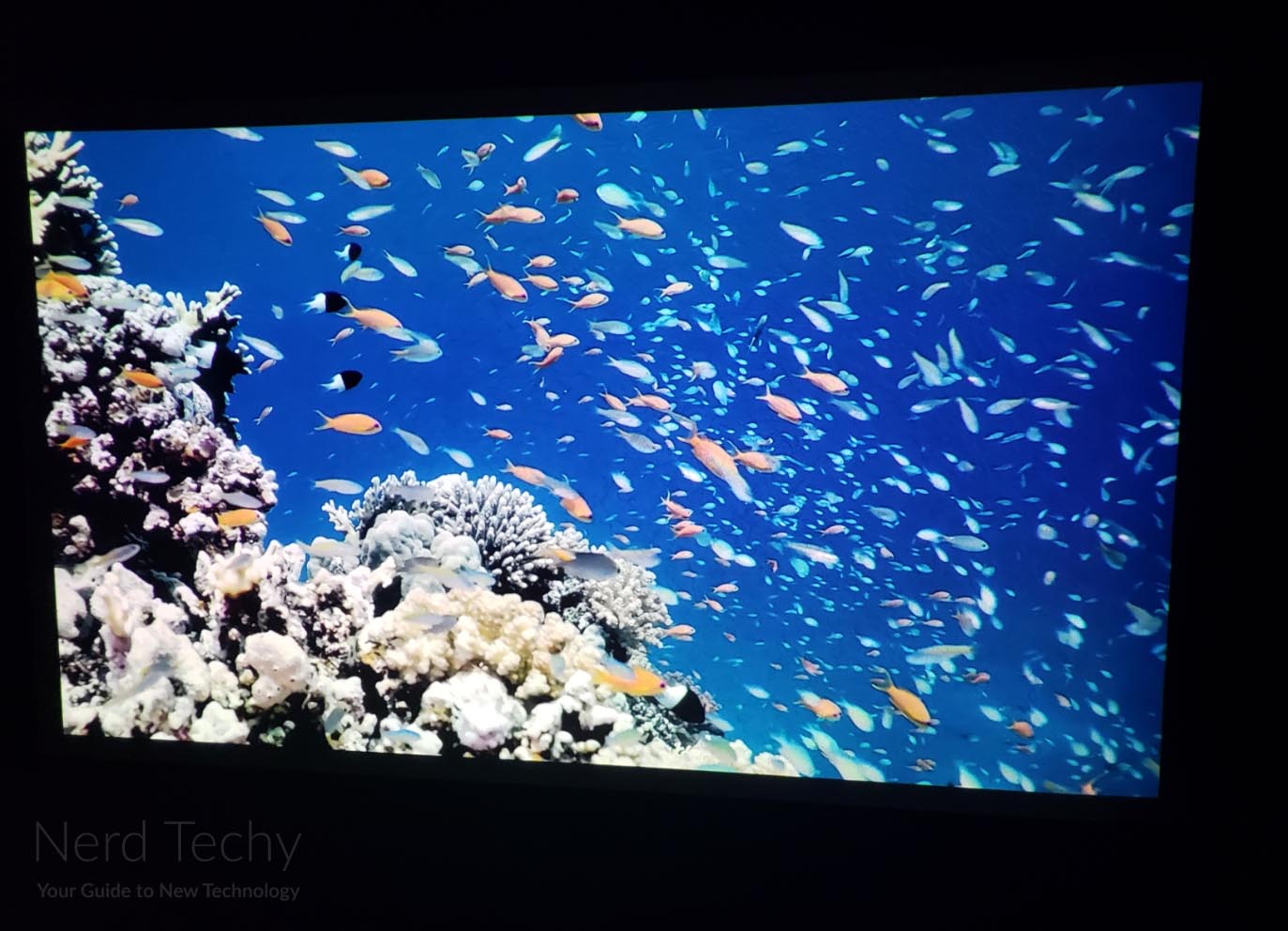 Image vibrance and clarity is excellent. This projector can reproduce 100 percent of the Rec.709 color space. This is the standard color space for HDTV encoding, and it's identical to sRGB. This means your digital video will play back flawlessly, without any issues with the color balance. Dark scenes are also easy to make out, thanks to a contrast ratio of 1000:1. This isn't the highest on the market, but it's high enough to distinguish most shades of black. If you watch a lot of dimly-lit movies, you'll appreciate this feature.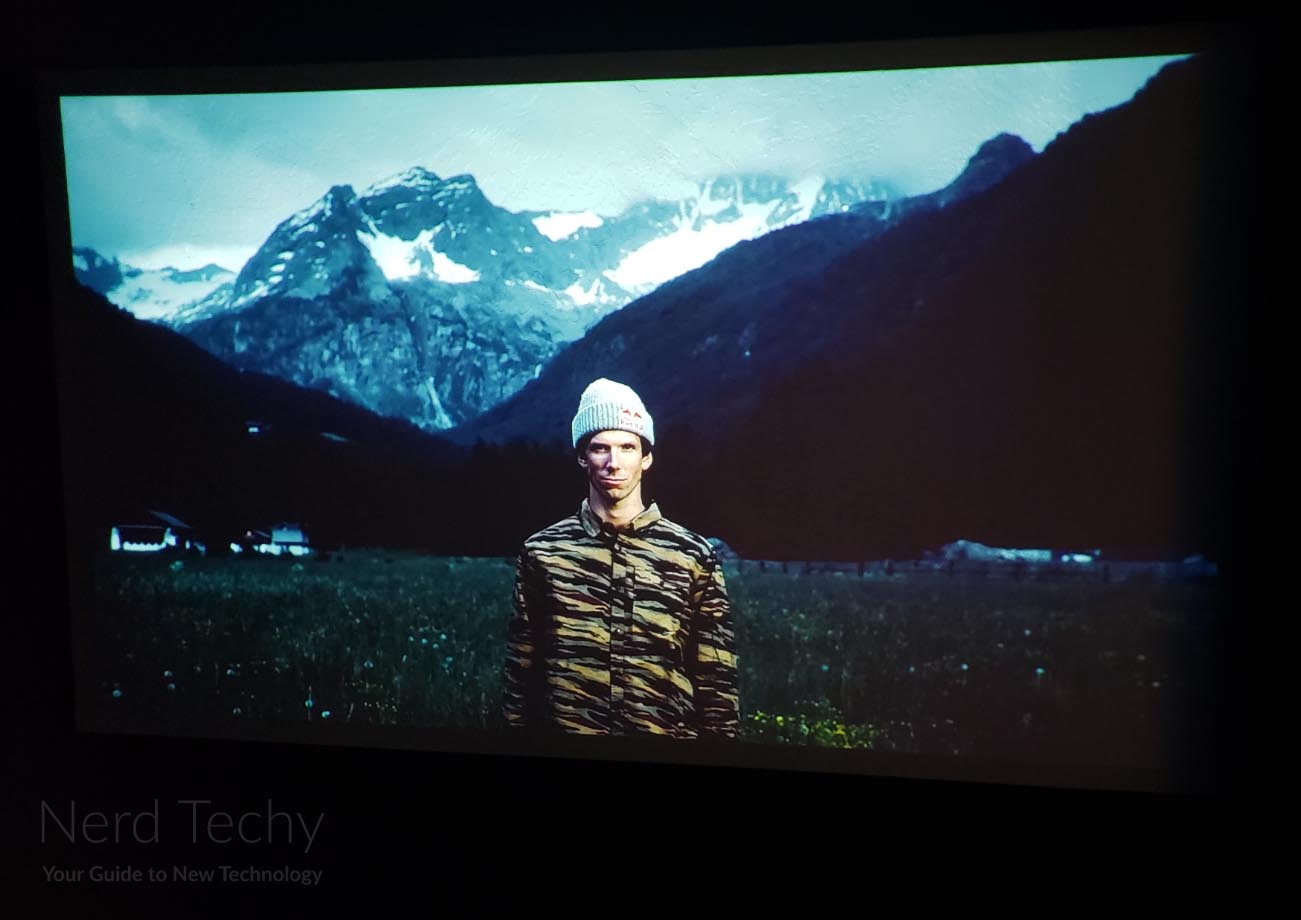 Brightness is one area where the MaxTV comes up short. Philips advertises "Xtreme brightness," but the actual brightness rating is only 900 lumens. That's more than enough for nighttime outdoor use, or for playing a movie in a darkened room. But if you want to watch your movies in a fully-lit room, you'll be disappointed. That said, there is a built-in brightness sensor on the front of the housing. It will automatically adjust based on the ambient light level. So as long as your room isn't legitimately too bright, you'll be able to see just fine.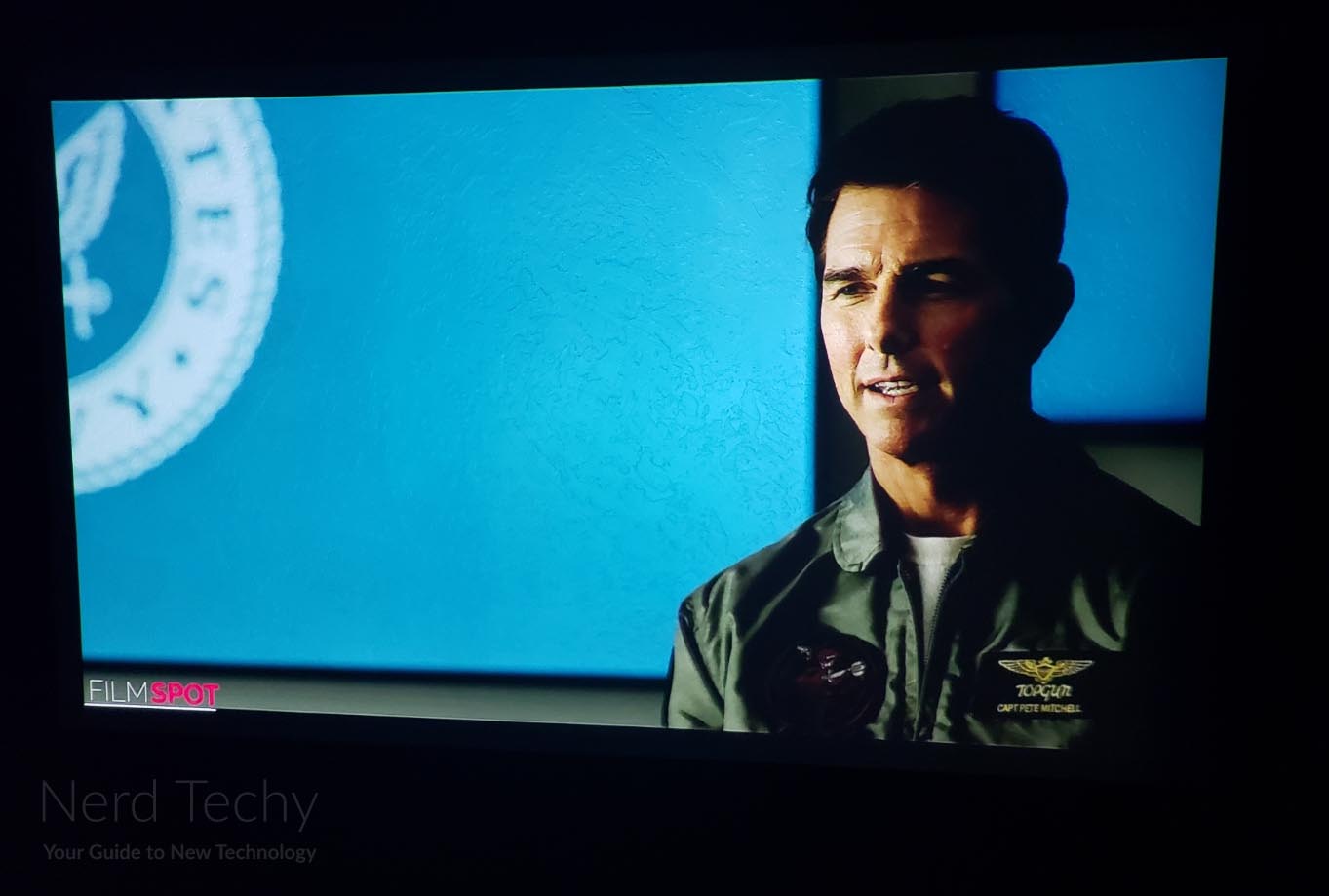 If you need more brightness, consider the Jireno Cube4. It's a similar size to the MaxTV, with a built-in leather carrying strap. It's also slightly brighter, albeit with lower-powered speakers.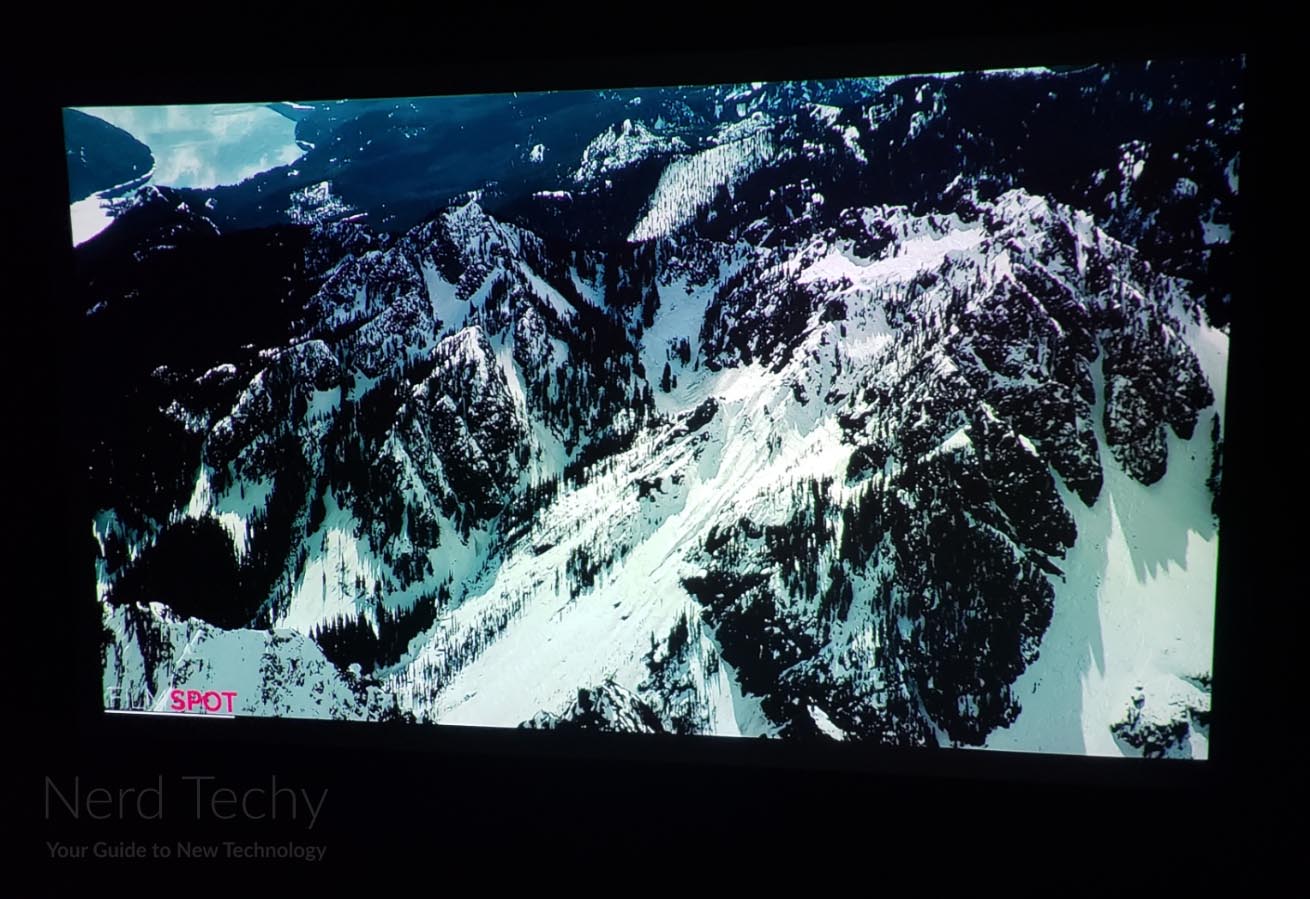 The MaxTV, on the other hand, has beefy, 12-watt speakers built in. These are much more powerful than your typical projector speakers, and can fill even a large room. This negates the need to use an external speaker, unless you want surround sound. That said, you can easily connect a separate Bluetooth speaker. You can even use a 3.5mm aux cable to connect to a soundbar or full-sized stereo system.
Compatibility & Extras
There are a number of ways to play video using the PicoPix MaxTV. The most obvious is simply to use an HDMI connection. This way, you can connect your Blu-Ray player, laptop, game console, or even your set-top cable box. Alternatively, you can connect via Bluetooth or WiFi. This allows you to use casting functions on Android and iOS devices. You can also connect an external hard drive or thumb drive via one of the USB ports. The only input we didn't find was a Micro SD slot. If you want to play back Micro SD video, check out the Vilinice 5000L. It supports Micro SD, and also provides exceptional color vibrance. On the downside, it's not very bright, and the fans are relatively loud.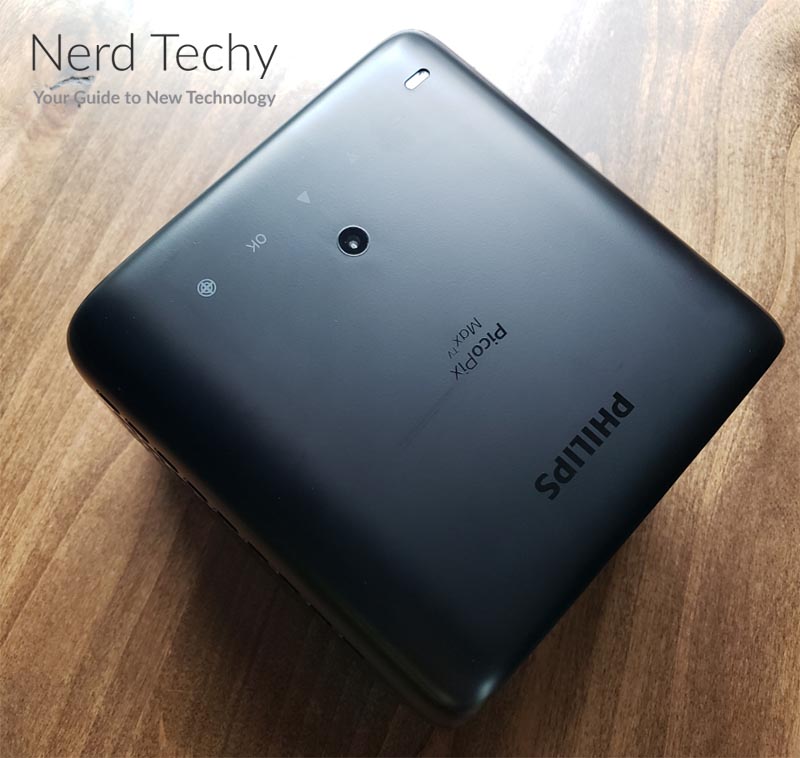 If you'd rather not use any connected devices, you can. The MaxTV runs the Android operating system, and comes with several streaming apps pre-installed. These include Netflix, Amazon Prime, and Disney Plus.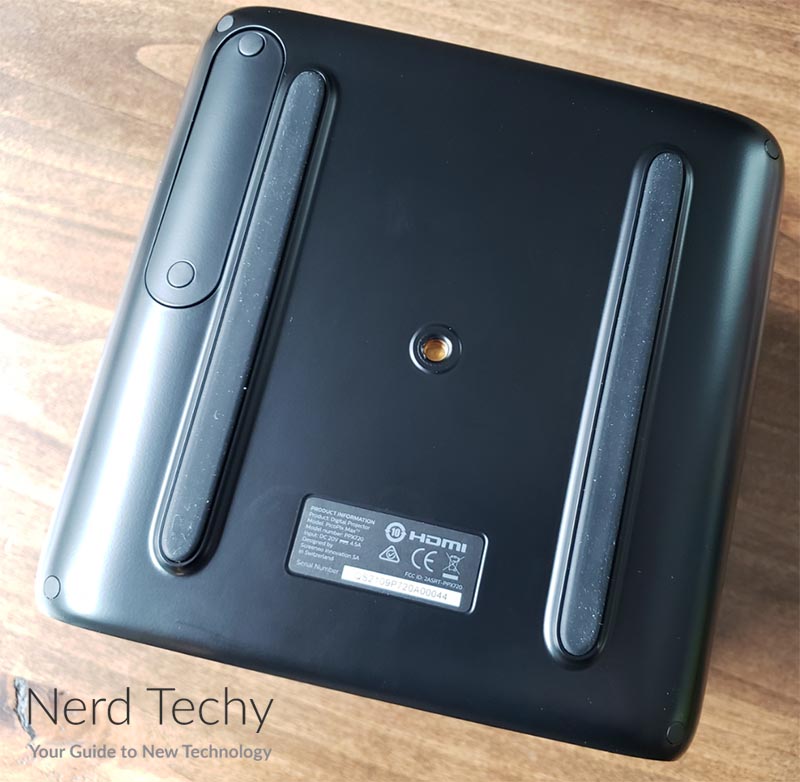 The internal rechargeable battery has a capacity of 21,000mAh. That's enough for up to four hours of playback without being plugged into a wall outlet. So you'll need to stay plugged in for long-term use, but you can watch a whole movie on battery power. You can also switch off the video, and use the MaxTV as a standalone Bluetooth speaker. In that mode, the battery life is extended to an impressive 10 hours.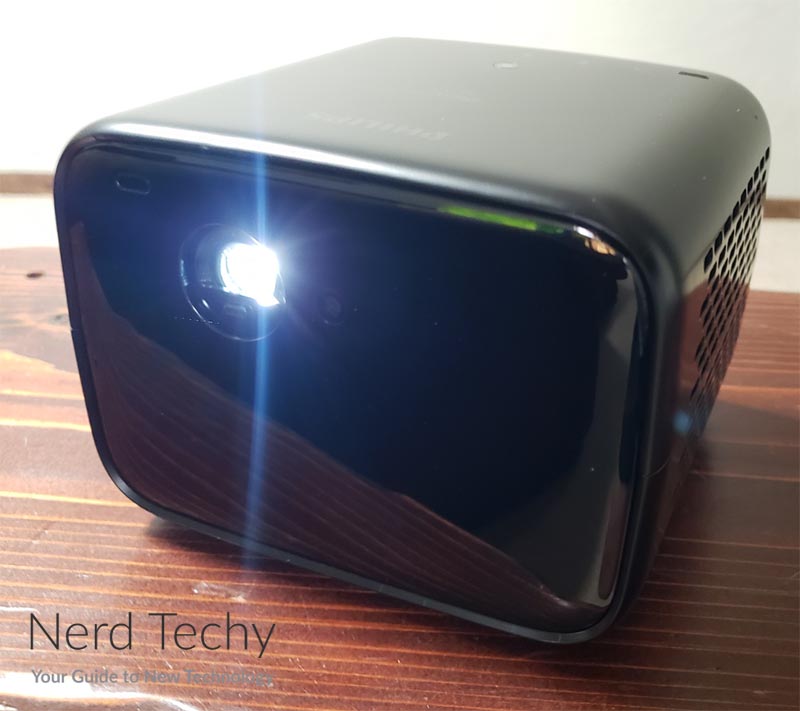 Final Verdict
The Philips PicoPix MaxTV Mobile Projector is an excellent projector for home use. While it's not bright enough for an office with fluorescent lighting, the resolution and color vibrancy are outstanding. Automated focus and keystone adjustment make setup a breeze, and you can use any kind of video input. A high quality set of built-in speakers is just the icing on the cake.
Meet Derek, "TechGuru," a 34-year-old technology enthusiast with a deep passion for tech innovations. With extensive experience, he specializes in gaming hardware and software, and has expertise in gadgets, custom PCs, and audio.
Besides writing about tech and reviewing new products, Derek enjoys traveling, hiking, and photography. Committed to keeping up with the latest industry trends, he aims to guide readers in making informed tech decisions.