Lefant F1
Pros
Plenty of suction power.
Tangle-free roller-less design.
Compact size fits under and between furniture.
Simultaneous vacuum and mopping.
Dust bin is visible from top.
Cons
Limited performance on carpets.
Limited app functionality.
If you're on the hunt for the latest technology, it's easy to overlook basic home appliances. The fact is, they're just not as exciting as a brand new game console, or the latest iPhone. That's understandable. We actually enjoy using our game consoles and smartphones. Even a slick new 8K TV has a certain flashy appeal, because it has the "cool" factor going for it. So when it comes to something like a vacuum, it's all too easy to get bored. But that would be mistake. One of the biggest advantages of technology is our ability to save time. With a robot vacuum, you're being freed up from an annoying daily chore. That gives you more time to enjoy your hobbies and other pursuits.
Robot vacuums are the logical conclusion of a trend that started with the invention of the first vacuum. Before that, people still had to clean their rugs, but it was a painstaking, time-consuming endeavor. You had to take your rugs outside on a clear day, and hang them up on a string. Then, you had to beat them with a stick until they were clean. Imagine having to go through all that every time you want to clean your rugs! So you can easily imagine how much of a game changer vacuum cleaners were for everyday people. A task that took hours could suddenly be completed in mere minutes. Nowadays, with a robot vacuum, you don't have to spend any time at all. The vacuum takes care of things for you.
Today, we're going to review the Lefant F1 Robot Vacuum Cleaner. This is a unique, brushless robot vacuum that's designed to be 100 percent tangle-free. It also sports a mopping function, and a long-lasting battery for plenty of coverage per charge. But what else does it have to bring to the table? To find out, we'll need to look under the hood, and find out what this robot vac is truly capable of. We'll talk about the suction power, the charging station, and the physical design. We'll look at the app controls, the mopping function, and what kinds of messes you can clean. Once we've considered these and other factors, we'll have a better picture of what we're dealing with.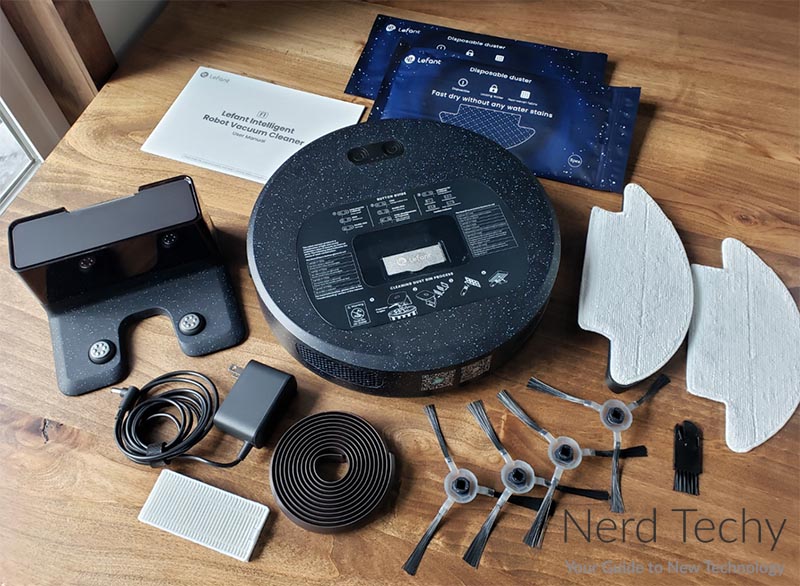 Overall Design
The Lefant F1 Robot Vacuum Cleaner is more compact than most robot vacs. It has a diameter of 11 inches, so it can fit between chair legs, or between furniture and the wall. It's also only 2.7 inches thick, so it fits under most sofas, and even some high-clearance shelves. The material is a midnight blue ABS plastic, with a satin finish that keeps clean easily. The plastic is actually speckled, with white chips and flecks breaking up the surface. The edges are slightly beveled, but there's no special bumper or top inset. Instead, the F1 relies on its sensors to keep it safe from damage. These sensors are visible in a black band that runs around the front of the vacuum. It also doesn't hurt that the housing is very durable to begin with.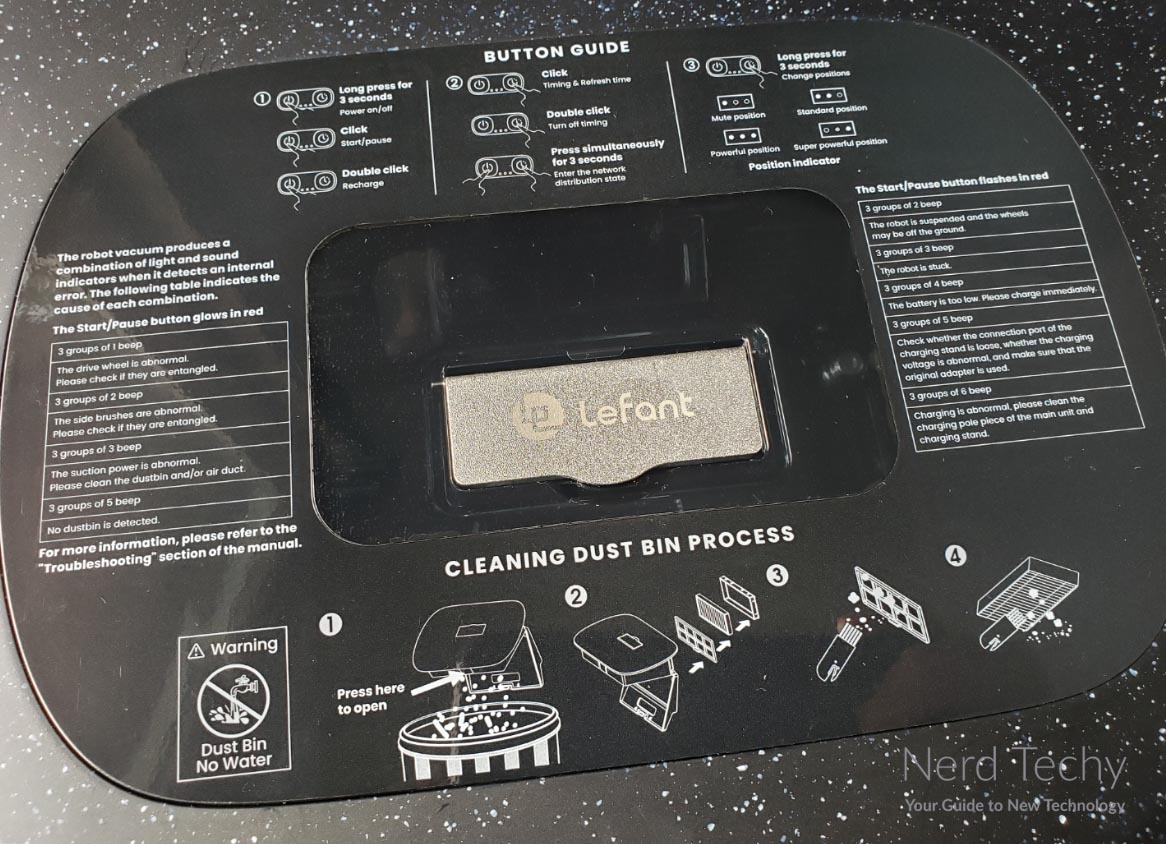 On the top of the housing, towards the front, you'll see two physical control buttons. The first is the power button, which can be used to start a cleaning cycle. The second button will send the vacuum back to the charging base, so it can recharge its battery. There's also a row of three little LED lights between the buttons, which indicate the battery level. If that sounds like a relatively scant level of control, don't worry. There's also a smartphone app, which we'll discuss more in a little bit.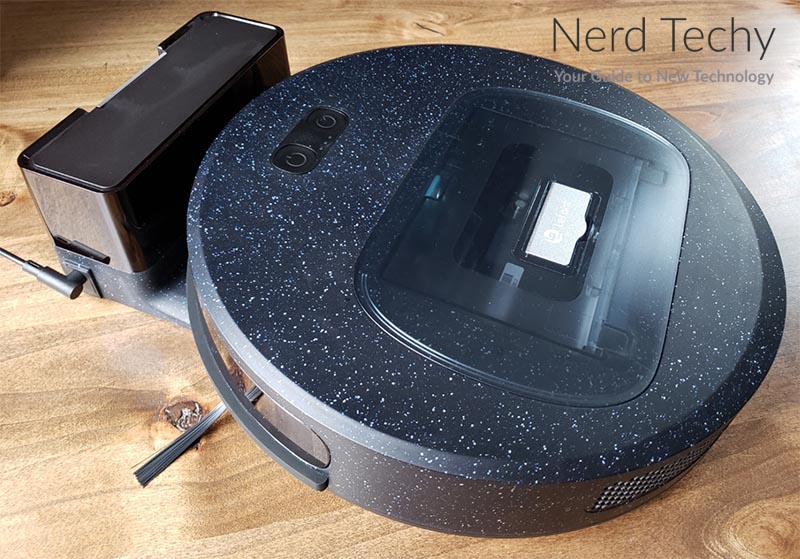 Occupying much of the rest of the housing is a large, transparent dust bin. This bin is easy to remove, with a silver removal tab with a "Lenfant" stamp on it. The overall capacity is 600ml, which is fairly generous for a robot vacuum. For routine cleaning, you can run a handful of cleaning cycles before you have to empty it. Not only that, but the transparent design lets you know how full the bin currently is. That way, you won't be surprised when the dust bin suddenly gets full.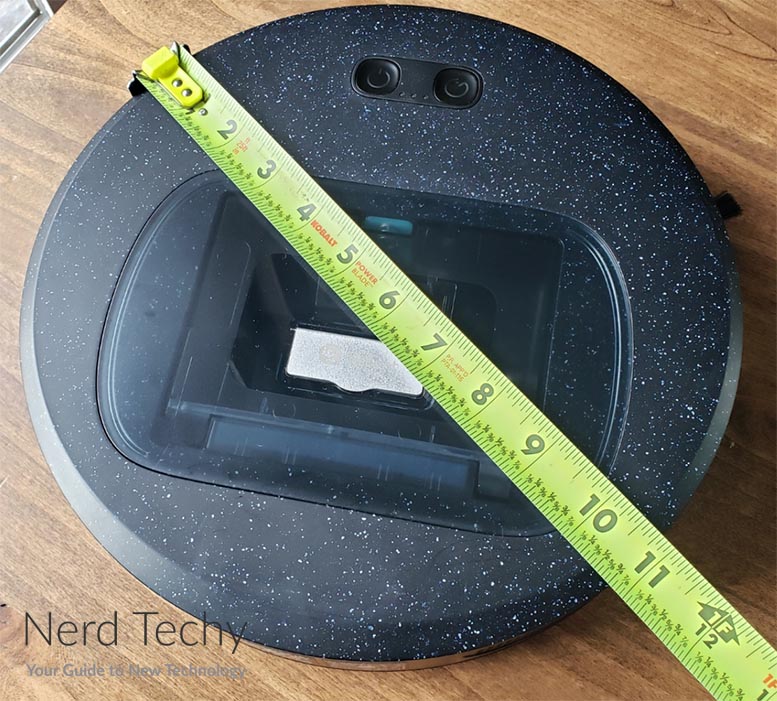 On the bottom of the vacuum, you'll notice that there's no roller brush. Instead, there's just an open suction port that's about a third the width of the unit. The purpose of this design is to prevent tangling. Simply put, without a big roller brush, there's nothing to get wrapped up in hair and other debris. Even long hairs will just get sucked right into the dust bin. That said, there are a pair of horizontal brushes in front of the suction port to both sides. These sweep out to the side and pull debris towards the center, so it can get sucked up. They aren't very effective on carpets, but they do a very good job on hardwoods. At the back of the housing, there's a surface where you can attach the mopping pads. These are used for the mopping function, which we'll talk about in the next section.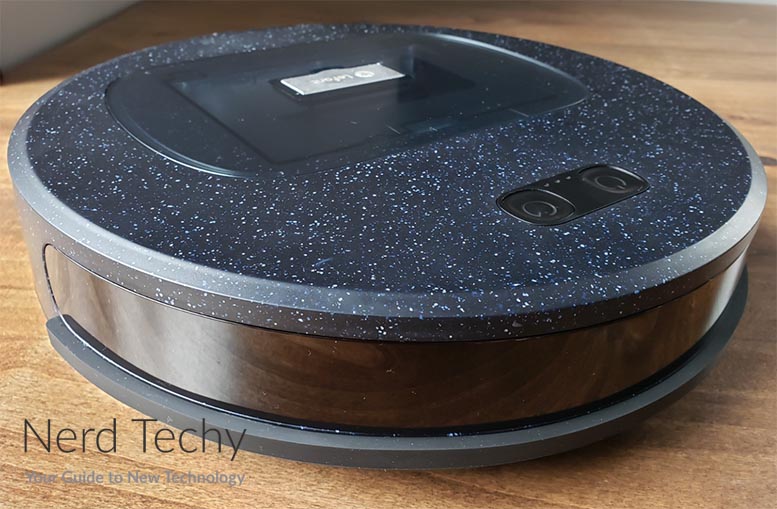 Also on the bottom of the housing are a pair of white, rubbery wheels. These aren't quite as chunky as the ones on some robot vacuums, and won't cross large, ¾-inch transitions. That said, they're capable of crossing smaller transitions without any issue. There's an additional, smaller wheel right at the front, which mounts in its own rotating housing. This is the steering wheel, and it's motorized to direct the vacuum in the right direction.
Along with the F1 vacuum, the package includes a charging station. This is a simple black base station that sits up against your wall. When the vacuum is not in use, it automatically returns to the base to keep the battery topped off. The charging station needs to be plugged in, and comes with a power adapter for your wall outlet. That said, it's just a charging station. What if you want a robot vacuum with a self-emptying base? In that case, look no further than the Neabot NoMo Q11. This is a big, beefy vacuum, and its base can store up to four liters of dust. On the downside, though, it's pretty expensive.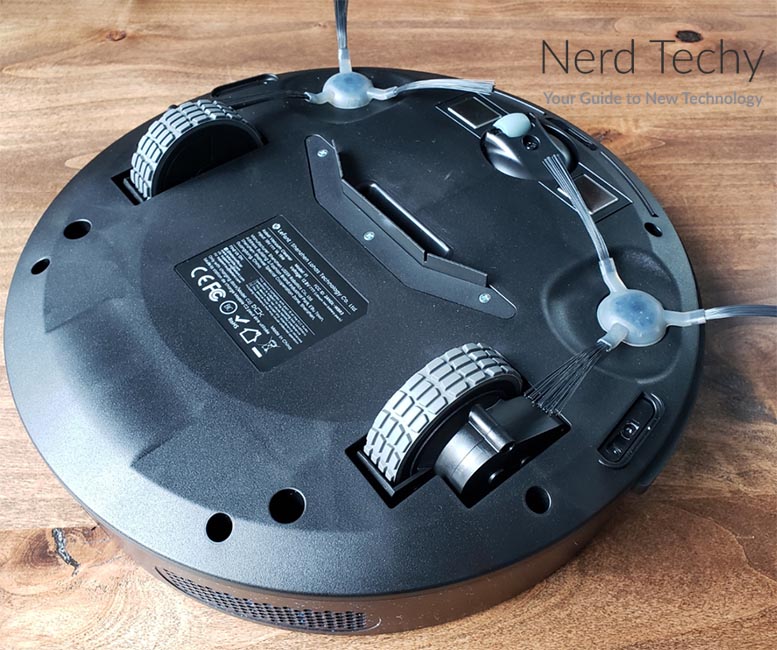 The F1 kit also has a few extras to help you get going. First off, there's an extra pair of side brushes, for when the originals get damaged. Along the same lines, there's an extra HEPA filter to protect your motor. There are also two washable mop pads, 10 disposable wet mouse pads, and a magnetic floor strip. All of this is covered by Lefant's 12-month manufacturer's warranty. If you experience a premature failure, you'll be covered.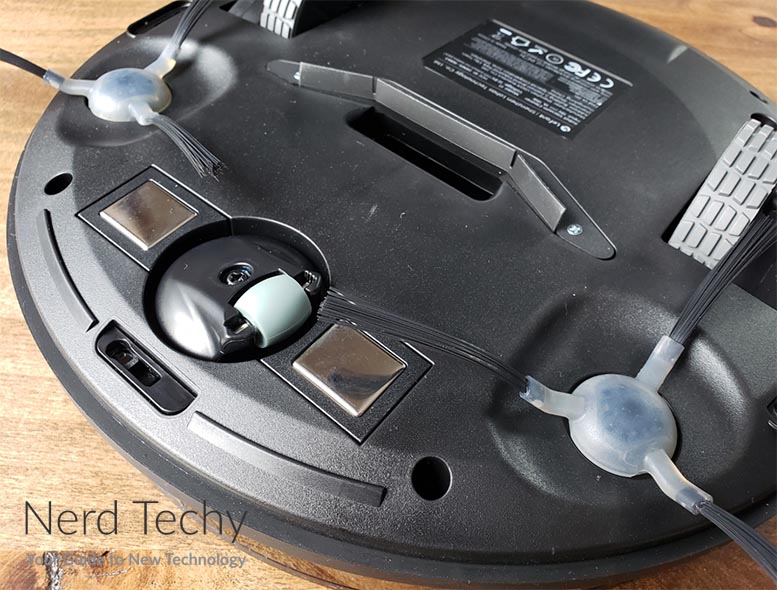 Vacuum Performance
The Lefant F1 provides 4,000 Pascals (Pa) of suction. This is about twice as powerful as the average robot vacuum on today's market. And because of the small suction opening, the effect is further enhanced. To be fair, this is not as powerful as most upright vacs, but that's the nature of a small robot vacuum. On a solid floor, you can clean up just about anything, even big pieces of dog kibble. The only real downside is that the lack of a main roller brush makes it tough to clean carpets. The open suction hole is reasonably effective. But on deep pile carpets in particular, you're just not getting the agitation you need for a thorough cleaning.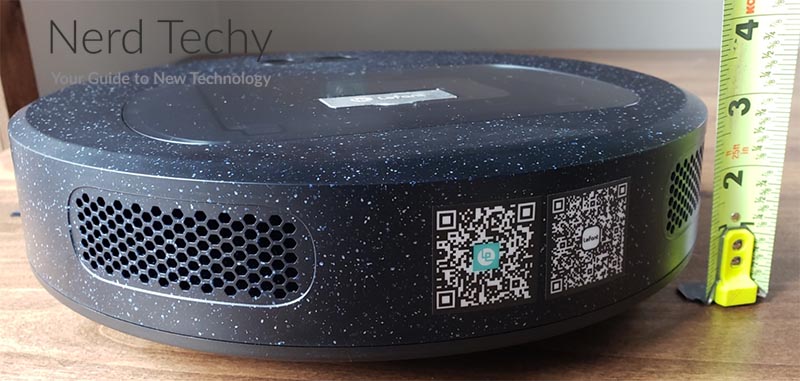 The mopping function is designed to be used without the need for a water tank. Included in the kit are a pair of dry mop pads, which are basically microfiber cloths. You can re-use them almost indefinitely, and wash them in the washing machine between uses. The disposable wipes, meanwhile, allow you to clean up more stubborn messes. The only issue here is that there are only 10 of them. If you want more, you'll have to order replacements from Lefant.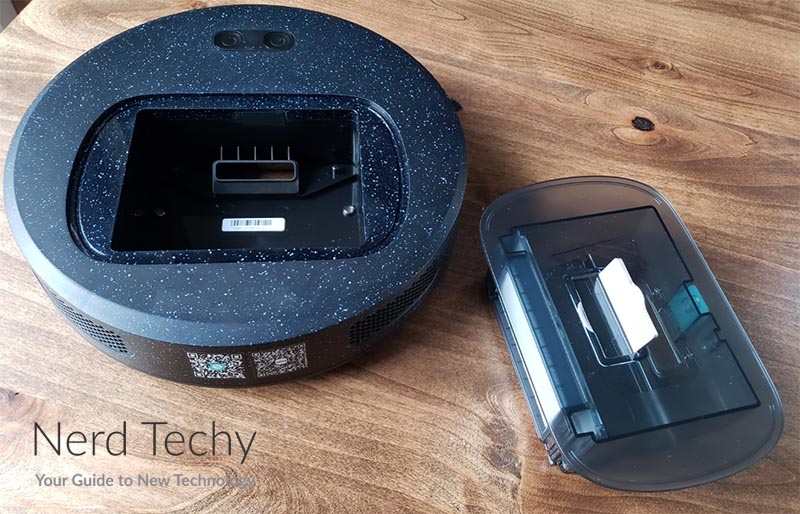 If you'd rather use a vacuum with a mopping tank, consider the Ultenic D5s Pro instead. With its built-in tank, you don't have to buy any aftermarket pads or wipes. It also maps your house automatically, although the vacuum suction isn't as powerful.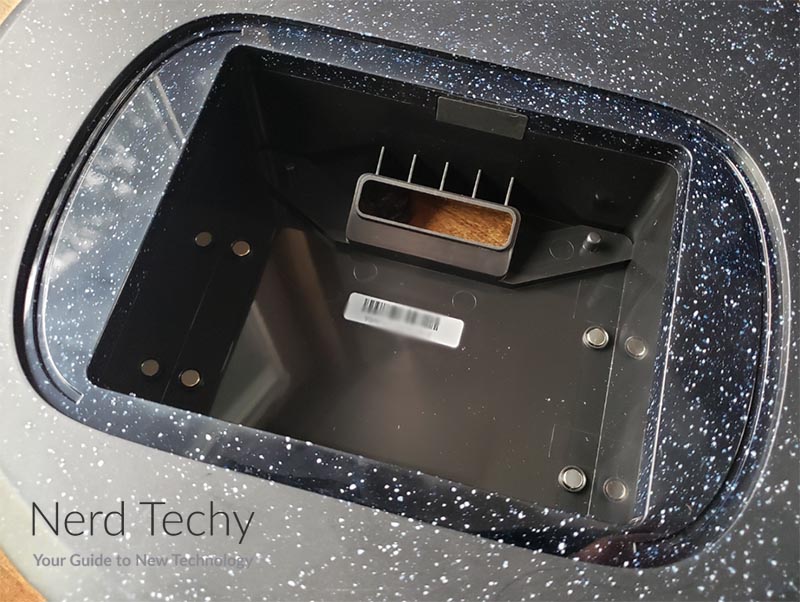 The Lithium iron phosphate battery has a capacity of 3,600mAh. That's enough to last for well over three hours. Depending on your home's exact layout, you can vacuum more than 2,100 square feet per charge. In addition, the battery cell technology is very durable – it's rated to maintain full capacity through 2,000 charge cycles.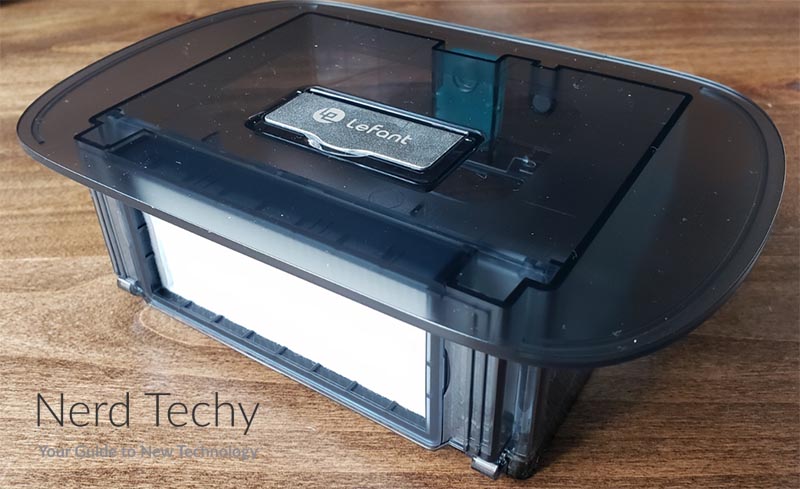 Setup & Everyday Use
To get the most from the Lefant F1, you'll need to install the Lefant mobile app. This app downloads quickly, and is free to install on iOS and Android. Within the app, you can connect to the vacuum via your home's WiFi network. Then, you can schedule regular cleanings, on either a daily or a weekly basis. You can also connect your F1 vacuum to Google Assistant or Amazon Alexa. This allows you to control it via voice commands, both remotely and within your home.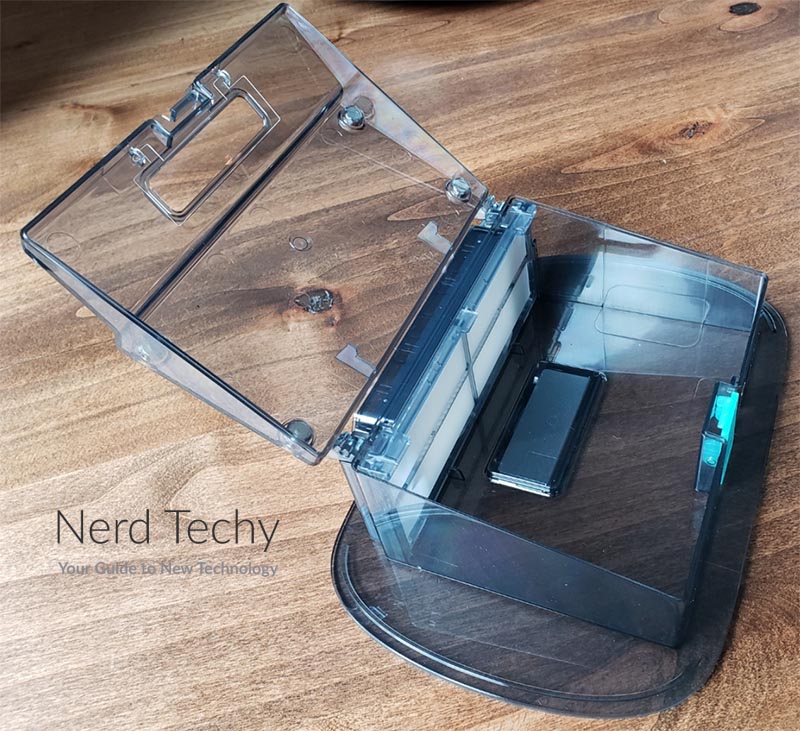 One thing the app doesn't have is any kind of mapping feature. You won't be able to set no-go zones, or program special cleanings for specific rooms. That said, you can use the magnetic strip to block off certain areas. You can even cut it up to block off more than one doorway. Meanwhile, the infrared sensor does a good job of preventing crashes. Regardless of any mapping features, your vacuum won't bump into your walls or furniture.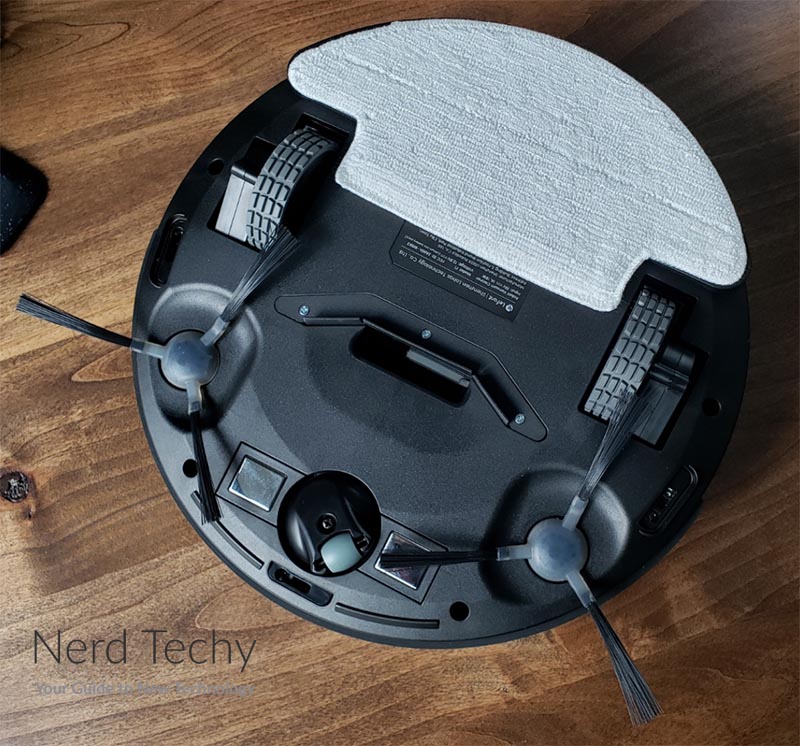 If you do need mapping functions, take a look at the Viomi V3 Max. Its vacuums and mops at the same time, and it automatically stops mopping when it's traversing a carpet. It also has a slew of powerful app features. On the other hand, the suction isn't as powerful as the F1.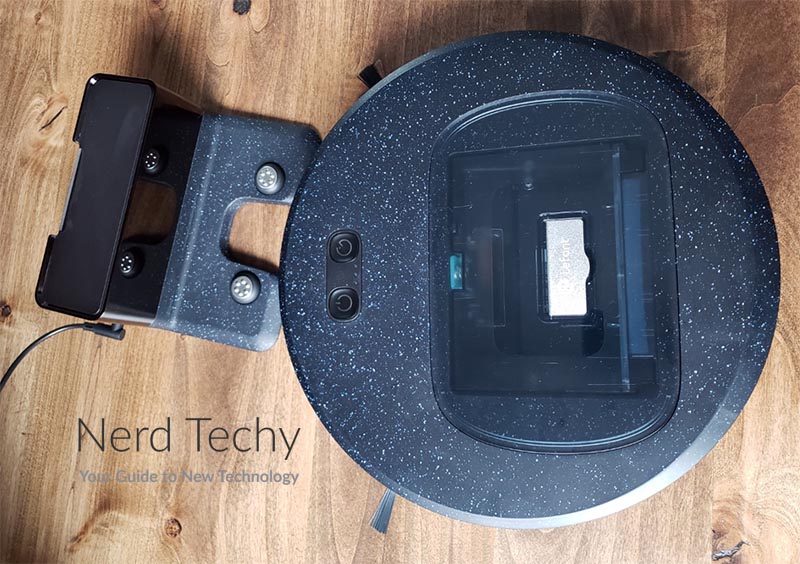 Final Verdict
The Lefant F1 Robot Vacuum Cleaner is a powerful robot vacuum with a tangle-free design. It's not ideal for carpets. But if you're primarily cleaning wood and tile, it's one of the best vacuums around. It covers a wide area, and the dust bin has plenty of capacity. The only thing we could have asked for was a more powerful app.