Viomi V3 Max
Pros
3-in-1 cleaning (sweep, vacuum & mop).
Excellent build-quality.
Can remember up to five floor plans.
Battery lasts for up to five hours.
Cons
Too thick to fit under some furniture, but normal for all LDS robot vacuums.
Auto mopping feature struggles with small area rugs.
In these days of advanced technology, you can buy all kinds of crazy gadgets for your home. There are refrigerators that will keep track of your groceries for you, and order them as needed. There are doorbells that will send video alerts for strangers, but open the door for family members. And there are vacuums that will clean your entire home automatically.
At first, this last example might not seem like an example of advanced technology. The original iRobot Roomba was released in 2001, so the idea itself is hardly new. But the technology has changed a lot since the early days. Early robot vacuums weren't particularly "smart." They roamed around randomly, and didn't predictably clean your entire floor. In practice, the middle of your floor would get cleaned a lot, and the edges would mostly get ignored. If there was any kind of zone control at all, you were laying down magnetic strips across your doorways.
Nowadays, we expect a robot vacuum to do a lot more. They should run in a regular pattern, so as to clean your entire carpet. They should map your home, so they can operate more efficiently. They should also have some kind of smartphone app, so you can use more advanced controls. These are just some of the things you wouldn't see in an old-school robot vac.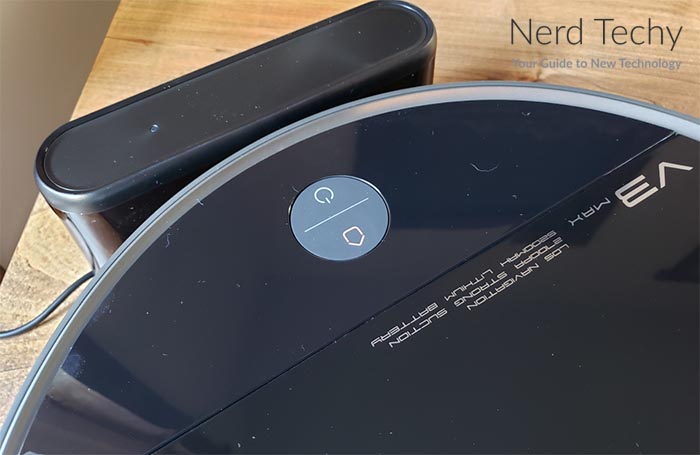 We're about to review the Viomi V3 Max Robot Vacuum. This is a powerful LIDAR robot vacuum that's capable of tackling a number of tasks. It features a built-in mopping function and the ability to remember five different floor plans. But how well does it actually work when it's cleaning your floor? How easy is it to maintain, and how powerful are the app features? To find out, we needed to take a deep dive into the V3's functions and capabilities. Once we've given it a thorough examination, we'll deliver our final thoughts. Let's take a closer look, and see how this robot vacuum compares to the competition!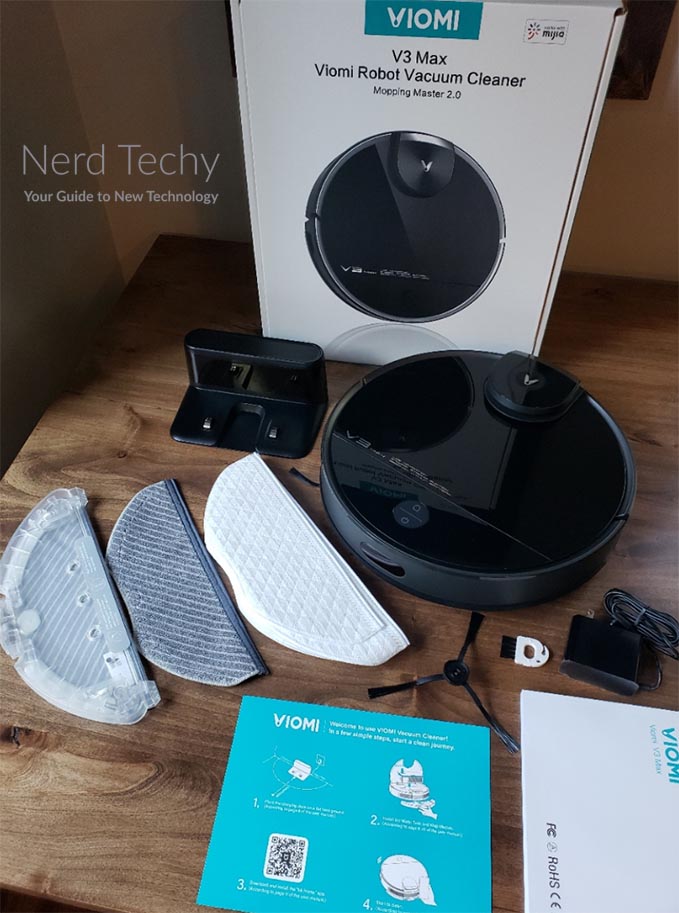 Overall Design
The Viomi V3 Max Robot Vacuum is constructed from a durable black PVC plastic. This material has a glossy finish, which is easy to keep clean. The sides consist of a set of robust bumpers, which provide excellent protection from kicking. On the top, towards the front, there are two rubbery buttons, each forming half of a semicircle. The first half is a power button, which begins a cleaning cycle. The second is a "home" button, which sends the vacuum back to recharge. There are many other controls, but all of those are found in the app. Just behind the buttons, there are a few lines of silver text, boasting about the V3 Max's features.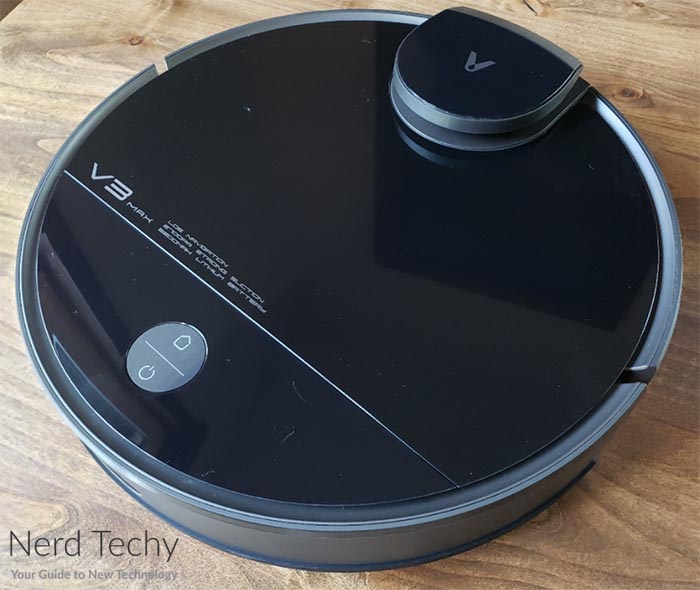 Towards the back of the vacuum, there's a large protrusion, which houses the laser sensor system. This is an excellent system, as we'll see in a little bit. But the downside of this design is that it's a bit tall. The total dimensions of the V3 Max are 13.98 inches in diameter, and a whopping 4.13 inches in height. This could make it difficult to fit under some furniture. But in it's defense, this is quite normal for all LDS robot vacuums. Many kitchen chairs may be too tall. If this is a major concern, you might be better off with a slimmer robot vac. The Bagotte BG750 is an excellent choice. It's very slim, at only 2.7 inches, and it also has a mopping function. On the downside, it provides slightly less suction than the V3 Max, and it can't vacuum and mop simultaneously.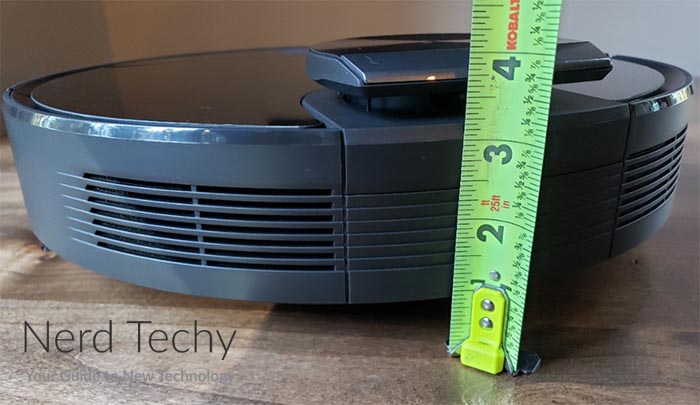 At the bottom center of the vacuum, there's the main brush. This does a good job of cleaning most surfaces, with the exception of deep pile carpets. Like any spiral roller, it can tend to get tangled up with hair, but that's no big deal. It's easy to detangle, and it only takes a few minutes. To the front right, there's an additional horizontal brush that swings around like a propeller. It's designed to sweep more debris towards the main roller, and works best on solid floors. Behind the roller brush, there's a surface for attaching your mop pads.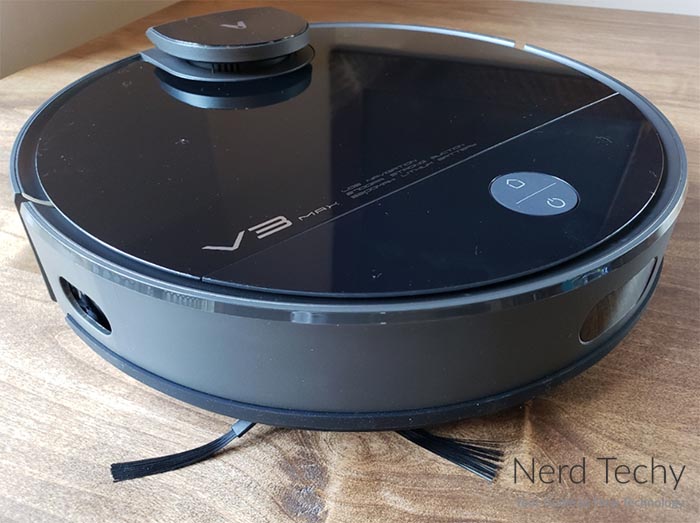 To the sides of the main roller and slightly behind, you'll find a set of rubbery, gear-shaped wheels. These provide excellent climbing ability, up to 0.78 inches. That's more than most floor transitions, since the thickest tend to involve ¾-inch plywood. As a result, the V3 Max will have little trouble navigating almost any floor plan. Towards the front, there's a third wheel mounted on a swiveling base. The base is motorized, and turns to steer the vacuum around your house.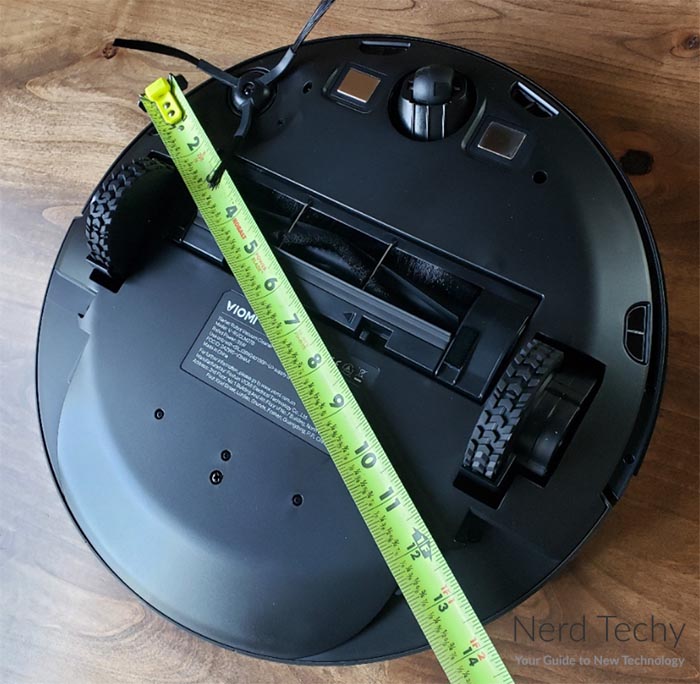 Along with the vacuum itself, the kit includes a handful of accessories to help you get started. The most important of these is the docking station. This is your vacuum's home base, where it will automatically return to recharge. As a result, it needs to be somewhere readily accessible. At the same time, it needs to be near a power outlet, and you don't want it to present a tripping hazard. In addition, you get an extra side brush, a cleaning brush, and 12 mopping pads. 10 of these are cheap disposable pads. However, two of them are high-quality reusable microfiber wet pads. Finally, there's a large mop water reservoir that mounts on the charging base.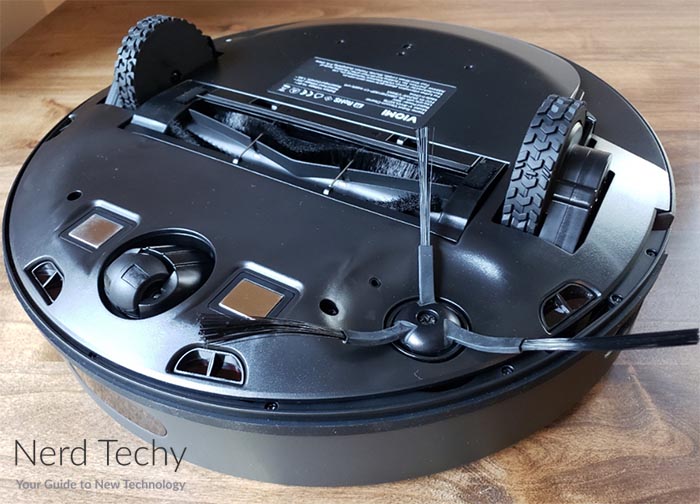 Vacuum Performance
The Viomi V3 Max has a variable rate of suction, depending on the surface. The vacuum will run slower on bare surfaces, and faster on thicker carpets. If you need to limit noise, you can adjust the volume within the app. In quiet mode, the volume is no louder than an operating microwave. Even the high mode isn't so loud you have to shout over it. All in all, we had no complaints about the volume.
The maximum suction of the V3 Max is 2,700 Pascals (Pa). That's more than the average robot vacuum, which tends to pull at about 2,000Pa. You'll be able to handle just about any mess on a solid floor. And on a carpet, you'll be fine on anything other than a deep pile carpet. Even then, you'll be able to perform casual, everyday cleanings. That said, there are times you might need a more powerful vacuum. In that case, why not complement your robot vac with a battery-powered upright vacuum? The Moosoo XL-618A provides up to 12,000Pa of suction, and comes with a handful of attachments. Then again, it's not a robot vacuum, and it won't clean your floor automatically.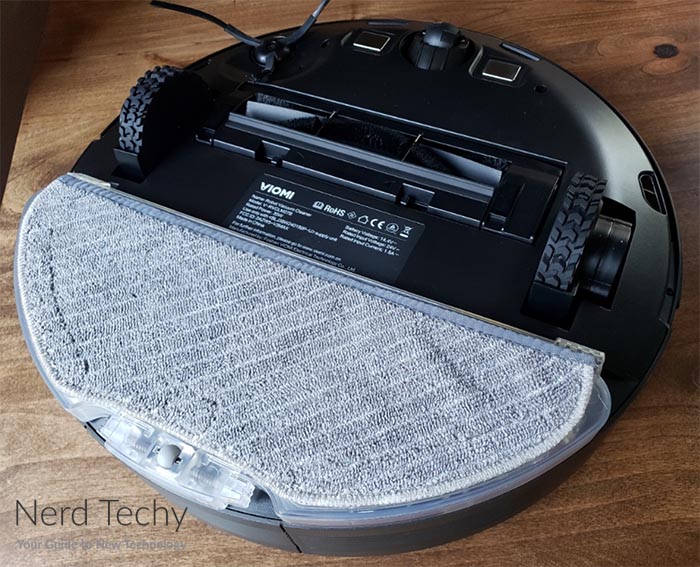 The V3 Max's battery is rated to last for 300 minutes of runtime. That's an impressive five hours, but it's a bit of an overstatement. In point of fact, you'll only get five hours of operation in the lowest, "quiet" mode. In higher modes, you might get as little as 90 minutes. Even so, that's plenty of operating time, and longer than most robot vacuums on the market. And if you are only using quiet mode, you'll get 3,000 feet of cleaning on a single charge. On the highest setting, you can still clean around 1,000 square feet before the vacuum returns to base.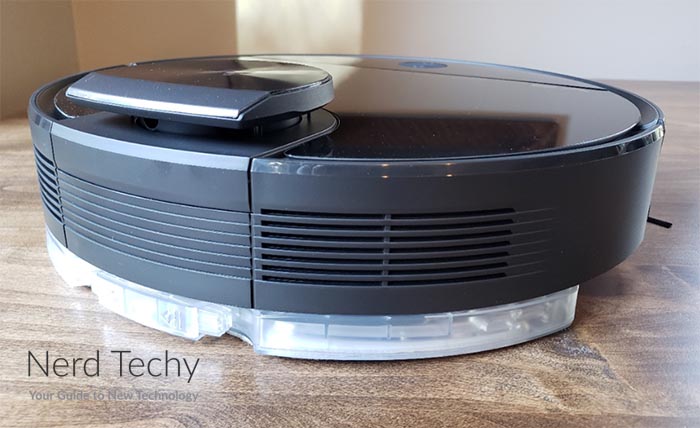 When you set up the vacuum, you can choose between three different cleaning modes. These are: vacuum only, mop only, and vacuum and mopping at the same time. There's a built-in surface detector, which can tell whether you're on a rug or a solid floor. This works well for full carpets and large area rugs. However, there's a delay on the detector, and it doesn't always pick up mats and small rugs. In this case, the vacuum might end up mopping your rug. This isn't normally a big deal, but it can be problematic if you've got a dirty mopping pad.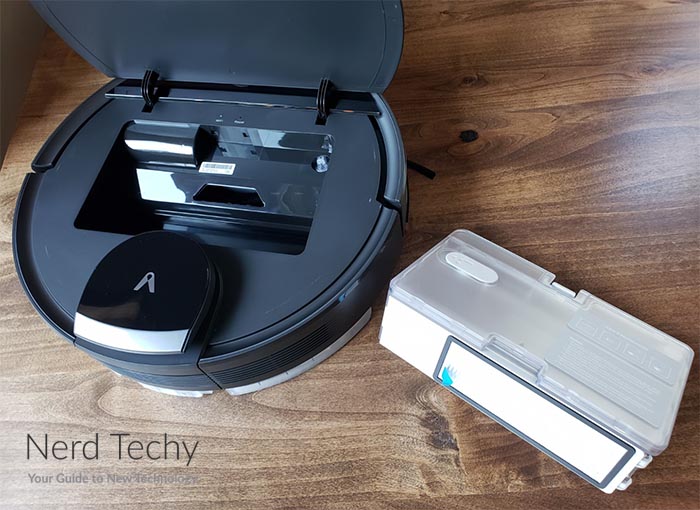 Setup and Everyday Use
Using its 360 degree LIDAR mapping and navigation technology, the Viomi V3 Max will map your home. This requires you to set it up first, which you'll do using the Viomi app. Once the app is installed, follow the prompts to pair your phone with your vacuum. Once that's done, you can run the V3 Max for the first time. It will wander around for a while, mapping obstacles as it goes. It will also keep track of which areas are carpeted and which are not. After that, you can set it to clean your floor whenever you need it to. It can run on a timer, or you can clean manually as needed.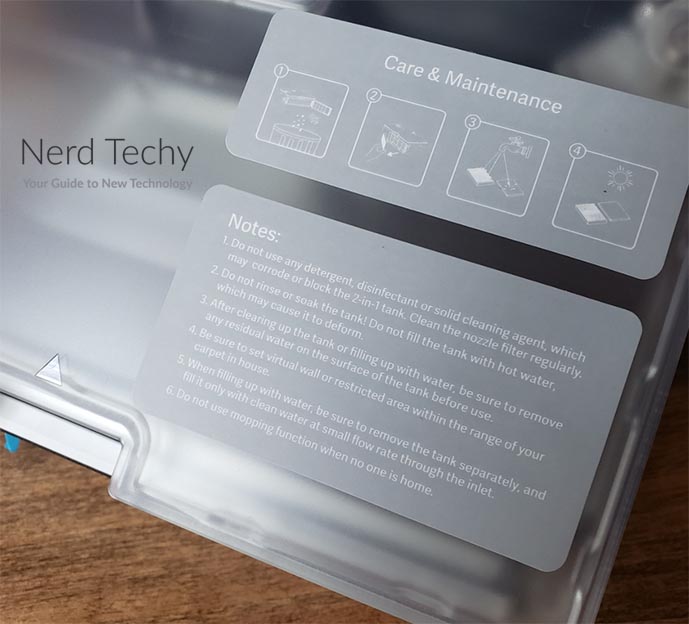 Within the app, you can save up to five individual floor plans. If you want to use the same robot vacuum upstairs and downstairs, you can. You can also set special cleaning times for individual rooms, or set up no-go zones. You can even create no-mop zones, or create virtual walls for their own cleaning times. And if you prefer voice controls, you can pair your vacuum with Alexa or Google Assistant.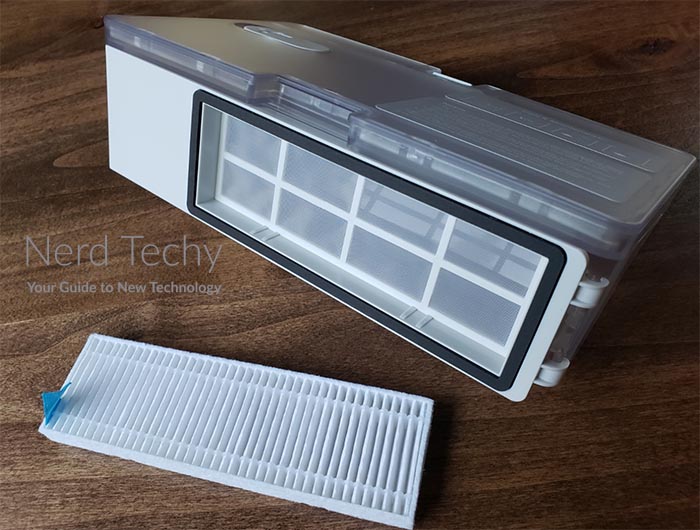 The mopping function comes with a really cool feature that's worth mentioning. You can mop in a Y-pattern to double-up your coverage and achieve multiple passes. This is perfect for heavily-soiled floors that need a deep cleaning or extra attention.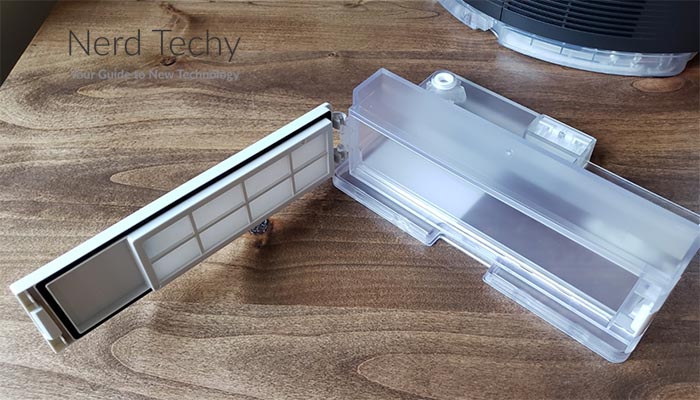 Another useful feature worth considering is the one-click dustbin-emptying design. In short, it means that you won't need to touch and dust or grime. Simply press the button to release it.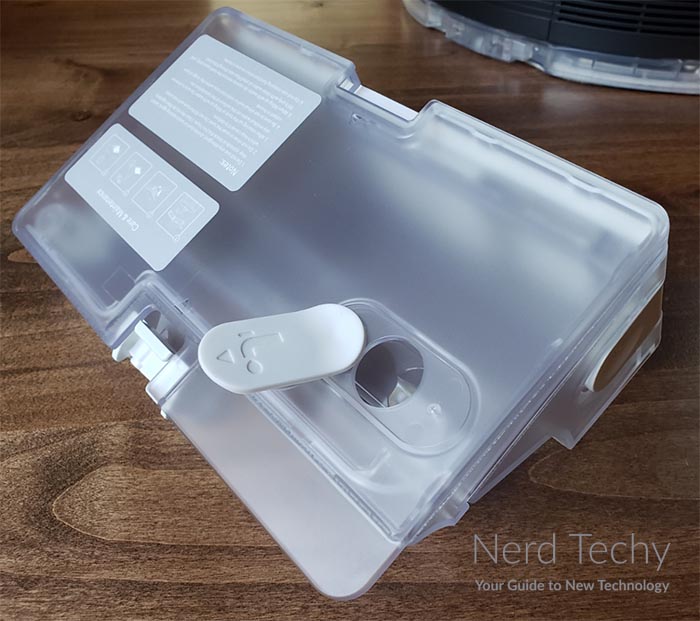 Final Verdict
The Viomi V3 Max Robot Vacuum is one of the more comprehensive LIDAR robot vacuums on the market. If you order it before October 26th, you can get it as a "best deal" for under $339.60. With an array of smart functions and app controls, you can use it for just about anything. And if you need an effective robot mop, it's the most automated option there is. All in all, we were very pleased. The features are all quite useful and it seems that Viomi did an excellent job in creating an easy to use, high-quality robotic cleaning machine.