If you do business on the road, then your car is essentially a mobile office. And laptop mounts or stands are how you bring a real workspace into that office. You can find mounts made to fit inside essentially any type of vehicle, offering convenient operation and stability for all your portable devices.
Laptop mounts are commonly used by police and fire departments, emergency medical service personnel, and delivery fleets workers. But they're just as useful for anyone who does business while traveling, or anyone who wants to stay productive on the road.
Choosing a Vehicular Laptop Stand
But there's a difference between the kind of equipment needed by police departments, and the kind of laptop mounts you'll want for your own vehicle. Many of the most effective mounts have installation which requires a fair amount of space from the passenger side of the vehicle. Space requirements tend to only increase with the power of the laptop mount you choose. But space considerations are only the beginning.
Build and Capacity
Knowing the weight capacity of a laptop mount can be important because of the mobile nature of vehicles. If you're driving down the road, the various forces acting on the laptop mount are greatly increased in intensity. In other words, your laptop 5 lbs. laptop isn't terribly heavy or challenging to support, until you hit a speedbump.
Having an inadequate weight capacity is the kind of thing that can ruin your day, especially if your laptop doesn't survive the fall. But the good news is that most laptop mounts are made to handle about 11 lbs., and most laptops weigh no more than 6lbs. Unless you're using an exceptionally large laptop, or driving in particularly hazardous off-road conditions, then you probably won't need to worry about weight capacity.
Quality construction is another factor entirely. Laptop mounts for cars need to hold your devices secure from a number of angles, all while maintaining the right level of height for use. People consider laptops lightweight, but they weight enough to provide real stress given their angle and distance from the mounted base. That's why you want a mount made from heavy-duty materials. Metals, locking joints, and clamping action are the kind of thing that helps keep your devices safe.
Deck Size and Adjustability
What's the size of the surface offered by the mount, and what surface size do you need for your devices? Most decks are equipped to take on common laptop sizes. But if you're using a very large laptop, or you plan on putting lots of things on the mounted surface, then you'll need to pay attention to deck size. If you're interested in a tablet stand for your car, you may want to consider a stand specifically made for tablets. While tablets and laptops have roughly the same build size, tablets tend to be somewhat smaller, meaning many laptop mounts will provide more space than a tablet requires.
The ergonomics of using computers inside your vehicle can be tricky. Depending on how you want to setup mount, you may have issues pulling your devices close enough for comfortable operation. A greater range of adjustability helps ensure you'll get better viewing for your screen, a more comfortable reach for your keyboard, and so forth. And being able to easily adjust and the angle of your devices is essential.
Installation
The way you install a laptop mount or stand varies wildly from one system to the next. Most people will want to stay away from mounts that have involved installation and require significant modifications to their vehicle. Fortunately, many laptop mounts allow you to secure the mount through the passenger's seatbelt bolt. Some of those designs are also made with a quick-release feature that can let you rapidly remove the mount when you need to provide more room for your passengers. You can even find mounts with virtually zero installation, but heavier installation will mean a broader feature set.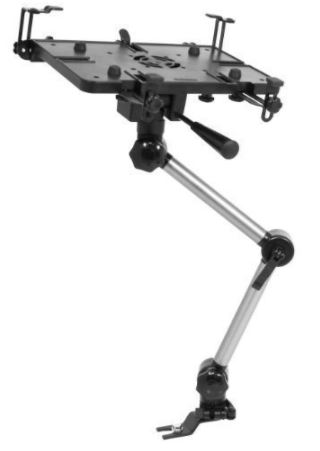 Mobotron MS-426
The Mobtron MS-426 is a powerful and versatile mount, ready to securely hold both laptops and tablets. The primary mounting arm is almost as impressive as the full articulating mechanical arms used by wall-mounted TVs. Although the MS-426 is on the bulky side, it uses size to its advantage. Once mounted, the arm allows you to adjust the mounting surface a full 180° of vertical motion. And you can adjust a complete 360° horizontally. With that kind of adjustability, it's easy to find a great position for the mount inside essentially any type of car.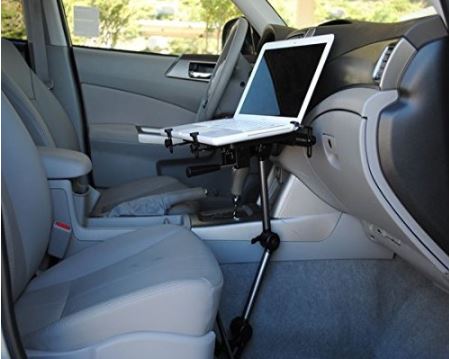 Build & Design
The dimensions of the surface are a broad 15 x 10 x 6-inches, which is large enough to handle all but the largest laptops. Your devices are held secure and safe from bouncing forces with the use of small locking arms around the periphery of the platform. Those clamping arms are what make this surface so welcoming to such a wide range of devices.
When you're parked, the maximum weight on the platform is a considerable 17lbs. When you're moving, the weight limit falls down to 11lbs, but that should still be enough for most electronics. Although the largest and heaviest laptops on the market won't fit on this platform, most devices will find it a perfect fit.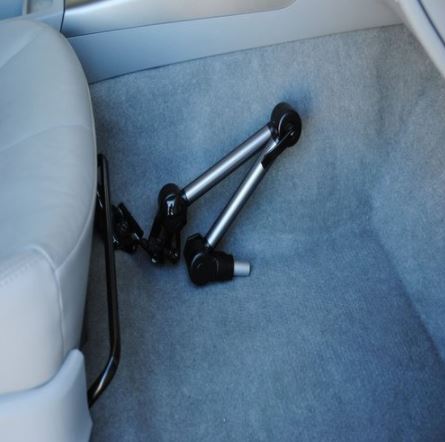 Other Considerations
Installation requires no drilling. All you need is the passenger seat of your vehicle to have a flat rail, with a bolt that's accessible and visible. This design allows the MS-426 to include a quick-release lever to rapidly uninstall the arm, making space in the passenger side of the vehicle. And when the mount is in place, the included knob-screw helps you keep the mount held firmly in positon.
Unfortunately, there are some minor drawbacks to the design. For the easiest installation, the seatbelt bolt in your car should be at a right angle, parallel to the floor of your car. If you've got another configuration for your seatbelt bolt, then you'll have a difficult time with installation, and you'll need to make more adjustments each time you put the mount in your car.
Finally, the MS-426 is Mobotron's standard model, and it's not intended for off-road driving. Other mounts in this series have the types of bracing necessary for off-road driving, but the MS-426 doesn't.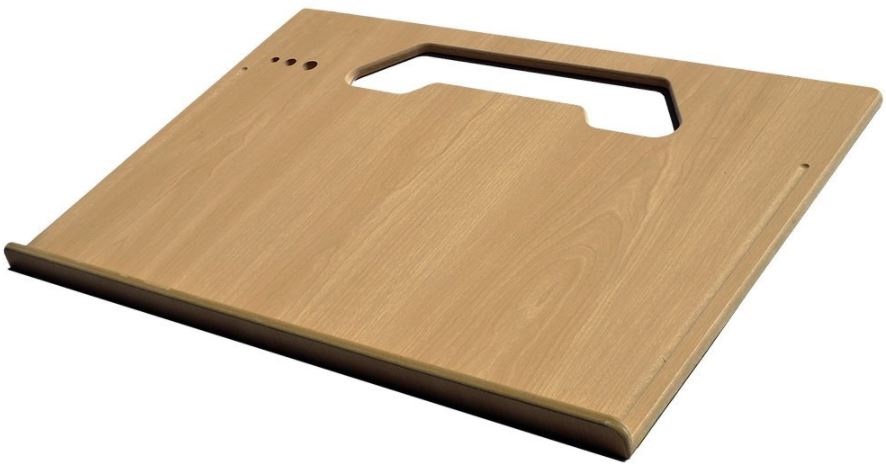 Wheeldesk
The problem with most laptop mounts for cars is that they end up consuming a bunch of space. Although most don't use up the entire passenger side of the car, they certainly make riding shotgun far less comfortable. Even with quick-release functions that can help you rapidly remove those mounts, setting them up again can be tedious.
Wheeldesk's mount is different. It uses a zero-installation design. You don't have to deal with drilling or assembly, just lay their mount over your steering wheel and you've got in-front of you at the level of your hands. And the Wheeldesk mount uses an exceptionally wide 23.5 x 16-inch platform. When you're not using it as a laptop, it could easily double as an eating tray, or a workspace for notebooks and documents.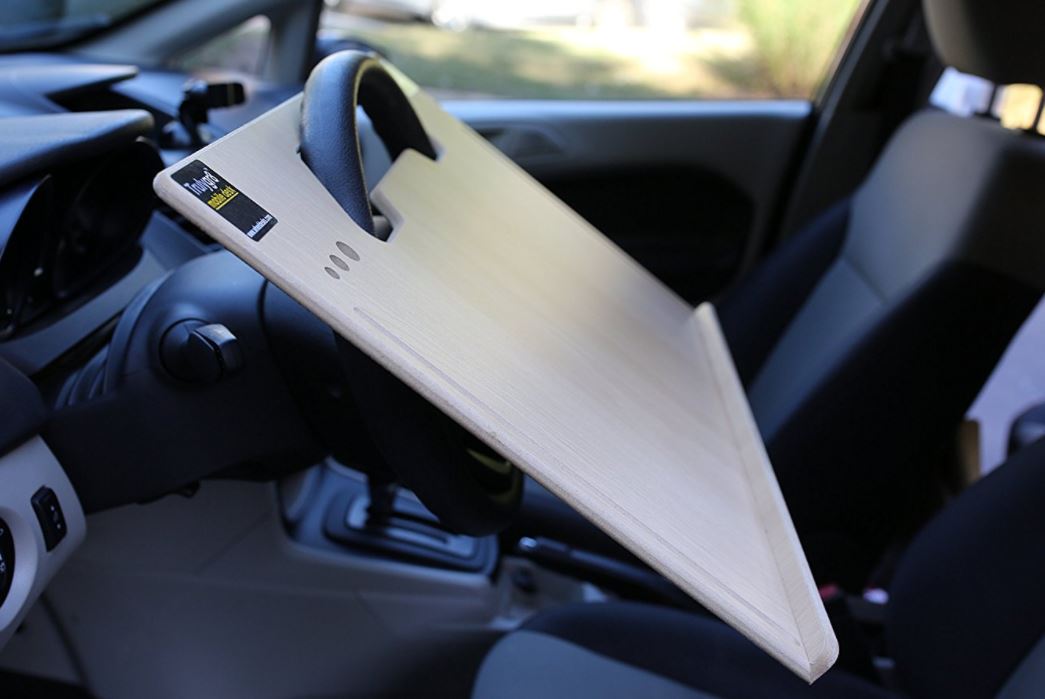 Build & Design
This mount uses a unique, highly ergonomic design that rests on top of your steering wheel. It's made of a medium density wood-based fiber composite, and protected with a vinyl maple laminate. You can feel the quality of the build in your hands, in part due to its hefty 5-pound weight. And sturdy construction is what allows it to support as much as 39 lbs., while remaining small enough to store easily in your car.
One thing to note is the eyes-forward design, which avoids the neck and back strain of turning to your passenger seat to use your gear. It's a design that allows you to use your devices comfortably for hours. Another thing to note is the small indentations along the edges of the platform, ideal for storing keys, pens, and similar small items. Those indentations help prevent your things from rolling off the desk when the platform gets bumped.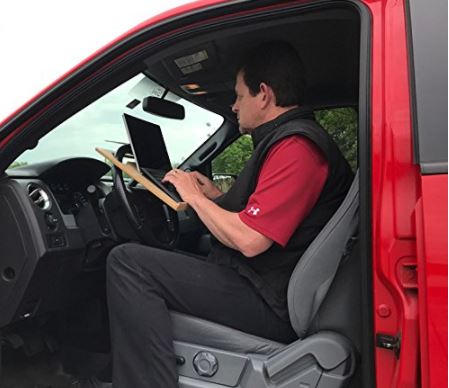 Other Considerations
If you like the design of the Wheeldesk platform but not its giant size, smaller versions are available. As far as installation goes, this mount won't fit onto the giant steering wheel of an 18-wheeler. But beyond unusually large wheels, the design of this mount ensures there shouldn't be any problems with compatibility from one vehicle to the next.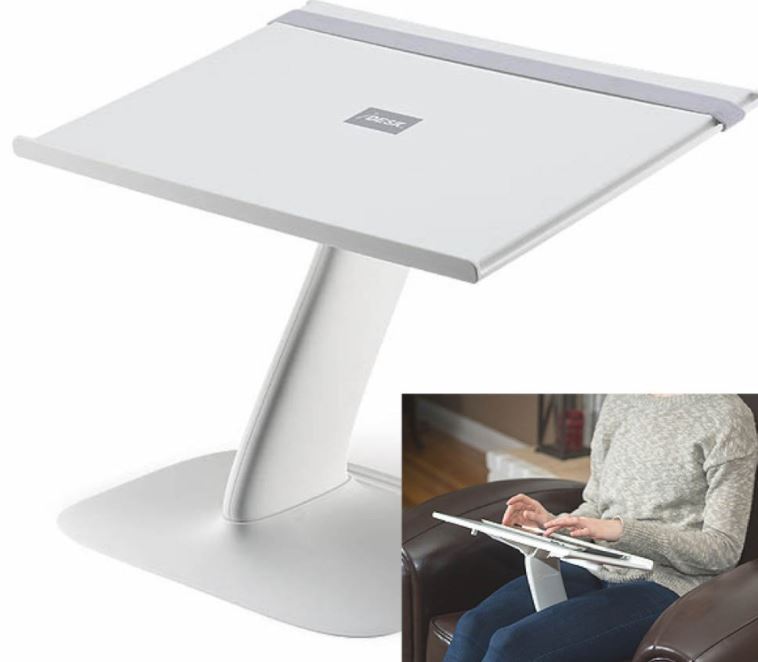 Smart Table Portable Laptop Stand
What kind of installation is better than easy installation? No installation. And that's what Smart Table offers with their portable laptop stand. Even the Wheeldesk mount requires you to add and remove the platform from your steering wheel. By contrast, Smart Table Portable Laptop Stand is essentially a small podium that you can carry with you. Inside your vehicle, it provides optimal space for serving as a surface you can use for your electronics. Outside of your vehicle, it's useful for bringing your electronics to chairs or beds.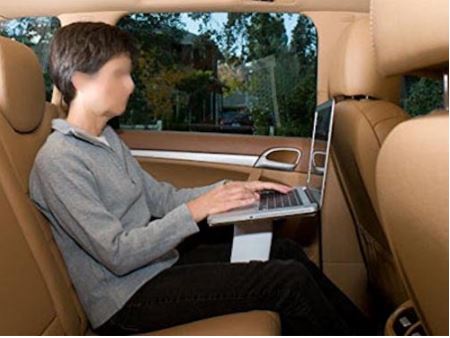 Build & Design
Car mounting systems for laptops can be expensive, especially if you end up paying for a fully articulating mechanical arm. But unless you're living inside of your vehicle, you may not need to so go far as to get machinery involved in mounting your devices. The Smart Table stand weighs just short of two pounds. It's primary made from a sturdy, rigid plastic composite. And it's available in both black and white, which should be able to match the aesthetics of most laptops depending on their manufacturer.
The base of this stand is roughly 8 x 10-inches wide, making it sturdy enough to not feel wobbly while you're using it. And the surface area of the platform is roughly 10 x 13.5-inches, providing ample space for most mobile devices. The little podium stands about nine inches tall, putting your electronics slightly closer to you than your lap.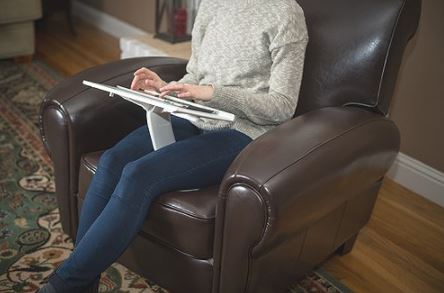 Other Considerations
The best things you can say about this mount are that it's portable and versatile. You can take it in and out of your car with no problem, and it might very well end up being useful as a workspace in a number of circumstances. It's got a creative and space-saving design that can serve as a simple solution to a simple problem.
Choosing Between 3 Portable Laptop Mounts & Stands for Vehicles
If you're looking for a full-sized mounted arm that you can adjust, not unlike a mounted television, then what you want is Mobotron's MS-426. Unless you're willing to make serious modifications to your vehicle, it's the best stand you're going to find. The small amount of installation that's required is generally easy, although somewhat time consuming if you remove the mount very often. It's a great choice for people who spend hours in their vehicle every day.
Wheeldesk is a strong choice for anyone who can see the appeal of turning their steering wheel into a desk. It's got an exceptionally large platform that's ideal for laptops, notebooks, or even your lunch. The flat design is simple enough to stow-away without an issue, and it's sturdy enough to hold even the heaviest laptops on the market. The front-facing orientation of the platform prevents you from straining your neck or back by twisting to look at your screen, making this a great choice for people who don't want to contort their body to use a passenger-side mount.
Finally, there's the Smart Table portable stand. Every laptop stand can be graded on its portability and ease of installation, and in that regard this stand receives a perfect score. It's easily the most portable laptop mount on this list. As far as installation goes, you don't even have to lift it over your steering wheel. If you're not living out of your vehicle, and you're only going to need a stand once in a while, the Smart Table stand is a great choice. It's equal parts portable, convenient, and high value.