If you're in the market for a new pair of headphones, the wide array of options can be bewildering. There are literally thousands of choices to peruse! This wasn't always the case. In fact, not that long ago, wireless earbuds were hard to come by. This was because the wireless technology of the day didn't allow for good audio quality. Before True Wireless Stereo, all you got was a hollow mono signal. Then, Apple's AirPods came along and changed the game, and other manufacturers followed suit. That's how we've ended up with so many wireless earbuds.
Today, we'll be reviewing just two of those options. The first pair are the Enacfire H500 Wireless Earbuds. These are AirPod-style earbuds with indented soft touch controls and long-lasting batteries. The second pair are the Enacfire F2 Wireless Earbuds. These buds have a similar vertical design, but they support mono as well as dual pairing. Which set of earbuds is the best? To find out, we'll need to dig below the surface and find out how they perform in the real world. We'll look at the construction, the battery life, and the audio quality, among other features. Once that's done, we'll know what we need to know to render our verdict.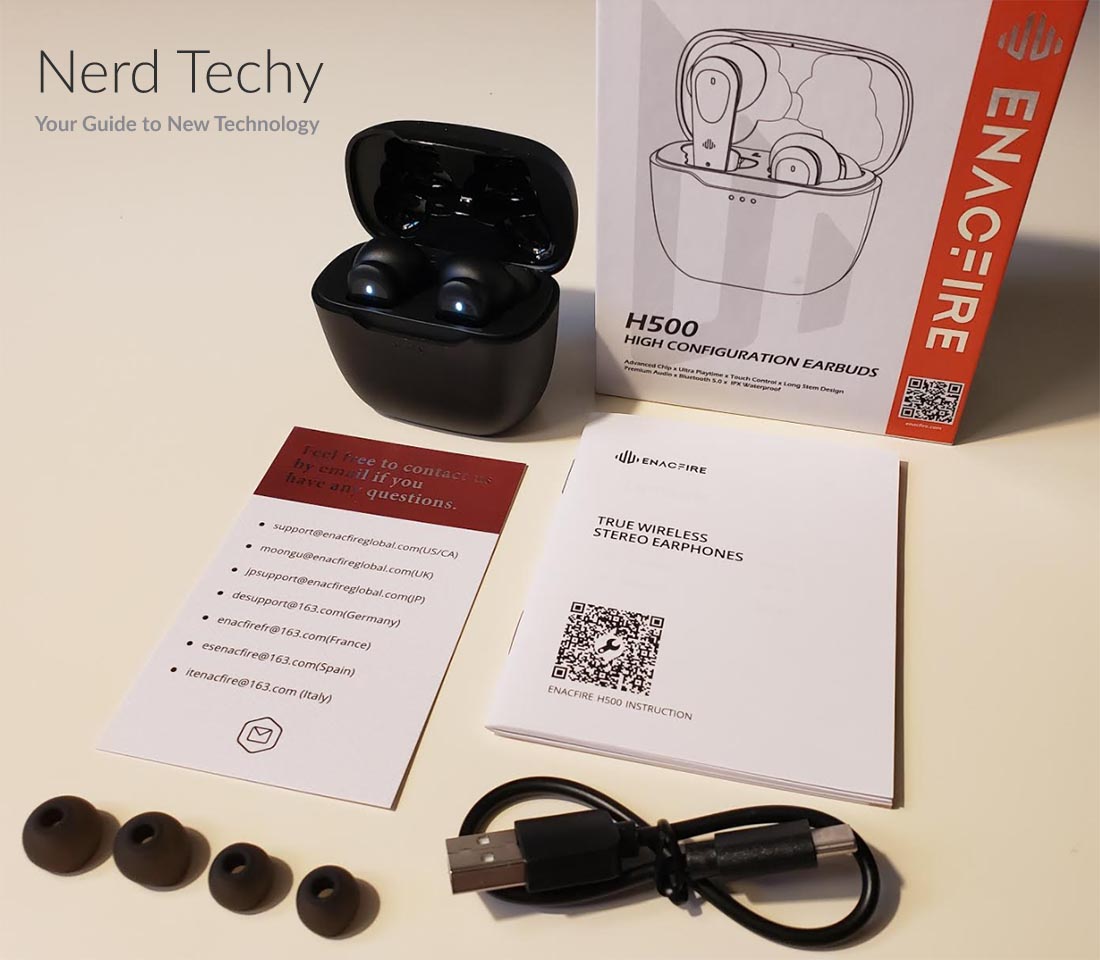 Enacfire H500 Wireless Earbuds
The Enacfire H500 Wireless Earbuds have a vertical design, with battery studs that hang down from your ears. This is similar to the Apple AirPods' design, and it's become common in the industry for one reason: it's effective. By keeping the battery as low as possible, Enacfire ensures that the earbuds are bottom-heavy. Meanwhile, the ear tips are designed to enter your ear at a slightly downward angle. As a result, the low center of gravity helps to keep the buds securely in place.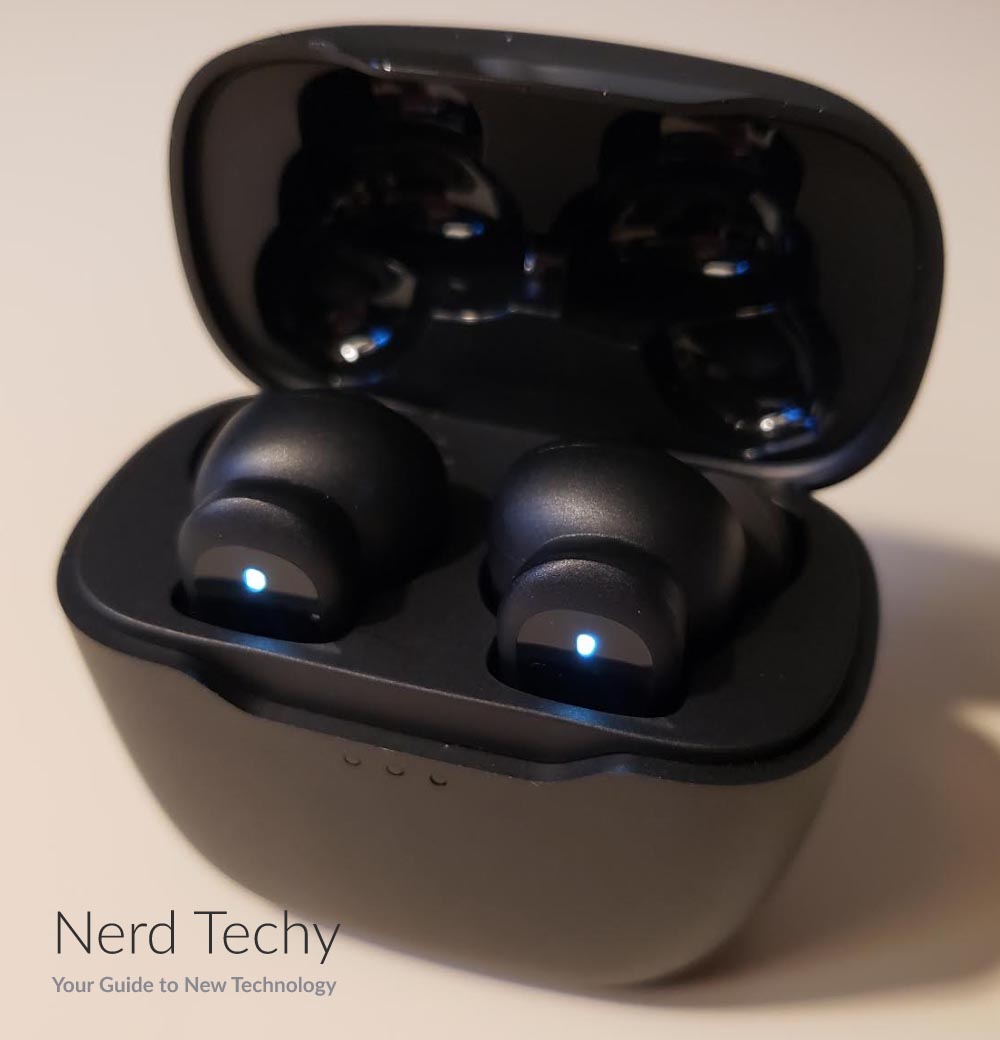 The ear tips themselves are made of silicone, and there are three sizes included in the package. If the standard size is too tight or too loose, try a smaller or larger pair respectively. A secure fit will go a long way towards keeping the buds from popping out. Not only that, but it provides a seal against outside noise. Since these aren't ANC buds, this passive noise isolation is key to enjoying a clean listening experience.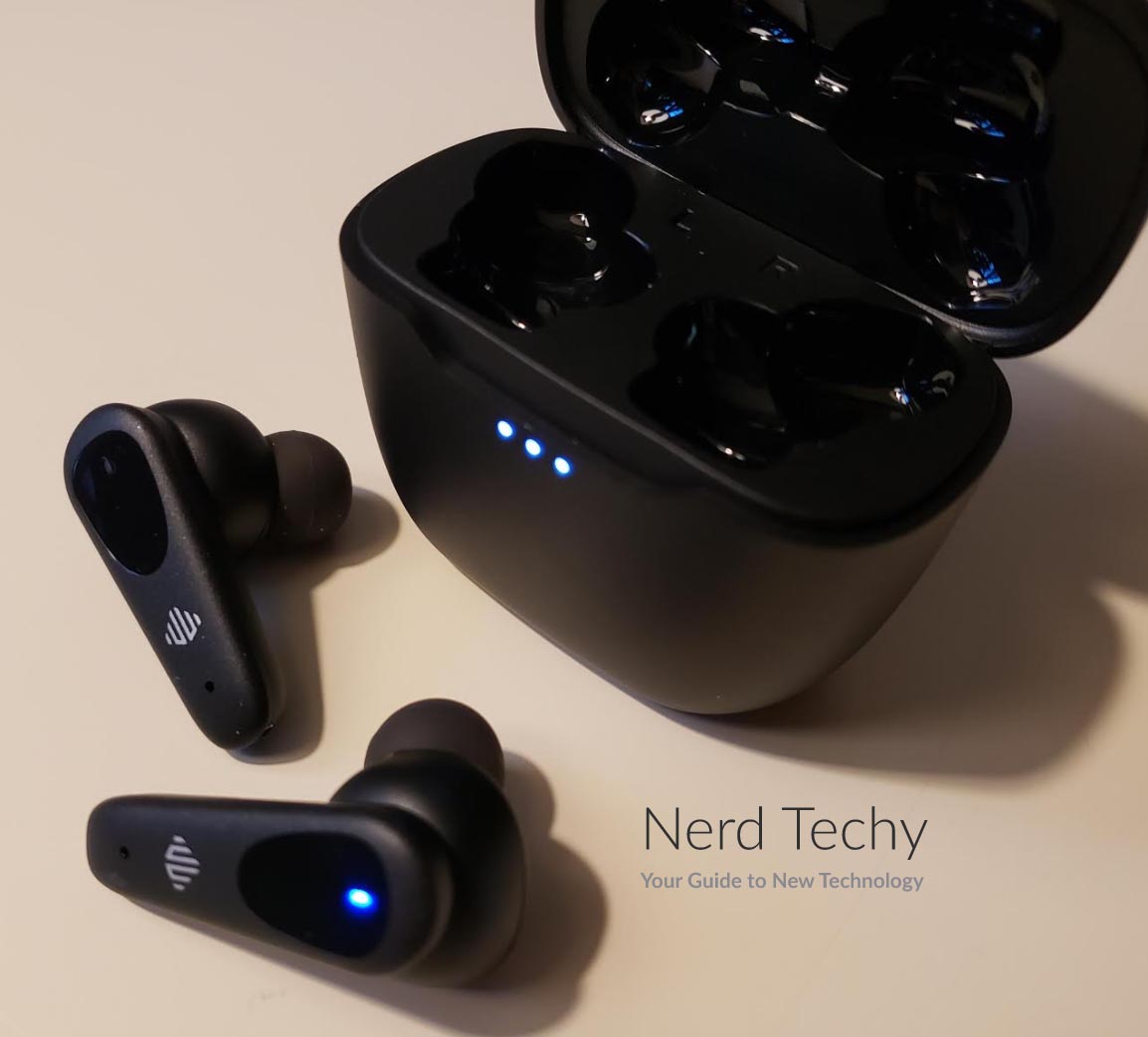 That said, not everybody wants silicone ear tips. If you've got very sensitive noise, or want to remain aware of your surroundings, you'll want a looser fit. In that case, consider the Enacfire Geek earbuds. Their blunt plastic "tips" rest loosely in your ear, for plenty of comfort and situational awareness.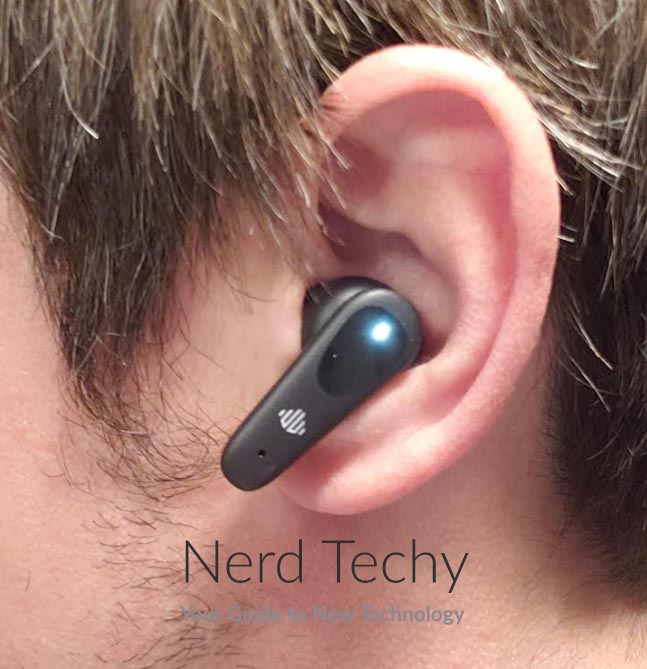 The H500 earbuds have black ABS plastic shells, with molded indentations on the backs. These indentations serve as soft touch controls, so you can perform basic functions. A single tap answers or ends a call, while a double tap changes music tracks. Holding an earbud adjusts the volume, and a triple tap calls up your voice assistant. This last feature allows you to perform more advanced functions, like hands-free texting. We particularly appreciated the indented design of these buttons. Many soft touch buttons are easy to actuate by accident while adjusting the earbuds, and that isn't the case here.
These earbuds are IPX8-rated for water-resistance, which is the highest water-resistance rating available. IPX8 is a custom specification, with the only requirements being that it must exceed IPX7. As a result, all we can say for sure is that the H500 buds are better than IPX7. They can be submerged for at least 30 minutes at a depth at least one meter. In other words, a little sweat or a post-workout shower will be no issue.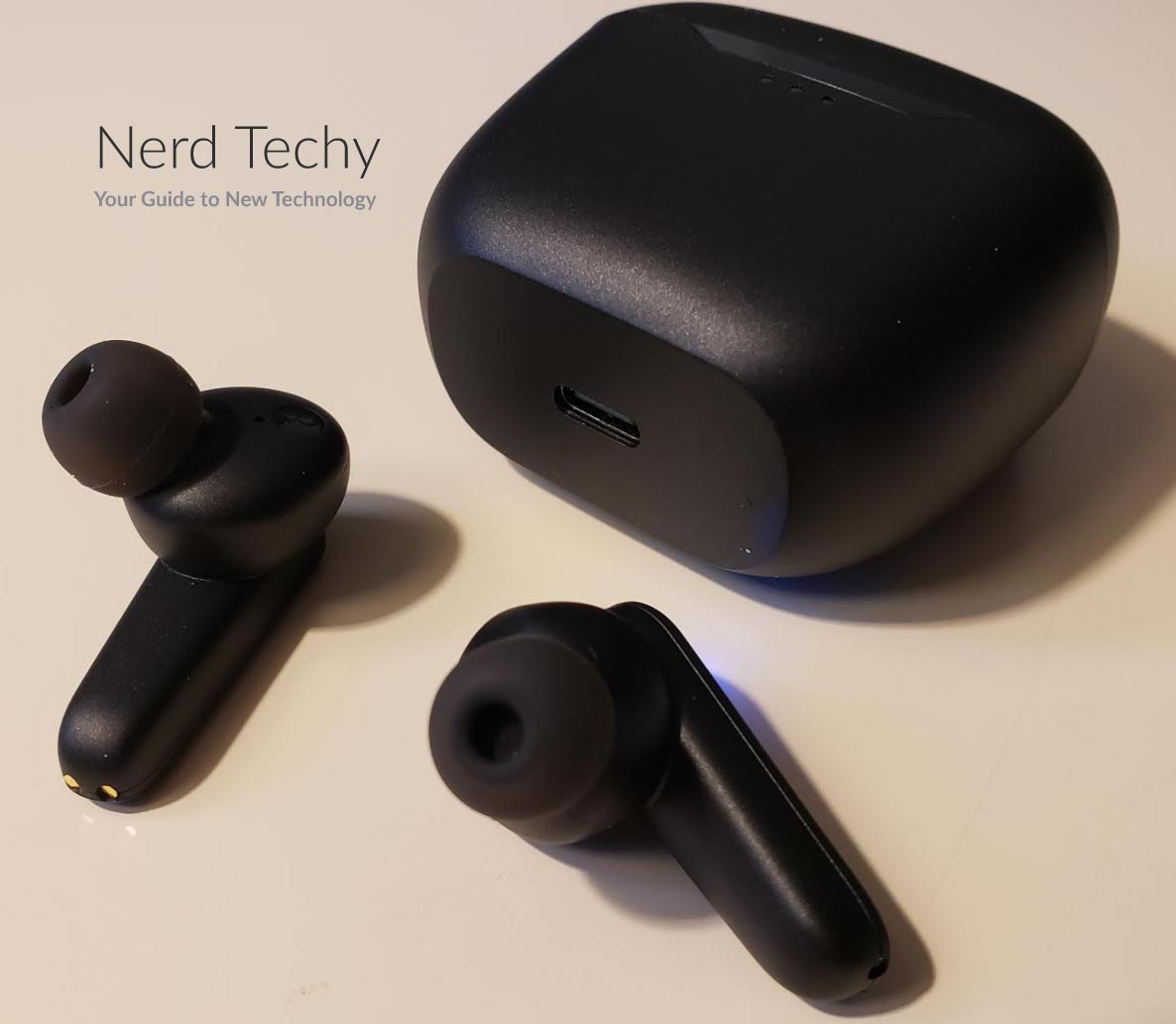 Along with the earbuds themselves, you get a carrying case that doubles as a portable charger. It's made of a matching plastic to the earbuds, and has a drop-in design with a clamshell-style lid. You just flip open the lid, drop the buds into the molded wells, and they start charging. When you're ready to listen, you remove them and they're ready to go. There's a USB Type-C port in the back of the case for recharging the battery, and a cable is included. On the front of the case, you'll see an additional detail: a row of three LEDs. These indicate the current battery level, and only illuminate when the charger is in use. Otherwise, they remain off to conserve power.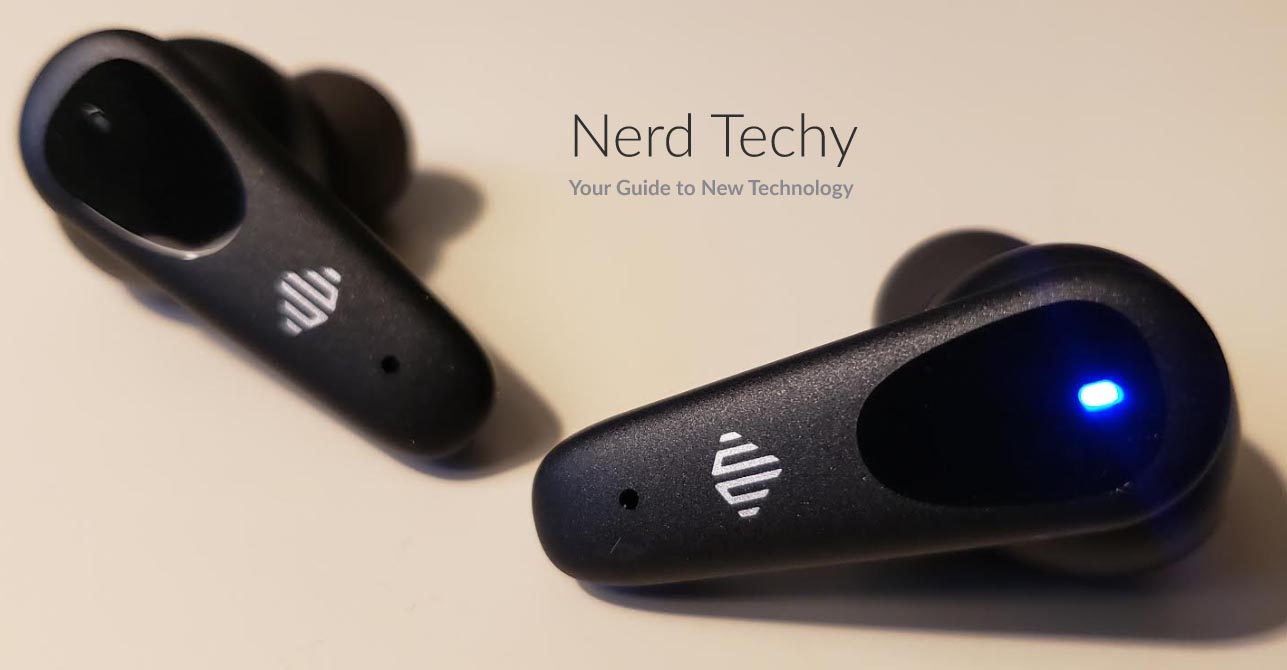 Battery and Connectivity
The Enacfire H500's internal batteries will run for about eight hours on a charge. As with all wireless earbuds, this rating is based on medium-volume playback. If you like to blast your music, you might max out at around six hours. Conversely, if your volume is very low, you can do even better. Other factors, such as temperature, can also play a role in battery performance. But no matter how you cut it, the H500 offers plenty of battery life.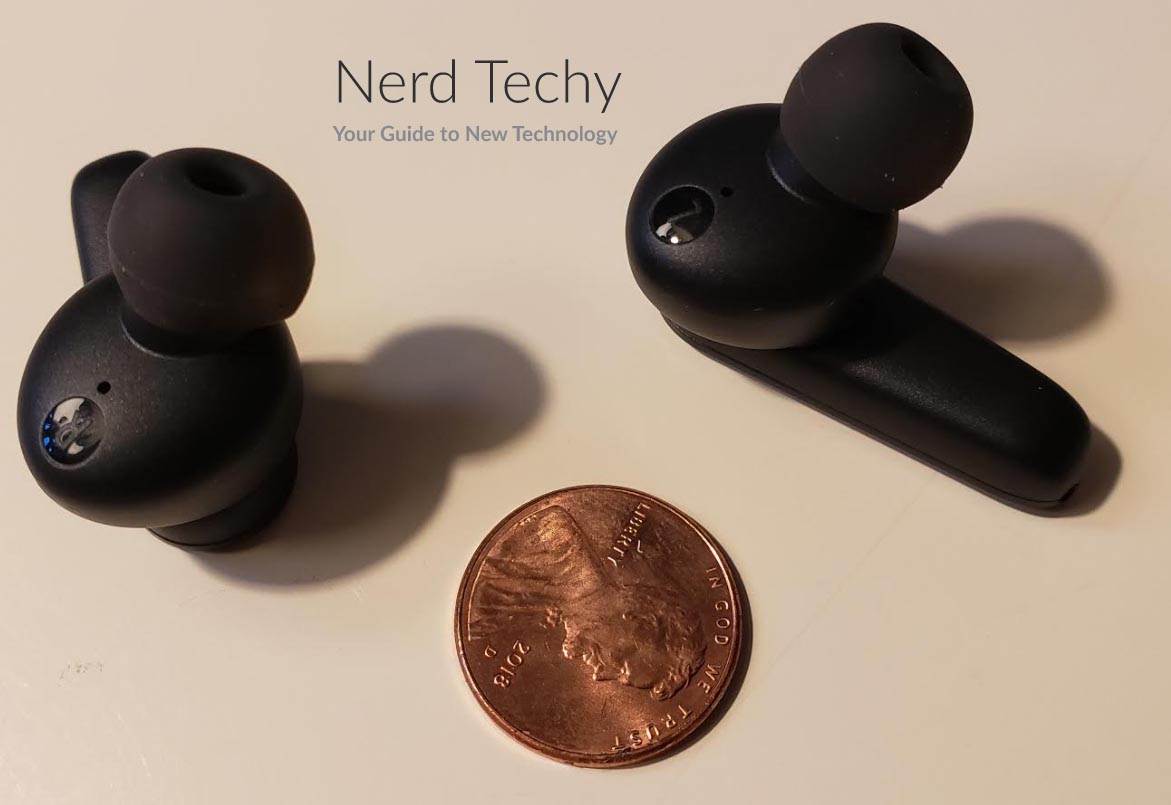 In addition to the earbuds themselves, the charging case supplies an additional four recharges. This is enough for 32 more hours of playtime, or 40 hours total at 50 percent volume. Recharging is quick and painless. The case plugs in via USB Type-C, and recharges in about 90 minutes. If you're a human being who sleeps, you'll never be out of power.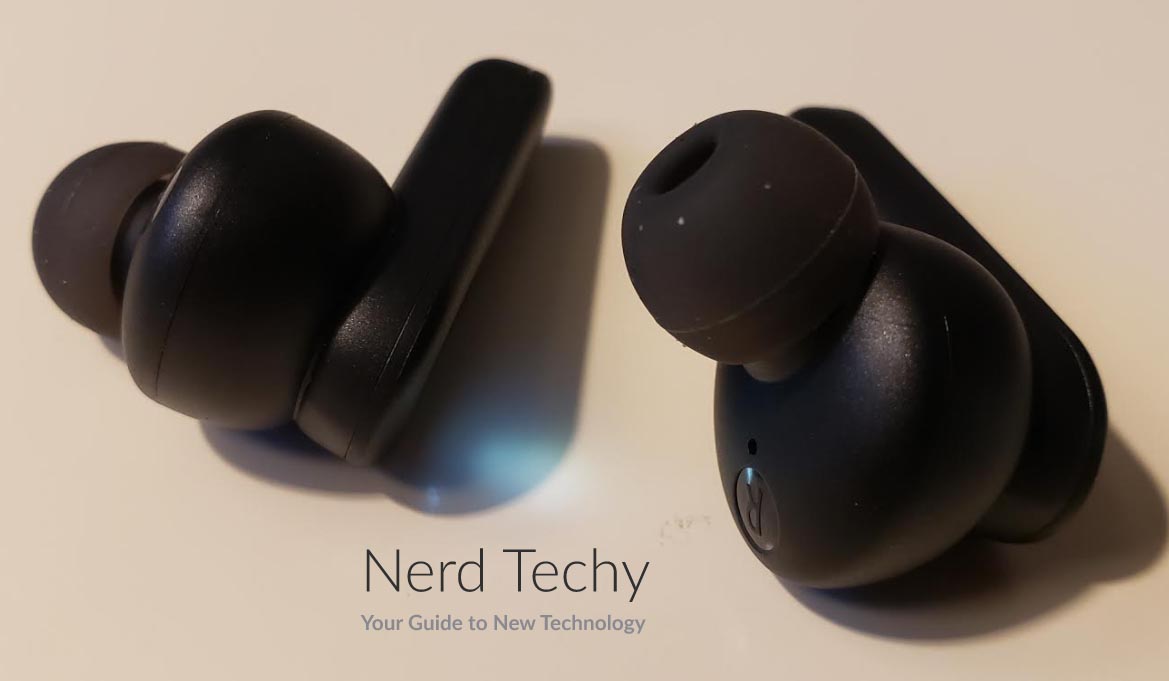 The H500 earbuds use the Bluetooth 5.0 protocol for connectivity. This is the current Bluetooth standard, and offers all the benefits of a modern wireless connection. Improvements to the earlier Bluetooth 4.2 protocol include better stability and support for higher bitrates. That way, you can listen to HD music without losing your connection. Bluetooth 5.0 also offers near-zero latency, so these earbuds can be used for movies or video games.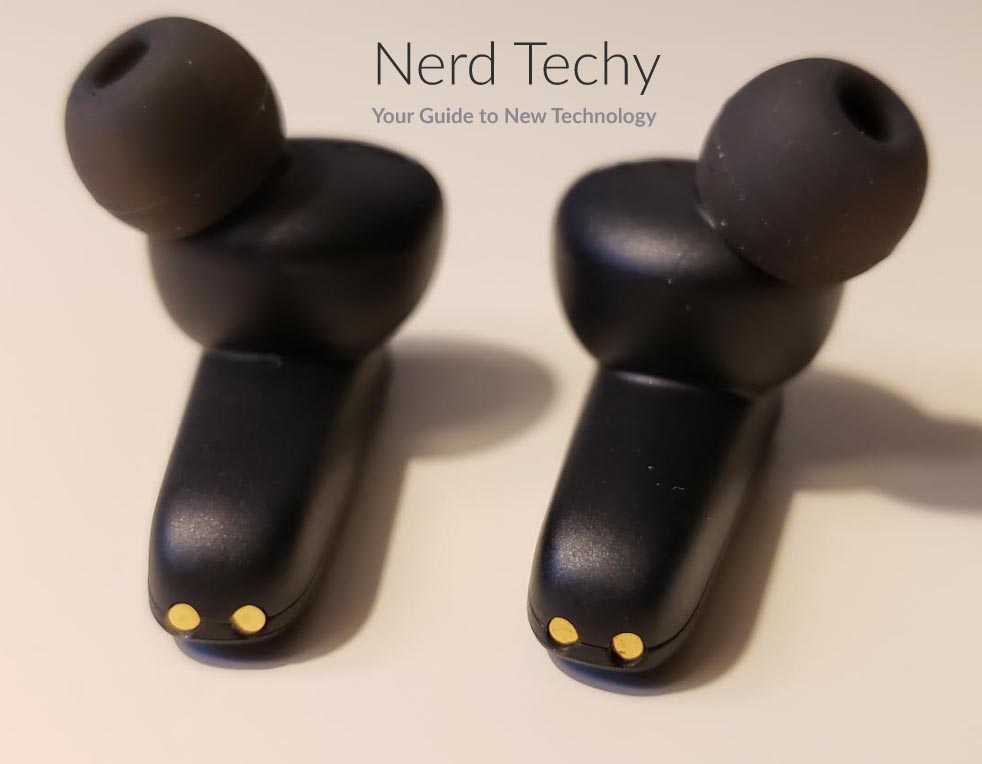 Audio Quality
The H500 earbuds' audio quality is surprisingly good for the price. It's not studio-quality by any means, but all the frequencies are fully present. The EQ is level, and the bass, mids, and trebles all have their space in the mix. Fans of heavy bass might be disappointed, but that's the kind of thing you can change with an EQ app. For most genres, you'll have more than enough depth and richness at any frequency.
Similarly, call quality is reasonably good for what you're paying. There's no noise cancellation, but you do get dual mics. This helps your phone to better pick up your voice in the presence of mild background noise. Under most circumstances, the other person shouldn't have any trouble hearing you.
Enacfire F2 Wireless Earbuds
The Enacfire F2 Wireless Earbuds share the same vertical design, but with a slimmer profile. The vertical posts are narrow and black, and the soft touch controls are round, flat metal plates. This makes them easier to actuate by accident. However, it also keeps them small and lightweight. Just like with the H500, you also get three sets of ear tips for comfort and noise isolation. Moving along to water-resistance, the F2 buds also have a rating of IPX8, suitable for full submersion.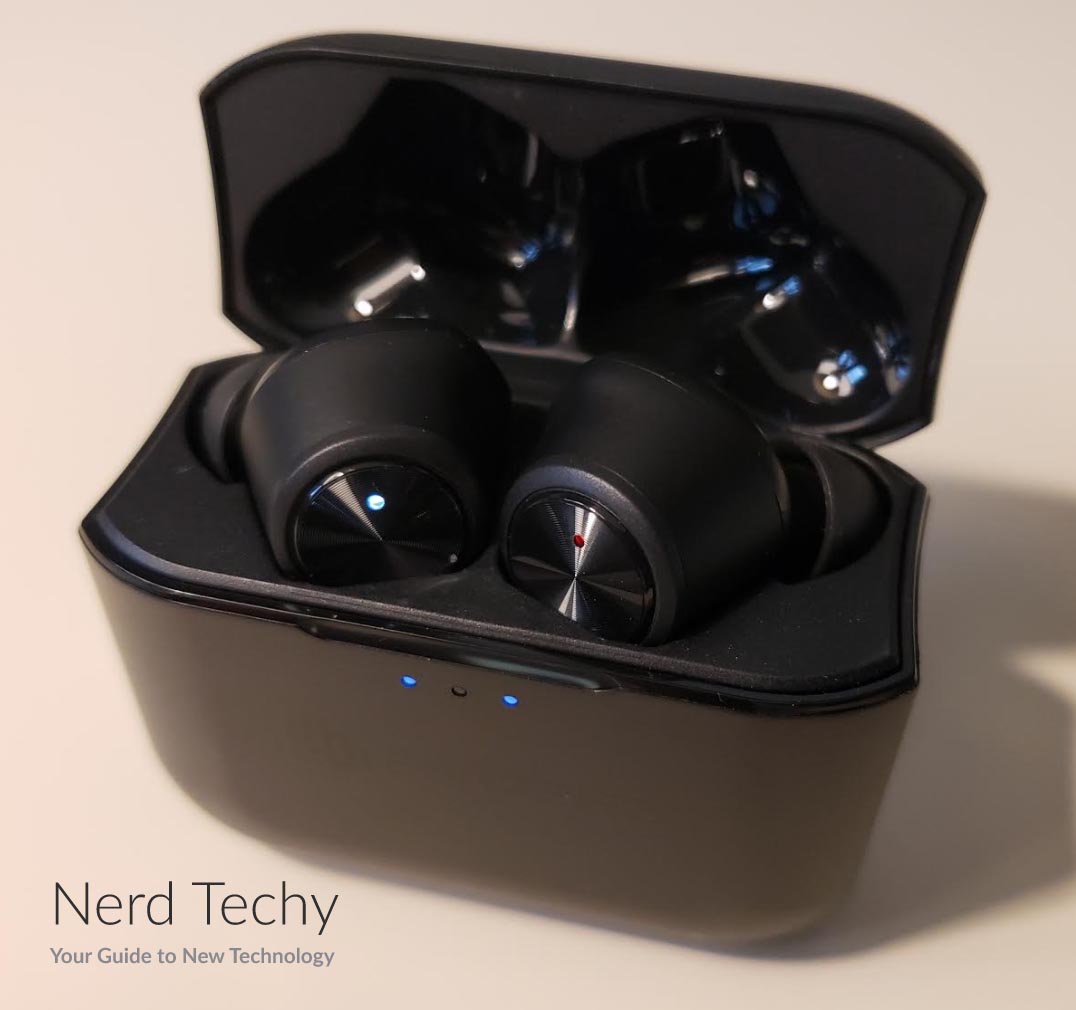 If you prefer a more compact, in-ear design, take a look at the Enacfire Future Plus. They're as low-profile and lightweight as earbuds come. However, bass frequencies tend to get distorted at high volumes.
The charging case has a vertical design with a clamshell-style lid and three indicator LEDs in the front. Curiously, the charging cable input is on the side rather than the back, which is an unusual decision. This is only a cosmetic choice, but it's worth noting if that kind of thing bothers you.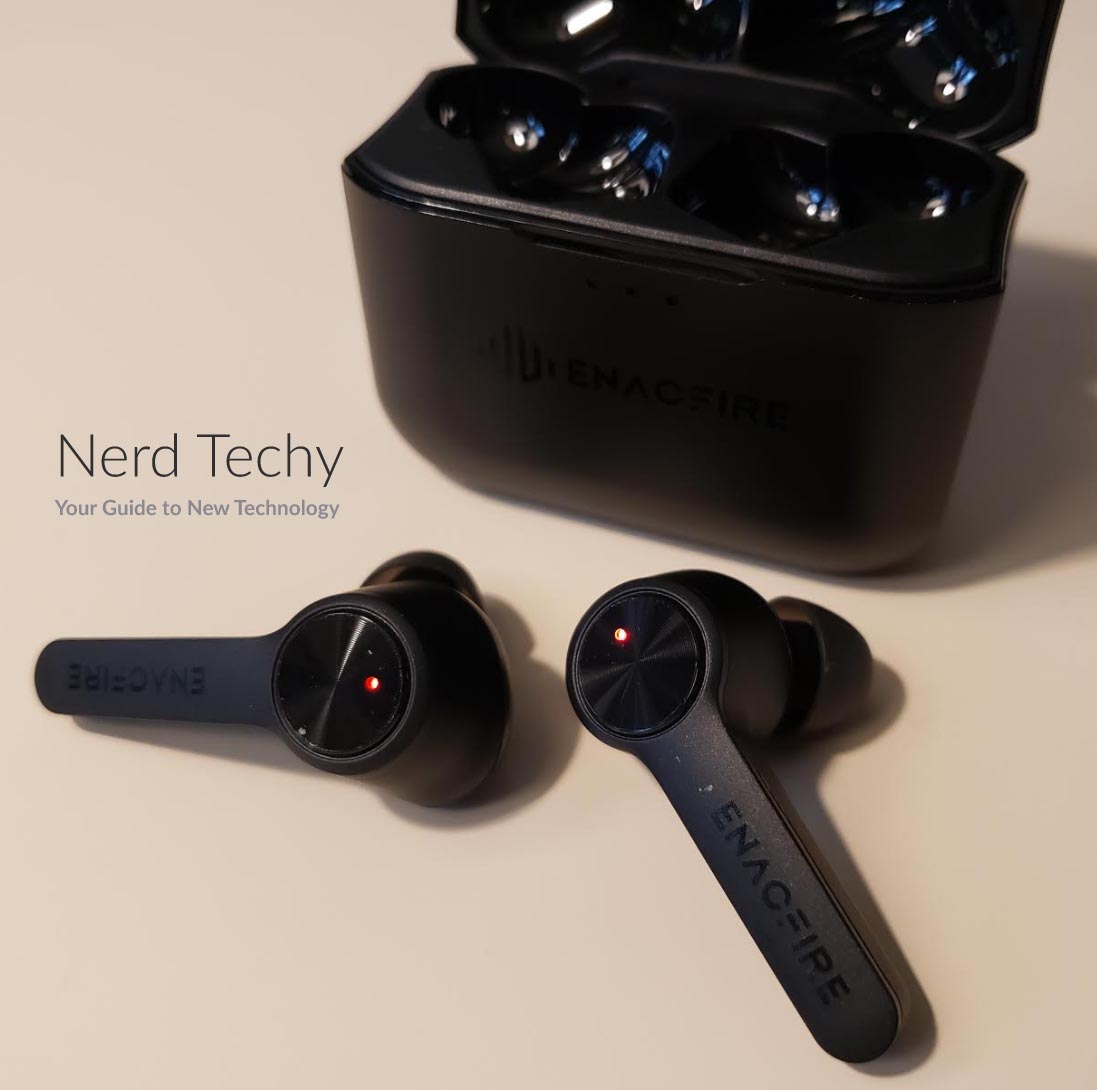 Battery and Connectivity
The F2 Wireless Earbuds will play for up to six hours on a single charge. The case provides an additional five charges, or about 30 additional hours at half volume. Unfortunately, it recharges via Micro USB, so topping off the battery can take a little over two hours. If you want more charging options, the Enacfire E60 is a good choice. It supports wireless charging, but the deep, in-ear fit might be uncomfortable for some people.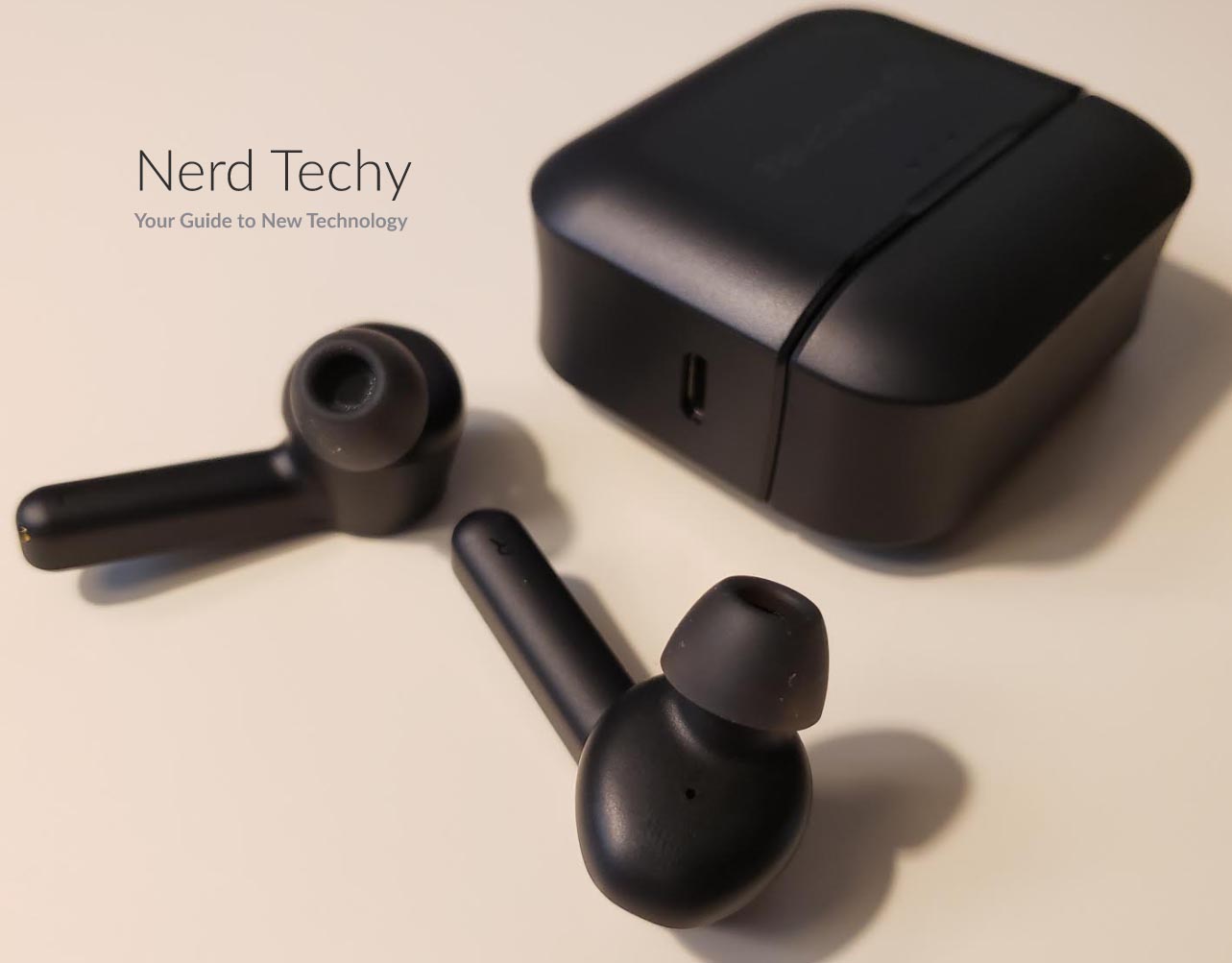 These earbuds connect via Bluetooth 5.0, just like the H500 buds. However, they can be paired in mono mode as well as in stereo. This way, you can take advantage of hands-free calling, but still have an ear free to listen to your surroundings.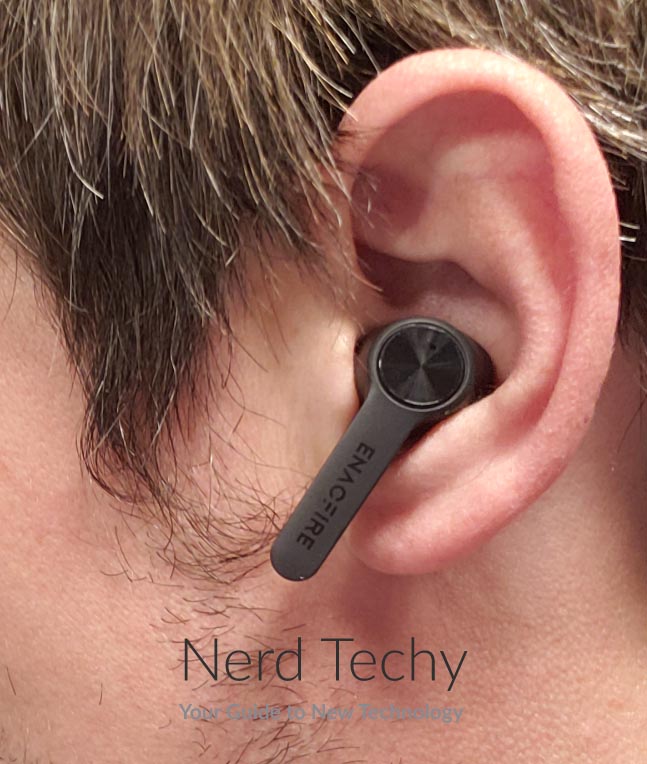 Audio Quality
The F2's audio is a bit more bass-heavy than the H500. This isn't to say that they're bass-heavy earbuds. But the bass is more noticeable than it is on the other buds, and more suitable for bass-heavy genres. Even so, the middle and high frequencies sound just fine. There's plenty of space in the mix for vocals and strings, and plenty of texture across the board. There's also a nice, wide soundstage and a real sense of space.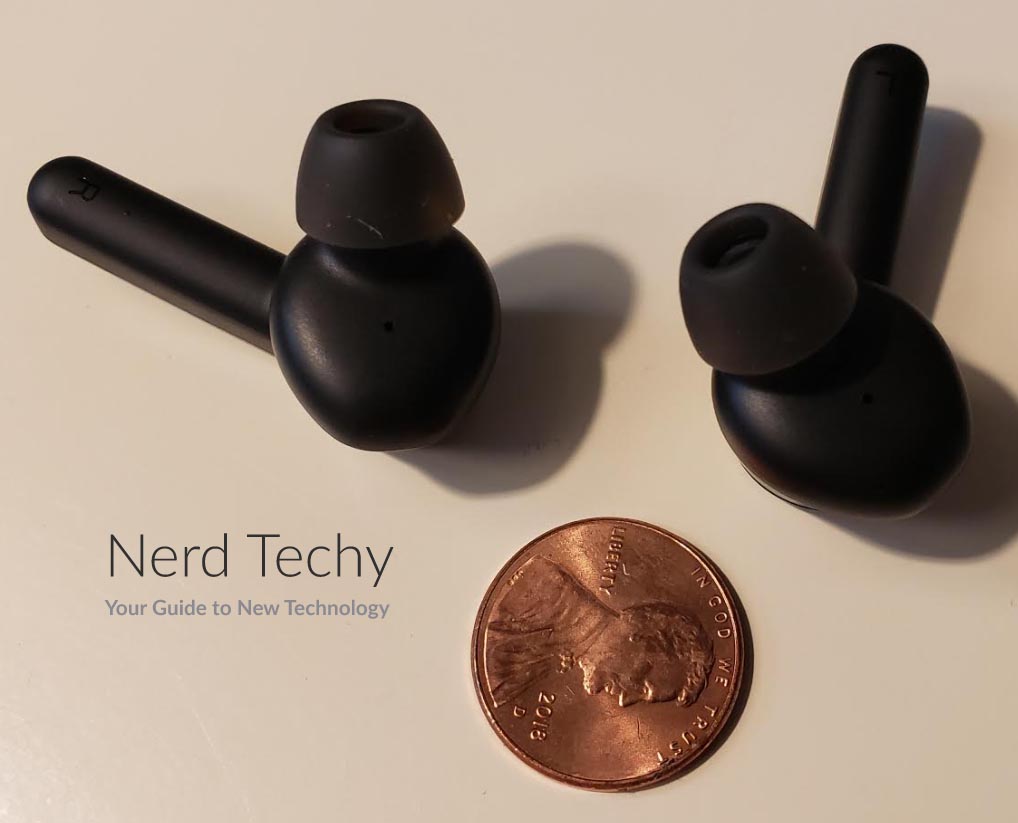 The mics are also similar to the H500 earbuds. Keep in mind, though, that a lot of the calling performance comes from having dual mics. If you're talking in mono mode, you won't have the advantage of that second microphone.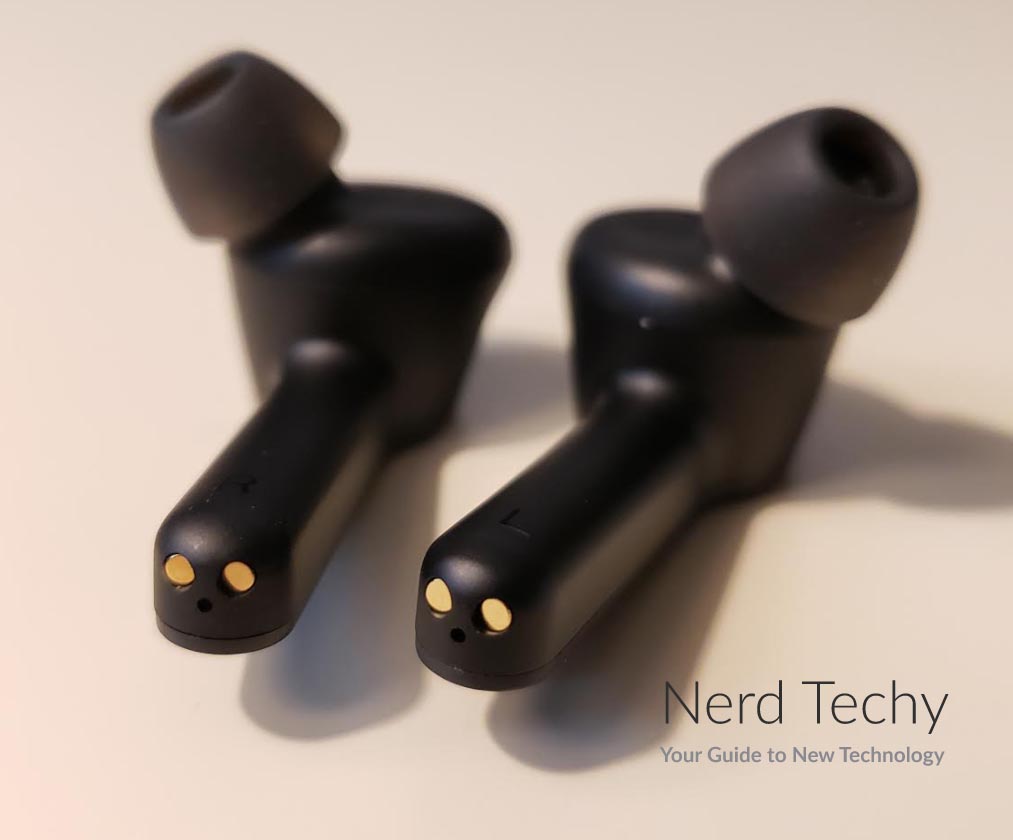 Final Verdict
Clearly, there's a lot to like about both these pairs of buds! We started out by looking at the Enacfire H500 Wireless Earbuds. The main attraction of these earbuds is their design, specifically the design of the buttons. It's hard to find a good balance between too easy and too hard to actuate, and Enacfire achieved that task. Moreover, the IPX8 water-resistance rating means you don't have to worry about showering with your buds in. The battery life is also very good, allowing for a total of 30 to 40 hours of playback depending on volume. The audio quality isn't out of this world, but it's great for the price, and there's plenty of clarity.
The Enacfire F2 Wireless Earbuds have a similar design in many ways. Their main advantage is that they can be paired individually for hands-free calling. And while they won't last as long as the H500 buds, they still have good battery life in their own right. Audio quality is similar, albeit with more powerful bass, and you get an IPX8 water-resistance rating. That said, you don't get the H500's innovative indented controls. As is often the case, which pair is best depends on what you need.
Meet Derek, "TechGuru," a 34-year-old technology enthusiast with a deep passion for tech innovations. With extensive experience, he specializes in gaming hardware and software, and has expertise in gadgets, custom PCs, and audio.
Besides writing about tech and reviewing new products, Derek enjoys traveling, hiking, and photography. Committed to keeping up with the latest industry trends, he aims to guide readers in making informed tech decisions.