A few years back, a power outage was just a minor inconvenience. You had to light some candles if it was dark, and — gasp! — play a board game instead of watching TV. In the worst case, if you had an electric range, you ordered takeout. But nowadays, most of us rely on our electronics with just about anything. If you want to order a pizza, odds are good that you don't have a landline. And if you do, you probably have a cordless phone that requires electricity. Without a powered smartphone, you'll be dead in the water. To add insult to injury, many of us are now working from home. Lose your power, and you lose your ability to work.
To get through the occasional outage, it's important to have a supply of backup power. A good power bank, even a small one, will help you last through a few hours without electricity. You can keep on working — or playing — even if the power is out. A power bank can also be a helpful travel companion. If you're in an airport terminal or camping on the Appalachian Trail, you'll still have a full charge.
We're about to review the RAVPower 90W PD Power Bank (Model RP-PB232). This is a larger power bank designed to supply laptops and other more demanding electronics. We've put it to the test, to see how well it stands up to the demands of the real world. Now, we're about to tell you everything we've learned. We'll talk about the physical construction, the charger performance, and even the safety features. Let's see how the Model RP-PB232 performs!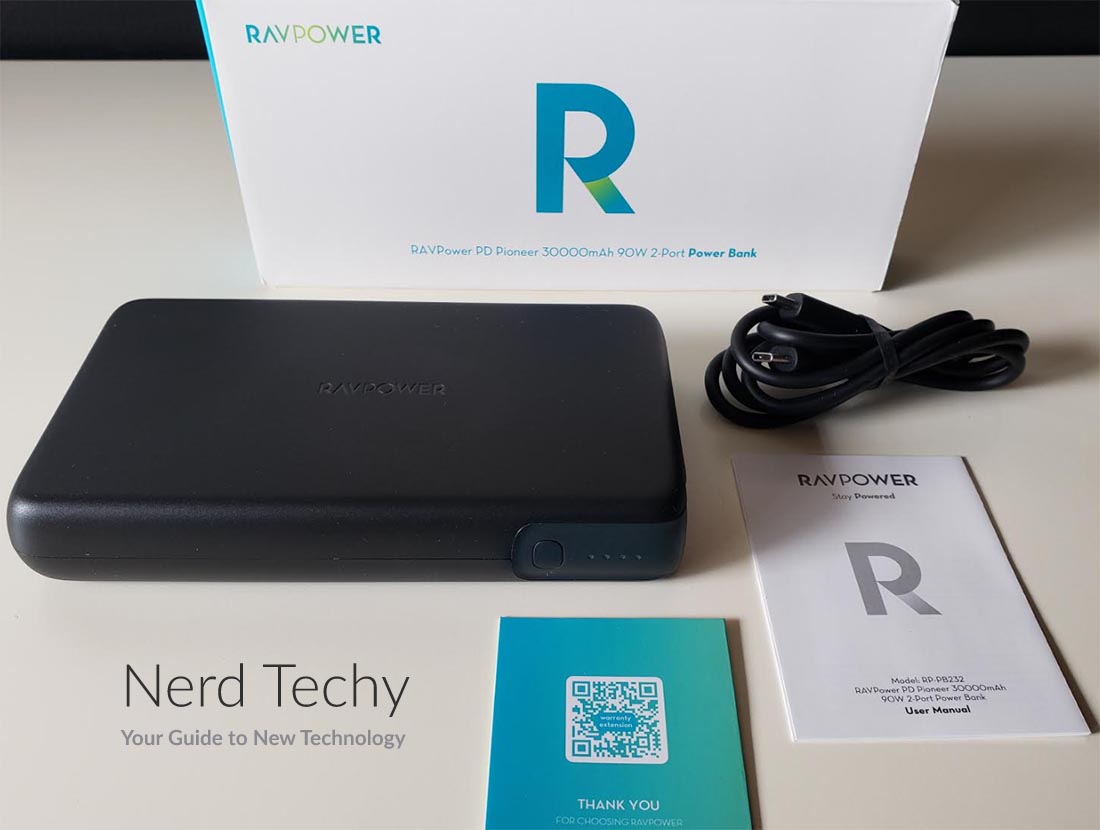 Overall Design
The RAVPower Model RP-PB232 is a bit beefier than your average pocket-sized power bank. At 5.9 inches long and 3.4 inches wide, it has a similar profile to a larger smartphone. However, it measures a full inch thick, which is a bit substantial. At 1.3 pounds, it's not absurdly heavy, but it does have some heft to it. If you're carrying it in your pocket, you're going to feel it. You're better off carrying it in a backpack, laptop bag, or purse.
The unit is designed with an ABS plastic housing, and has a fairly plain appearance. There's a glossy RAVPower logo engraved in the matte finish, but other than that there are no decorative features. The edges and corners are all rounded, so there's nothing to jab you or your other gear. On the front left corner, you'll see a row of LEDs, which indicate the current power level. These light up only when the adjacent power button is pressed. Right around the corner, you'll find the USB Type-C and Type-A ports for charging your devices. Both ports have orange internal tabs. This serves no purpose on the Type-C port, but on the Type-A port, it helps you to orient the plug properly.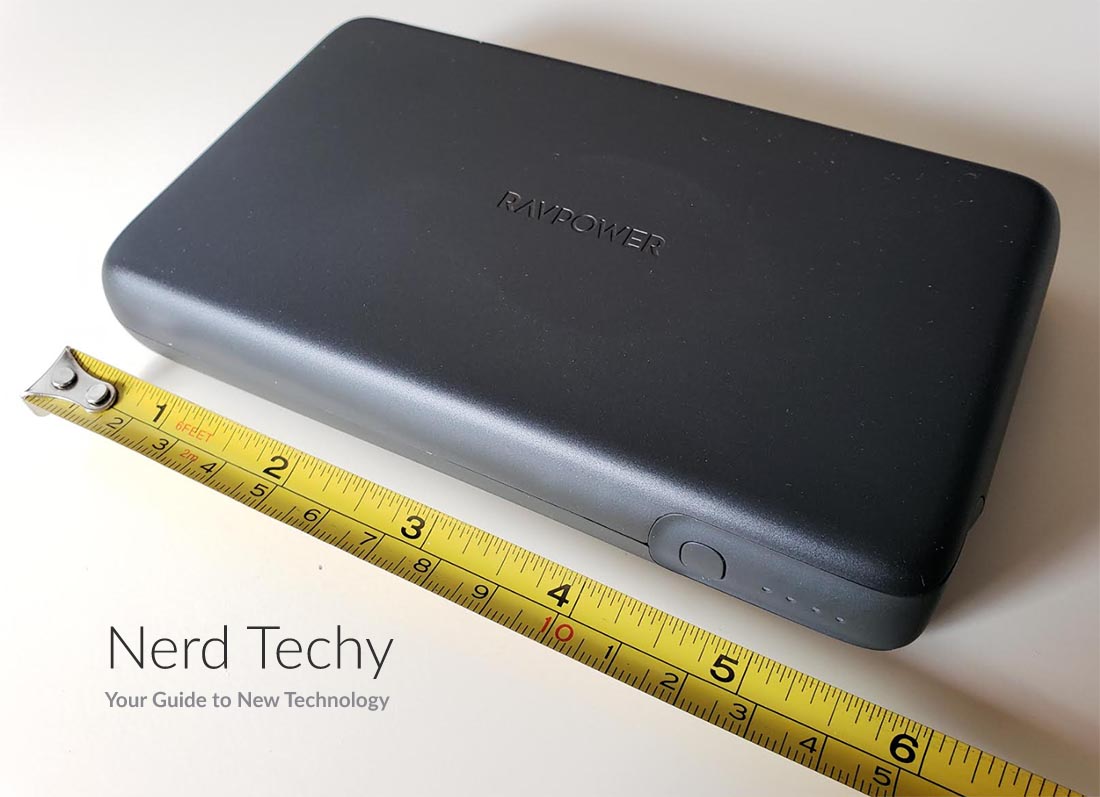 Some modern power banks have taken their display design to the point where it's a work of art. For example, the RAVPower RP-PB172 has a digital LCD display that shows all kinds of useful data. It's also smaller and lighter, albeit with a reduced, 20,000mAh capacity. Still, the RP-PB232's simple LED lights do the job.
This power bank also runs very cool. Even under a full load, the case doesn't get noticeably warm. This is no doubt thanks in part to the large housing, which has enough space for air flow. There are other safety features, as well, which we'll talk about more in a minute.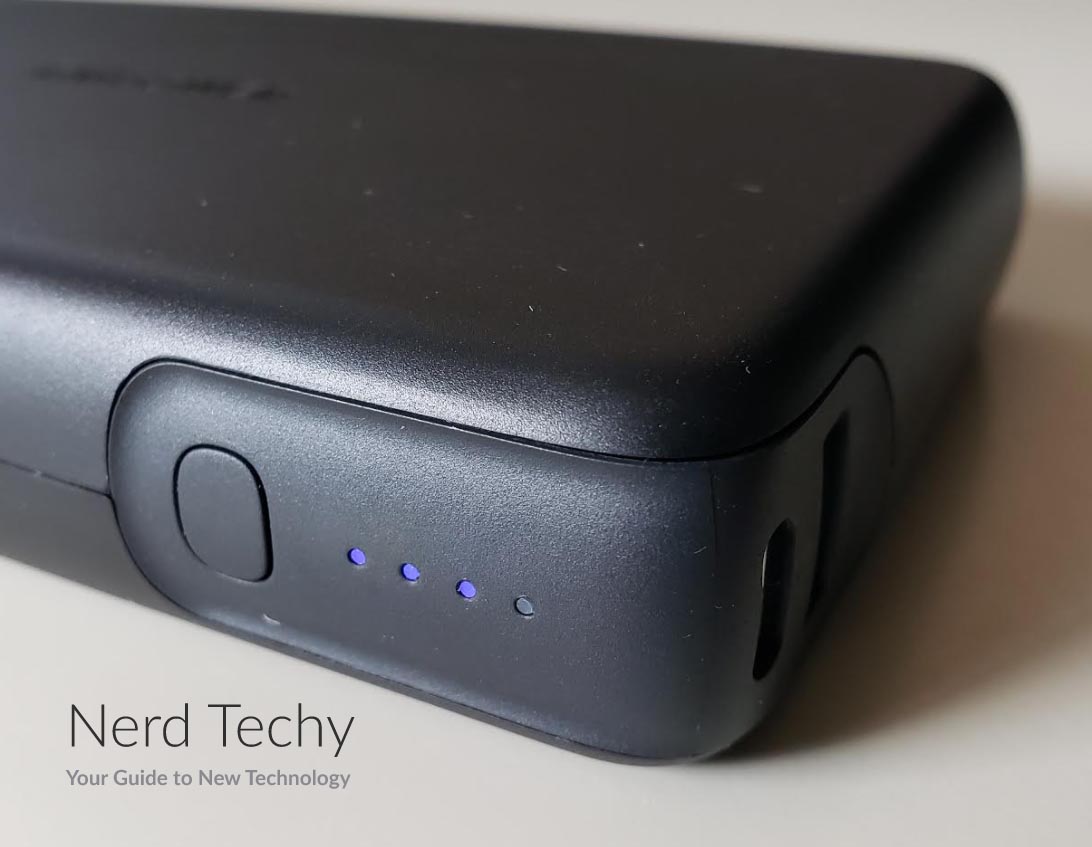 One downsize of the RP-PB232's large size and capacity is that it's not suitable for flying. The TSA's limit for baggage is 100 watt-hours, while this power bank has a capacity of 150 watt-hours. Technically, you could fly with it fully discharged if you had a waiver. But unless you're a scientific researcher or Red Bull-sponsored adventurer, good luck getting one of those waivers. If you do need to fly with your power bank, consider the RAVPower Power House. It's TSA-approved, with a capacity of 20,000mAh and 100 watt-hours. It also has similar robust safety features to the RP-PB232.
Along with the power bank itself, the kit includes a USB Type-C to Type-C charging cable. This can be used for charging your devices, or for charging the power bank itself. However, there's no AC adapter included, so you'll still need to have a USB power source to charge the battery.
Battery Performance and Capacity
The RAVPower RP-PB232 has two different charging ports, with two different speeds. The primary port is the USB Type-C PD port. This port can supply whatever wattage your device needs, up to 90 watts. You won't need a full 90 watts for most devices, but it can come in handy for laptops. With it, you can even run a MacBook Pro 15.4" while it's charging. This isn't true for many weaker PD power banks, which can't keep up with the high power demands. You can even fully charge a MacBook in about two hours if the laptop has been turned off.
The second power option is the iPhone-rated 18-watt USB port. This is a specialized Quick Charge port that's designed for maximizing the charge rate on modern iPhones. For Android phones, you'll usually get better performance on the Type-C port. This depends on the phone, though. There are so many Android phones on the market that it's tough to make a general statement. One thing to keep in mind that the maximum wattage of the entire system is 90 watts. If the Type-A port is in use, the Type-C PD port will drop to 65 watts to compensate.
When it comes time to recharge the RP-PB232, you use the same USB PD port. The port supports up to a 60-watt input, enough to charge the power bank fully in about 2 ½ hours. This requires a compatible wall charger, though, which is not included. If you use an ordinary USB Type-C 3.1 port, you'll only charge at 15 watts. This means it could take as long as 10 hours to fully charge the battery. In other words, you're ready to go from day one. But if you want the best charging performance, you'll want to invest in a good PD AC charger.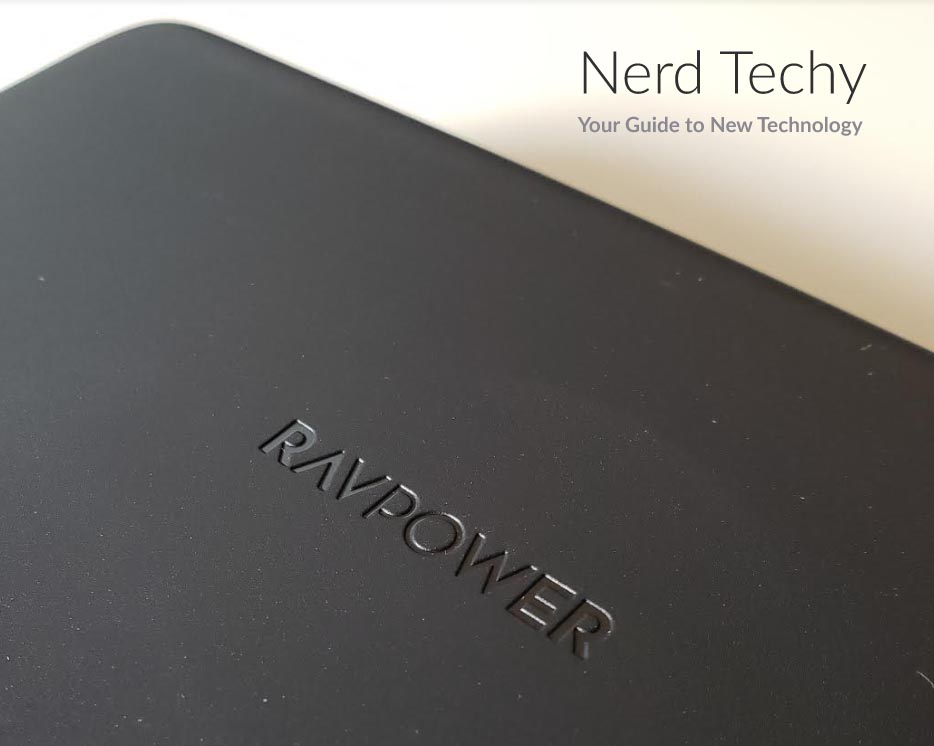 The RP-PB232 has an overall capacity of 30,000mAh. That's enough to recharge most modern smartphones seven to nine times, depending on the phone. It's also enough to charge any laptop, most of them more than once. You can even recharge the mighty MacBook Pro 16-inch three times, with enough left over for your iPhone. You're not just looking at a charger that can get through a short power outage. Provided you've got mobile data, you can work remotely for a couple of days without needing a wall outlet. You'll also have plenty of power for travel, provided you don't need to fly.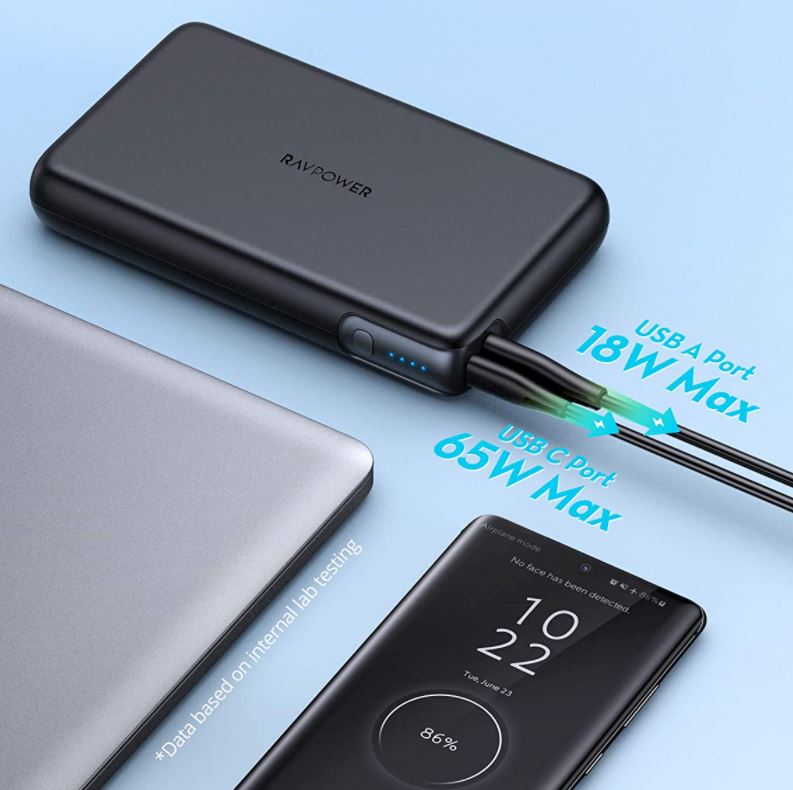 Compatibility and Safety
The RAVPower RP-PB232 is compatible with any device that uses a USB Type-C or Type-A charger. This covers a wide variety of devices, and pretty much everything manufactured in the last several years. The USB Type-A port delivers 18 watts, ideal for iPhones, all the way back to the iPhone 7. The Type-C port is suitable for most Samsung Galaxy phones. As for other Android phones, USB Type-C phones can use the Type-C port. Micro USB phones, meanwhile, typically come with a Type-A cable, and would use the Type-A port.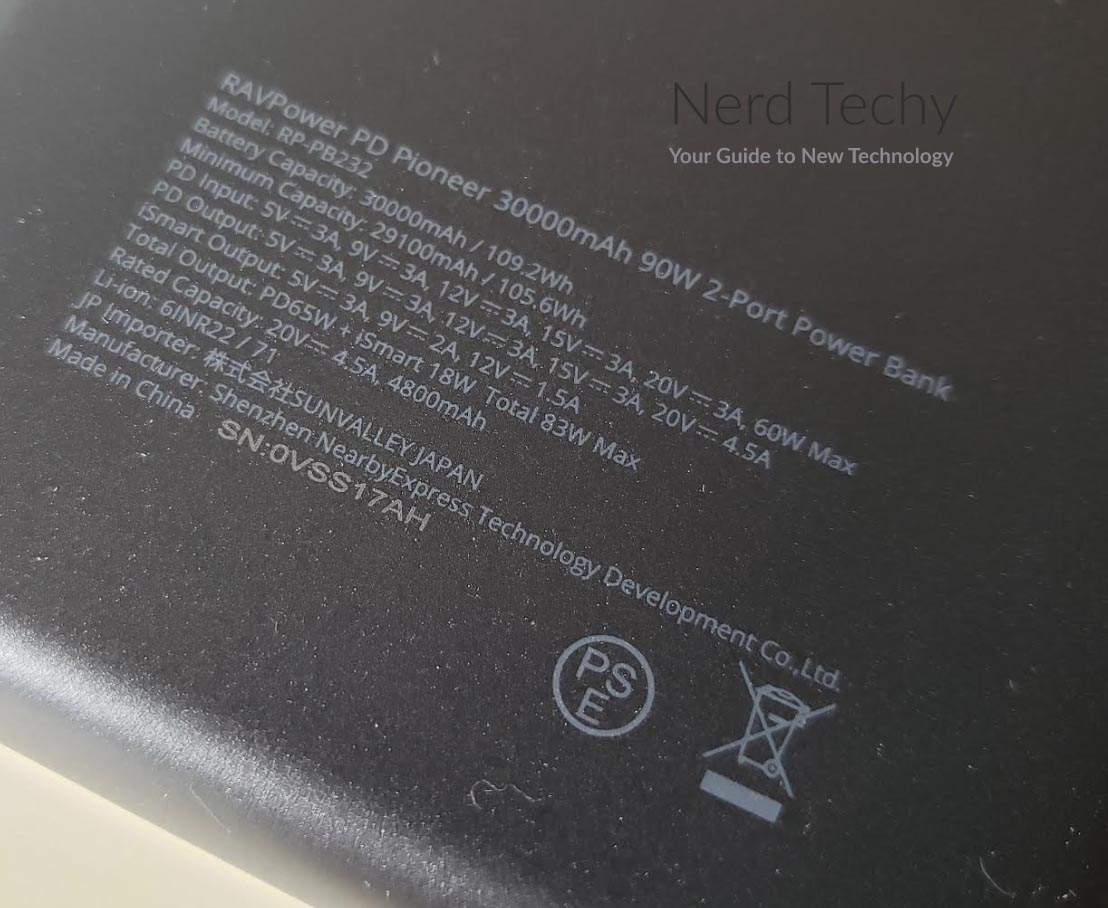 In addition to phones, we've already discussed that the RP-PB232 is suitable for almost any USB Type-C laptop. This includes almost any newer laptop. However, older machines often require a barrel-style connection. This means you'll need an adapter cable to make them work. Finally, the Type-C port is also powerful enough to power a Nintendo Switch. You can even use this power bank for gaming in the event of an outage.
You can use the RP-PB232 for pass-through charging, or using the power bank while it's being charged. Keep in mind, though, that the USB Type-C port is required for charging the power bank. So you can use the Type-A port for pass-through charging, but not the Type-C port.
For laptops with barrel-style adapters, it's often easier to use a power bank with an AC port. This way, you can just use your laptop's ordinary power cord. The RP-PB055 is a great choice in this regard. It sports a 100-watt AC outlet as well as a second USB Type-A port, as well as a 30,000mAh capacity. It's a good bit pricier than the power bank we're reviewing today, though.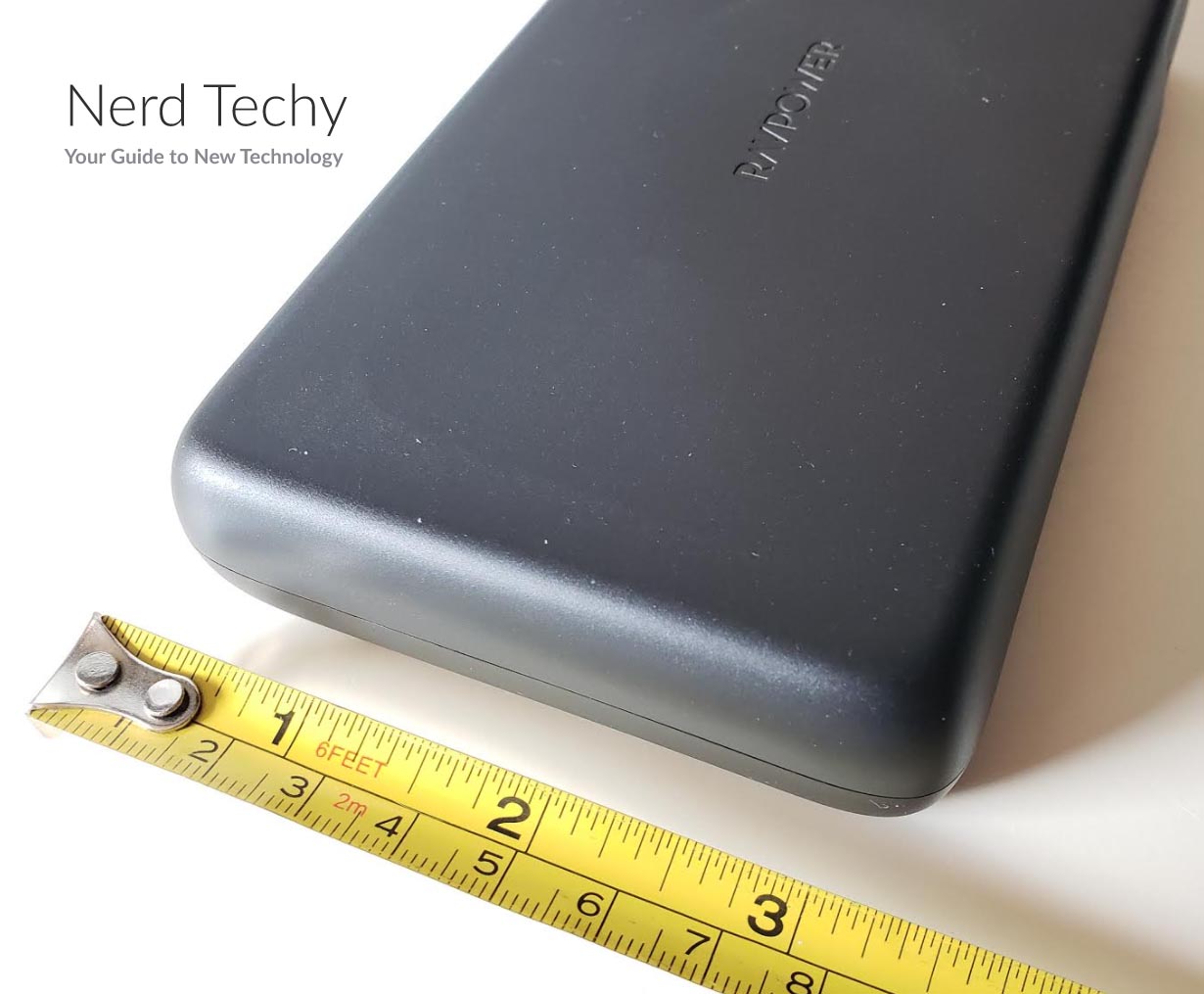 It comes with all the safety features you'd expect from a modern, well-engineered power bank. It uses internal high-density LG cells, which come with overheating and over-discharge protection. The circuitry also protects your devices from overcurrent or overvoltage. Finally, both the charger and your devices are kept safe from short circuits. You don't have to worry about anything catching on fire, or your charger ruining your batteries.
Final Verdict
So, is the RAVPower 90W PD Power Bank (Model RP-PB232) worth the investment? In most regards, it absolutely is! To begin with, you're looking at some truly impressive capacity. With 30,000mAh, you have some serious reserve power in the event of an emergency. You also get ultra-fast charging, with support for power-hogging laptops. A lot of PD chargers are only "PD" in the technical sense that they deliver more than 15 watts. The RP-PB232 delivers, with a full 90 watts.
To be fair, no system is perfect. In the case of this power bank, you get a design that's too powerful to take on an airplane. It's also a bit big and bulky for everyday carrying. But for camping or emergency backup, it's tough to find a better option. All in all, this is one of the better power banks on the market.
Meet Derek, "TechGuru," a 34-year-old technology enthusiast with a deep passion for tech innovations. With extensive experience, he specializes in gaming hardware and software, and has expertise in gadgets, custom PCs, and audio.
Besides writing about tech and reviewing new products, Derek enjoys traveling, hiking, and photography. Committed to keeping up with the latest industry trends, he aims to guide readers in making informed tech decisions.