Quick Analysis
Pros
Multiple filter systems available.
Easy to operate.
Timer and constant operation modes.
Exceptionally quiet sleep mode.
Touchscreen interface is very user-friendly.
Cons
Relatively small coverage area.
Must change filters every few months.
Over the last few decades, Americans have become more and more keenly aware of the quality of our indoor air. There are several factors in modern life that can cause our air quality to drop. Obviously, there's pollution outdoors, but indoor air can be even worse. Upholstery, for instance, can release toxic fumes like formaldehyde. Mold can pollute our air with toxic spores. In the past, these contaminants would quickly cycle out of your home. However, newer homes and enhanced energy standards have limited that air flow. Unless you keep your windows open all the time, contaminants can build up over time.
This is bad enough for people without any health issues. But some people can suffer more than others. For example, if you have allergies, asthma, or COPD, a good air filter can make a huge difference. With a filter, you can breathe freely and clearly. Without one, you'll just be breathing in the same old stale, contaminated air.
Of course, you don't want to use just any air filter. An off-brand or low quality filter can leave the job only half done, or even recirculate contaminants. Today, we're about to review the Levoit Core 300 HEPA Air Purifier. Levoit is an established manufacturer, known for indoor air appliances like air filters and humidifiers – such as the Vital 100 and Dual 100. But is the Core 300 worth buying? Or would you be better off with another option? We'll take a close look at its features, ease of use, and performance. We'll also talk about extra features and other filter options. Once that's done, we'll be ready to render a final verdict. Let's begin!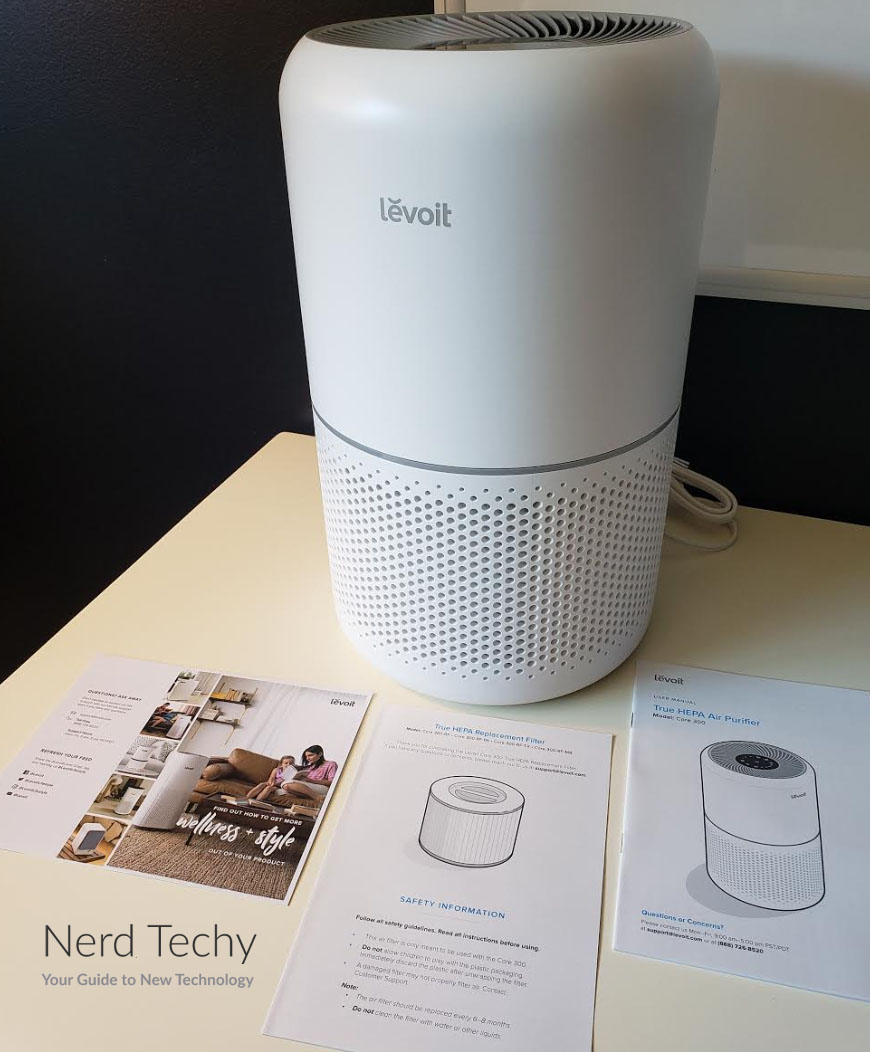 Design & Construction
The Levoit Core 300 HEPA Air Purifier has a cylindrical design, just like many other True HEPA filters. The case is constructed from ABS plastic, with a matte finish that's easy to keep clean. The filter is available in white or black, so it will match just about any décor scheme. It measures 8.7 inches in diameter, a small enough footprint to sit anywhere in your home. And at only 14.2 inches high, it can even sit on a kitchen counter under low-hung cabinets.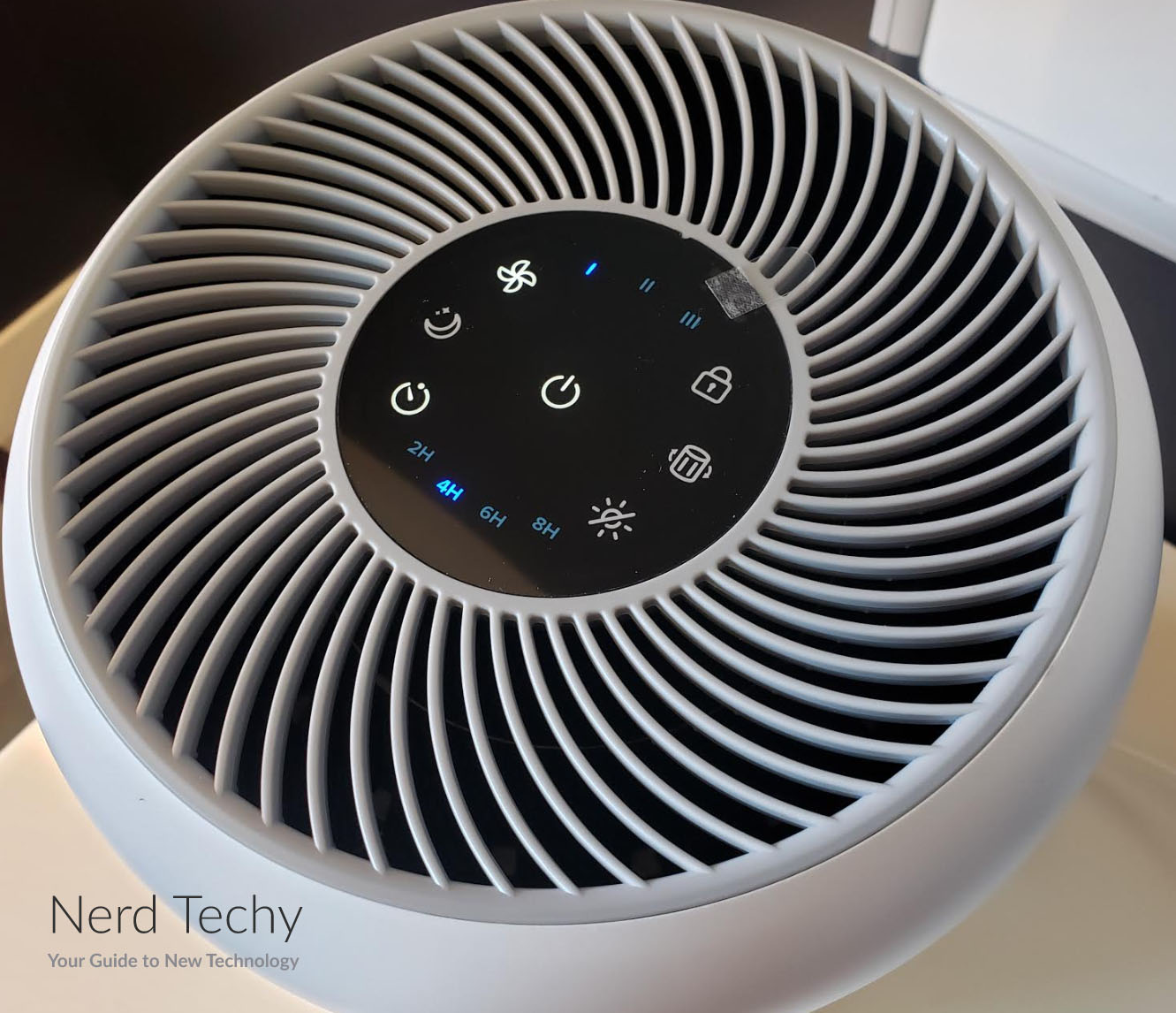 The bottom half of the unit houses the filter. It's perforated around the outside with a simple grid that allows plenty of air flow. Because it draws in air from all 360 degrees, it performs best when all four sides are unobstructed. If it's positioned against a wall, you'll notice a drop in performance. Above this section is a grey band, which marks where the case can be unscrewed. This makes it easy to take the top off and change the filter as needed.
The top of the unit houses an AC capacitor motor with a high-precision bearing. This design makes it exceptionally durable. You can run your filter for tens of thousands of hours without the motor getting blown out. The motor works by sucking air through the filter and expelling it through the top. The top panel itself has a spiral design, so it will expel air in all directions in a vortex pattern. This ensures efficient dispersion of clean air.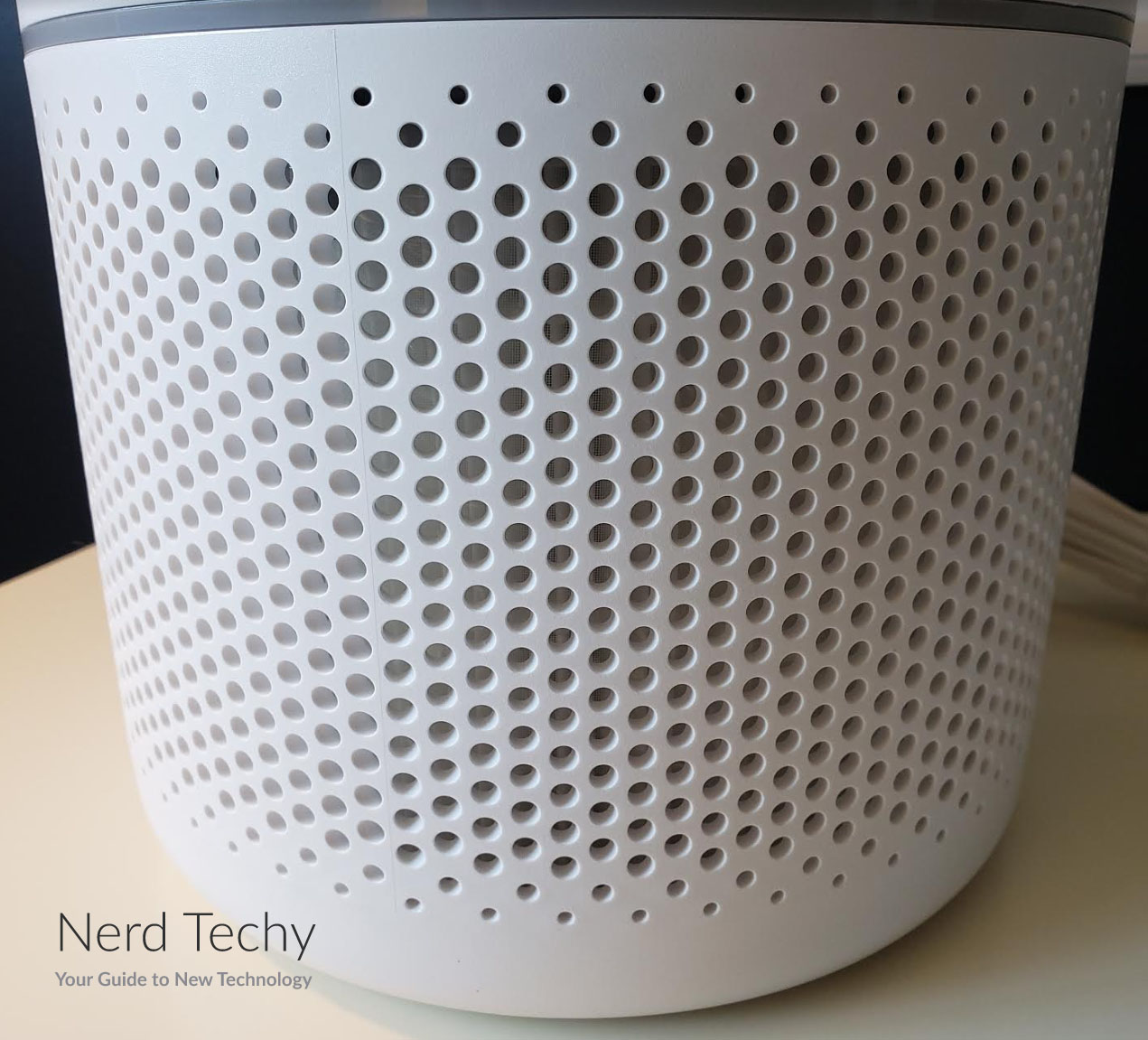 In the center of the top vent, you'll find a touchscreen LED panel with all the Core 300's controls. Smack dab in the center, there's a power button. Towards the top, there's a set of lights indicating the current fan speed. Towards the bottom, there's a matching set of lights indicating the current timer setting. On the left, three buttons allow you to adjust the fan speed, set a timer, and activate sleep mode. On the right, two other buttons activate the child lock and turn the LEDs on and off. A third button on that side is used to reset the filter indicator.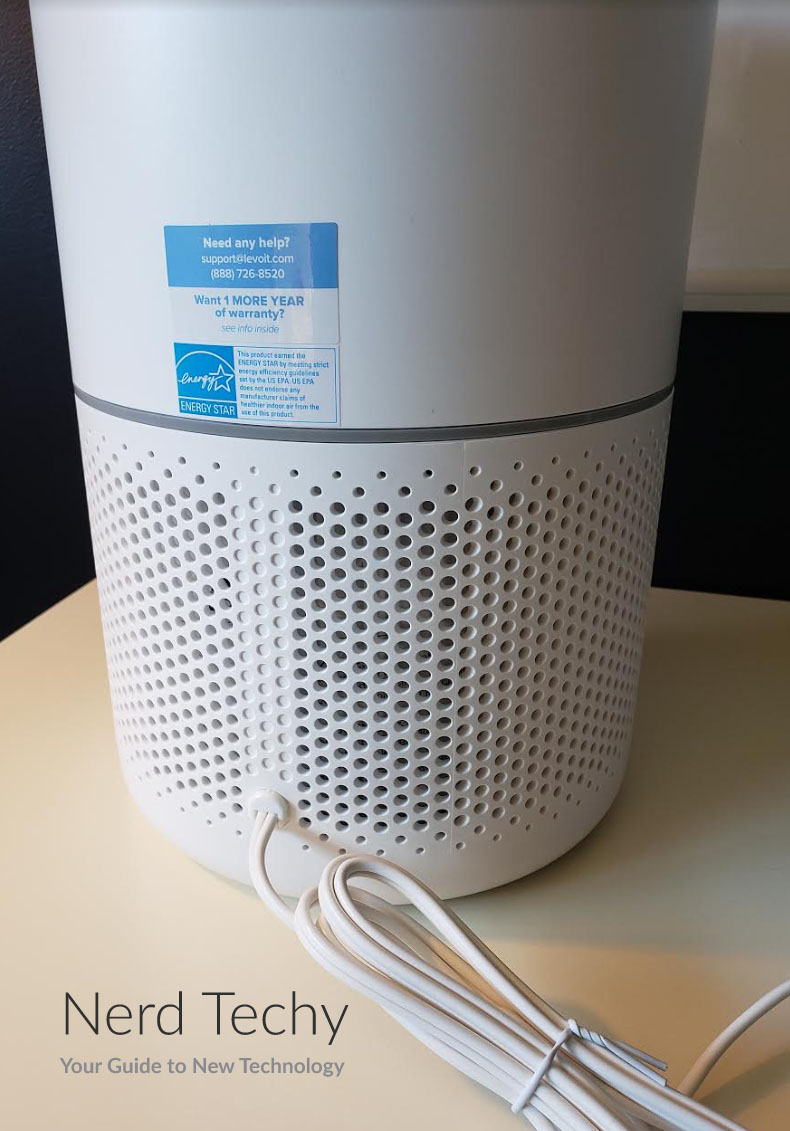 Everyday Operation
The Levoit Core 300 HEPA Air Purifier runs in two different modes: constant mode and timer mode. In constant mode, the filter will run continuously until you power it off. In timer mode, the filter will run until the timer has run out. You can set the timer for 2, 4, 6, or 8 hours by tapping the timer button repeatedly. In addition, you can choose between three different fan settings. The higher the fan setting, the faster your air will be filtered. However, higher speeds also generate more noise.
In sleep mode, the fan will automatically run at the lowest settings. At this level, the maximum volume is 24dB, literally quieter than a whisper. To make the filter even more sleep-friendly, you can even deactivate the LEDs. The child lock button also provides some added value. Hold it down for five seconds, and your settings will be locked in. Hold it down for another five seconds, and your control panel will unlock again. This is a great feature not just for kids, but also for inquisitive pets.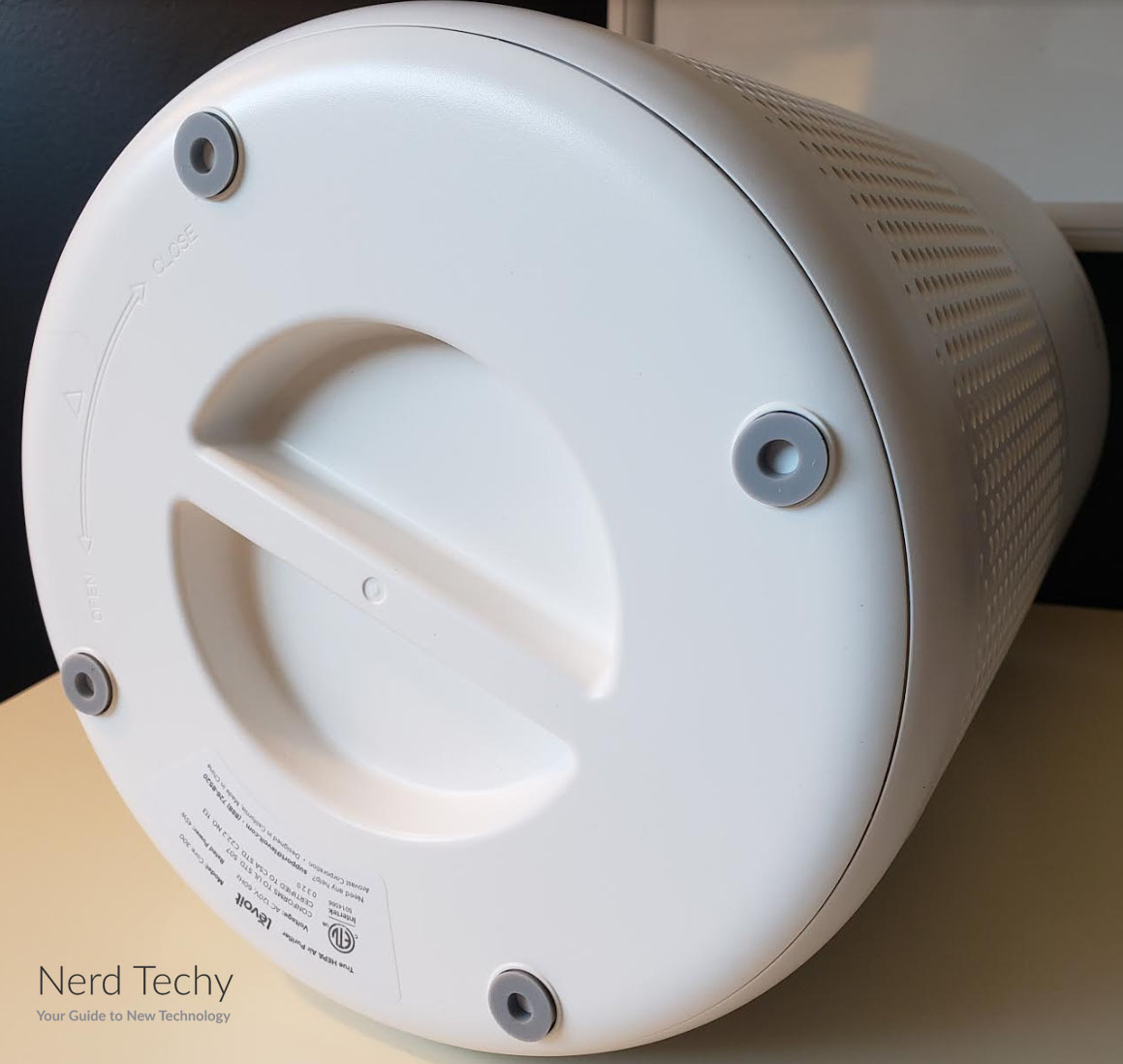 When it's running at maximum speed, the Core 300 can filter up to 219 square feet of space. This assumes a standard, 8-foot ceiling. It's not enough for your whole house, but it's enough for most living rooms, kitchens, and very large bedrooms. Of course, if you're trying to treat a larger area, 219 square feet isn't going to be sufficient. In that case, you're going to need a beefier filter. For a more powerful option, look no further than the Levoit Core P350 Air Purifier. It's a bit bigger than the Core 300, but it can treat an impressive 500 square feet of space.
When it's time to replace the Core 300's filter, the filter indicator button will illuminate. Thankfully, filter replacement is easy. Just open up the unit, remove the old filter, and drop the new one in. Press the filter reset button, and the Core 300 will start working again right away.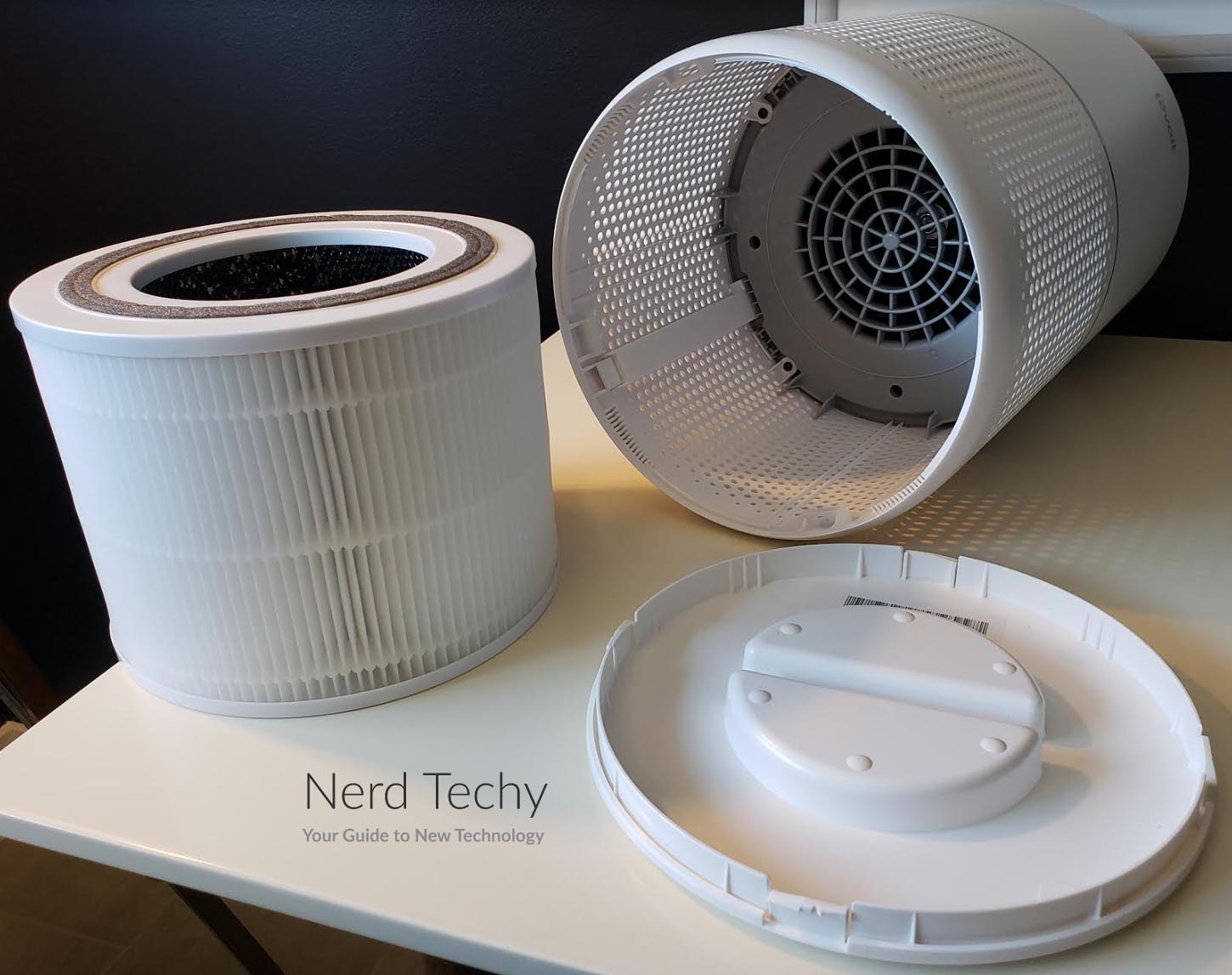 Filtration System
The Core 300's filtration system consists of a three-part filter. The first, outer filter is simply a pre-filter. It's designed to remove larger particles that might clog up the inner filter. This part of the filter consists of a simple mesh, and there's nothing complicated about it. Be aware that washing with water can damage the inner HEPA filter. As a result, it's advisable to simply clean it with a soft brush if cleaning is required.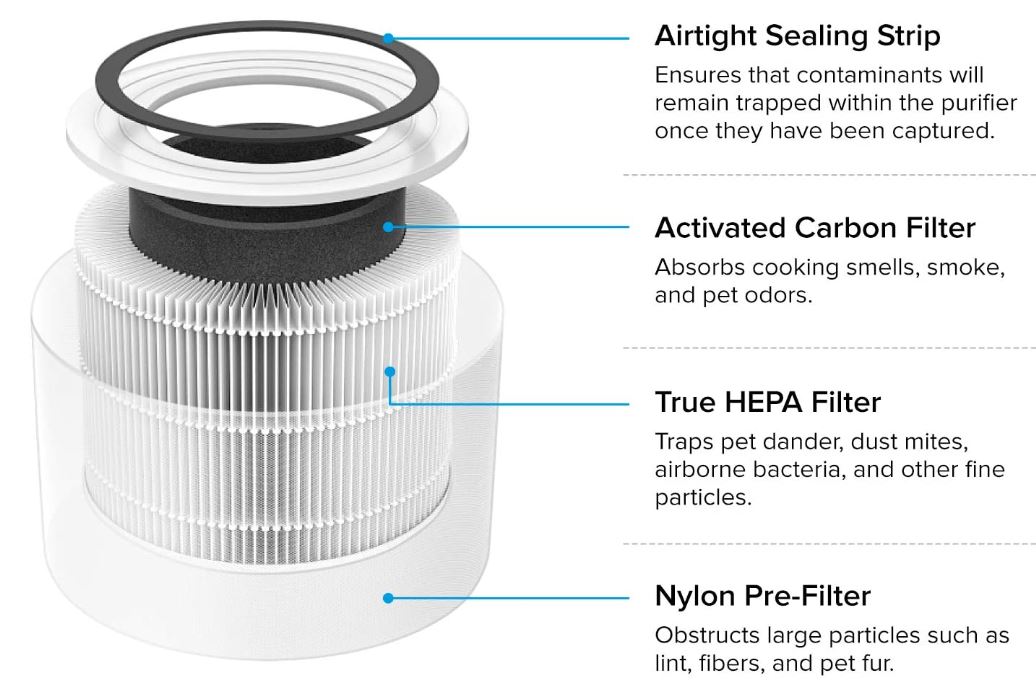 The next filter stage is where most of the action happens. It's a cylindrical HEPA filter, with a familiar, accordion-style design. This stage will remove 99.97 percent of small contaminants, down to 0.3 microns in size. This is standard performance for a True HEPA filter, so you know you're getting effective filtration. At this level of performance, nearly all contaminants will be removed.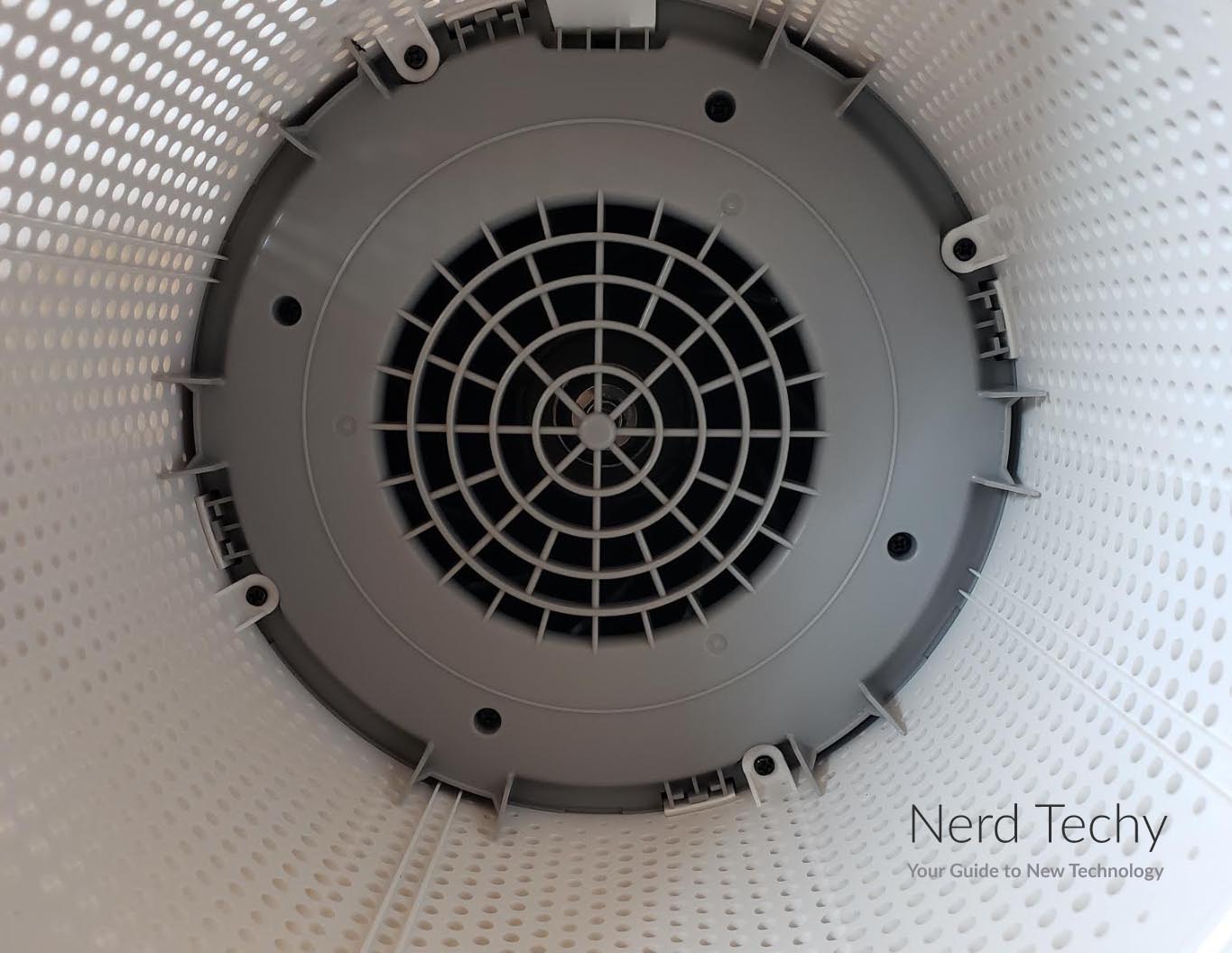 Finally, there's an inner activated charcoal layer. This layer does not remove particulate matter. Instead, it's designed to absorb chemicals and odors. These include pet odors, as well as chemicals and cooking smells. If you're a garlic lover, the activated charcoal filter will ensure that your house doesn't smell like your kitchen. Replacement filters are affordable and readily available. In most cases, you're going to want to replace the original filter with an identical replacement. However, Levoit offers three additional options that are tailored for particular purposes.
First off, they offer a pet allergy filter. This filter has a beefed-up carbon filter that's better for removing even the strongest pet odors. This can be useful for households with multiple animals, particularly cats who are getting territorial. The next option is a toxin absorber filter. This filter also sports an improved activated carbon layer. We're not scientists, so we're not qualified to elaborate on the difference between this and the pet filter. However, it's tailored for VOCs, toxic fumes, and cigarette smoke. Finally, there's a microbiology, or MB, filter. This filter is specifically designed to kill germs and prevent mold from growing inside the filter.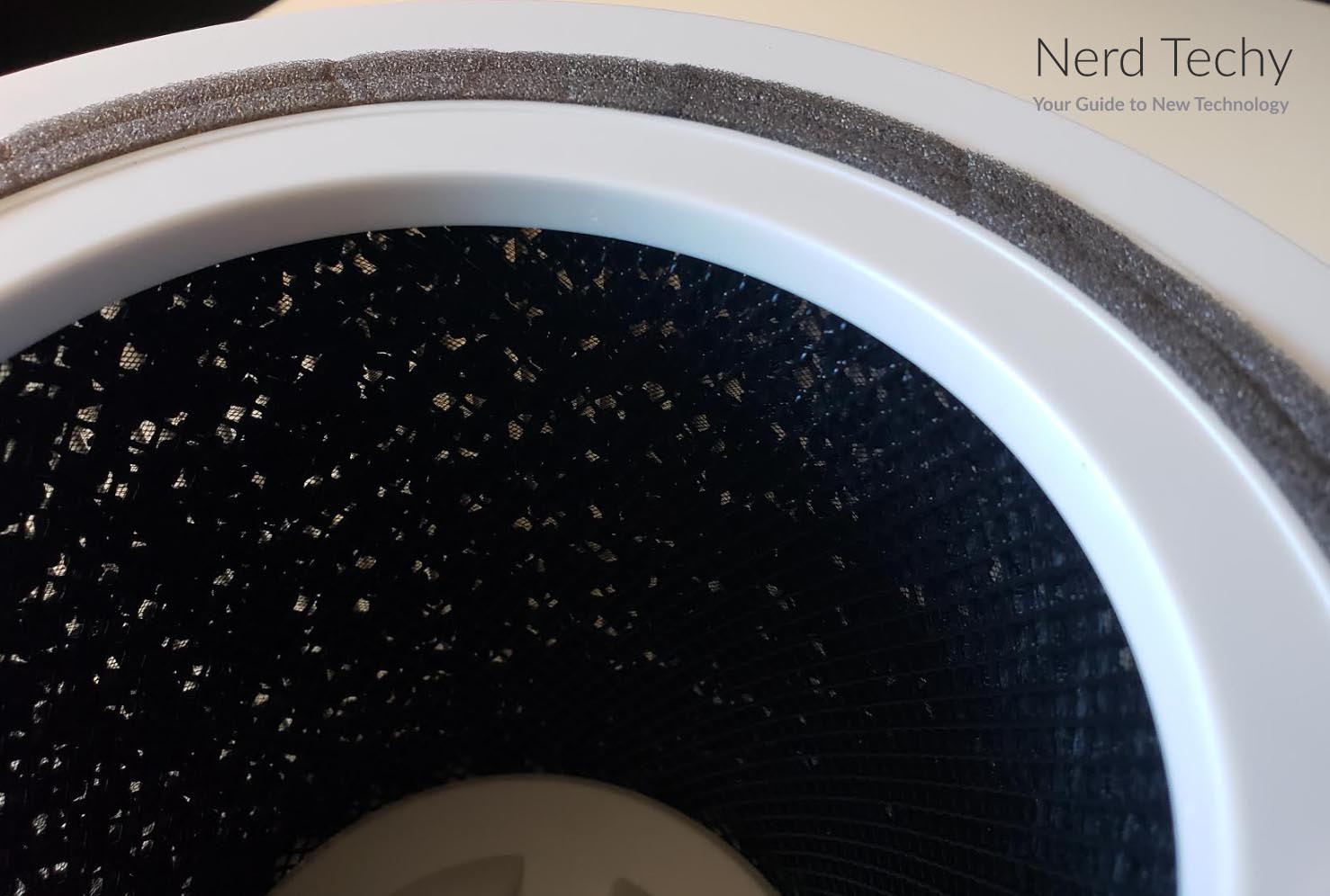 What Does the Levoit Core 300 HEPA Air Purifier Remove?
Exactly what contaminants the Levoit Core 300 will remove depends to some extent on what type of filter you use. That said, let's start with the basics. All of the filters will remove large dust particles and animal fur in the pre-filter stage. This eliminates a major source of irritation right off the bat. The secondary HEPA filter will remove smaller dust particles, as well as dust mites, pollen, and mold spores. You'll also remove smoke particles, whether from cooking or from tobacco smoke.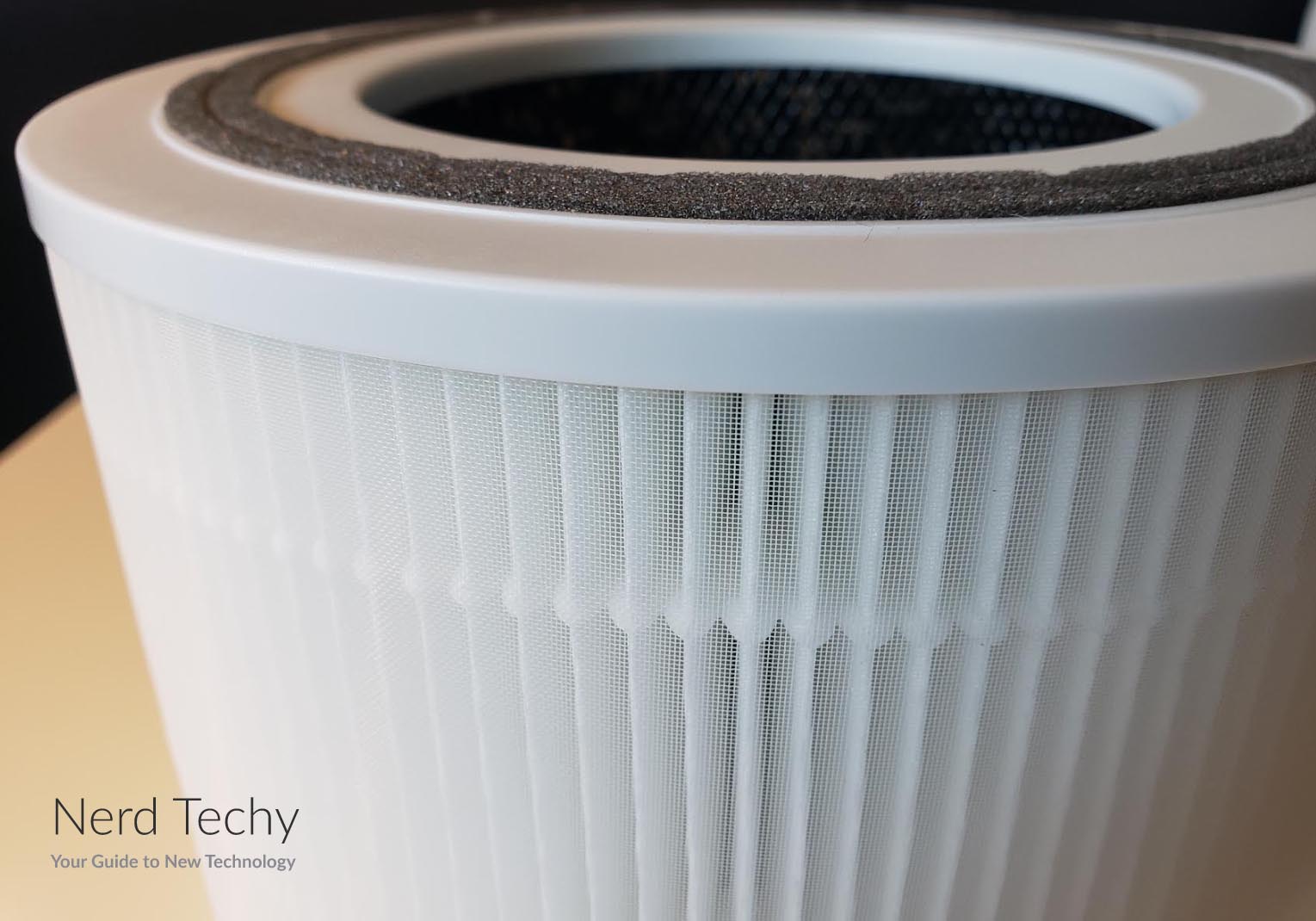 Different filter options will provide additional benefits, which we've already mentioned. The important thing to remember is that the optional filter types are simply enhanced for a particular purpose. In other words, the primary filter is a generalist. The others are best for their particular purpose. But all of them will remove the vast majority of contaminants of any type. The one exception to this is the MB filter. This filter is specifically designed to prevent mold growth. Normally, mold shouldn't grow in your filter to begin with. But if your Core 300 is located in a damp area like a basement, this may be a concern.
Final Verdict
Clearly, the Levoit Core 300 HEPA Air Purifier offers an excellent value. The only thing we didn't like was the maximum square footage. With only 219 square feet of capacity, you might find yourself wanting more. Then again, for a device this quiet, with this small of a footprint, 219 square feet is pretty good.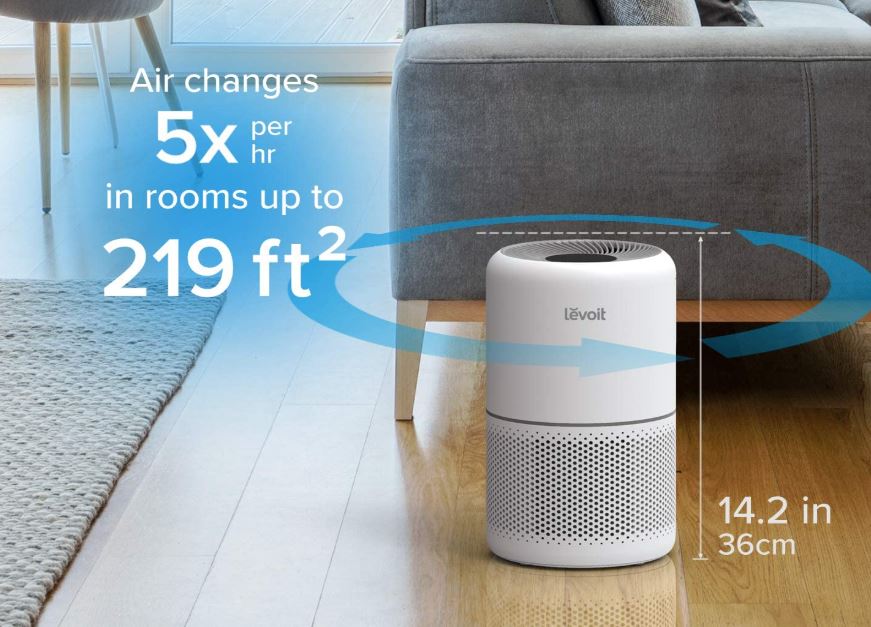 The design itself is well-engineered. The motor is durable and long-lasting, so you won't have to worry about premature failure. And the 360-degree intake and outflow vents provide excellent air dispersal under most circumstances. The control panel is simple and intuitive, with easy-to-operate soft touch buttons. The child lock feature is a particularly nice touch, since you can configure your settings with confidence. Finally, the filter itself is very effective. Since it removes 99.97 percent of contaminants, you know you're getting True HEPA performance. Not only that, but the three specialized filters allow for easy customization. Whether you're using your Core 300 for mold, VOCs, or pet odor, you'll have an ideal filter for the purpose.