Quick Analysis
Pros
Exceptional ergonomics.
Works in mono or stereo mode.
Compact carrying case.
Available in red or black.
Comes with plenty of extra ear tips.
Cons
Relatively weak bass and narrow sound stage.
Middling battery life.
In the past few years, the wireless earbud market has seen a massive explosion in variety. This isn't just a fad or a matter of preference. It actually comes down to the quality of the technology itself. As recently as 2015, wireless earbuds were, to put it mildly, a joke. The sound was tinny at best, and you couldn't listen in stereo. About the only thing they were good for was hands-free calling or listening to a podcast. But then, True Wireless Stereo (TWS) was developed. TWS allowed for high-bitrate, stereo audio, all over a wireless signal. And the very next year, Apple's iPhone 7 was released with a wireless-only earbud configuration.
Fast forward four years, and you're not just limited to Apple AirPods and a few knockoffs. Instead, there are plenty of wireless earbuds to choose from. This is a huge benefit, since the more competition there is, the lower the prices are. That said, there's also a downside: not all of these earbuds perform as well as you'd expect.
Thankfully, we're here to help you sort out the good from the bad. Today, we're going to review the Funcl Pro TWS Bluetooth Earbuds. Funcl is an established brand, with several offerings already available on the market. As a result, we were excited to see what their latest buds have to offer. Of course, this is no guarantee of quality, so we put them to the test. Now, we'll tell you everything we've learned. We'll go over the physical quality, the battery life, and, of course, the sound quality. After we've talked about all the features, we'll summarize what we've learned, and issue a final verdict. Let's get started!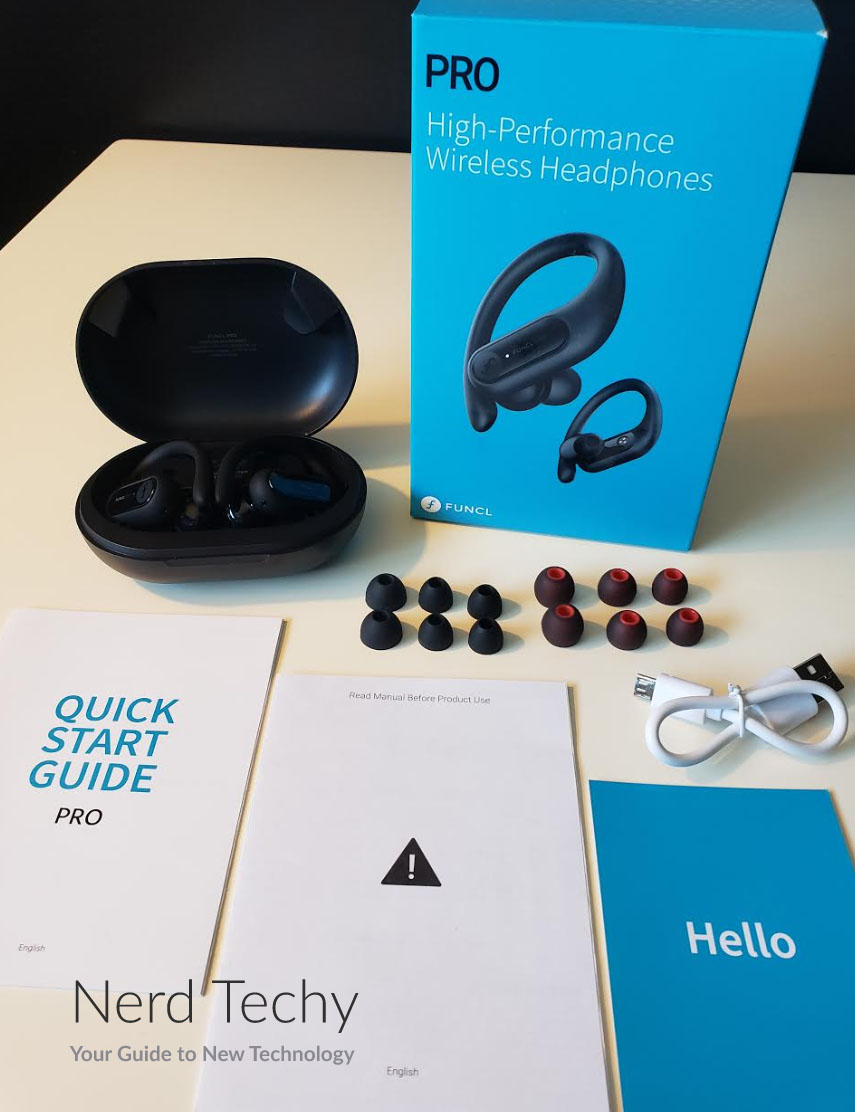 Overall Design
The Funcl Pro TWS Bluetooth Earbuds have a unique, modular design that allows you to wear them in two configurations. By default, they sport a pair of large silicone ear hooks that wrap around the tops of your ears. This allows for a very secure fit, and is ideal for athletic activities like running or climbing. The hooks are soft and flexible, providing maximum comfort under most circumstances. On the other hand, not everybody likes the feel of ear hooks. In this case, simply remove the silicone hooks and let the buds rest comfortably in your ears.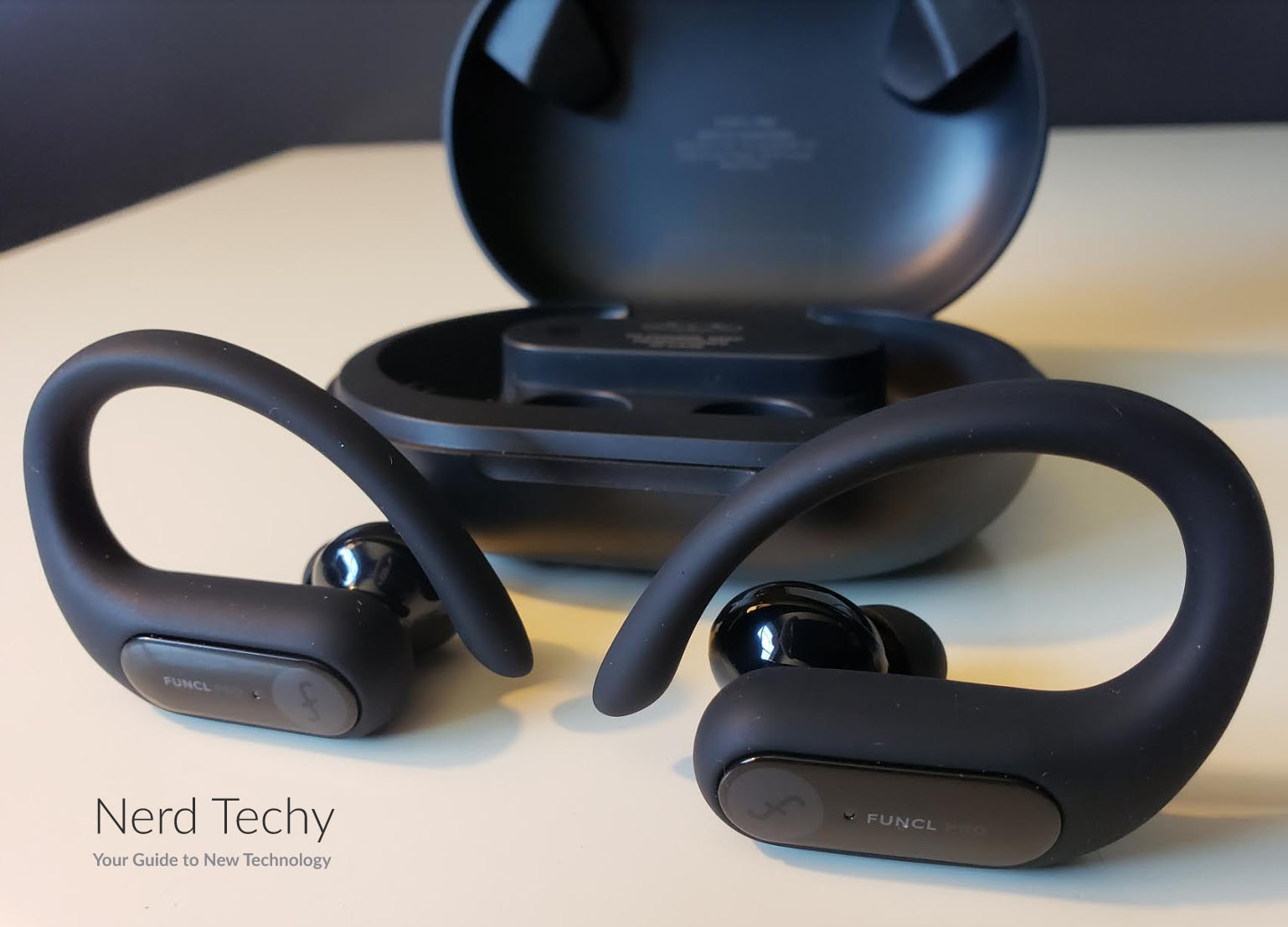 In this configuration, the buds will stick up rather than hanging down, so it's important to get a secure fit. Thankfully, Funcl includes not three, but six extra sets of ear tips in the package. There are three different sizes, so you'll be able to get a comfortable, secure fit no matter your ear size. Not only will a tight fit ensure that your earbuds remain in place. It will also ensure better noise isolation, which improves the audio quality substantially. The reason there are three sets of tips is that they come in two colors: black and red. These colors compliment both the black and red versions of the Pro TWS buds.
If you prefer a more traditional design, Funcl has plenty of other offerings. For example, the Funcl W1 True Wireless Earbuds are very compact, without compromising on sound quality. That said, the battery life is relatively short. Even with the charging case, you'll be limited to about 18 hours of playtime.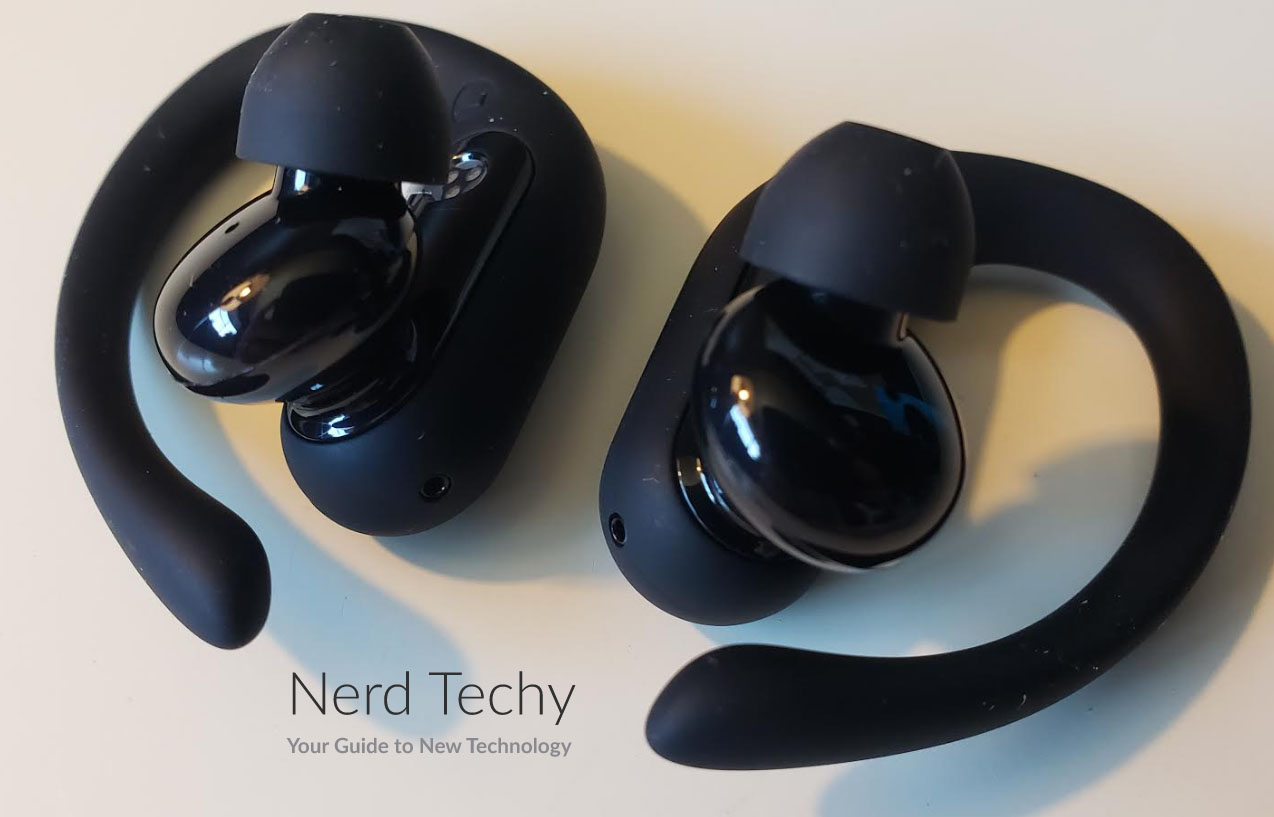 On the back of each earbud, there's a soft touch button for operation. This soft touch means you won't have to press hard for operation. As a result, using the buttons is comfortable, even if you have sensitive ear canals. The buttons can perform a wide variety of functions. You can fast forward and rewind your music, or skip backwards and forwards. You can also answer and end calls, adjust the volume, or even activate your phone's voice assistant.
The Funcl Pro TWS Bluetooth Earbuds have a water-resistance rating of IPX5. This means they're rated for moderate amounts of water exposure. They can withstand sweat or rain, but not a sustained stream of water. So go ahead and wear them during your workout. But when you go to shower off, leave your earbuds outside.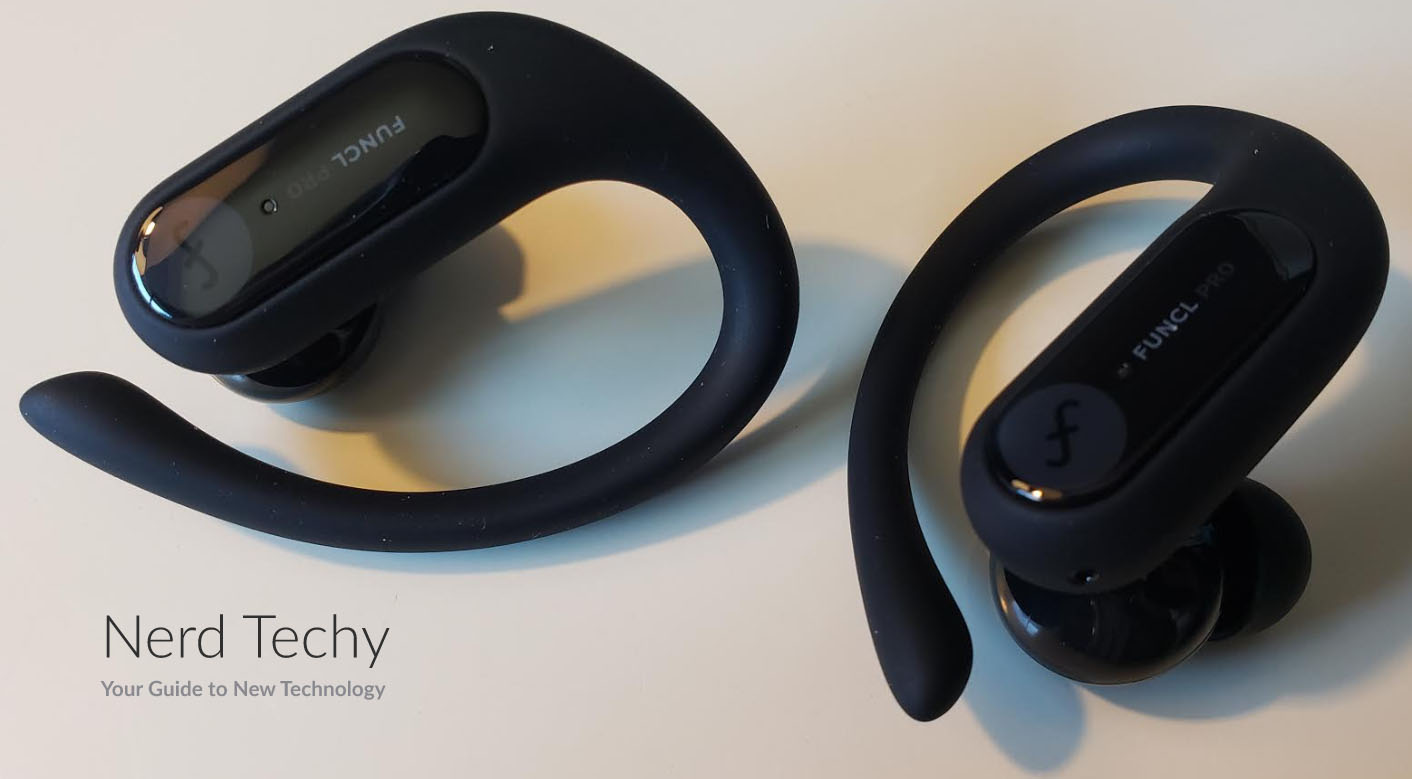 The earbud case is very well designed, and constructed from matte black ABS plastic. It measures 3.5 inches in length, 2.5 inches in width, and 1.1 inches in thickness. At this size, it's easy to carry in your pocket. It's also safe to carry. With a spring-loaded lid, it won't pop open without being intentionally opened. To make this easier, there's a small slot under the lid for your thumb. Inside, you'll find a pair of wells that can fit both your earbuds, along with the ear hooks. When your buds are inserted and charging, small LED lights will illuminate to let you know they're receiving power. If you prefer to wear your buds without the ear hooks, no worries. There are a pair of small mounts in the charging case lid where you can store the hooks separately.
Battery and Connectivity
When it comes to battery life, the Funcl Pro TWS Bluetooth Earbuds are a bit of a mixed bag. On the one hand, the earbuds themselves carry enough charge for about five hours of playtime. This is par for the course for a pair of wireless buds, and we have no complaints here. On the other hand, the charging case only provides 19 hours of additional charge. This gives you a total of only 24 hours, which is a bit underwhelming. Still, it should be sufficient for most people's purposes.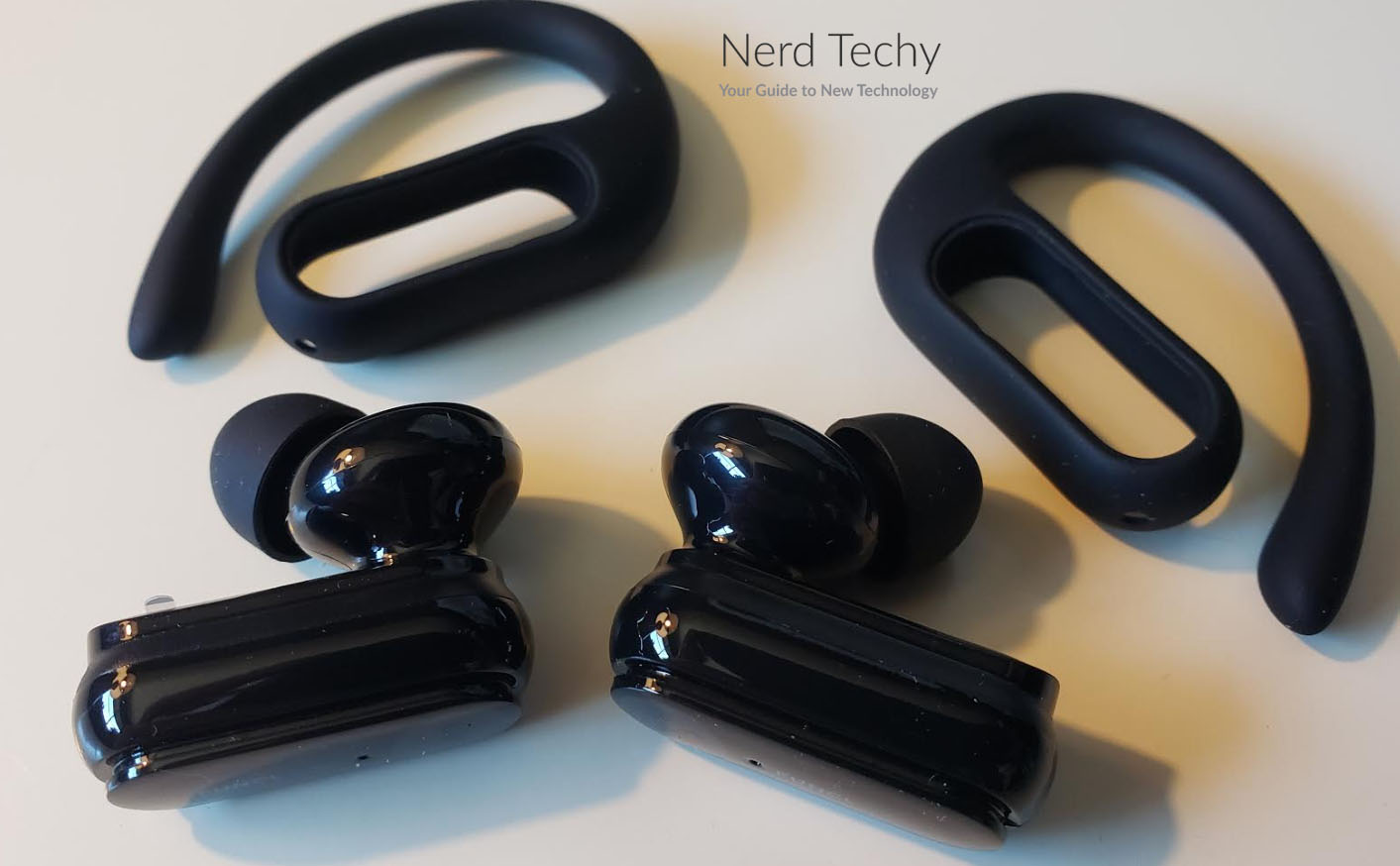 As always, we should point out that these ratings are based on manufacturer testing. Since these tests are carried out at roughly 50 percent volume, they're only partially accurate. If you're listening at higher volumes, you'll get less battery life. If you prefer your earbuds on the quiet side, you'll get more. Not only that, but there are a number of other factors that can affect your battery life. Temperature and audio bitrate, for example, also play a major role.
Charging your earbuds is easy. From a dead state, they'll fully charge in only 40 minutes. Not only that, but a 10-minute quick charge will get you about 90 minutes of playtime. If you forget to charge your buds overnight, you can still enjoy some tunes during your morning workout. When the charging case itself needs juice, it will fully charge in about 80 minutes.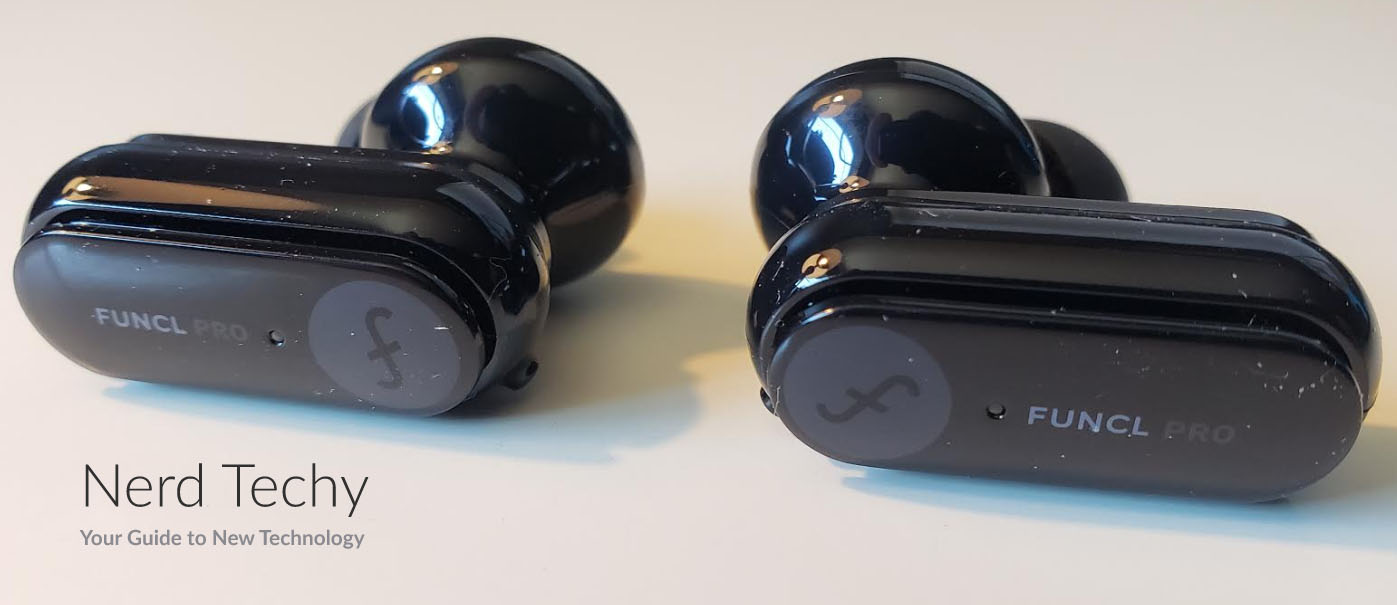 The Funcl Pro TWS Bluetooth Earbuds connect to your phone or MP3 player via the Bluetooth 5.0 protocol. This is the latest version of the protocol, and allows for a more stable connection, with a range of 30 feet. Moreover, Bluetooth 5.0 allows for higher audio bitrates than older protocols. This means you can enjoy 256k audio instead of lower-bitrate 128k music. Finally, Bluetooth 5.0 has virtually no latency in the connection. This means you can use the Funcl earbuds for watching movies and videos, without the audio being out of sync.
These Funcl earbuds can connect either in stereo or mono mode. Obviously, stereo mode is ideal for listening to music, but mono mode can be useful under certain circumstances. For example, if you're walking and want to maintain situational awareness, you can use a single earbud. This mode is also perfect for hands-free calling while you're driving. As a side benefit, you can effectively double your battery life this way. To return to stereo mode, simply replace both earbuds in the case, then remove them together. They should automatically pair with your phone.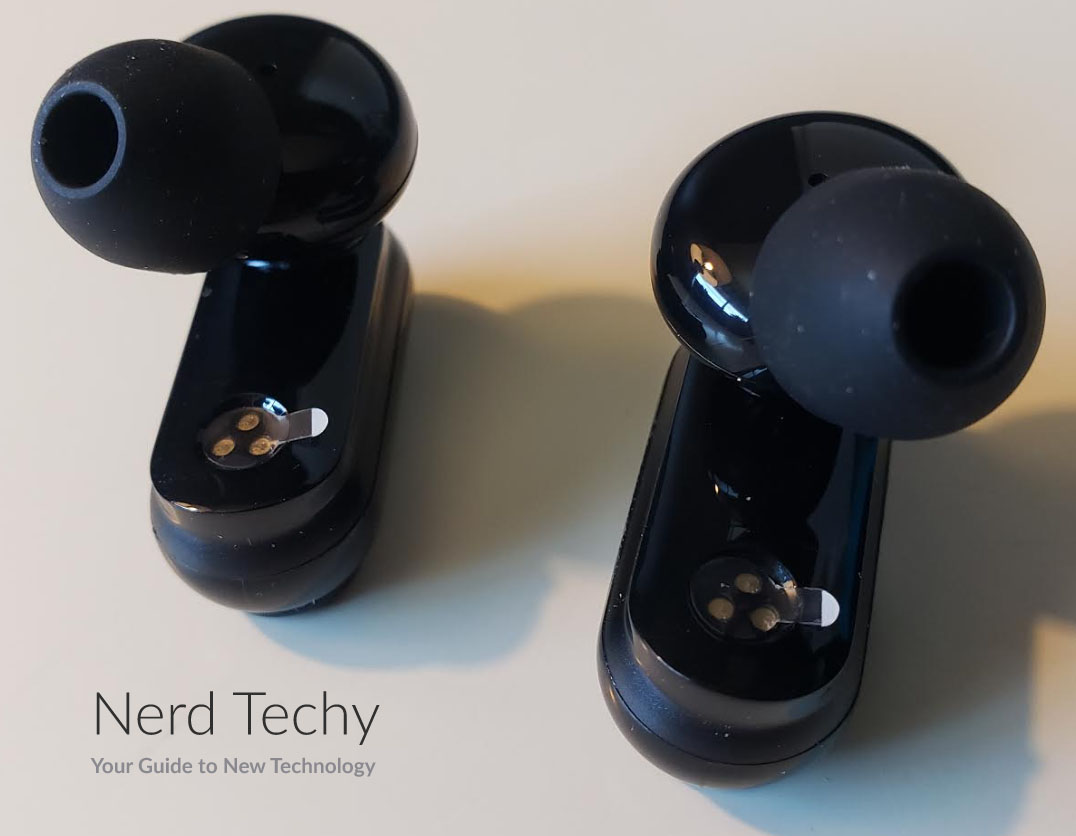 Sound Quality
The Funcl Pro TWS Bluetooth Earbuds have a large, 13.5mm driver, along with a subwoofer. With this size of driver, you might expect top-tier sound quality. However, the sound quality is only middle of the road. The highs are nice and clear. You won't have any issues enjoying the shimmer of cymbals, strings, and high synths. The mids are also very present. Vocal-heavy genres like country and rap will sound just fine. Spoken word productions like podcasts and audiobooks also sound just fine.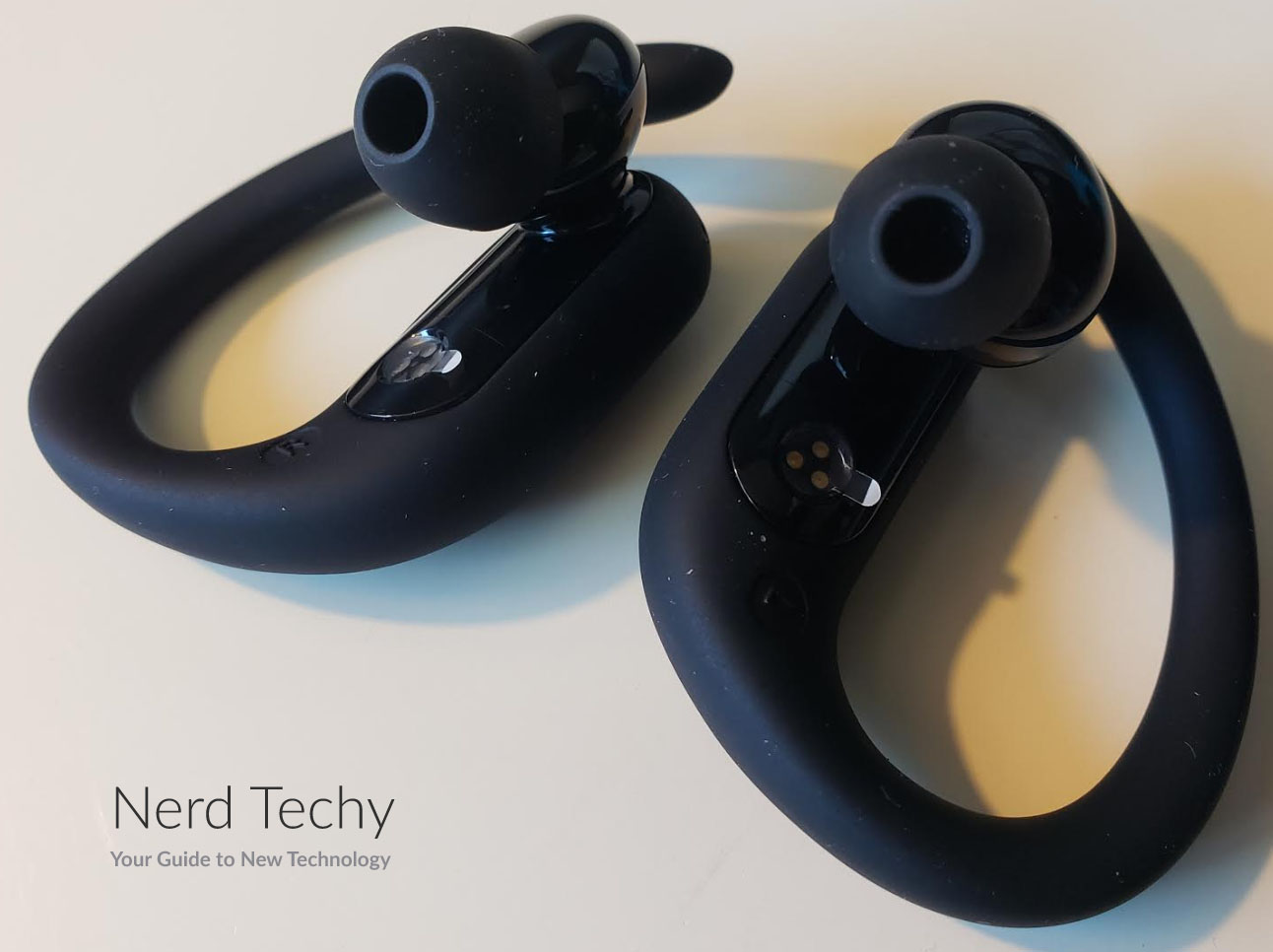 Unfortunately, the bass is very underwhelming. This is to be expected from earbuds in this price range. However, it's still disappointing, given how much Funcl touts the inclusion of a subwoofer. The soundstage is also fairly narrow. There's not a ton of separation between instruments and frequencies, which makes music sound a bit crowded. That said, the sound is still reasonably good, considering the low price point.
When it comes to phone calls, your quality will be just fine. You'll be able to hear the other person clearly, provided they have good microphones. That said, there's no noise cancellation on your end. To get the best quality for your own voice, you'll want to use both earbuds. The dual mics will help you get as clear a transmission as possible.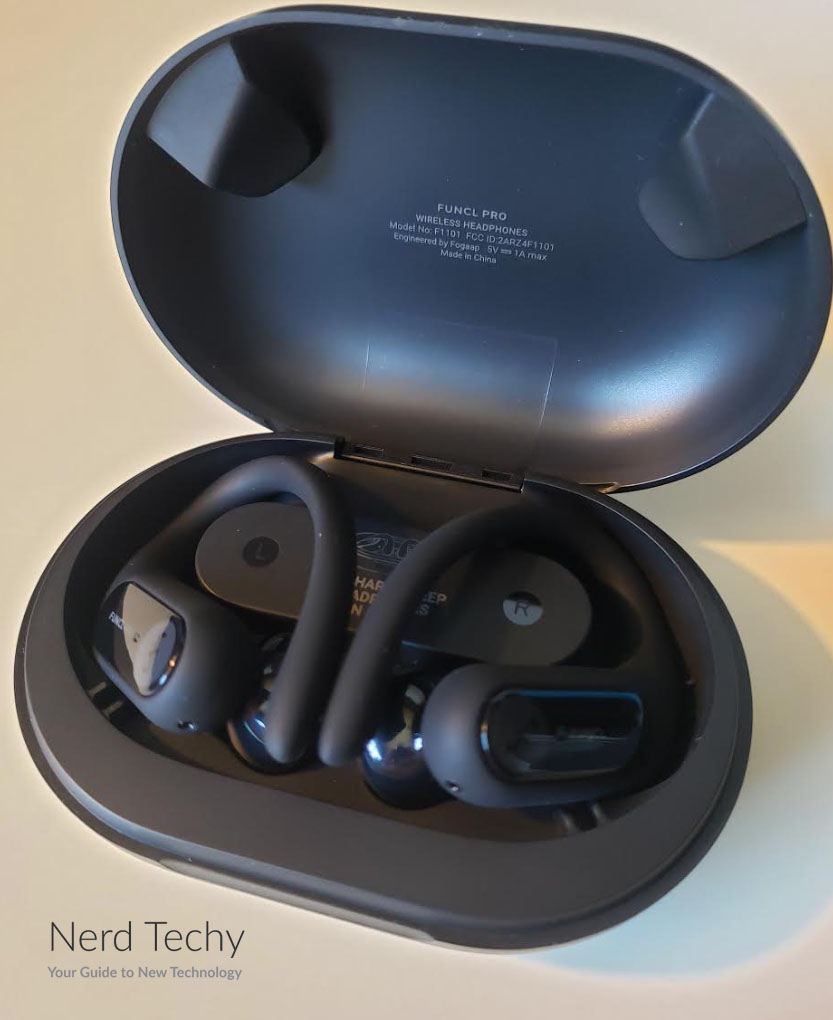 If you're looking for better call quality, you're going to want some earbuds with noise cancelling on your end. In that case, consider the Funcl AI True Wireless Earbuds. They feature CVC 8.0 noise isolation, for excellent call performance. That said, their AirPod-style design lacks the flair of the Funcl Pro earbuds.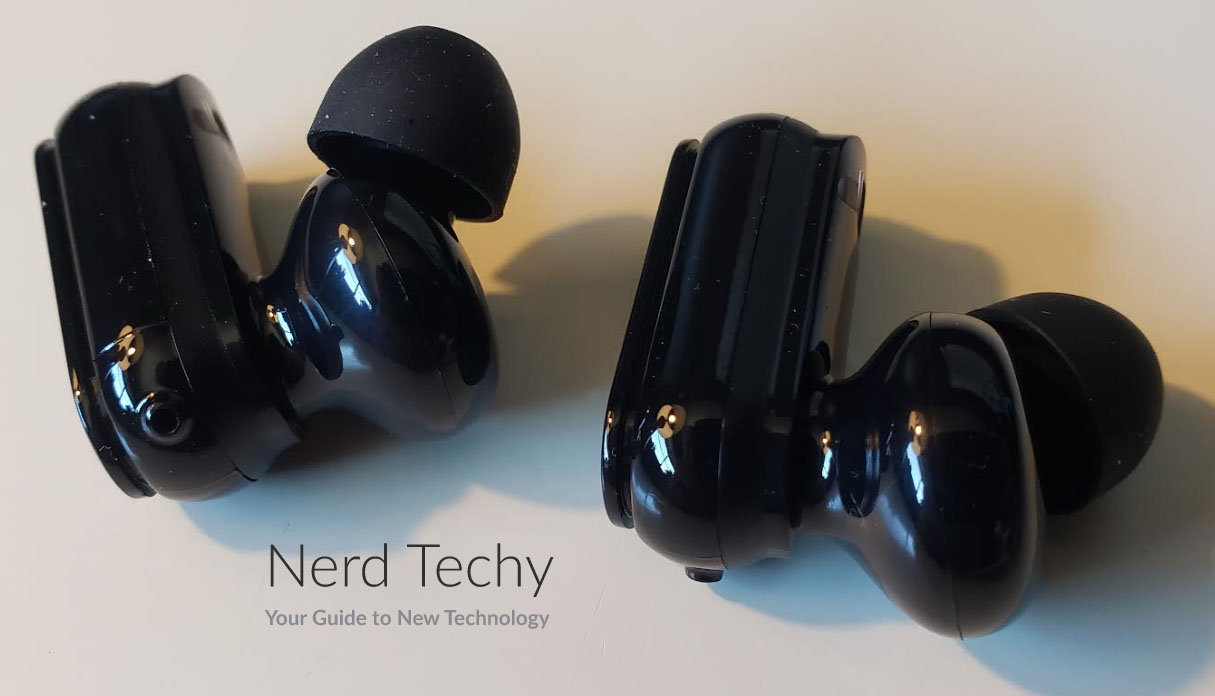 Final Verdict
As you can see, the Funcl Pro TWS Bluetooth Earbuds bring a lot to the table. Primarily, they offer an ergonomic, innovative design. If you want ear hooks for workouts and compact buds for comfort, you won't find a better choice. In addition, the appearance is also unique. Admittedly, this is a secondary feature at best. But if you like earbuds with a flashy look, you're going to appreciate this.
Admittedly, there are some significant drawbacks. The battery life is acceptable, but Funcl could have done better. The sound also leaves a bit to be desired, with weak bass and a narrow soundstage. Then again, considering the low price, it's still more than acceptable. The charging case is very well designed, and is small enough to carry in your pocket. And the innovative ear hook mounts provide a great feature for easy storage, whether you use them or not.