When Apple announced in 2016 that the iPhone 7 would only support wireless earbuds, many people were skeptical. At the time, wireless earbuds were mostly known as a gimmick. Sure, you could use them, if you wanted tinny, single-channel audio. But nobody would actually use them for music, right? It turns out that Apple CEO Tim Cook was right, and everybody else was wrong. This is because 2016 had also seen the invention of another powerful technology: true wireless stereo (TWS). TWS allow high-quality, stereo sound over a wireless signal.
Since then, wireless earbuds have been cropping up all over the place like mushrooms. This is a good thing, since it's given consumers a wide variety of options. But it also makes it tough to choose. After all, how do you know which earbuds are all-stars, and which ones are duds?
Today, we'll be clearing up some of that confusion. We'll take a deep dive into the features and functions of the Funcl W1 True Wireless Earbuds. We looked at sound quality, ergonomics, and battery performance, among other features, so you don't have to. All you have to do is decide whether to buy, or whether to take a pass. Let's get started!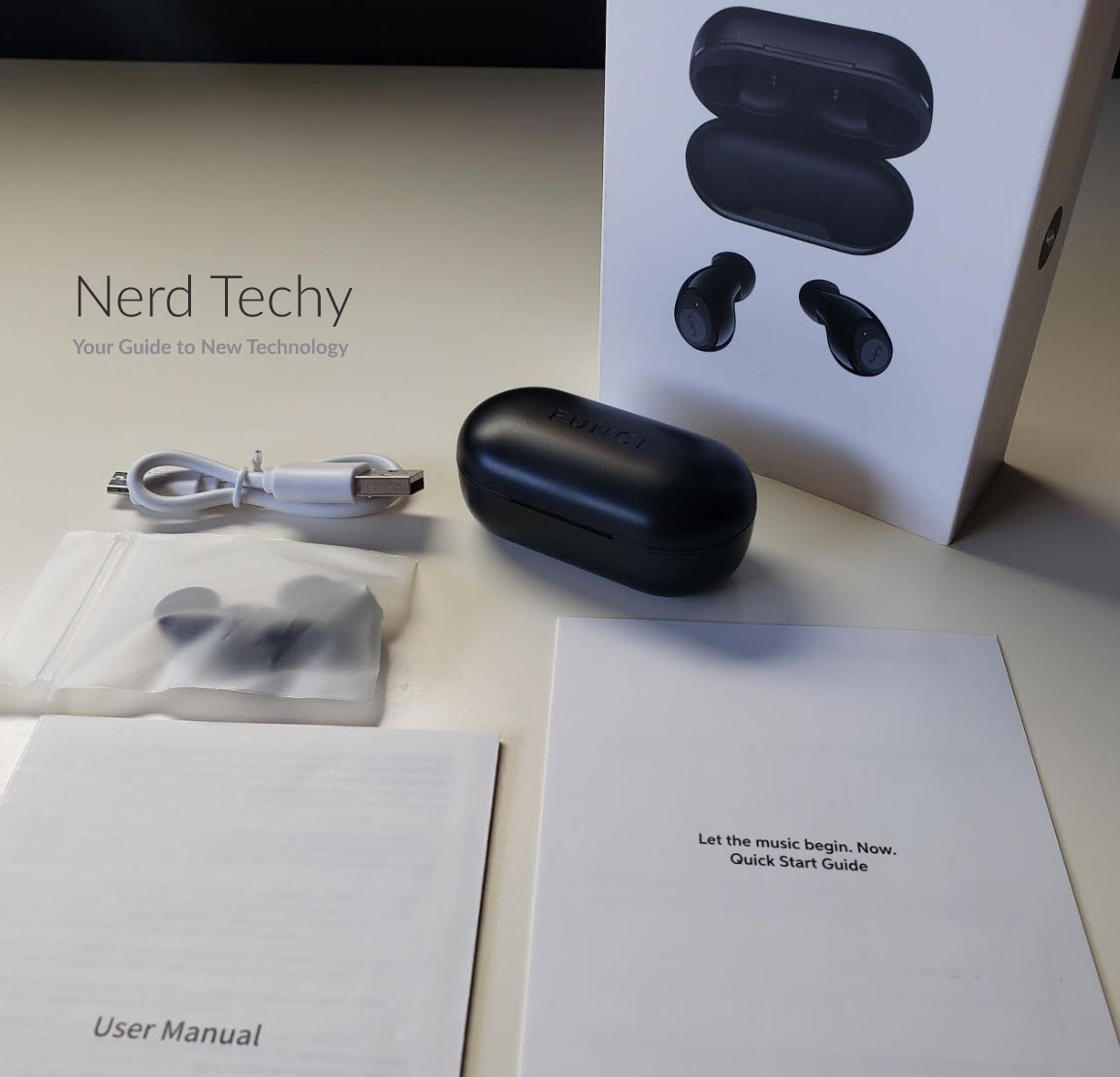 Overall Design
The Funcl W1 True Wireless earbuds have a compact design that's designed not to protrude from your ears at all. This is a stark contrast to other, AirPod-style earbuds that have protruding studs that hang down. As a result, they're comfortable to wear under a hat or earmuffs. They're also less likely to get knocked out during physical activity. The ear tips are designed to seat deep in your ear canals, ensuring a good seal and a secure fit. To assist with this, Funcl includes 3 different sets of ear tips in different sizes. The first thing you should do when you receive your earbuds is determine that you've got a good fit. It makes a huge difference.
The earbuds are constructed from glossy black ABS plastic, with a grey Funcl logo on the outside. There's also a small LED, which illuminates when the earbuds are actively charging. The Funcl logos also double as a set of soft-touch buttons. They're very comfortable to operate, since you just have to tap them lightly for operation. They won't press into your ear like some firmer buttons. Controls are relatively easy.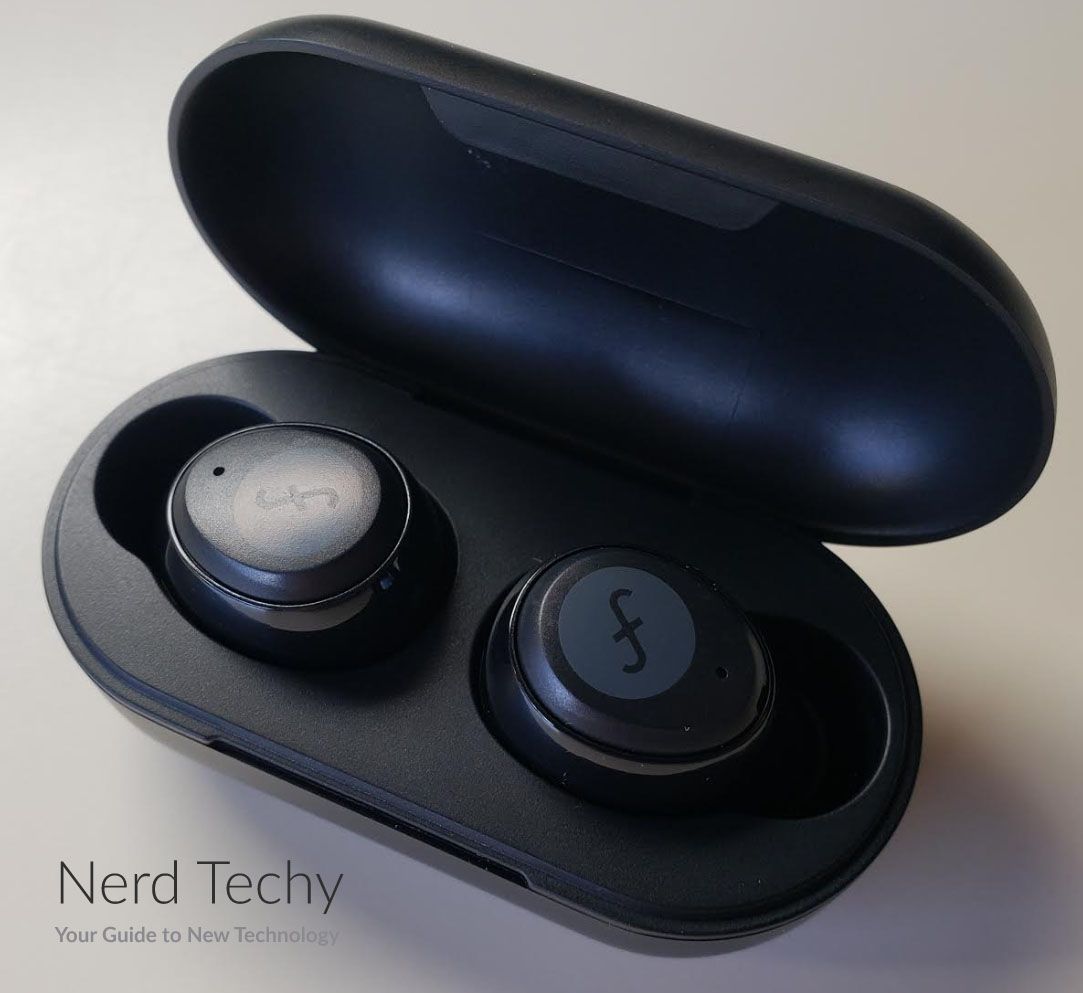 The right earbud is used for play/pause, skipping forward, or skipping backwards, with a single, double, or triple tap respectively. The left earbud uses single or double taps respectively to answer/end calls and activate your smart assistant. Like many earbud controls, they can take some getting used to. But once you get used to them, they're fairly easy to operate.
The charging case is constructed from a glossy black plastic that matches the earbuds. It has a clamshell design, with a magnetic lid that stays shut unless you pry it open firmly. The charging wells are similarly magnetized, so the earbuds snap easily into place when you insert them. This prevents misalignment, which ensures a reliable charge. The overall size of the case is very small, about the size of an old-school flip phone. As a result, it's easy to carry in your pocket, laptop case, backpack, or purse.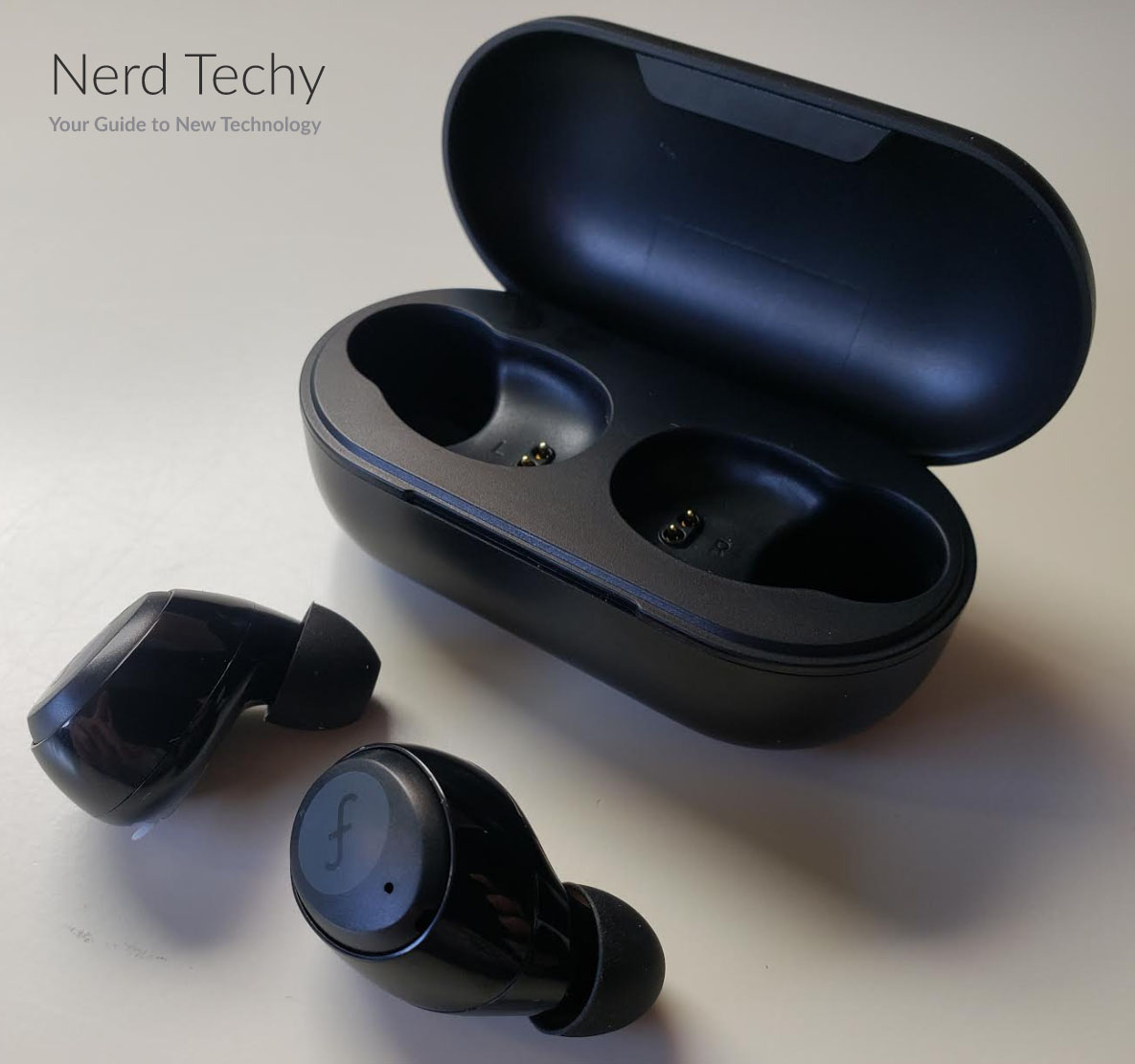 Funcl describes the earbuds as "sweatproof", and they stand up through a workout or other light moisture. However, there's no official IP rating. This makes us a little leery, since most manufacturers go through the IP testing process, if only for credibility. We certainly wouldn't recommend wearing them in the shower, or even if you're running in the rain.
If you're looking for an alternative design, take a gander at the FIIL Driifter DNC Plus. These headphones have a neck strap, which allows for a larger battery, as well as making them harder to lose.
Battery & Charging
When it comes to battery life, the Funcl W1 earbuds are a bit of a mixed bag. On the one hand, the earbuds themselves offer 6 hours of listening time on a single charge. This is longer than most wireless earbuds, and it allows you to go for long periods between charges. You can even forego charging altogether for a few days if you're just using your earbuds for your commute. All in all, the 6-hour battery life is a big plus, and makes these earbuds stand out.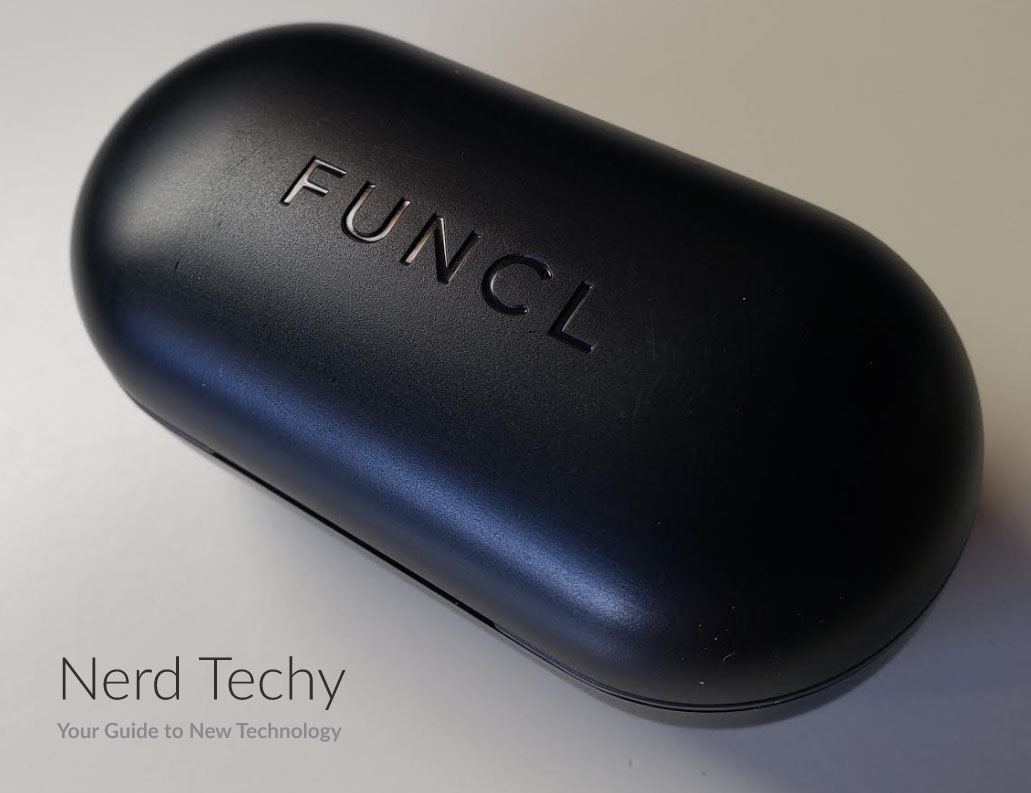 On the other hand, the charging case only delivers 2 additional charges. This gives you a total battery life of 18 hours, which is significantly less than most wireless earbuds. It's not a huge deal if you spend most of your time at the home, gym, and office. But if you're a travel or camping enthusiast, you're liable to run into some issues from time to time.
The case recharges via Micro USB. From a totally dead state, the battery will fill up in 2 hours. This isn't terrible. But we're left wondering why Funcl didn't use USB Type-C. This would have allowed for fast charging on compatible chargers. And it would deliver a somewhat faster charge in general.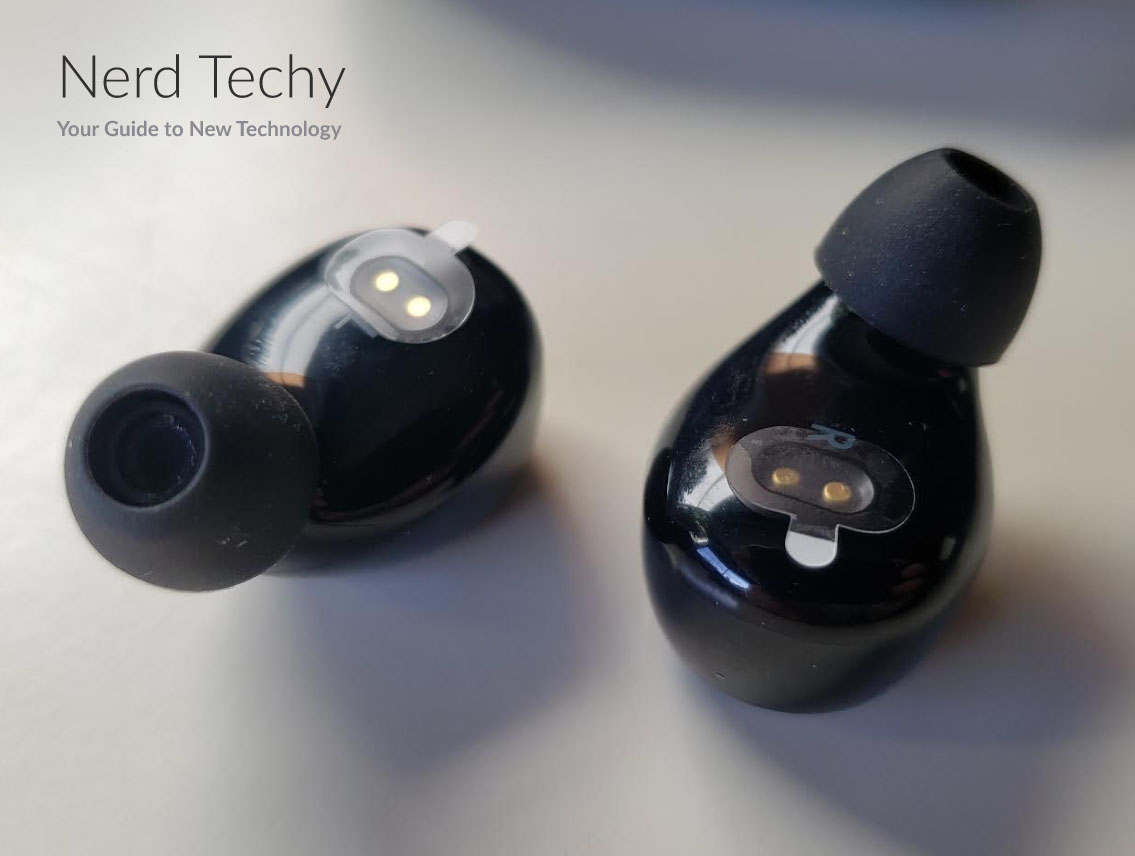 If battery life is important to you, you might be better off going with a different option. We recently reviewed the Anker Soundcore Life P2, which has an impressive 40 hours of battery life. Be aware, though, that the Soundcore Life P2 doesn't support solo mode, so it's not ideal for phone calls.
Sound Quality
When you're choosing your wireless earbuds, or any audio technology, sound quality is a major consideration. After all, you're probably looking for earbuds to listen to music. And nobody wants to listen to low-quality, muddy audio while they're playing their favorite tunes.
In this regard, the W1 earbuds offer better performance than most other earbuds you can buy. The highs are clear and crisp, with plenty of shimmer. Strings, cymbals, and synths all come through with a nearly live quality, provided your source is good to begin with. The mids are also clear, with plenty of separation. You won't have to worry about muddy vocals, and podcasts and audiobooks will be easy to understand. So far, so good. But that's to be expected with any pair of well-engineered modern earbuds.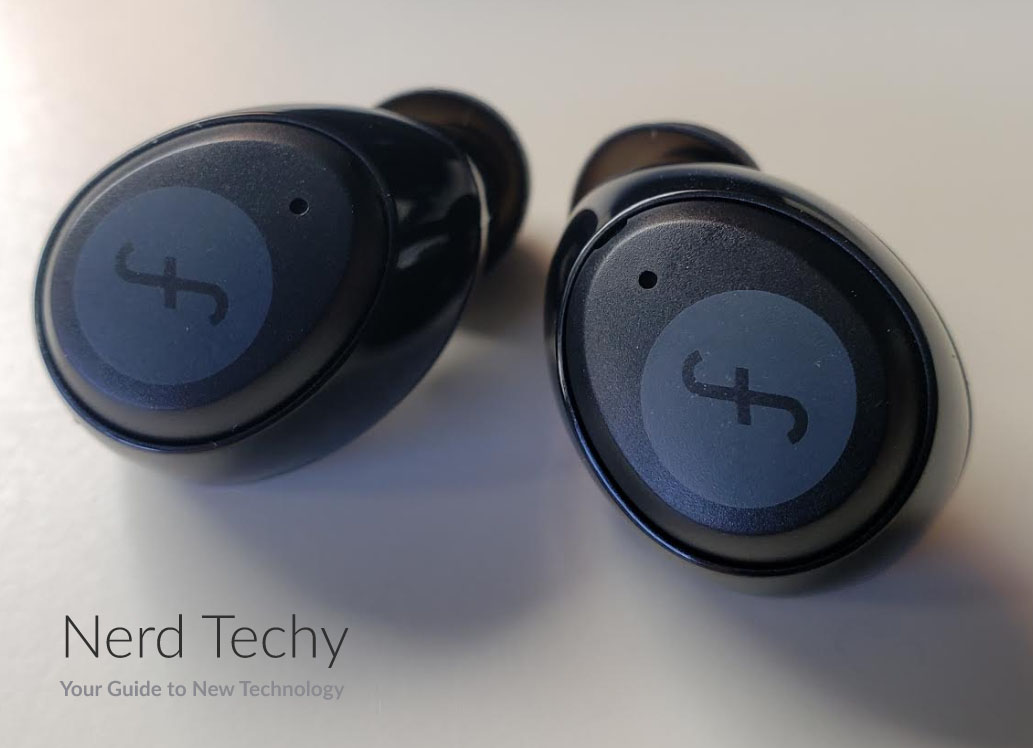 What impressed us more was the quality of the bass. We're not saying it's concert quality. That's just not feasible with tiny earbud drivers. But it's fairly punchy, and it's louder than you'll get from the majority of earbuds. Overall, the W1 is a great choice for fans of dance music, heavy metal, and other bass-driven genres.
One thing the W1 doesn't offer is active noise cancelling (ANC). On the one hand, this isn't terribly disappointing. Most wireless earbuds don't offer this feature. It's just not practical given their compact size. That said, it's doubly important to ensure that you have a good seal around the ear tips. That's the only way to block out ambient noise, so take the time to make sure you've got a good fit.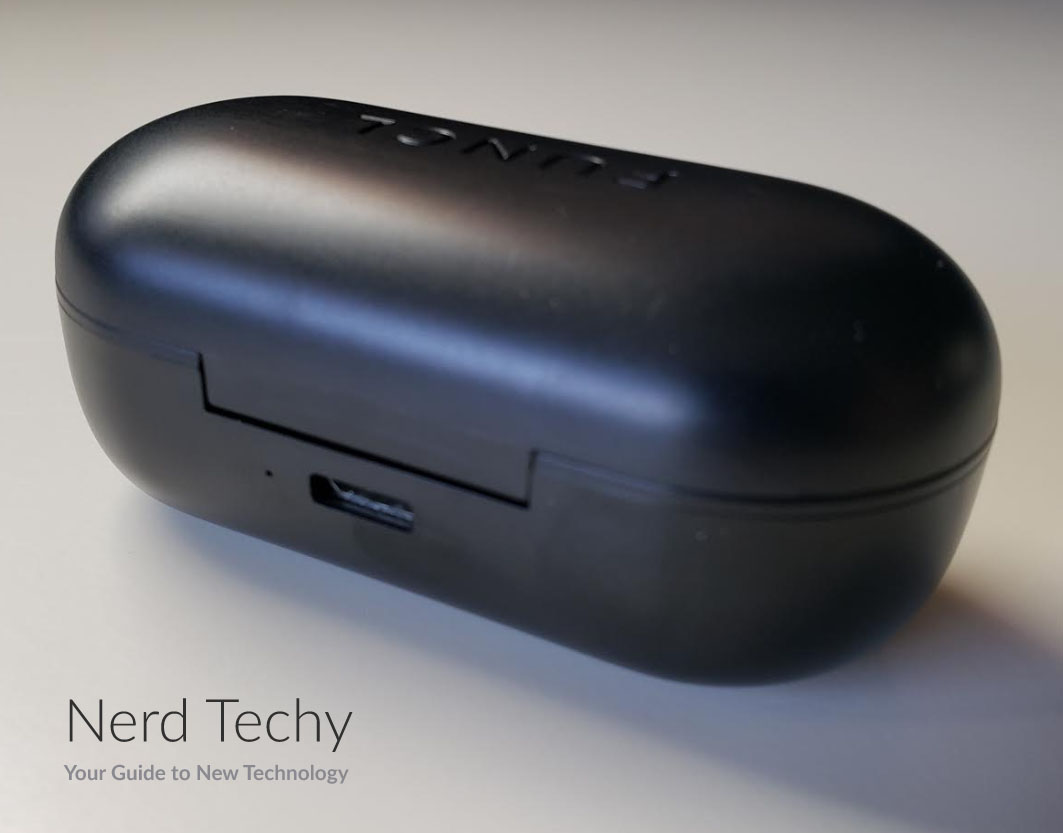 Phone call quality is also good. Now, we're using that term loosely. Phone quality in general, on any device, is low-bandwidth and relatively fuzzy compared to recorded music. But you won't have any issues with clarity on your end. That said, the lack of ANC can be a problem here, as well. If you're in a crowded area, the person on the other end of the call might have trouble hearing you.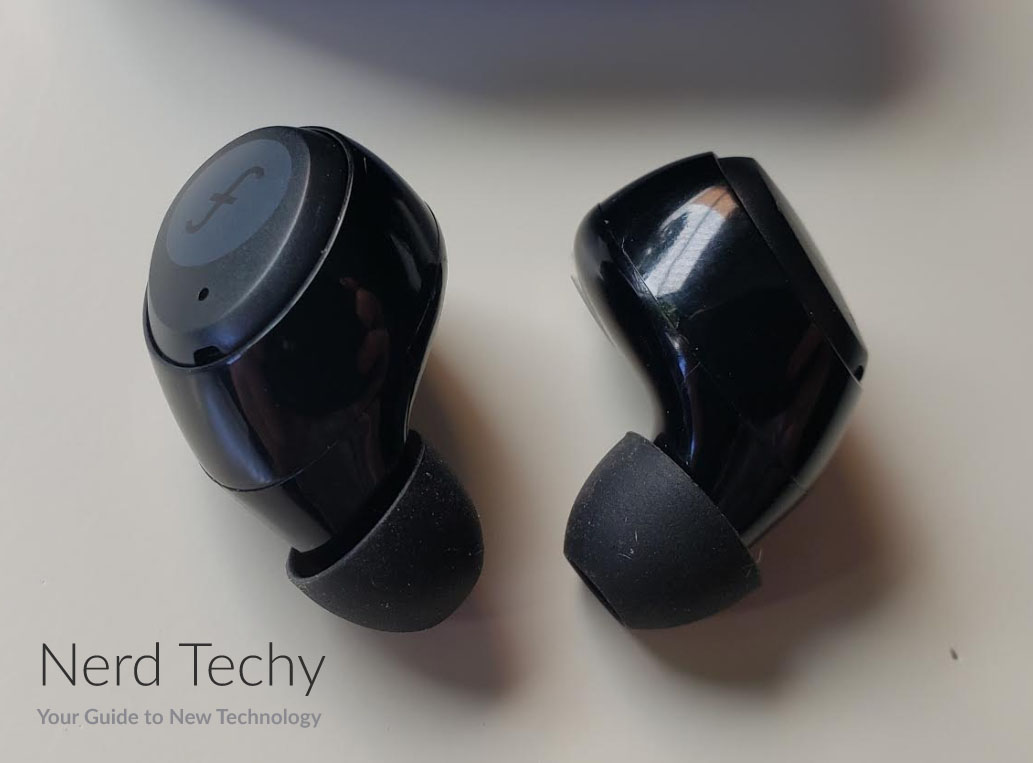 All of that being said, some wireless earbuds do offer ANC. For example, the TaoTronics SoundLiberty 79, which we recently reviewed. Just be prepared to pay a premium for this feature.
Connectivity & Extras
The W1 True Wireless Earbuds utilize the latest Bluetooth 5.0 protocol. This ensures a stable connection, without any random interruptions or interference, provided you're within 33 feet of your device. It also allows for easy, instant pairing when you power on your earbuds.
Each W1 earbud has its own built-in microphone. This makes them well-suited for hands-free calling, since you can maintain situational awareness. You can even double your battery life by using just a single earbud at a time. Keep in mind, though, that the phone controls are located on the left earbud. As a result, you won't have all your hands-free features if you're using the right bud.
Funcl backs the W1 with a one-year manufacturer's warranty. This is more or less industry-standard, but it does boost our confidence in the earbuds' durability and longevity.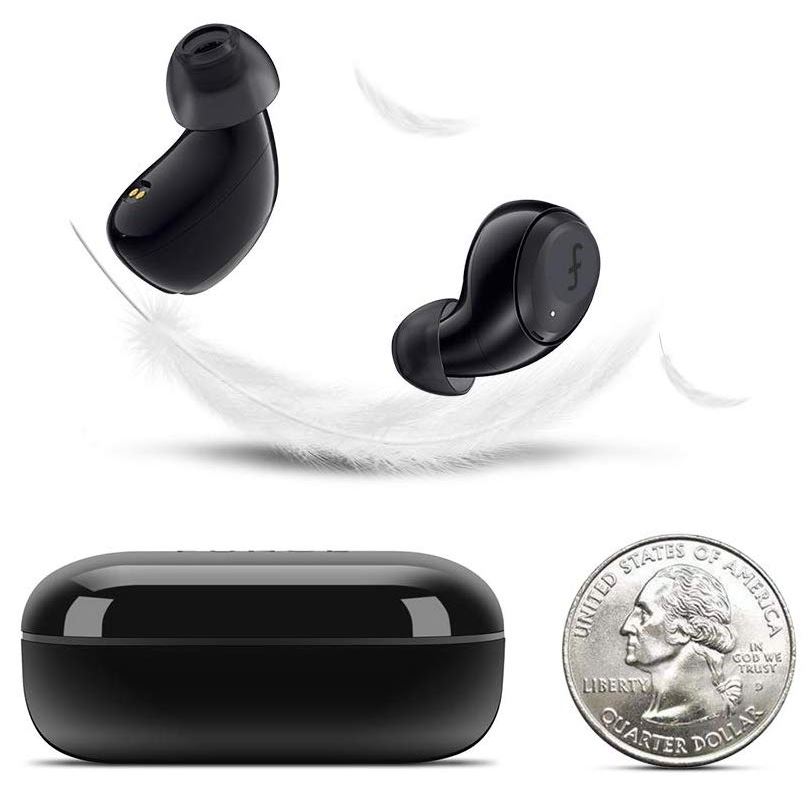 Final Verdict
Whether or not the Funcl W1 is a good choice is going to depend on what you're looking for. If you're looking for long battery life, there are many superior earphones on the market. But the sound quality is very good, with significantly better bass than most earbuds. And the fit is comfortable and secure. If your ears are easily irritated, they're an excellent choice.