Choosing the right adapter takes forethought. If you choose poorly, you'll plug in your new adapter to find disappointing messages like "signal unsupported." Even if works, you could discover the resulting image was badly scarred during adaptation, and your image full of fuzzy lines and inaccurate coloring. Whether you're talking about compatibility or quality, it's easy to make simple mistakes when you're picking a Mini DisplayPort to HDMI adapter.
Fortunately you only need to learn a couple of things to be able to find the adapter best suited for your unique setup. You'll have to take stock of the resolution you'll want to display with your adapter, you'll want to consider the design of the adapter itself, and you'll want to determine whether or not you need an active converter chip. Prepared with that information, you won't end up with an adapter that causes more problems than it solves.
Mini DisplayPort is Dead
When Thunderbolt first launched, it transformed DisplayPort from an obscure connection port to a highly-sought feature. Combining DisplayPort, PCI Express, and DC power into one outlet, thunderbolt was equal parts convenient and fast. But as technology keeps improving, computer connections and the ports they use change to keep up. As a result, your devices perform faster, look better, sound crisper, and cost less. Another consequence is technology you bought only a few years ago can get left in the dust, as cables and connection ports get replaced.
And the era of Mini DisplayPort is over. It had a great run. For nearly a decade, it was a default technology for most major motherboards. In 2010, one of the strongest selling points for Dell and Toshiba laptops was their support for Mini DisplayPort. Apple used Mini DisplayPort as a standard for at least 8 years, and only as recently as 2016 did they decide to phase it out of all their new devices.
In the modern age of high definition content, HDMI is what you want to carry your HD connections. Using a Mini DisplayPort to HDMI adapter helps you keep the one-plug solution aspect of Mini DisplayPort, while joining in on the rising standards of HDMI – a powerful and dynamic media connection positioned to stay relevant for at least a decade.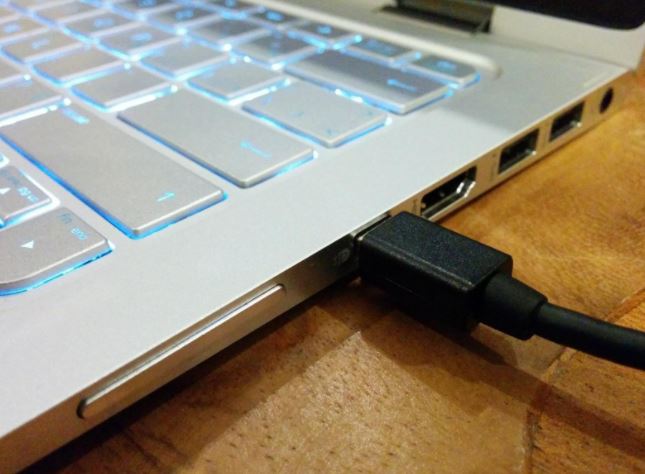 Checking Your Resolution
What resolution will you be running through your adapter? If you choose an adapter that supports only 1080p, you won't be able to get higher resolution signals through to your display. Similarly if you're using a display that's operating with a higher refresh rate, you'll need an adapter that can carry those extra frames. You won't be pushing a 4K signal through an adapter built for 1080p, and you won't be pushing a 120Hz refresh rate through technology older than HDMI 2.0.
If you don't plan on using resolutions beyond 1080p, you may not have to worry about these things. But even if you're not currently using resolutions beyond 1080p today, higher definition content is the future. If you want an adapter that's future-proofed, you may want to consider looking for support for resolutions beyond full HD.
Passive vs. Active Adapters
You'll also want to think about whether the adapter you're getting is an active or passive adapter. Active adapters have a special chip inside that helps it dynamically convert the signal from your Mini DisplayPort device to your HDMI display. Whether or not you need an active adapter largely depends on if the device you're connected to supports DP++ or Display Port dual-mode.
If your device has DP++ then it will be able to convert data without help from the adapter. If you don't have dual-port mode, then you'll need an active converter. The good news is that Thunderbolt has native support for DP++. Anyone using a Mini DisplayPort without Thunderbolt will want to consider choosing an active adapter. If your Mini Display Port has a DP++ symbol, then your device is set.
Another reason to consider using an active adapter is if you're using multiple displays on the same device. Many video cards won't run multiple monitors while they're using DP++. If you're involved in a multiple display setup, you may want to check with the manufacturer of your GPU to find out which type of adapter you need.
Adapter Design & Why Adapters Die
Design isn't just about aesthetic, it's about functionality. Take the time to ensure the adapter's connection head isn't bulky. A bulky connection head is the type of thing you don't usually think about until you've plugged in your adapter. That's when you suddenly notice your new adapter is blocking two other device slots you need to use.
When you're choosing an adapter that uses a wire, you're looking for a simple and sturdy design. Many adapters break because their ends are bent while still inside a device, or have otherwise suffer some type of trauma. But plenty of adapters that don't suffer accidents are still be worn to death by even the most responsible use.
Adapters that die to responsible use are typically broken when their wires are put under strain and fatigue. Constant bending or pulling eventually will cause the death of a wire. The most common example of this occurring is with headphone wires because headphones are often designed with separate wires to each ear-cup. That type of pigtail design causes extra strain on each wire, and should be avoided whenever you're choosing an adapter.
Some adapters are more suited to life on a desk, and some adapters are more suited to life on the go. It depends if you're going to plug the adapter in to a cable on your desk and forget about it, or if you're going to be hauling it with your other devices. Weight shouldn't be a concern, since most adapters weigh only a couple of ounces. But an adapter with a 2-foot cable wouldn't be something you could easily throw in your bag and forget about.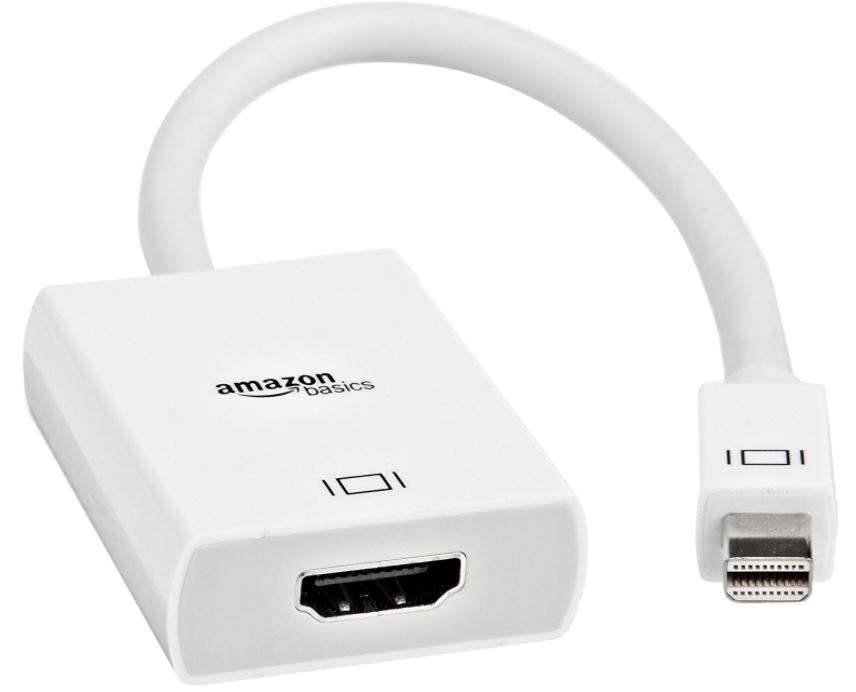 AmazonBasics Mini DisplayPort (Thunderbolt) to HDMI Adapter (Passive)
If you're looking for a basic solution, AmazonBasics can help with their basic adapter. Designed for 1080p, the most common resolution in use today, Amazon's adapter is a combination of quality and value. Their cord is protected by a thick plastic sheath, and it extends a lengthy 9 inches. It's easy to forget exactly how much space you'll need between devices, so gaining another 9 inches of wiggle room can be a bonus for anyone setting up at home.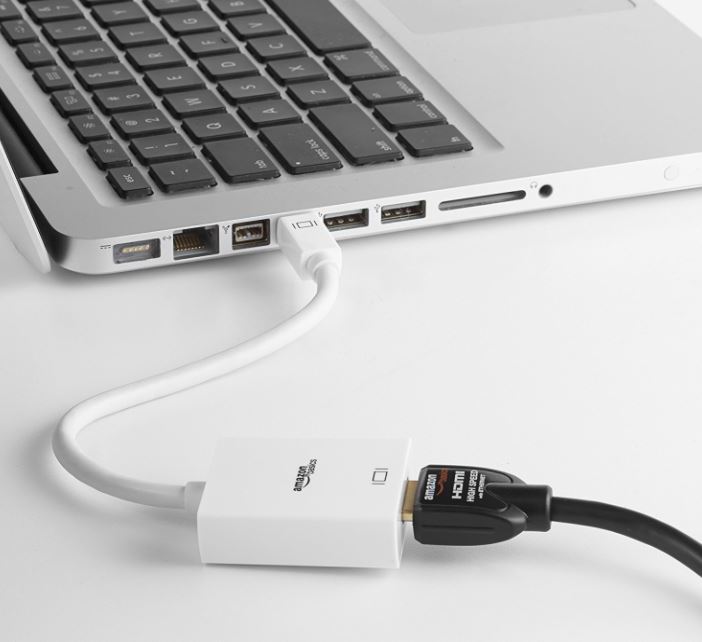 Compatibility and Design
From the outset, it's clear that this adapter is aimed more towards Apple MacBook and iMac users. Mini DisplayPort to HDMI adapter compatibility issues between Windows and iOS are uncommon, but not totally unheard of. In other words, AmazonBasics' adapter will more than likely work in any Windows system, but it's been designed specifically with Apple devices in mind. Nowhere is that clearer than the white aesthetic of the adapter itself.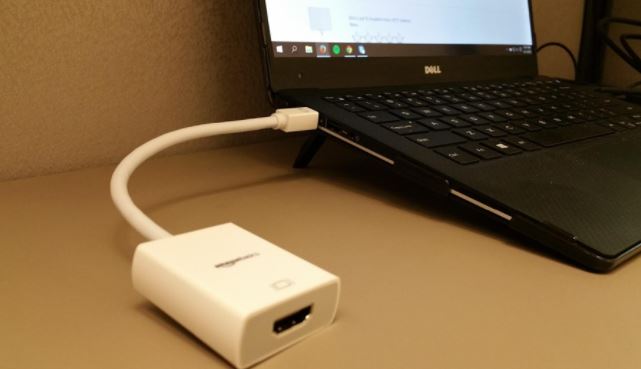 Other Considerations
With the word basic right in the name of the brand, all it takes is a glance to know what you're getting from this product. If what you're looking for is "it works", then the AmazonBasics Mini DisplayPort to HDMI adapter is what you want. But because this is a passive adapter, you'll want to think twice if you're running a high end GPU and multiple monitors. Using a passive adapter, you'll run into issues on your second or third display.
Most adapters never get tested before they're sold to consumers, leaving people to sort through whatever manufacturer defects occur. A good safeguard against that is a product warranty, AmazonBasics includes a standard 1-year warranty. If you have bad luck and end up with a defective product, it's nice to know Amazon will sort it out for you.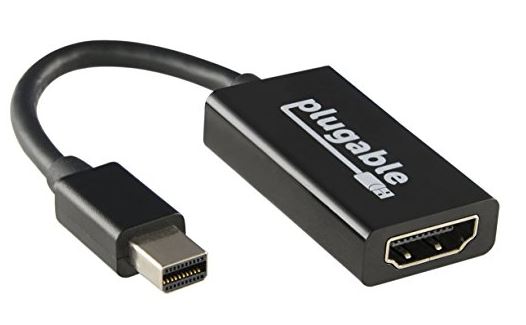 Pluggable Active Mini DisplayPort to HDMI 2.0 Adapter
Sometimes you want more than to connect two devices and have them work. If you're looking for top-notch performance from high definition media, you need an adapter that can keep up. Pluggable's adapter supports resolutions as high as 3840×2160, more commonly referred to as 4K Ultra HD. Another detail to note is support for 120Hz refresh rates for 1080p content, though those rates are locked at 60Hz for higher resolutions.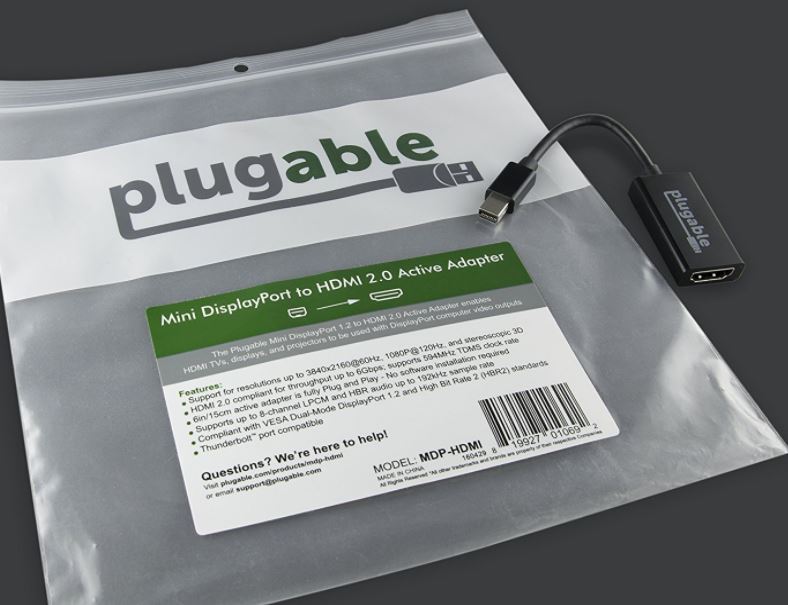 Compatibility and Design
Higher resolutions are possible because this adapter supports HDMI 2.0. Along with HDMI 2.0 you also get slightly better audio sampling, and a maximum of 32 audio channels compared to the 8 of standard HDMI. But if you want to get those extras, you'll need to make sure the devices you're connecting to have an HDMI 2.0 port, which are often labeled or colored blue.
Much like AmazonBasics spells out their compatibility orientation as being towards Apple, Pluggable clearly designs compatibility with Microsoft in mind. Once again it's important to note this adapter will most likely work for any OS, but is specifically compatible with Windows systems.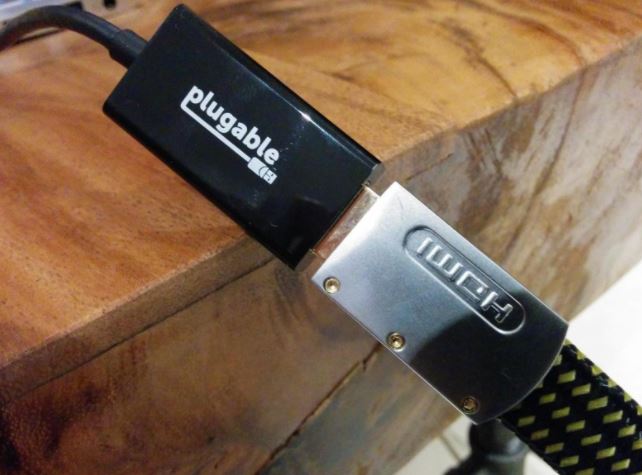 Other Considerations
HDMI 2.0 also provides you with support for more obscure features like AMD Eyefinity, 4:4:4 color sampling, and support for virtual headsets like Oculus Rift and HTC Vive.
Some adapters can run signals both directions. For example, the AmazonBasics adapter above could theoretically be rigged to convert converting either from HDMI to Mini DisplayPort, or Mini DisplayPort to HDMI. As an active adapter, Pluggable's product only goes from DP to HDMI.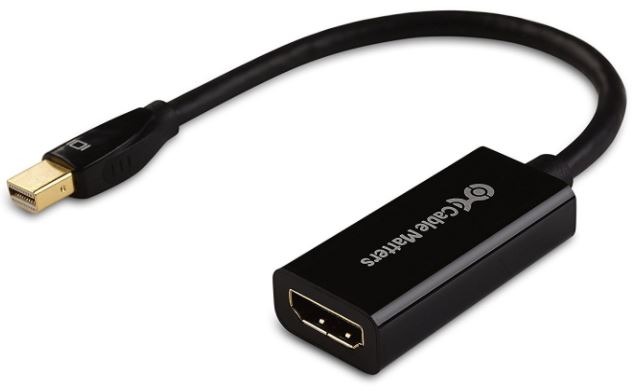 Cable Matters Passive Mini DisplayPort to HDMI Converter
Of all the adapters on this list, Cable Matters' adapter is built with the lowest profile. None of the adapters on this list should provide you issues with blocking ports, but if you have special concerns about tight spaces, Cable Matters is worth a close look. You'll find supported resolutions for 1080p content and uncompressed 7.1 and 5.1 audio, as well as a number of neat things to notice about the build.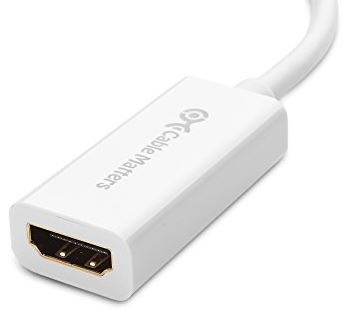 Compatibility and Design
Sometimes the devil is in the details. The connector head features small texturized bumps for ease of plugging and unplugging the wire. You'll notice the wire itself is thick from top to bottom, ensuring it's made to last. Unlike AmazonBasics, this adapter uses a short 4-inch cable. On one hand that's less room to connect devices, on the other hand the shorter cord makes it much easier to stick in a laptop sleeve or carry in your pocket.
Like many adapter manufacturers, Cable Matters boasts about their gold-plated connections. Gold helps, but only slightly. Adapters created with copper ends will oxidize eventually, looking unsightly and reducing performance. Gold holds up much better in an oxygen atmosphere than copper, though the kinds of gains and losses to signal performance we're talking about as almost as thin as the gold plating itself.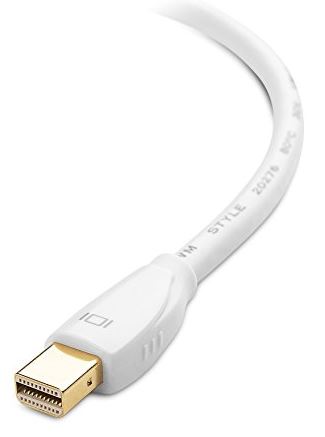 Other Considerations
Cable Matters provides an exhaustive list of products that it's capable of supporting. But you don't have to go looking for your device among the list, their support list is essentially a list of devices that have a Mini DisplayPort. If you know what a Mini DisplayPort looks like, then you shouldn't have any problem connecting your device.
Choosing the Option Right for You
If the quality you're looking for out of an adapter is "it works when I plug it in", then you'll be well-served by either the AmazonBasics or Cable Matters adapter. AmazonBasics shows a slight preference towards Apple users in terms of compatibility and aesthetic. Cable Matters has a slight preference towards Windows users in the same way. Either adapter will almost certainly work for any device with a working Mini DisplayPort, but sparse compatibility issues have been reported.
If you're looking for an adapter to last you the next six or seven years, you're probably better served by Cable Matters than by AmazonBasics. Cable Matters uses a much shorter 4-inch cord that will likely result in less cable stress. Gold plating is a minor contributor to its longevity as well. Sacrificing 5-inches of cord length may not work for some people, but most people won't need it.
And if you use multiple monitors, resolutions beyond 1080p, or higher refresh rates, then you'll want Pluggable's DisplayPort to HDMI adapter. Those features won't be possible when using the other adapters on this list. You'll also want to choose Pluggable's adapter if you need an active adapter. Just be sure you have an HDMI 2.0 port on the device you want to connect to, or this adapter won't run any better than the other two on this list.