Having the ability to record or stream video footage can bring an assortment of benefits no matter who you are. Whether you're a hardcore gamer, an amateur filmmaker, or just someone trying to record their favorite television shows, one of the best ways to do this is with a PCI-express video capture card. Rather than being connected externally via USB or Thunderbolt, a PCI-express video capture card is installed internally, directly to your motherboard to offer one of the fastest and most efficient ways to stream, record and/or broadcast footage over the web.
Today we're going to look at a few options that are worthy considerations if you're in the market for one of the best PCI-express video capture cards of 2016-2017. The specific ones we're going to cover are all fully compatible with virtually any console system you'd like to use (Xbox, PlayStation, Wii U, etc.) and offer high definition recording through HDMI. We'll give an overview of the most noteworthy features of each, and thoroughly explain how they each excel in performance.
Elgato Game Capture HD60 Pro
Designed specifically for streaming and recording all of your favorite Xbox, PlayStation, or Wii U games online, the Elgato Game Capture HD60 Pro is our highest rated choice, and rightfully so. Packed with a wide array of advanced features with full 1080p HD quality at 60 frames per second, you're given the ability to showcase your gameplay in the best possible format. Ideal for those who don't want to cut corners and want the most reliability, it's truly crafted for perfection.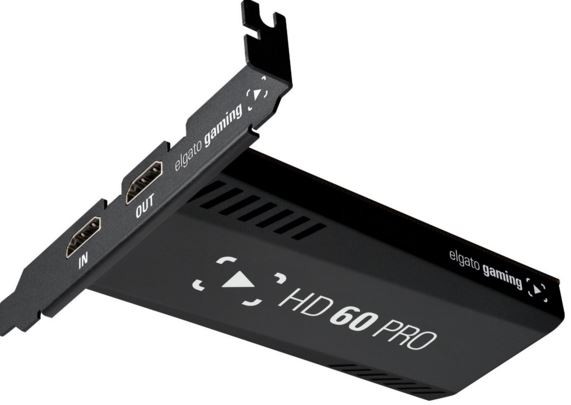 Smooth Recording and Playback
Utilizing the latest H.264 hardware encoding, the file sizes for recording and streaming are compressed to save bandwidth without compromising any of the quality. The small file sizes are excellent for easy-management and greatly save on available storage space. Even if you don't plan on recording, this encoding will assure that your stream doesn't experience lag or latency issues, even with hundreds or thousands of live viewers.
It's easy to seek through your footage with the Flashback Recording feature. It gives you a simplistic interface where you can effortlessly slide back the time on your computer, and push the record button retroactively. This way, you can go back in time if you decide that you should have began the recording earlier.

Streaming
A very useful feature known as Instant Gameview gives you total control over your live stream with the best possible latency. It gives you an instant preview of your broadcast so you can see exactly what your viewers are seeing – in real time. From here, you can take advantage of the Stream Command that enables you to overlay a variety of windows or additional screens including but not limited to your webcam, browser, second camera, etc. You can even add your voice and add your own commentary in real-time.
Master Copy
With the Master Copy feature, it'll simultaneously record in full 1080p at 60 fps while streaming in live, real-time. Without affecting the quality of your stream or broadcast, it can save a copy of your game to your hard drive so you always have a copy of the action, even after the gameplay ends. This isn't something you necessarily have to configure, since it can easily be switched off if desired.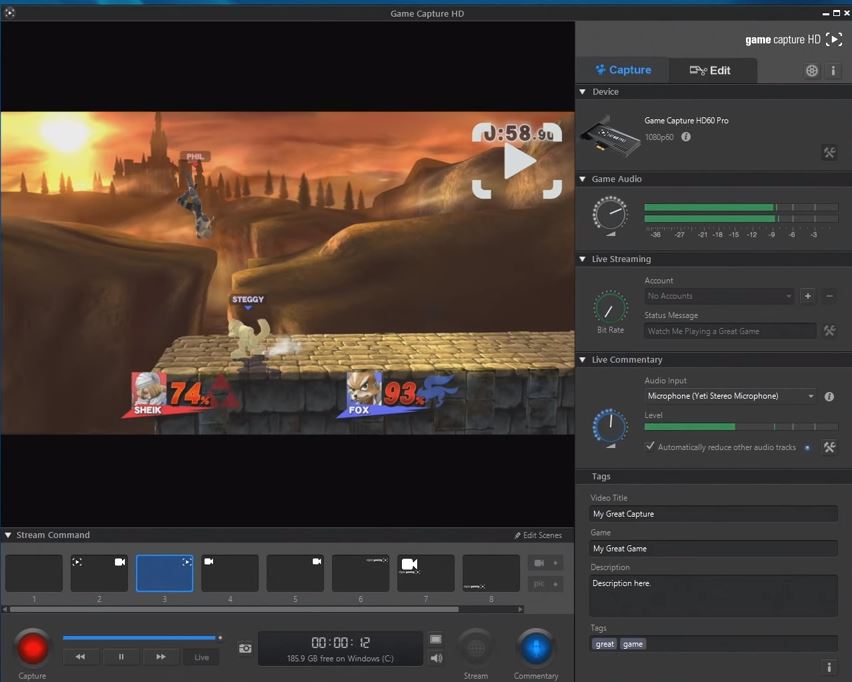 Simple Installation and Use
One thing that's really desirable with the Elgato HD60 Pro is it's simplistic ease of use. The installation process is very straightforward and considered to be an easy upgrade, even if you've never added a PCI-express card before. Before you set it up for first time use, be sure to install the latest version of the Game Capture Software.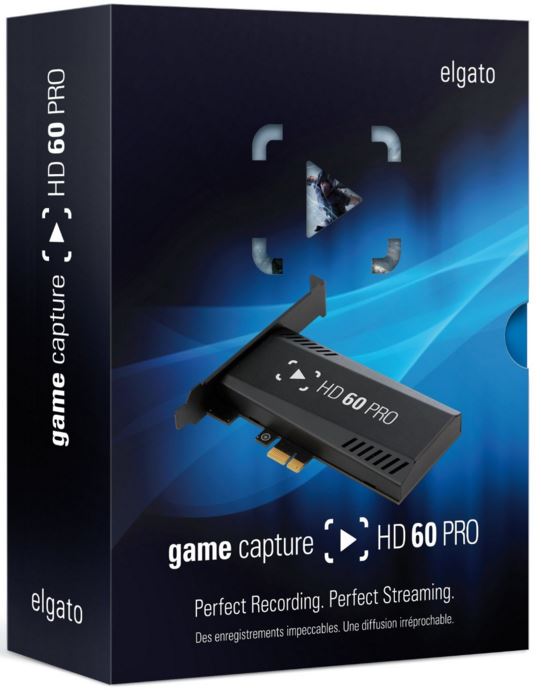 Then, make sure that your PC is turned off and the power supply is unplugged. From here you'll need to simply slide it into any available PCI-e slot on your motherboard and twist one small screw to secure. After this, connect an HDMI cable to the "IN" port to whichever console you'd like to record from, and connect another HDMI cable to the "OUT" port so you can view it on your monitor or television.
AVerMedia Live Gamer HD 2
Another impressive PCI-e internal video capture card that's worth considering is the AVerMedia Live Gamer HD 2. Although it's priced a bit less than the Elgato HD60 Pro, it still boasts the same 1080p recording capabilities and utilizes the latest H.264 hardware encoder. Additionally, it has some very useful features that are all designed to make your streaming easier, more enjoyable and in excellent quality.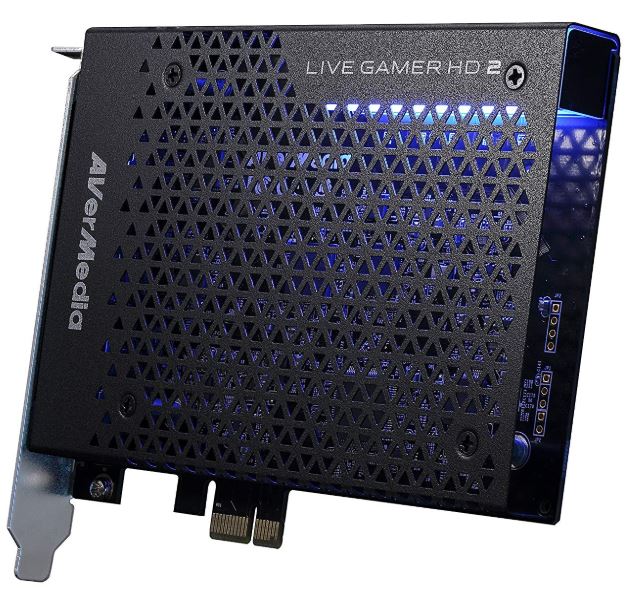 We do want to note that the AVerMedia Live Gamer HD 2 records 1080p at 30 fps, whereas the Elgato HD60 Pro records 1080p at 60 fps. However, you can still record at 60 fps if you'd like, but you'll have to do it in 720p mode.
Dedicated Recording Button
Rather than having to deal with hotkeys or messy keyboard configurations, AVerMedia includes a dedicated recording button that sits externally on your desktop so you can record at a precise time, all with the simple push of a button. You can keep it easily within reach so that you don't have to have any conflictions with specific in-game commands or hotkeys that you may need.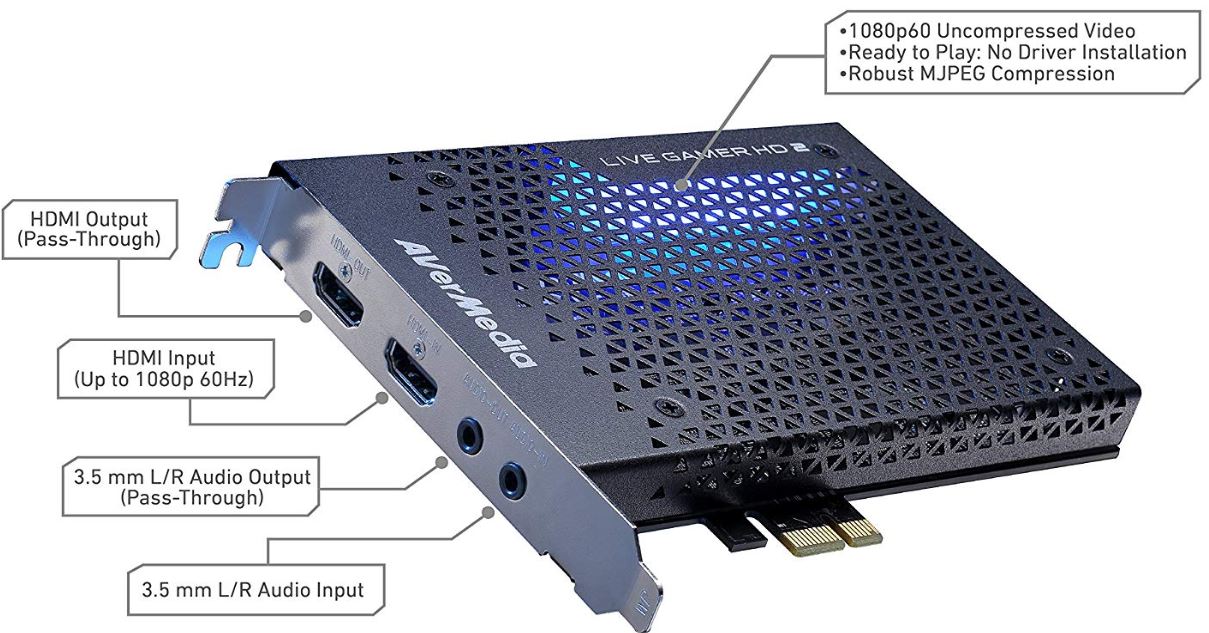 Impressive Bitrate
Thanks to AverMedia's latest RECentral drivers, you're given the freedom to record at a bitrate of up to 60,000 kbps (the same as the Elgato HD60 Pro). This is a much higher bitrate than most other video capture cards on the market, putting it a step above the rest. What this does for your footage is assures smooth playback without a grainy feel to it. You won't have to deal with unimpressive footage that shows inferior quality to what you're actually viewing on your screen.
File Compression
Equipped with a H.264 hardware encoder, it's specifically designed to use less resources and lower your CPU usage drastically. This encoding technology will minimize the file size and make your footage viewable without any latency issues, all while never compromising on any regards of visual or audible quality. Post-editing is made easier this way, since you won't have to deal with editing massive file sizes that can take much more time to work with.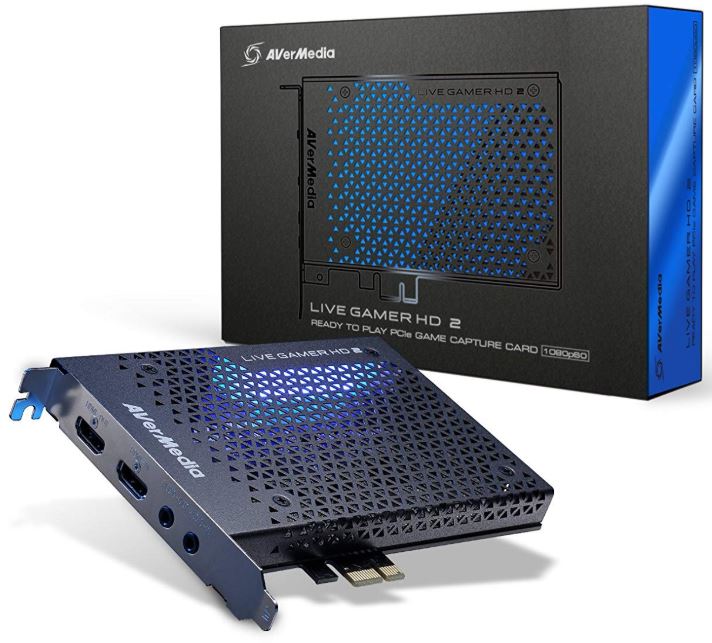 RECentral Software
With the included RECentral software, you're given the freedom to adjust a wide assortment of settings that affect your recordings and live streaming. Change the balance of colors, the frames per second, light levels, and more. Best of all, it integrates your TwitchTV and Ustream accounts for seemless broadcasting of your live gameplay so you don't need to manually login and configure each and every time you want to stream.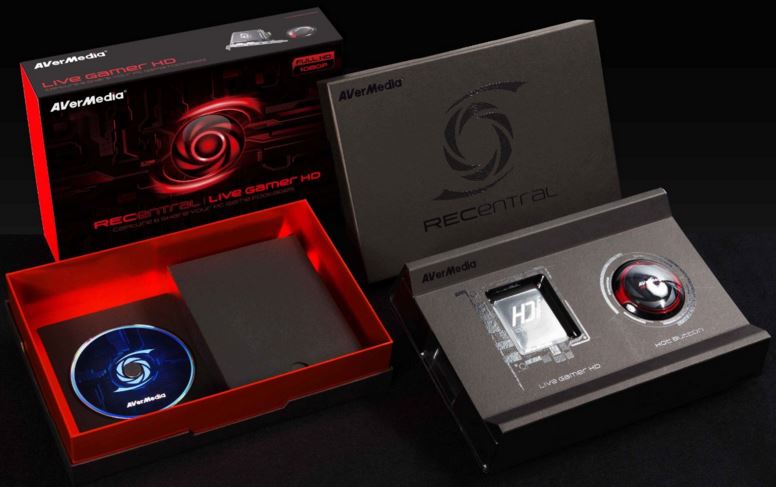 Additionally, RECentral offers audible adjustments so you can include your own voice commentary in real-time. It even gives you a "Push to Talk" feature so you can include your voice only where it's needed the most. It can even be saved so you can post-edit your voice and add it later.
Hauppauge Colossus 2
Priced less than your typical internal video capture card, the Hauppauge Colossus 2 offers a surprising amount of value with a wider range of connections than both the Elgato and AverMedia options we've previously discussed. With HDMI in, HDMI out, component video in, optical audio in, microphone in and IR blaster out, you're able to record and stream a wide range of consoles and devices, all in 1080p quality. Utilizing the same H.264 encoding, you're assured small file sizes to make for a no-lag, latency-free experience, each and every time you put it to use.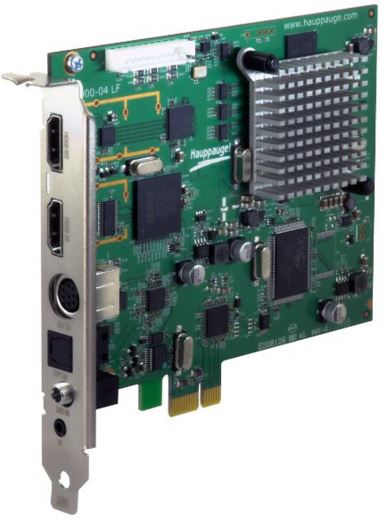 Wide Range of Uses
Although many of use are looking to install a PCI-e capture card simply to record and stream our favorite console games, the Hauppauge Colossus 2 is catered to more than just that. While it does indeed record video games without any flaws, it's commonly used and actually geared towards being able to record cable or satellite television. Since there's more than just an HDMI in/out, many older set top, satellite, or cable boxes can take full advantage of the multiple input options. Also, the included WinTV v7 application can be configured to automatically record high definition television on its own.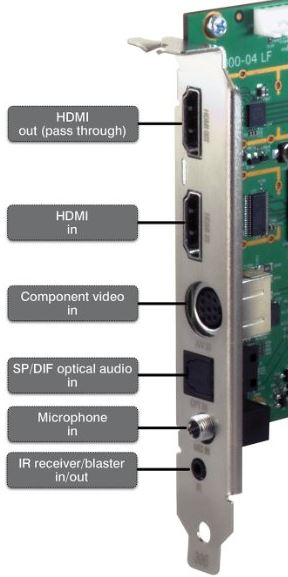 StreamEez
Streaming directly through YouTube and Twitch can be easily done with the StreamEez feature. It will configure your accounts so you have access to connect and start streaming without a manual or re-authentication process each time you open up the application. Your system will automatically be set with the most ideal hardware acceleration so that you can showcase your live, in-game experience with the best possible detail and clarity.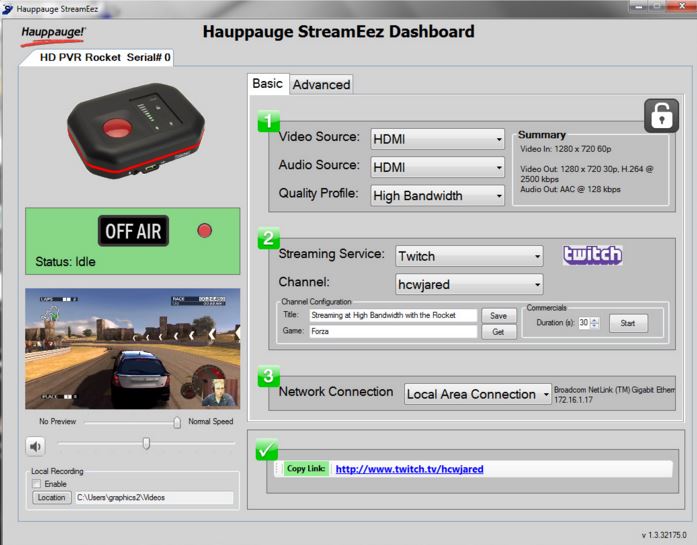 Customizing your stream is easy, too. StreamEez gives you the freedom to add your very own logo as a watermark on all of your footage, thus giving your channel a bit of an upper-edge with it's own branding.
Frames per Second
As we've already mentioned, the Hauppauge Colossus 2 records in full 1080p resolution, but we need to make note on the specific frame rates available. While you're using the HDMI port as a pass-through, you can achieve 60 frames per second. However, it will record at a maximum of 30 frames per second when there isn't a pass-through and it's solely recording.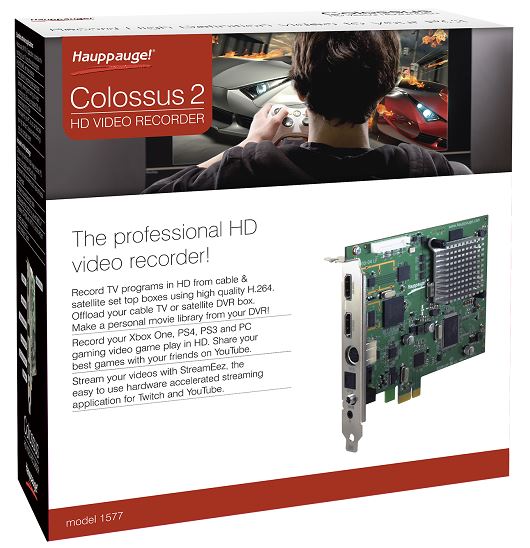 Simple Installation
The installation and configuration process is very simple and easily achievable by anyone with minimal computer skills. The quick installation guide will give you a clear breakdown of all that needs to be done to get it working for the first time. They've even included an HDMI cable, an AV adapter, IR blaster cable, and a CD with both WinTV v7 and Hauppauge Capture software.
Which One Should You Go For?
We've gone over three of our most recommended options for the best internal PCI-express video capture cards, but which one will ultimately be the best for you? Each one of them offers full 1080p high definition recording, live streaming capabilities, and excellent software to go with them, but there are slight differences that set them apart.
If you're looking for the best of the best and you don't want to skimp on any features, we whole-heartily recommend going with the Elgato Game Capture HD60 Pro. It has the most desirable features with 1080p at up to 60 frames per second regardless of whether you're simply recording or live-streaming to thousands of viewers around the world. The software that Elgato includes is the most useful, offering a wide range of configuration options and personalized settings that can be easily configured.
The AVerMedia Live Gamer HD 2 is another great option that's priced a bit less, but offers 1080p at 30 frames per second, rather than 60. It comes included with a useful external recoding button and features decent software.
Last, but definitely not least, is the Hauppauge Colossus 2. Offering 1080p at 60 frames per second in pass-through mode, or 30 frames per second in recording mode, it has more inputs/ports than the other two, although it may not look as flashy.
Overall, any of these three PCI-e video capture cards would make a great upgrade your your desktop PC, whether you want to record, stream or broadcast your footage through Twitch, YouTube, or other popular or obscure streaming websites.