In recent years, home air quality has become more and more of a concern for more and more people. There are two main reasons for this. The first is increased health awareness in society in general. As we learn more about the dangers of mold, VOCs, and smoke, we value our air quality more. The second is a bit less intuitive; it's the way we build and insulate our homes these days.
Until a few decades ago, even a well-insulated home was drafty by today's standards. This was a bad thing for your energy bill, which is why insulation standards have gone up over time. But it's actually a good thing for your indoor air quality. Unless you're currently suffering from the effects of the west coast wildfires, outdoor air is cleaner than indoor air. This means that a drafty house was actually a good thing for your health! Nowadays, we have a new option: indoor air purifiers. With the right air purifier, you can keep your air clean and also keep it at a comfortable temperature.
Of course, not all air purifiers are equally well engineered. Some are worth buying, while others are obviously a waste of your time. We're about to look at an innovative new option from a new American company. AirDog has developed new filtration technology that's designed to be washable and reusable. Their X5 purifier and others have already become a big success. Now, they've launched the smaller X3 purifier as an Indiegogo campaign. But is it worth getting on board with a pre-order? Or should you wait for the next generation and see how the filter improves? We've gotten a close look, and now we're going to tell you everything we've learned about the X3. Let's get started!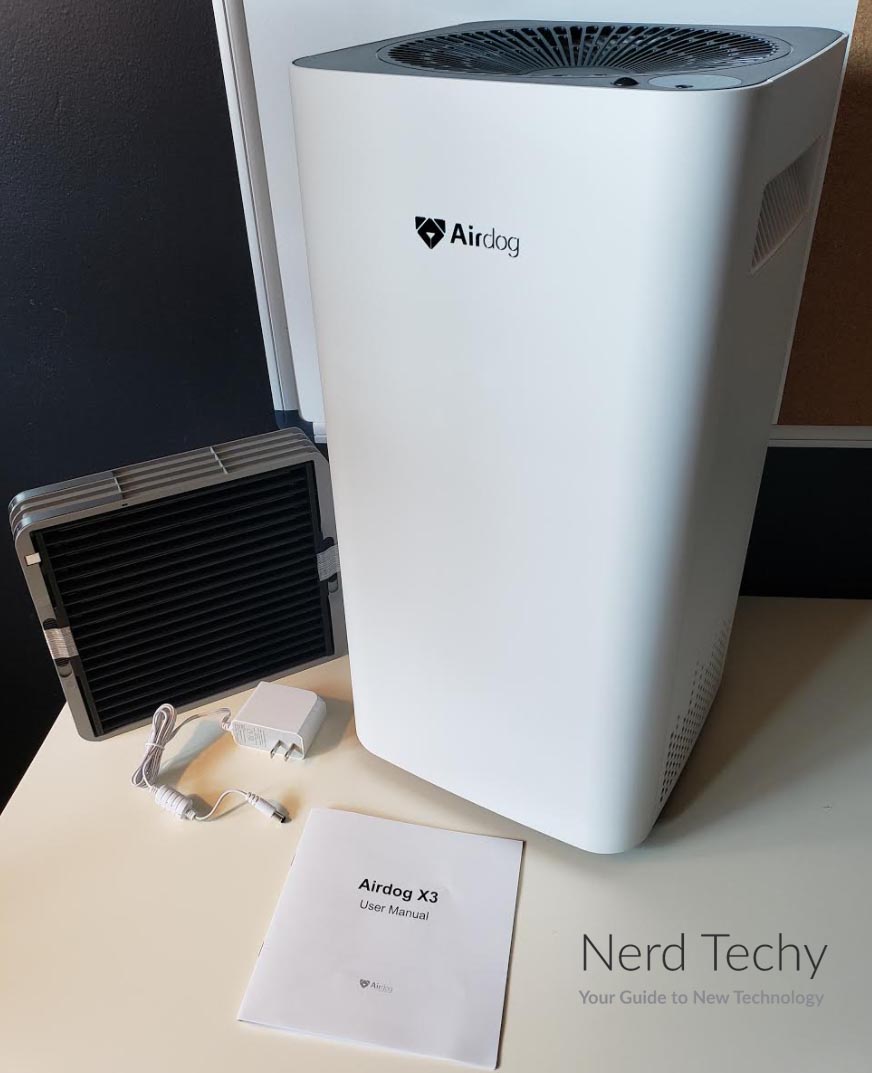 Design & Construction
The AirDog X3 has a rectangular design that's comparable to many contemporary air purifiers. It stands 14.5 inches tall and 12 inches to a side, so it falls in the middle in terms of size. At 12.7 pounds, it's heavier than it looks like for the size, but moving it is no issue. There are a pair of cutouts near the top, so it's easy to lift with your hands. The corners are rounded to avoid presenting any sharp corners. Moreover, the base is slightly elevated, so you don't have to worry about it getting bogged down in carpet.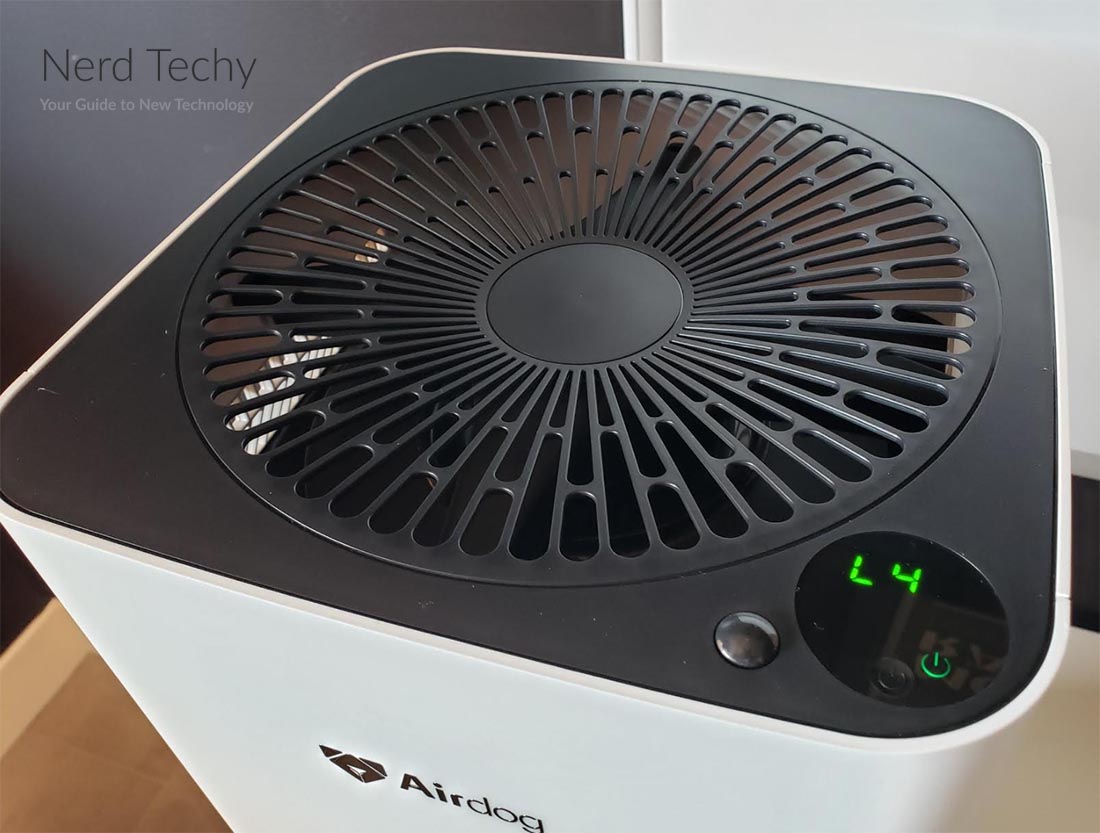 The X3 case is constructed from matte white ABS plastic. The finish doesn't attract dust, nor does it gather fingerprints. Of course, considering the fact that there's air getting sucked through, some dust will inevitably collect around the air intakes. When that happens, the case is easy to wipe down with a damp cloth. The only other real decoration on the case is a small AirDog logo towards the top of the front.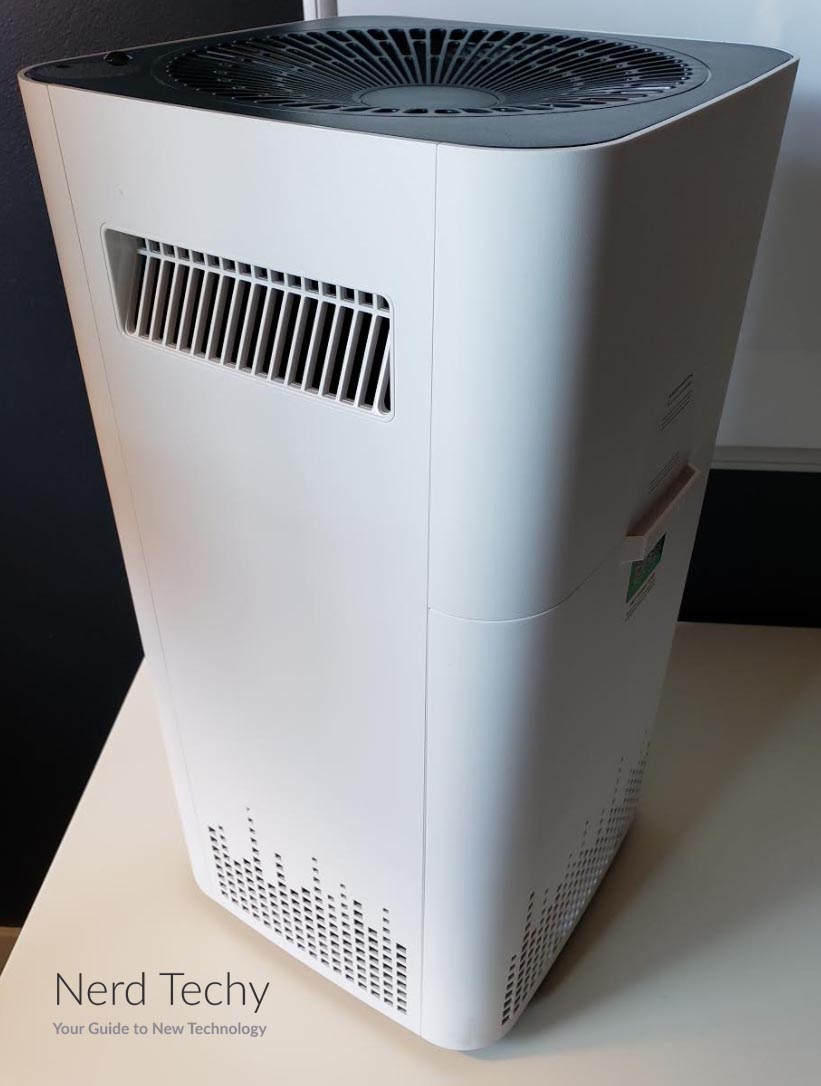 If you're looking for a smaller air filter, they're tough to come by. The X3 is already pretty compact! But the Air Choice HEPA Air Purifier goes a step further. It's a truly desktop-sized unit, and can easily be moved from room to room. On the down side, it has a small coverage area, and there's no odor elimination.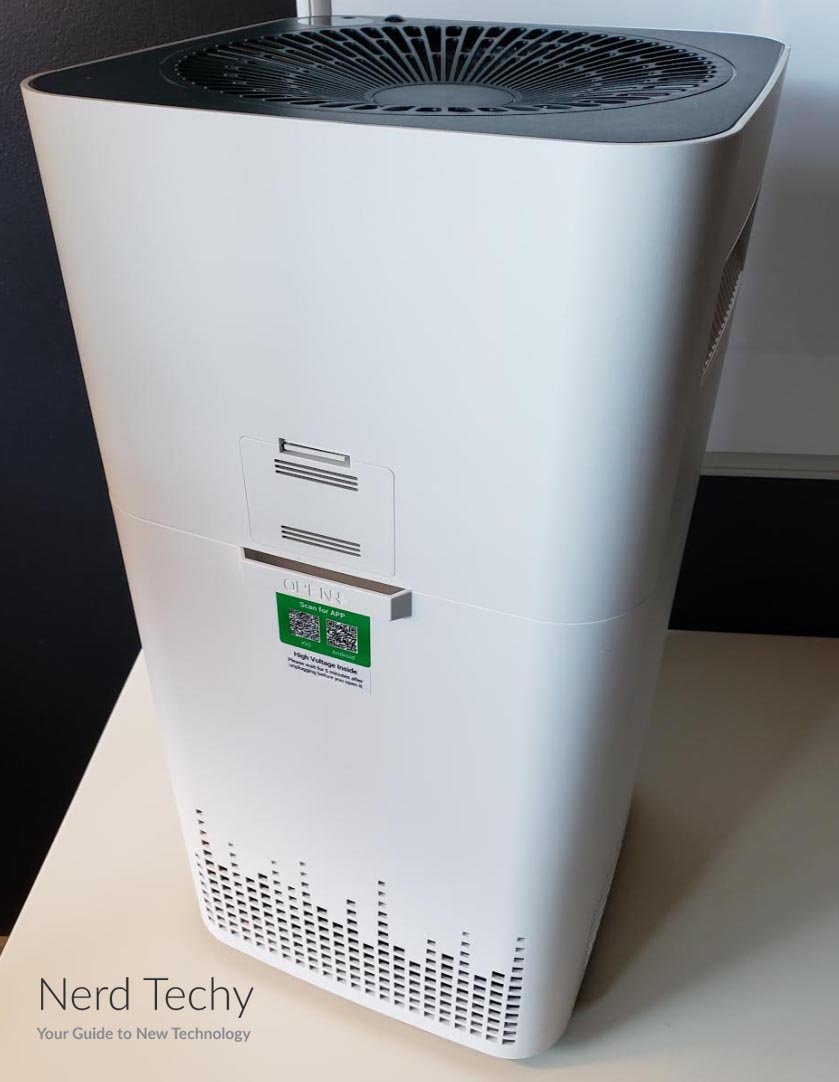 On the X3, the air intake vents are located towards the bottom of the case. They have a grid-style design, and they're arranged in an irregular bar graph pattern. We can't tell whether or not this pattern serves any particular purpose, but it looks neat. The air then passes through the filter, which is located in the bottom half of the unit. A fan in the top of the unit draws the air through, before expelling it through a radial black vent in the top. There's a single power button located on one corner of the top. Tap it to cycle through three different speeds, with the current speed indicated by an LED light.
As you can see, the X3's design is compact and neat, but it doesn't have a ton of controls. If you want a more interactive filter, consider the TaoTronics HEPA Air Purifier. It has a vibrant, colorful control panel, but covers less square footage than the X3.
The AirDog X3 comes with a 1-year manufacturer's warranty. If it breaks during this time period, simply contact AirDog customer service for a refund or a replacement.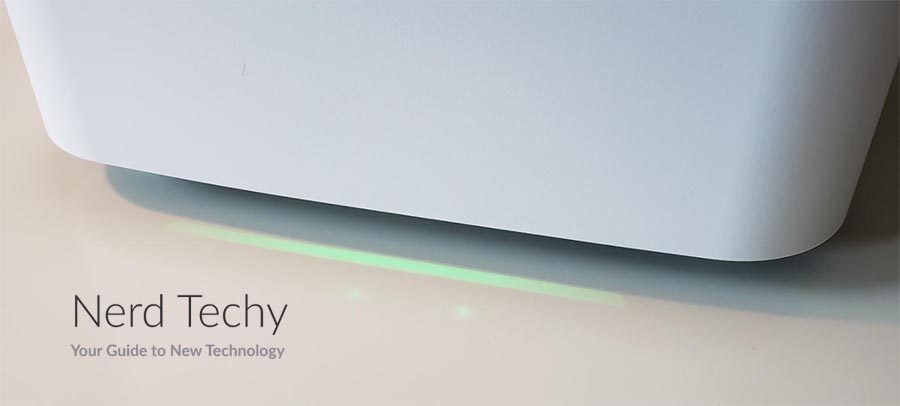 Everyday Operation
The AirDog X3 is rated for 323 square feet, assuming standard 8-foot ceilings. This is more than big enough for any bedroom. It's also sufficient for most living rooms, kitchens, and pretty much any single room in your house. You can move it around with you as you go, or use different filters in different rooms. Alternatively, you could keep the purifier in your bedroom to keep the air clean when you're sleeping.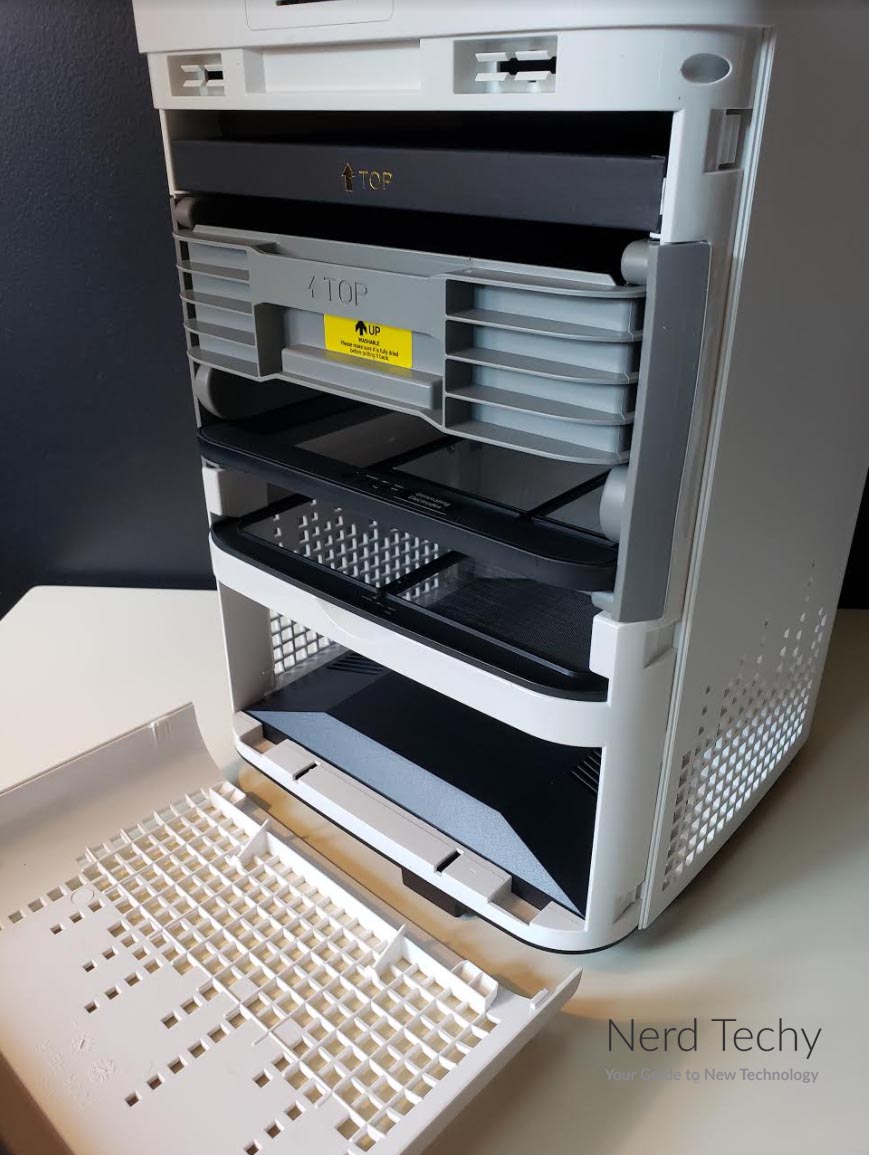 If you need to cover even more area, check out the TOSOT KJ350G True HEPA Air Purifier. It covers an impressive 450 square feet, enough for some small apartments in their entirety. On the other hand, it's a bit large, so it can be a pain to move around.
The X3 operates very quietly, although the exact volume will depend on your fan setting. On high, it's a noticeable whir. It's not a problem for ordinary conversations or everyday life. But if you're trying to sleep, you might want to turn the volume down a bit. On the lowest setting, the X3 is hardly audible at all. You literally have to hold your head next to it to hear the rush of air through the filter.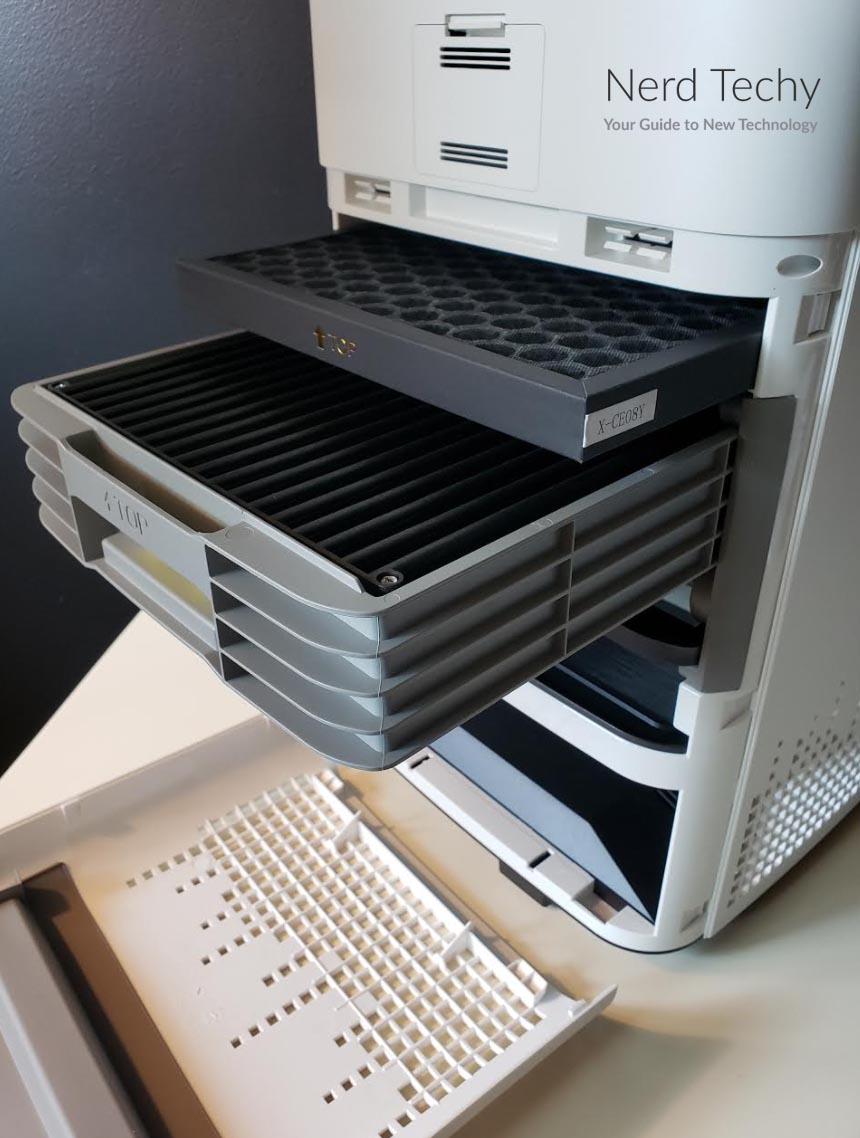 We mentioned earlier that the X3's external controls are bit underwhelming. If you want more functionality, just connect the X3 to your home's WiFi network. The AirDog app is free on iOS and Android, and can be installed in mere minutes. Within the app, you can operate the X3 air filter from anywhere in the world. This is a great way to turn the filter on before you get home from work. The app also tracks your air quality in real time. With this feature, it's easy to tell when you need to turn the purifier up or down.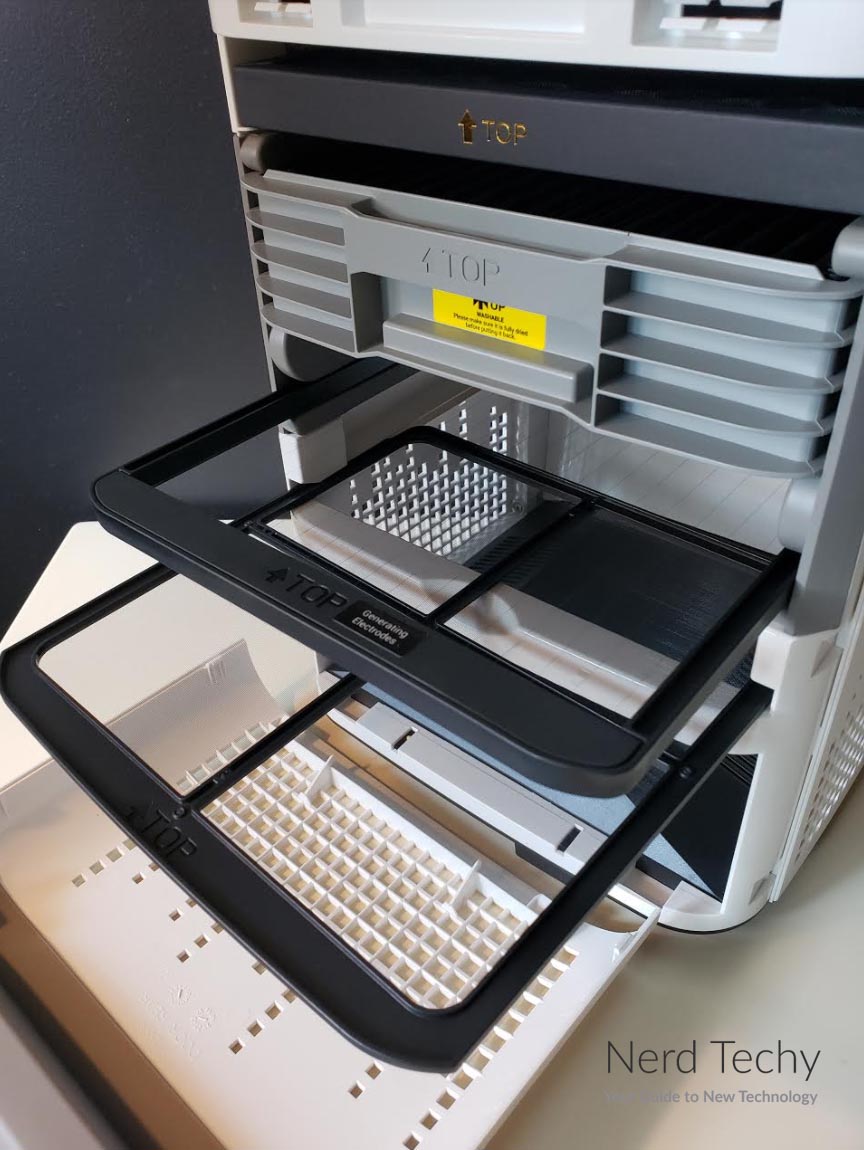 Filtration System
The main attraction of the AirDog X3 is the dishwasher-safe TPA filter. Instead of needing to replace your filter every few months, you just wash it once a week or so. Over time, this can save you a good bit of money. The filter pops in and out easily, so you won't have any issues there. Just make sure to wash it on the top rack, since it can easily get damaged on your dishwasher's bottom rack.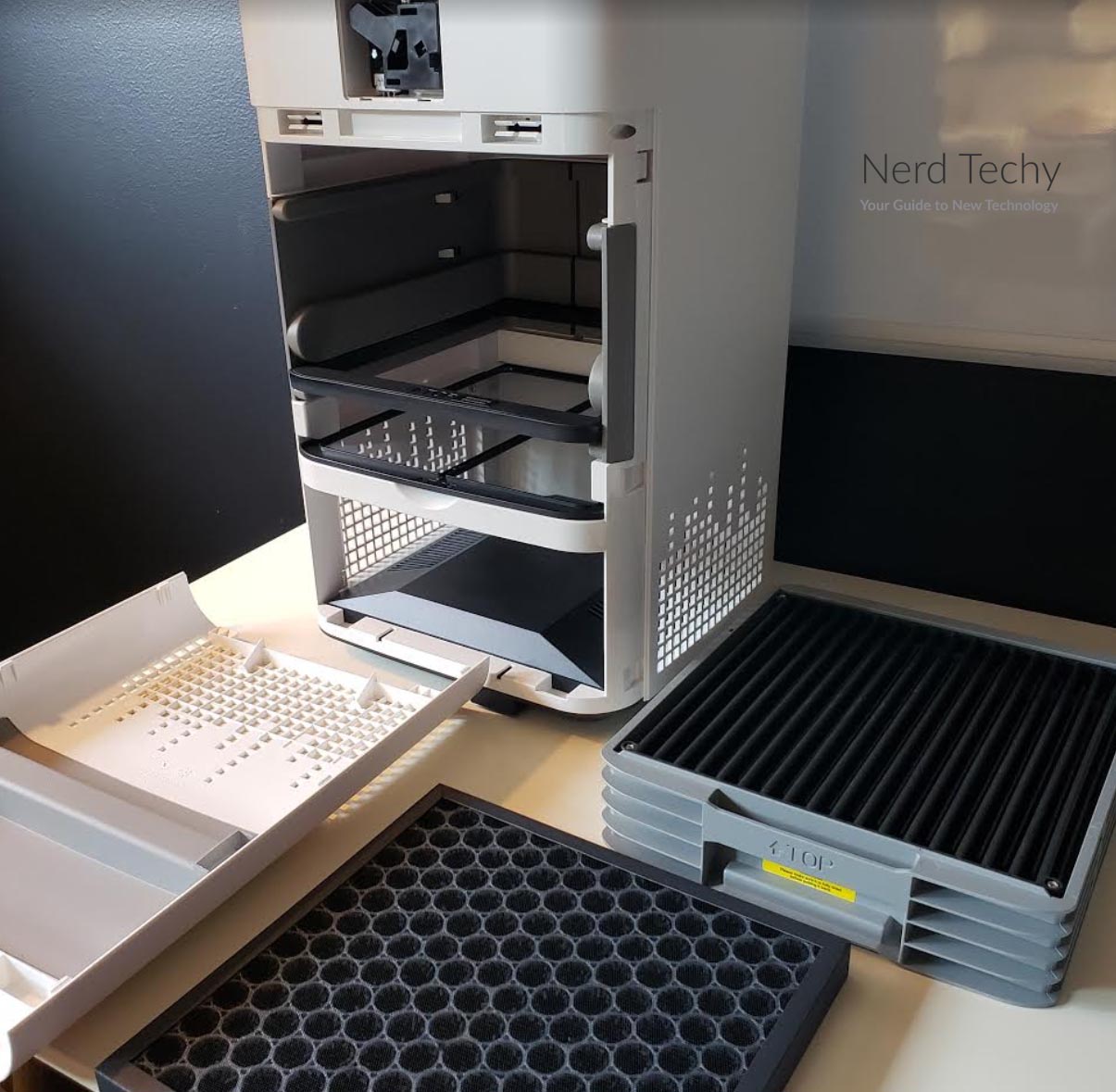 The filtration system is exceedingly effective, and removes particles as small as 0.0146 microns. This is roughly five percent the size of the smallest particles a standard HEPA filter can capture. You can filter everything you can remove with a HEPA filter, including mold and pollen. You can also remove VOCs, smoke, bacteria, and even the vast majority of viruses. Not only that, but the filter is designed to kill microbes in addition to trapping them. This means your filter won't turn into a petri dish like some HEPA filters can.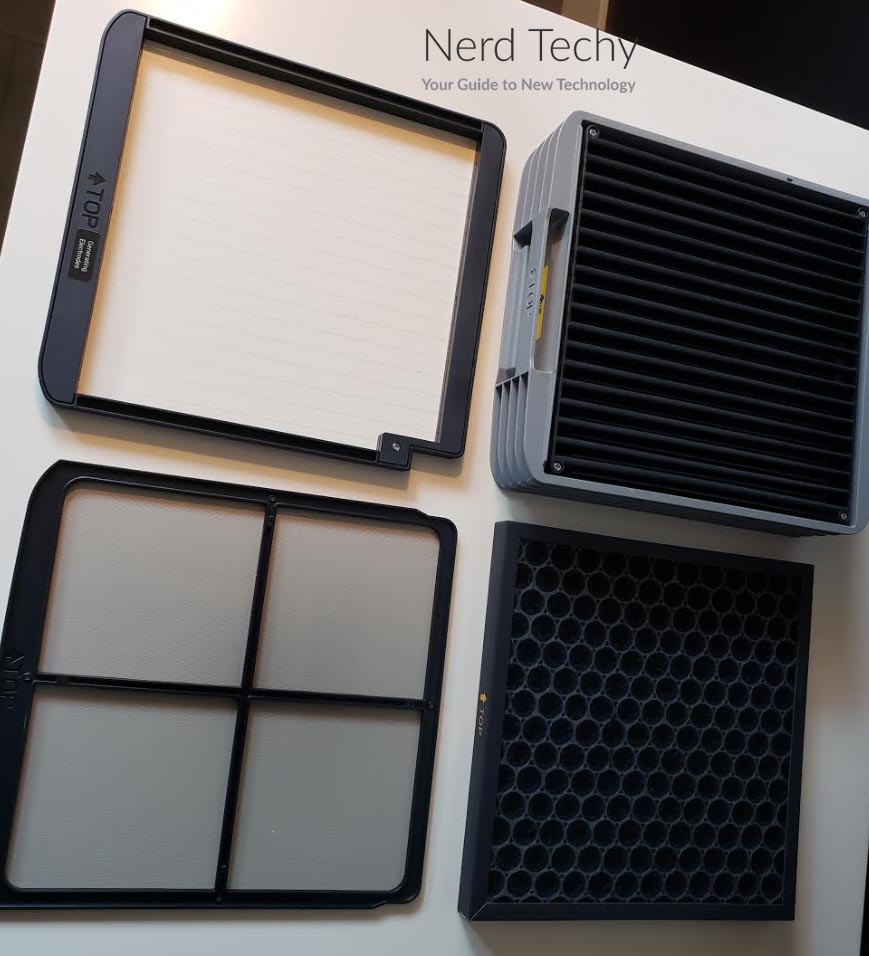 With all of that being said, the filter system on the X3 is basically an ionizer. As you'll see in a second, it's got some added bells and whistles, but it's fundamentally the same technology. This means that it will produce a small amount of ozone. For many people, this won't be a problem. But if you're concerned about keeping your home's ozone level as low as possible, you'll prefer a traditional filter. Now that we've gotten that out of the way, here's a quick overview of how the X3's filter system works:
First, a simple pre-filter screen removes large particles like pet hair and dust bunnies. This pre-filter screen is actually on the outside; it's the grid-shaped intake on the case. Keeping this part of the purifier just requires a quick wipe with a damp cloth. Other than that, everything else is inside the case, and gets cleaned in the dishwasher.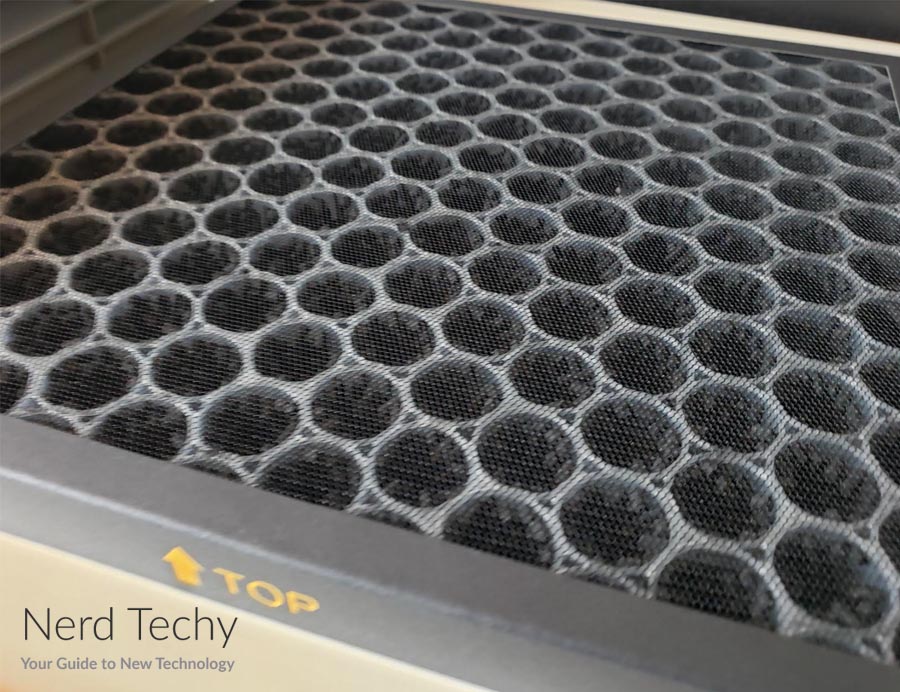 The next step is a set of emitter wires. These emitters create an electrical field that applies a charge to any particles. In the next step, an ionic field kills bacteria and viruses. It's important to note that this is not the same as a UV sterilizer or another true sterilizer. It will take several passes through the purifier to kill over 99.87 percent of germs. As such, the X3 might be effective, but it's not a true medical-grade filter.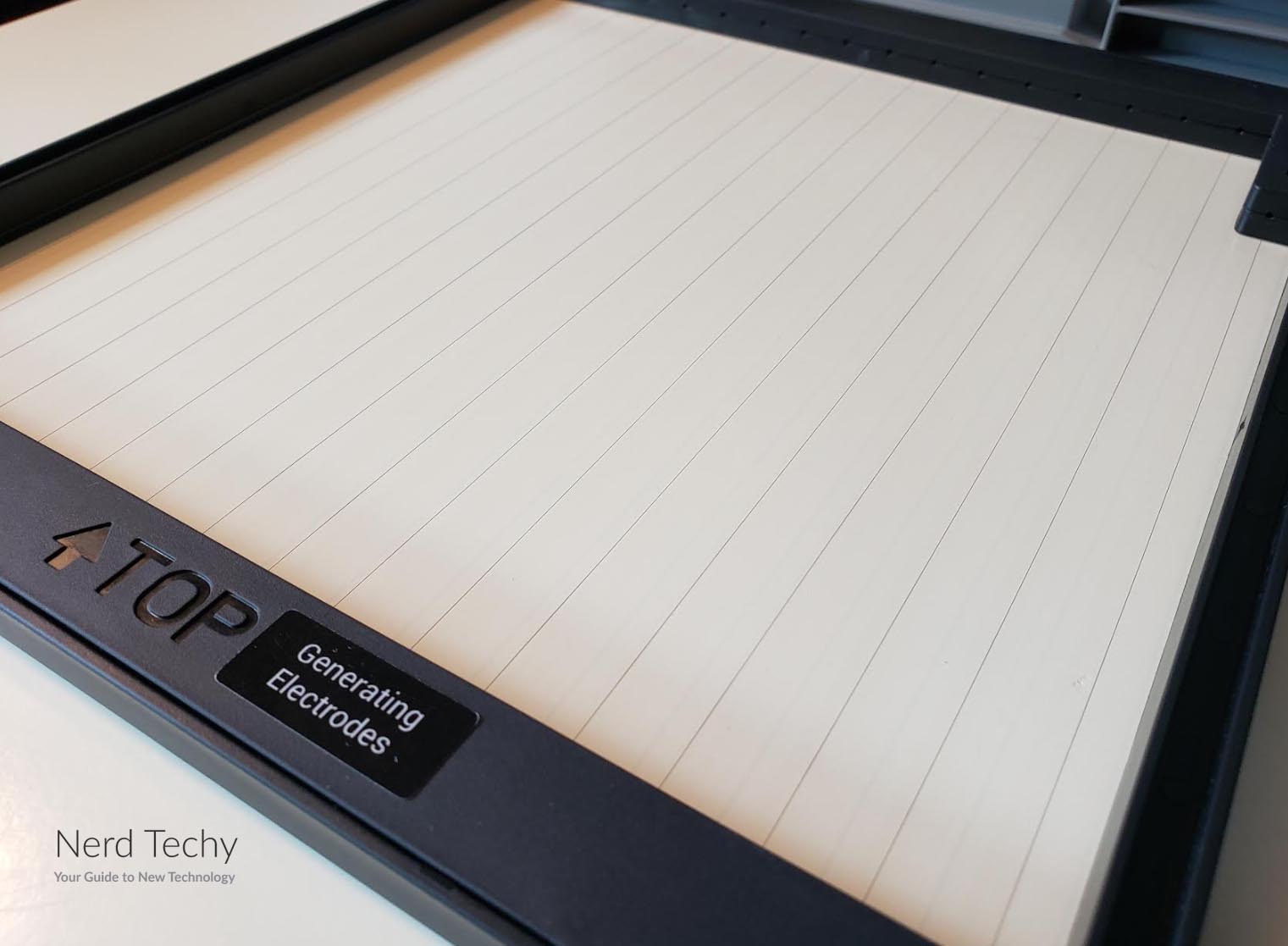 Step four of the filtration system consists of a set of collection plates. These plates are arranged in a grid, and have an opposite electrical charge to the charged particles. As a result, the particles will cling to the plates, and only pure air is passed out of the filter. These plates can be washed and reused almost indefinitely. The last step is a catalytic filter. This filter doesn't remove particles, but it's designed to remove odors from the air. It removes smells from cooking, cigarettes, and pets, so your air smells as clean as it actually is.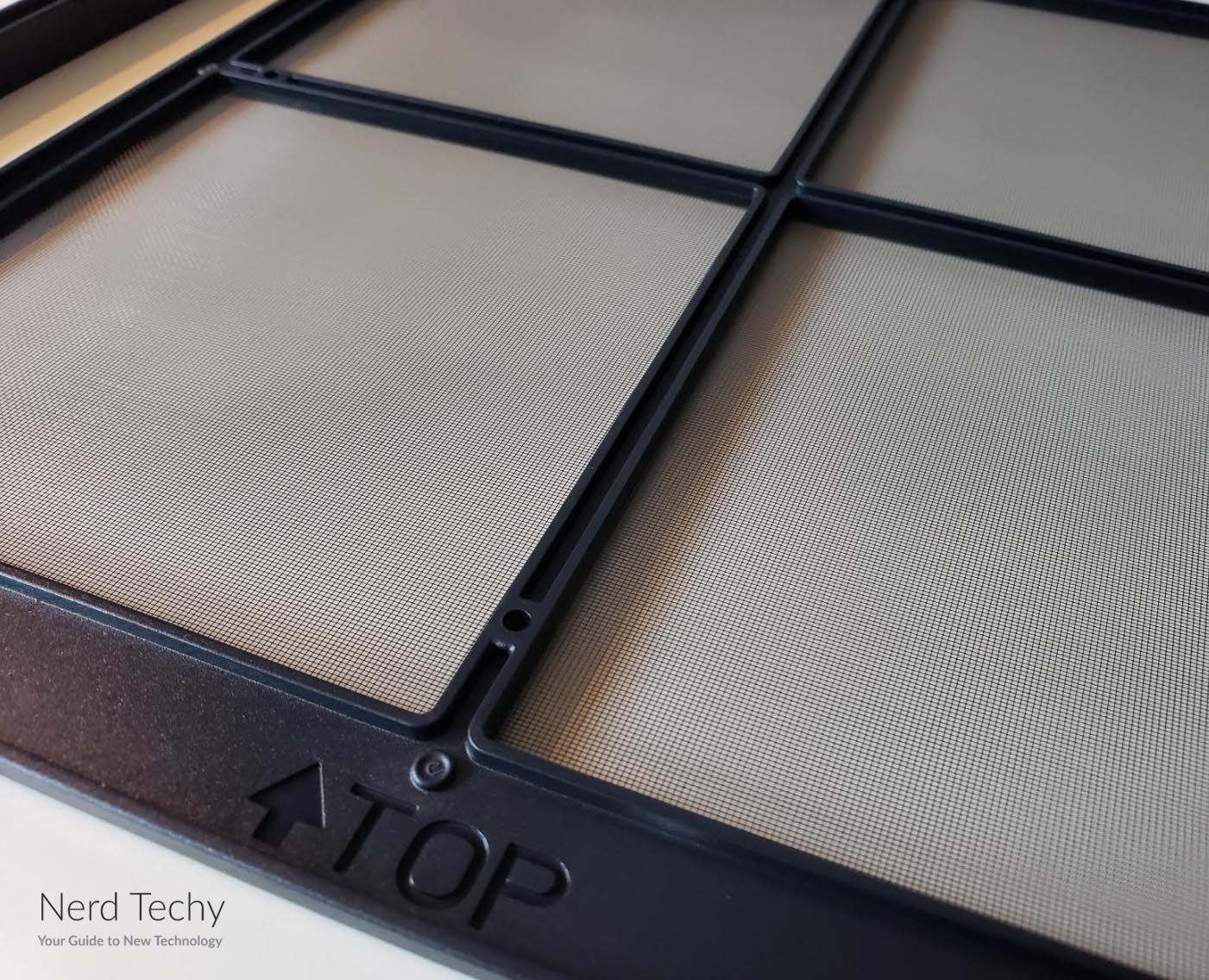 Final Verdict
As you can see, the AirDog X3 is a well-engineered air purifier that comes at a reasonable cost. It's a relatively compact unit that can be used just about anywhere in your home. It's attractive to look at, and it's easy to keep clean when it invariably gets dusty. Needless to say, it's not perfect. Some people might not like the fact that it produces some ozone.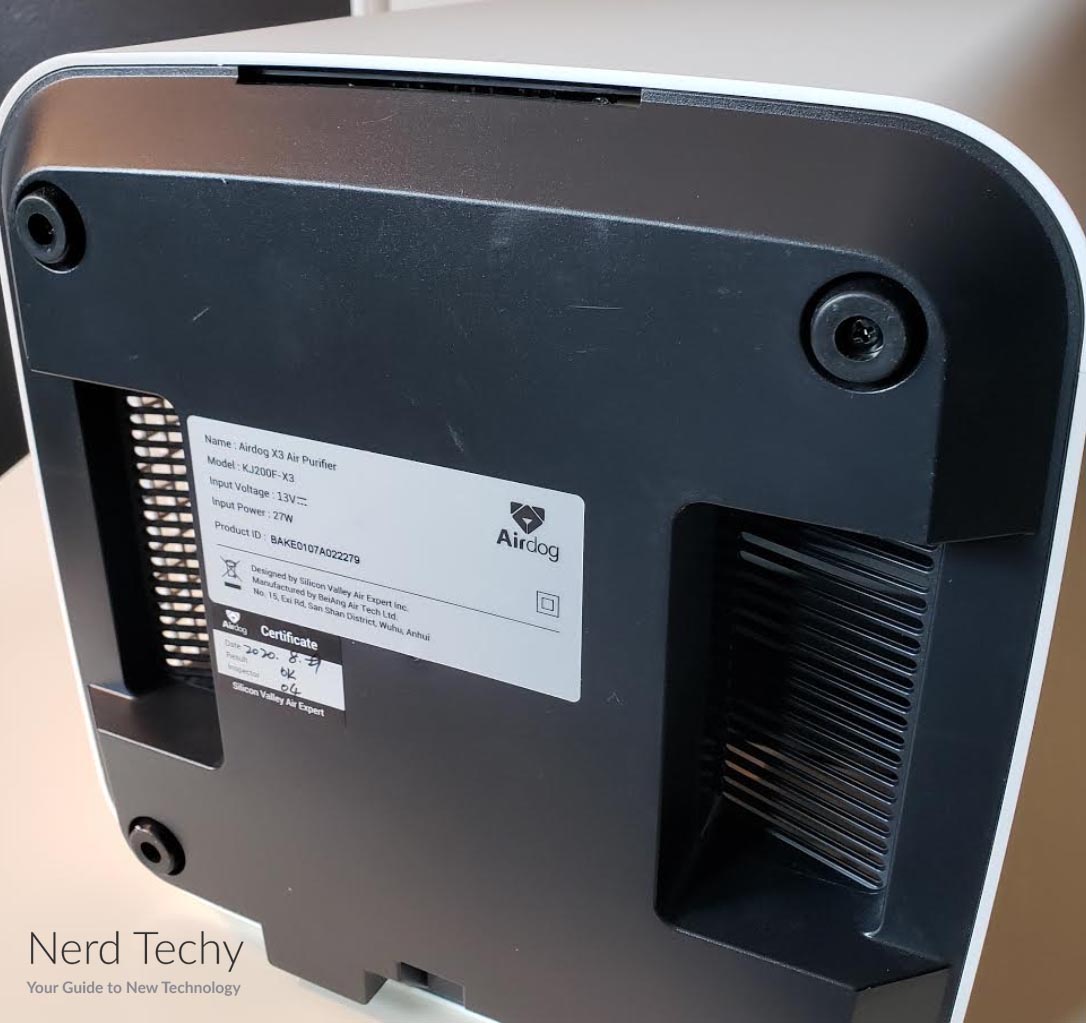 But if you want a convenient, effective filter, the X3 is tough to beat. Its most standout feature is the removable, washable filter. We can't stress enough how useful it is to have a filter that can be cleaned in your dishwasher. This clearly separates the X3 from standard HEPA filters, which require costly replacements. Does this mean it's right for you? As is so often the case, that depends entirely on what you need.
Meet Derek, "TechGuru," a 34-year-old technology enthusiast with a deep passion for tech innovations. With extensive experience, he specializes in gaming hardware and software, and has expertise in gadgets, custom PCs, and audio.
Besides writing about tech and reviewing new products, Derek enjoys traveling, hiking, and photography. Committed to keeping up with the latest industry trends, he aims to guide readers in making informed tech decisions.