If you're an athlete or you're rehabbing from an injury, you know the importance of a good massage. A quality massage can make or break your workout. Skip the massage, and your muscles may be too fatigued to benefit from a workout the next day. Get your massage in, and you'll be that much closer to full recovery. But a professional masseuse is tough to manage in these days of social distancing. More to the point, it could quickly get expensive to get a massage after every workout! A percussion massage gun will let you take care of your own massage needs, without any additional expense.
Today, we'll be looking at two high-quality percussion massage guns that will hopefully meet your needs. First, we'll examine the Mebak 3 Massager. The Mebak 3 is a simple, straightforward massage gun with five different speed levels. Next, we'll look at the Legiral Le3 Percussion Massage Gun. This massager offers an impressive 20 different speed levels. But there's more to a good percussion massager than just speed. For example, how do they feel in your hand? And how do they feel when you press them into a knotted muscle? Let's take a closer look, and we'll be able to render a final verdict!
What is Percussion Massage Good For?
Before we go any further, let's talk about what a percussion massager is. You may already own a massager, or even a full-blown massage chair. In that case, you might be asking yourself why you should bother with a percussion massager to begin with. Why is it better? In all honestly, it may or may not be better, depending on what you need. The fact is that different kinds of massage are best for different purposes. If you just want to relax and de-stress, for example, a shiatsu massage is an ideal choice. So, when is percussion massage preferable to other types of massage?
Percussion massage is unique in that it applies pressure in an up and down motion. This differs from other types of massage, where pressure is applied in a side to side motion. Side to side motion is generally more efficient, since you can cover a larger area at once. However, it also lacks precision. This is why a traditional deep massage can often relieve the target muscle, but make adjacent muscles sore. A percussion massager avoids this by applying a massage with precision. This means the target muscle will be relaxed without fatiguing other muscles.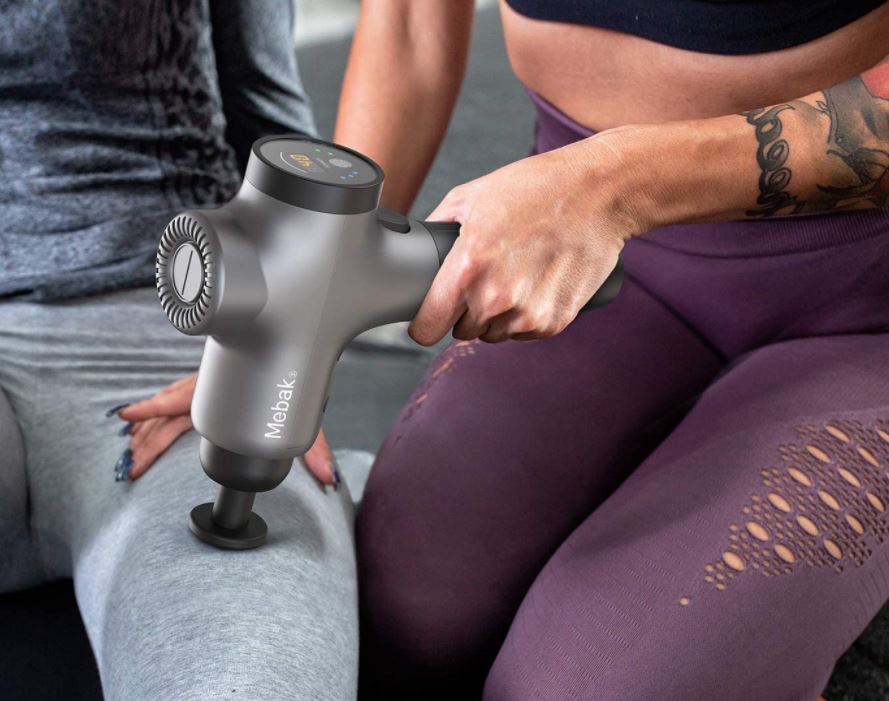 Of course, a human masseuse can achieve the same effect with certain hand techniques. For instance, they can simply dig a knuckle deep into your back. However, this can be tiring and uncomfortable for everyone involved. Because a percussion massager runs on an electric motor, exhaustion isn't an issue. You can enjoy a deep massage for as long as you like before someone needs to take a break.
Other than being more precise than traditional massage, percussion massage works for two main reasons. First off, it loosens up your muscles. This reduces stiffness, so you can maintain flexibility and avoid cramping up. This makes a percussion massager ideal for post-workout recovery. The more relaxed your muscles are when you come out of the gym, the faster they'll heal. This means you'll be able to get back to your workout sooner. The advantage of percussion massage in particular is that you can reach deeper muscle groups than traditional massage. In other words, your calves, quads, and back won't be left feeling stiff.
The other benefit of a deep percussion massage is that it can reach deep scar tissue and tendons. These make a percussion massager a great physical therapy tool for recovering from injury. They're a popular part of rehab treatment. But there's no reason you can't make them a part of your regular, everyday workout recovery.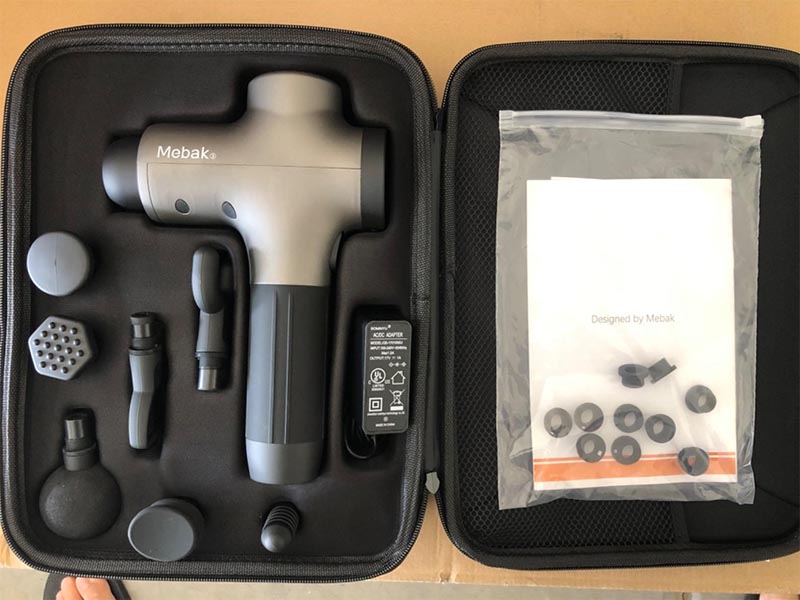 Mebak 3 Percussion Massager
The Mebak 3 Percussion Massager has a T-shaped design that's a cross between a traditional massager and a pistol grip. The massage head reaches off the long side of the T, while the short side sports a crisp, colorful LED display. There, you can see your current battery status, as well as what intensity level the massager is running at. There's also a soft-touch on/off button which makes it very easy to actuate.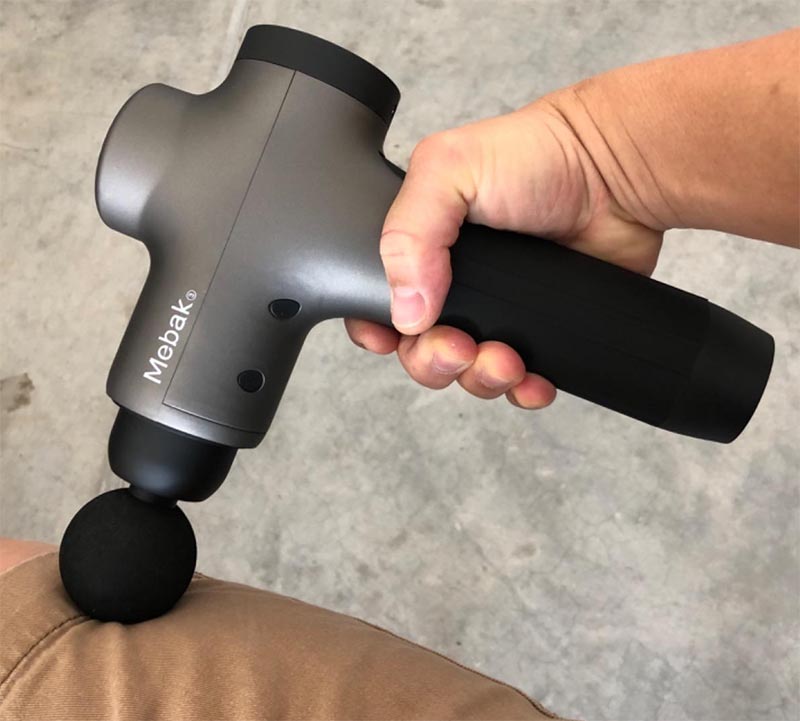 The massager housing is constructed from grey injection-molded ABS plastic. It's fairly plain, except for a Mebak logo towards the front and some venting on the top. The black grip is slightly plasticized, providing a little bit of extra security. Even with a smooth grip, holding the Mebak 3 would be very easy. At only 2.1 pounds, it's light enough for anyone to manage without any trouble.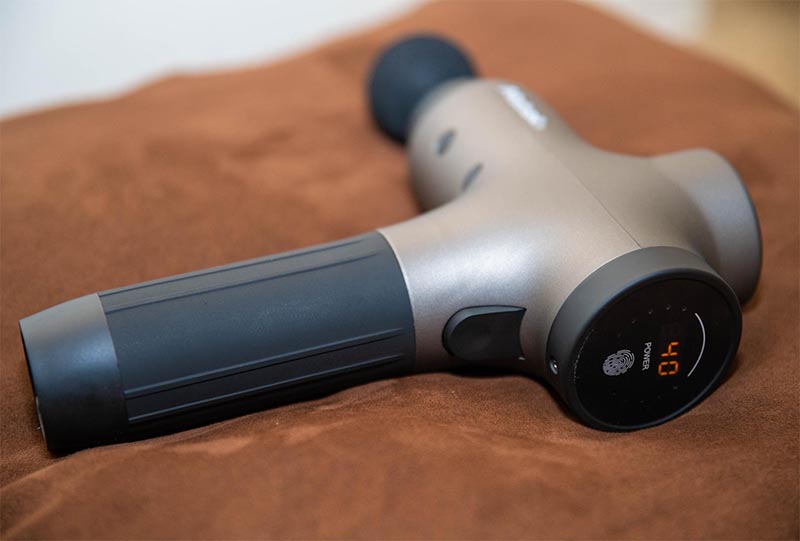 Along with the massager, tips, and AC adapter, you also get a portable carrying case. It's fairly rugged, with a wavy silver pattern on the side that makes it attractive to look at. It will hold everything in the kit, so you don't have to worry about choosing which parts to bring.
Operation & Accessories
The Mebak 3 massager has five different speed settings. This isn't as many as some other percussion massagers, but should be enough for most people. You can crank the motor up for reaching deep tissue, or turn it down for bonier areas like your neck and shoulders. No matter what setting you're running at, the motor is very quiet.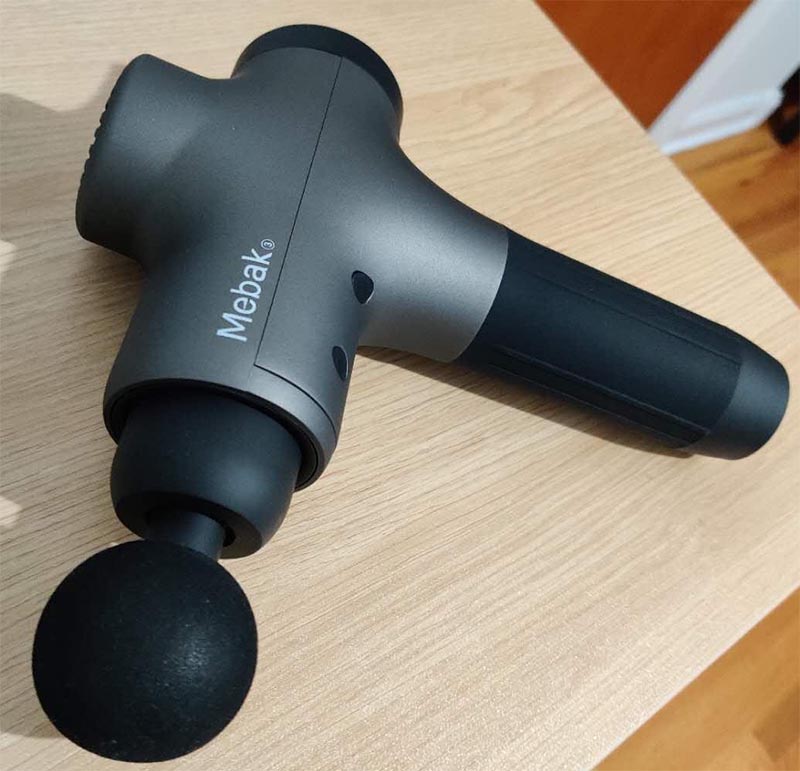 Even at top speed, it produces only 50 decibels, which is normal conversation volume. When it comes time to actually perform your massage, you get your choice of seven different massage heads. Whether you want a broader, narrower, sharper, or blunter feel, you'll have plenty of options.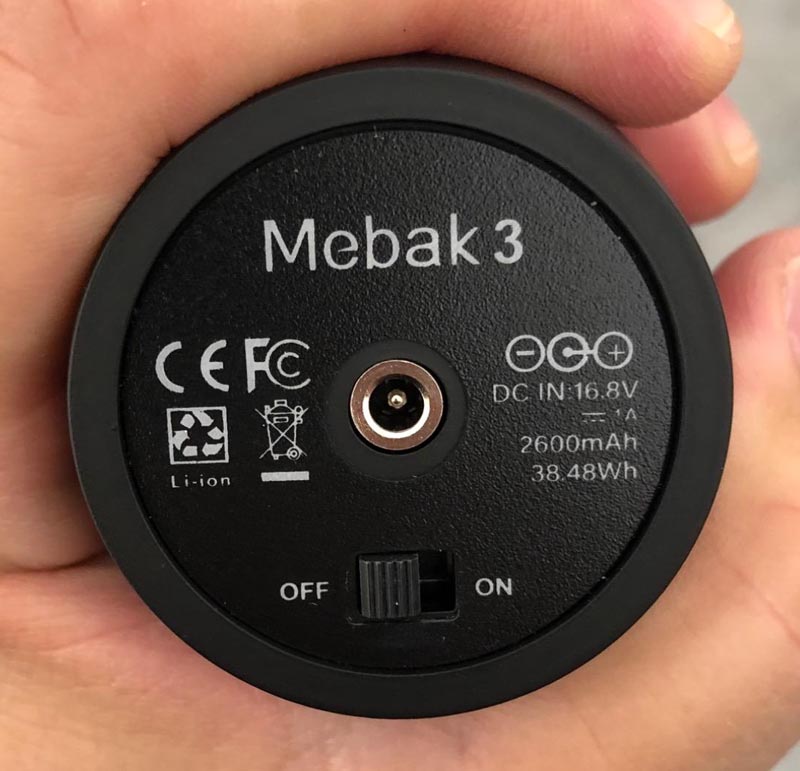 Battery & Charging
The Mebak 3 comes with an internal 2,600mAh Lithium battery. This battery will last from about 2 to 3 hours without needing recharging. Exactly how long it will last will depend on what intensity you're running your massager at. The higher the intensity, the faster the battery is going to drain.
That said, you can easily get a week's worth of massages from a single charge. It will even automatically turn off after 10 minutes, so you won't accidentally drain your battery. When it is time to recharge, the battery will top off in about 2 hours. Alternatively, you could just leave the Mebak 3 plugged in whenever it's not in use.
Legiral Le3 Percussion Massage Gun
The first thing that you'll notice about the Legireal Le3 Percussion Massage Gun is its slick, stylish look. It has a glossy finish, with a warped black and grey checkerboard pattern that's fun to look at. This pattern covers the bulk of the unit, but the grip is a bit more plain. It's bare black, with a non-slip silicone grip that's very easy to hold onto. This grip is going to be a big help, since the weight of the unit is 4.1 pounds. That's a bit on the heavy side, but not bad at all if you're using two hands.
A simple blue LCD display on the back of the unit shows the battery and intensity status. You can adjust the intensity by tapping a pair of "+" and "-" buttons, which makes things simple. The soft touch design of the buttons also means they're easy to operate with just one finger. The kit includes a hard case. It's just a simple black plastic case, but it's good enough for most circumstances. It's also big enough to carry everything in the massage gun kit.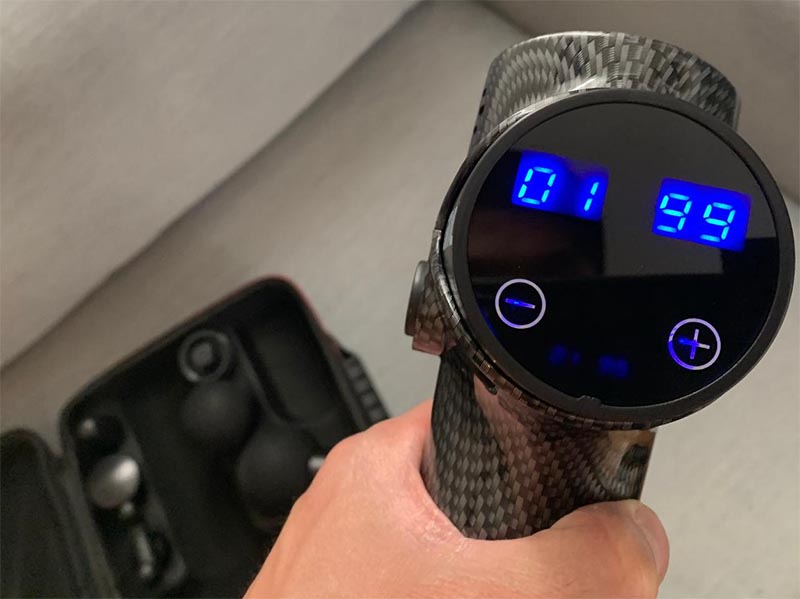 Operation & Accessories
The Legiral Le3 allows you to choose between an impressive 20 speed settings. This is plenty for any purpose, from deep tissue massage to more delicate joint work. That said, there's no reason you can't use a massager with even more speed settings if you so desire. If that's what you need, check out the Saluko Percussion Massage Gun. It has a whopping 30 speed settings, more than you'll ever need. Unfortunately, due to current supply chain shortages, it's not currently available.
When the Le3 is in operation, it's fairly quiet. The total volume ranges from 35 to 55 decibels. That's slightly louder than the Mebak 3, but not by any considerable mount. In addition, the Le3 comes with six replacement heads. Much like the Mebak 3, you can configure it as needed for your particular massage.
Battery & Charging
The Legiral Le3 has a 2,500mAh built-in battery that can work for up to six hours. This is a manufacturer's rating at low speeds. In practice, you can expect anywhere from four to six hours of performance. Even so, that's plenty of time.
You can take the Le3 on vacation and not have to worry about charging while you're on the road. The battery charges in 1.5 to 2 hours, depending on a variety of conditions. Regardless, that's right in line with charge times for other major electronics. There's also good battery protection. In order to save juice, the Le3 automatically shuts off after 10 minutes of operation.
Final Verdict
As you can see, both of these percussion massagers provide a good value. But the differences between the two are important to note. The Mebak 3 Massager comes out on top in terms of design. At only 2.1 pounds, it's exceptionally lightweight and easy to operate. The carrying case is also high quality, making it a great choice for travel. Operation is easy, but the choice of five speeds is somewhat limiting. Similarly, the battery life is acceptable, but could have been better.
The Legiral Le3 Percussion Massage Gun, on the other hand, is the better performer. 20 different motor speeds give you plenty of versatility for massaging different areas. Moreover, the battery lasts for twice as long as the Mebak 3's. On the other hand, the unit itself is noticeably heavier, and the carrying case isn't as nice. Ultimately, the Mebak 3 is a better choice if you're going to travel with your massager a lot. The Le3 is better if your massager will mostly be used in the same location. Which one is right for you will depend on how you use your massager.