In today's world, you can't be too careful about your indoor air quality. This has become all too apparent during the current global pandemic, where recycled air can pose a health threat. But in fact, it's been an issue for quite some time. The reason for this is actually a negative side effect of a positive trend: energy efficiency. Instead of old-school, poorly-insulated homes, we now build our homes to trap air inside as much as possible. This is a great thing when you look at your heating or air conditioning bill. Your double-paned windows and hermetically-sealed doors are saving you money and saving the planet.
Unfortunately, with all this stagnant air, contaminants can build up. Cooking smoke, for instance, can circulate throughout your house for days instead of flowing out the window. Mold can actually get worse as time goes on, forming a vicious cycle that triggers allergies and asthma attacks. With an indoor air filter, you can alleviate these problems and breathe easy.
Over time, we've reviewed several quality air purifiers. These include the Levoit Vital 100, the TaoTronics HEPA Air Purifier, and the Levoit Core 300. Many of these are excellent options, and are well worth your investment. Today, we're going to review the TOSOT KJ350G True HEPA Air Purifier. This is a large, powerful air purifier that can filter the air in even a very large space. It also sports a built-in UV sterilizer that kills viruses and bacteria. But how well does it actually perform, and how easy is it to use? We're going to take a close look at all its features and functions. Then we'll be able to render a final verdict. Let's begin!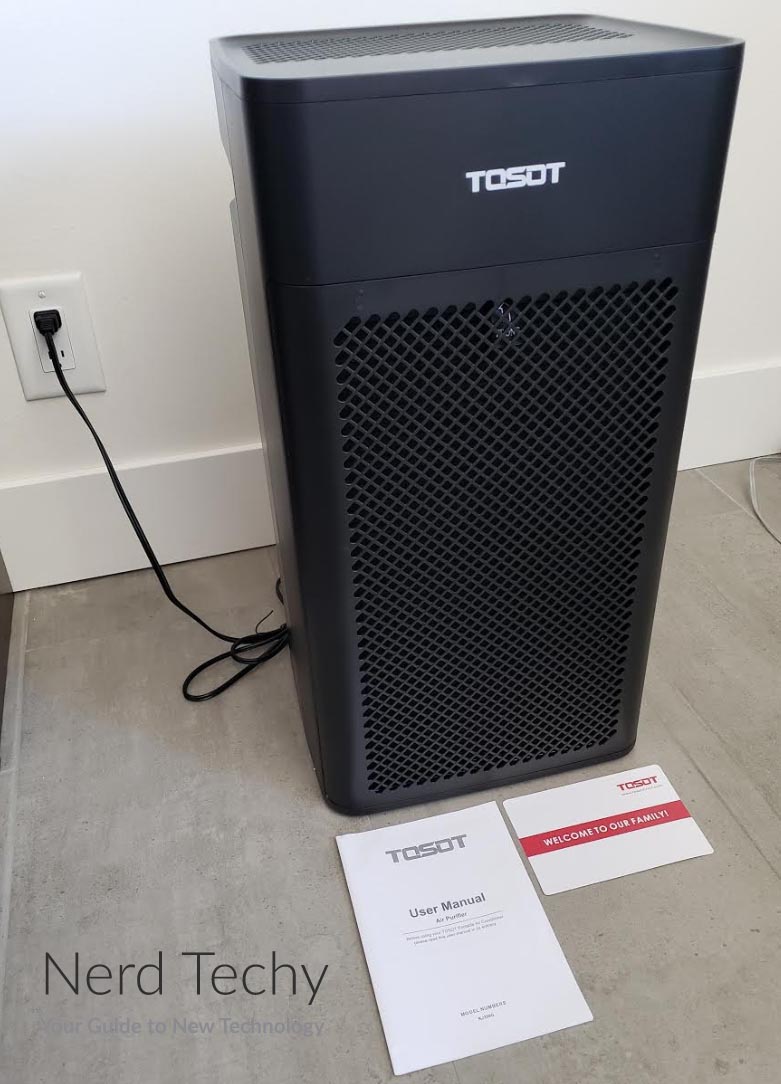 Design & Construction
The TOSOT KJ350G True HEPA Air Purifier is a robust unit, but it comes in a relatively compact package. It measures 22.8 inches high, 10 inches deep, and 12.6 inches wide. And at 16.5 pounds, it's also relatively lightweight. It can easily be moved from room to room without a lot of strain and effort. There's a wide slot around the sides and the back that make it even more easy to move.
The rectangular design also means that frequent movement might not be necessary. Round filters draw air in from around the room, and typically distribute it in a 360-degree dispersion. This means that they perform best when they're positioned in the middle of a room. On the other hand, the KJ350G sucks in air from the front and expels it out the top. You can put it up against a wall, and you'll still get the full benefit of the filter. As a result, it's a great choice if you want to avoid cluttering up your space. On the other hand, you might want to treat your downstairs during the day and your upstairs at night. In this case, the light weight and convenient portability are an excellent benefit.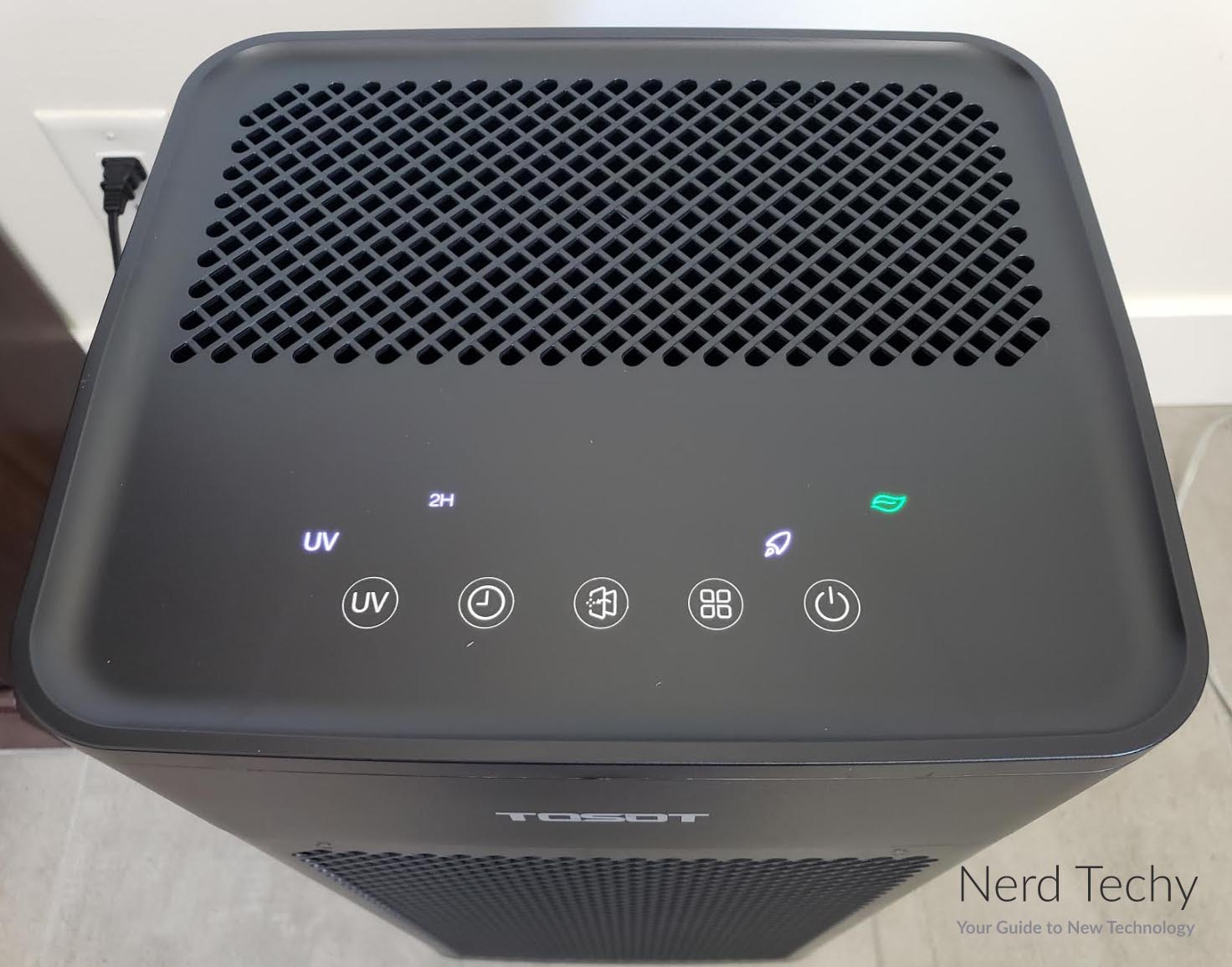 The case is constructed from black ABS plastic, with an easy-to-clean matte finish. Rounded edges ensure that if you catch it with your toe, you won't be kicking a sharp corner. On the front panel, a simple diamond grill functions as a pre-filter for larger particles. The outflow vents on the top have a similar diamond design, creating a unified look.
In front of the outflow vent, you'll find a control panel that allows for easy operation of the filter. There's a row of soft touch buttons, right below a row of LED indicators. From right to left, the first button you'll see is a simple power button. Next is the fan mode button, which adjusts the speed. After that, a filter reset button allows you to reset the dirty filter alert. A timer button lets you change through three different timer modes. Finally, a UV button activates or deactivates the UV sterilizer.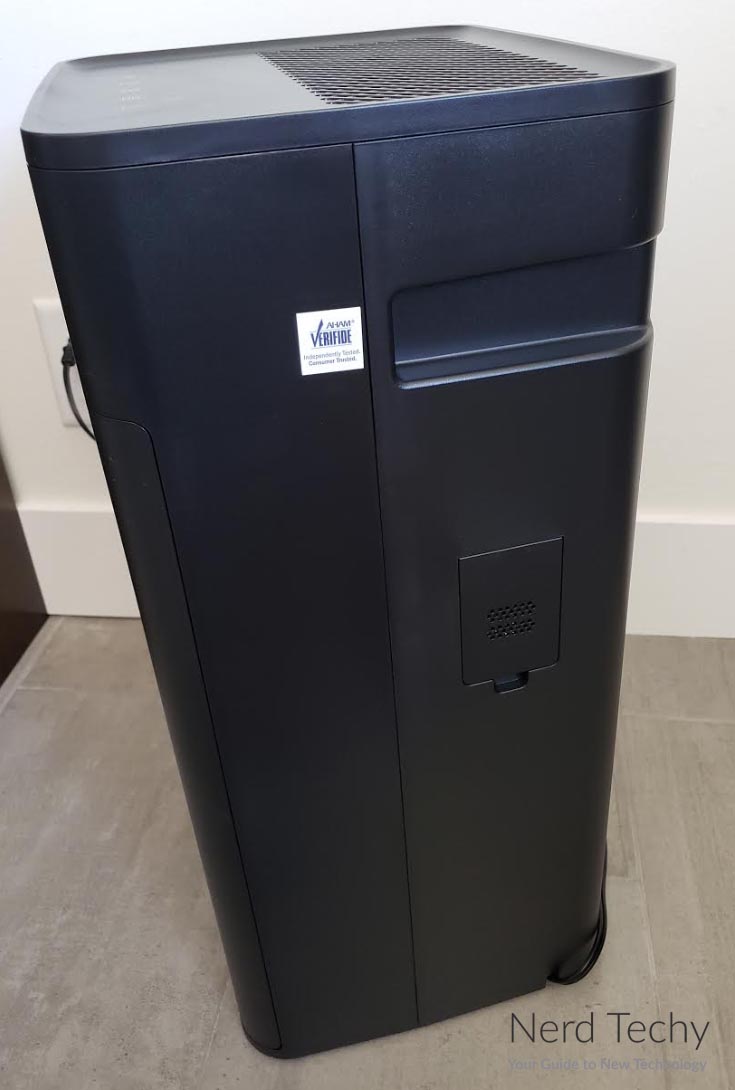 The LED lights are equally full-functioned. First is a UV indicator, which is either on or off depending on the status. Next is a row of four fan speed indicators, along with three timer lights. The timer durations are 2 hours, 4 hours, and 8 hours. There's also a filter alert light that lets you know when the filter is dirty.
In addition to all of these functions, there's a button to activate the automatic fan speed option. Above this button, there's an air quality indicator. It cycles between green, yellow, and red. These colors indicate good, medium, and unhealthy air quality respectively. As a result, you always know where you stand in terms of air quality.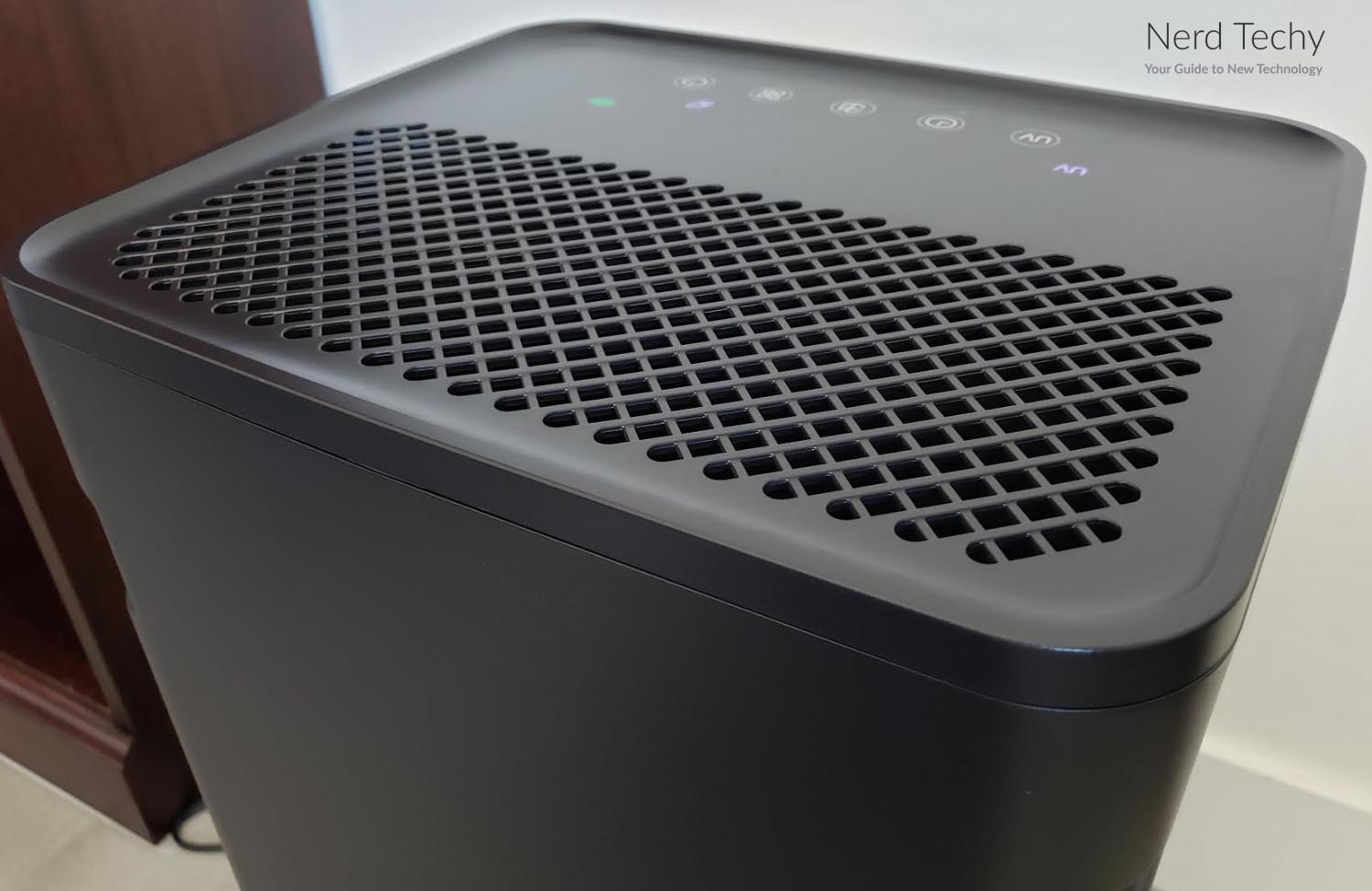 The KJ350G purifier comes with a 12-month manufacturer's warranty against all defects and failures. As long as you've followed the instructions and used it as directed, you're covered. There's one exception to this. If you buy one of TOSOT's "open box" bargains, the warranty is only 6 months. All of their open box bargains are tested, and ship with cosmetic defects only. That said, the shorter warranty period is still something you should be aware of.
Everyday Operation
The TOSOT KJ350G True HEPA Air Purifier is capable of treating up to 450 square feet of space. This is significantly more powerful than most home air purifiers. You can easily filter the air in even a very large living room, as well as the adjoining kitchen. Of course, this assumes a standard 8-foot ceiling. If you have cathedral ceilings or another unusual arrangement, your coverage will drop. Moreover, it also assumes total isolation. In practice, unless you're in a bedroom with the door closed, there's going to be some air exchange between rooms. But even so, 450 square feet is an impressive amount of coverage.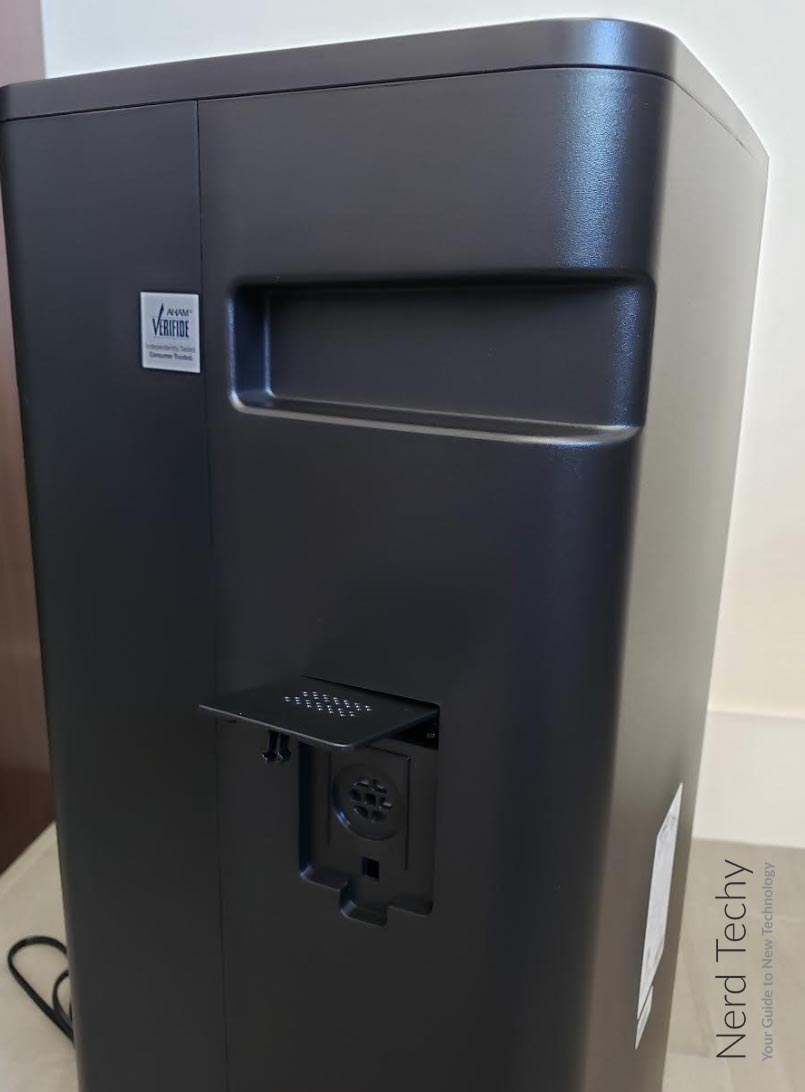 As we briefly mentioned, there's an automatic mode on the KJ350G. When you activate this mode, the fan intensity will adjust automatically based on the air quality. When the quality is good, it will run at a low level to maintain freshness. If the air quality drops, the fan will ramp up to compensate and clean things up. When you're not in automatic mode, you'll be able to switch between four different fan modes. Let's be clear, the highest speed is very loud. It sounds like a box fan that's been cranked all the way up. But that's more or less avoidable if you want powerful filtration.
On the other end of the scale, there's a sleep mode that allows for quiet operation. In this case, the fan will run very slowly, with a sound level of 32 decibels. This is fairly quiet, and for most people, it's easy to sleep through. That said, it's louder than many sleep modes. There's a definite audible hiss while it's in operation.
After six to eight months of operation, the filter replacement indicator will turn on. When this happens, it's time to replace your filter. Simply lift the front panel, and it will pop off, revealing the filter compartment. Insert your replacement, replace the front panel, and press the filter replacement button. This will reset the unit, and you're good to go. Of course, it's a good idea to have a replacement filter on hand before this happens.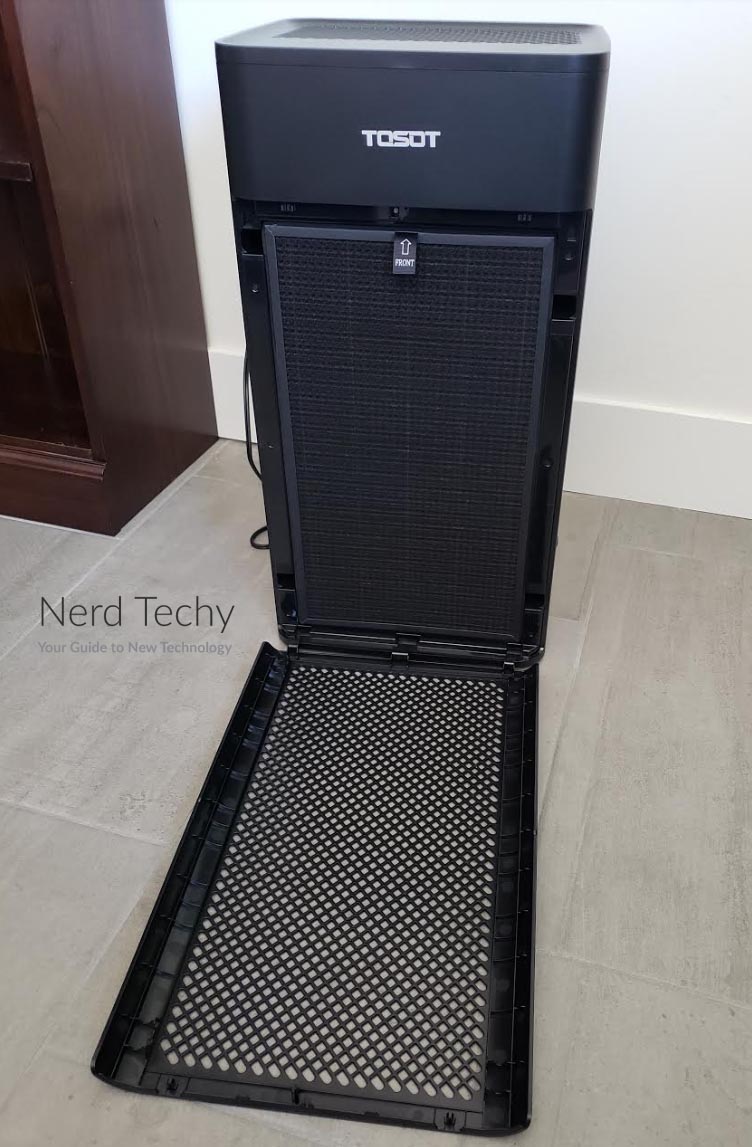 Filtration System
The KJ350G's filter utilizes a 3-stage system. The first part of the filter is actually the front panel itself. It functions as a pre-filter to remove larger contaminants. Pet hair and large dust particles will get trapped here, which prevents them from clogging the internal filter. Even better, this debris will be on the outside of the unit. You can easily wipe it down with a damp cloth to keep things clean.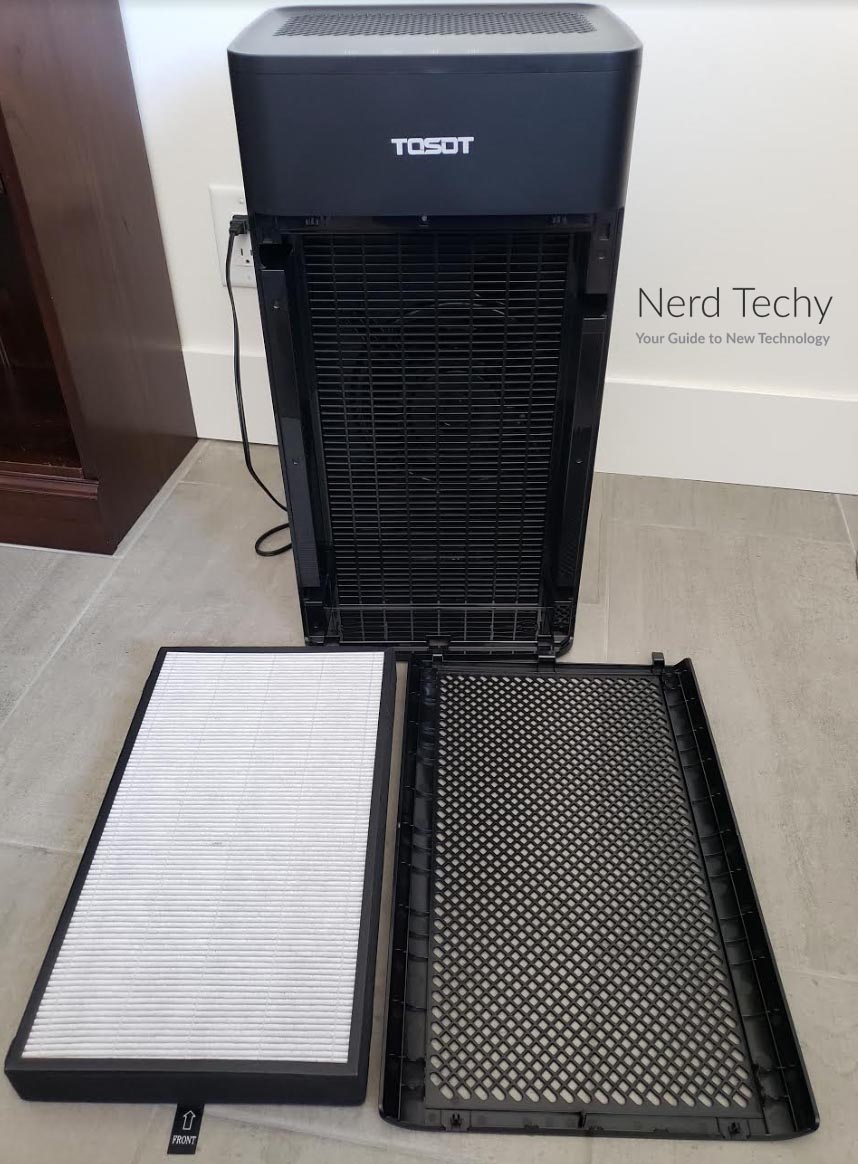 The inner HEPA filter removes 99.97 percent of airborne particles, as small as 0.1 microns. This is actually better than the "True HEPA" standard, which only requires removal of 0.3-micron particles. Instead, the KJ350G meets the "H13 HEPA" standard. This is one of the highest HEPA standards available, and qualifies as medical grade. On the back side of this filter, there's an activated charcoal layer. This layer doesn't remove particles. Instead, it removes odors, VOCs, and other chemicals that penetrate the primary filter.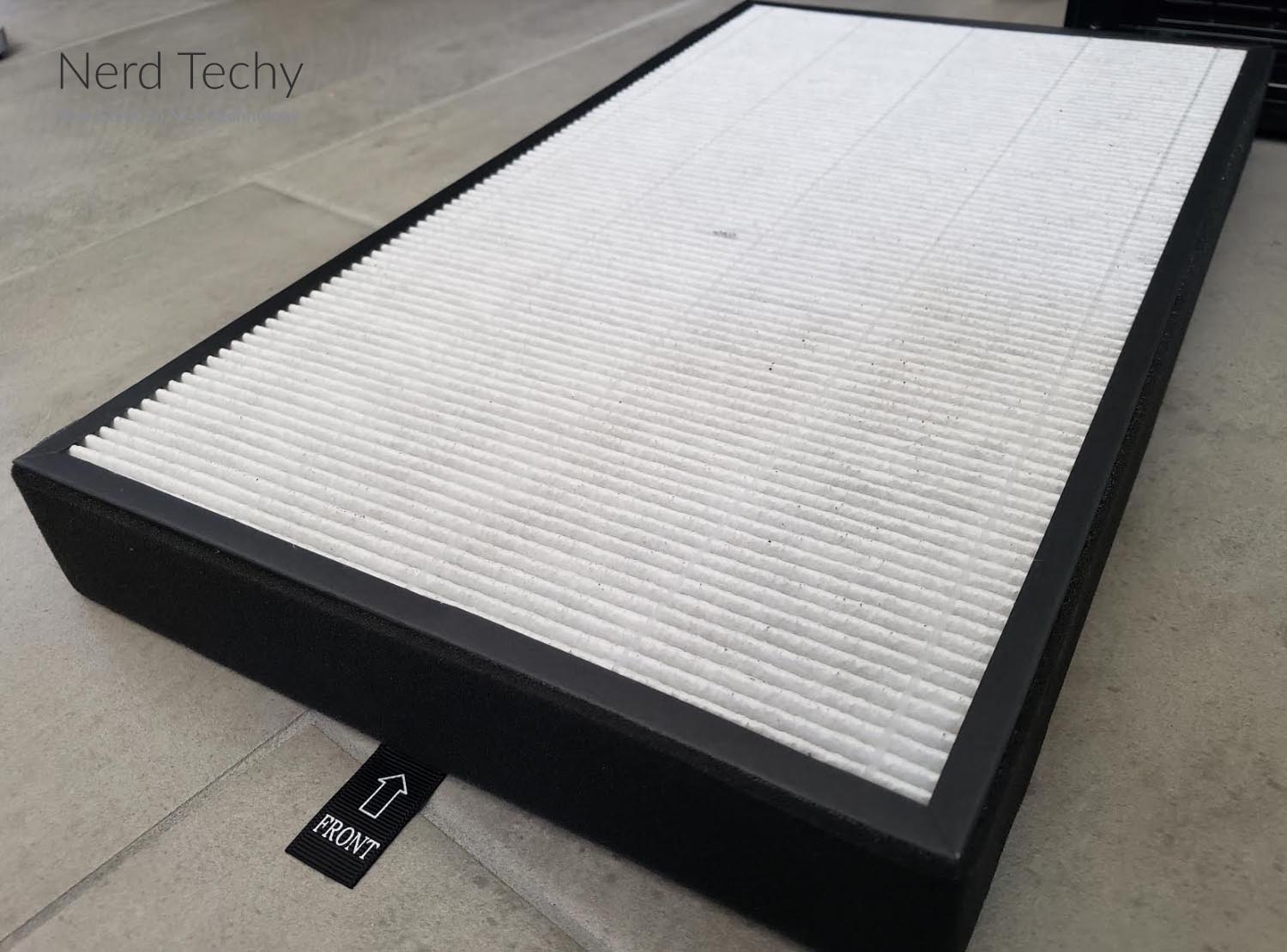 What Does the TOSOT KJ350G True HEPA Air Purifier Remove?
The TOSOT KJ350G removes just about every type of contamination available. It eliminates dust, dust mites, mold spores, pollen, and pet dander. It even removes smoke particles, both from cooking and tobacco. Large bacteria will also get filtered out. The activated charcoal filter eliminates almost any odor, leaving your air fresh and clean.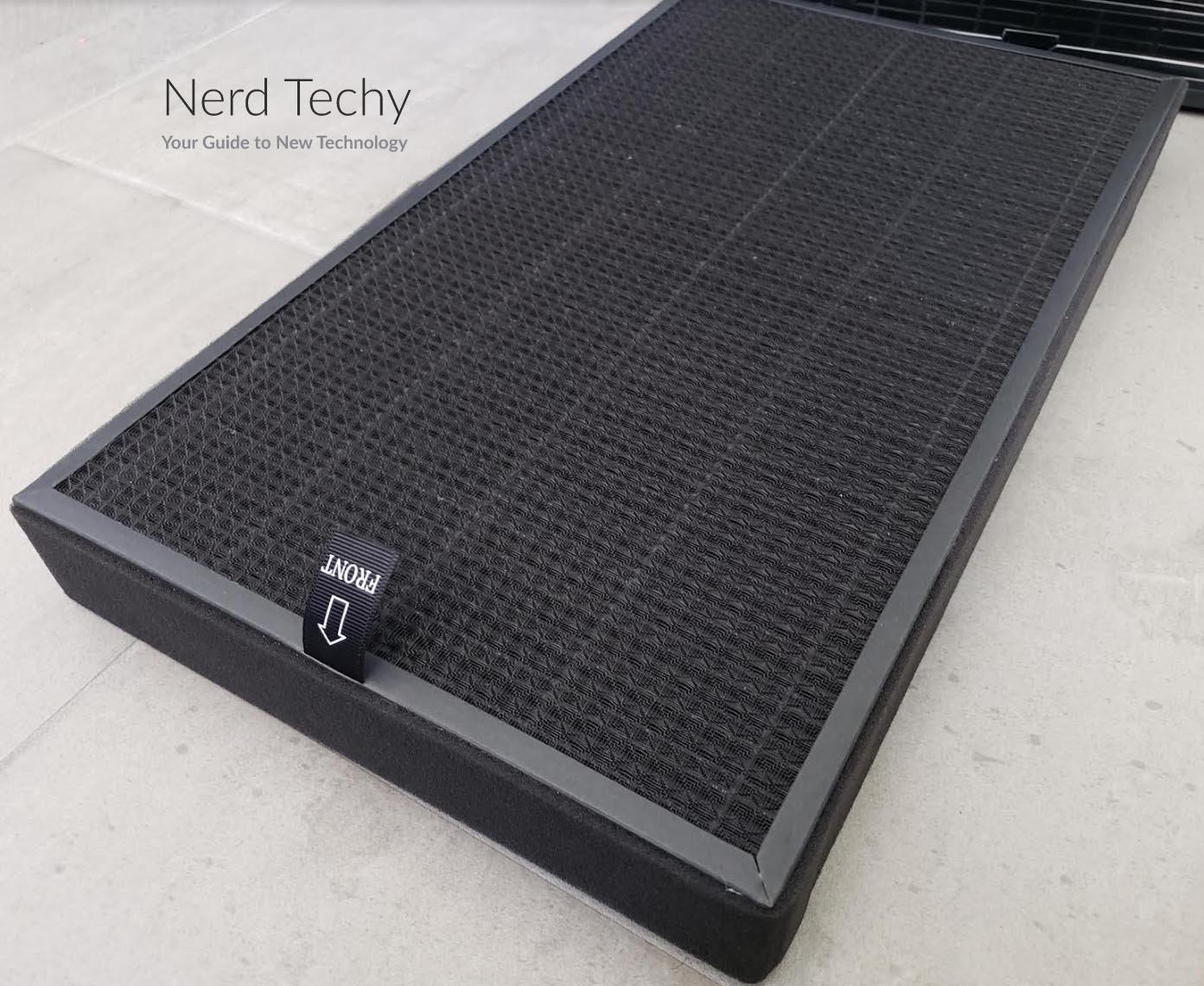 Behind the filter, there's an ultraviolet light that can kill microbes and mold spores. This light is activated by pressing the UV button on the top control panel. It will draw a bit more power than the main filter fan. However, it will eliminate viruses and smaller bacteria that can get through the main filter. This is a great feature if you're concerned about airborne diseases permeating your home.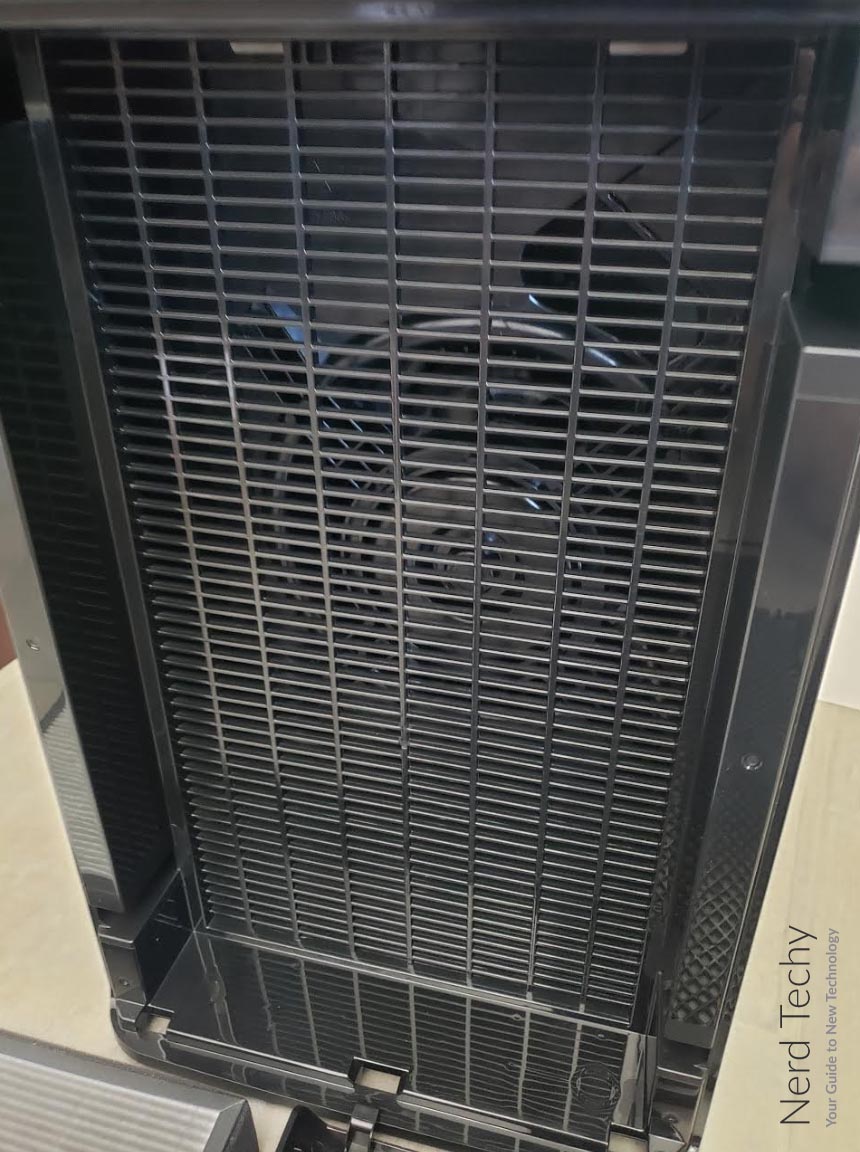 Final Verdict
So, is the TOSOT KJ350G True HEPA Air Purifier worth your money? Or should you buy a different filter instead? For most purposes, it's one of the best home air purifiers on the market. Let's start with the coverage area. You can treat up to 450 square feet of space, which is quite a large area. This gives you plenty of cleaning power, especially considering the low price. Positioning the filter is also easy, since it only draws in air from one side.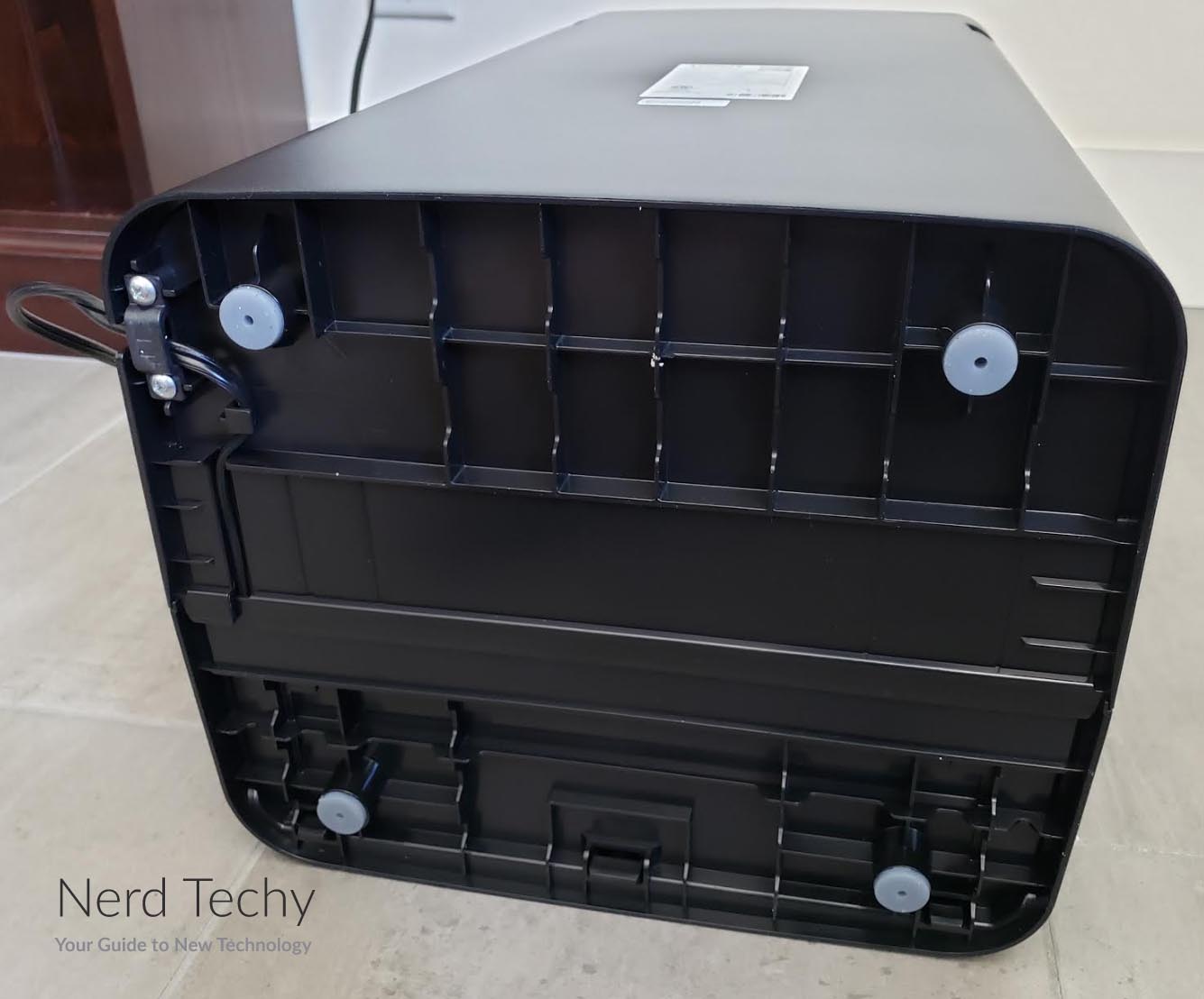 You also get a full-featured filter. There's a timer mode for overnight use, and an automatic mode for constant operation. You can even activate sleep mode to reduce the volume to a bare minimum. It's still audible, but most people will sleep through it just fine. The most impressive feature, though, is the filter itself. The H13 HEPA filter is one of the most powerful available, removing even very small particles. Moreover, the UV sterilizer kills microbes that are small enough to sneak their way through. All in all, you're looking at a remarkably complete package.